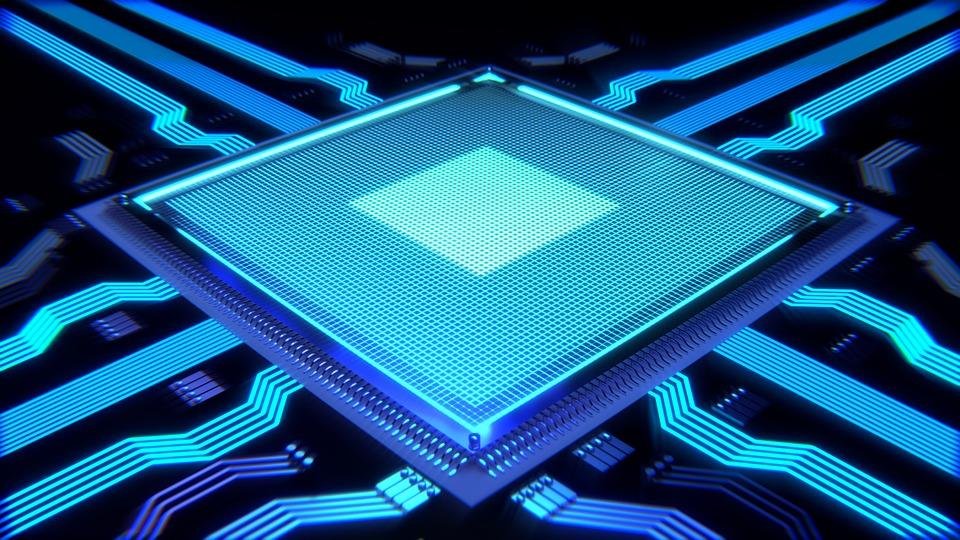 Pixabay image
The Digital Miner craze has hit Steem, on Steem-Engine you can purchase and stake the mining tokens EM and EMFOUR, which will then give you automatic daily rewards from the mining pool of the ENG token. There are also mining tokens for SCT and PALNET tokens.
Did you know however that you could have been essentially mining Steem all this time with dlease.io?
It is kind of the same concept, except you choose your "mining rate" based on the available contracts on the DLease market, you simply purchase Steem and power up or use existing Steem Power you may already have.
If you have a look at the market, you can see the annualised APR in percentage, right now there are a few meaty contracts waiting to be filled at 19.6%, Steem's annual inflation is around 9% and reduces annually by 0.5% so this is keeping you well above inflation.
As a bonus you also earn circa 1.8% on your staked Steem Power as inflation interest to stakeholders, this is effected by the Steem blockchain and not Dlease, but not many people know about it, so on one of these 19.6% leases you are actually earning 21.4% in total, find me an bank that gives you that on your money?!
As one of the primary market makers on DLease, this really makes sense to me and ensures that my Steem holdings don't devalue in relation to annual inflation.
So back to mining, right... if you see the first contract below offered by @nathanmars it is for 7770 SP in support of his #SEVEN77 Steem marketing campaign, the daily payout is 4.757 STEEM which totals to 166.50 STEEM over the 5 week duration, nice!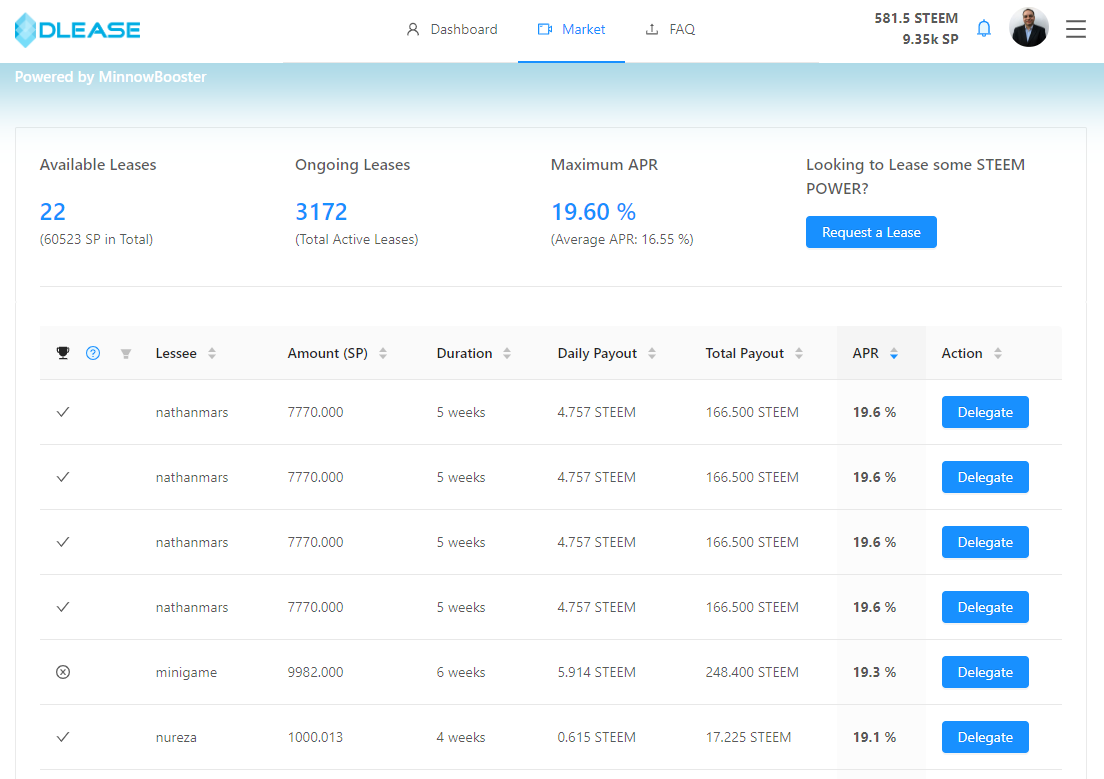 To enter into this "Digital Mining" contract all you have to do is press the Delegate button and choose which account to delegate from and then just choose an authentication option like Steem Keychain, that easy!! From the next day you will start earning your "mining" rewards.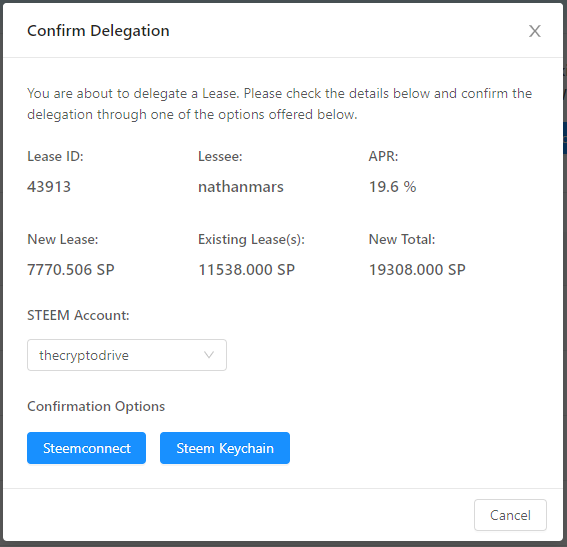 Steem-Engine Digital Miners vs Dlease Steem "Mining"
Okay so I missed out on the Steem-Engine miner craze and all my Steem is tied up in leasing on Dlease anyway, so I don't have any SE Digital Miners, I would however like to hear from all EM, EMFOUR, PALM, PALMM and SCT miners how much they are earning per day in relation to their stake and we can then work out what the APR is, I am interested to see how it compares to DLease nett returns.
To arrive at SE miner nett returns we need to factor in the 1% deposit and withdrawal fees on/off the exchange so already it is 2% down. Another factor to consider is that SE tokens are relatively new while STEEM is a top 100 crypto with many fiat on and offramps.
I'm not knocking SE at all, I'm suitably impressed with the tech and innovation, we ourselves are porting our BUILDTEAM token to be dual listed on SE and Bitshares (Spoiler alert!).
Hit me up with your comments on your returns on your current Digital miners, I'm keen to know.
---
DLease.io needs market makers, besides the listed contracts there is another 50K SP contract off books that will be added when the some of these contracts have been filled and there are new contracts daily!
---
Sincerely,
Ricardo Ferreira
Steem Consensus Witness
BuildTeam CEO


---
---
If you like what I do, vote for @thecryptodrive witness with this vote link: https://steemit.com/~witnesses
Or use the quick SteemConnect link: https://app.steemconnect.com/sign/account-witness-vote?witness=thecryptodrive&approve=1