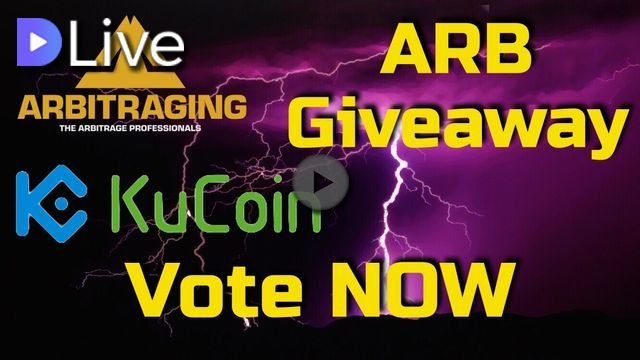 To enter the competition you need to:
1 - Upload a screenshot of your voting process with the Kucoin bot to https://prnt.sc
2 - Copy the resulting link and join the following ARB group: https://t.me/joinchat/HaA8Ew9S9UXBlLRTzQK9ZQ
NB!!!! ONLY DO STEP 3 ONCE OR YOUR ENTRIES WILL BE VOID!!!
3 - Once you have joined the group send the screenshot link you copied in step 2 as a message, on the group.
NB!!!! ONLY DO STEP 3 ONCE OR YOUR ENTRIES WILL BE VOID!!!
4 - Watch the following 7 YouTubers who will be giving away 3000 total ARB tokens to randomly selected winners.
PJ3, Kinetic Energy, Crypto Austin, Adam Hole, Bitsaway, ILMatt, Crypto Face.
Good Luck!
How To Vote on Kucoin:
NB!!!! The Kucoin BOT is slow due to a lot of traffic please be patient with it !!!
NB!!!! Make sure to spell the project name it asks like this : Arbitraging
If you haven't done so, make sure you sign-up on KuCoin. You need to be registered on KuCoin in order for your vote to count.
Click @Voting_KuCoin_Bot and send a message, our bot will give you all the instructions you need automatically.
Fill the fields our bot sends you in private message, you will be asked the following:
a. What is Your KuCoin Account Email Address:
b. Project Name You Want To Get Listed (spell the name in full, DON'T USE THE TICKER):
c. What Is Special About This Project, Why Should It Be Listed On The Exchange:
NOTE: Every hour our bot will automatically update the top 50 projects in the public channel so everyone can see who is winning.
Competition Rules:
KuCoin has a dedicated group of admins and bots to monitor and go through all the collected data. Do not cheat and make sure you follow the rules carefully if you want your vote to count.
Do not vote for the same project twice. You can vote for multiple projects but do not repeat the same project, our voting system won't allow that.
Make sure you spell the name of the project correctly. Our bots don't count your vote if you misspell the name.
Don't spam, remain polite and listen to the admins. Offenders will be banned and votes revoked.
My video is at DLive