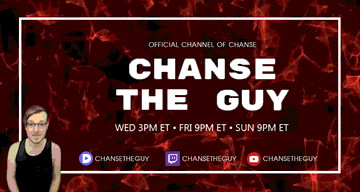 Check out my new SBD gambling bot @gamblebot !
AVAILABLE COMMANDS
!schedule
SOUND COMMANDS
!clap
!airhorn
!gameover
!missionfailed
!shrek
!alert
!aladdin
!johncena
WELCOME TO CHANSE'S EXCELLENT GAMING! The best stream for wasting time and space on the blockchain. I listen to music from the Monstercat playlist while streaming. The music is intentionally much quieter than the microphone audio so please feel free to put your own favorite music on over it while tuning in. Streams are always best with some jams. ♫
.
I'm playing multiple games tonight! If you'd like to join in, please do! I am on Discord and welcome the company!
.
.
Check out the following DLive Communities!
.
@dlive24hour - discord.me/dlive24hour
.
@dunite - discord.gg/b46WJ9a
.
@dliverewards - https://discordapp.com/invite/a8UbpWB
.
@dlivecommunity - https://discord.gg/fn2GYq4
.
.
STREAMING SCHEDULE
.
Wednesday - 3PM ET / 12PM PT
.
Friday - 9PM ET / 6PM PT
.
Sunday - 9PM ET / 6PM PT
.
I may stream in addition to the times listed above.
.
My live stream is at DLive