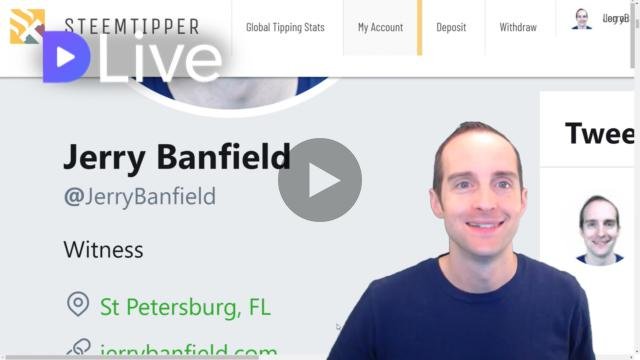 Will we promote Steem on Twitter with steemtipper.com because each of us can send and receive Steem tips from any Twitter account? We collaborated today on this live stream on @dlive and on Twitter at https://twitter.com/JerryBanfield/status/992057967464738816 to demonstrate how easy using @steemtipper is to promote Steem and send tips on Steem!
To learn more about https://steemtipper.com by @followbtcnews and @crimsonclad, visit https://steemit.com/steem/@followbtcnews/steemtipper-is-taking-off-tip-steem-easily-and-safely-on-twitter-and-social-media-platforms-with-no-fees.
Live Stream Giveaway
---
Why?
---
My hope with this giveaway is to give Steem back to those of us most active and working together to promote Steem while testing @steemtipper as a promotional tool on Twitter. With Google banning ads for cryptocurrencies in June 2018 while Facebook and Twitter did so earlier, we are researching the best ways to promote Steem with giveaways directly to users allowing us to keep all our Steem within our community instead of paying it to a company to show ads. The question is how effective can we be working together like this?
Thank you to the hundreds of us delegating Steem power to my account and the 7,000+ of us voting for me as a witness at https://steemit.com/~witnesses because these delegations and votes are funding this giveaway via our budget proposal system as explained in the original post, how to bid with the bot, 10 ways to get funding for growth projects on Steem and my 2018 witness roadmap.
Ready?
---
After I make this post, I will prepare the live stream on https://twitter.com/JerryBanfield and also live stream to @dlive as well at https://www.dlive.io/@jerrybanfield. The delay between this post and going live may be thirty minutes to an hour as I get everything setup on periscope and to give you time to be ready! If you missed it, will you follow me on Steem and Twitter because if this works well to share Steem on Twitter, we will be doing many more of these?
I am very grateful for the chance to do Steem full time with you here today and hope that we will continue working together to give as many more of us a chance at this as possible!
Love,
Jerry Banfield
Shared on:
Let's stay together?
Our Most Important Votes on Steem are for Witness!
If you do not know what a witness is on Steem, will you please read https://steemit.com/steemit/@gmichelbkk/what-is-a-steem-witness-how-to-vote-and-why because our votes for witnesses determine our future together here on Steem?
If you have never made a witness vote before, will you please set me as a proxy at https://steemit.com/~witnesses or https://steemconnect.com/sign/account-witness-proxy?proxy=jerrybanfield&approve=1 because you will feel good about helping select witnesses while I do all the work to maintain the votes for you?
If you already have voted for witnesses and prefer to update your own witness votes, will you please place your vote using at https://steemit.com/~witnesses or https://steemconnect.com/sign/account-witness-vote?witness=jerrybanfield&approve=1 because you will feel good knowing your witness vote is helping fund projects that grow Steem as explained here?
My live stream is at DLive