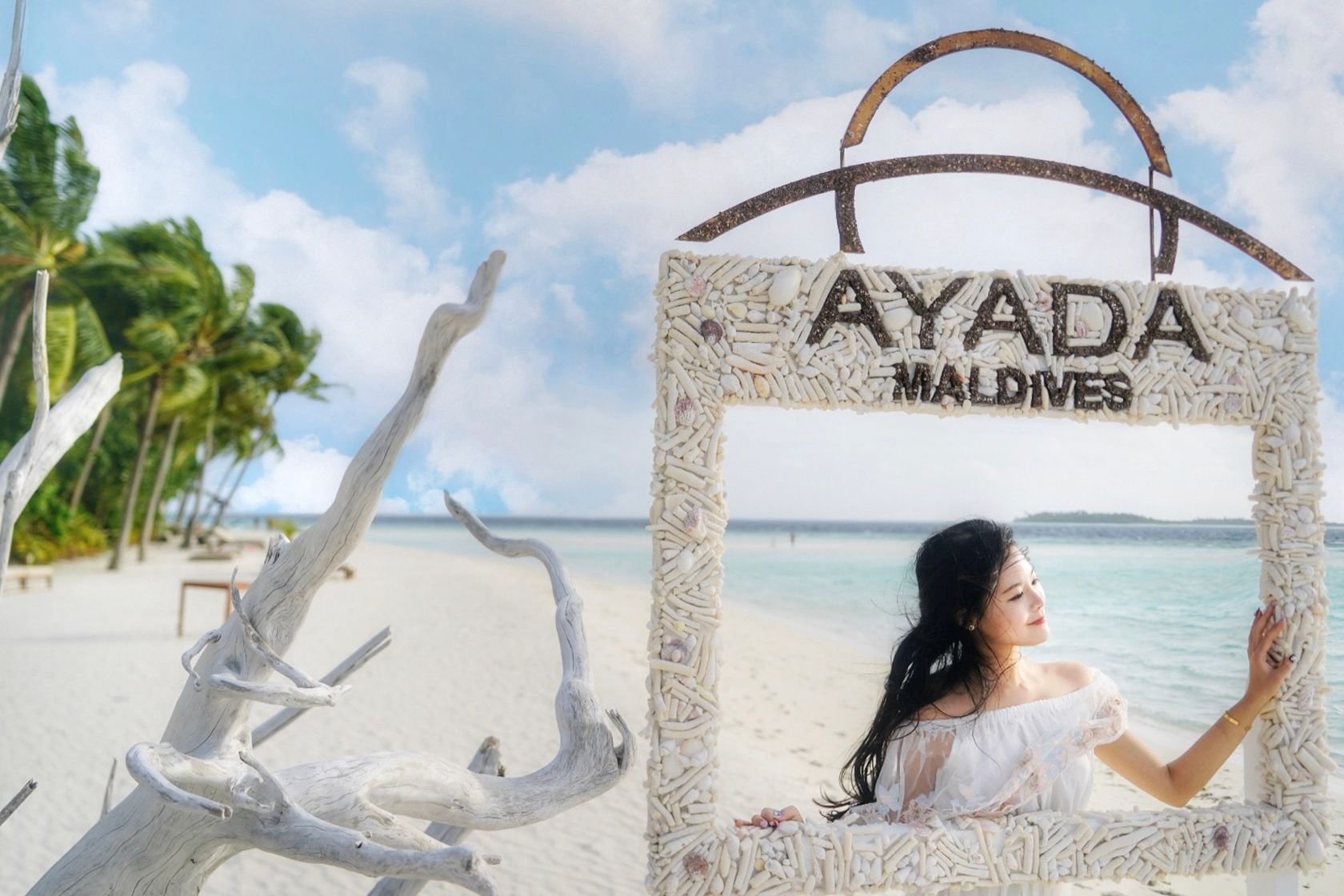 Dear Steemit Friends:
Today I take you back to Ayada Luxury Resort in the Maldives to explore more of the island and what the hotel and surrounds have to offer. The island resorts of the Maldives, in the beautiful turquoise Indian Ocean, are what draw millions of visitors to the country every single year. There are thousands of sand covered islands that make up the country of the Maldives but less than 100 have a resort built on them. They range in size and mine was quite small by some standards which I loved because it felt so much more intimate.
There were two choices of accommodation at Ayada Luxury Resort, some on the island itself and some, as you see here, that are built out over the water. I loved the idea of waking up to the sound of the ocean all around me so I chose a villa over the water. The board walks stretch out into the sea so you can reach your private accommodation, and are lined with beautiful lanterns. As the sun sets the lights come on and you're guided by these twinkling lights back to your bed. It was very special.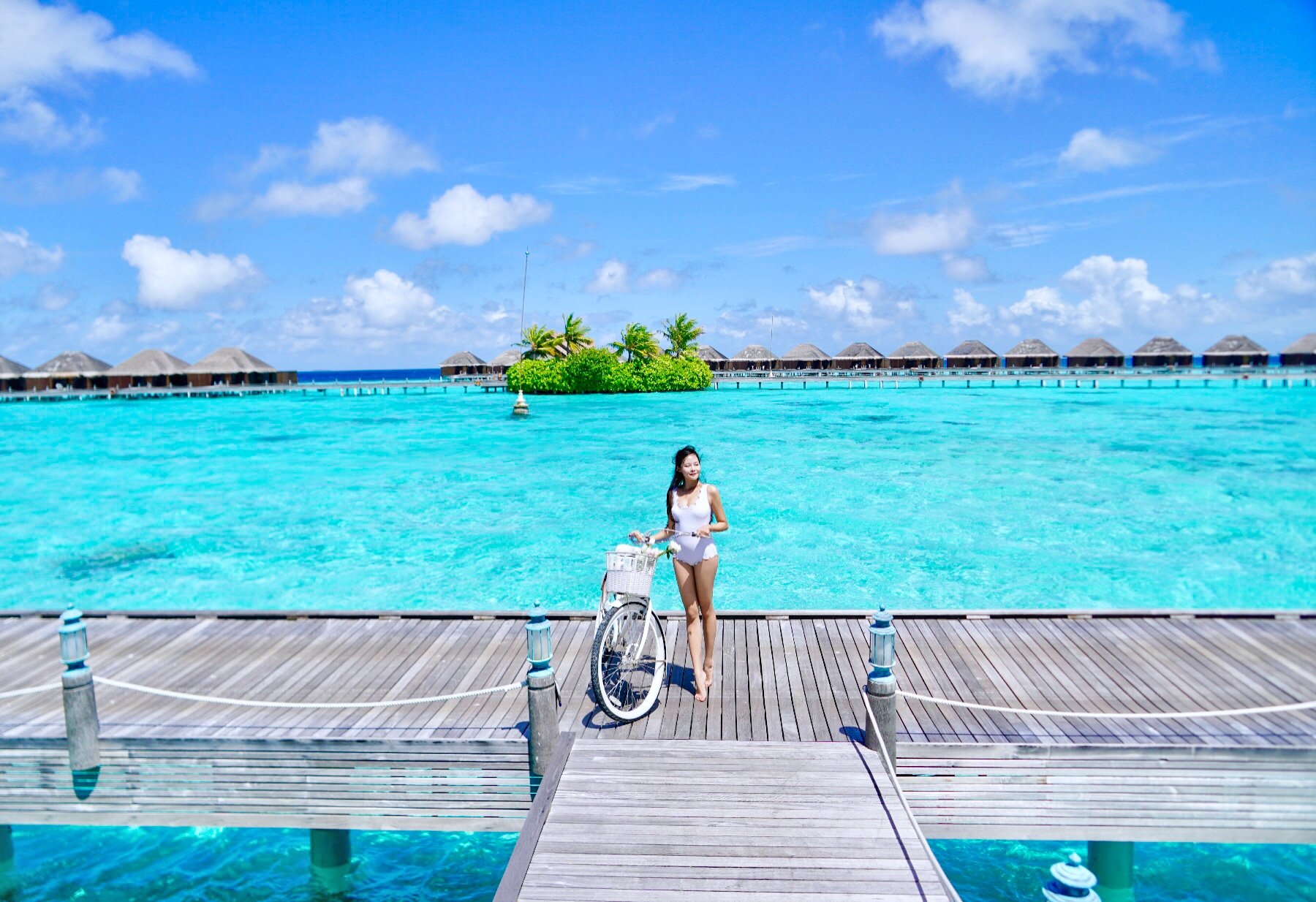 Even though the island is quite small they provide bikes for you to get from your private villa, to the mainland restaurants and other hotel facilities. There are obviously no cars or any other motorised modes of transport so cycling is the best way to get around if you want to get places fast. I loved cycling along the board walks with the wind in my hair, it felt like I was cycling on the water!
Even though the board walks were not high up, it did give me a little bit of vertigo. I knew I could cycle in a straight line but as soon as I had to make sure I stayed in the middle of the board walk, I started to feel a bit wobbly! Silly me. It was the hardest when there was another guest cycling the other way because you had to cycle quite near the edge to pass each other. When I saw someone else I just got off my bike and admired the view until they'd gone past so I didn't accidentally fall in!
My bike was really quaint, like something out of an old fashioned movie, with the little basket on the front. I loved that it matched my swimsuit as I was heading for a swim! I spent most of my time at the resort having to hold myself back from jumping into the beautiful blue ocean. The weather was quite hot but the sea water was so warm that it didn't always cool you off! It felt a bit like getting into the biggest bath in the world - obviously with a better view!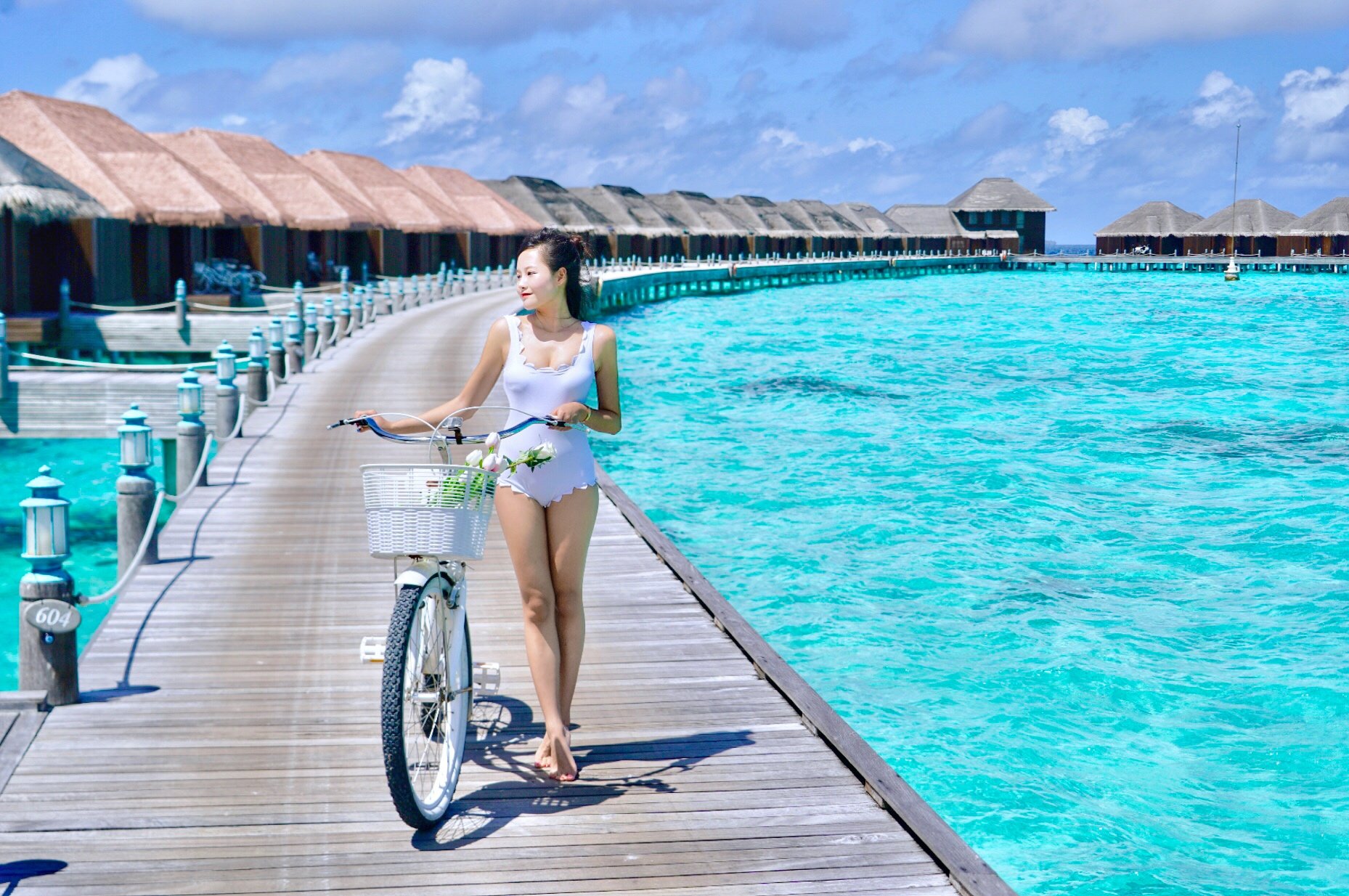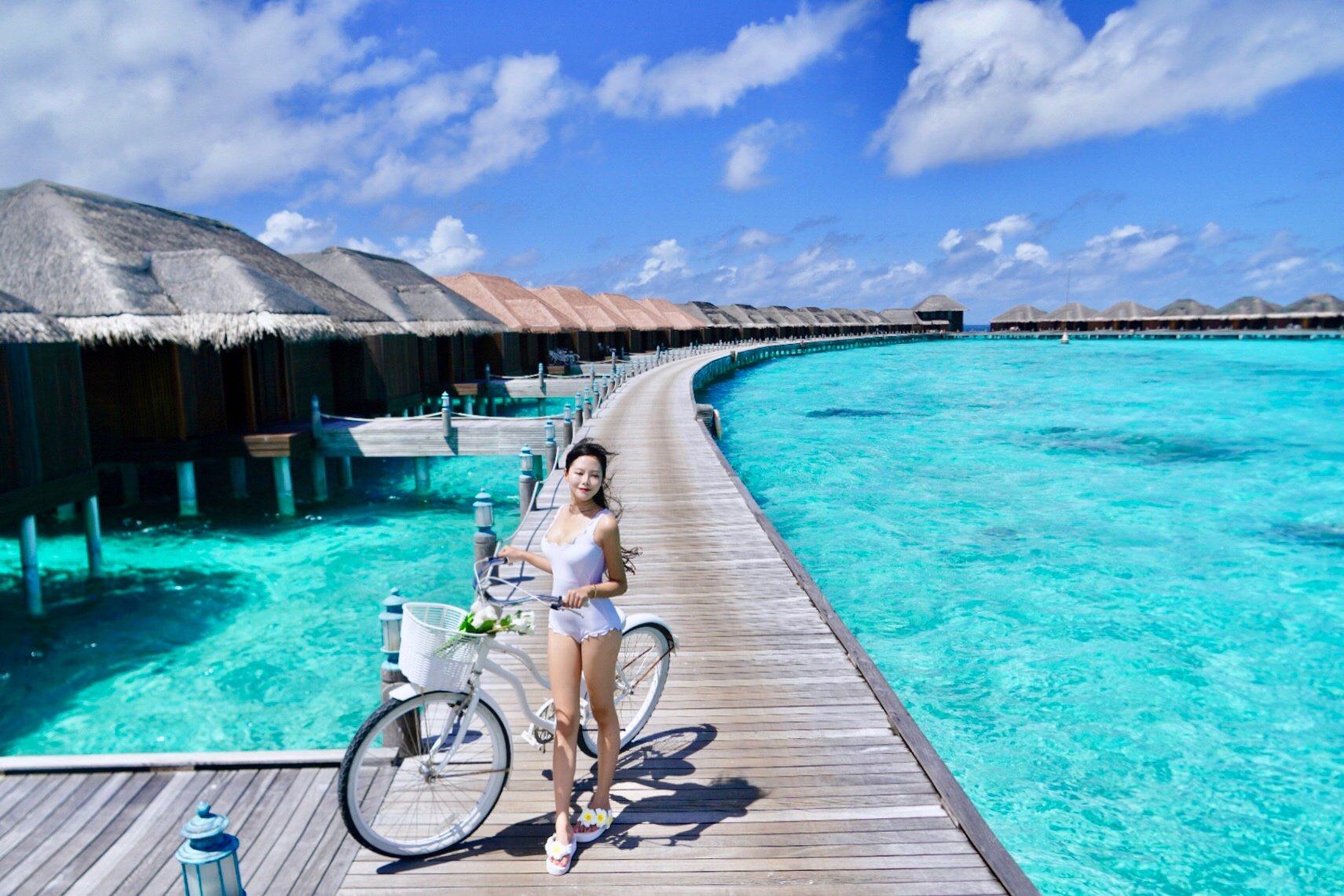 Exploring the hotel further
---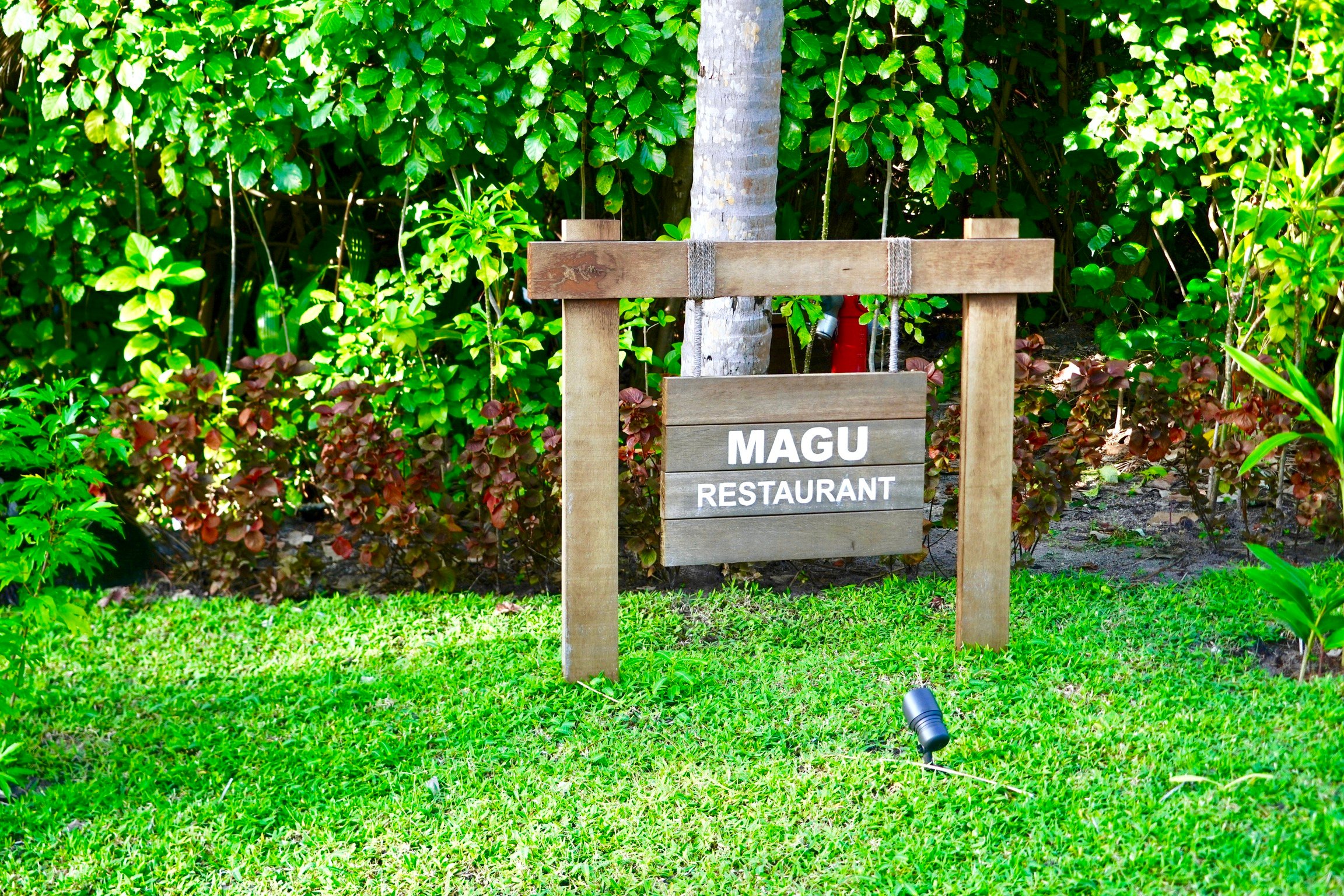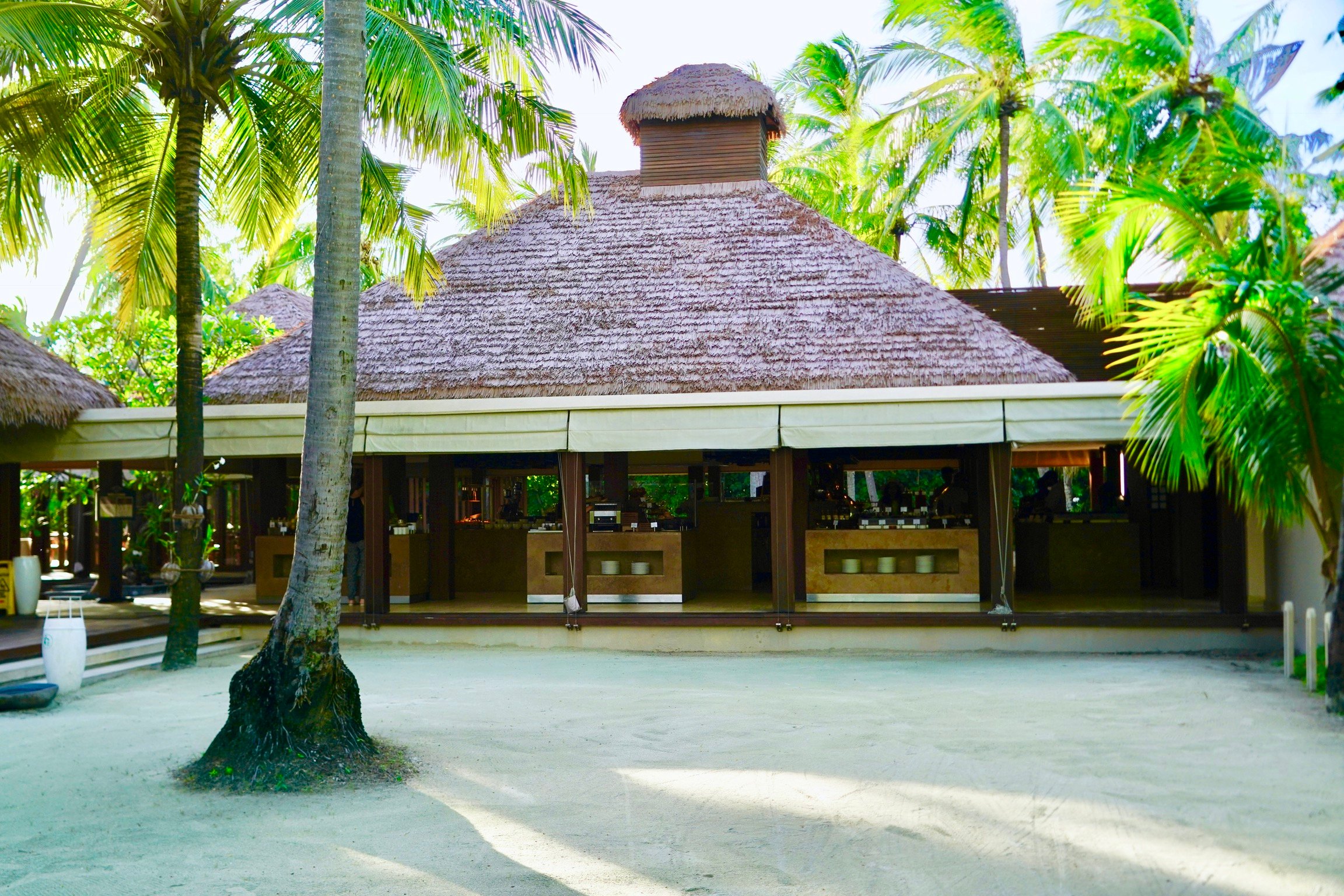 Though Ayada Luxury Resort is quite small, there's plenty of places to eat and drink on the island. You're really spoiled for choice, which is great because you have to take a sea plane to leave the island! Magu Restaurant is considered the main restaurant since that's where you go for the included breakfast. It is open for breakfast but also dinner. In the evening the buffet style restaurant changes its themes daily - there are different types of food every single night so that diners can enjoy a huge variety of different flavours during their stay.
Magu Restaurant's menu changes each night to include any of the following styles: Far Eastern, Chef's Special, Maldivian, Mexican, Mediterranean or Middle Eastern! As you can see, the main buffet area is undercover but the sides are open so you can still see the beautiful island and what is going on around you.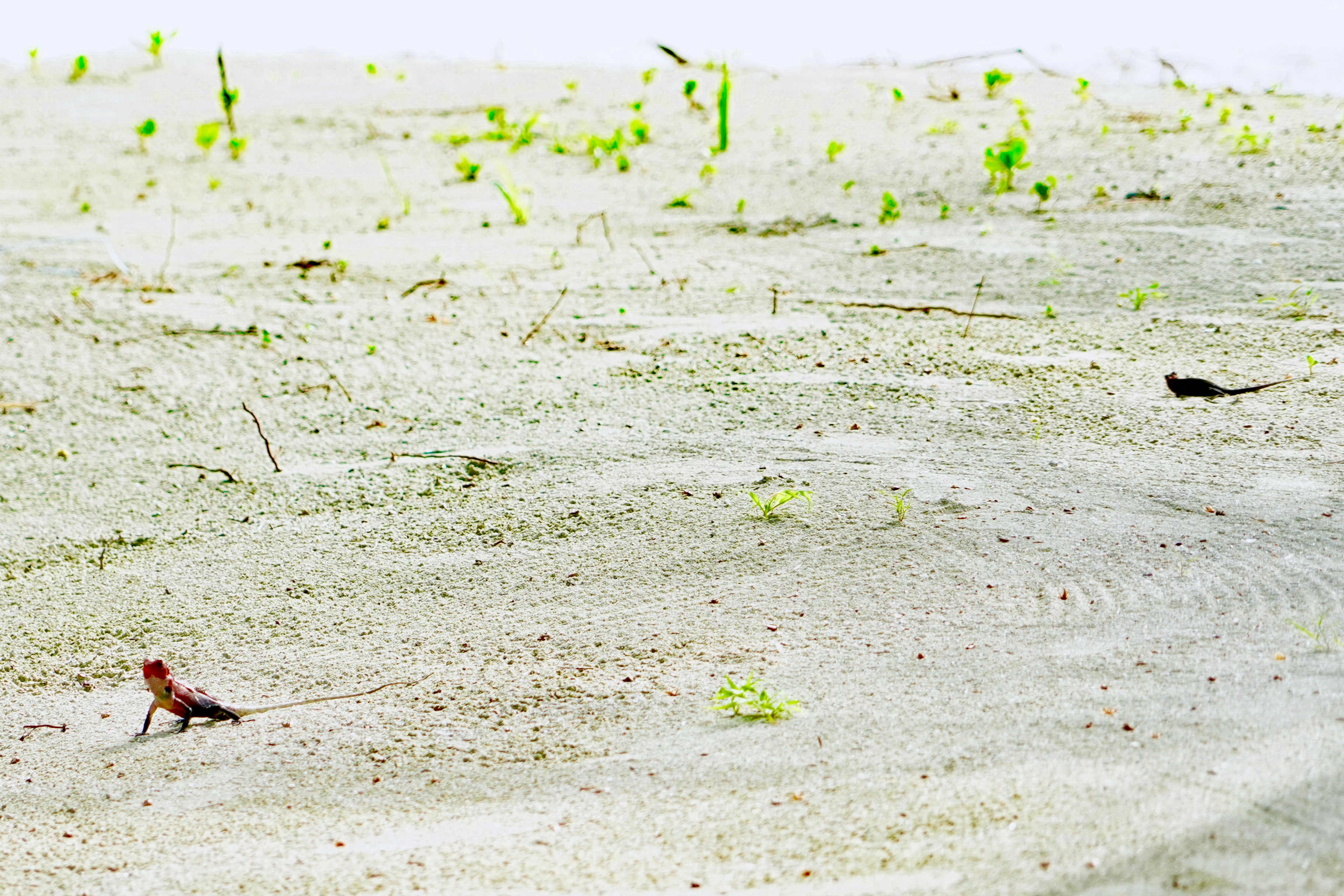 I just got this snap of this amazing red lizard as I explored the island a little more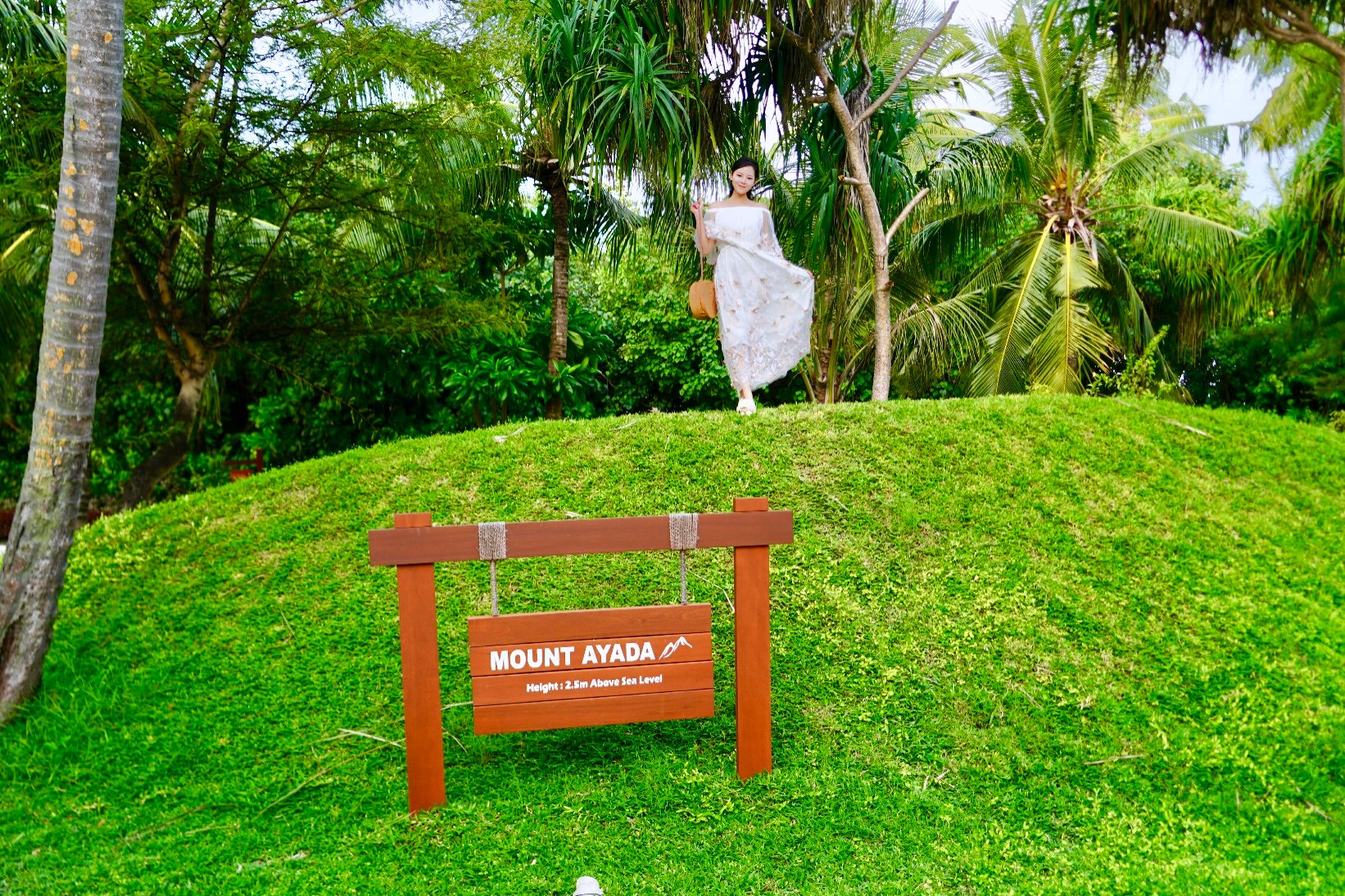 I found this sign quite funny but also quite sad. This is the highest spot on the island so they have called it Mount Ayada, just 2.5m above sea level! But this also shows the great danger that the Maldives face with the current levels of climate change. As the climate changes across the globe, the polar icecaps are melting. With thousands of tonnes of ice melting every single year, and experts predicting only further increases in icecap melting, sea levels will rise. They only have to rise by a meter or two and nearly every single island of the Maldives will be underwater.
I am happy to report that I meet more and more people who are doing their best to reduce their carbon footprint, though it can be really hard. I try to do my bit too but it's not always easy. I feel very lucky to have visited this beautiful place and I really hope that people will be able to continue to enjoy the islands for many years to come.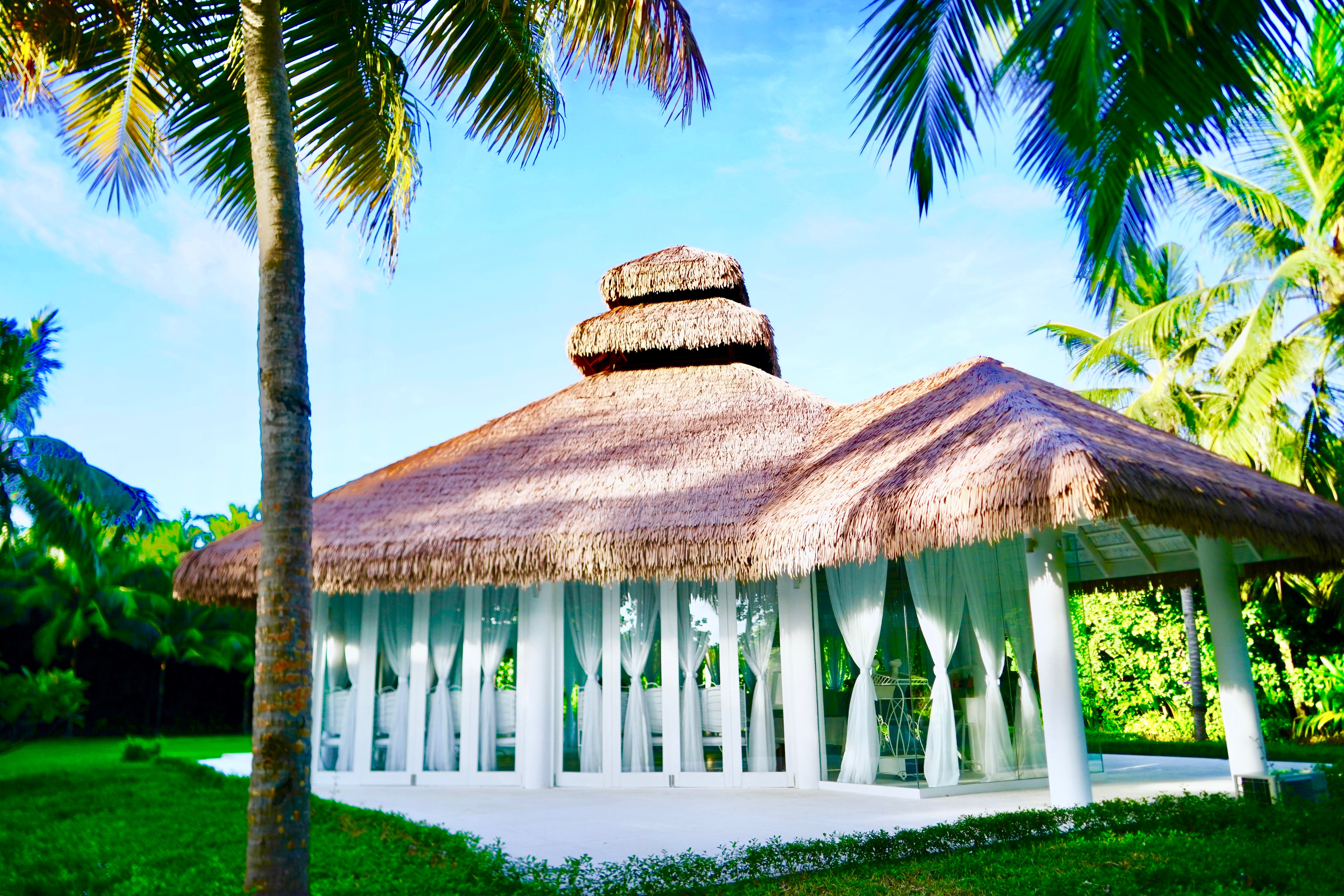 Little pavilion for relaxing in the shade!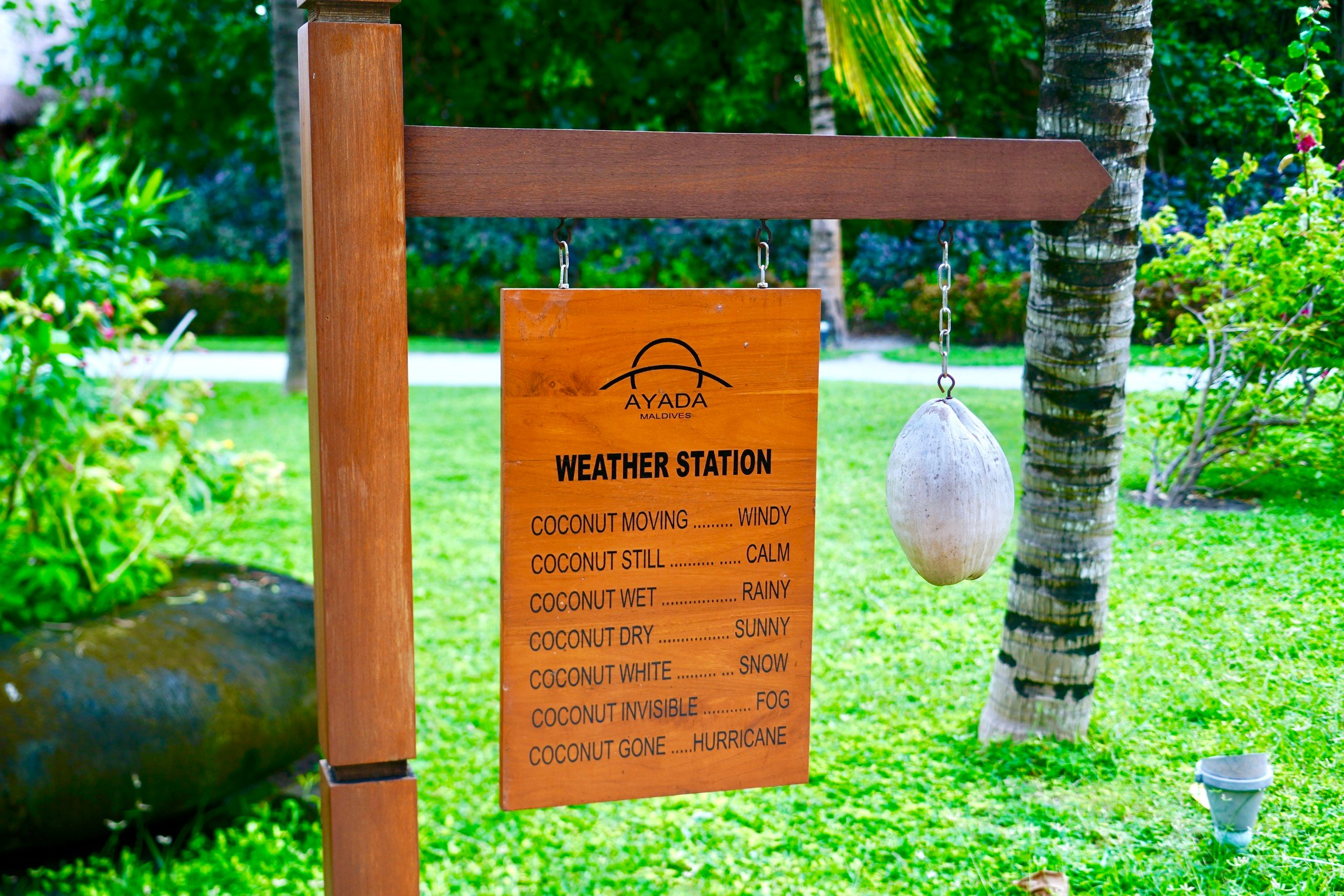 I thought this was just so funny! Ayada's very own weather station is very high tech. Of course you always need the most modern technology to know what the weather might be doing. Luckily the coconut is still there or else I might have been experiencing a hurricane! Fortunately, the weather during my stay wasn't like a hurricane though it was quite windy. The coconut weather station was moving slightly because of the wind coming off the sea and as you can see it was not wet - nice and sunny.
The Ottoman Lounge
---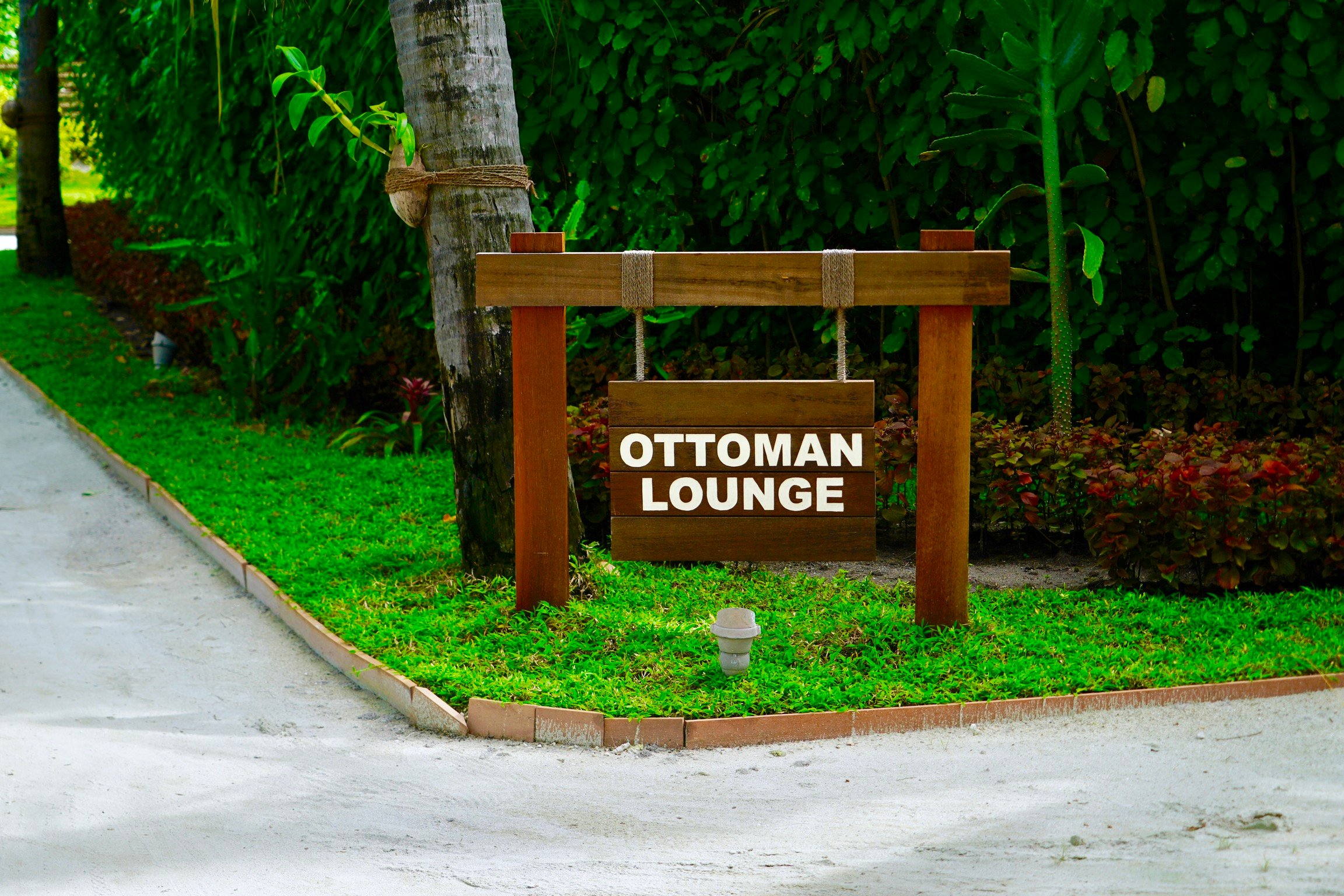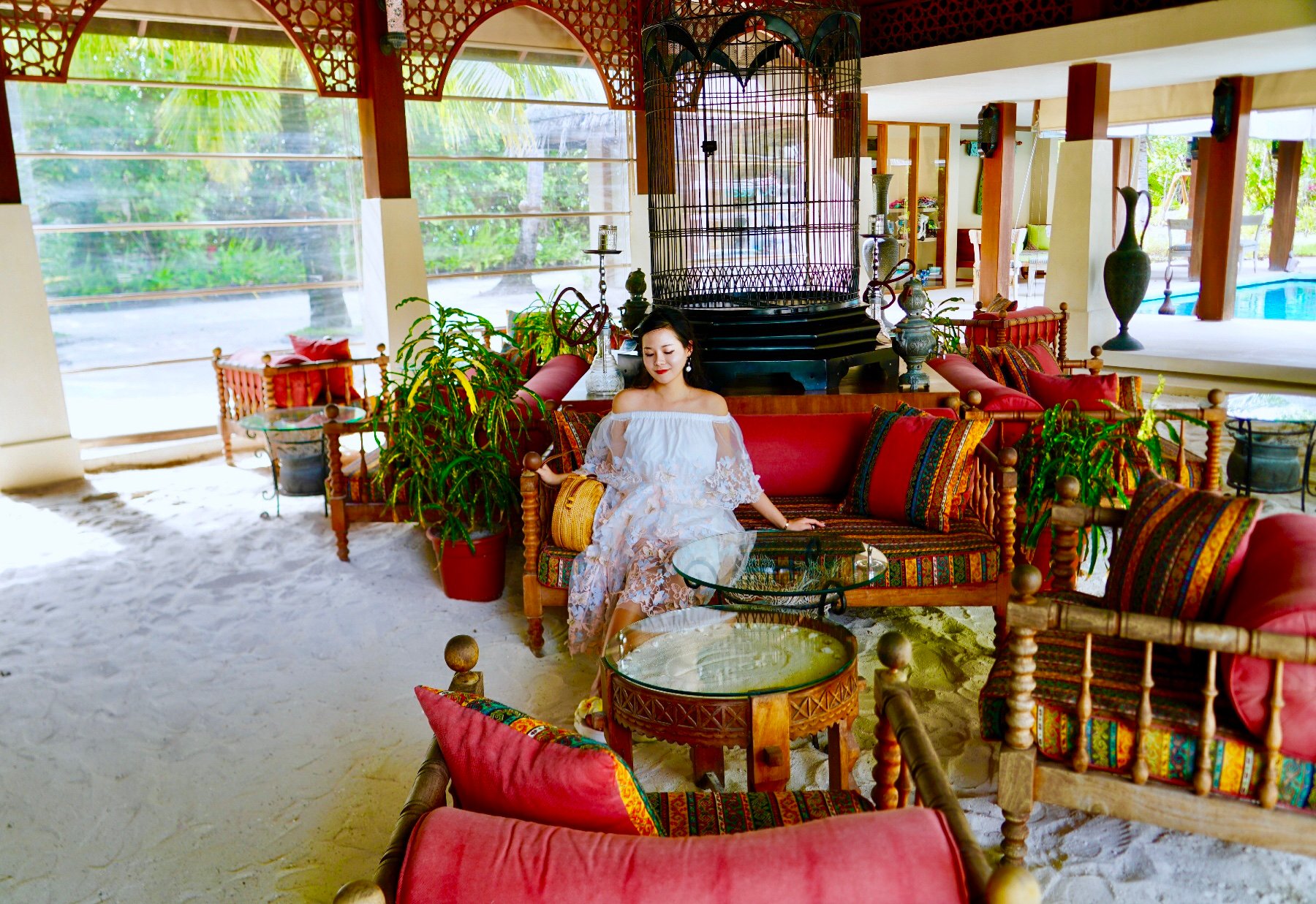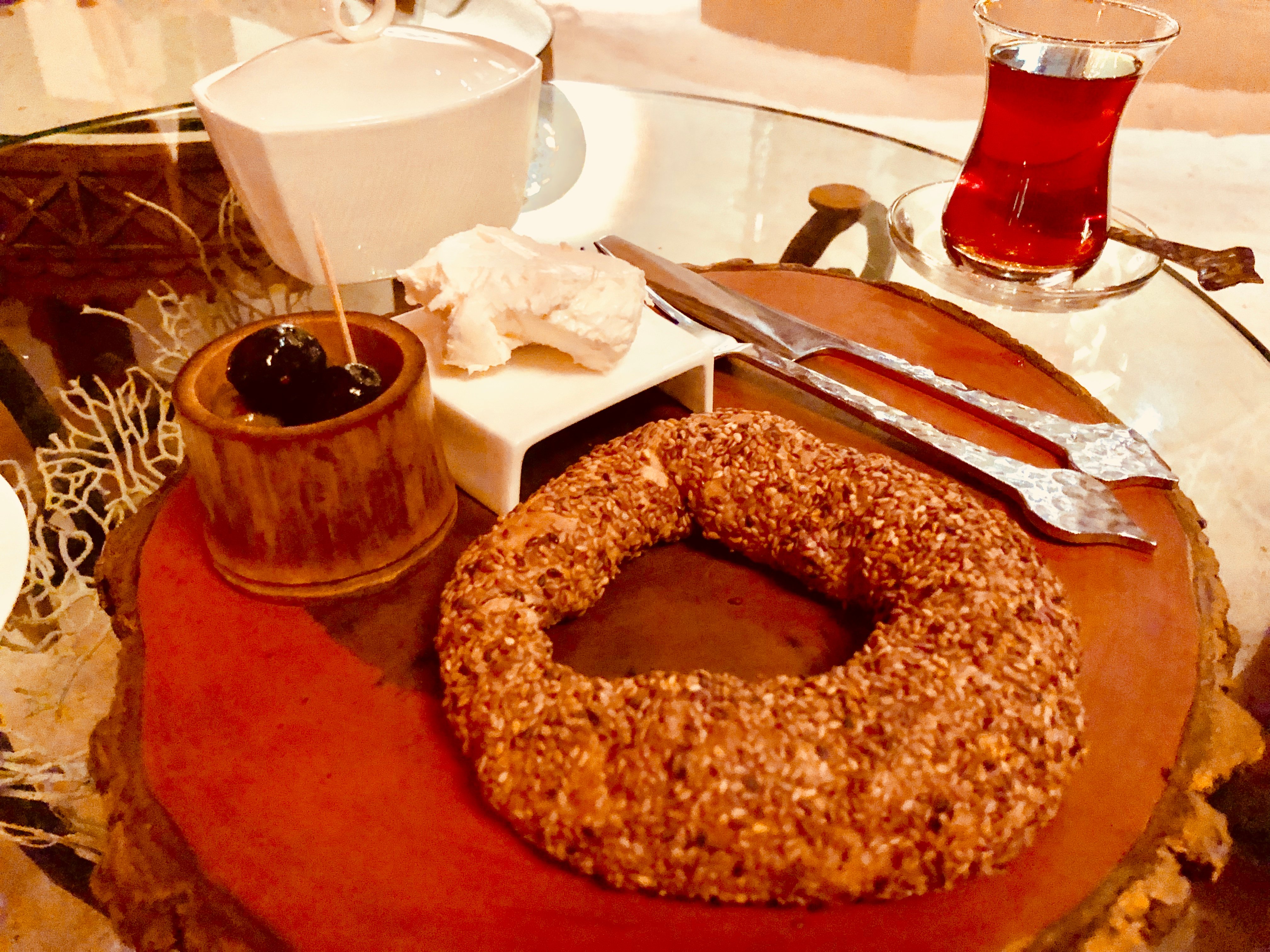 Oh wow, yes! I found something Turkish! If you've been reading my blogs recently you'll have seen that I went to Turkey and I absolutely adore the country, the food and the culture. I was so excited to stumble across a Turkish themed lounge area. The Ottoman Lounge offers light refreshments and snacks. I wasn't that hungry but when I saw that they had baklava on the menu, I just had to get some because it is one of my absolute favourite foods.
The space is designed to be peaceful and have a relaxed atmosphere, and as you can see the sand from the island is even inside the lounge! Many people came here to chill out with a Turkish Shisha or Hookah which made it feel and smell very authentically Turkish.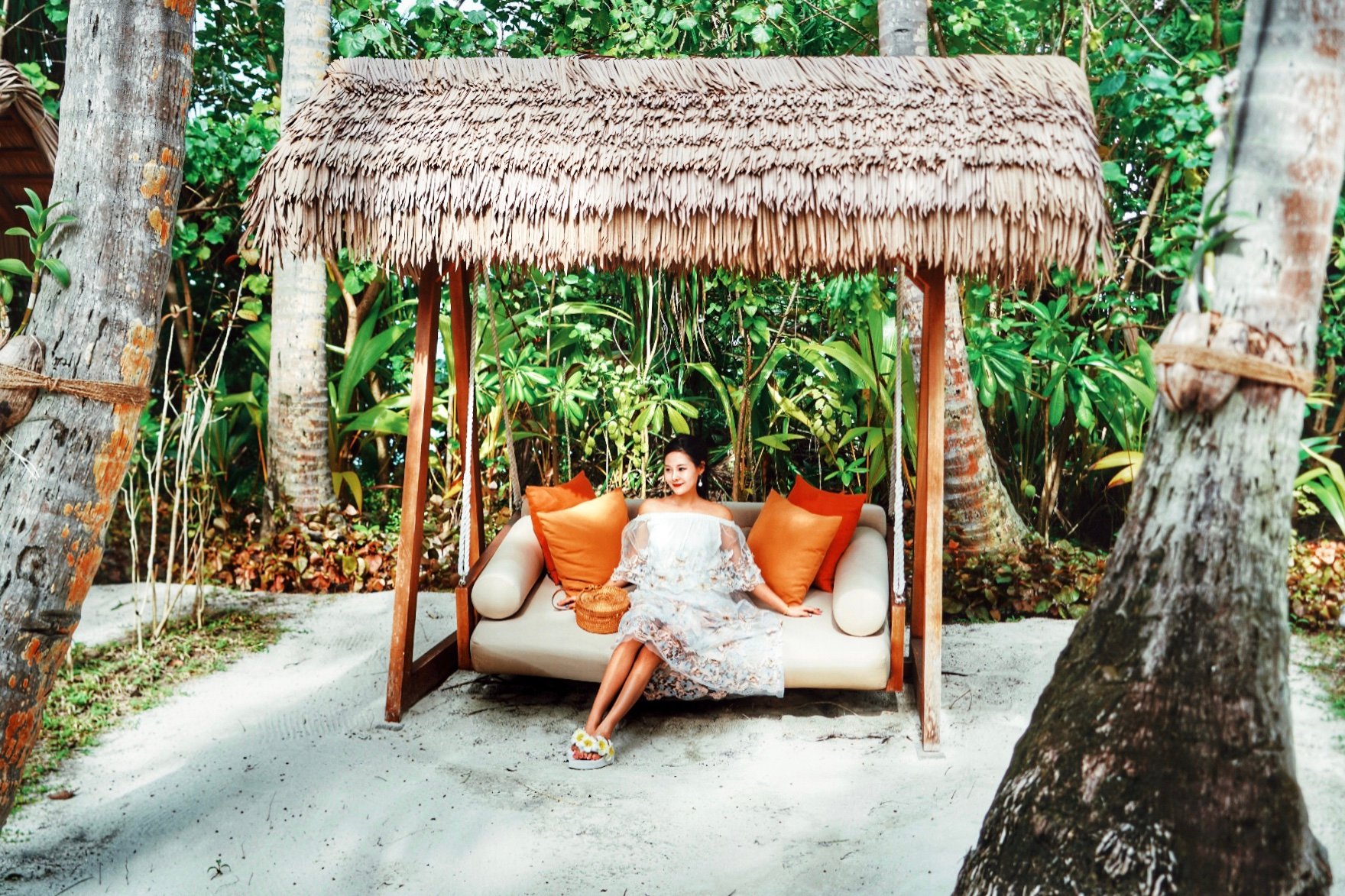 Relaxing on the sofa swing!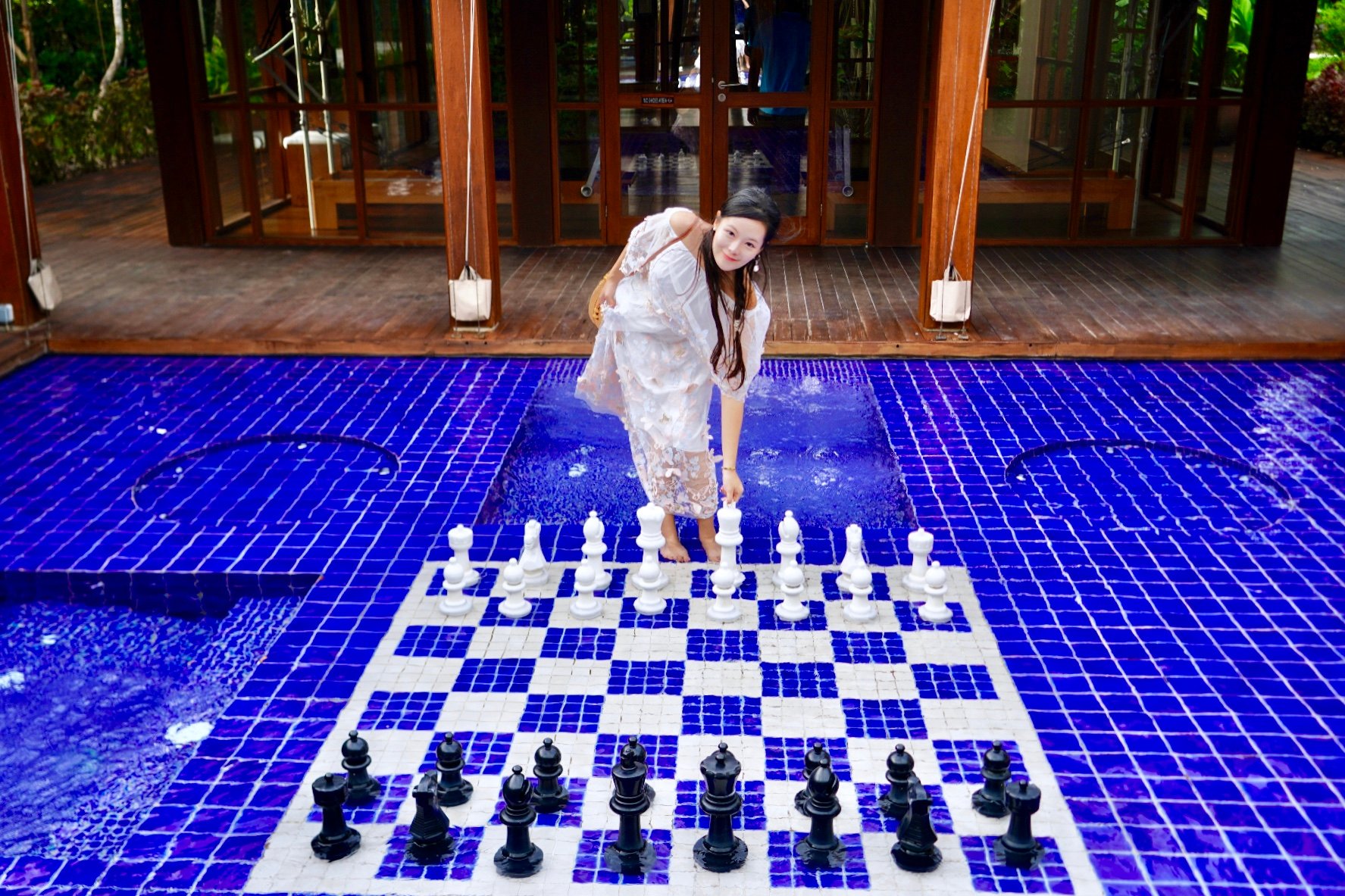 A giant chess board in a little pool so you can cool off while playing!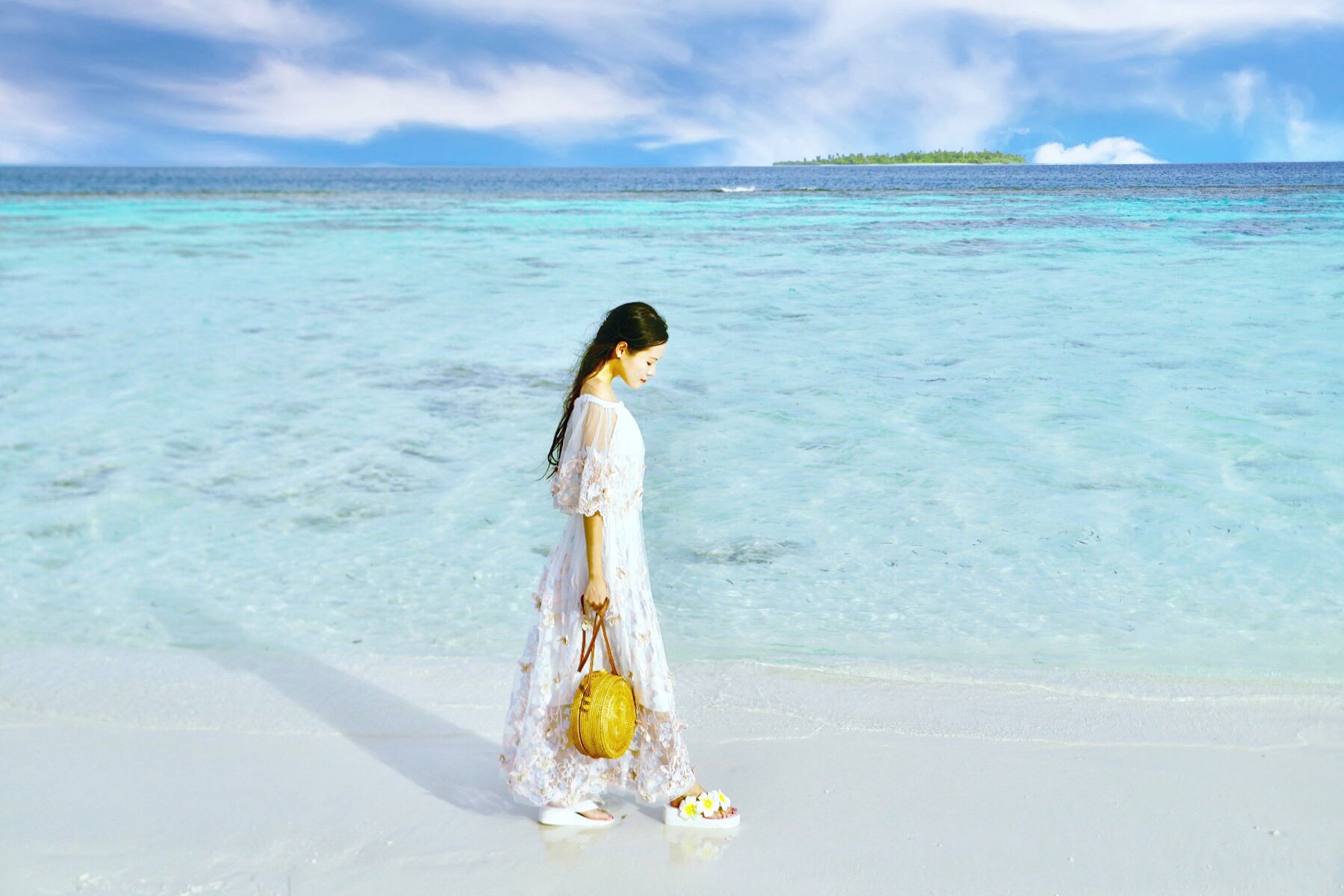 Going for a walk on the beach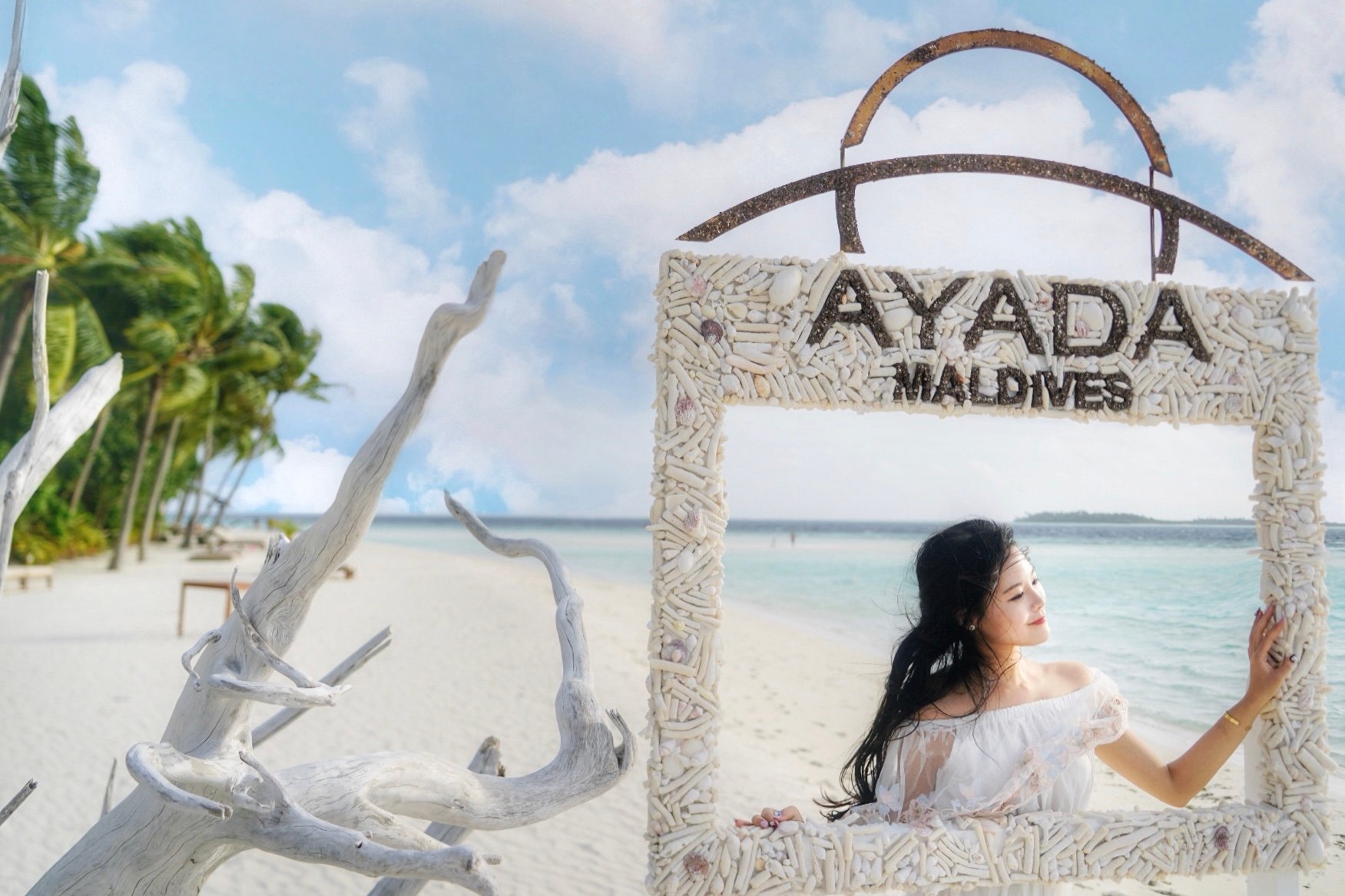 How cute is this. This is typical of Ayada Luxury Resort that they make little touches to make your stay more special, everywhere you go. They've made this picture frame and decorated it with shells and coral found right there on the beach. It made for some beautiful photos and I pretended like I was on a movie screen in a cast away island film. It was very fun posing for a few silly photos in the frame. What a great idea!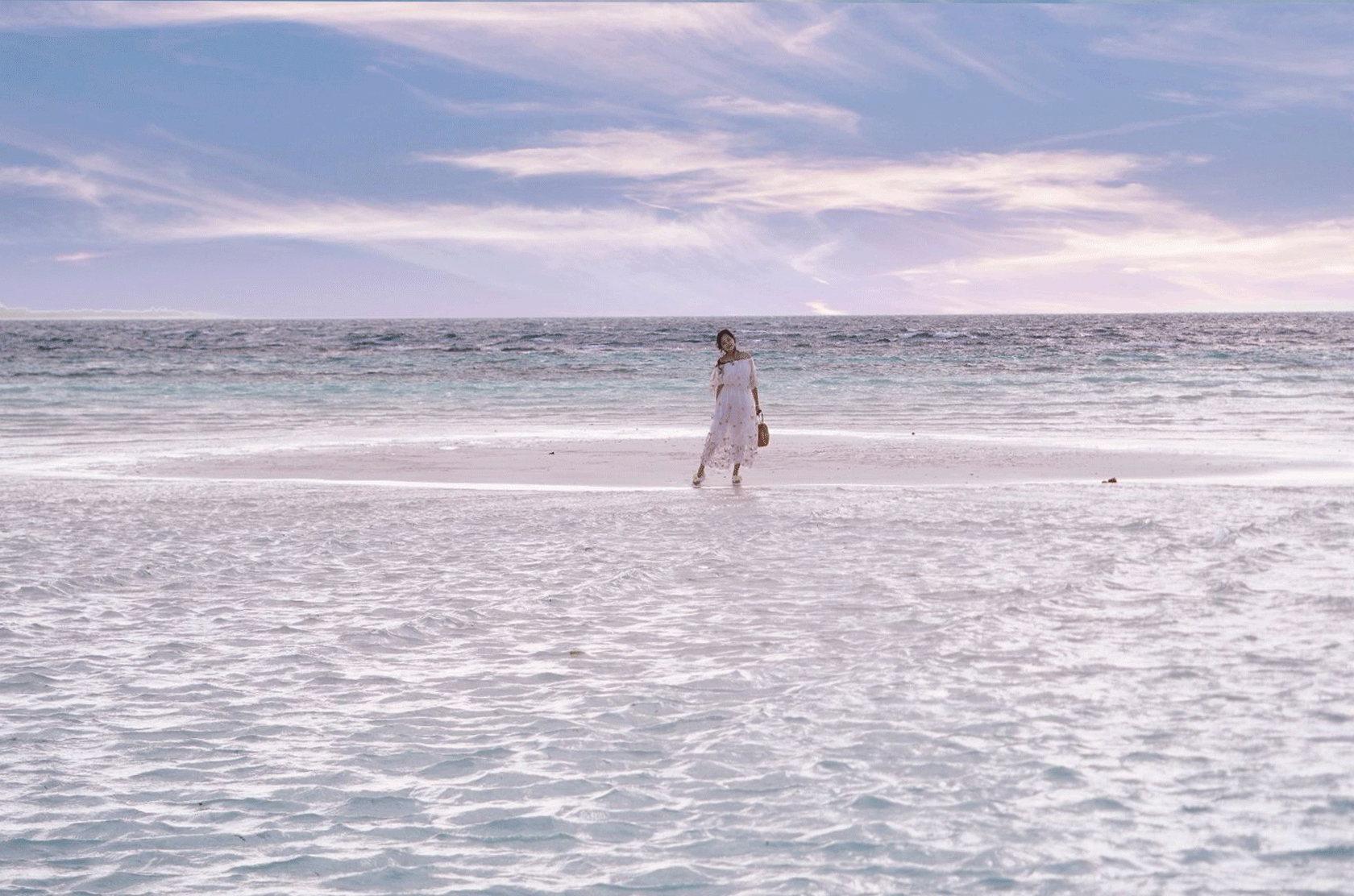 I have found my own luxury island resort in the Maldives! I haven't started building yet, but it will be the smallest resort in the country and it will be all for me. I call it the Sweetsssj Luxury Island Resort!
OK I'm joking. This is called a sandbar, and there are quite a few around the island. This is an area where the sand has drifted in the ocean's current to form a little raised area of sand. Because the water around the island is so shallow, you can walk through the water to reach the little sand island. Standing out there was a completely new experience. I knew that the water was shallow around me, but this sandbar was actually quite far out in the sea. It took me quite a while to wade over there! So when I looked around, it felt like I was marooned in the middle of the ocean, or perhaps walking on top of the water itself. I don't think there's many places in the world where you could do this!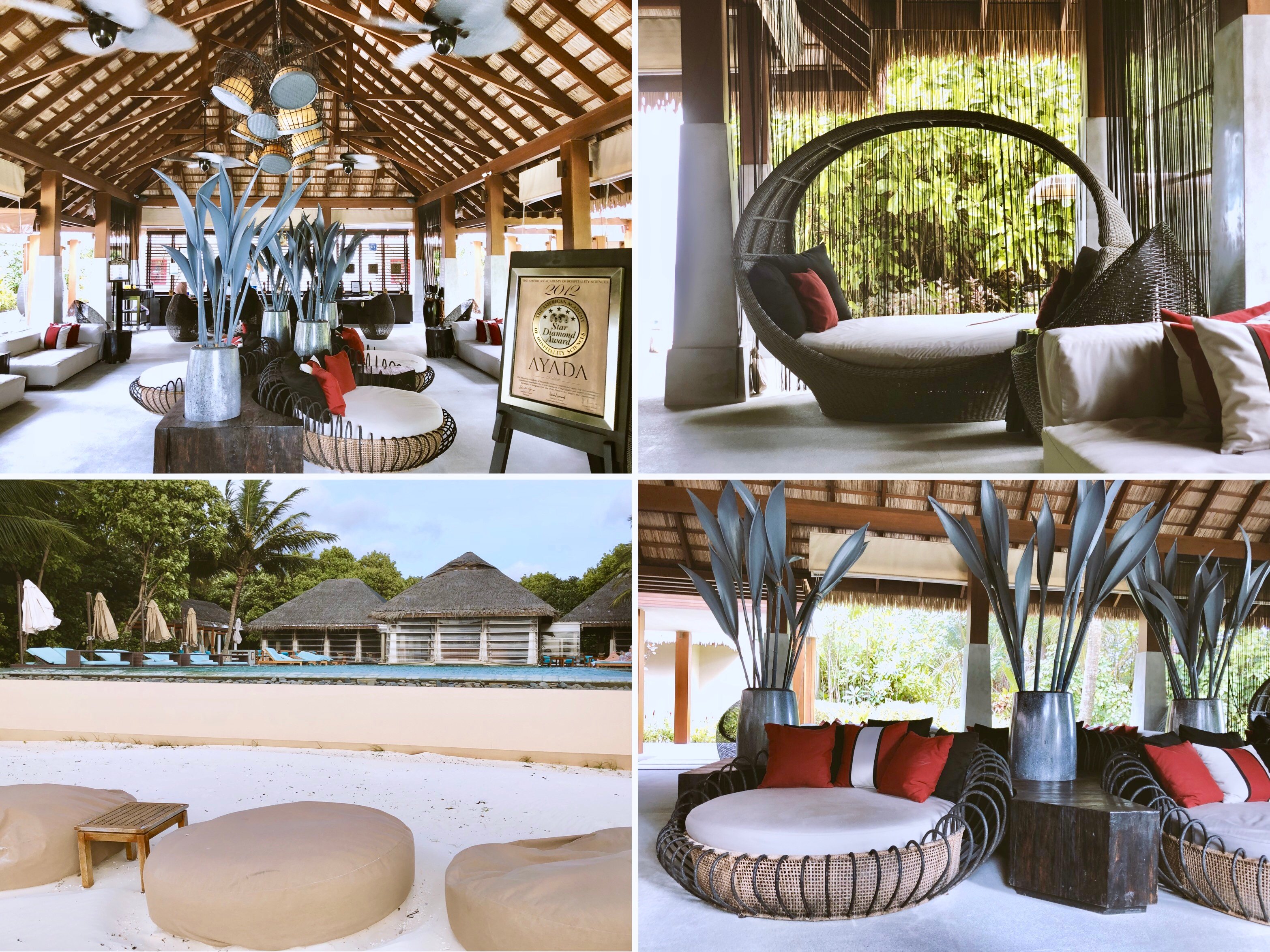 The next place I explored was the lobby and hotel lounge. I had seen it briefly when I checked in but I was too excited to go and see my room at the time so I forgot to look around properly. I notice that everything here is low down to the floor. When you sit down, you feel almost like you're lying down on a bed. The sofas and other seats are all super relaxed and just invite you to melt in to them.
There were also some really lovely pieces of modern art in the form of metal palm leaves. As with most of the buildings here at Ayada the lobby has no walls so that you can always hear the ocean, feel the breeze and see your surroundings on this sandy island.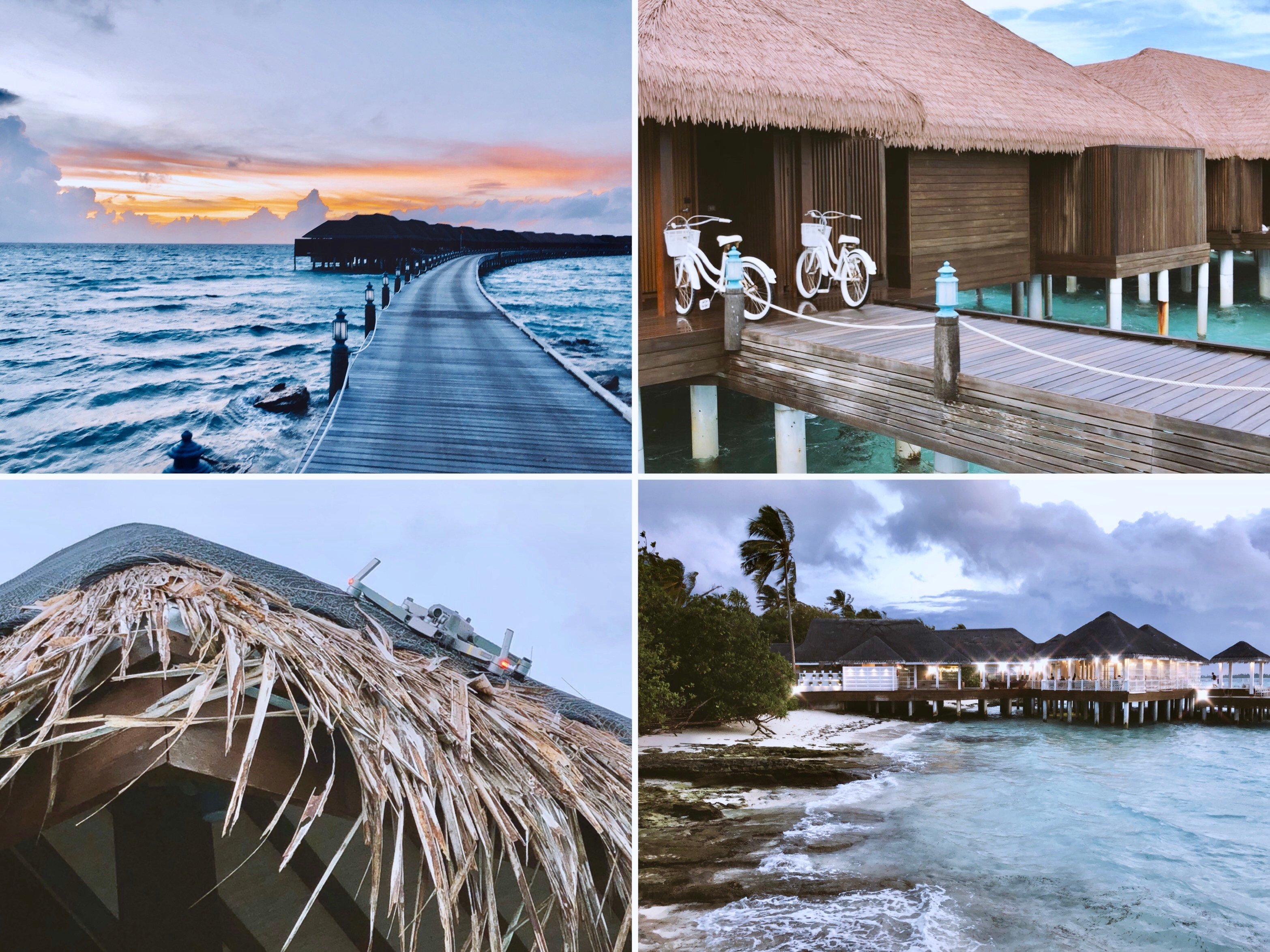 Friends, take a closer look at the bottom left picture here. Can you see it? That's my drone! I have to tell a bit of an embarrassing story. I brought my drone with me because I wanted to be able to show you some aerial shots of the island resort. I spent a bit of time getting it all set up and ready to go but just a few seconds after I launched it, the wind took it and blew it off course and stranded it on this roof! The breeze coming off the ocean was quite strong.
I must say I was so embarrassed when I had to go and tell the hotel reception what had happened. But then it got even worse! Because of a big rainstorm that was coming in, the hotel weren't able to get someone to retrieve my drone for hours. Unfortunately, by the time the drone was rescued the rainstorm had completely soaked the drone and there ended my hopes of getting you some aerial footage. I was quite upset but I wouldn't let it ruin my beautiful time here.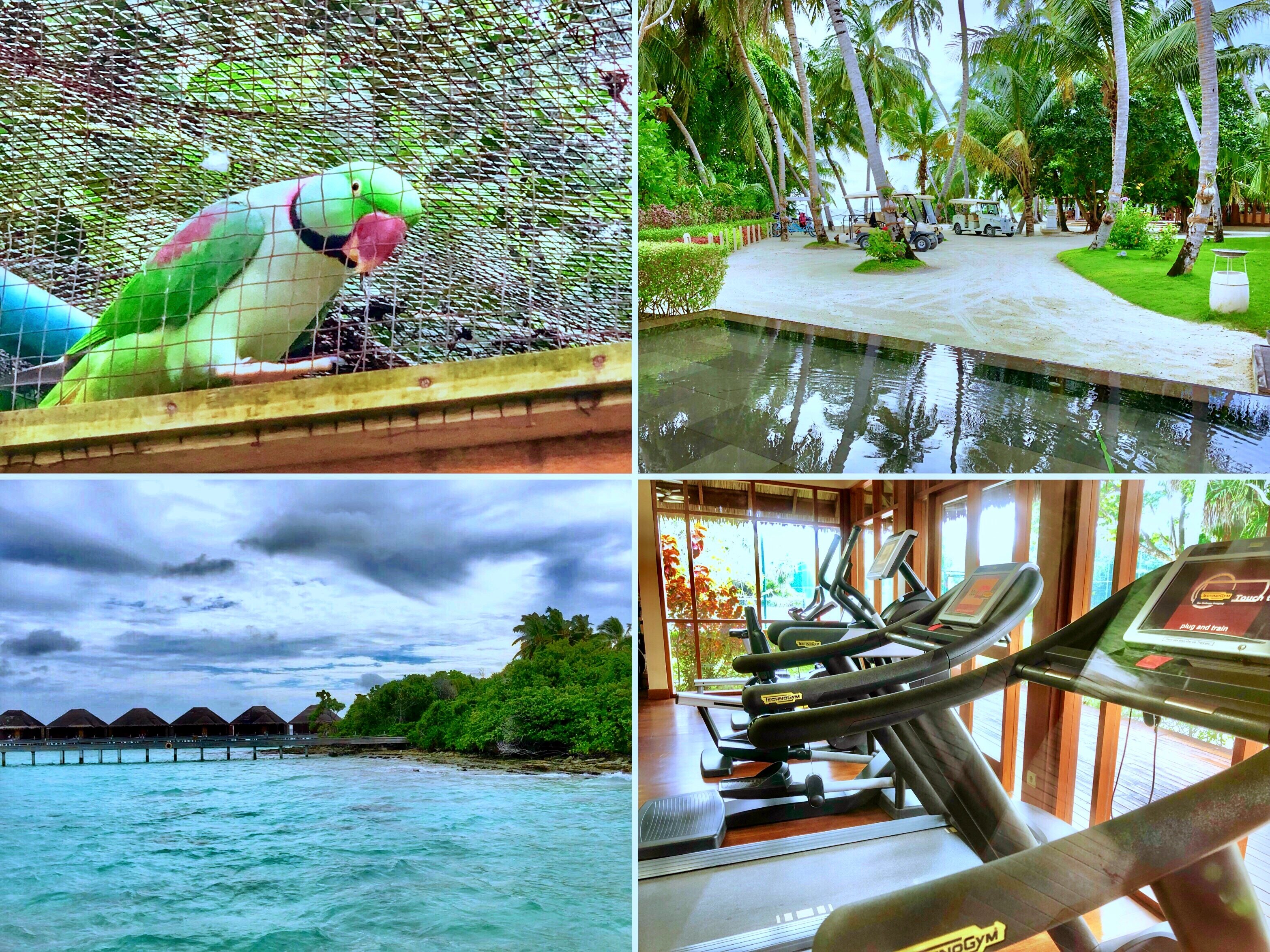 Lastly on my exploration of the island I found the fitness centre. It was very well equipped and I'm sure that the view would have been most inspiring for exercise, but that wasn't what I was interested in. I was most interested in the parrot! Right next to the fitness centre was the island's resident pet parrot.
I almost walked straight past him without seeing him until he started talking! 'Hello! Hello! Hello!' he said to me! I just burst out laughing because this parrot was talking to me. I replied to him, 'Hello, how are you?' and he said, 'Hello, how are you?' back to me! I couldn't believe it. He was so intelligent that he seemed to be able to repeat most things that I said to him.
I knew when he was looking at me that there was a very strong intelligence behind his eyes. I watched and talked with him for ages. He used his beak to kind of hop around his enclosure, using it almost more than his feet! It was like he had three feet, one of them being his beak. Obviously he had to let go with his mouth to speak! I tried to make him say my name but I don't think he quite understood.
Lunch by the pool
---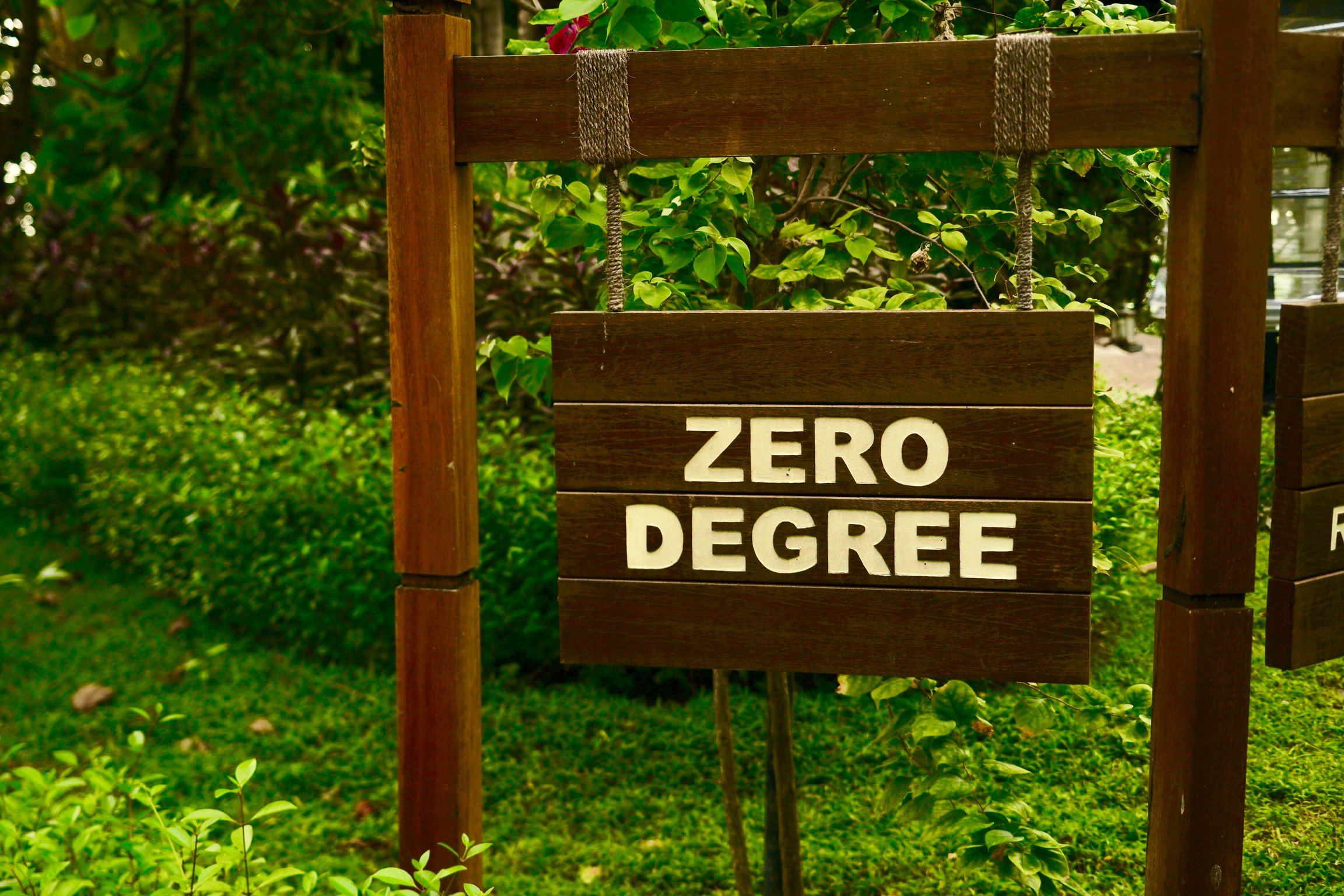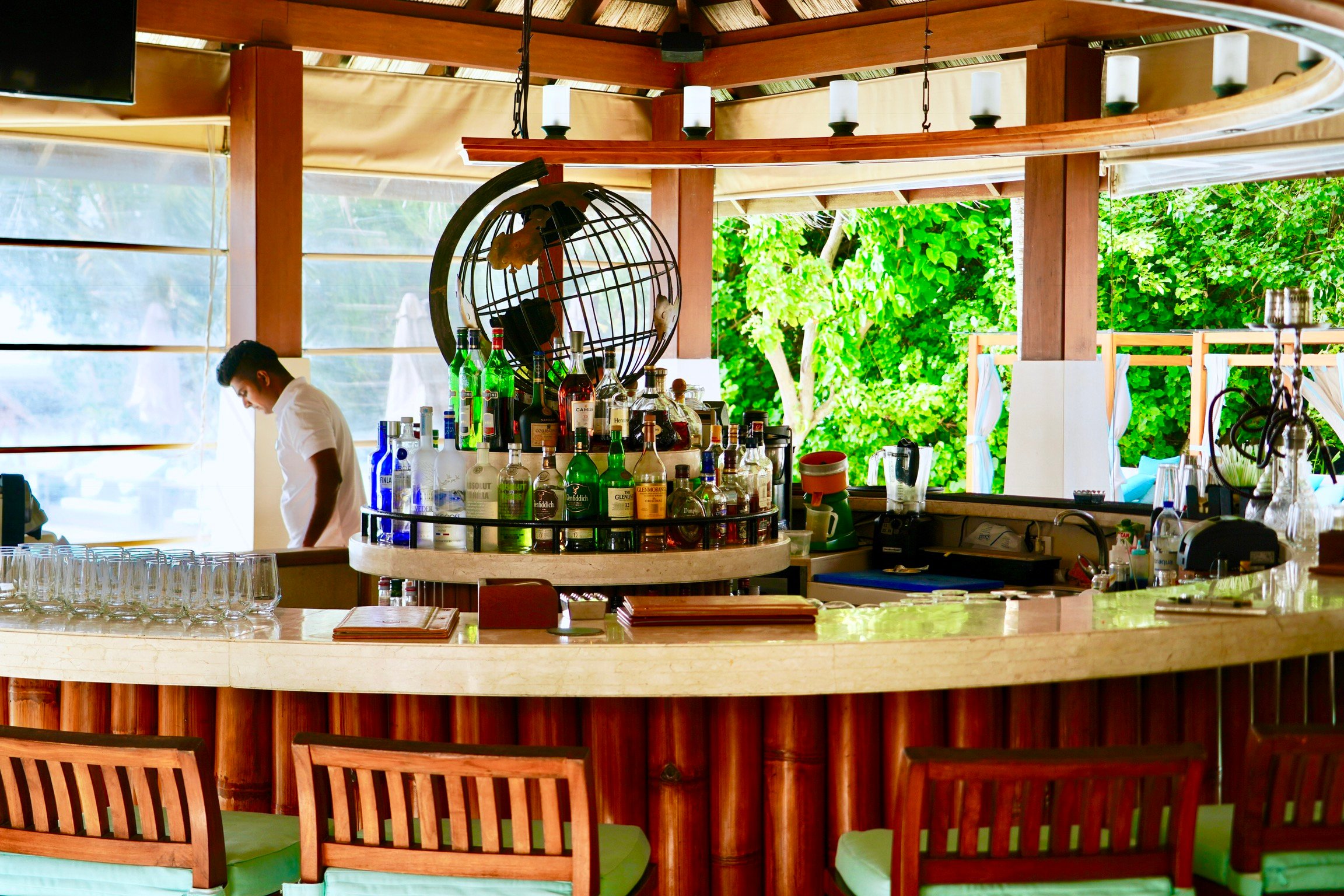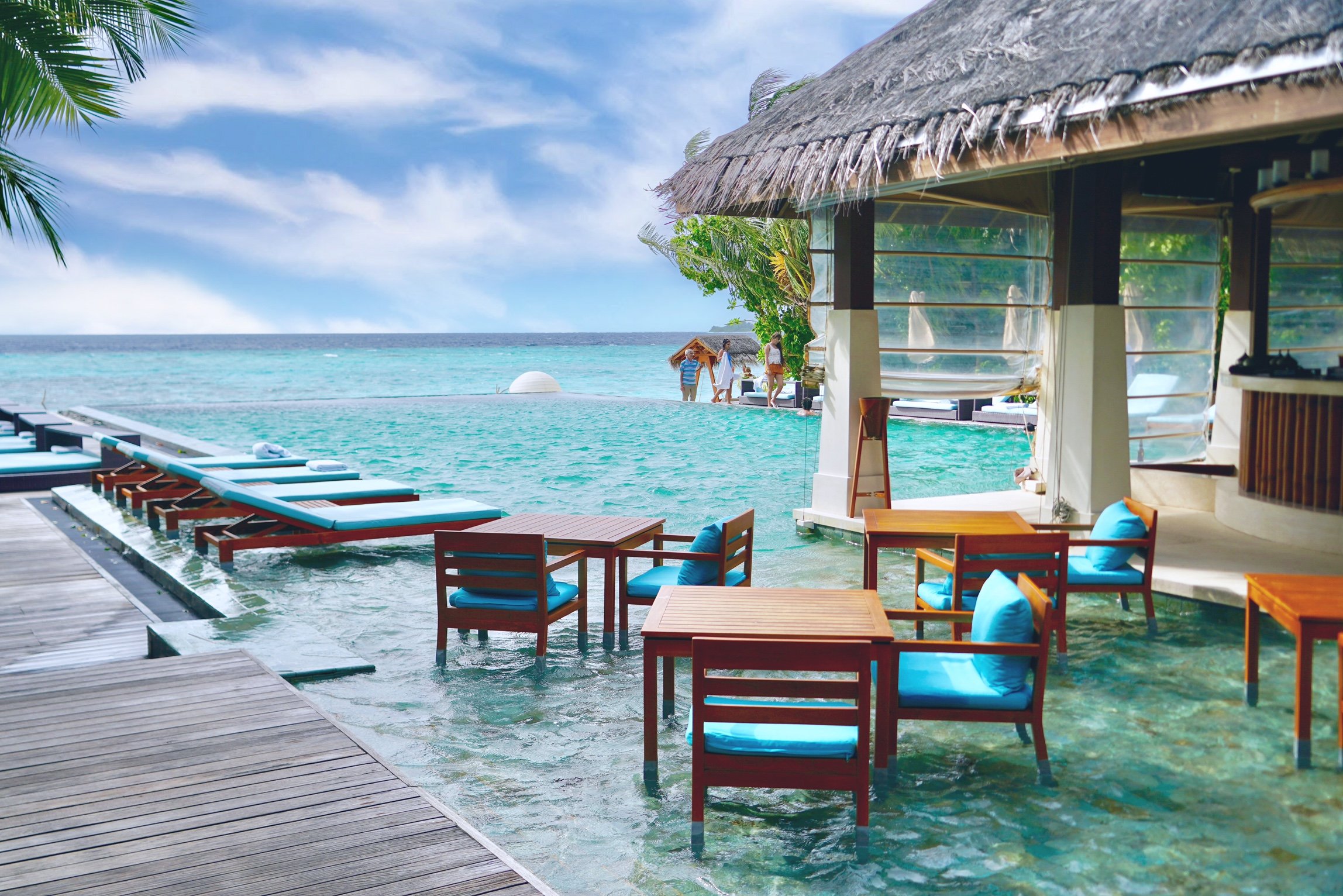 After a long morning exploring the island, I found another restaurant called Zero Degree. The restaurant is located right next to the swimming pool. Though ocean is the only swimming pool you'd ever need most of the time, sometimes the weather made swimming in the sea unsafe so the resort would put up red flags. At this time you could come and swim in the pool beside Zero Degree. As you can see, the pool also served as some of the dining and lounging area for the restaurant so you could sit and have a drink while paddling your feet in the warm water!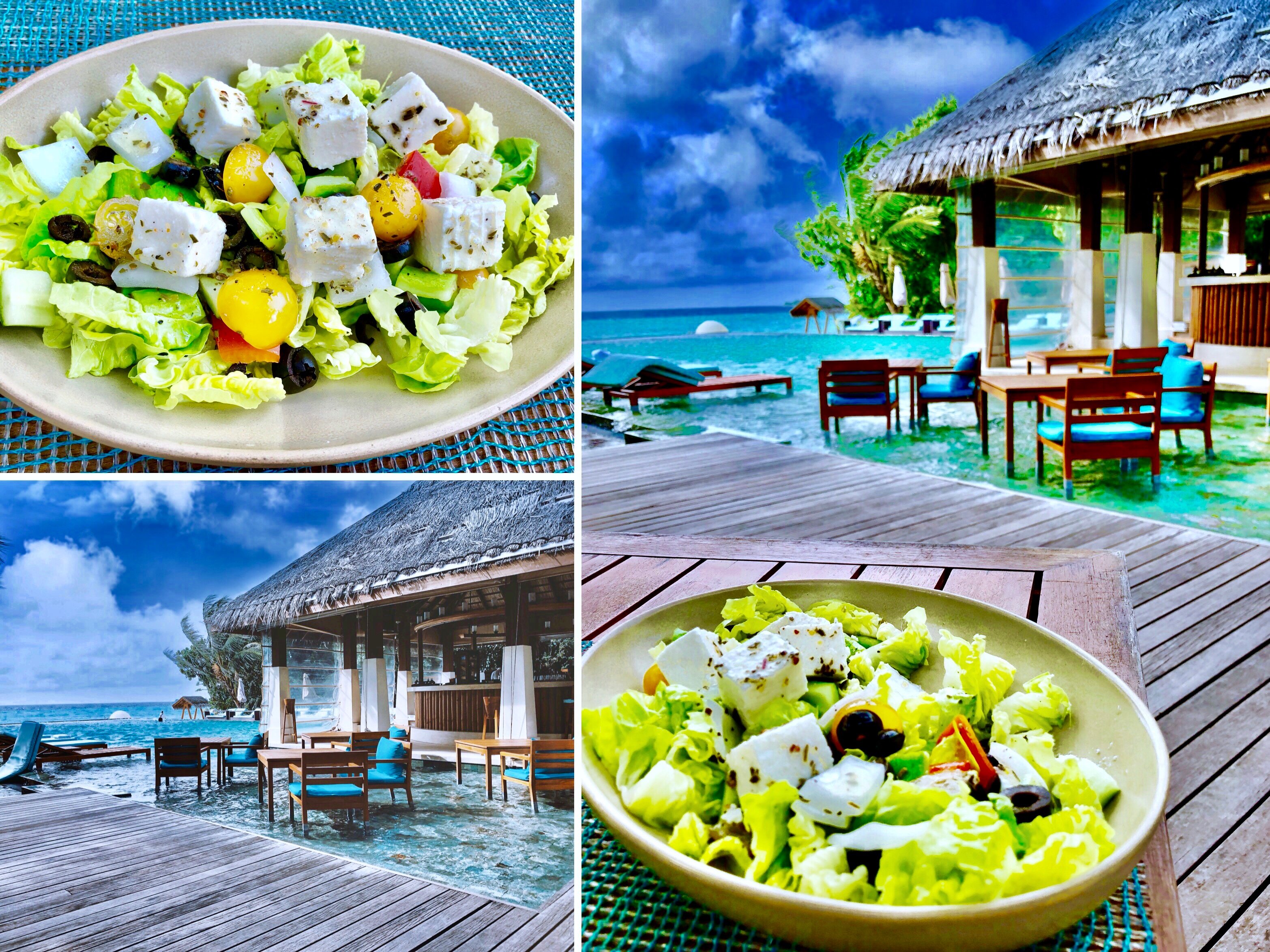 By now though, I was quite hungry so I got a lovely fresh Greek style salad with olives and feta cheese for a starter. Even though it can be hard to grow certain produce on the sand islands, I was impressed by how fresh all of the food was at the resort and I think this picture really shows that.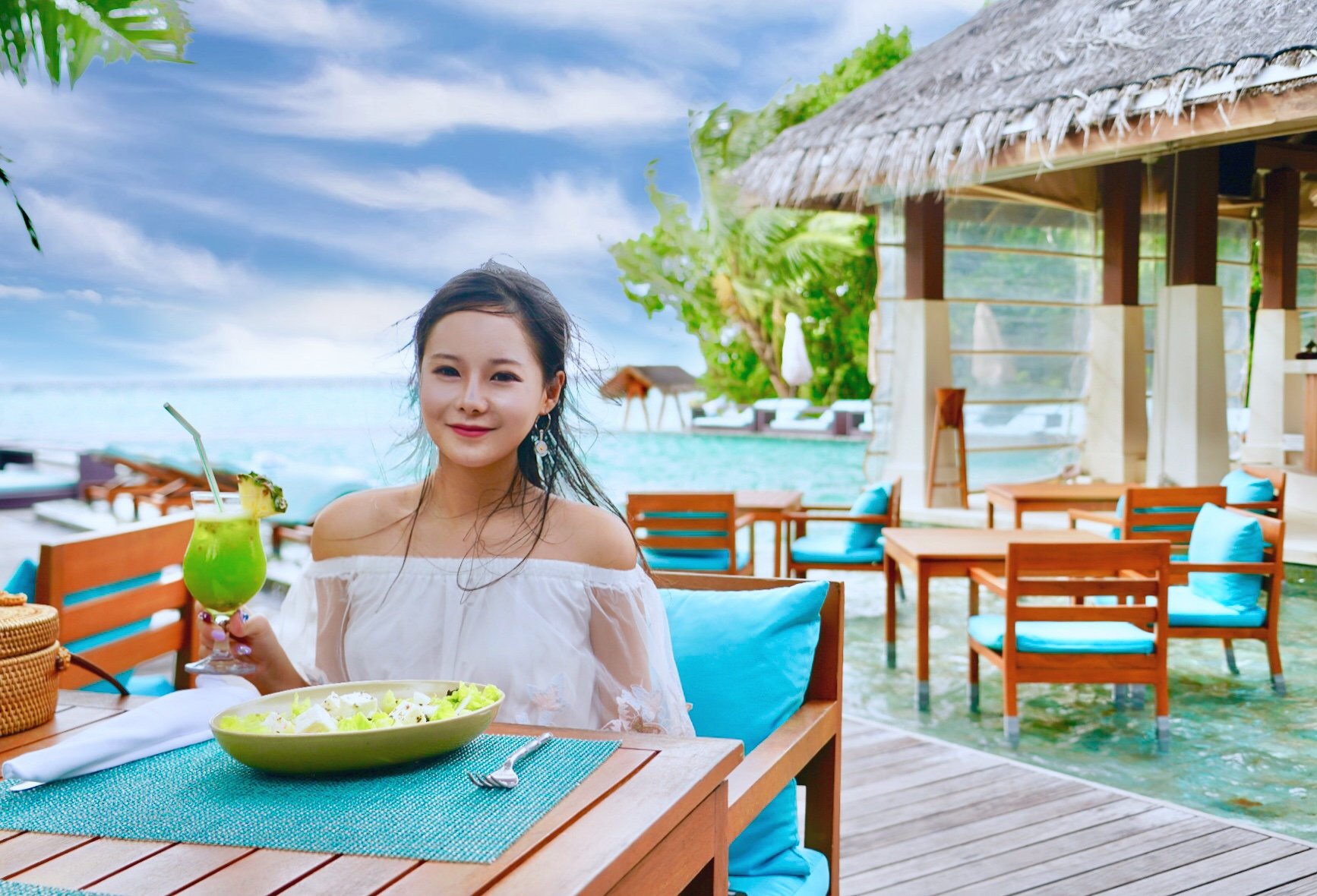 Enjoying a juice to freshen up by the pool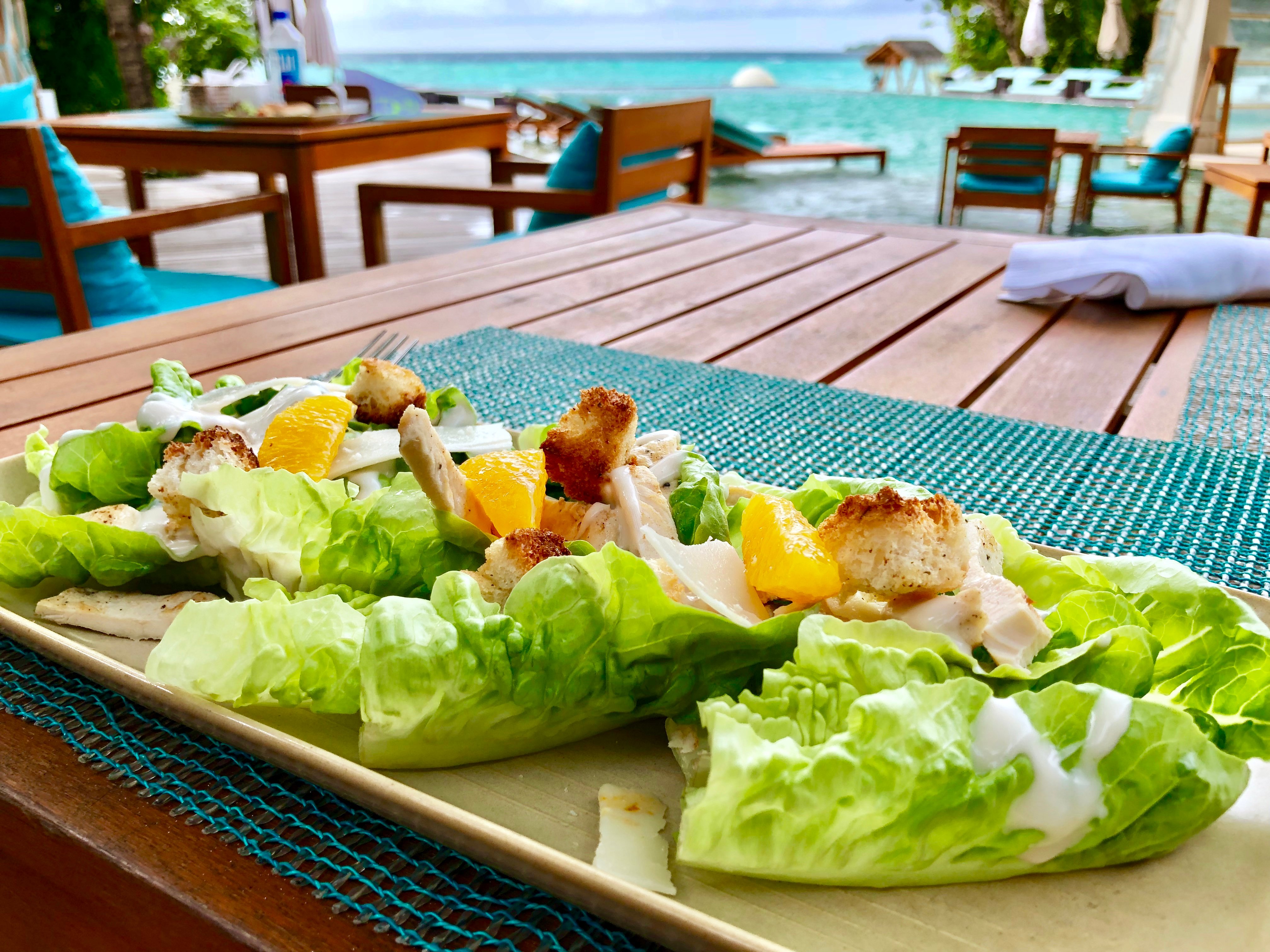 Modern twist on a Chicken Caesar Salad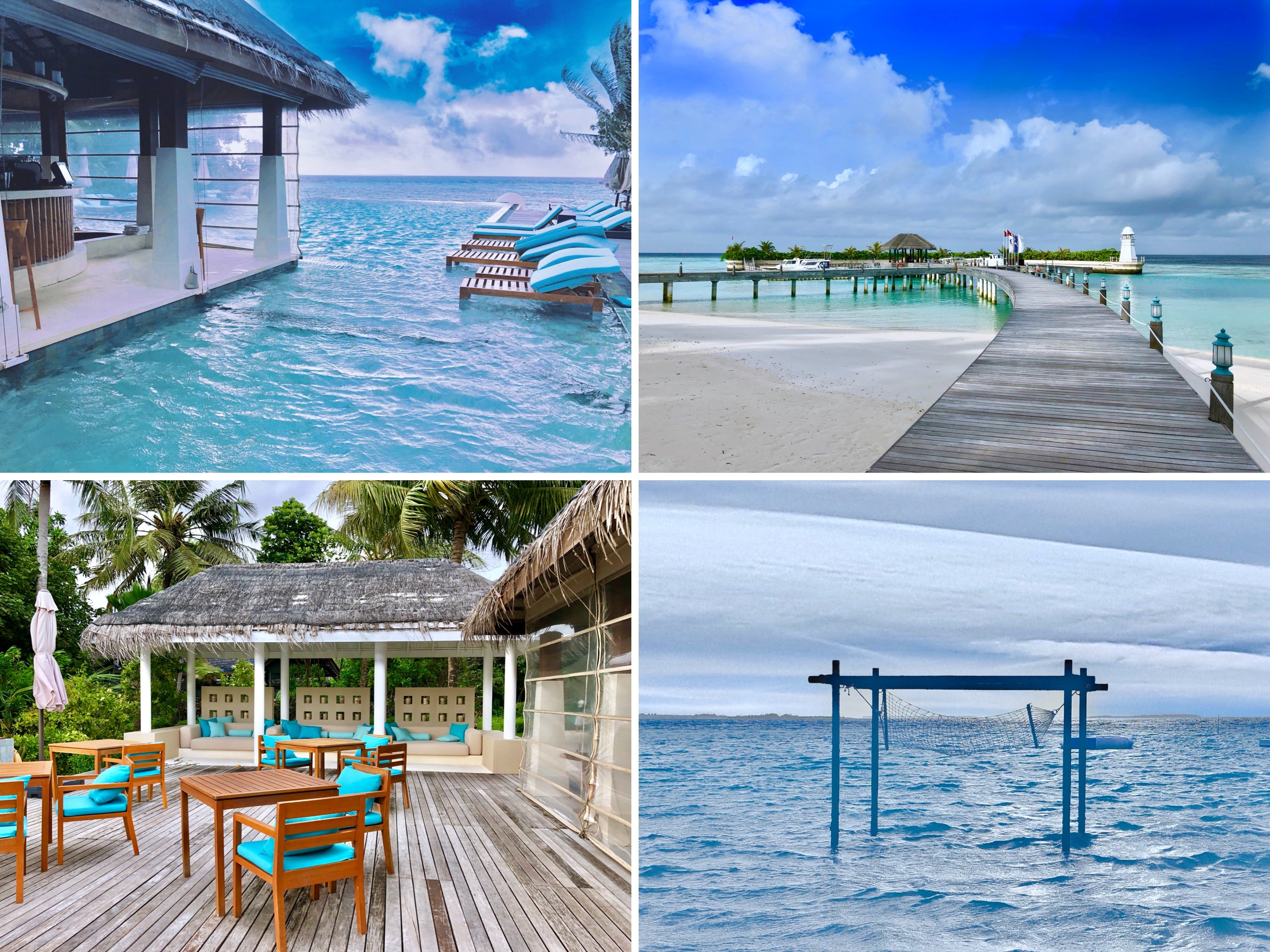 What a beautiful view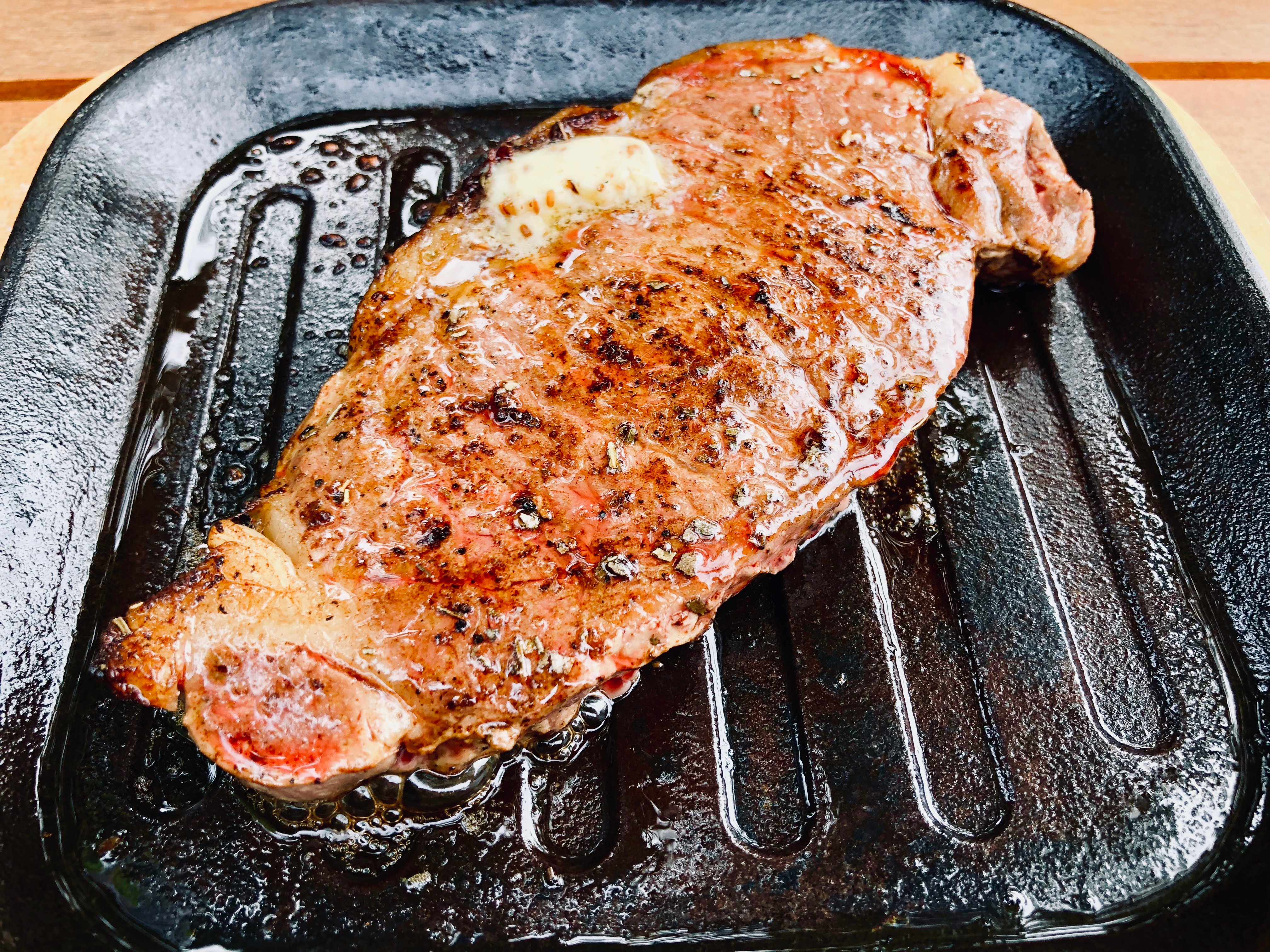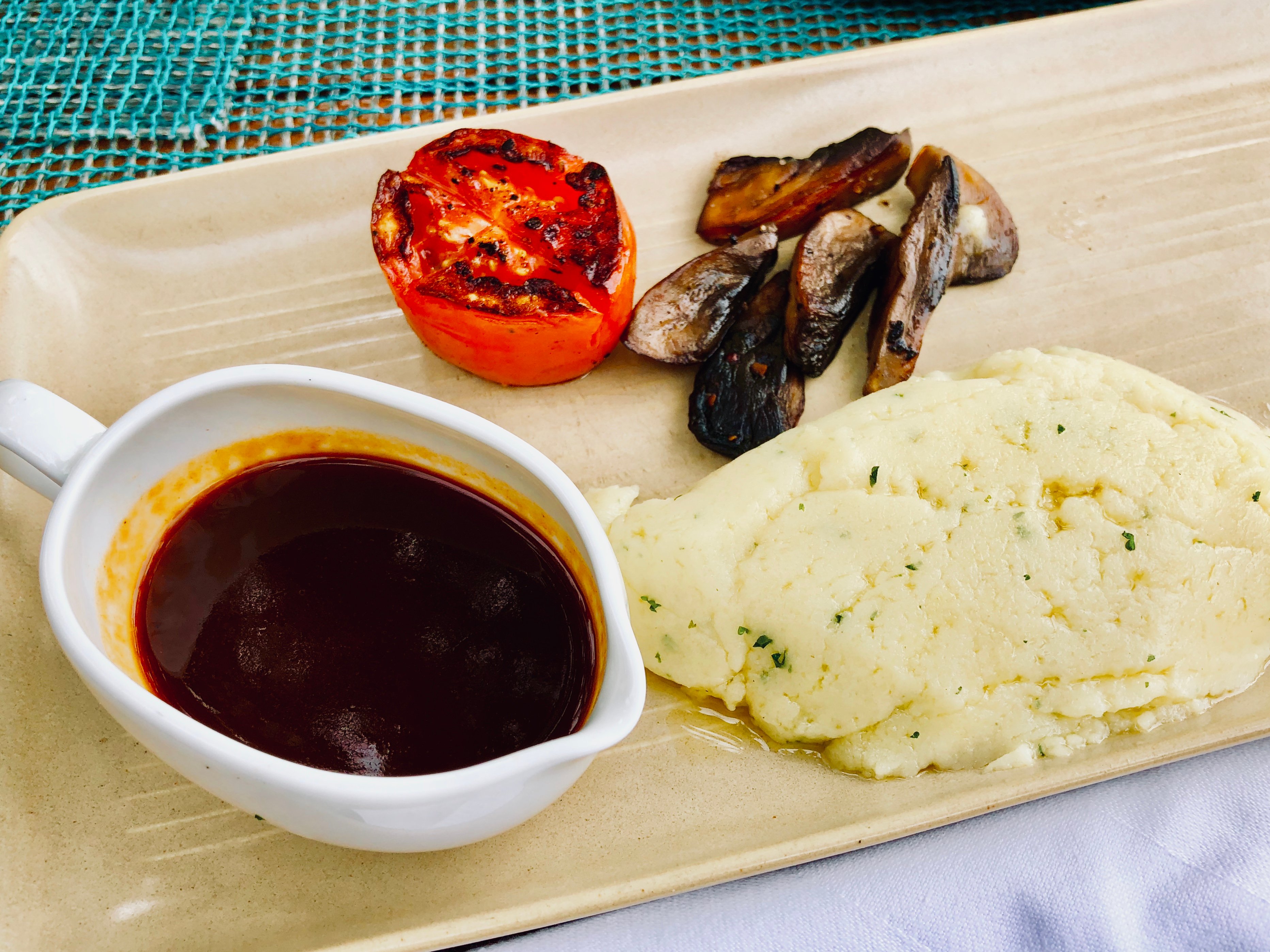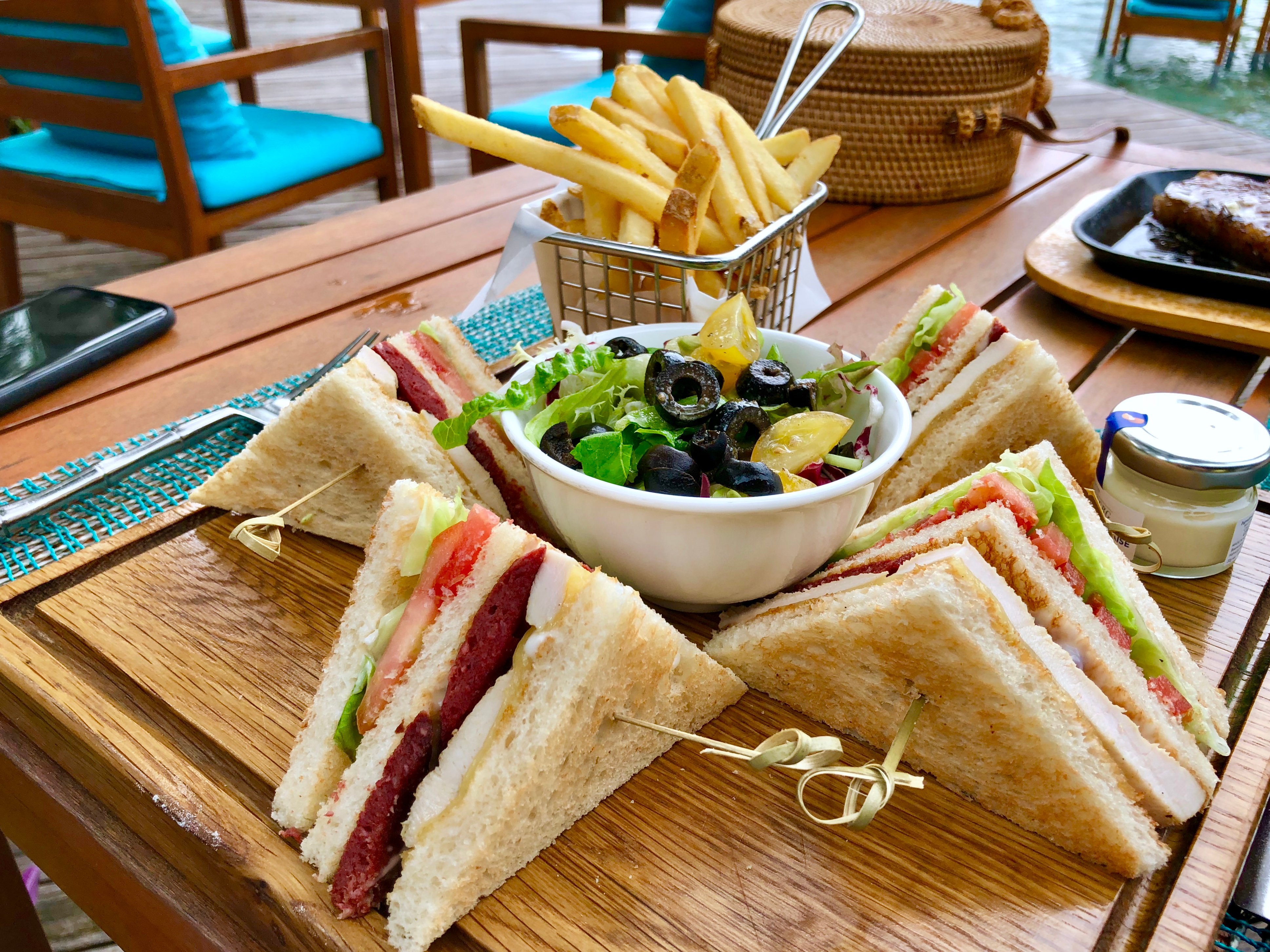 You can see how freshly everything is cooked. The steak with mash potato was cooked freshly in front of my eyes and it was cooked to absolute perfection. The club sandwiches were lightly toasted giving a very pleasant crunch and of course were accompanied by more salad.
I enjoyed my very relaxed lunch at Zero Degrees and afterwards I felt really quite full so went to enjoy my villa a little more, relaxing by the sea with a book. I needed to make space for dinner, because I had booked a private dining experience for that evening which I just couldn't wait to go on!
My private dining dinner by the beach
---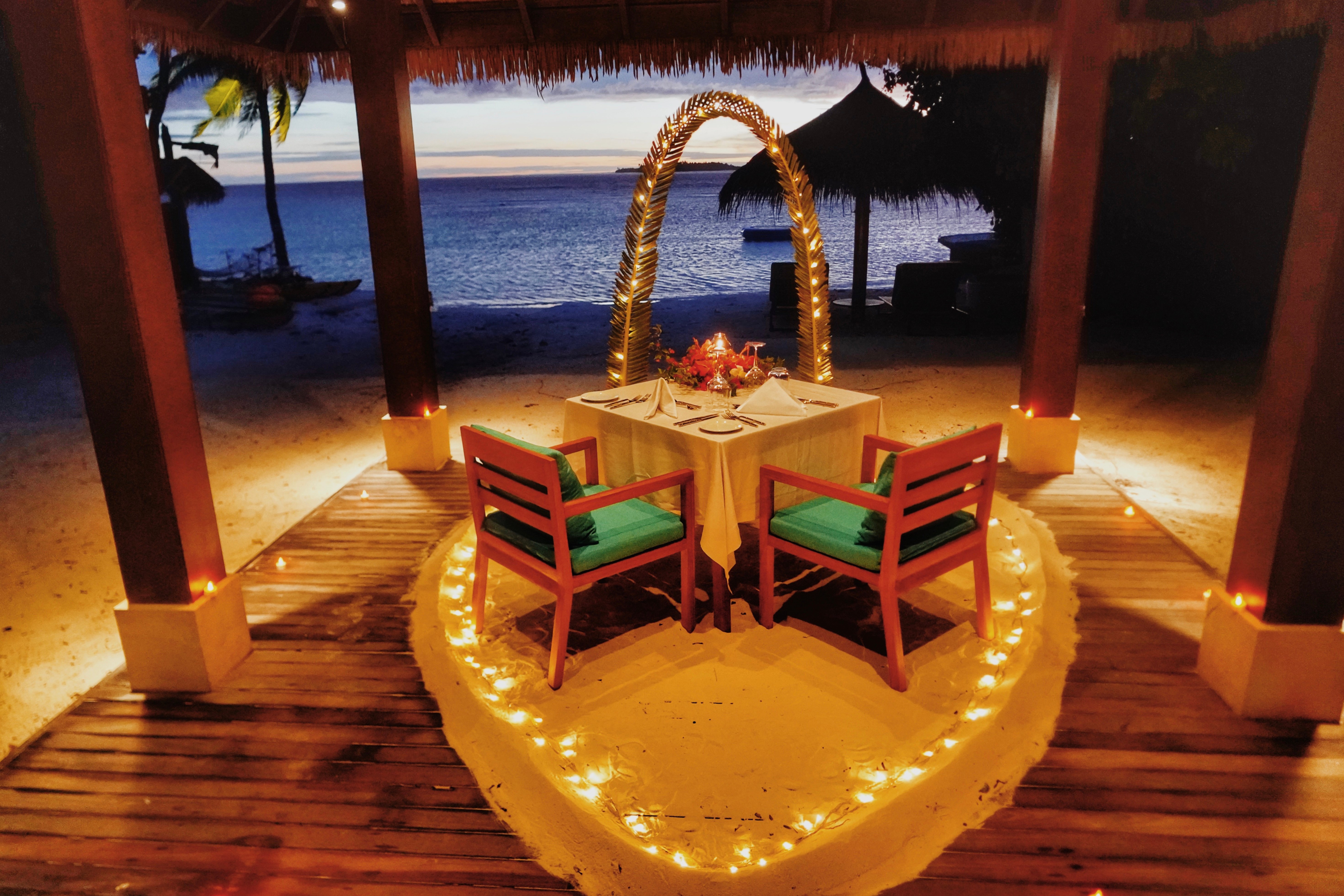 You can see that I was about to have a very special evening. My private butler for the evening's dinner picked me up from my villa in his electric buggy, ready to take me to the secret dining area where I could be having a private dining experience by the beach. I had been exploring the island quite a lot and I couldn't think of anywhere that I had seen that looked like it would be suitable for a private dinner.
And I was right, he took me somewhere I had never been before - how did they hide this from me? I was quite surprised because I had done a lot of exploring and the island was not large. They obviously know the best place to give you the most privacy. I felt completely looked after and special to have this lovely table by the beach, with the little pavilion to shelter me from above.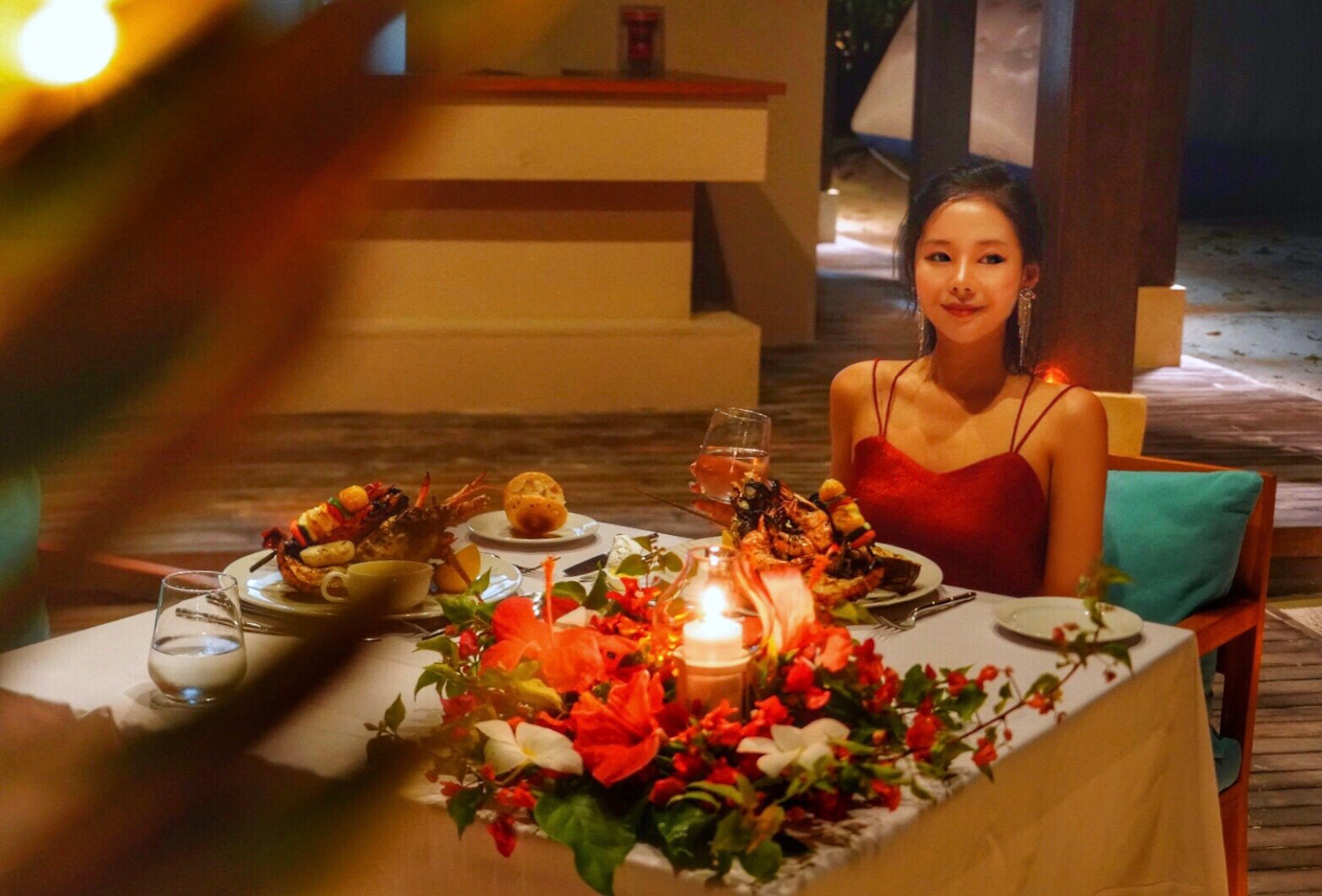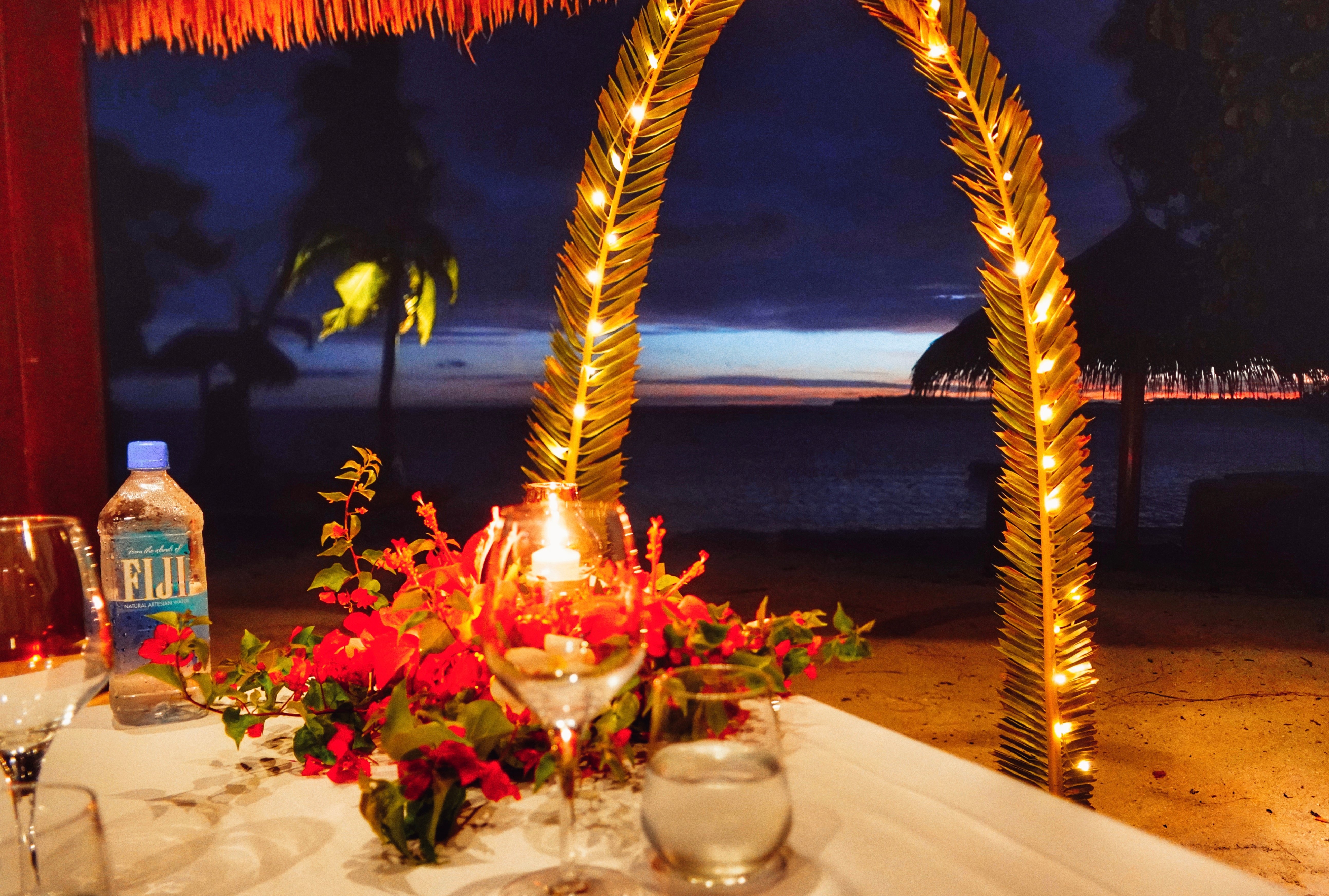 Just seeing the sun set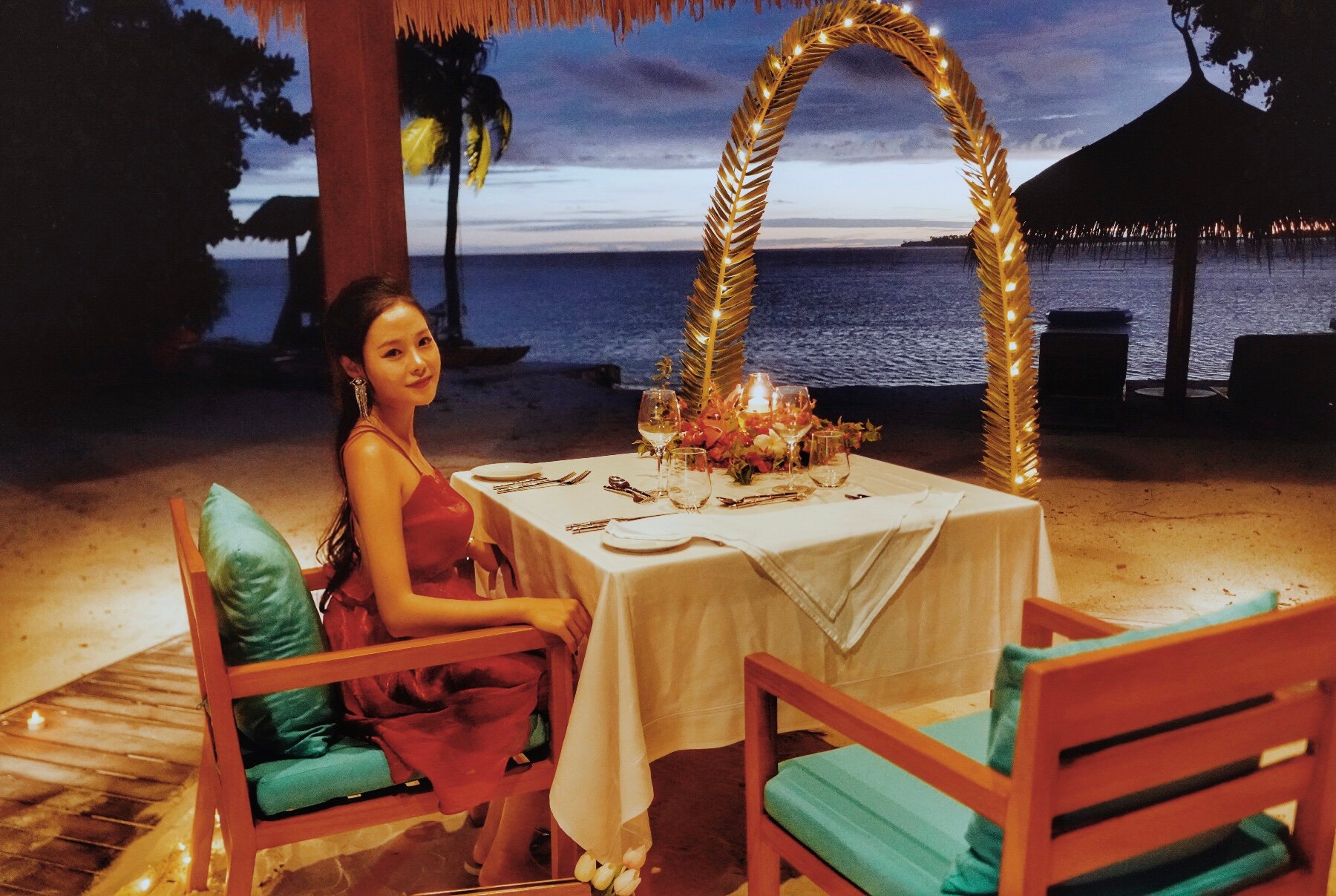 The sunset was framed perfectly by the archway of woven palm leaves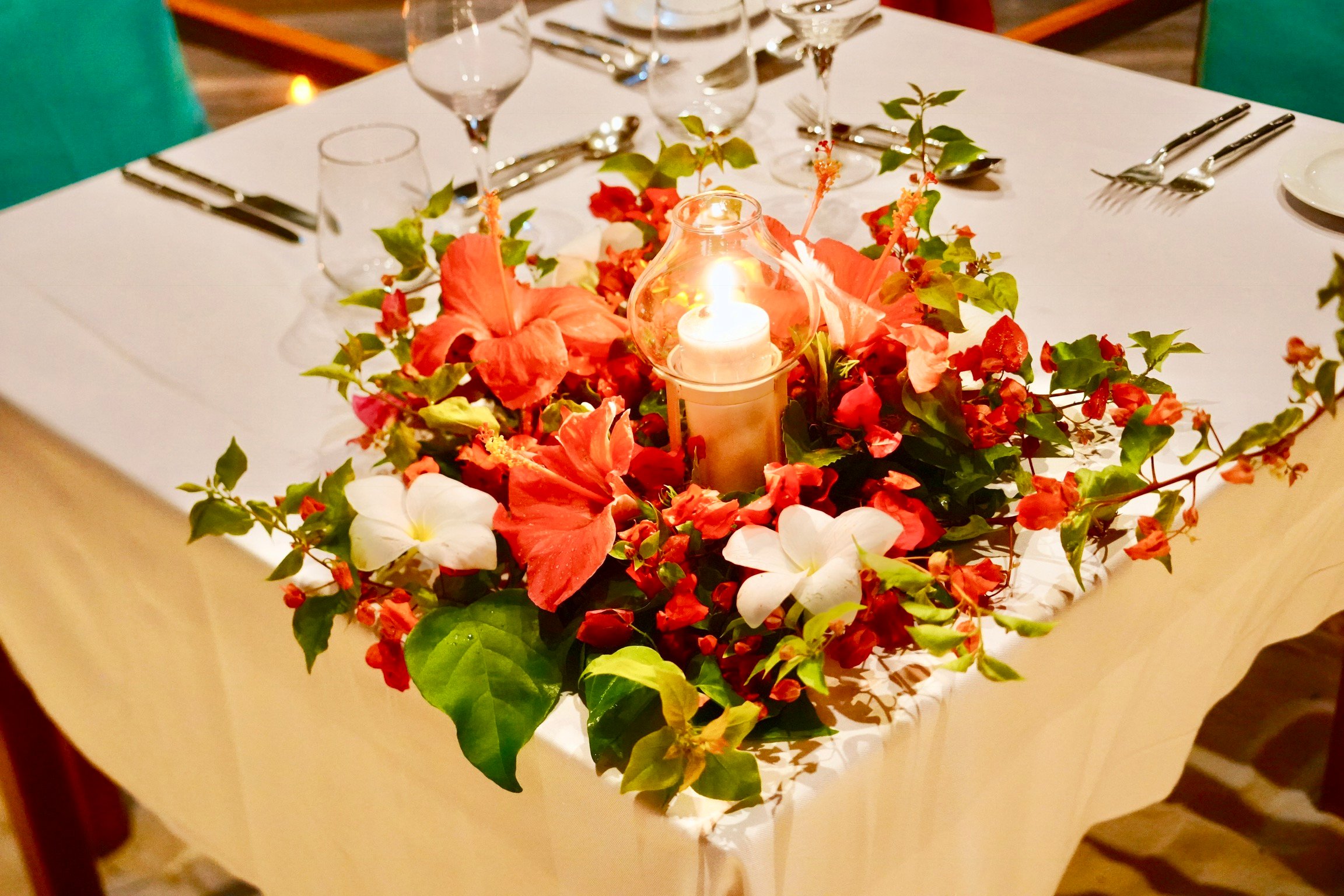 Fresh flowers for the table display must have taken hours to make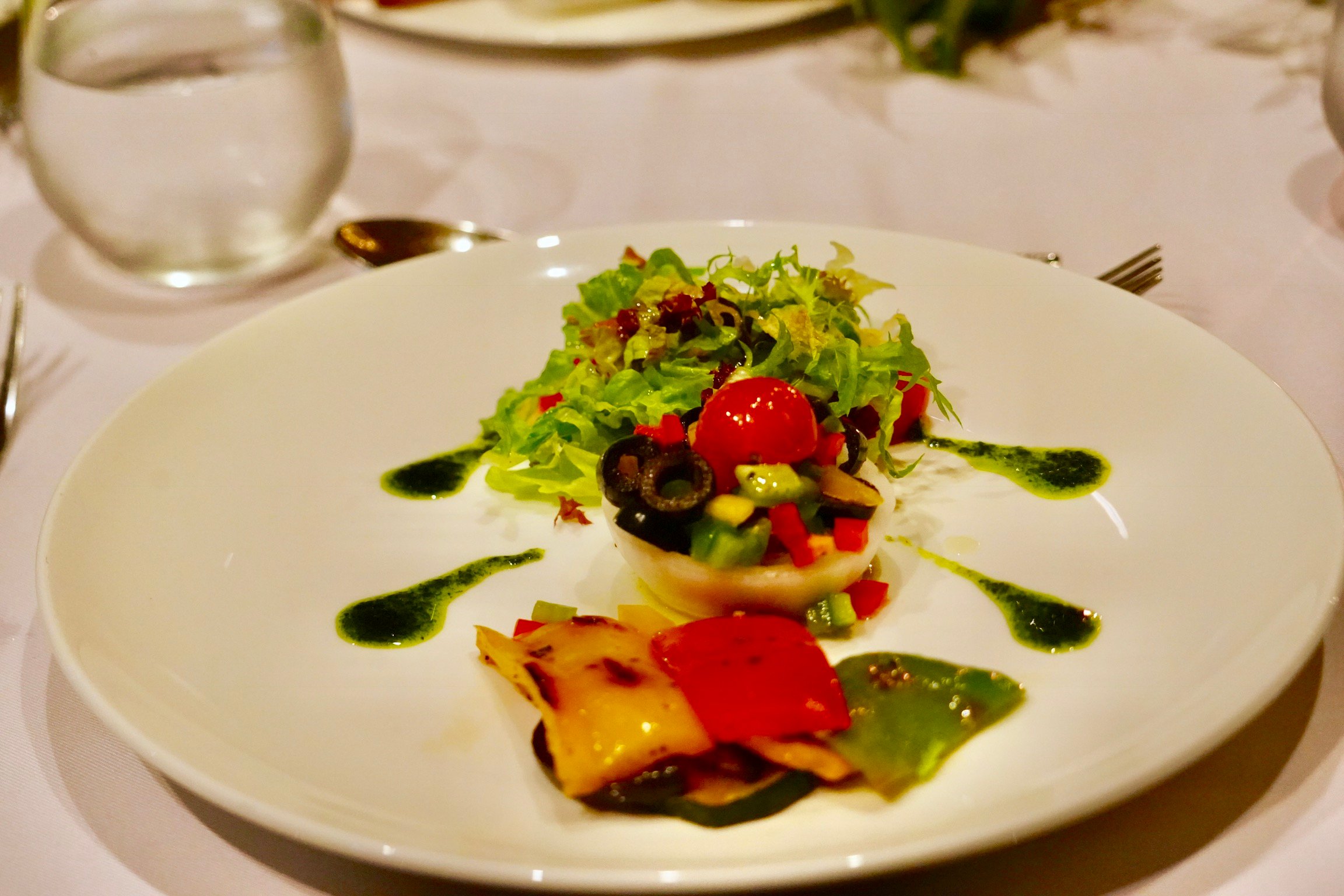 To start I had a very simple salad with grilled scallop, and freshly grilled peppers. Anyone who has ever had scallops will know that it's very easy for them to become rubbery if they are overdone, but this one was just perfect and the portion was just perfect to wet my appetite.
My butler was excellent, bringing the food and explaining each dish but then disappearing so that I felt completely alone with the beauty of nature and the sounds of the sea. It must be very difficult to prepare the food in this remote area of the island, I wondered if they brought it all the way from the main restaurant kitchen - but that seemed just as difficult!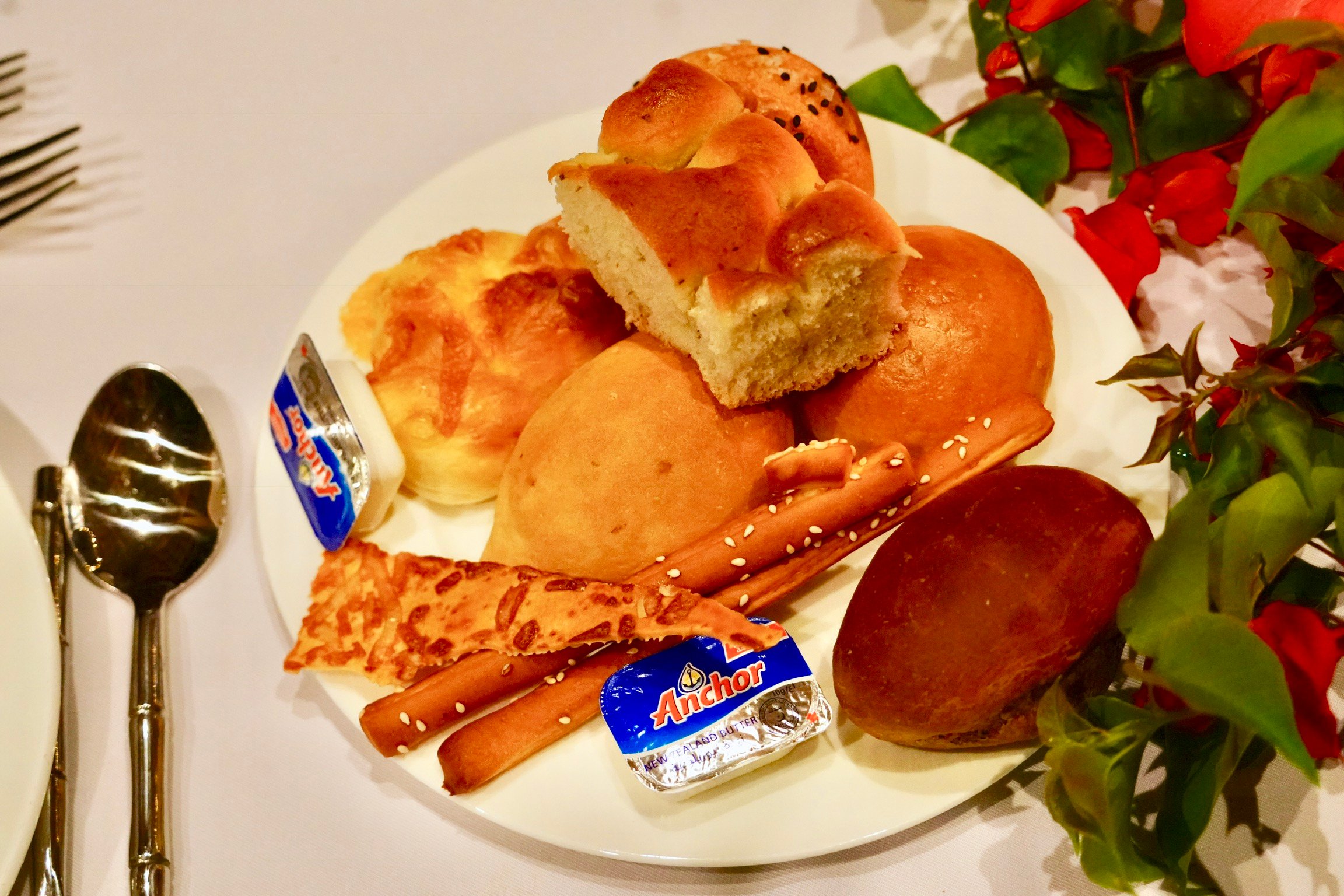 They made sure I'd have exactly the bread I wanted!
I then had roasted lamb chops with roasted baby carrots, asparagus, courgette and potato. As you can see, the chefs at Ayada Luxury Resort are quite exceptional and their presentation was beautiful. The real defining feature of this dish was the succulent and tender lamb and the exceptional gravy which was rich and thick. I believe it had been made with some red wine because it was very flavoursome and had plenty of deep flavours. It was one of the best gravies I've ever had!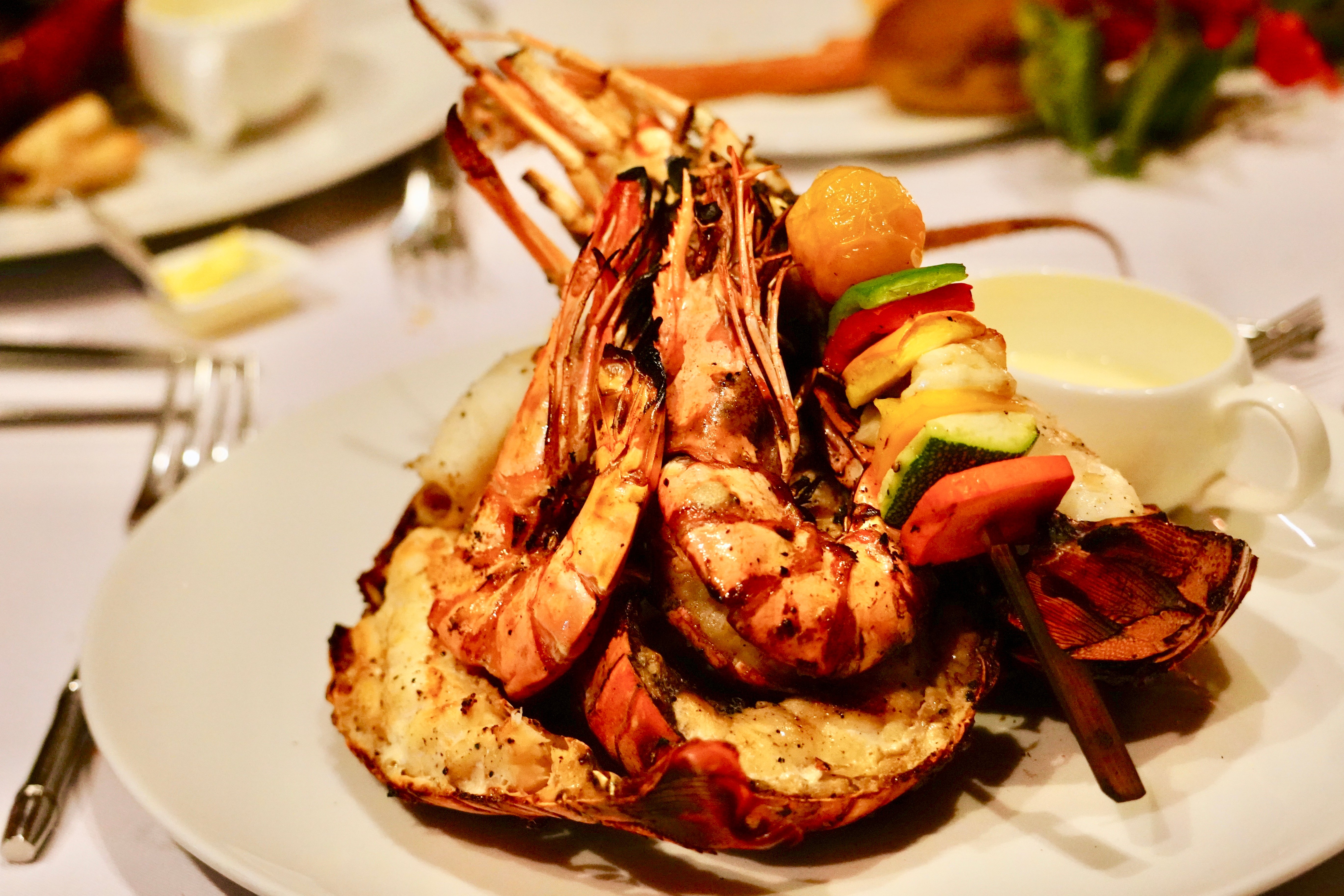 I also had fresh seafood. Here I had lobster and massive king prawns which had been grilled to absolute perfection. My butler told me that these had been caught the very same day so they were as fresh as possible. As you can see, the portions were very generous and by the end of this seafood course I was feeling positively stuffed! I think these were probably the best prawns I've ever had.
I'm not sure if it was a mix of the location, the sound of the ocean or the solitude but everything just tasted better and more vibrant. Perhaps being alone I was able to truly sit and enjoy the tastes and remember how fresh this food was being caught straight from the sea in front of me.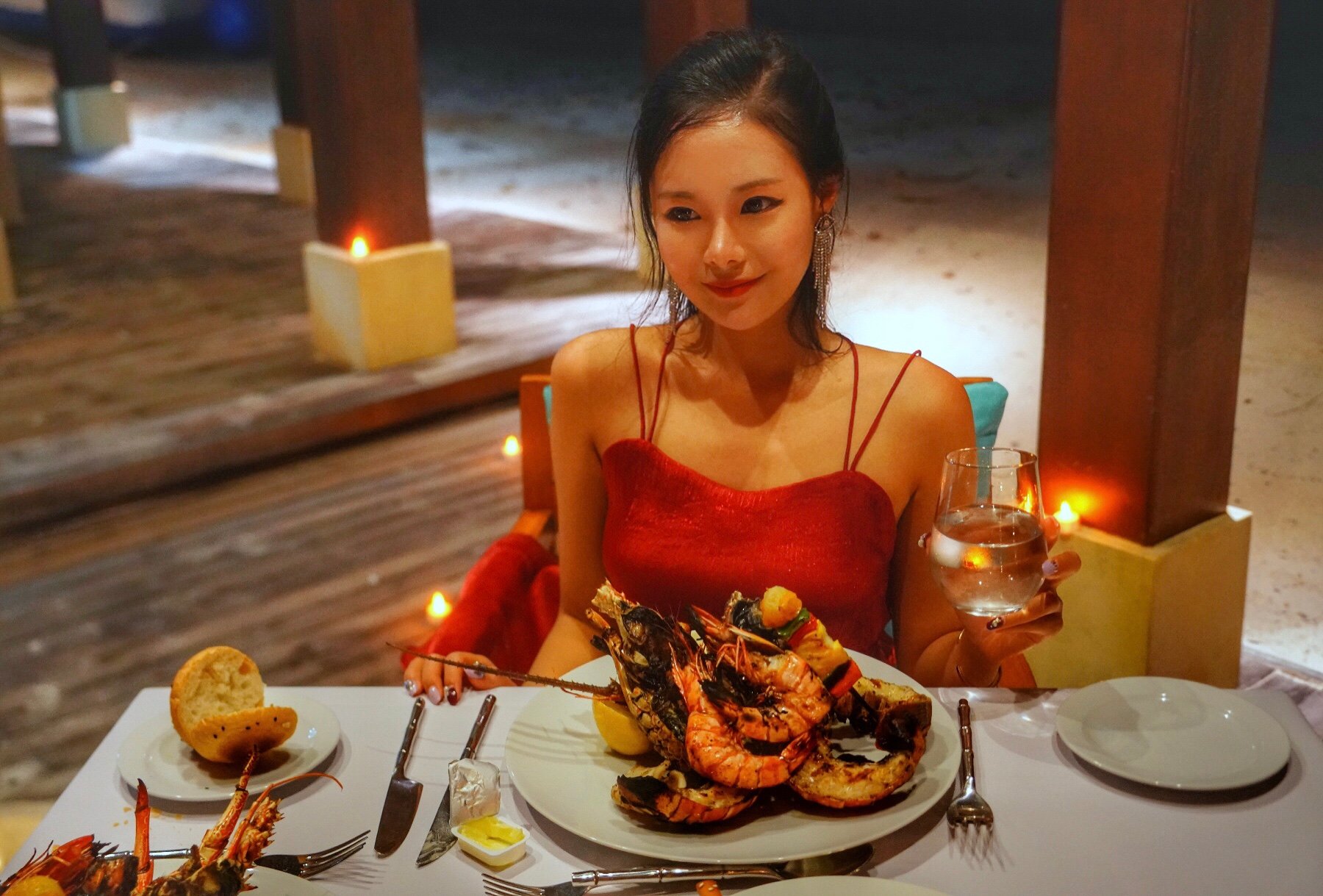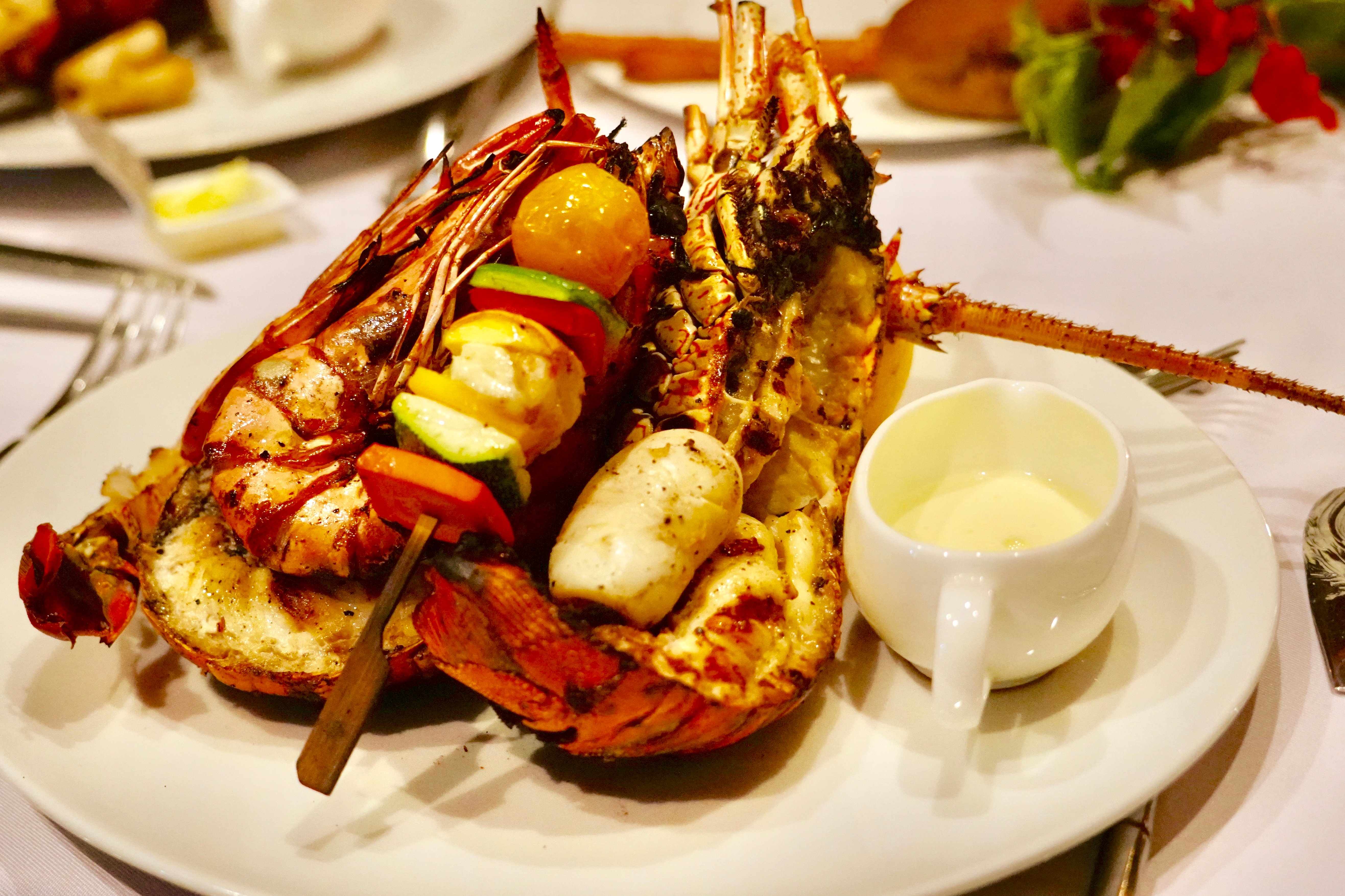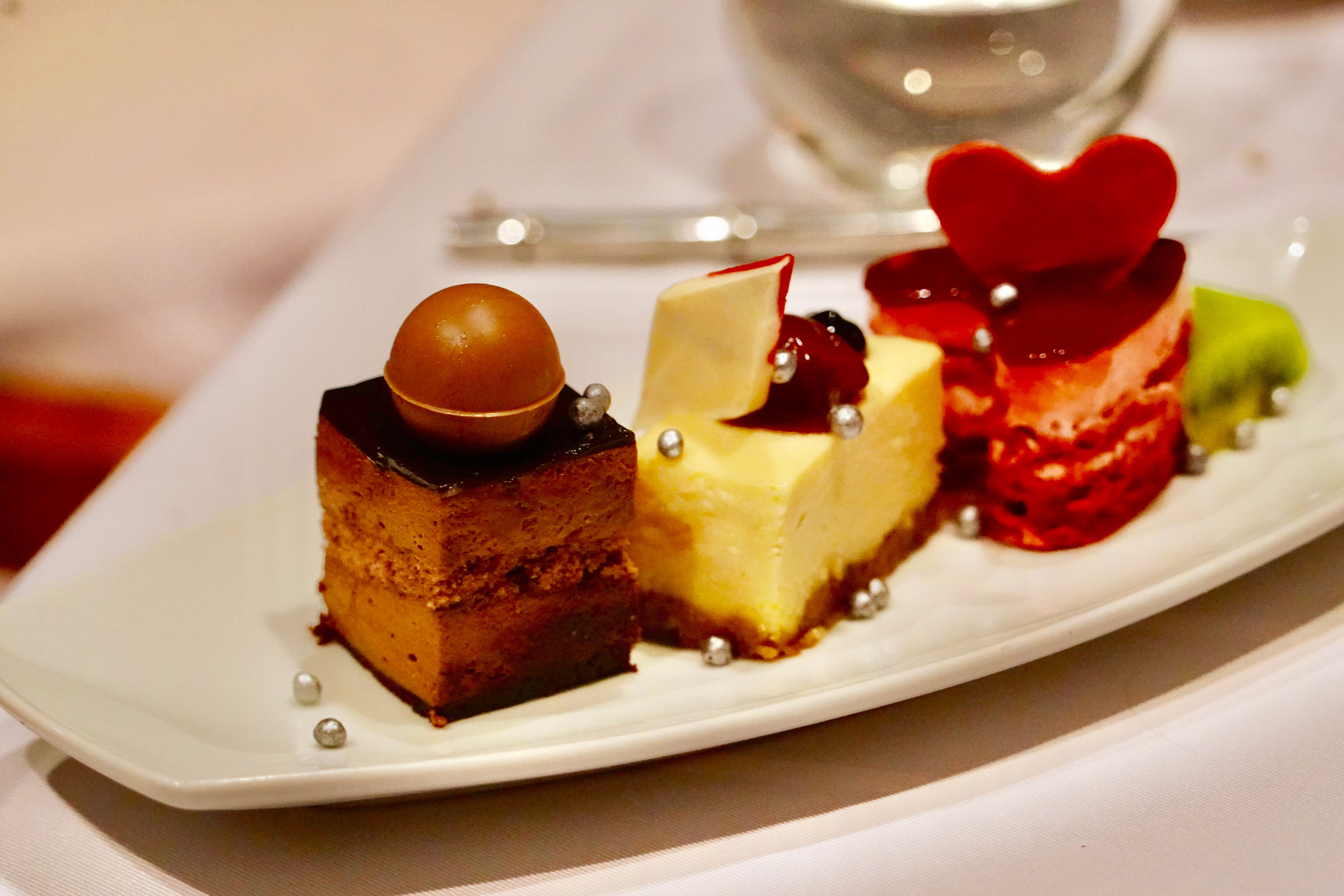 Just when I thought I couldn't eat another bite, dessert came. It was absolutely perfect. With the flavours of chocolate, cheesecake and strawberry my sweet tooth was well satisfied. I enjoyed every single mouthful but I was glad that the portion wasn't too big. The presentation of the desserts was probably the best of all of the dishes and clearly a lot of work had gone in to making each and every mouthful burst with different flavours. My favourite was probably the cheesecake but they were all amazing.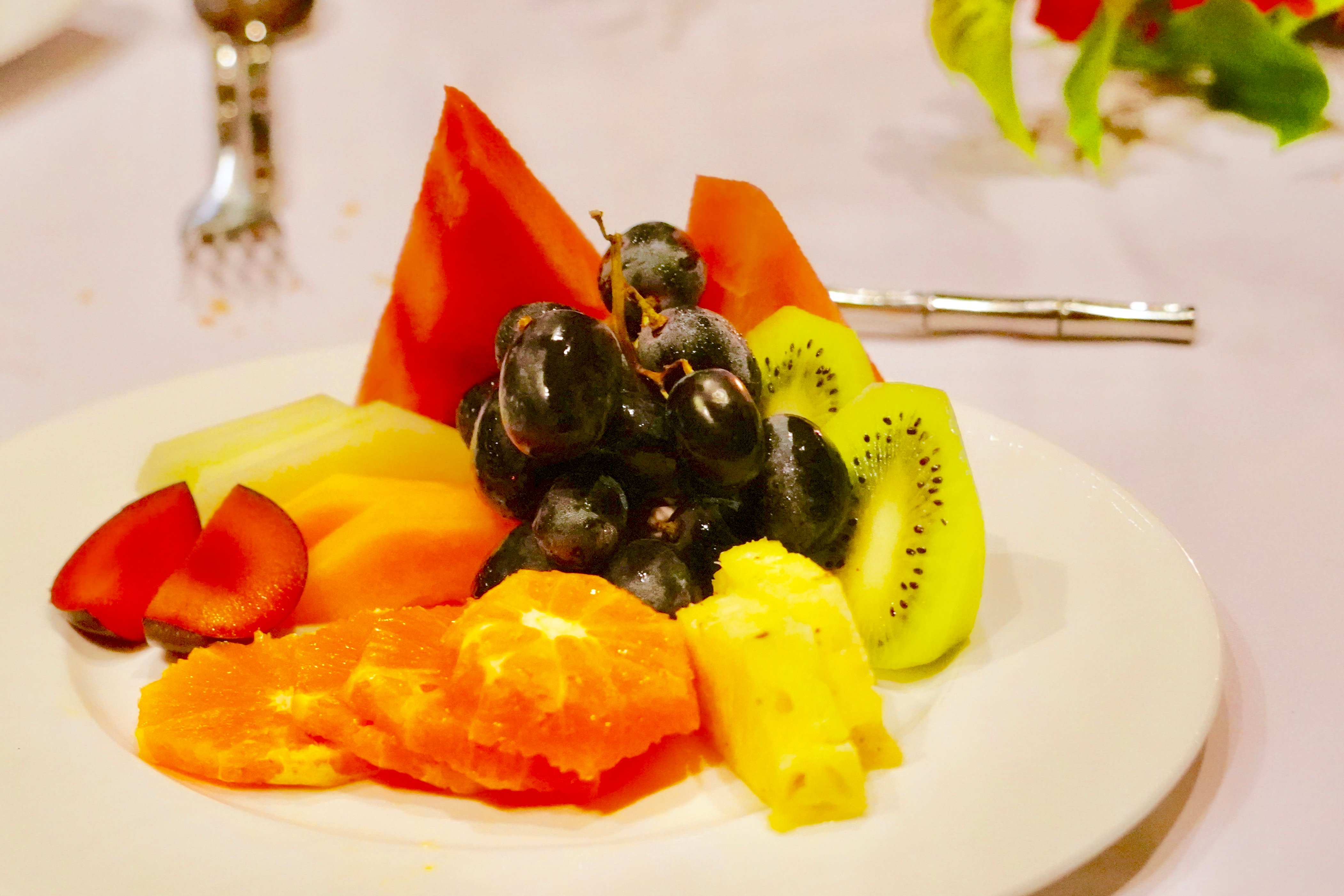 Of course it wouldn't be the Maldives without freshly picked fruit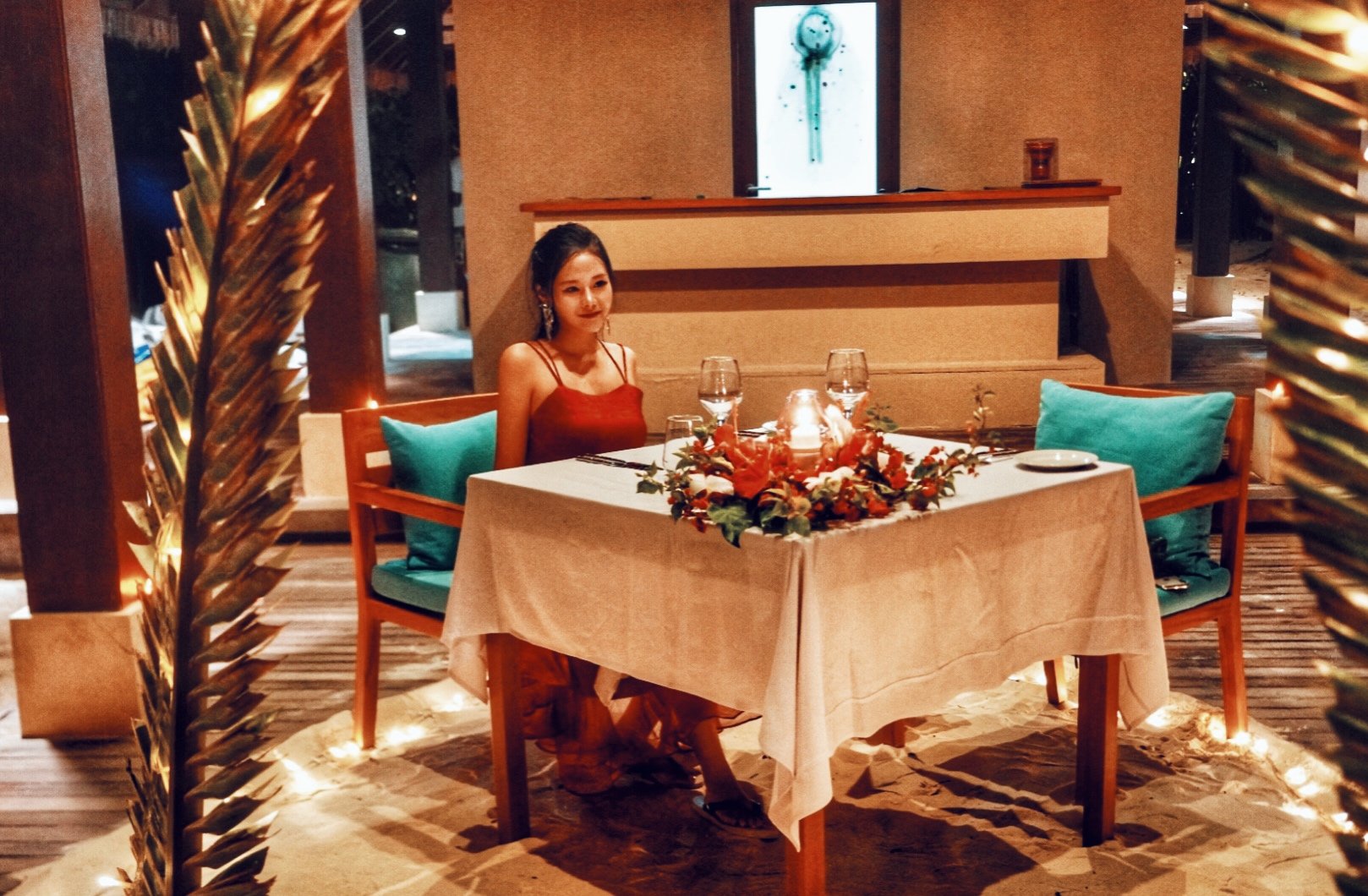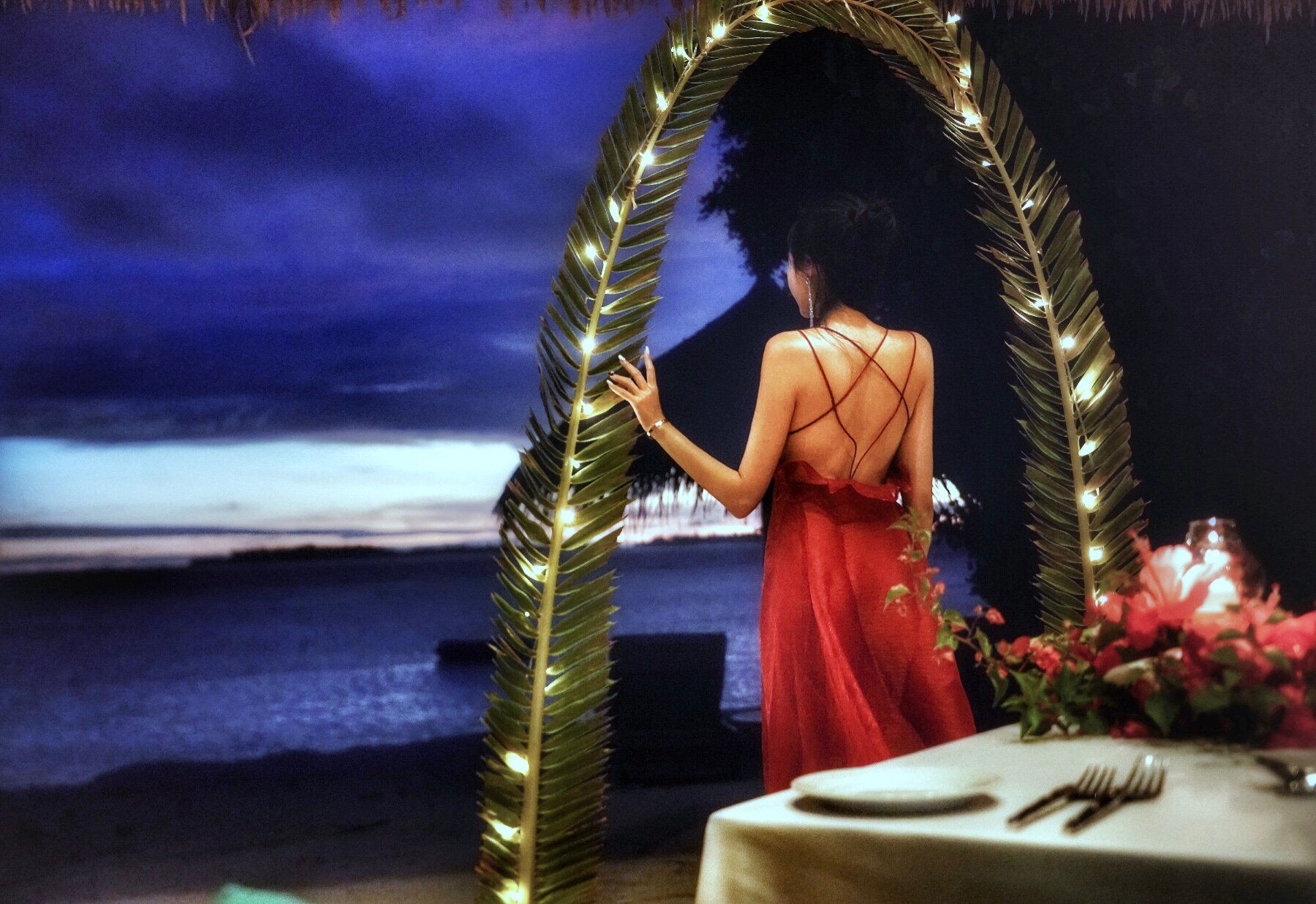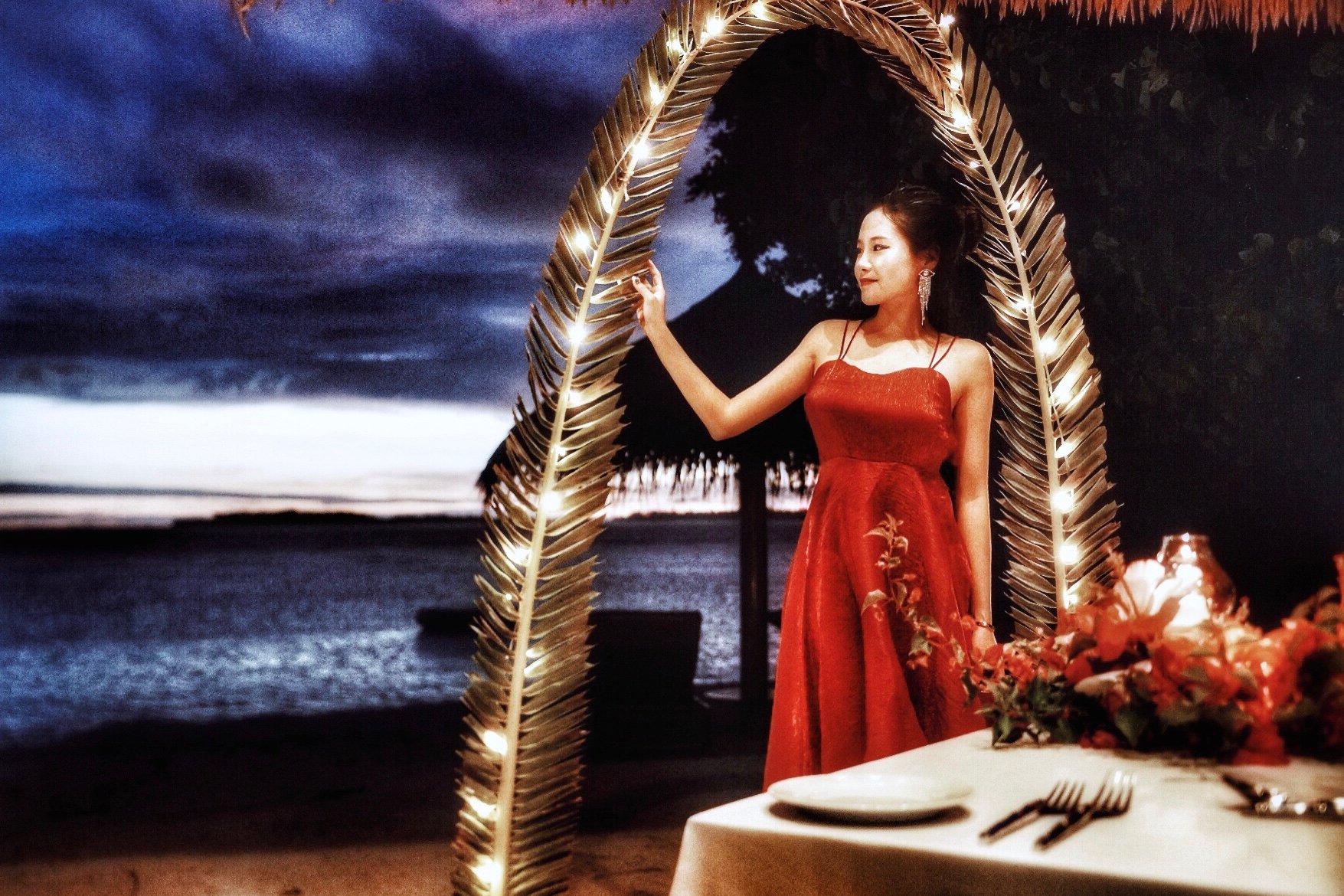 Saying goodbye to my private dinner retreat and admiring the sound of the ocean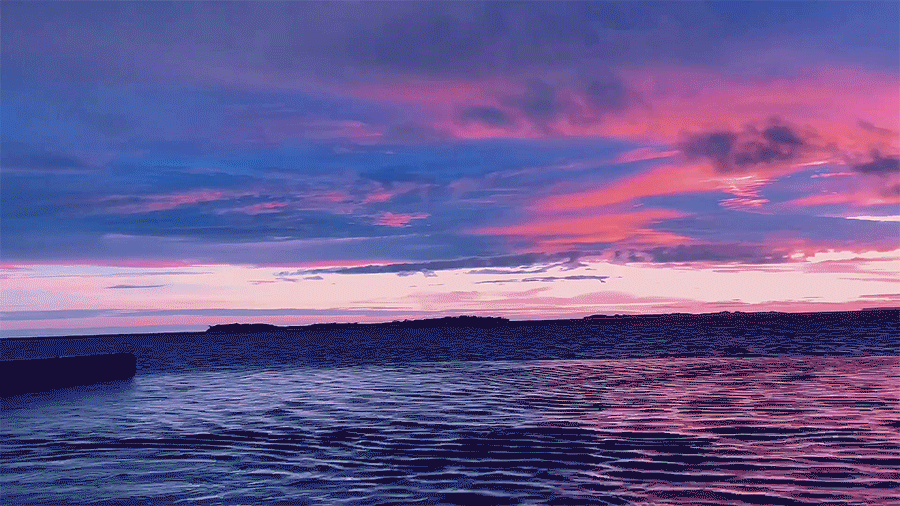 The most beautiful sunset reflected off the most beautiful ocean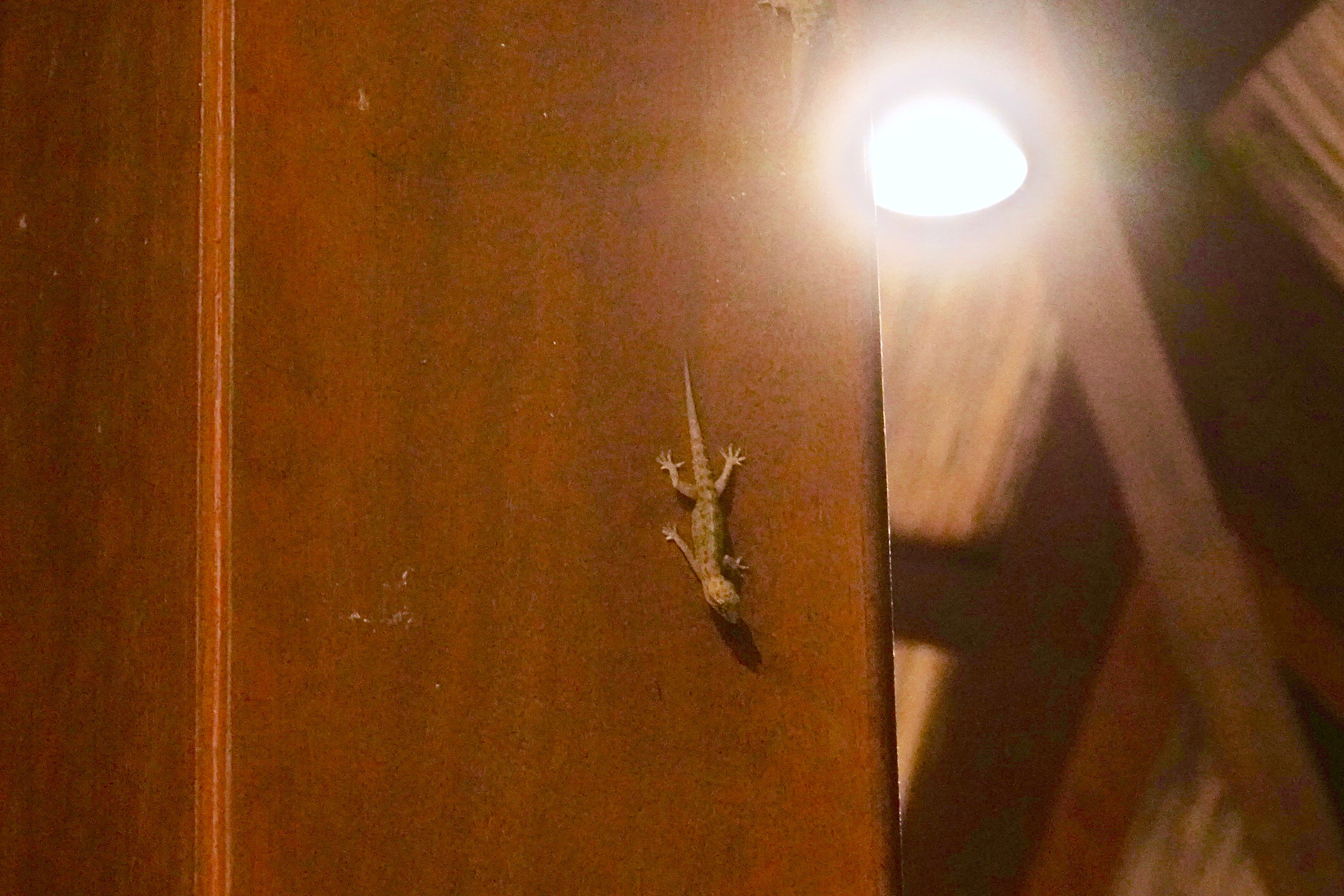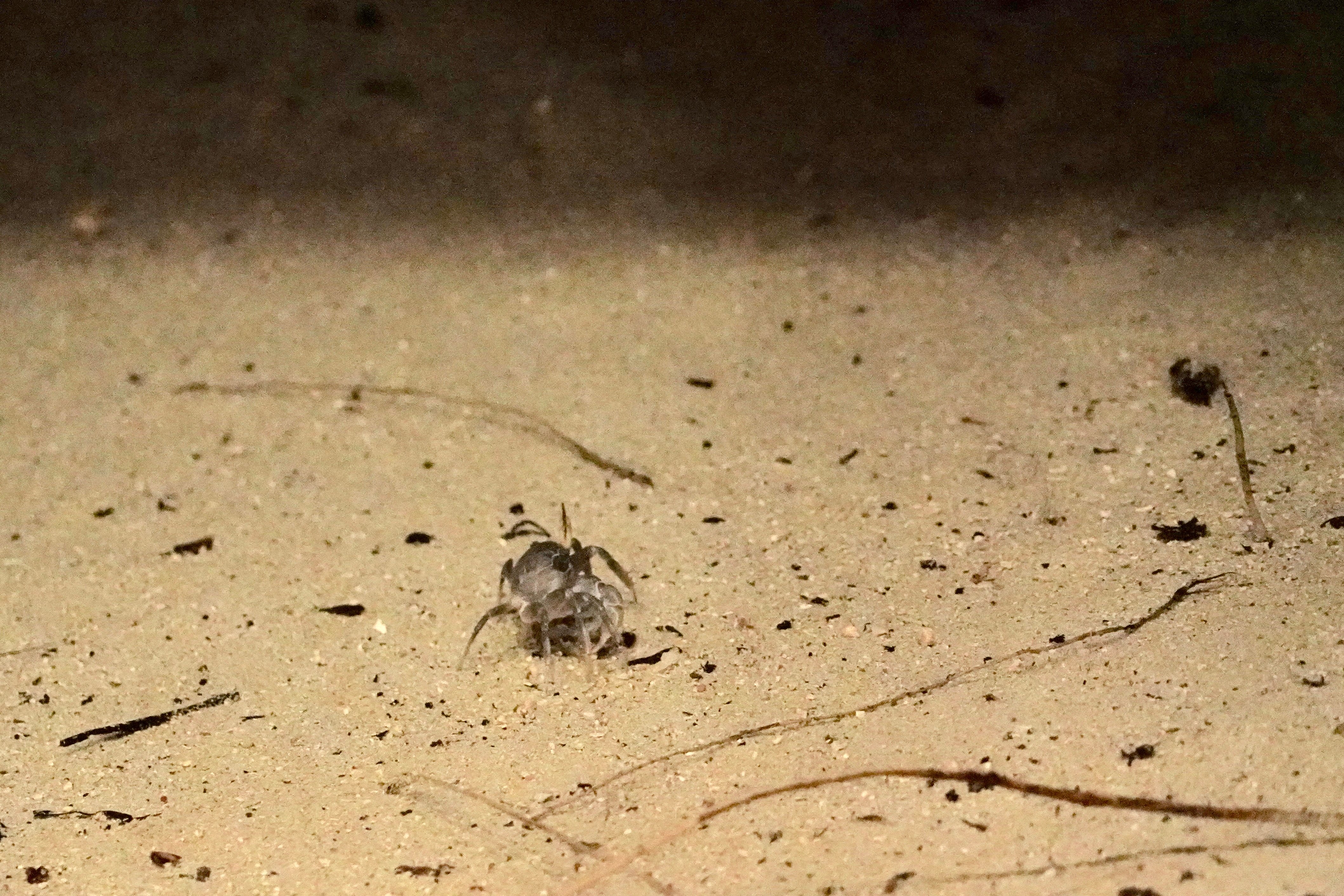 I thought my night was over as my butler took my back to my villa. But I had a couple of little surprises still in store for me. The first was I saw these little creatures running around the edge of my villa. The top photo is the tiniest little gecko. It's hard to see without perspective but it can't have been much bigger than my little finger, it was so so cute! And just above here was one of the smallest crabs I've ever seen, running around on the beach just before I got back to my villa. You feel so in the middle of nature on this island, it's really special.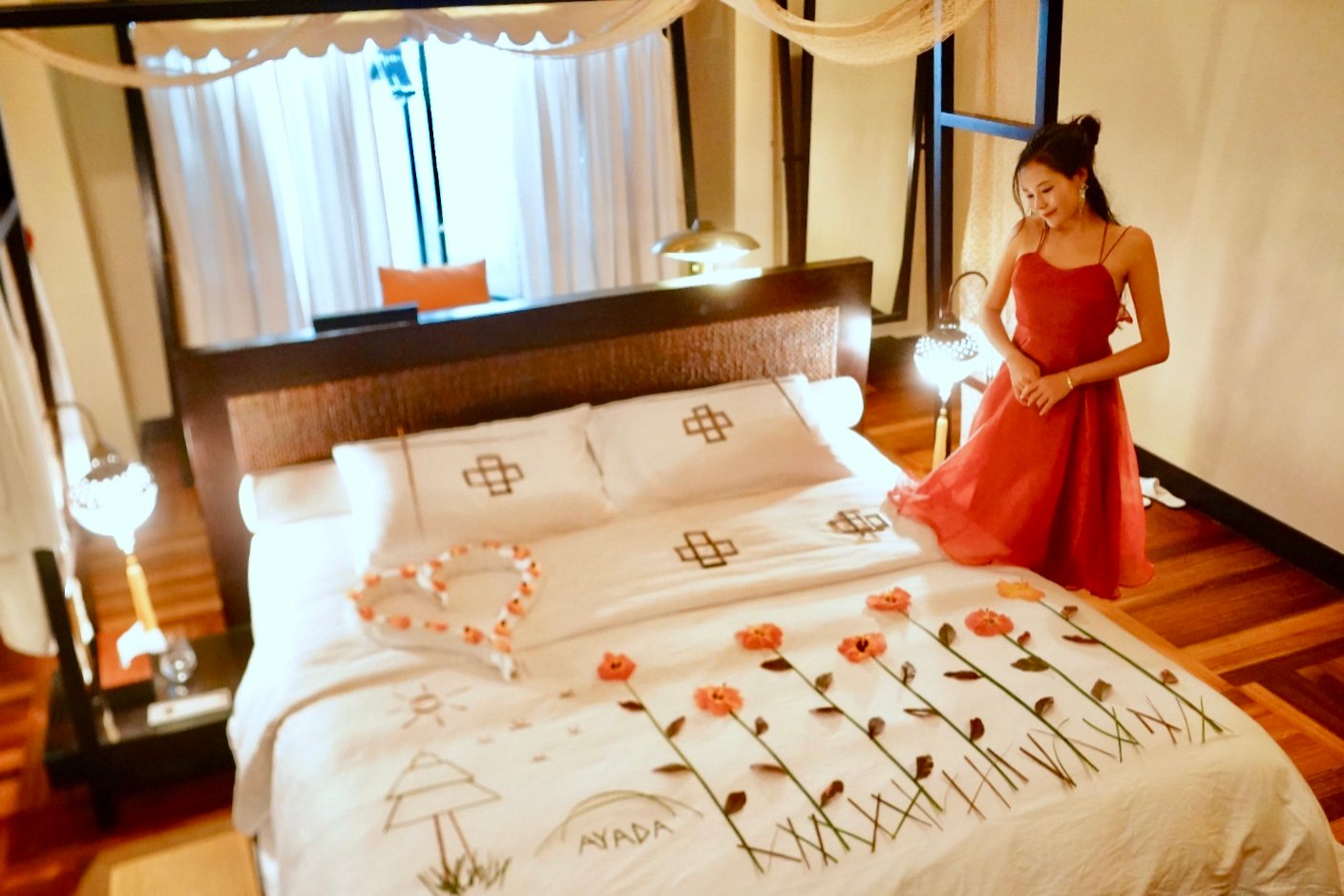 As I stepped into my room my mouth fell open with surprise as I saw my bed. While away at my private dining experience the hotel staff had come and made the bed and decorated it beautifully. Have you ever seen such creativity? Using pieces of coconut palm, fresh flowers and fresh towels they'd created me a little garden on my bed. How long did they spend on this while I was away? I was a bit teary because this was a really lovely thing to return to.
As I thought about getting ready for bed I looked over and saw that they'd also provided me with a bottle of champagne in an ice bucket! This was just so good. Ayada completely went over the top to make me feel completely special in my stay and in my evening. Of course, I had to pop the cork and have a drink!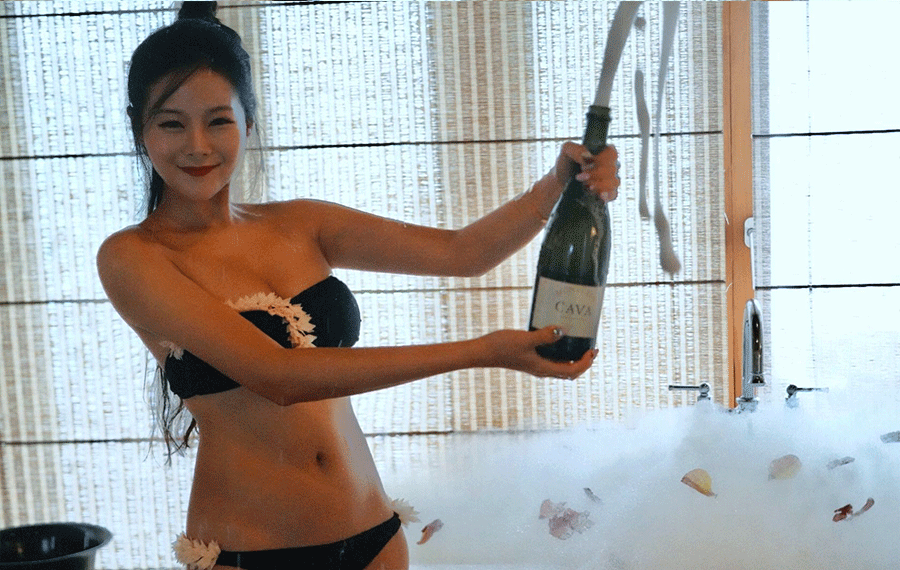 I hope you've enjoyed my exploration of Ayada Luxury Resort. I certainly did! Though small, the island has so much to offer with different restaurants, places to relax, fun little touches like the coconut weather station and of course, excellent service and staff.
I had so many favourite parts of the exploration because I saw so many things but of course the private dining experience was the most special. Sitting by the ocean, with no one else around, is not something you can easily do in our busy world. The service was lovely and the food was even better. To return from that lovely night of food to find champagne and art on my bed just topped everything off.
Have you enjoyed spending time with me today? I really hope so because I've loved it! If you want more then please vote for the post and follow me. I always love talking to my Steemit friends so make sure you're commenting so I can keep in touch with you all.
---
马尔代夫是很多人心中的梦想和执念,从空中俯瞰,它是印度洋上的一串明珠,1190个苍翠的群岛镶嵌在蔚蓝的海面上,如同珍珠一般绚丽夺目,被世人称为"人间天堂"。可惜如今却面临进入沉没倒计时的现状,因为马尔代夫群岛由珊瑚礁、珊瑚沙组成,是世界上海拔最低的国家,这些珍珠般群岛的美景全部位于低海拔,全国的平均高度仅仅高处海平面1.8米,八成的国土不高于1米,造成了在如今195个有人居住的岛屿中,有164个正遭受大海的严重侵蚀。
因为全球变暖造成了冰川融化和海温上升,导致不可阻挡的海体积变大,海平面上升,人们曾预言这个美丽的岛国最快在50年后就会葬身海底。想象当那白色细软的一抹拖尾沙滩逐渐被淹没,椰子树由于海水侵蚀根基不稳而倒掉,度假村被迫弃用,那五光十色的柔软珊瑚连同动人心弦的岛屿,一同从蓝色的印度洋海水中消失,该会有多让人心痛,我感慨着美好的事物总是那么脆弱。当得知了这个令人惋惜的消息后,我觉得再也没有什么借口可以阻挡我去马尔代夫了,于是我立刻开始查阅当时可定的各个岛屿,因为不想留下遗憾,所以会更加珍惜这次的马尔代夫之旅,接下来我就分享一下我选择岛屿的小心思吧。
有人说,爱她就带她去马尔代夫,恨她就让她去选岛,的确,让人犹豫不决的是这些各有千秋,特色和功能大不相同的度假村小岛,每一个岛屿上的迷人风光,都美的让人心跳加速。最终我选择了阿雅达度假村,因为它在各方面都比较健全,从房间数量上来看,它在所有岛屿中算是中等规模,这意味着在面积不大的小岛上,每一间房都享有超过百余平米的大小,和足够的私人空间,这是我喜欢这里的其中一个原因。
因为每个度假岛屿与飞机落地的首都马累机场都有一段距离,所以几乎所有游客都需要从马累机场继续乘坐水上飞机或者快艇到达自己的岛屿。在预定房型的时候,也需要注意房间费用是否包含了税费和交通费用。岛上的房间分为两种,一种是建在本岛上带私人泳池的沙滩屋,另一种是建在水中央独一无二的海洋别墅。最好的选择应该就是各住几晚,不过因为之前在泰国苏梅岛已经感受过沙滩屋了,所以这次就直奔主题,马尔代夫独有的水上屋,一条木质长廊把你引入水中的房间,那种被海水围绕的感觉让我魂牵梦萦,尤其在夕阳西下,水上走廊两旁亮起漂亮的灯笼,仿佛余晖中的点点星光,指引着你朝着落日的方向走去,那种绝美的意境是无法用言语描述的。
其实水上屋也分为好几种,有建在礁湖旁的,有仿佛漂浮于水中央的,也有面向日出日落方向的。每个岛由于处于印度洋不同的地理位置,会受到不同程度的季风影响,如何选到背风那一面的房间,以及如何选择房间景观视野和浮潜条件最佳的区域,也是要通过一番精心的研究呢。清晨在海浪的歌声中苏醒,带着对于岛屿无限的好奇,我向管家租了辆白色的自行车,准备独自探索这印度洋上充满未知神秘感的浪漫岛屿阿雅达。这白色的单车非常漂亮,前面有个白色编织篮子,配着淡蓝的海水与天空,我好像穿越到了复古的时尚大片里。
现在就跟我一起骑上自行车,去环游一下这个美丽的小岛吧。岛上除了运行李的电瓶车,就是游客们踩的单车,很安静很环保。以水中央的木质长廊为起点,向着绿色岛屿出发吧,虽然长廊不太高,但是在上面骑车望着脚下玻璃般晶莹的海水,还是有些慌张呢。在海边骑行,有微风助力,很快我们就来到了之前为大家介绍过的Magu自助餐厅,突然发现地上两只彩色的蜥蜴,咦,你们也来吃早餐喏?接着往前骑,在路边看见个非常有趣的风向标,用一颗白色的小椰子来预测天气,还真是调皮呢。牌子上指示着,如果椰子来回摇晃,就是大风天气;椰子不动就是无风;椰子湿了意味着下雨天;椰子是干的意味着阳光明媚;椰子变白意味着下雪啦;椰子看不见了意味着大雾天;而椰子没有了就是龙卷风来了,哈哈,都是椰子惹的祸,逗的我笑到肚子疼,还真是幽默感十足呢。
接着我爬上一个小草坡,殊不知这就是阿雅达峰,全岛海拔最高的地方,比海平面高出了2.5米,我站在上面假装很威武的样子,真的要为度假村设计师的幽默感打个满分啦。骑着单车穿越蓝天白云下的椰林树影,海风吹着树叶发出沙沙声,好像在欢迎我的到来,前方出现一座草棚顶白色玻璃房,用来举办海岛派对,比如每年都会有很多浪漫的婚礼在这里举行。在每周末的午后,白色小屋里还会举办鸡尾酒派对,度假的人们可以在这里找到轻松愉悦的那份幸福感。
骑着单车追随着林荫道,在曲径通幽处看见一个建在白色细沙上的土耳其轻吧,里面精心布置着土耳其风格的家具和装饰,让刚刚从土耳其游玩归来的我,倍感亲切呢。门口的木质秋千椅搭配草棚顶可爱又俏皮,为这个鸟语花香的岛屿增添了不少趣味。在度假村的娱乐中心,可以找到乒乓球、桌球等各种球类游戏,也有一个大小刚合适的健身房,旁边还惊喜的发现一只口才很好的花色鹦鹉,不过最吸引人目光的大概是这个放在流动泳池中的国际象棋,想象一下一边躺在水中的按摩椅上,一边下国际象棋,清凉冰爽的体验会不会让你的棋艺有所提高呢?
最终绿荫小道把我引到了蓝色水晶般的海边,这片水清沙幼的世外桃源让我沉醉。岸边有竹蛏、贝壳和树枝搭建的阿雅达照相牌,看到阿雅达环绕地球形状的品牌Logo,忽然发现和空中俯瞰阿雅达水屋的排列形状一摸一样,真的是独具匠心的精致设计呢,我立刻去和这仿佛童话里的画面合影。忽然发现在不远处的海水中央,一片小小的白色沙洲,天哪,终于找到Sweetsssj专属的奢华度假村啦,额,虽然还没有开始盖建房屋,虽然这可能是世界上最小的度假村,哈哈。
来到马尔代夫,你会发现整个世界都是美好的,也都是完美的,要说唯一美中不足的,大概就是我那个可怜的无人机了,在此要再次提醒大家,去海岛度假之前记得查阅近几周的天气预报呀,而我不巧赶上了印度洋的风暴,了。为了拍到马尔代夫那绚丽的空中美景给你们看,我坚持将它飞上天,可怜新买的无人机仅仅在天空中坚持了40秒就"牺牲"了,被风刮跑,卡在房顶的草棚上,不巧风云突变下起暴雨。不得不说当我去请求工作人员来帮忙的时候,真的很尴尬呢。随着无人机的撞机也撞没了马尔代夫的航拍美景,抱歉啦大家,下一次我承诺,会有的噢!
午餐我选择在度假村的零度酒吧,这里有全岛最大的无边泳池,而酒吧的桌椅也布置在泳池里,我想在烈日炎炎的正午,坐在水中用餐一定很舒爽呢。我点了一份清爽的沙拉和一些小吃,应该是最接地气的岛屿简餐了。除了水中吧台,不远处的海中央还有水中吊床,黄昏的时候过去躺躺,感觉全世界只剩下自己那般的宁静。马尔代夫的夕阳景色是我见过最美的,天空仿佛成了上帝笔下的油画布,色彩晕染的恰到好处,在房间的无边泳池,我看见了神秘而迷人的水天一色,分不清是天空倒影在水中,还是池水融化在绚烂色彩的天空里。
伴随着夕阳温柔的谢幕,我开始了在马尔代夫最后一晚的私人晚餐,工作人员贴心准备了爱心沙洲上的餐桌,伴随星光灯和花环,我的心融化了。晚餐里让我印象最深刻的,就是这盘分量十足的海鲜大餐,烤大虾还有焗烤龙虾,后悔我没有带着三个胃来吃,环顾四周,好像有不少来自大自然的小伙伴也来到我的餐桌旁凑凑热闹,大概是海鲜的鲜香把它们吸引过来了吧?回到酒店,看到了工作人员在床单上准备的小惊喜,用花瓣和树枝摆出一幅绚烂阳光下的田园风光图,可爱极了。这次马尔代夫之旅就在诱人的私人晚餐和浪漫的夜色下告于段落了,不过一段旅程的结束不正是意味着下一段全新的开始,没错,之后还有更多精彩的游记等着和大家分享呢!
My video is at DLive