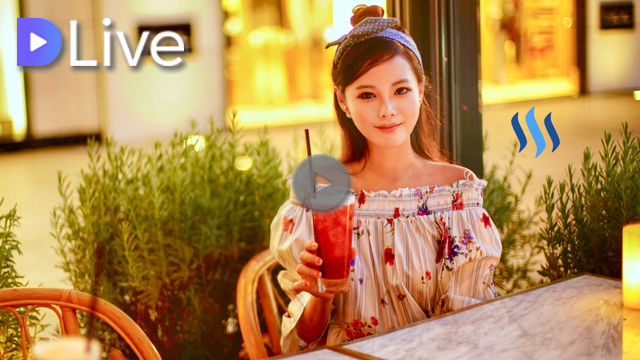 Dear Steemit Friends:
We have done so much exploring over recent weeks that it was well past the time when we needed to stop, relax and enjoy some good accommodation and good food together. In today's blog we get to chill out together in the beautiful W Istanbul Hotel, of course located in Istanbul, Turkey. Then let's have some lunch and some dinner together, taking some time for relaxation and good food in the hotel and in the city.
As you shall discover, W Istanbul is one of the most unique hotels you will ever see and as a result, I just couldn't stop taking pictures! Every time I went to the lobby or back into my room or to the front of the hotel, I saw new beautiful things I wanted to take note of. To help you, my dear readers, I've tried to put all of my shots of the hotel itself, then the room and then the meals together. But as you will see, many of my snaps today came from different times of the day as I came and went from W Istanbul and discovered new sights to see each time I did!
W Istanbul is part of the W Hotels chain of hotels, first launched in 1998 in New York. There are now 52 different hotels in the chain, aimed at younger travellers who want something a bit different, special and artistic. The W here in Istanbul was the first of the chain to open in Europe - in May 2008. Located in the historic Akaretler Row Houses, an area of Istanbul full of high end homes, restaurants, cafes, art galleries and many more amazing sights. From the outside you could be forgiven for thinking that W Istanbul could be upscale homes in central London with a hint of the Ottoman empire about them. Built in the later 1800s the old row of houses offers a feeling of high-class homeliness to the exterior of the hotel.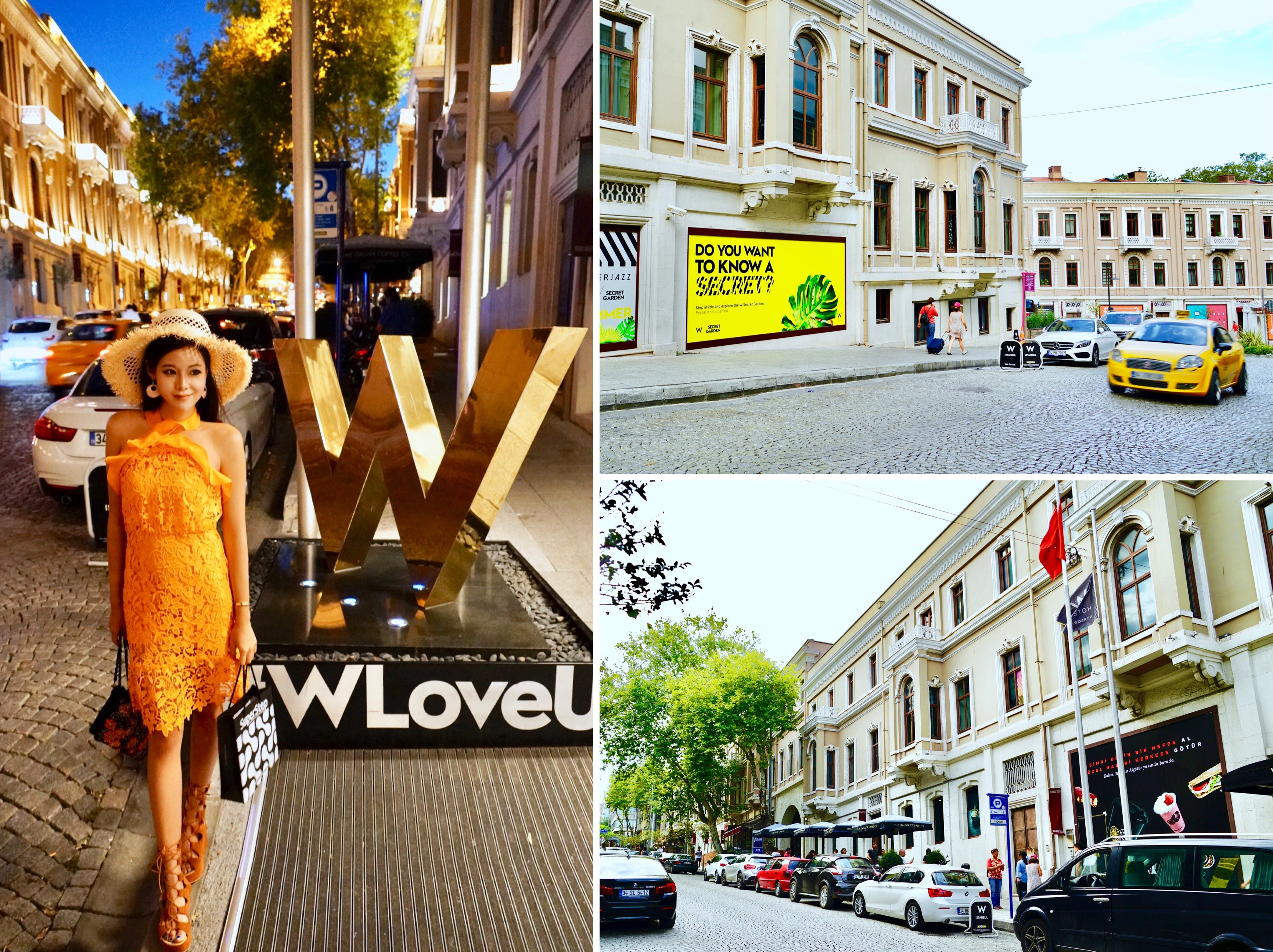 The cobbled streets of the 19th century area of Instanbul outside W Hotel
W definitely Love U, W Instanbul Hotel!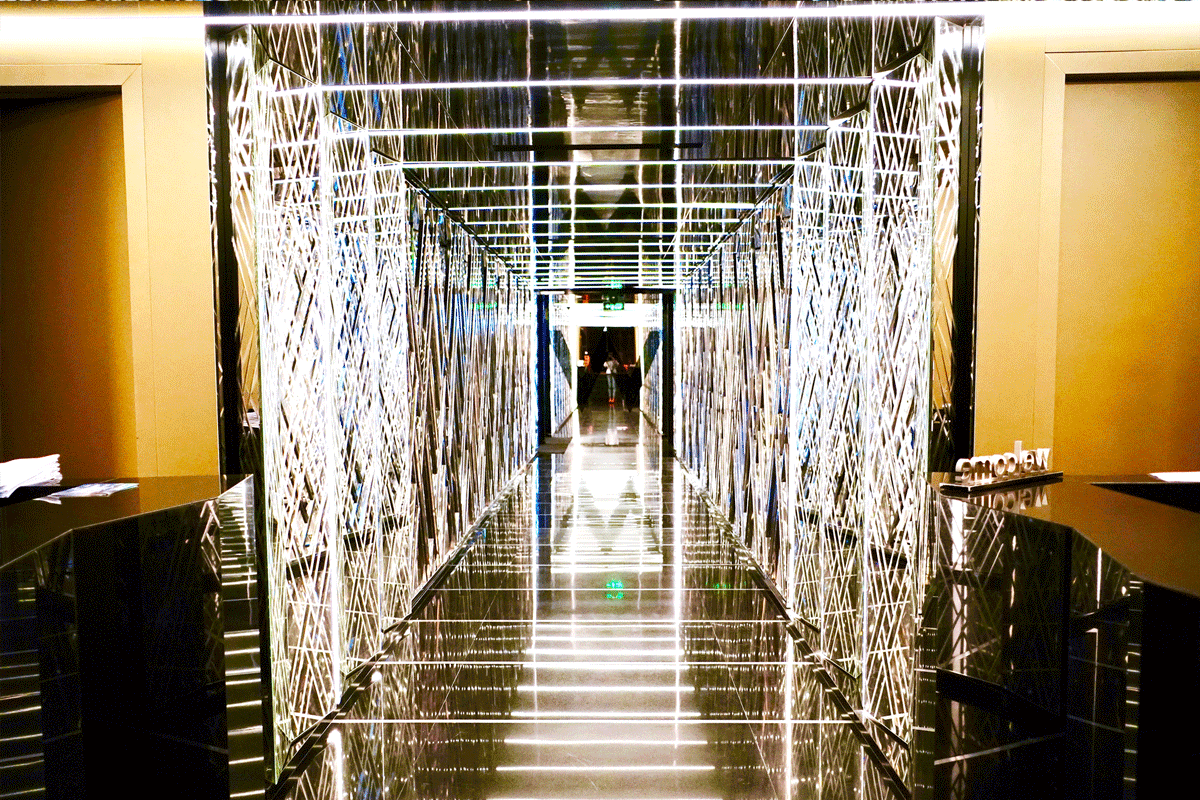 But the interior of the hotel... well that is a different story! As soon as you enter the hotel it feels like you are transported into a different reality. This entrance hall truly encompasses everything about W Istanbul's interior. Beautiful lighting, stunning modern design and the real 'wow' factor. With 140 rooms, 3 restaurant and bars and stunning common areas, the hotel is one of the most stylish places I've had the pleasure of staying.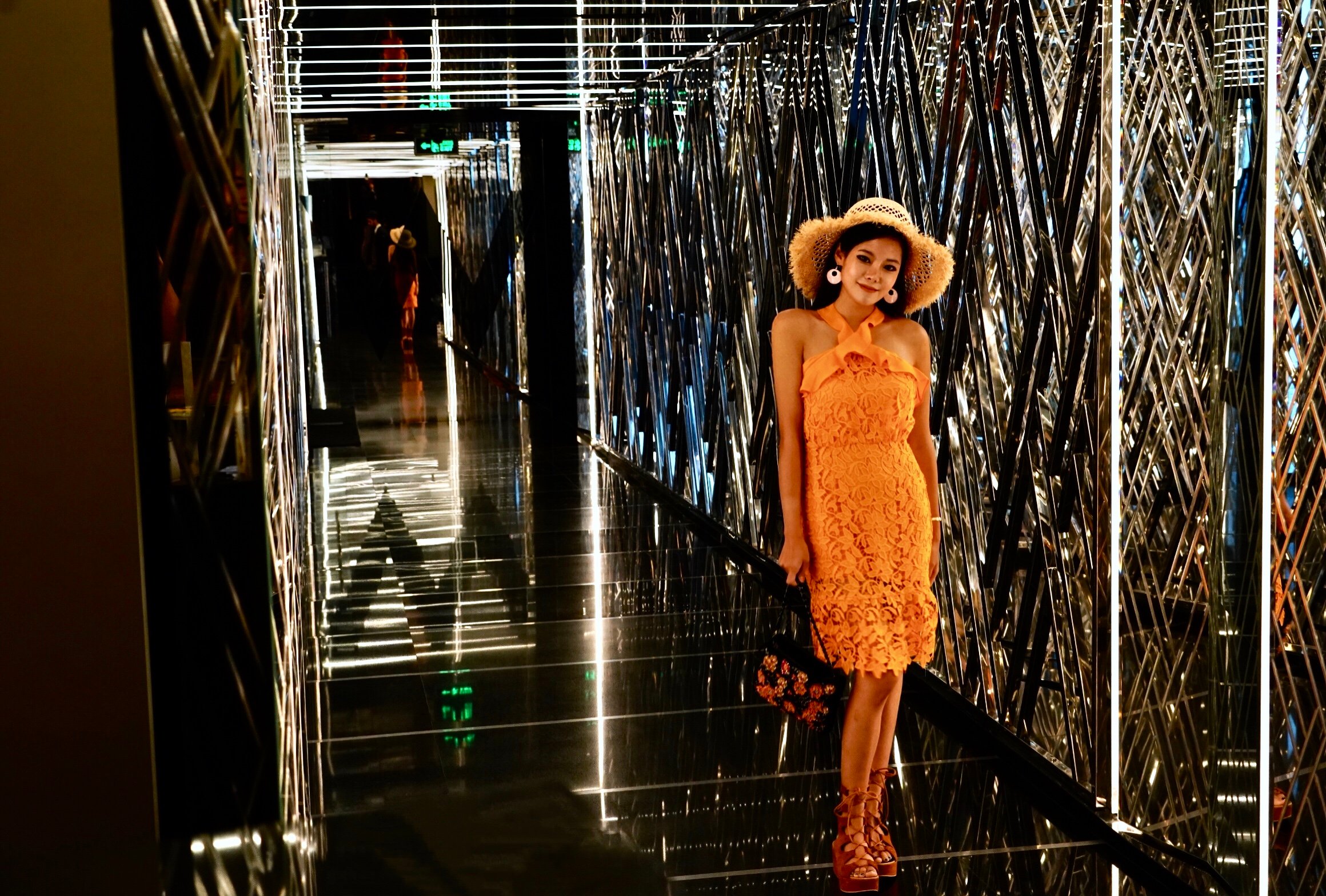 Just look at this entrance hall!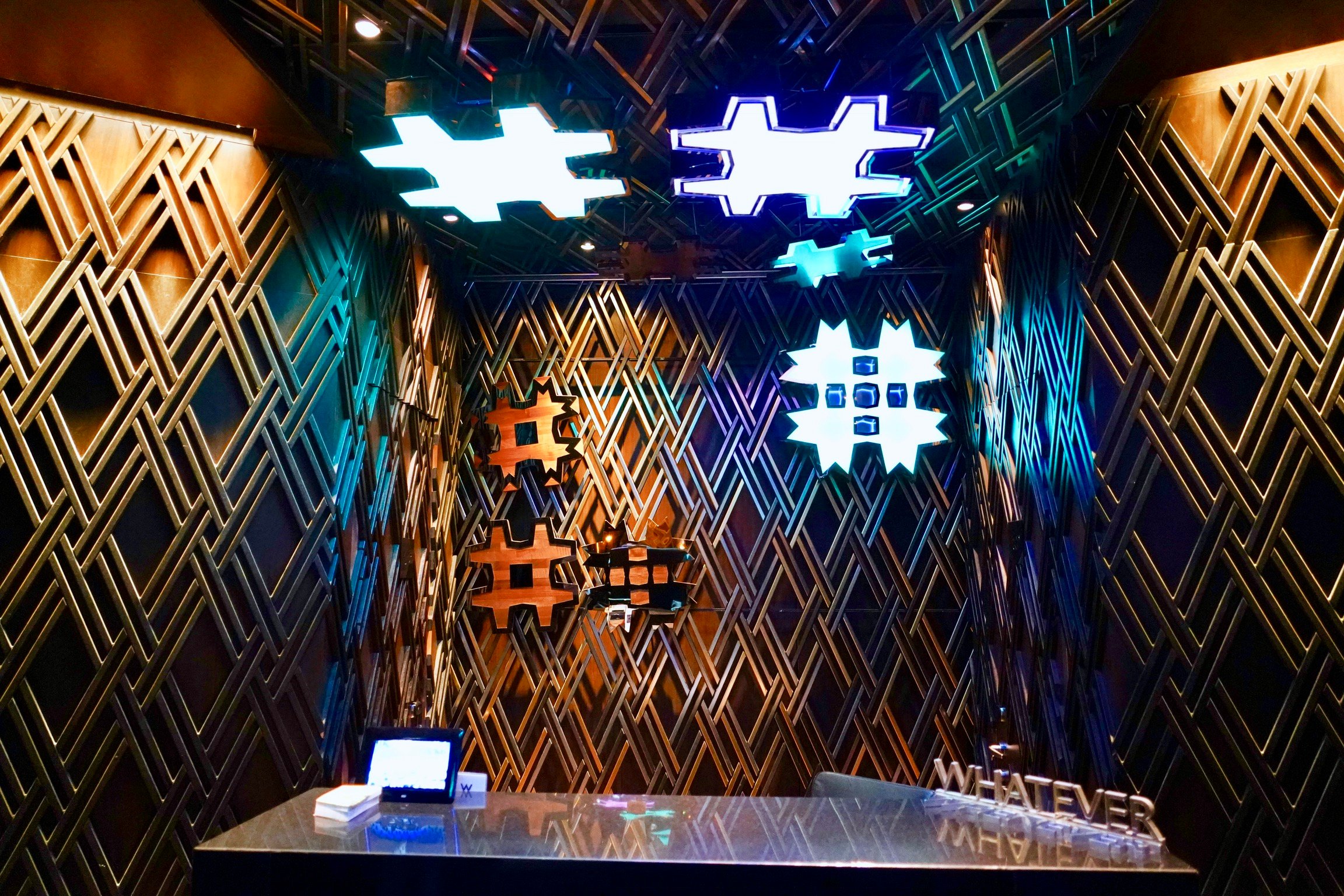 Every single wall and ceiling has been carefully lit, with different shades, designs and beautiful artistic patterns everywhere you look. This was just the concierge desk, complete with hashtag statement lighting and walls covered in geometric metal artwork. Once you'd thought you'd seen it all you'd just see more!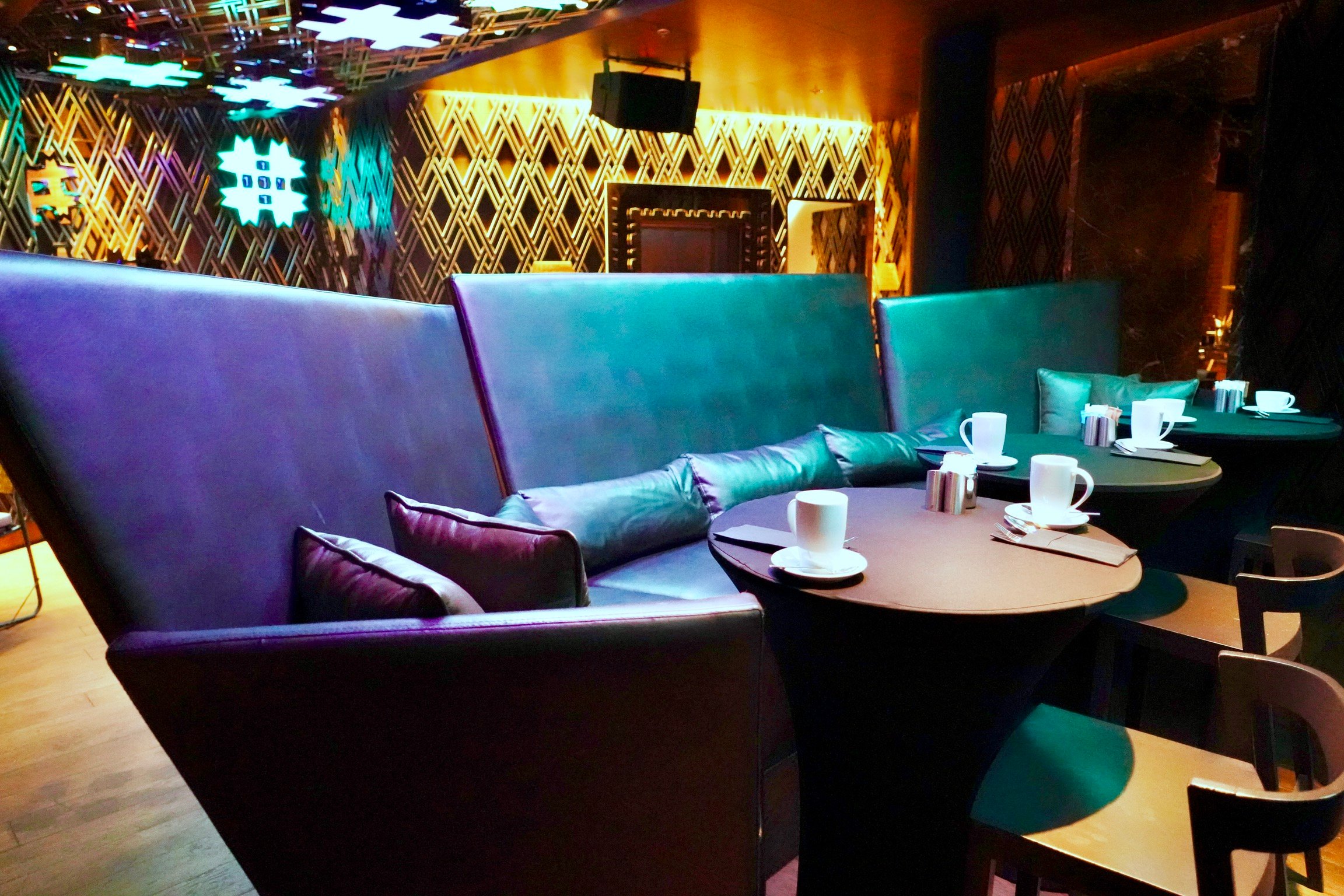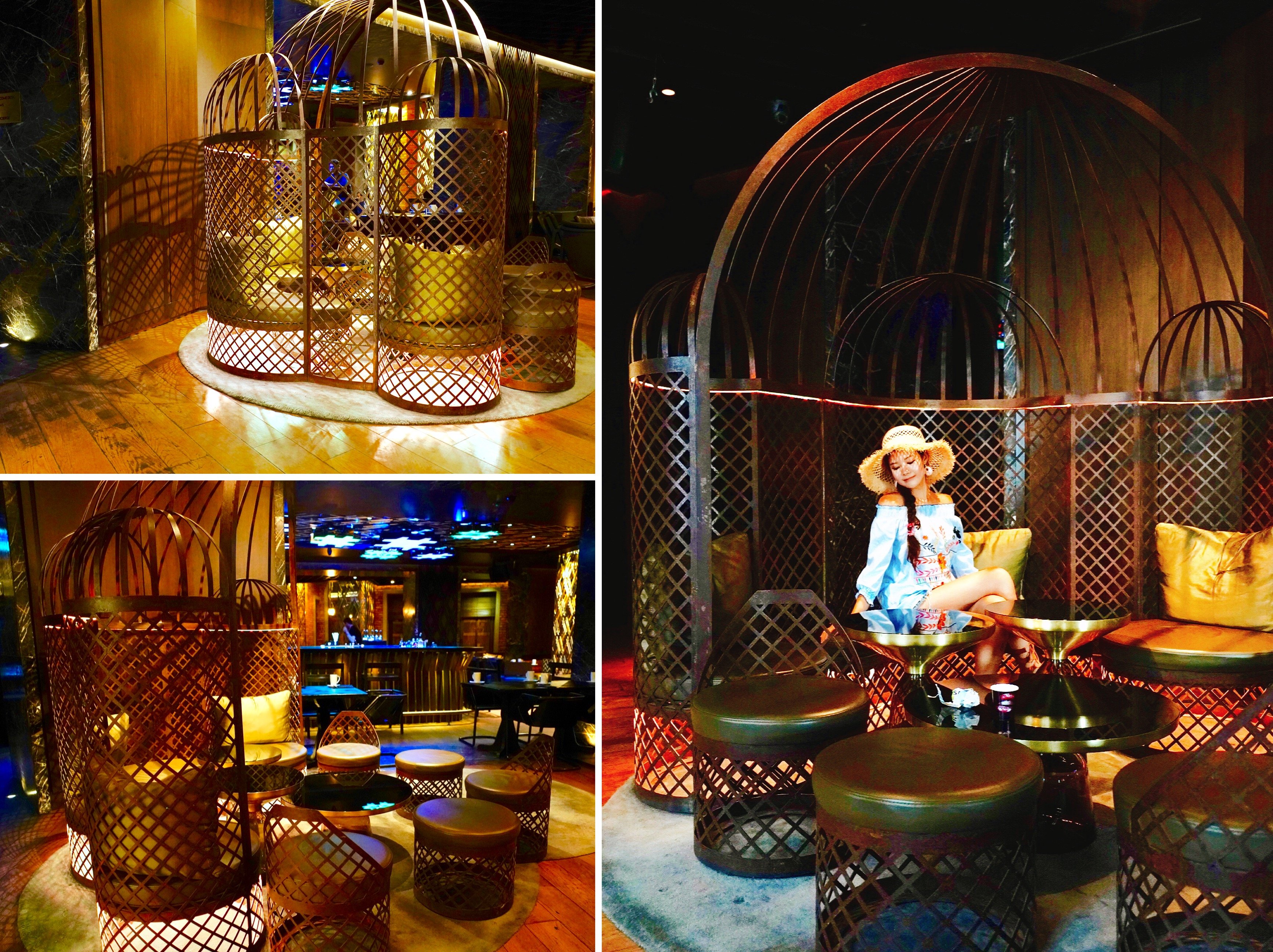 Further into the lobby were these seriously gorgeous seating areas. It was almost impossible to choose a spot to sit to have a coffee while I waited for my room. The area doubled as the hotel's cafe, but the conventional idea of cafe just doesn't apply here! As you can see, every seat, every wall, every piece of ceiling has beautiful moody lighting with the design feeling like a cross between an English garden, an Ottoman style nightclub and an American Jazz hall. With all of those different styles, you'd have thought it would look cluttered and feel a bit messy, but it doesn't! W Istanbul have pulled this one off nicely and I almost forgot to drink my coffee because I kept getting up and wandering around.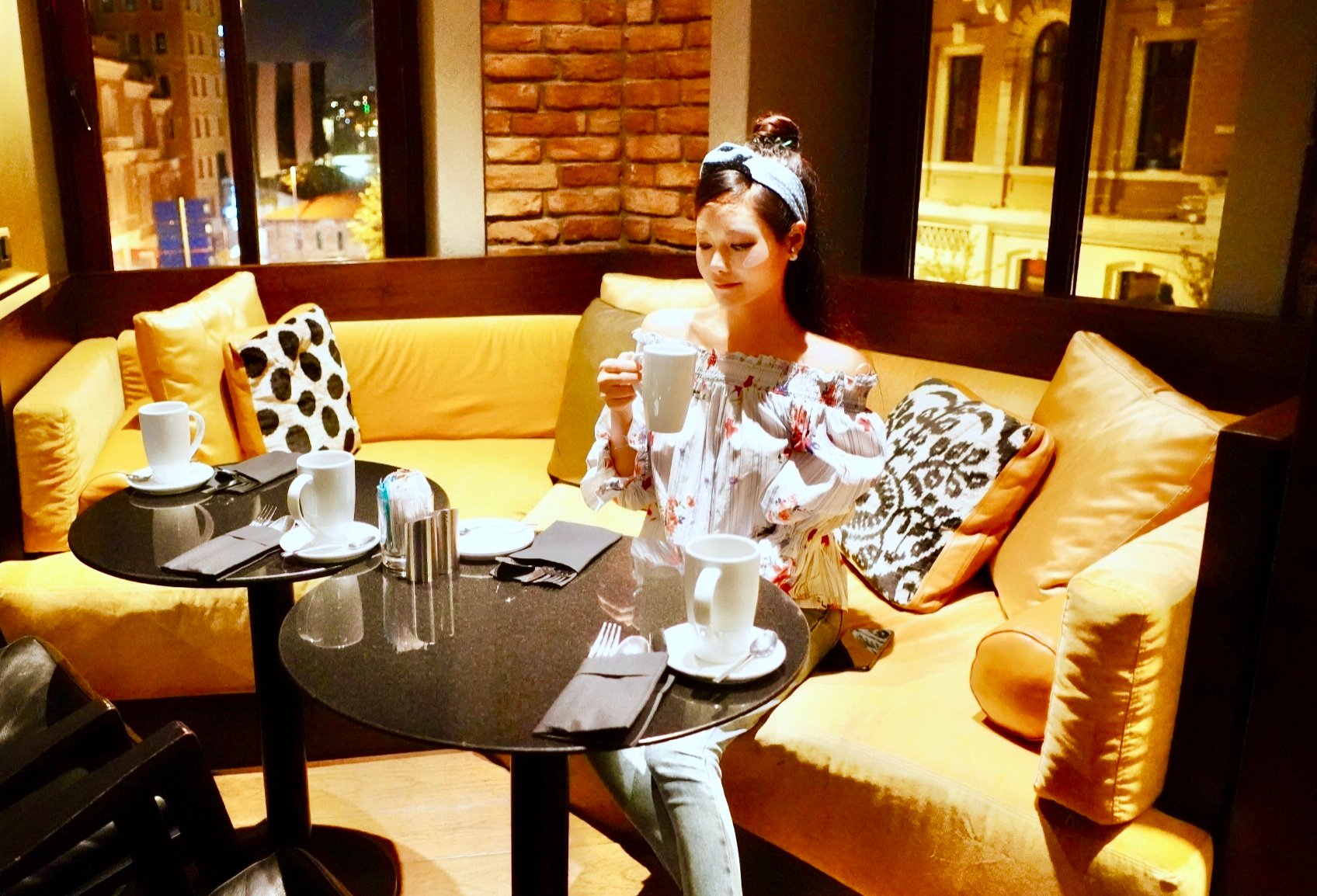 A great cup of coffee too!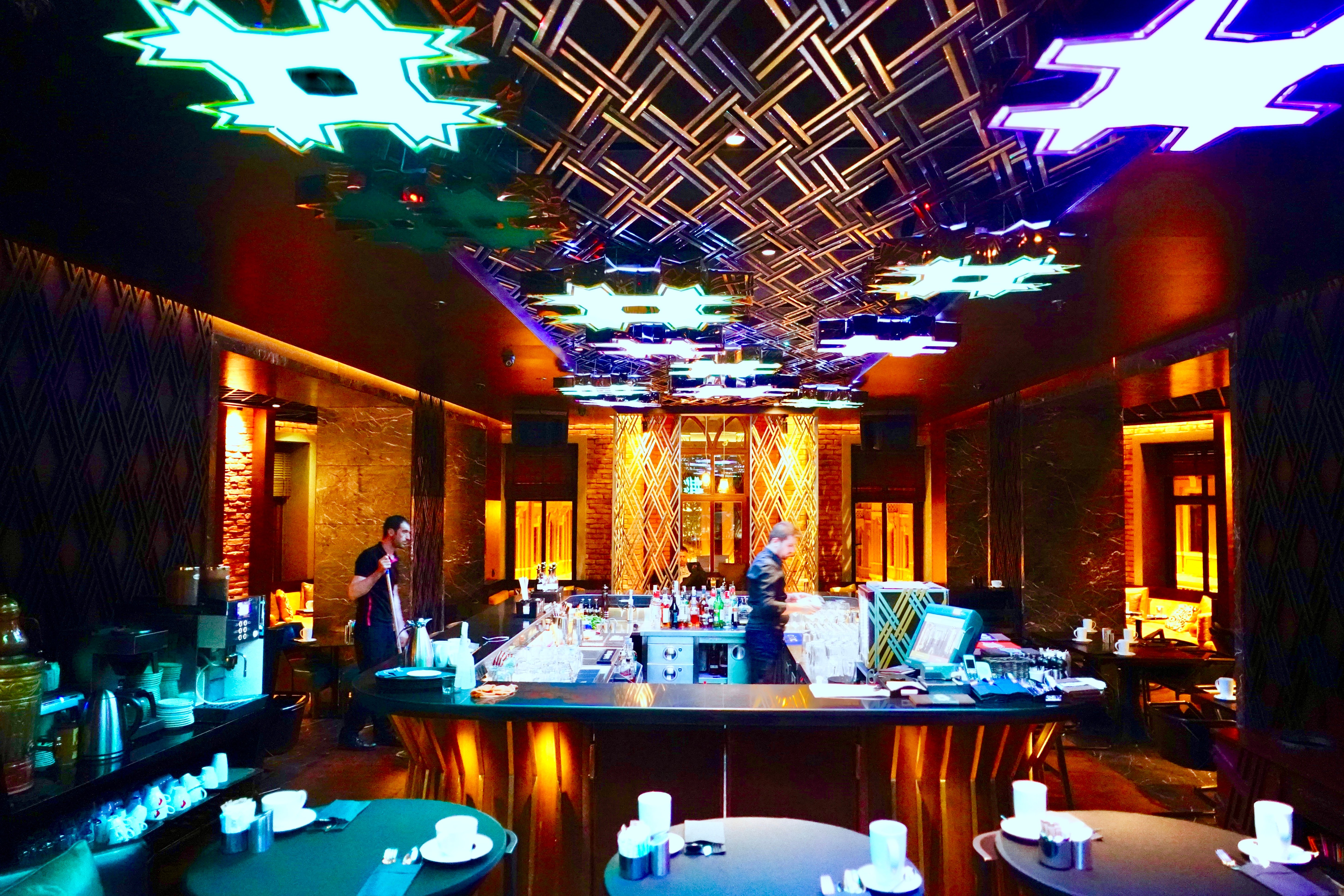 Even the the bar and cafe area, called W Lounge was full of different funky lights. Greens, blues and pinks, hashtag feature lights everywhere, with modern black marble table tops, the atmosphere was really cool. The design of the lounge is very clever, with many different corners, screens and high backed seats making you feel like you are relaxing alone in your own private seating area. This was very clever because though the hotel can get quite busy, you were always able to find your own private alcove, all in a different style, to find some privacy and time to relax. Some hotels have large open lobbies which feel very hectic when there are a lot of people, but in W Instanbul you feel like you've got your own secret seating spot, away from noise and other people.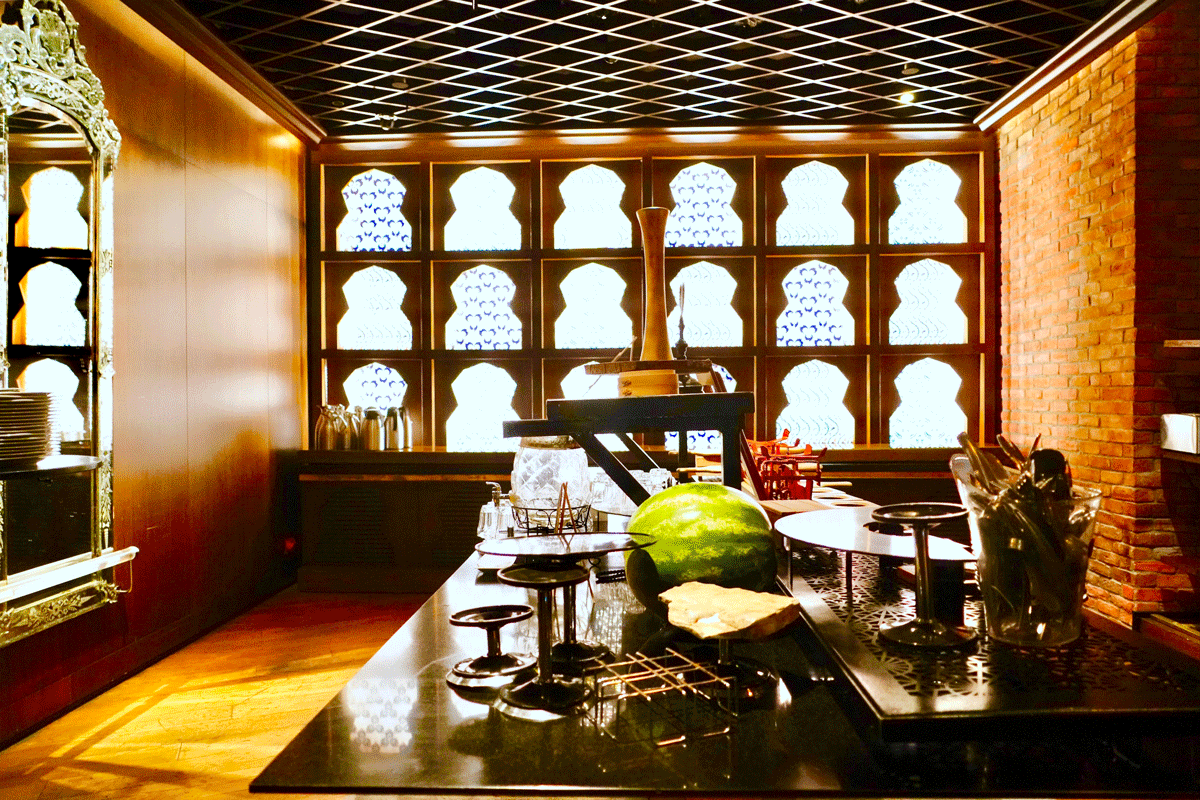 Even more examples of the beautiful lighting that is the real winner of this hotel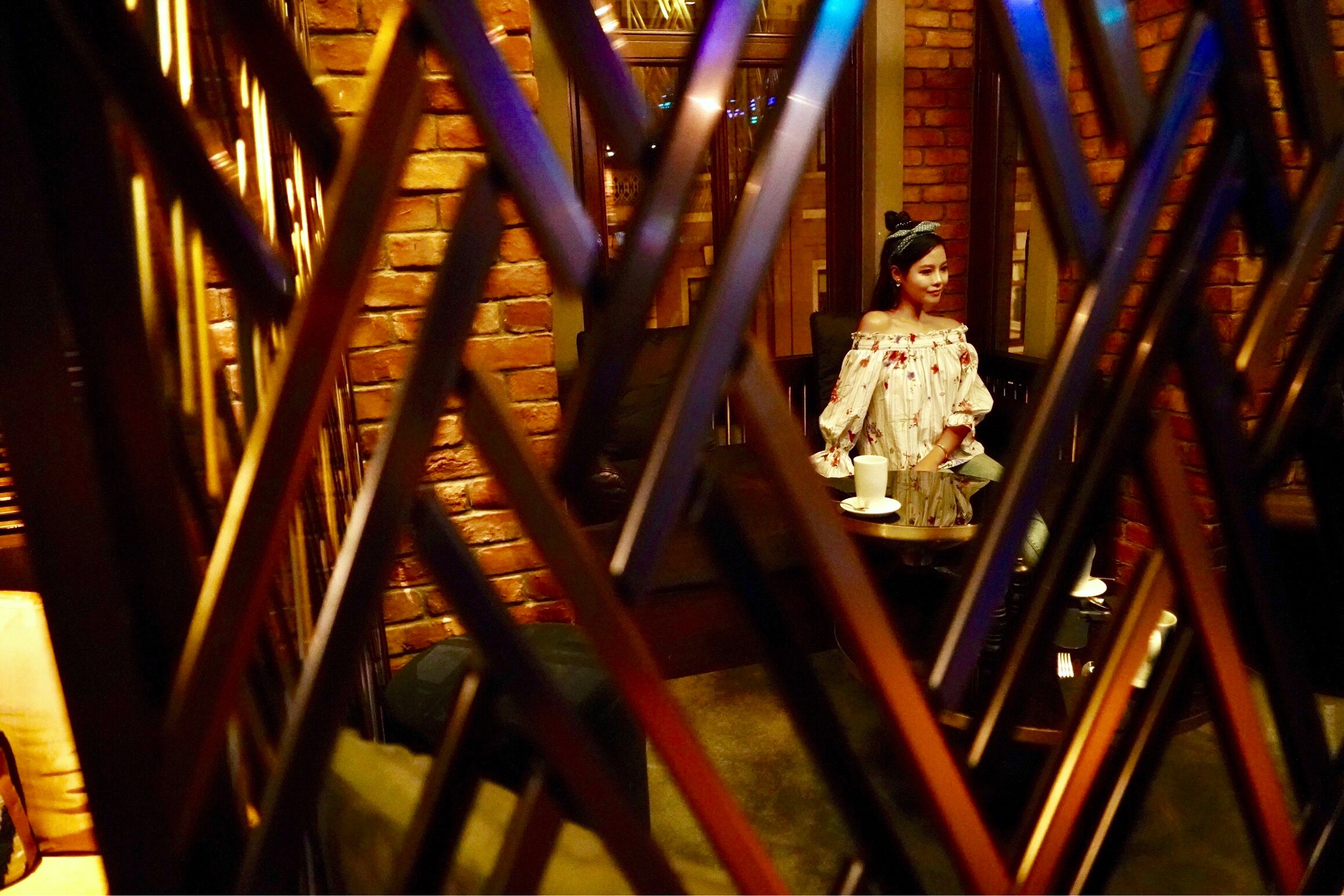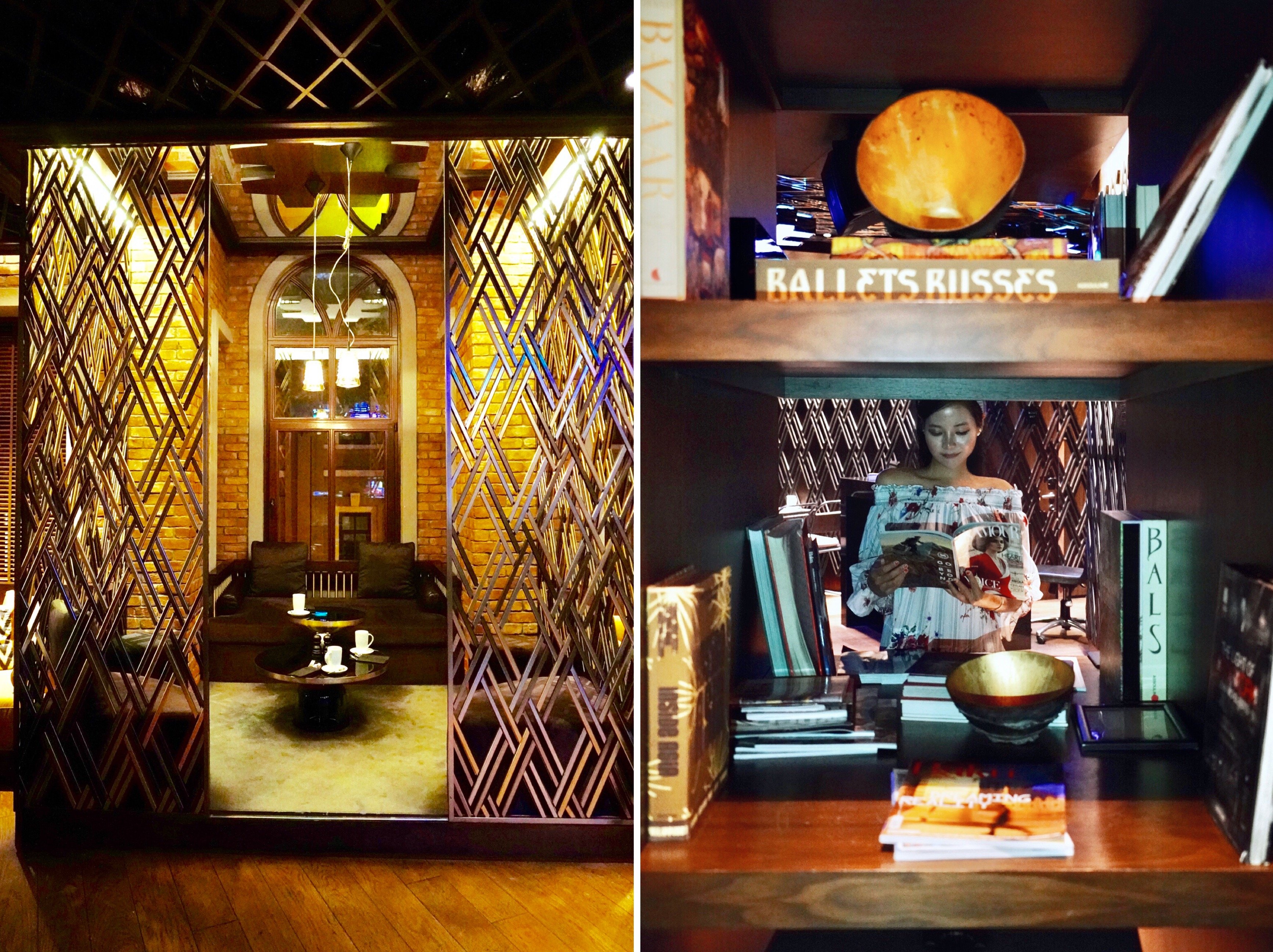 As you can see I tried out many different hidden seating spots. I felt like a little girl exploring the secrets of a modern mansion and finding my own little hiding places to relax and enjoy. No two areas are quite the same and would you believe that all of these pictures come from the same little lounge area. W Hotel spared no expense on the design of their common areas, making you feel both in awe and comfortably at home, in the same moment!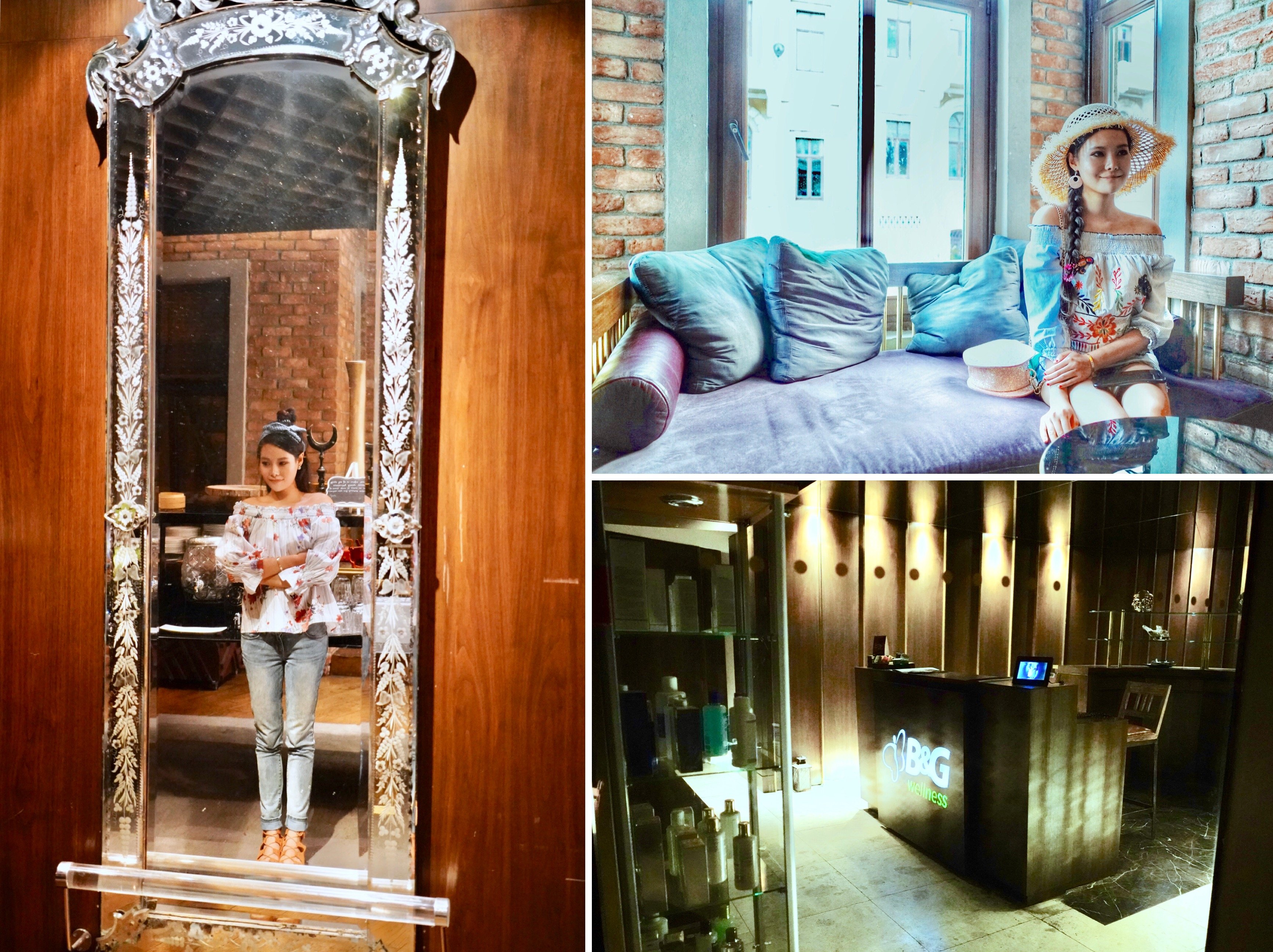 A few more quick explorations, the bottom right is the small spa area which unfortunately I didn't have time for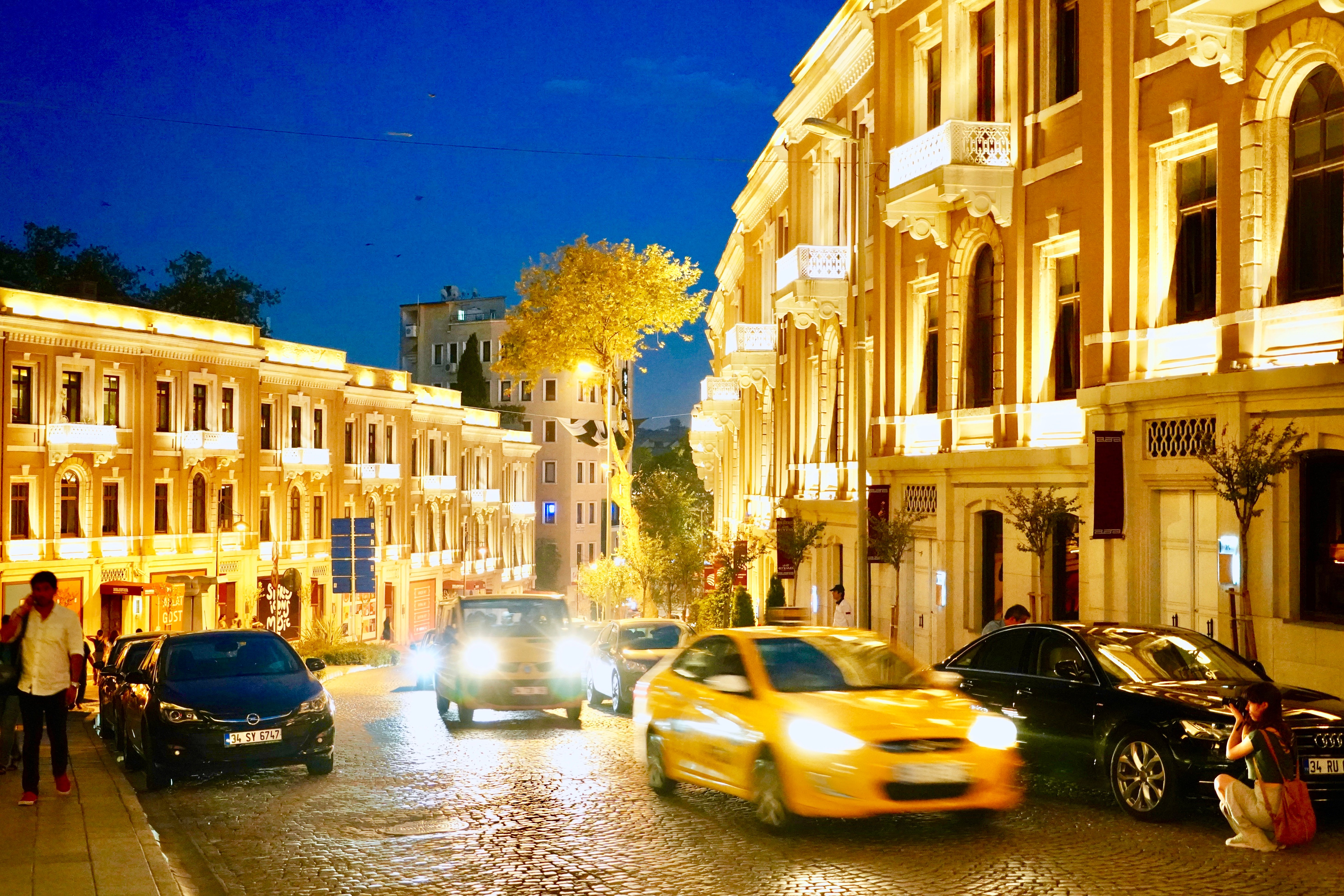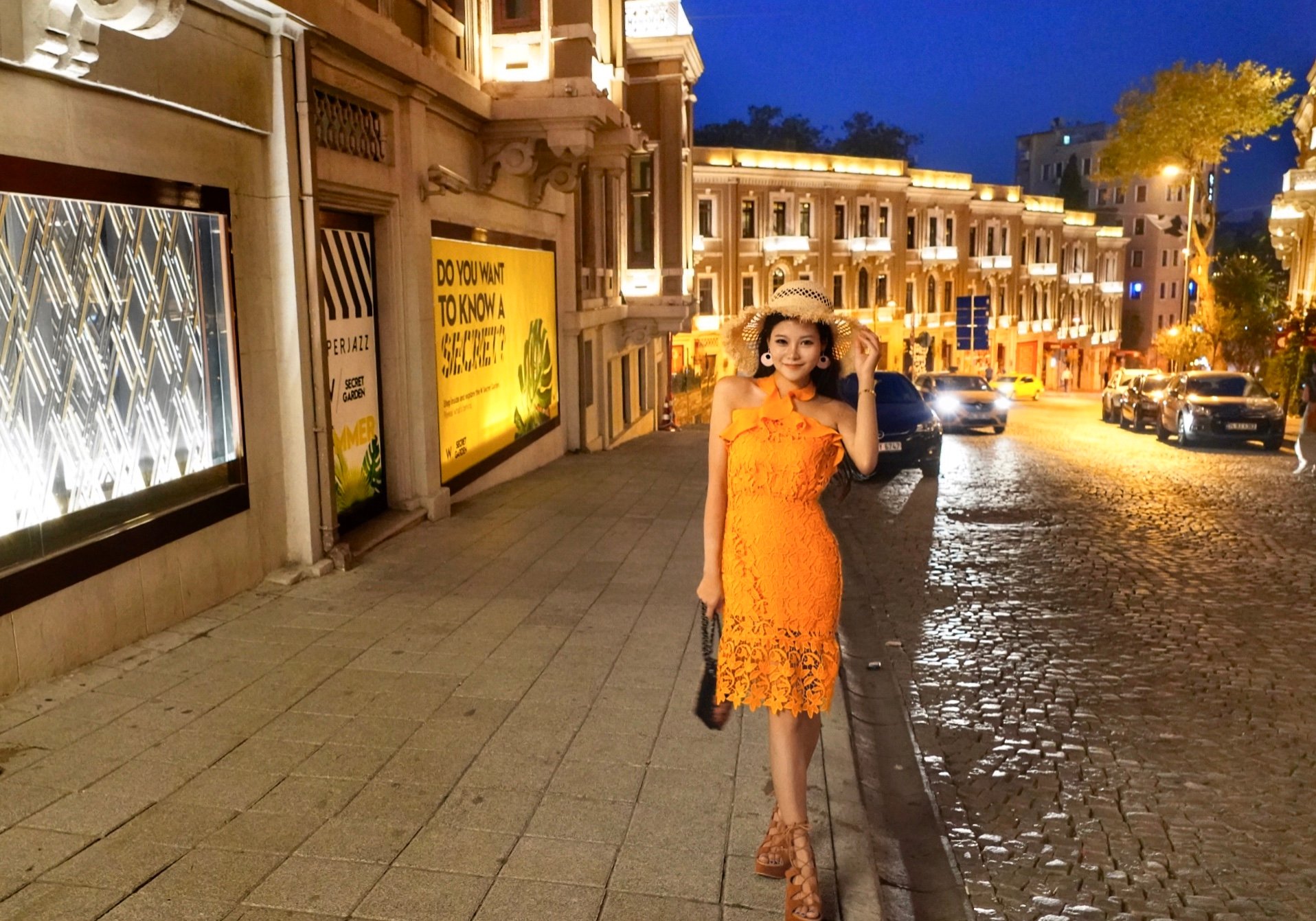 You can see the stark contrast between inside and outside the W Istanbul Hotel. Outside and you feel like you could be in a cobbled street somewhere in a boutique area of Paris, and inside you're transported to another world. I loved the contrast and couldn't wait to start exploring what my room had in store for me next! I was ready for more surprises.
Being transported through the neon pink halls to my room!
---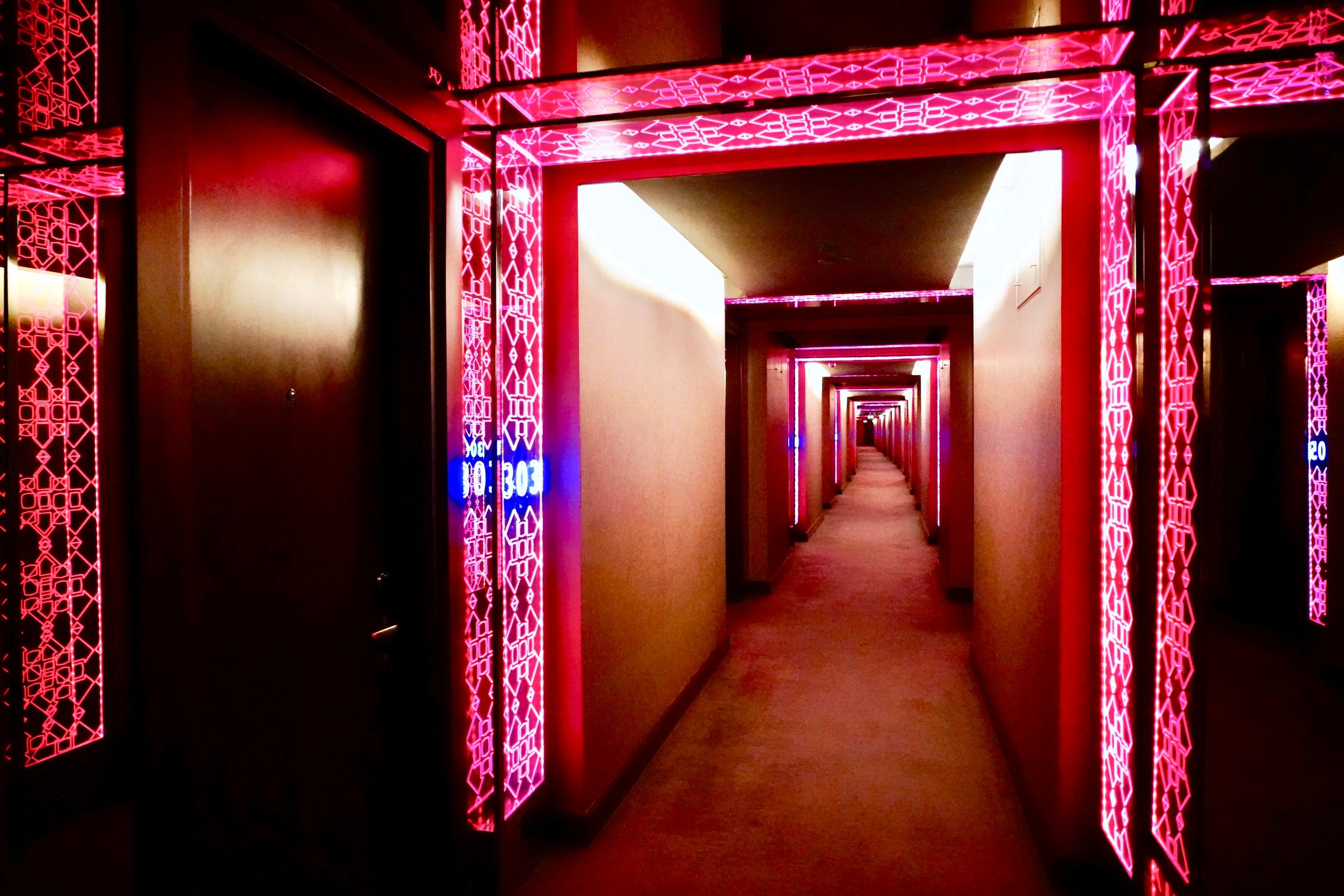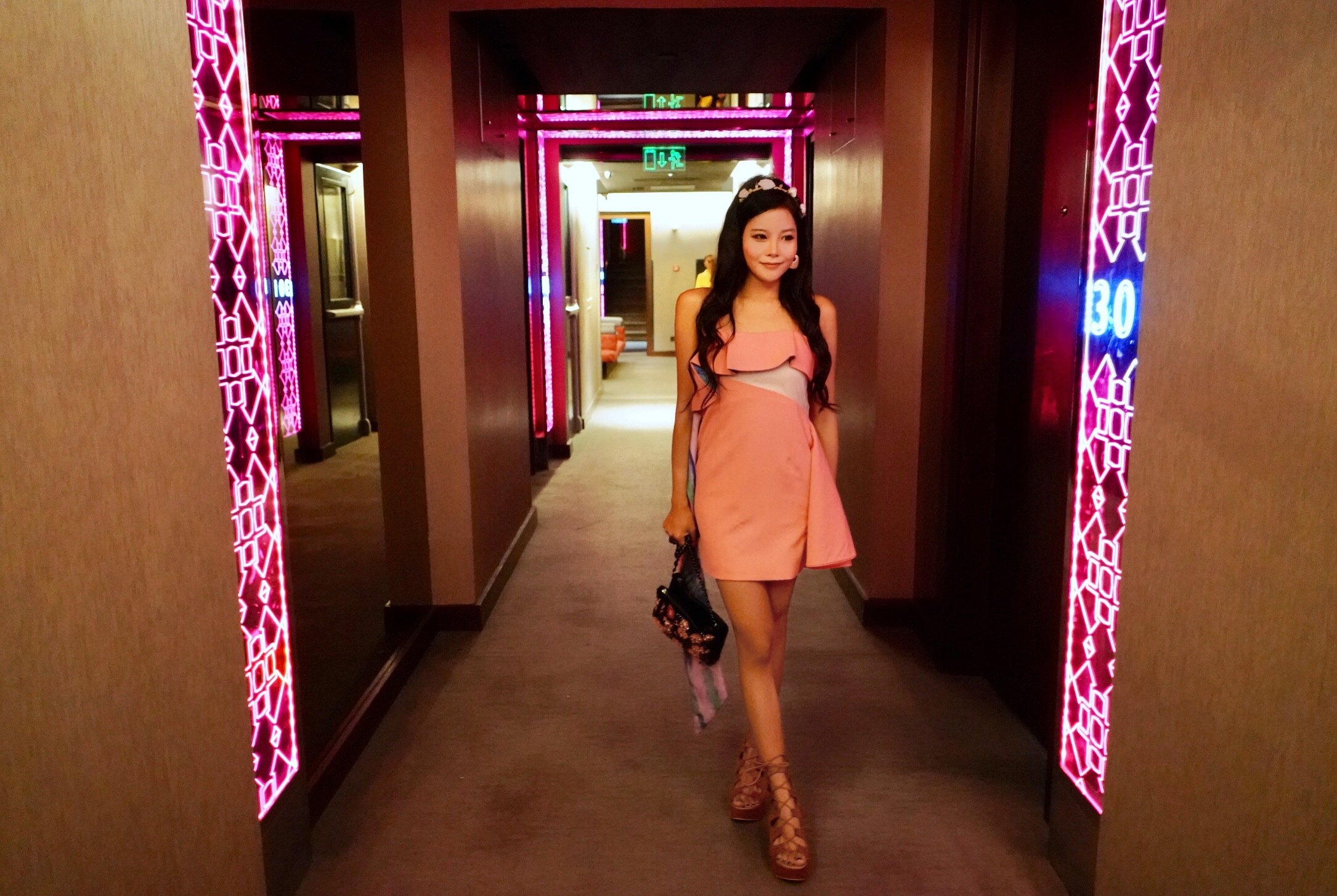 Each room number was noted in neon lighting set into pillars on the wall!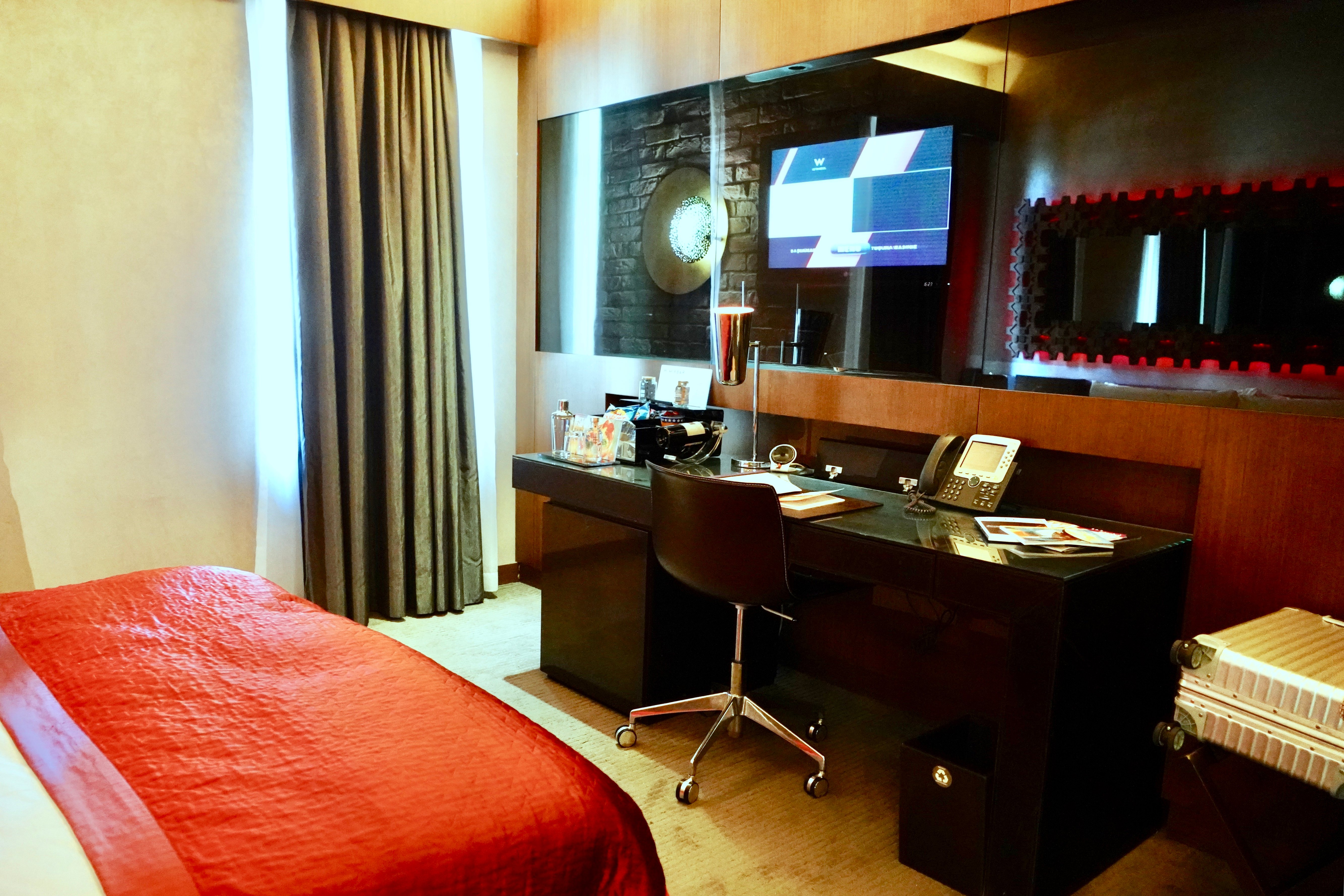 Where to start with my room. Absolutely gorgeous, artistic design was forefront in making these rooms as special as the rest of the hotel. Being limited by the space of the original building, the room certainly wasn't the largest I had ever been in but what it lacked in size it made up for in design. First, I noticed the huge mirrors on both walls, making the whole space feel much bigger, and of course beautifully framed by more excellent lighting.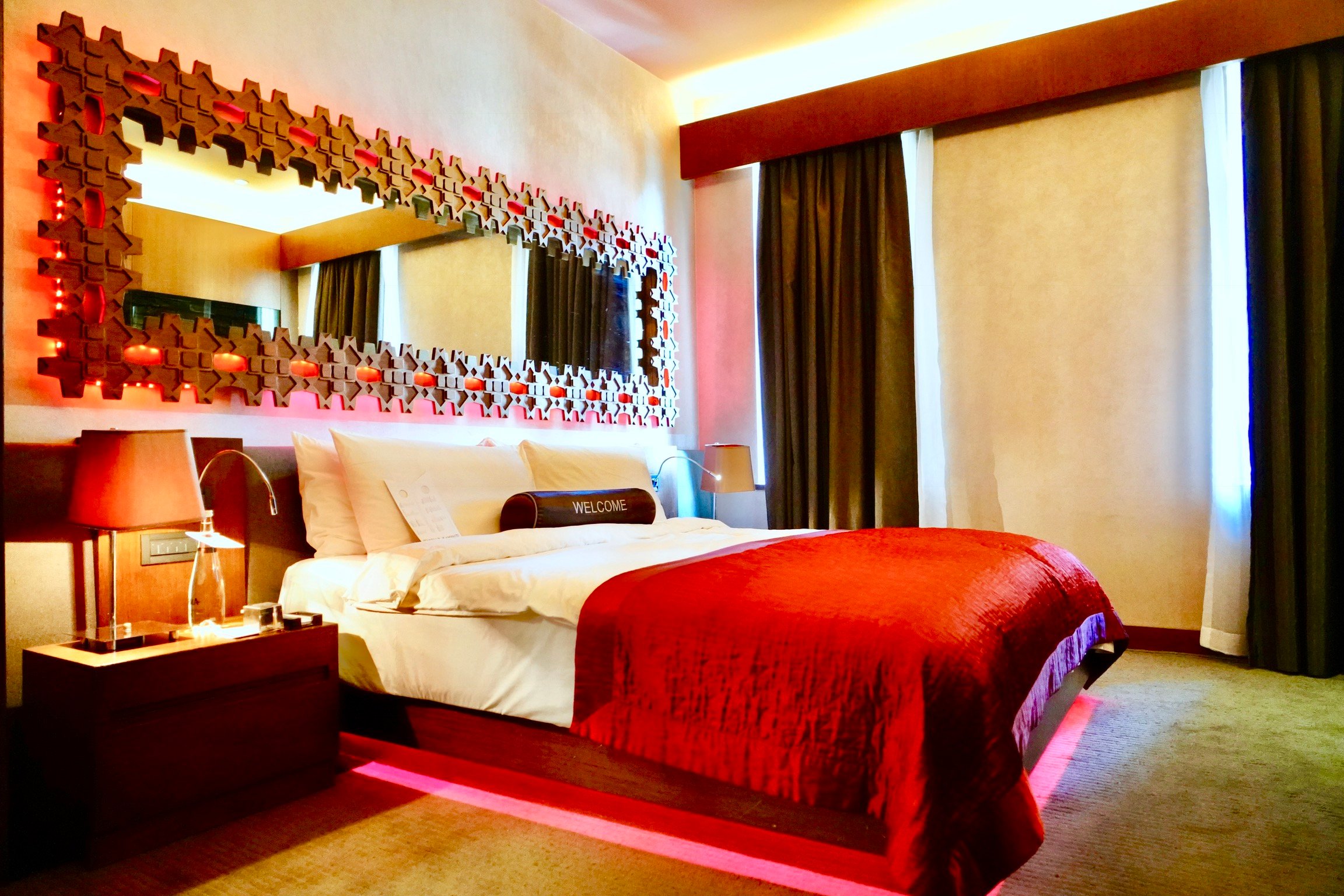 Of course the mirror is framed with crazy geometric designed wood and the bed is lit from underneath with gorgeous pink neon lighting.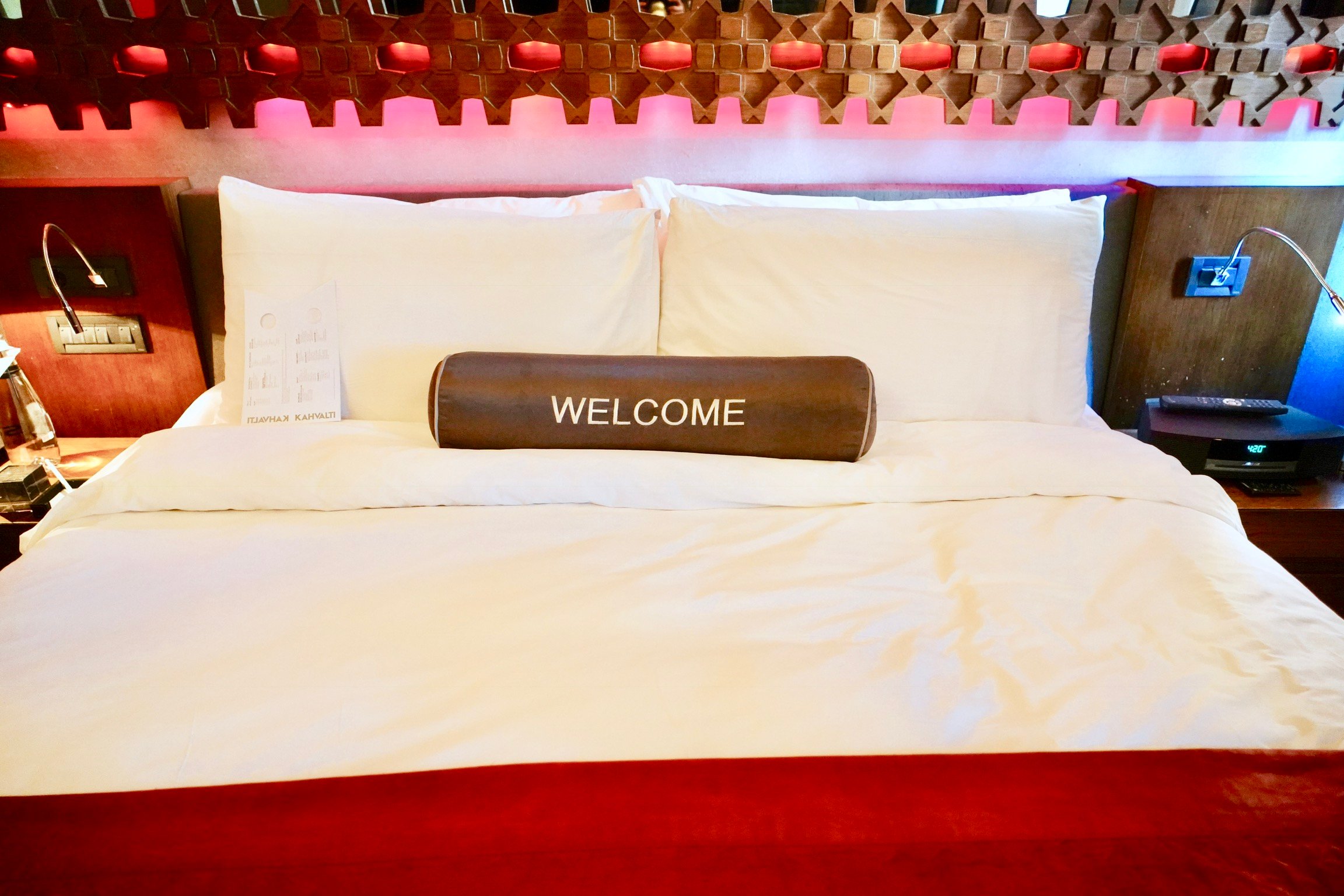 I did feel very welcome here in W Instanbul, and not just because of the pillow. The staff were excellent and though Turkey is known for its generally friendly service, it isn't always known for efficiency of service. My hotel here had both, with a lovely welcome as well as fast, efficient and attentive service from every member of staff I met. They checked and made the room twice a day to make sure it was completely up to scratch and not wanting for anything.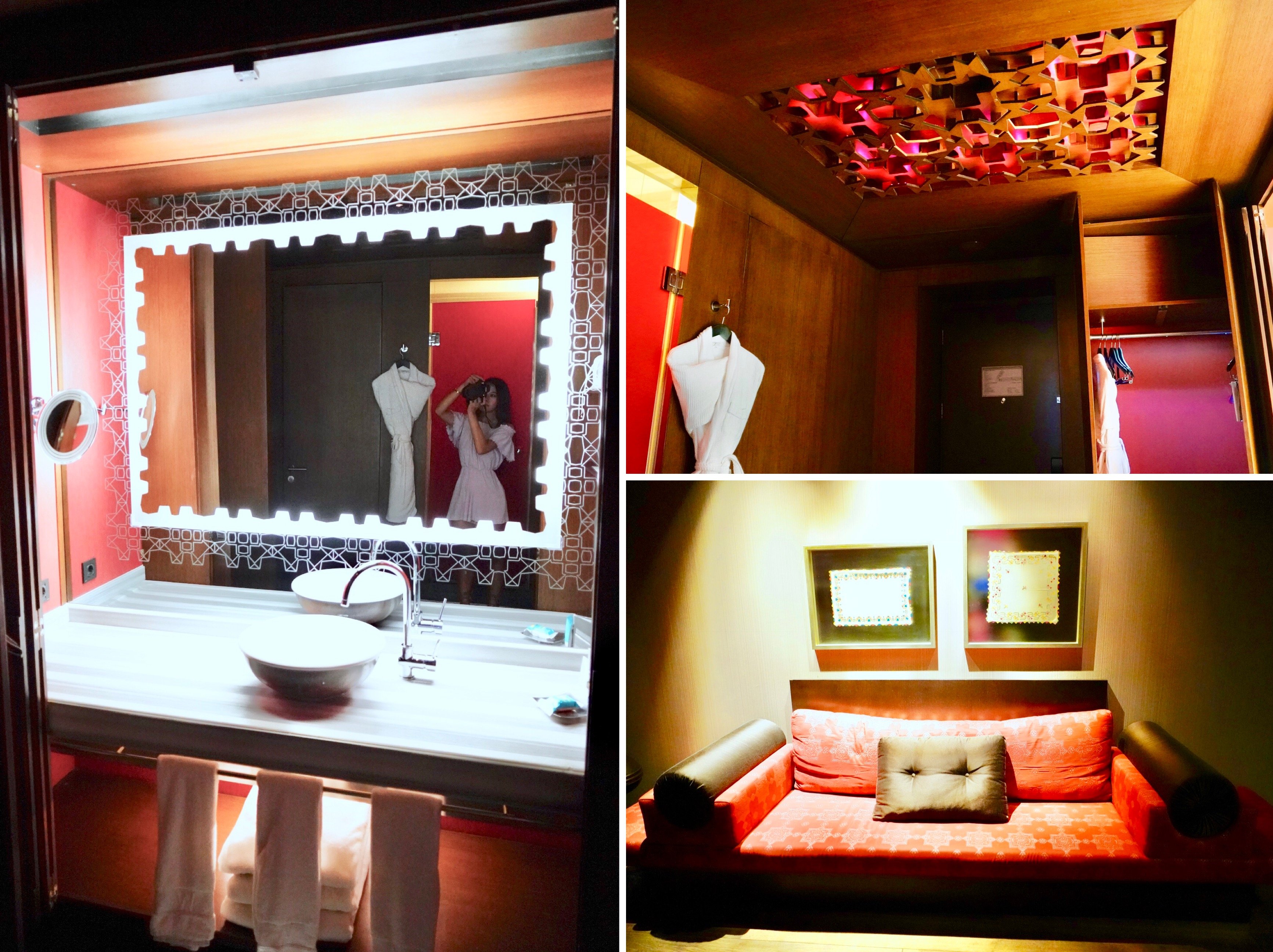 The bathroom was very spacious with this amazing celebrity style mirror that provided the perfect lighting for any lady doing her make up in the morning. I felt like a super-star with a mirror surrounded by lights.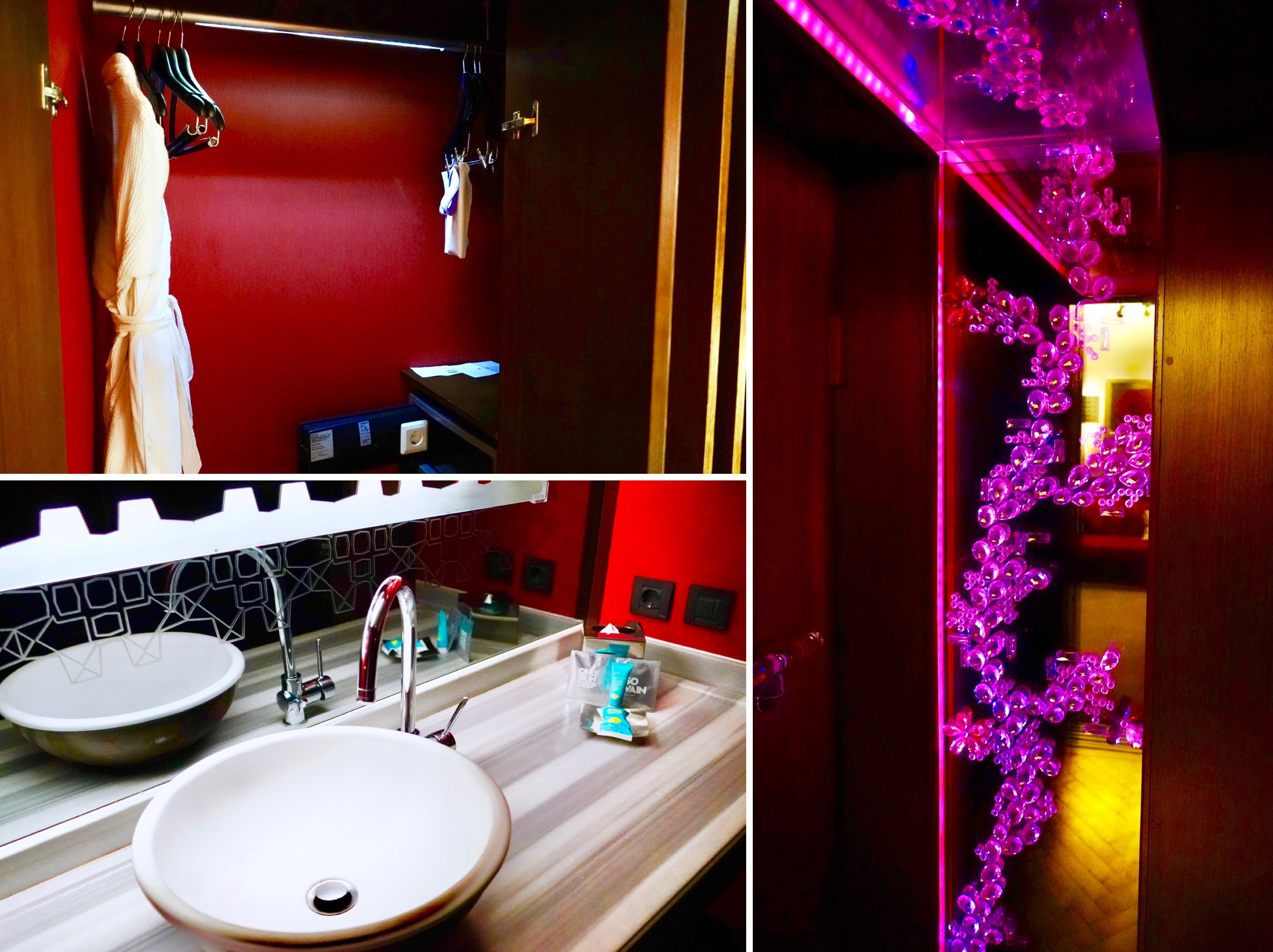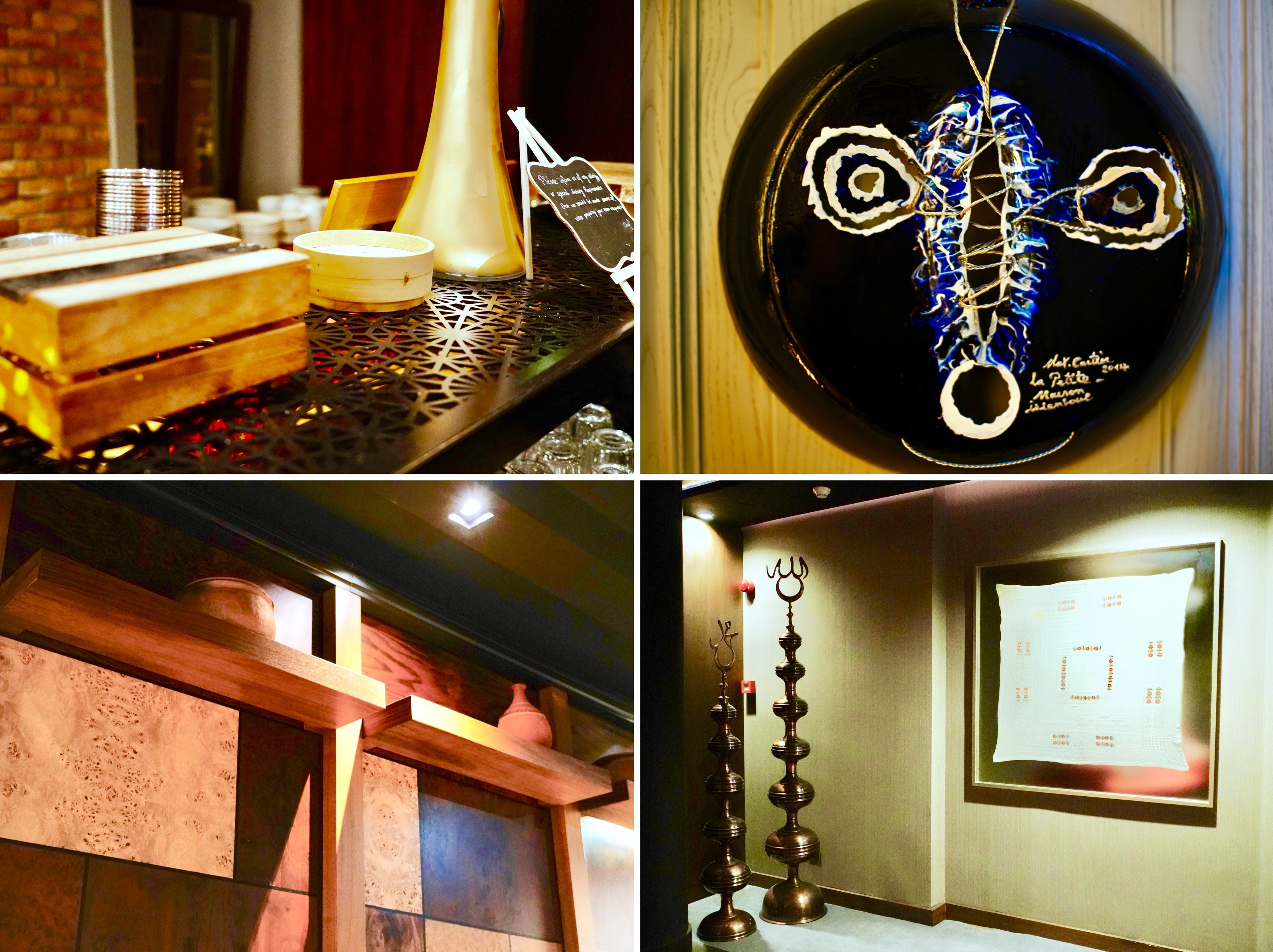 There were some great examples around the hotel of modern art as well as homages to the Ottoman roots that are prominent around the city. Istanbul is famous for being a real melting pot of cultures, being the 'gateway' to Europe from Africa for centuries. As a result it has been fought over many times and has changed hands frequently. That means that culturally it's one of the most diverse places in the world - a fact that W Istanbul Hotel captures beautifully, showing that Istanbul is proud of its heritage, and excited about its future.
Having lunch in W Secret Garden
---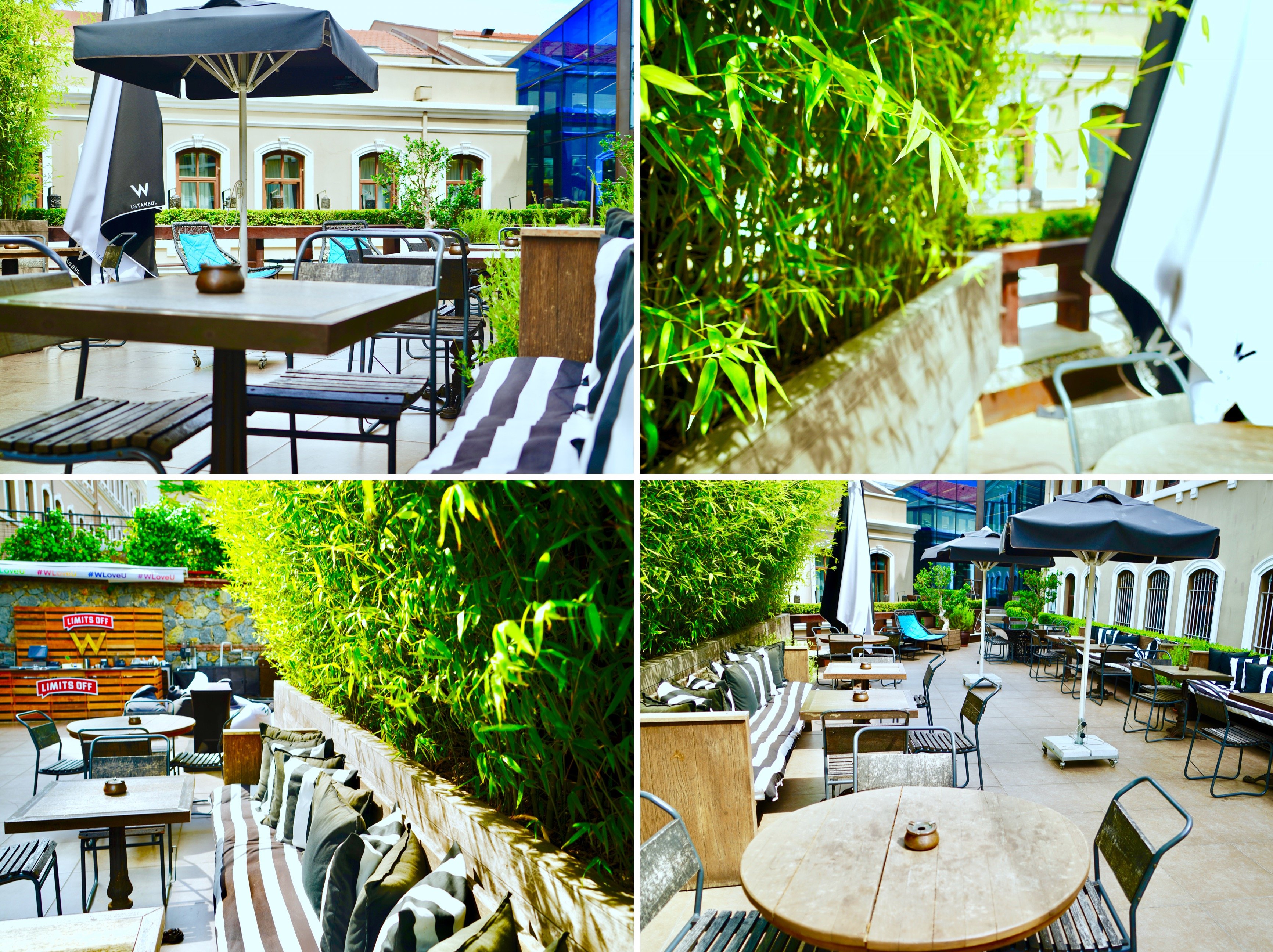 W Hotel's newest addition, W Secret Garden is a great place to hang out when the weather is good and you just want to relax. As you can see, it's so secret (and new) that not many people have discovered it yet! But I'm sure that it won't be long before this place is bustling with activity because everything about it was amazing. The food was great, the location just perfect with the beautiful bamboo and plants surrounding it, and the funky bar area for evening drinks!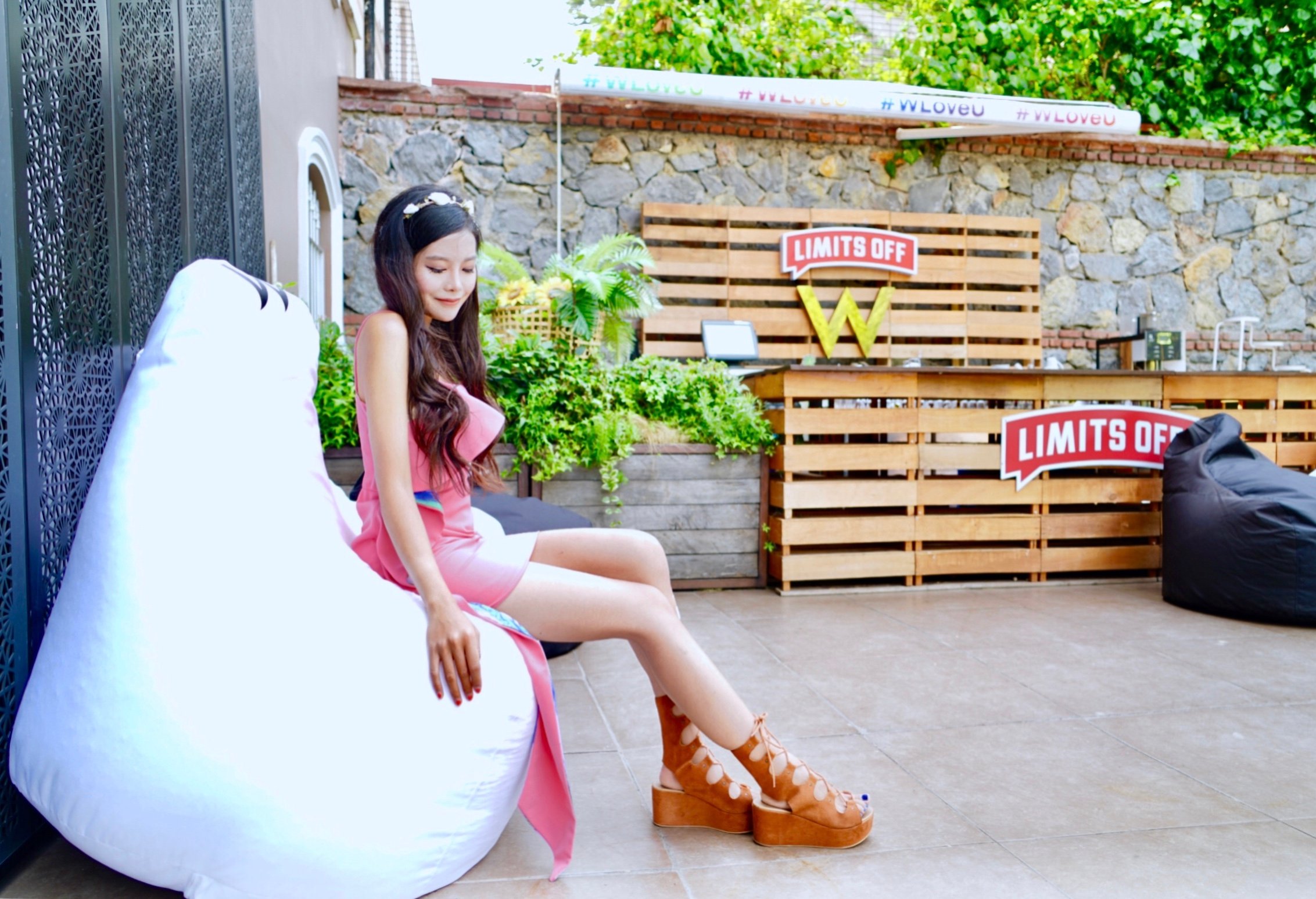 Look at these crazy massive beanbags!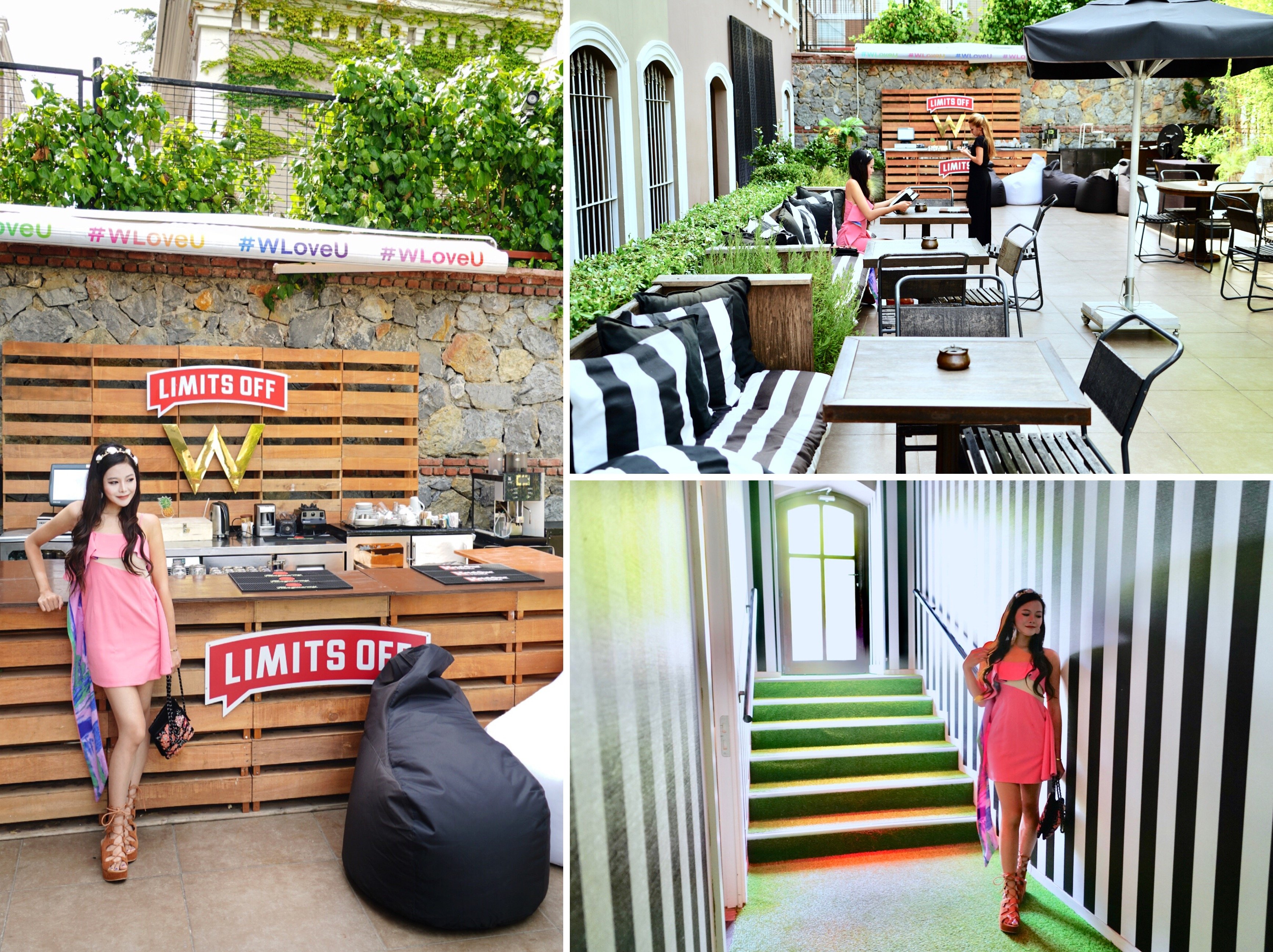 Got the entire place to myself!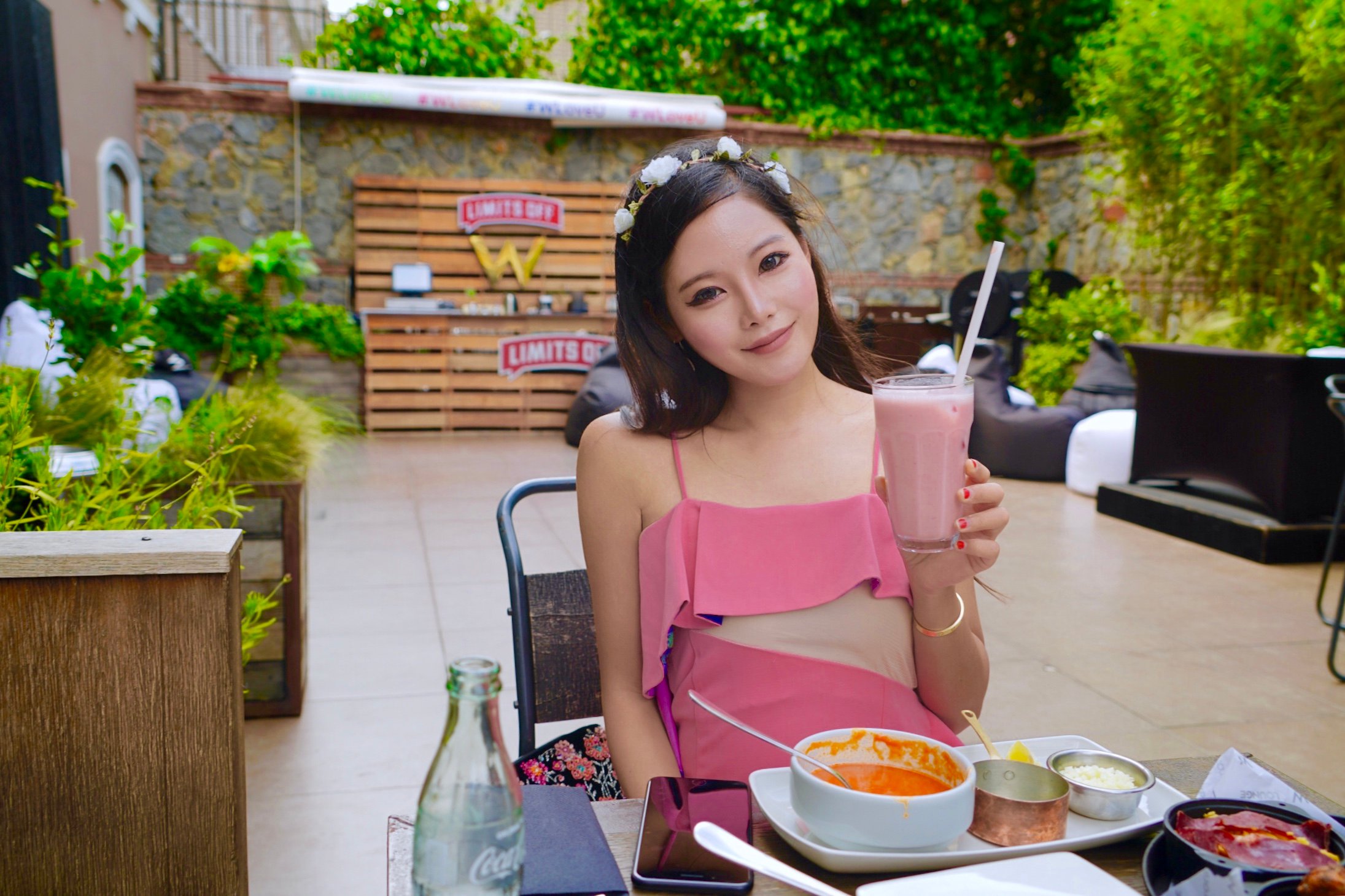 It was very hot so I wanted a fairly light lunch, and I had quite a treat planned for my dinner, so I started with one of W Secret Garden's beautiful smoothies. They offer a range of appetisers, detox smoothies and mocktails with cocktails and other drinks also served, particularly in the evening where this becomes a place to hang out with friends, have some drinks and try some hookah.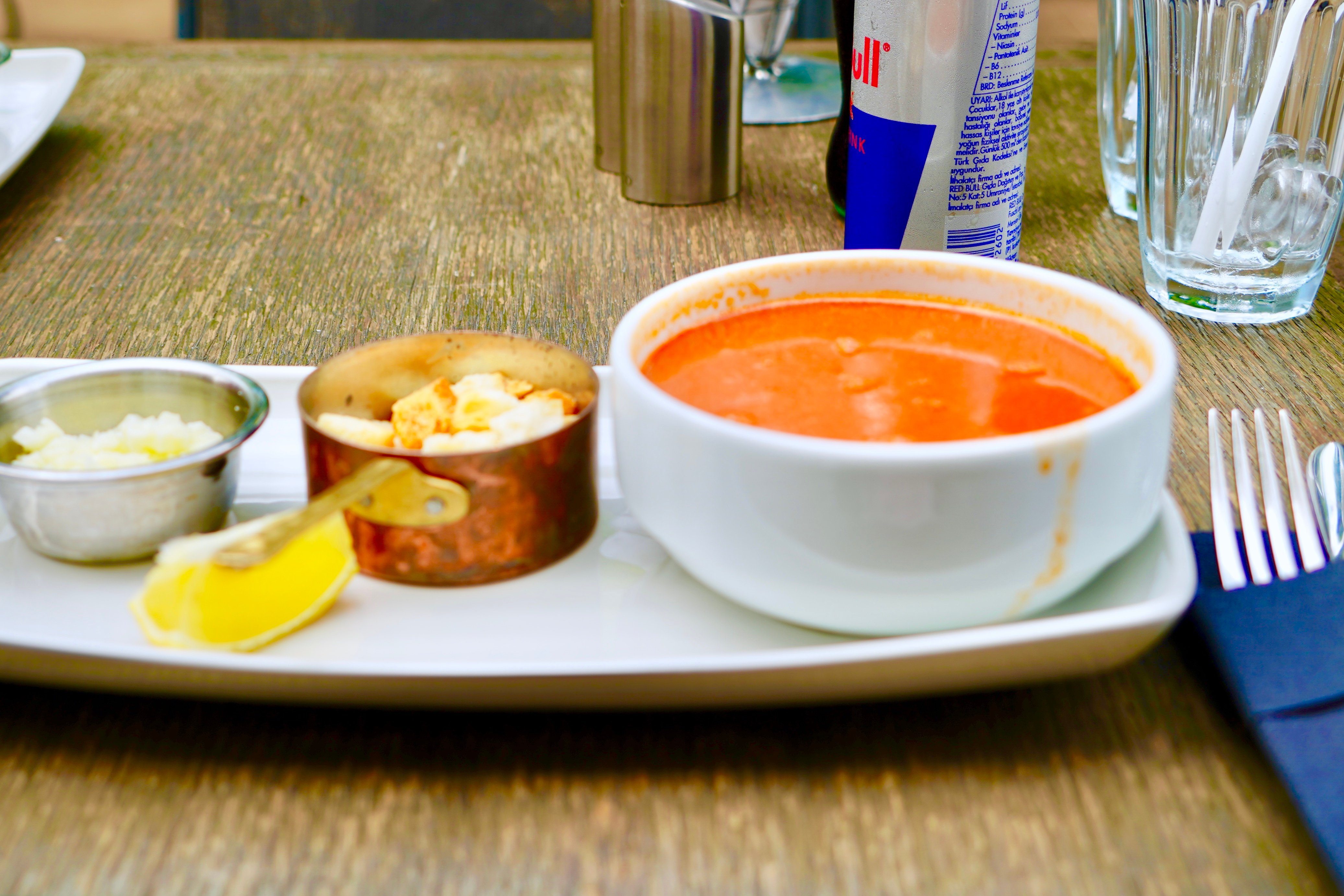 Beautifully presented tomato soup with a side of croutons and cheese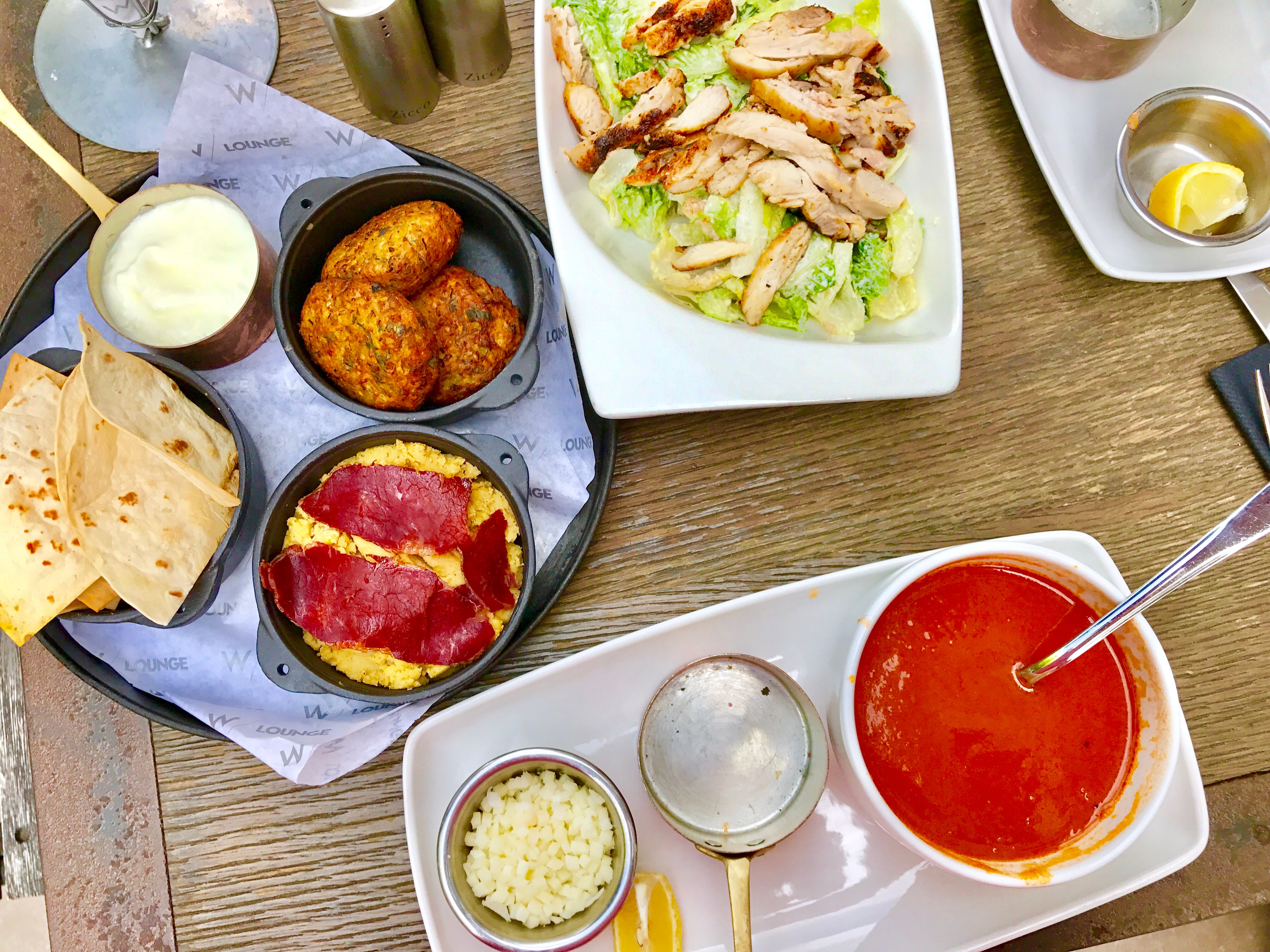 Well... you know how I said I wanted a light lunch? Turns out there were too many beautiful looking things on the menu. I also ordered a fresh grilled chicken salad, make your own breakfast burrito with a unique take on hashbrowns...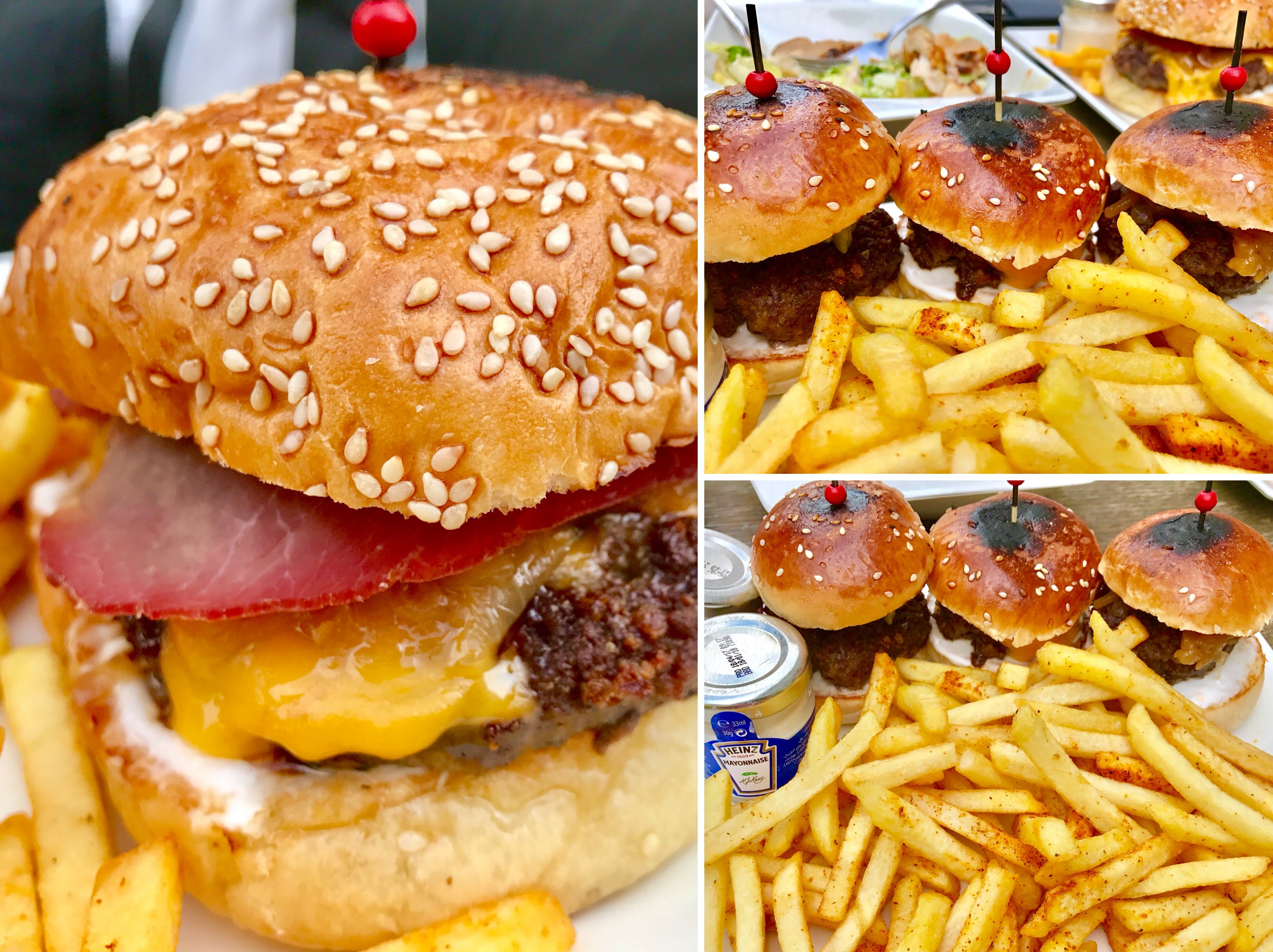 Oh and the bacon and cheese burger sliders looked too good too...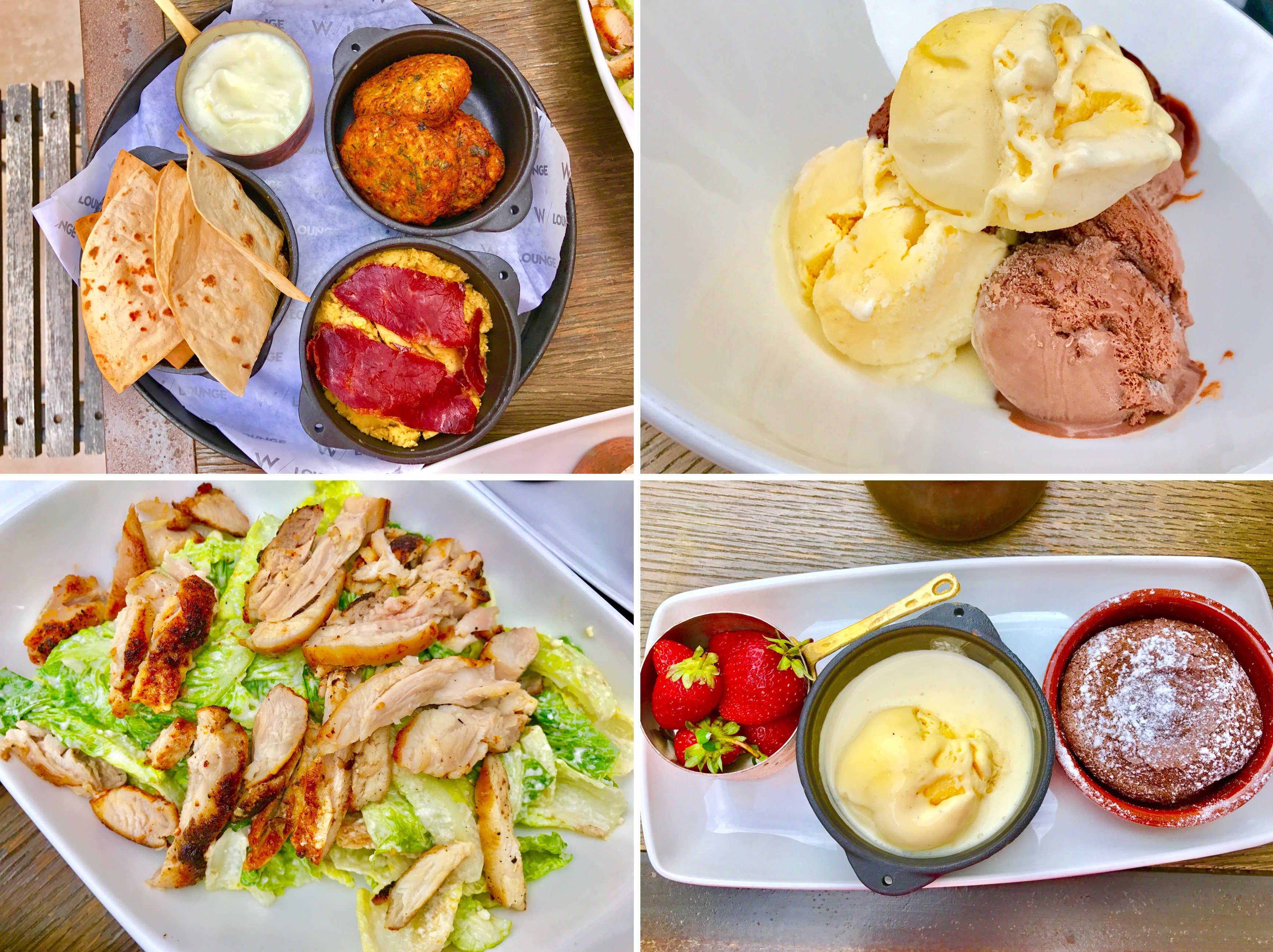 After feeling well and truly full, I saw another customer who had come out to the garden order some ice cream and I just couldn't resist. It was a very hot day, as you can see, because my ice cream was melting before I'd even had a chance to taste it! But it was exactly what I needed to help me cool down in the heat of the day. I have to say that the food at W Secret Garden was surprisingly good for what is essentially a cafe. The menu was varied and enticing and all o the food extremely tasty and well cooked. For a quick snack, or for a really large meal (whoops), this spot was perfect.
A bit of shopping and then more food at Istinye Park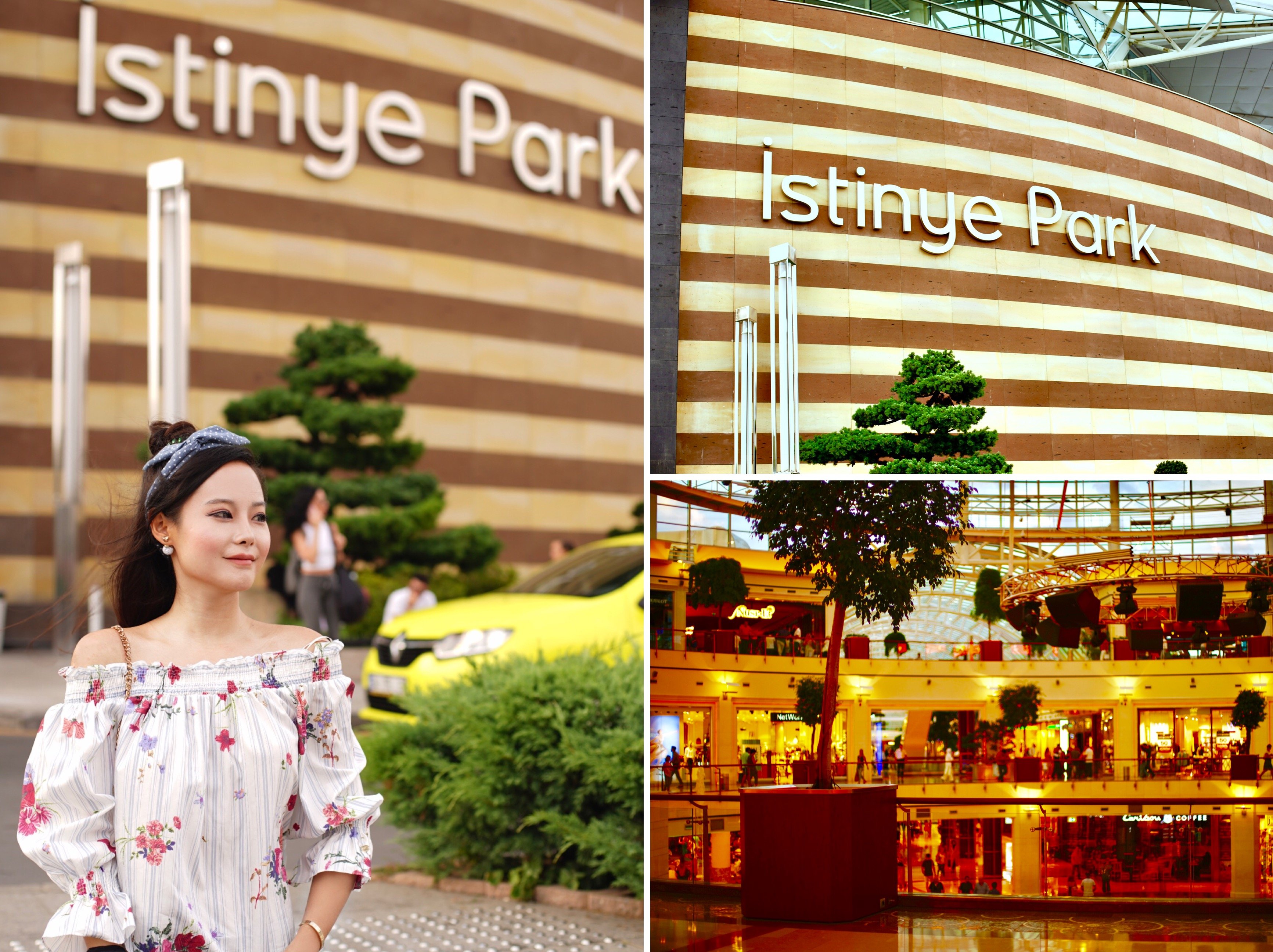 Istinye Park was first opened in 2007 and offers nearly 300 stores. It is widely regarded as one of the best shopping malls in all of Istanbul and it's easy to see why. It's absolutely massive, beautifully open and airy with all important air conditioning. It also has a Gym, restaurants, a 12 screen cinema and its owners won Shopping Mall developer of the Year in 2008 as well as the mall itself being awarded Europe's Best Shopping Mall the very same year!
The mall itself is 242,000 square metres, which is huge, comprising shops, food, parkign and common areas. It was designed by US architect Tom Kelly and it took 3 years in total to design and build. I distracted myself for the afternoon with a little retail therapy, checking out the many different shops, just resting and relaxing after some busy days of sight-seeing. It was a really lovely way to unwind. But the real reason I had come to Istinye Park was that the world famous restaurant, La Petite Maison, had one of their restaurants right here in Istinye Park. They have six restaurants at the moment in London, Dubai, Istanbul, Miami, Abu Dhabi and Hong Kong so I was really excited to be able to visit!
The design of the restaurant is just perfect. With doors that can completely open the front of the restaurant, and the expressionist art of many different French artists, you feel as though you could be in a fine restaurant in France itself. They've done amazing work at decorating the entire place and the atmosphere was both sophisticated and relaxed at the same time - just what you'd expect from a lovely French restaurant.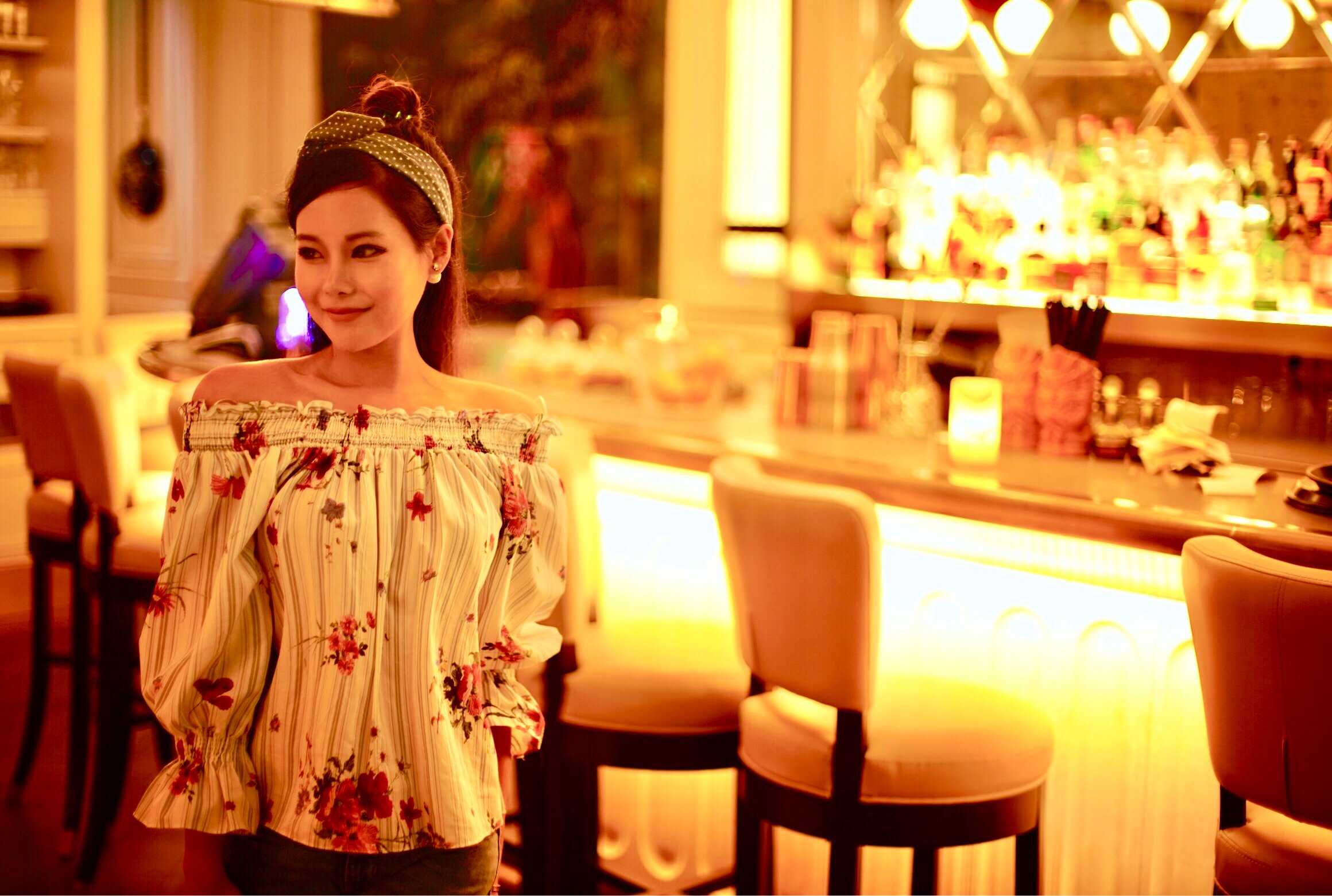 The bar for some pre-dinner wine or drinks before being seated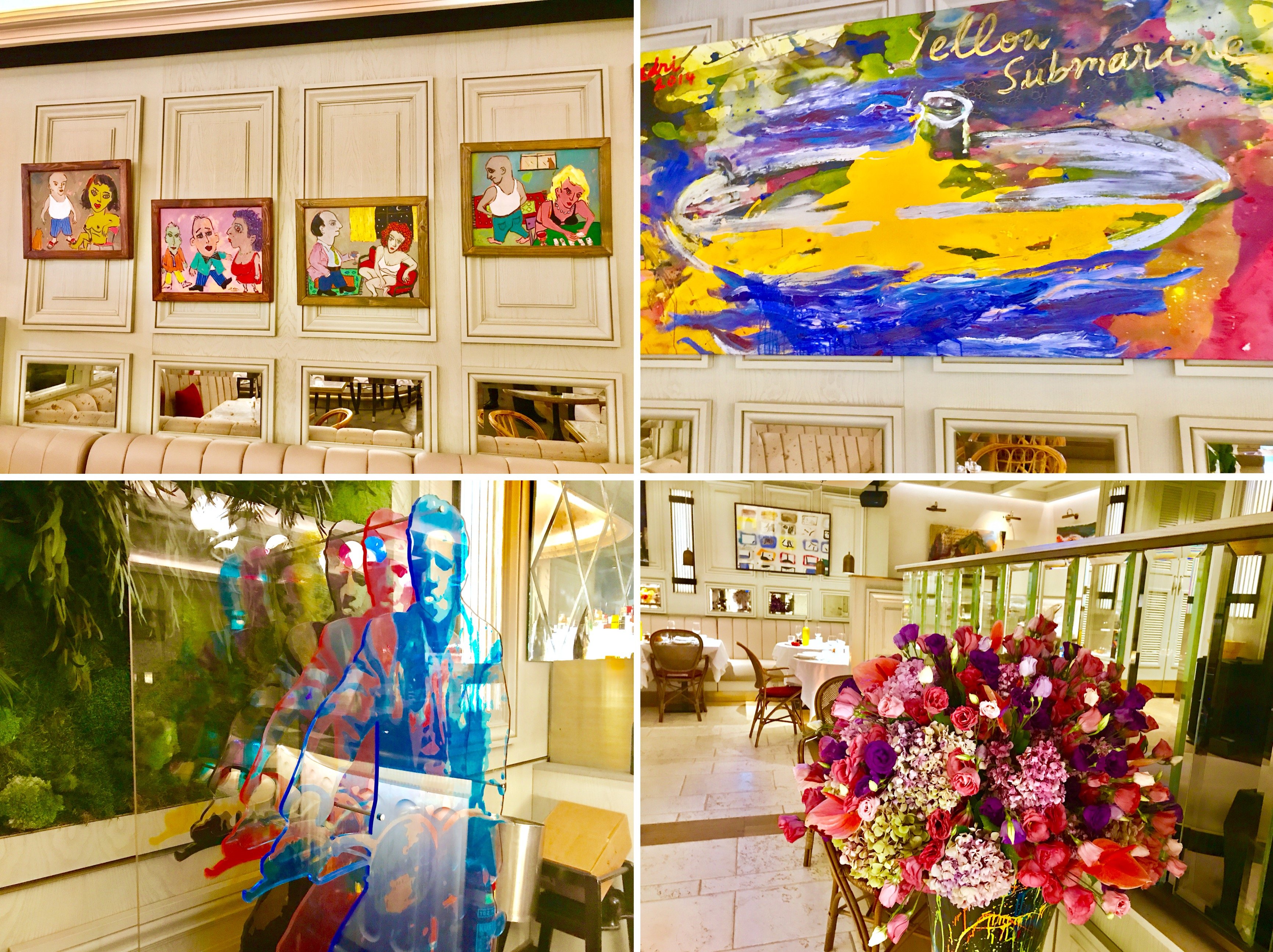 The art work here was truly spectacular, with many different representations of art style from around France. I loved the acrylic 3D style shot of Steve McQueen on his motorbike and the fresh flowers must have cost a fortune to maintain. This level of detail is what makes an internationally recognised restaurant like this so special to visit.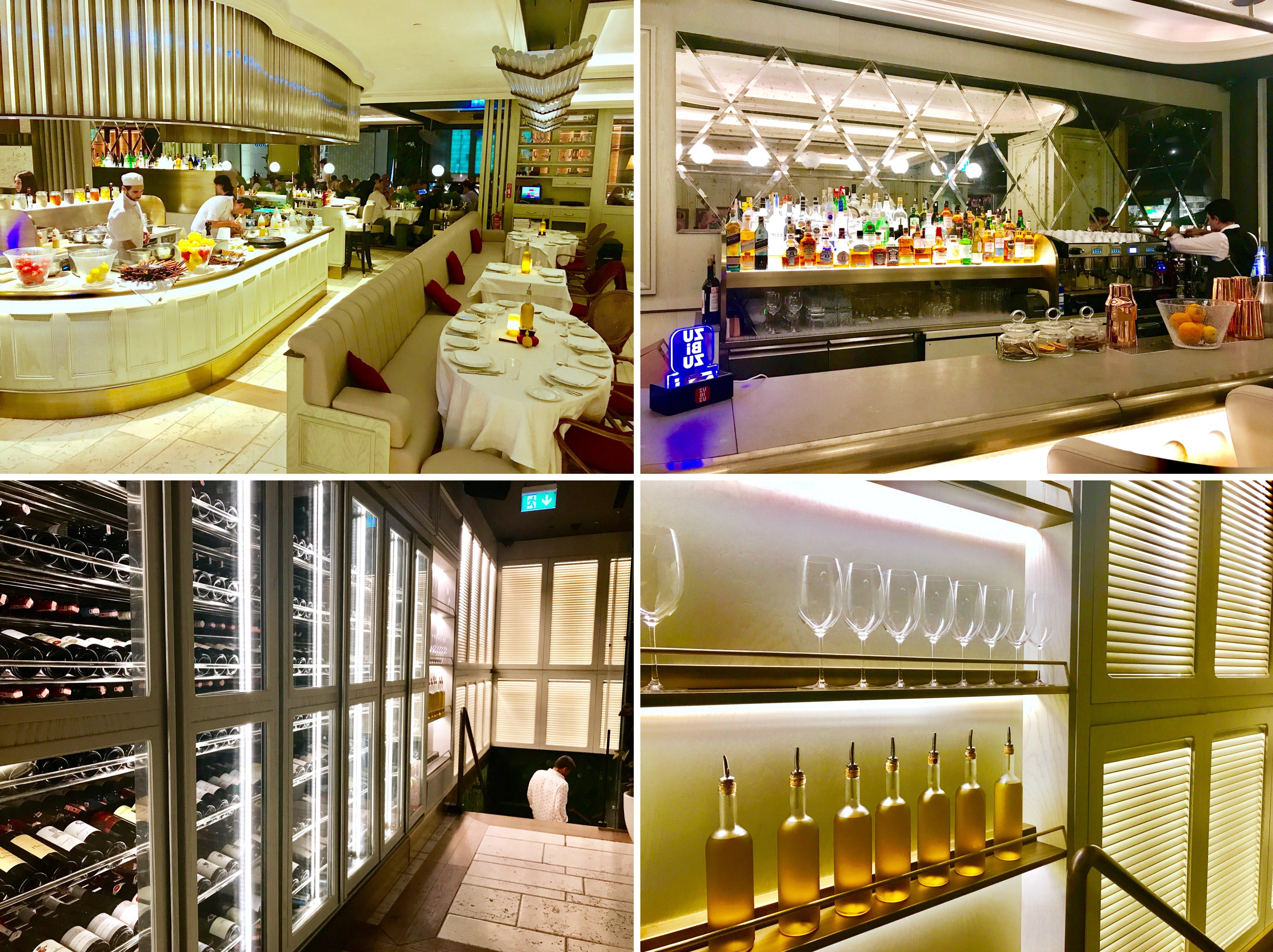 The french love their wine so this restaurant can be no exception
As the sun begun to set, I was finally ready for some dinner after such a big lunch. Feeling like I was going to sit outside in a little down in France, I chose the seating out on the terrace for my dinner. Even though this wasn't really dining al fresco, I liked the idea anyway!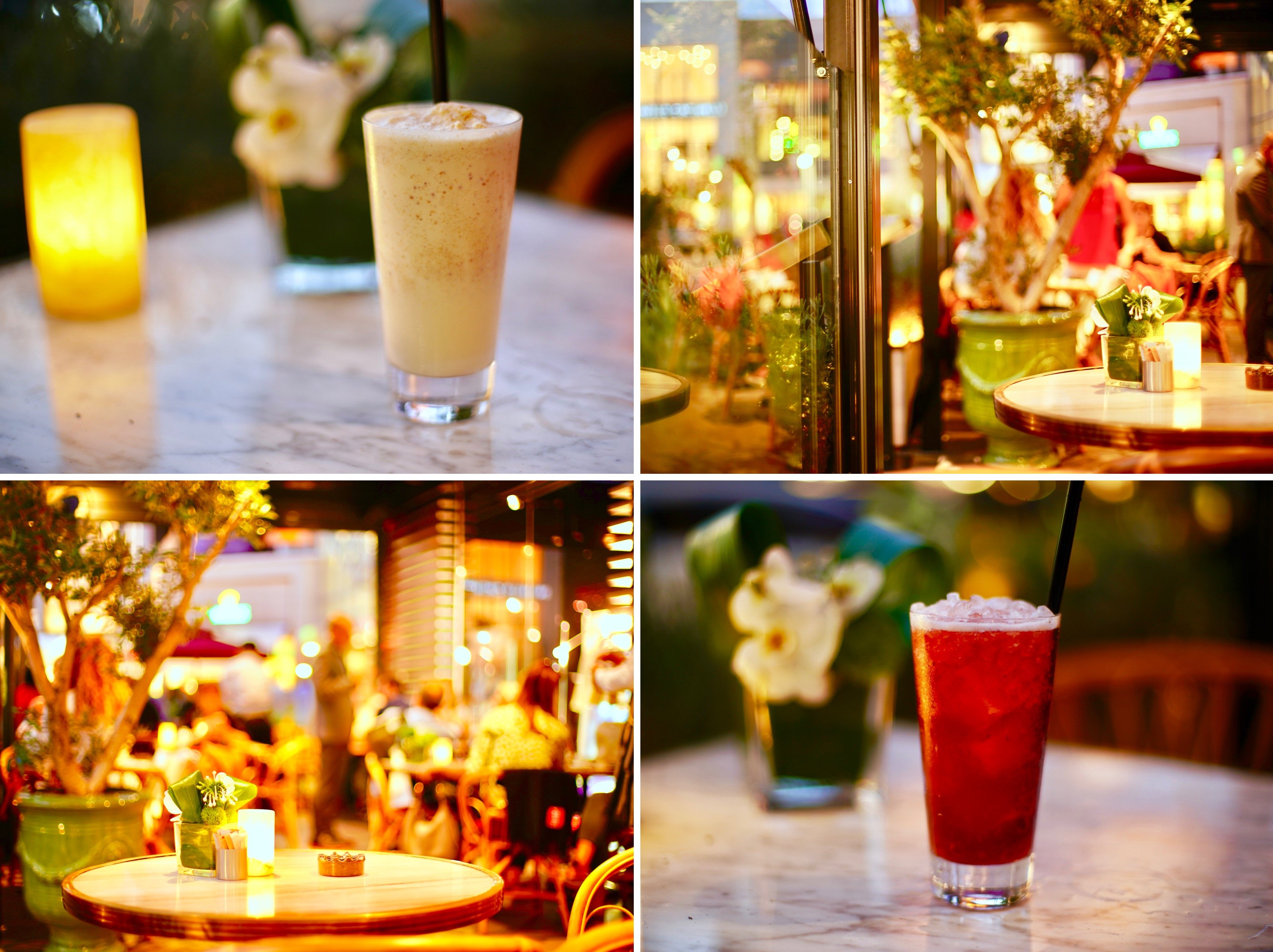 Even the drinks were beautiful and I hadn't even ordered food yet! In the top left I had what the menu called a 'Carnivale de France' which was Vanilla Ice Cream, Banana, Walnuts, Milk and Honey. And yes, it was as rich and creamy as it sounds! It was absolutely beautiful, as you'd expect, but not as refreshing as I needed after all of my retail therapy so I also got a 'Home-made Ice Tea which was made with Berry Punch Tea, Orange Juice and Berries - that was absolutely delicious!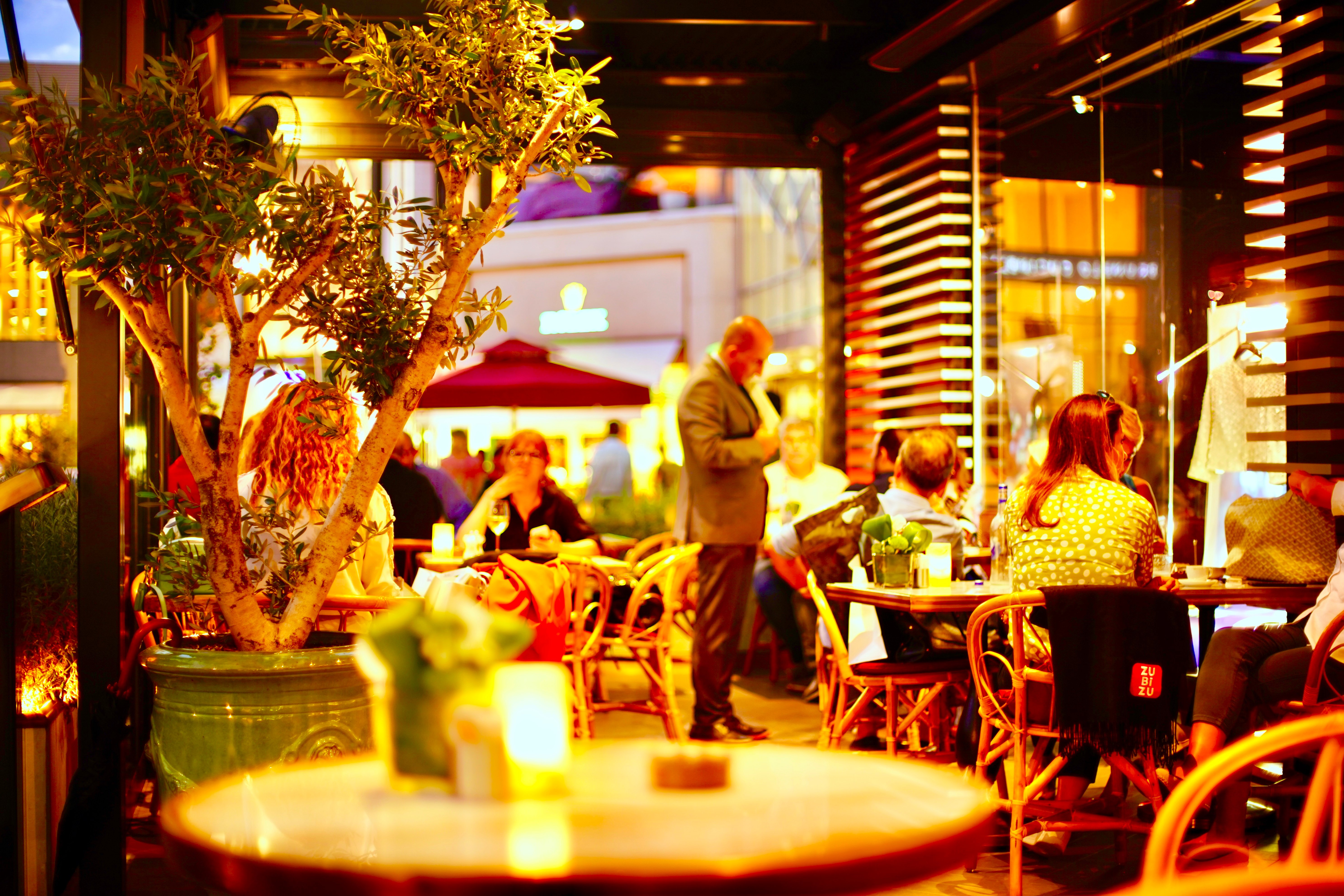 Admiring the setting of the French feeling restaurant, right in the heart of Turkey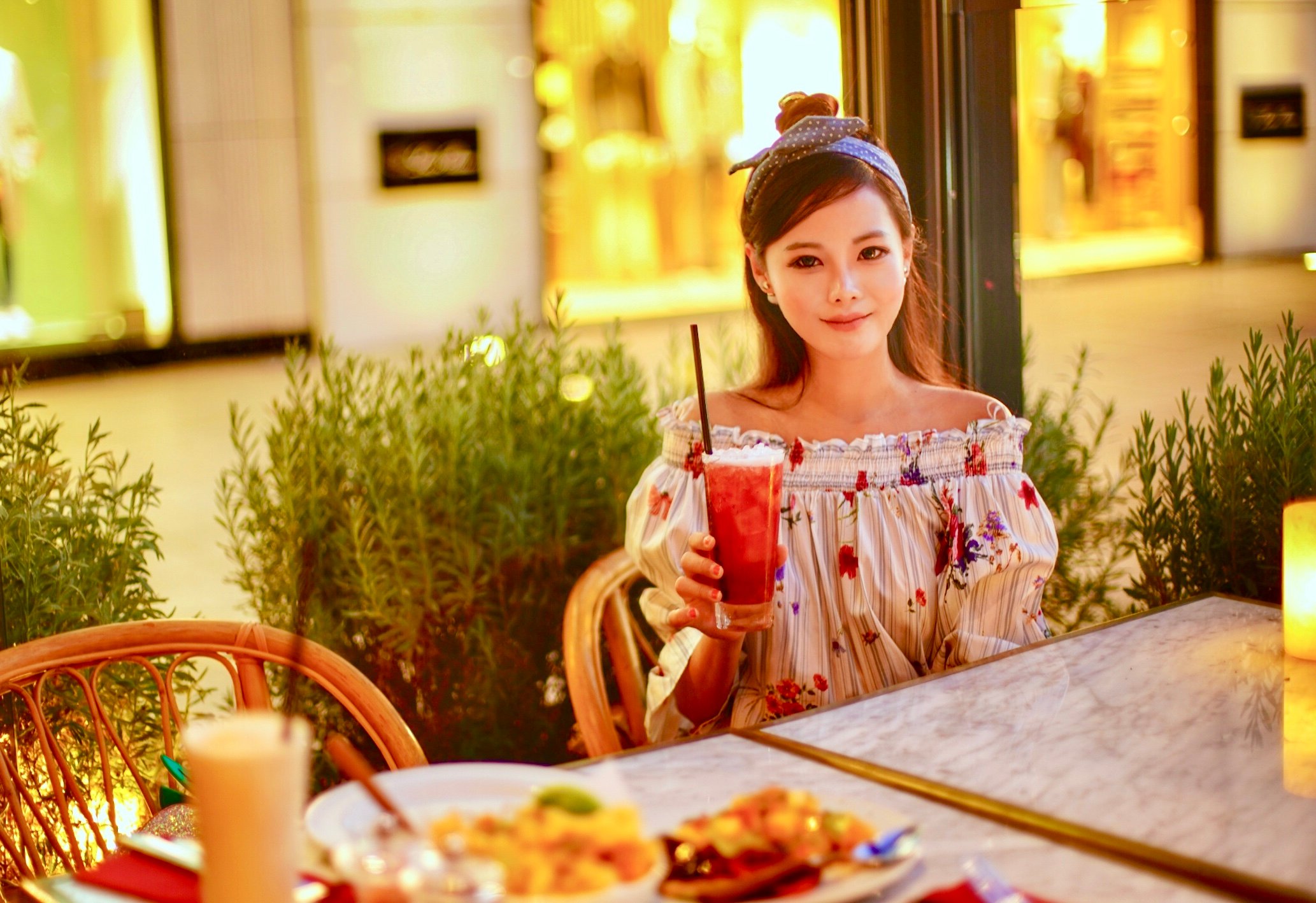 Cheers!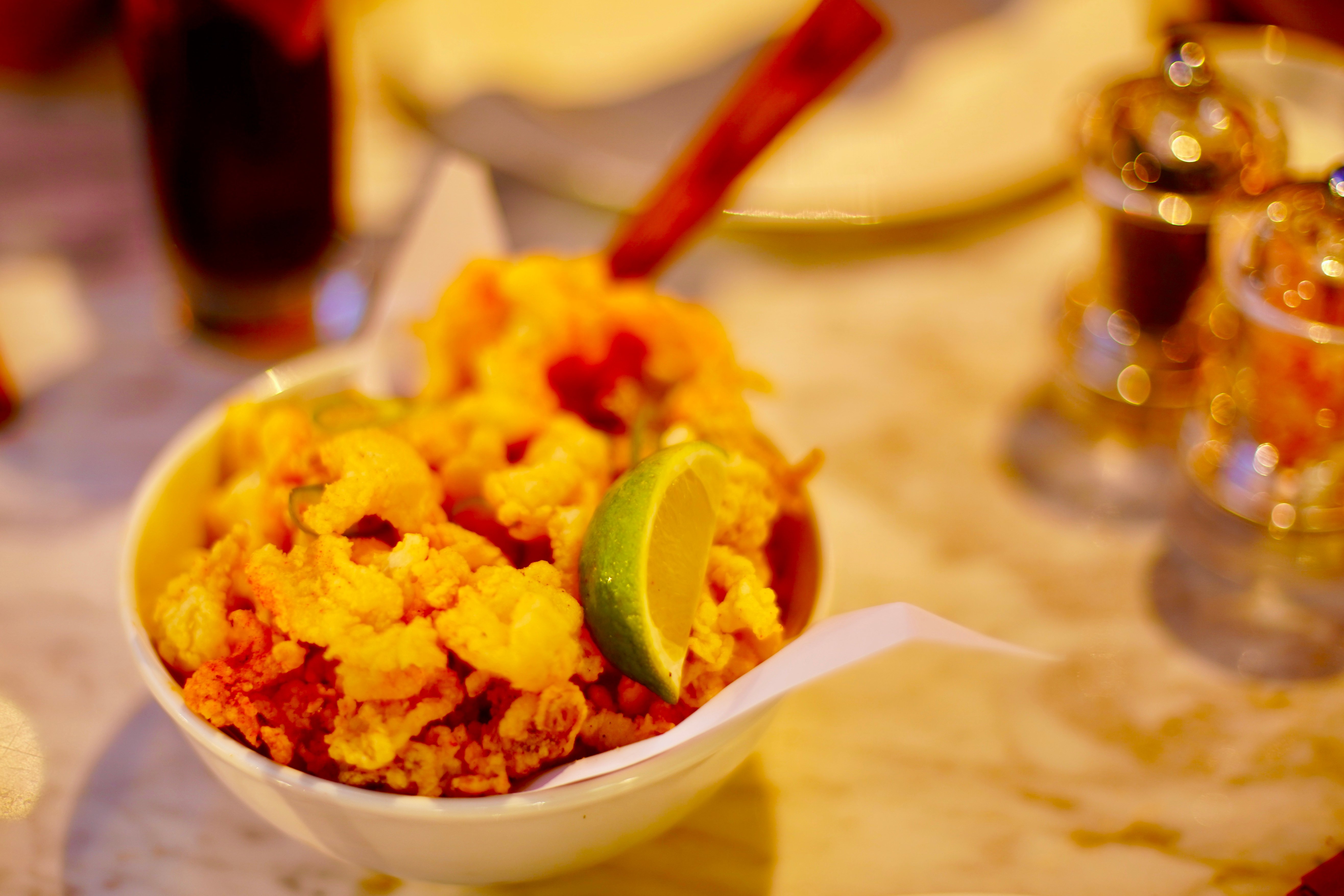 I was still pretty full from lunch so I opted for some small dishes and a simple main to make sure I could still stand up out of my seat at the end of the meal! To start I had the Chou-fleur Tabblouleh or 'Cauliflower Tabbouleh' which is a Lebanese salad mostly made with fresh herbs, tomatoes, onions and bulgur wheat. With a very current twist La Petite Maison had swapped out the grains for cauliflower instead. Beautifully seasoned, you could taste the freshness of the herbs used - a real delight.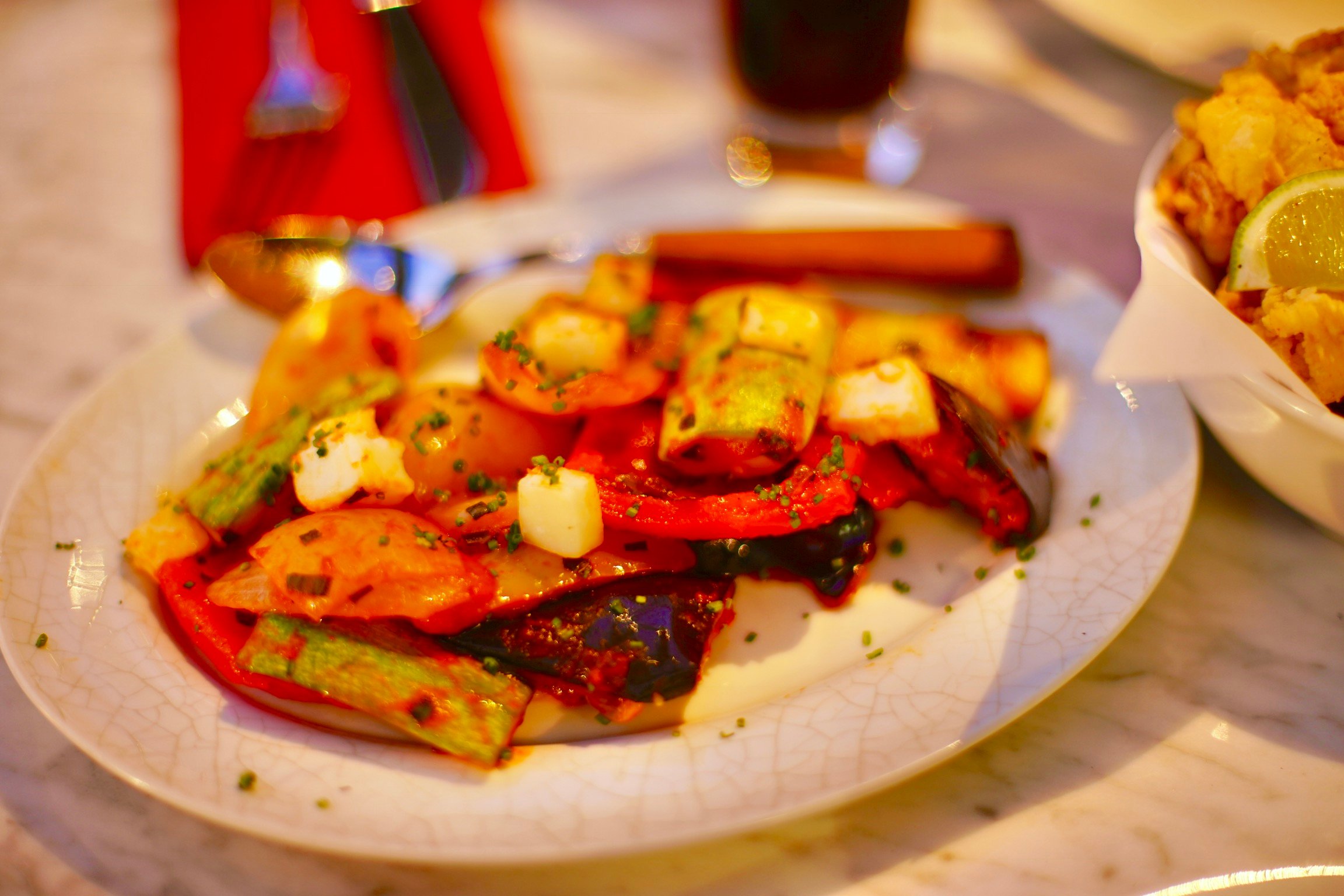 I also ordered the Ratatouille et Feta, which was beautiful. A mix of Mediterranean Vegetables that had been marinated in olive oil, they were cooked down to the most perfect soft but slightly firm texture, and then topped with small pieces of feta cheese. I felt much healthier for these two choices after the slightly less than healthy food choices at lunch and I was amazed at how tasty such simple dishes could be made to taste.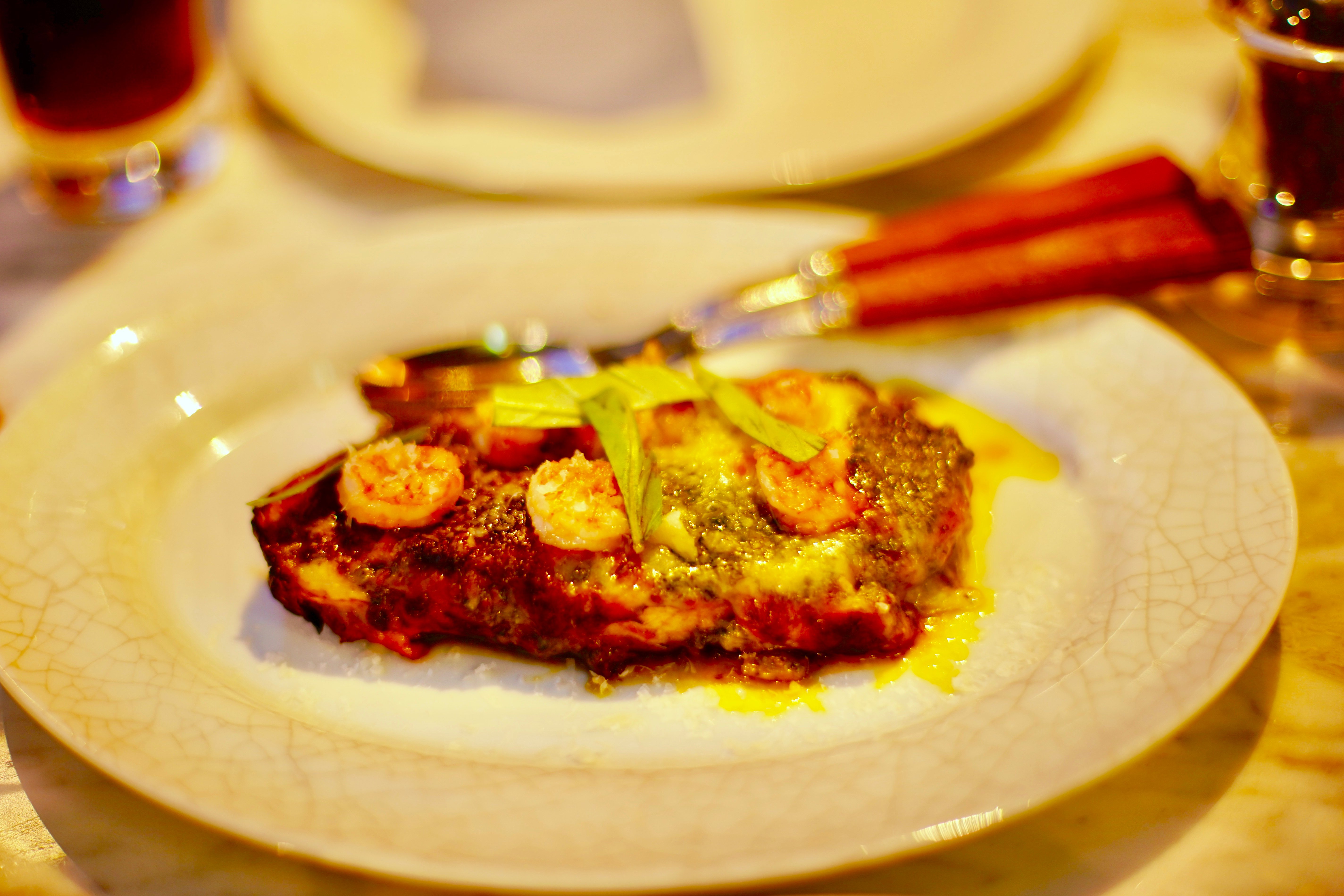 To finish off my starter I had Aubergine Grillee, Mozzarella et Cravettes au Pistou which in English means Grilled Aubergine, Mozzarella, Shrimps and Pesto. Beautifully cooked this felt like a real delicacy. I could have just eaten a couple of these and gone home happy!
Finally, for the main I had the Saumon Confit Au Deu De Bois, a slow cooked salmon fillet with a sweetcorn relish and confit lemon sauce. A classic combination, the lemon and the salmon went so well together. Every mouthful was truly a delight with the salmon being perfectly cooked. Salmon can become a bit dry and flaky but this dish was a complete triumph. So far from France, the chefs here are still able to turn out beautiful French inspired foods that suit the most sophisticated pallets.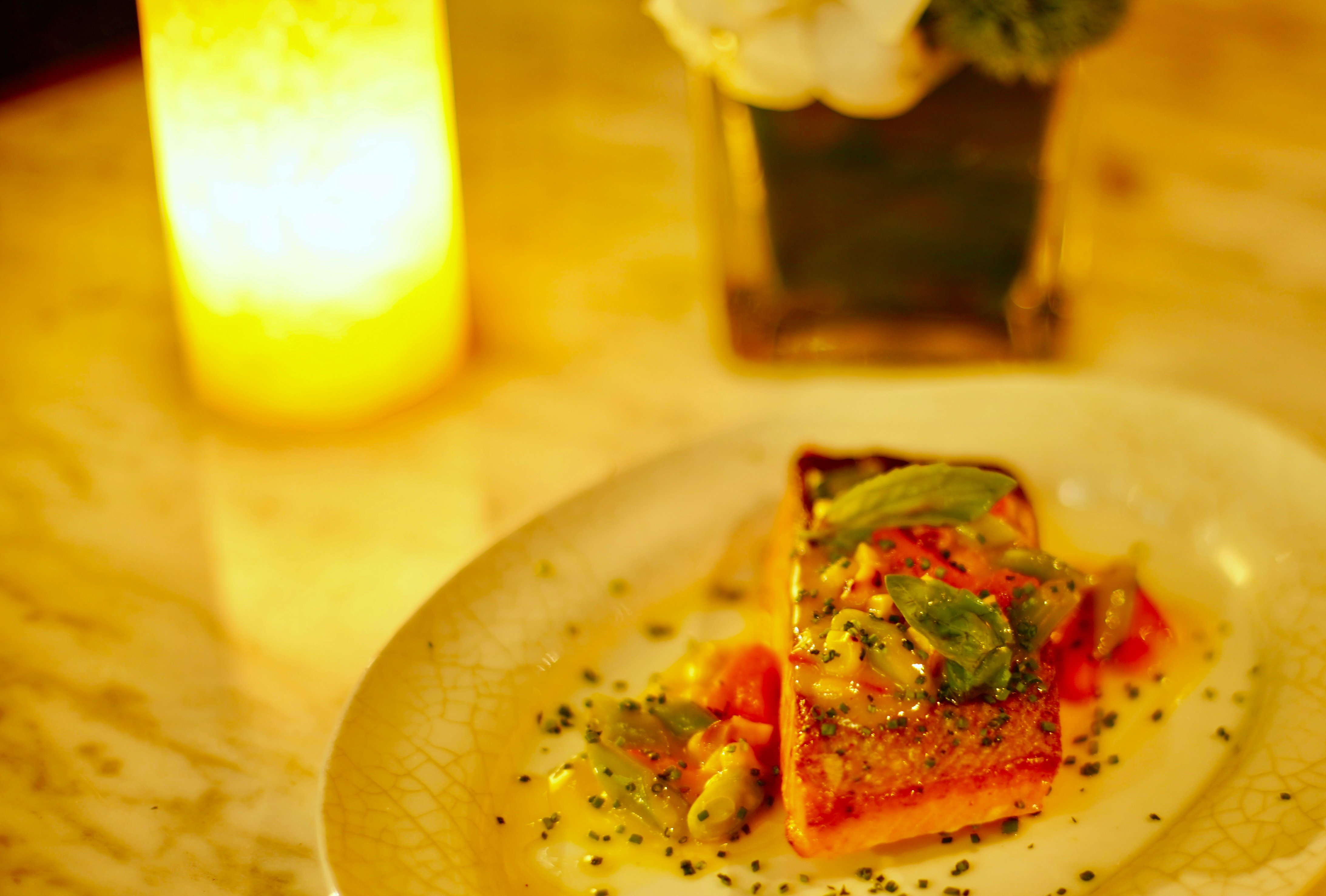 I hope you've enjoyed a relaxing time with me in my blog today. Time to unwind, enjoy my accommodation, and eat a variety of really really good food. Sometimes, you need a break. You can see too much too quickly and your brain just can't process it all. By the end of my trip to Turkey I was beginning to take some of the sights I was seeing for granted because I had already seen similar things around the country. But this can also be due to spending too much time on the road. It was lovely today to just sit in one place, enjoy some good food, relax in a comfy bed, and recharge my batteries.
I hope you've enjoyed this blog as much as I enjoyed writing it. Just looking back on the beautiful meals has made me so hungry again already. I can't wait to take you on some future explorations around the world, tasting different foods from different places. If you've enjoyed my blog today, please comment below and tell me which food you most wished you could have tried! Also, make sure you like the post and follow me for even more blogs about food, travel, life and love in the future. Until next time Steemit Friends!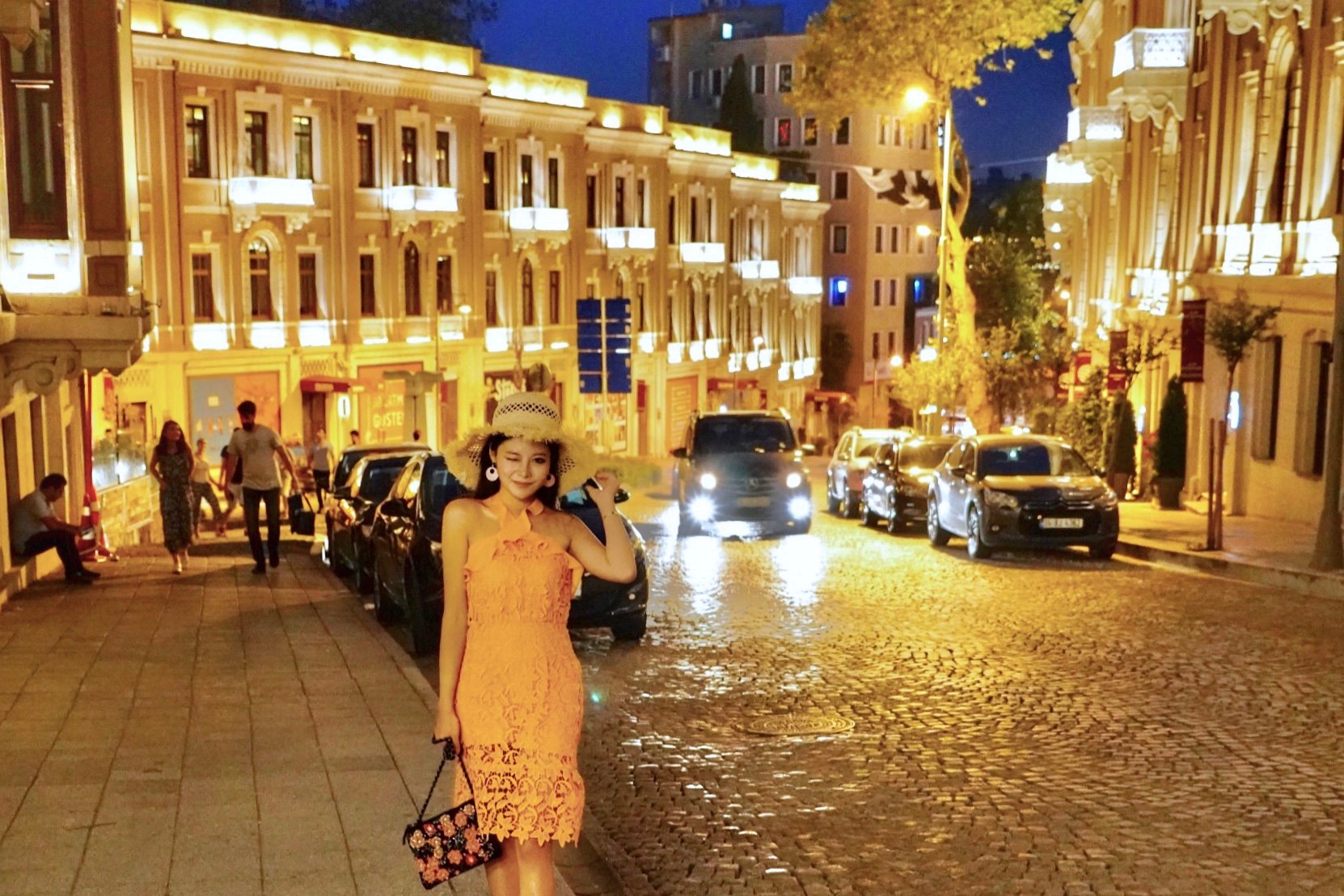 ---
从卡帕多西亚飞往伊斯坦布尔的途中,窗外的风景不断吸引着我的目光,视野和色调不断变换,飞过金黄色的岩石山峰,跨过蔚蓝色的海面,来到了遍布着密密麻麻红顶屋的伊斯坦布尔,飞机临近地面,愈发看得清,这些小巧而精致的白墙红顶,好像一块块豆腐块,排列整齐,很有层次感,天空上看下去还以为是乐高积木玩具,充满了童趣。从飞机上俯瞰的伊斯坦布尔似乎与想象的严谨气氛很不一样,这些绚丽的红色似乎给原本宗教色彩浓重的城市,增添了不少鲜活的个性和旺盛的生命力。伊斯塔布尔是一座处处留有惊喜的城市,让我不断探索到了全新的词汇,来描述这座城市的性格。除了传统,宗教,我也发掘到了这座城市时尚,摩登,年轻活力的一面,这一次我选择入住的酒店,就是这座城市绚丽多姿,活力四射的最佳代言。
伊斯坦布尔的W酒店,不同于之前在泰国苏梅岛带大家探索的那种前卫明朗的风格,这家酒店的装修风格以红色和金色的色调为主,似乎成为了这座城市里独具特色和风格的那一抹色彩。酒店坐落在伊斯坦布尔的心脏,属于贝西克塔斯区腹地,紧邻于1875年苏丹阿布度艾锡统治时期建立的akaretler历史建筑中心。周围遍布了各类咖啡厅,餐馆还有画廊,是当地各色时尚潮流艺术的聚集地,只需要15分钟的步行路程就可以到达充满奢饰品和当地精品名品的Nisantasi购物区,可以说如果你想要去接近这座城市所有的年轻活力,这里是最理想的住所。下车看见最醒目的就是这个金灿灿的W logo,铬制的巨大字母W引领我来到了酒店门口,入口处金属质感的装饰墙,站在旁边照相分分钟都是时尚大片的感觉呢。很难想象W酒店就深藏在这排1870年代的奥斯曼风格建筑里面,欧式复古的建筑立面换装上潮流前卫的装饰幕墙,古今结合的恰到好处,一种与众不同的气息扑面而来。白天这里是街拍的圣地,晚上当这两大排建筑群华灯初上,更是迷人的没话说。
走进酒店,也能立刻感受到当地人对于时尚独道的见解,与传统酒店的设计风格不一样,整个伊斯坦布尔的W酒店像是一个充满情调和情怀的酒吧,光线微醺,黑色的背景墙营造出神秘浪漫的感觉。其中我最喜欢的就是这条星光灿烂的通道,好像是走进了科幻片里外星人的宇宙飞船,暗调的走廊实际上是一个时尚T型台的设计,由玻璃和水晶材质的建筑材料构建,白天自然光透进走廊,晚上打出炫目的金色光线,走廊两旁的镜面玻璃幕墙,装有带格纹图案的镜子,并且定时平行翻转,让光线不断变幻,放任这条走廊如钻石一般闪烁,绽放出耀眼光芒。同时也让你能够看见酒店全景视角中的自己,走过时尚通道的整个过程,仿佛是光和影的视觉游戏。其实光和影也是奥斯曼建筑的两个最重要的元素,目的就是能够立刻吸引你的注意。在走廊的尽头依稀看得见酒店的标志W,展现出独特的文化概念,据说选用W作为酒店的标识,是因为每一位初次到来的客人,都忍不住发出"WOW!"的感叹,所以W的名字就由此而来。走廊另一个方向的尽头,便是通往酒店大堂的接待区,那里更是一种优雅伴着奢华的气质,到处点缀着水晶,和酒店建筑外立面内外呼应的金色交叉木棍,上面还搭配了蓝紫色渐变的#号,颇有新意,叫人过目不忘。酒店的室内装潢设计更是融入了东西方风格,既感性又性感,展现了伊斯坦布尔这世界上唯一一座横跨欧亚大陆的城市,无限的独特光芒和风采。
相比起其他城市的W酒店,这家酒店显得小巧精致,别具一格,里面的服务人员更是西装革履,穿行在这装潢精致华丽的大堂,好像自己误入了好莱坞片场,似乎酒店挑选服务生的要求不低呀,外貌,气质和身高,一样也不能缺,言谈举止也是温文尔雅,对客人极有礼貌,态度很好,大堂一侧就是著名的W酒廊,每座城市的W酒店似乎都以酒店酒廊最出名,每到周末,当地的时尚界名流,翘楚新贵常常出没于此,更是独领风骚的潮人聚集地,所以很多当地人就算不住酒店也会来酒店里的酒吧坐一坐,会朋友谈生意。这里的酒廊仿佛是一个奥斯曼艺术珍宝与现代定制家居并存的异想世界,蓝紫色渐变的异形沙发极具设计感,更吸引眼球的是酒廊里金铜质地的半开放式鸟笼座位,似乎在暗示着这里是一个给都市人自由空间,释放自我的酒吧,让精神紧绷的人舒心畅饮,挥洒一整周的压力,心灵得以解脱和释怀。酒廊吧台有一种井上添花的设计感觉,不仅供应鲜榨果汁,手调鸡尾酒更是喝出了新意,让人尝过之后赞不绝口。酒店的设施也很完备,包含现代化的健身中心,临街的大玻璃健身房,在运动的同时观察这座城市的日与夜。
酒店的粉色荧光灯走廊指引我找到自己的房间,酒店拥有140间客房,由土耳其知名设计师Mahmut Anlar设计,他在细节处,使用了各种具有奥斯曼帝国独特文化的历史元素以及图案,希望借此让这家酒店更具有内涵也更加独一无二。推开房间的门,仿佛像是打开了一只多层首饰盒,总能不断发现很多惊喜和精湛的细节,房间以红色色调为主,新颖的融合了土耳其风情和当代的特色,让我眼前一亮,独特的照明设计,马尔马拉大理石还有藏匿着奥斯曼花纹的标志性W床铺,随机响起的音乐让人非常放松,没错,设计、时尚、音乐的确是这个品牌的撩客法宝。房间的室外空间,设有花园,露台,和凉亭。在我最直观的印象里,房间奢华的现代装饰似乎折射出这座城市的古老灵魂,洗手间的热带雨林淋浴让人身心彻底放松,Bliss品牌的洗浴用品用起来非常舒适。
午饭时间,我来到了酒店的露台酒吧餐厅,享受日光和美食,这间音乐酒吧在日间播放舒缓的音乐,夜间则摇身一变,开启动感十足的音乐派对,House Music极具感染力看,成为了这座城市标志性夜生活的名牌。虽然午餐简单点了罗宋汤,鸡肉沙拉,还有香到流油的迷你牛肉汉堡,却不得不说味道超级赞,不仅食材新鲜,经过优质厨师用心的创意设计,结合当地精选菜肴美食的特色,食物变得既美观又美味,鲜香入口,一刻也停不下来啦。最后还有香喷喷的甜品封顶,真的是一顿超级满足的午餐,也让我对于这家酒店的食物留下了极好的印象。
晚餐我选择在Istinye Park购物中心旁边的La Petite Maison餐厅吃饭,这是一家结合了法餐,意大利和地中海美食的创意餐厅,在很多欧洲的国家都有分店,不过这还是我第一次尝试这家餐厅。最初看到这家餐厅,就被它独特的装修所吸引,餐厅里随心所欲盛放的鲜花和绿色植物,装点出舒心轻松也十分温馨的气氛。墙壁上挂满了各种有趣的抽象艺术漫画,颜色缤纷,给人特别愉悦的心情。餐厅面积很大,在用餐高峰期,一层二层都能坐满,所以在周末的时候,可不要忘记提前预约哟。餐厅的食物,用料精细,制作精良,厨师独道的灵感仿佛赋予了食物以灵魂,每一道菜都无可挑剔,摆盘也很优雅,就算是最简单的食材,也可以烹饪的如此出色,凸显出餐厅厨师精湛的厨艺,牛排鲜嫩可口,吃起来津津有味,烤三文鱼更是让我吃到惊呼,简直不像是这个世间的美食,味道非常让人难忘。今天的伊斯坦布尔W酒店之旅,还有都市美食分享就要告于段落了,之后还有更多有趣的旅行故事想要分享给大家。
---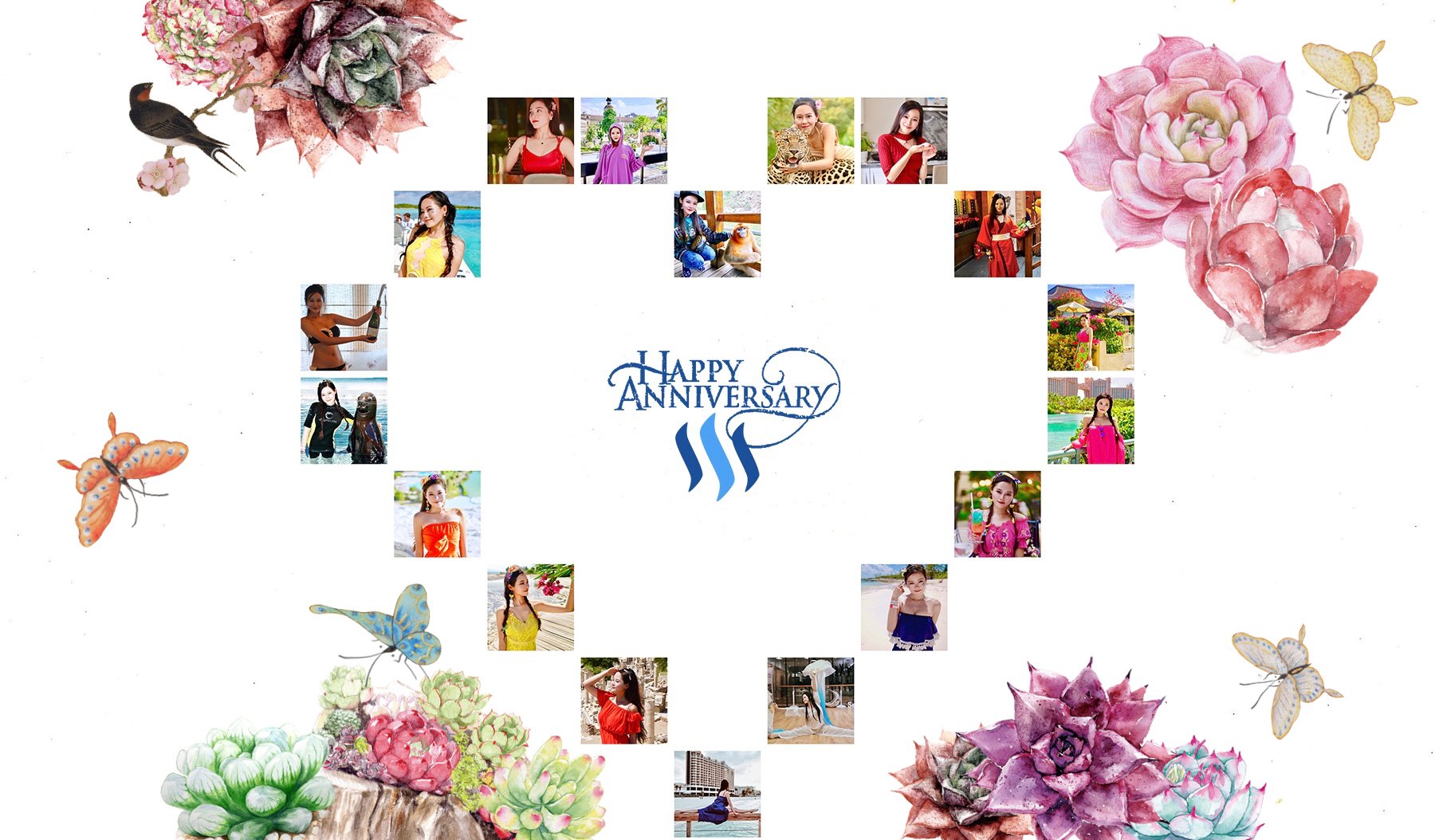 Anniversary Dance Competition!
---
August is a very special month because since 2016, it's been my opportunity to celebrate my second "birthday". That's right, it's been two full years since I first started on Steemit and what a journey it has been. With two years gone by, I can only be thankful to you guys and the rest of the wonderful Steemit community for being there with me through thick and thin. I would like to thank all the friends and followers who continue to support me, without which, I wouldn't be where I am today!
In the years to come, I will continue to invest all my passion and enthusiasm into the platform, sharing all my experiences, joys and happiness, growing along side you all, along side Steemit.
To celebrate, I'd like to hold a small competition -- for those who really enjoy music and dance, this will be right down your alley!
For this dance contest, I've chosen "Dura" by Daddy Yankee which is a very popular song in Asia but originating from Puerto Rico. The first time I heard this song, I couldn't help but dance along to it. It has very simple moves and should be a lot of fun for you guys.
Here are the rules :
You don't need to be a dancer to participate and you don't need to copy my moves if you don't want to. Just move to the rhythm of the music!
The video only needs to be 10 to 15 seconds long.
Domestic friends can use the Douyin app to find the song and record directly, maybe you can also check out other examples there for inspiration.
Upload your video to Dlive and link it in the comments below to enter!
First Prize 🥇30SBD
Second prize 🥈 20SBD
Third Prize 🥉10SBD
I'll be judging all of the entries based on how much I enjoyed the video so make sure to have a lot of fun! I'll announce the winners in my post next Sunday! I'm looking forward to seeing all of your entries!
---
8月份是我在Steemit上的生日月,时间一晃之间已经2年了,对这个平台的感情也越来越深啦,就是那种一眼万年的感觉💘💘哈哈。在这里,我要认真的感谢曾经和现在一直在支持我的朋友们,没有你们的支持和鼓励,也不会有今天的我。
在接下来的日子,我会继续投入百分之两百💪🏻💪🏻的激情和热情,把更多的快乐分享给大家。也希望每一位朋友都能够在Steemit上,以文会友,收获创作的喜悦,实现自己的梦想,一起来期待Steemit更美好的明天吧!
在2周岁的纪念日,我想举办个小比赛,希望喜欢音乐舞蹈的小伙伴们不要害羞,不要犹豫,赶快来参加吧!
没错噢,就是我这次视频里跳的Dura,一首听了之后浑身上下充满活力的歌曲,配上简单的肢体动作,以最直接的方式把快乐传递!话不多说,赶快来加入这股Steemit全民热舞风潮吧!
活动要求:
欢迎零基础的小伙伴们也来参加,动作可以更加简单,不需要模仿我的动作,只要是合节拍的move就可以啦!
时间长度只需10到15秒就好噢!
国内的朋友们可以通过抖音找到这首歌曲Dura-Daddy Yankee并进行录制哟!在抖音上也有很多这首歌曲的热舞视频,也许会给你小小的灵感哟!
推荐Dlive视频直播平台,通过录制视频或者直播的方式进行分享!
发贴之后可以在文章底下留言,或者私信通知我哟!
活动奖励:
一等奖🥇30SBD
二等奖🥈20SBD
三等奖🥉10SBD
😍😍要知道,在前不久SBD的价格曾经达到10多美金1个呢,未来的潜在价值也不容小视哟,还在犹豫什么,💰💰金灿灿的SBD和美好未来等你来拿🤟🏻
My video is at DLive