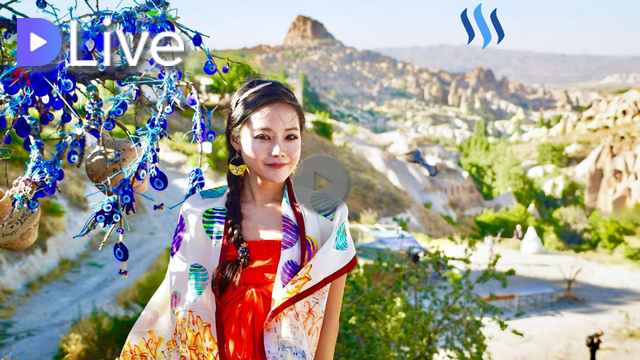 Dear Steemit Friends:
This land is wild, diverse and charming in every single way. The locations that we have explored together so far are unique in all of the world and I have thoroughly enjoyed discovering their magic.
Today we continue our exploration of the Cappadocia region of Turkey, located on the Central Anatolian Plateau. As those of you who have followed my adventures over the last couple of months, you will know the Turkey has such a special place in my heart, and today I will continue to prove my point. This land is wild, diverse and charming in every single way. The locations that we have explored together so far are unique in all of the world and I have thoroughly enjoyed discovering their magic.
We are going to explore two extremely unique environs today, unlike any you have ever seen. The region is of course characterised by its fairy spires, as you'll have seen in my previous posts, and its ancient cave dwellings that have been home to various peoples over thousands of years. We are going to visit today Ihlara Valley and Derinkuyu Underground City, both of which are prime examples of humanity thriving in harsh landscapes by finding unique ways to live. You will see that both of these locations are beautiful examples of the will of humanity to survive and to find places to live that are safe and practical.
Ihlara Valley
---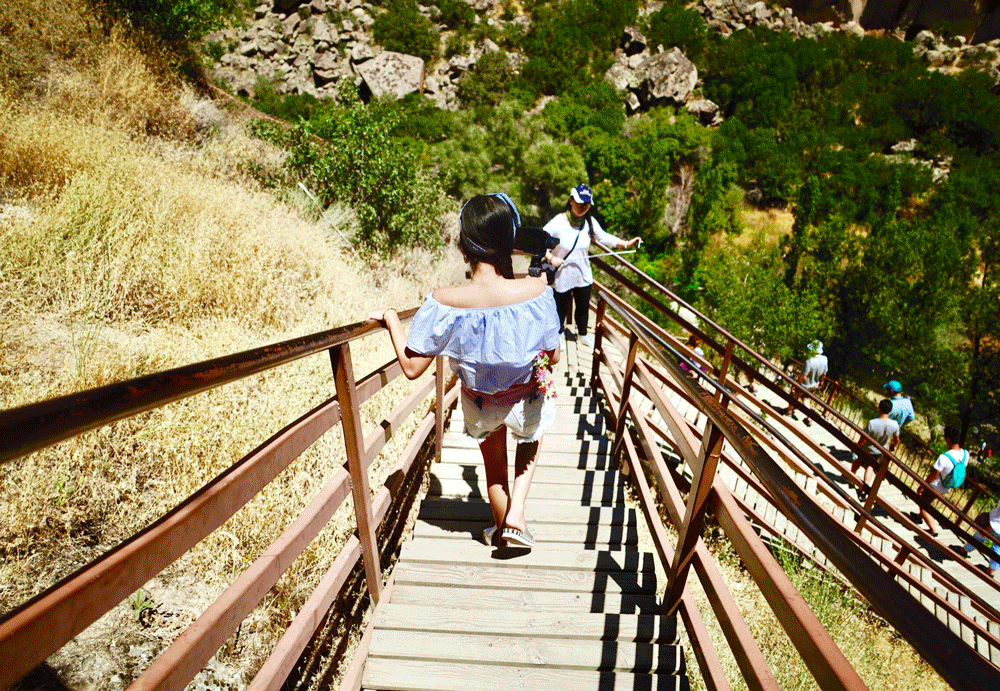 Ihlara Valley is a 14km long canyon that is about 100m deep, that runs from the village of Ihlara to the Selime Monastery. It is close to two of the three dormant volcanoes that shaped the region of Cappadocia with their eruptions millions of years ago, Mount Hasan and Mount Melendiz. The Melendiz River formed this beautiful valley thousands of years ago, cutting its way through the softer rock and carving this deep ravine.
There are only four ways to access the valley floor, 100m down from the rest of the plateau. The first is at the top end of the valley at Ihlara Village, the second at the bottom end of the valley at Selime Monastery, the third 4km down from Ihlara Village with 300 steps and the last one being in the middle, which allows vehicle access. I wanted to get straight into the heart of the valley as quickly as possible so opted to take the 300 steps down to the river.
Cappadocia is quite full of greenery despite the rocky nature of the landscape, but the Ihlara Valley is something else. Because of the full river and the shelter from the elements, Ihara Valley is more full of greenery and life than anywhere else I've seen here. Around every one of its 26 bends you find new life and nature. Trees, bushes and birds cover the floor and walls of the gorge making it feel like a real garden of Eden. As I descended the 300 steps I knew I was in for a treat.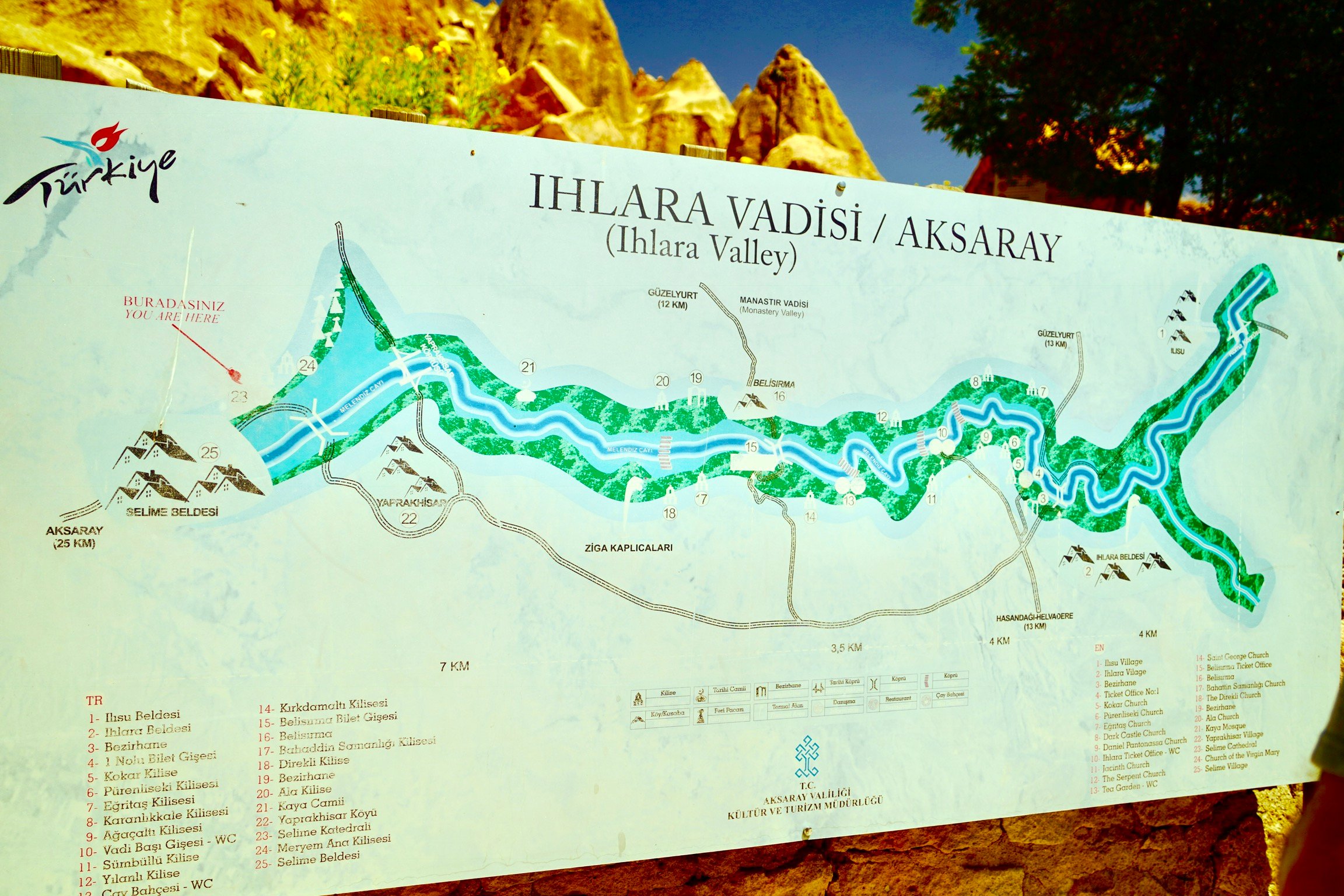 Map of the Ihlara Valley with the Melendiz River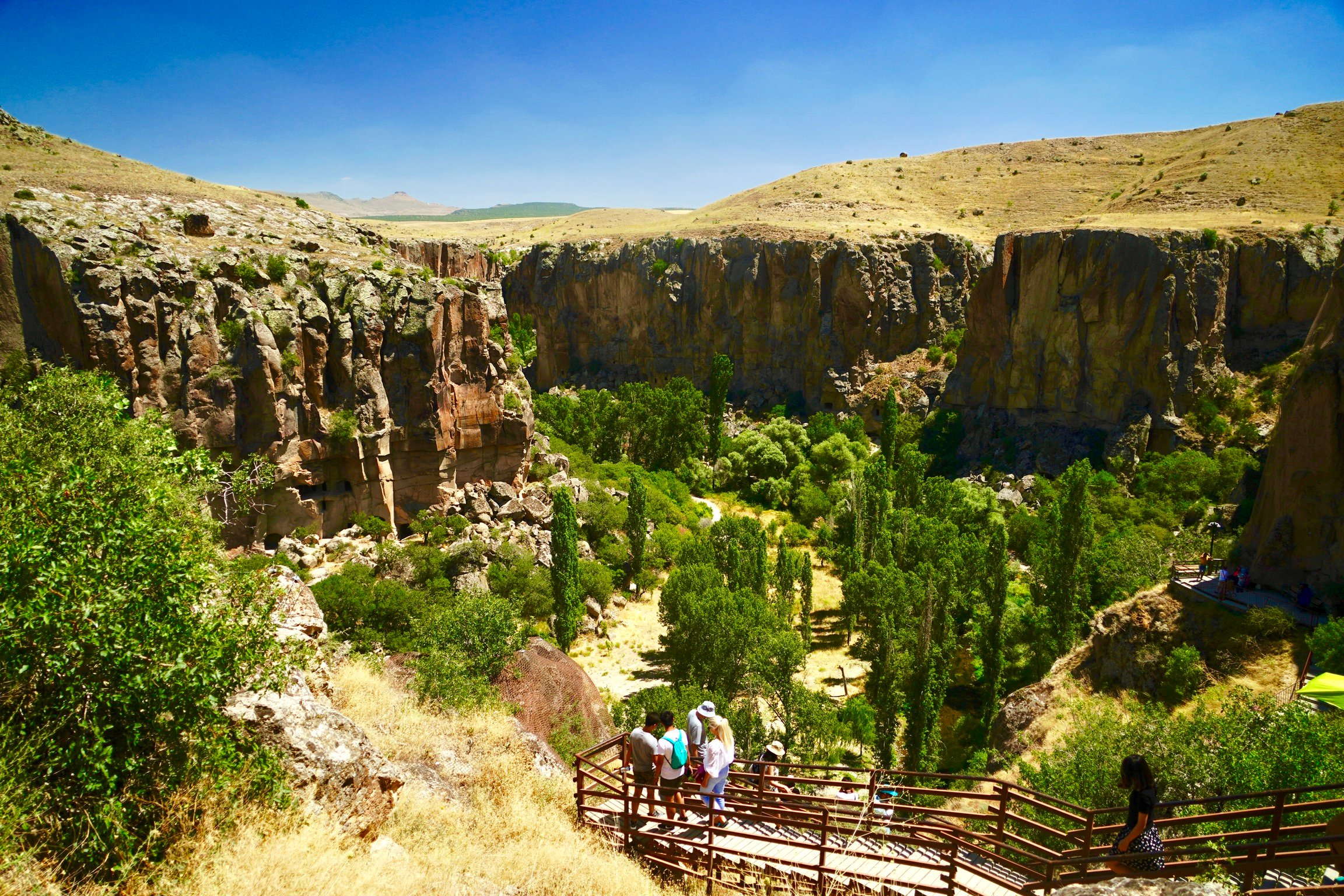 The hidden garden paradise of the Ihlara Valley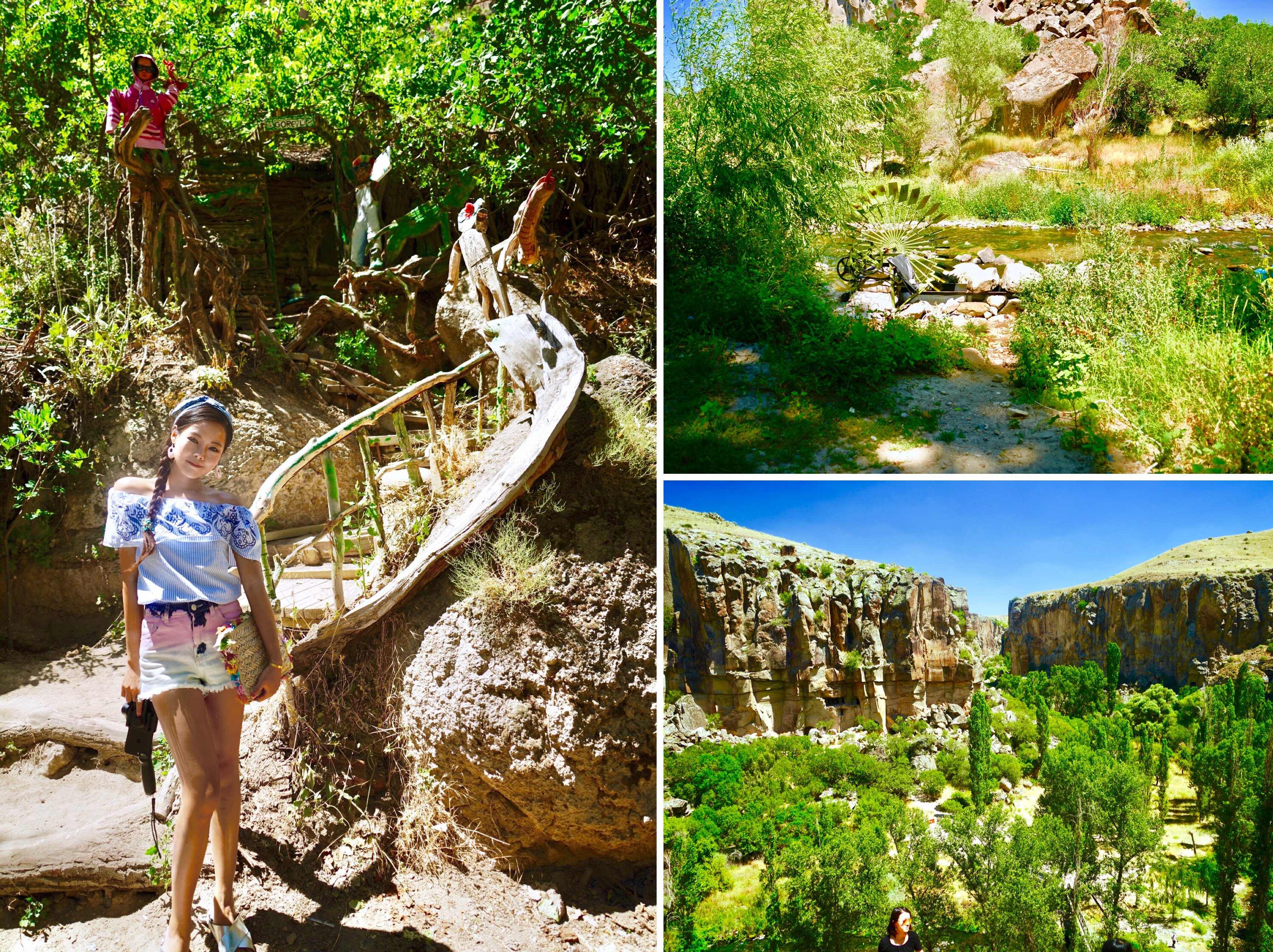 The stairs that lead down in to the valley are a mixture of old and new, many of them looking like they had been built in to the walls of the valley for thousands of years. Whoever had built the stairs had used many of the local trees to help build hand rails which made them blend in nicely with the environment. The further down in to the valley I went, the more magical the place felt. All sounds except for those within the cliff walls were cut off completely, leaving me with just the beautiful sound of running river water bouncing and echoing off the stones around me, and the rustling of trees and bushes as I passed them.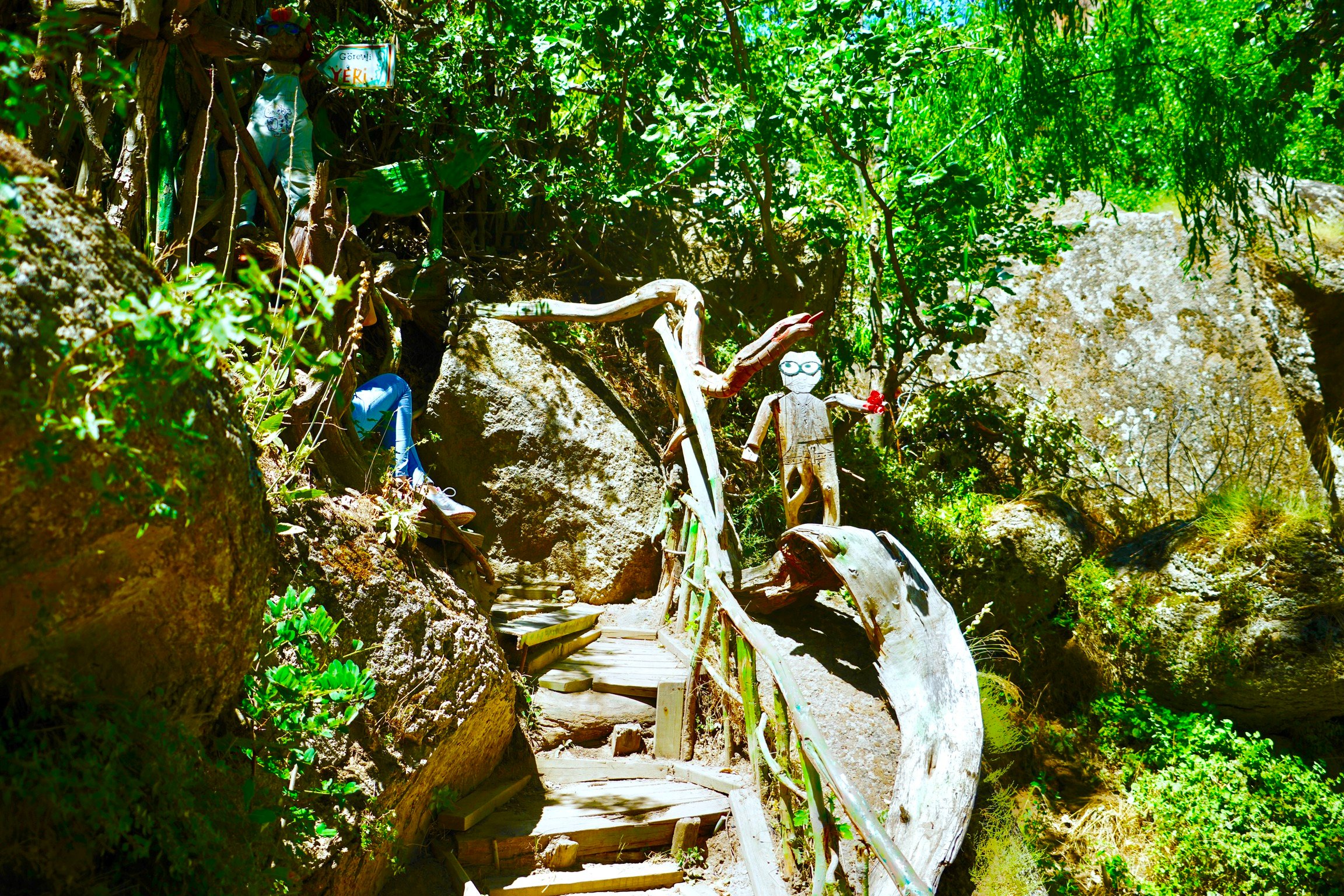 Funny little sculpture of a person made out of old branches!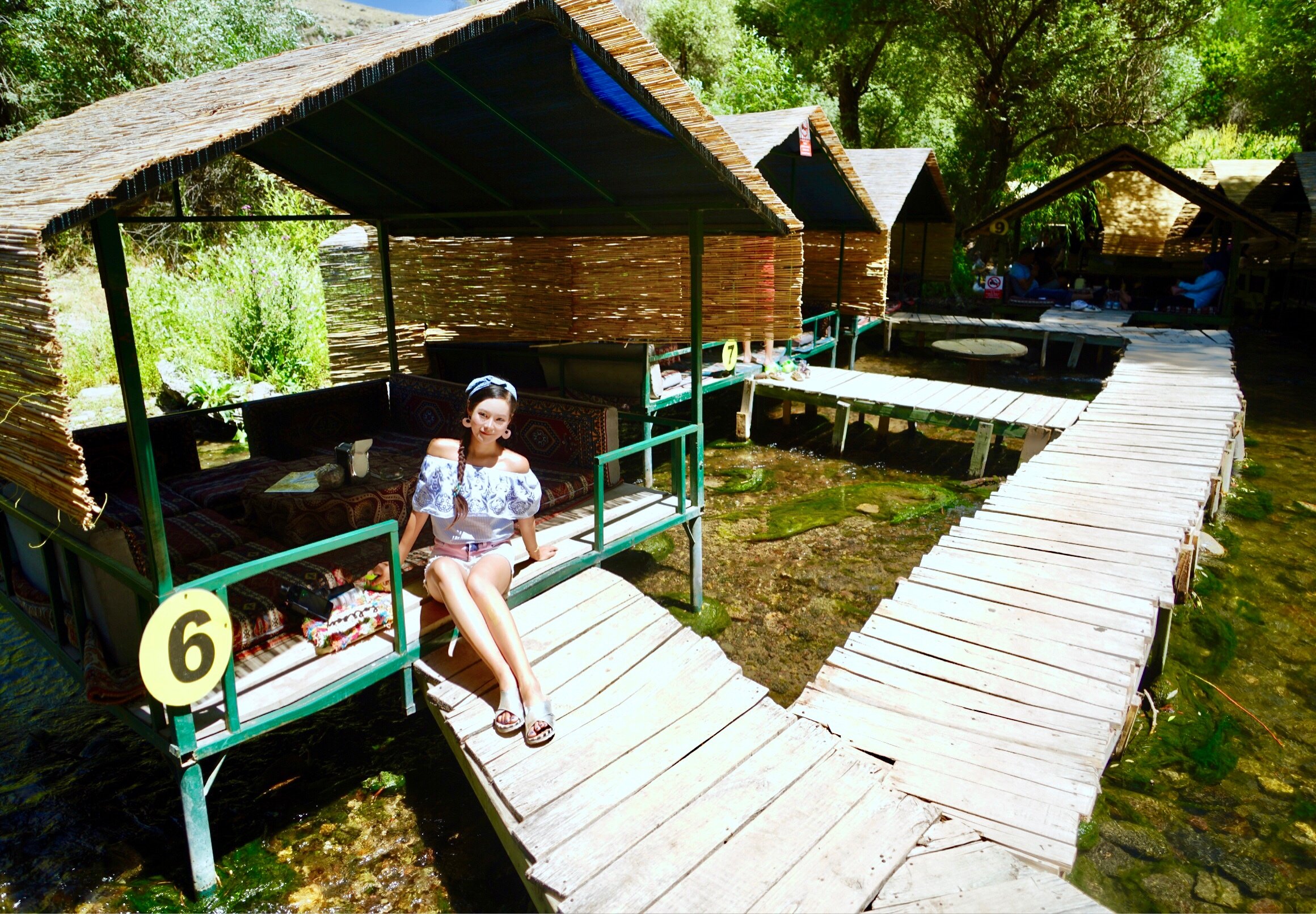 Upon reaching the bottom of the endless feeling steps, I welcomed the shade under the trees a long the valley floor. The place smelled of running water and grass and I felt completely safe and sheltered from the rest of the world. It is easy to see why the Ihlara Valley was believed to have once been home to up to 80,000 people in the 4,000 cave dwellings and 100 churches. Sheltered from the elements, with access to clean drinking water both for them, their animals, and their crops, this would have been a real paradise, hidden from prying eyes.
When I reached the Melendiz River at the heard of the valley, I was delighted to see these little huts built out into the bed of the stream. At first I wondered why anyone would build them, other than they looked adorable, and then I was offered to sit down in one of them! It seems the tour I was on used these little huts as a place for their tour guests to rest after the long and hot climb down the 300 steep stairs. I was blown away by this beautiful spot, the hospitality and the serene sounds of the river.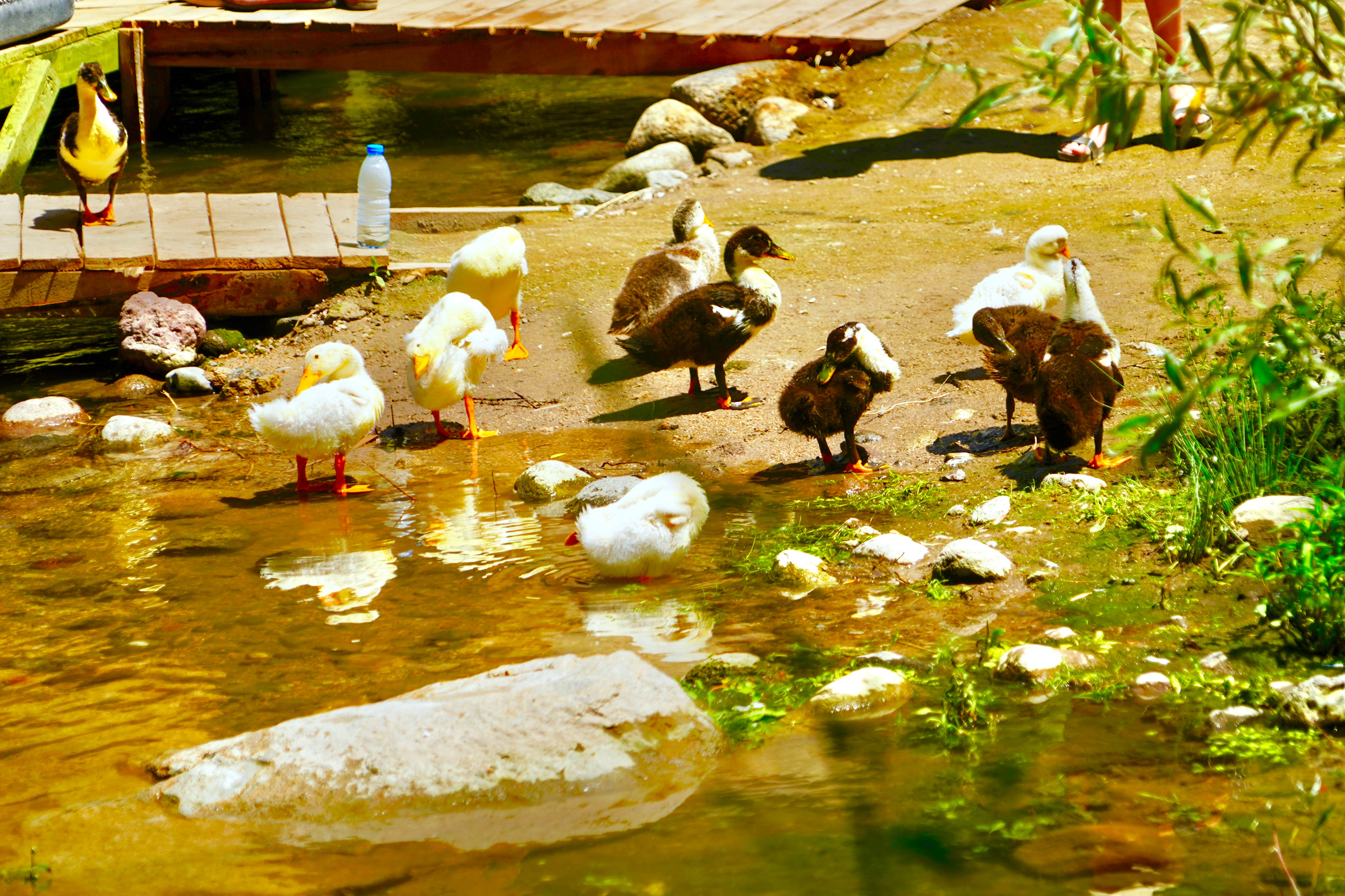 Baby ducks playing in the river near my little river hut.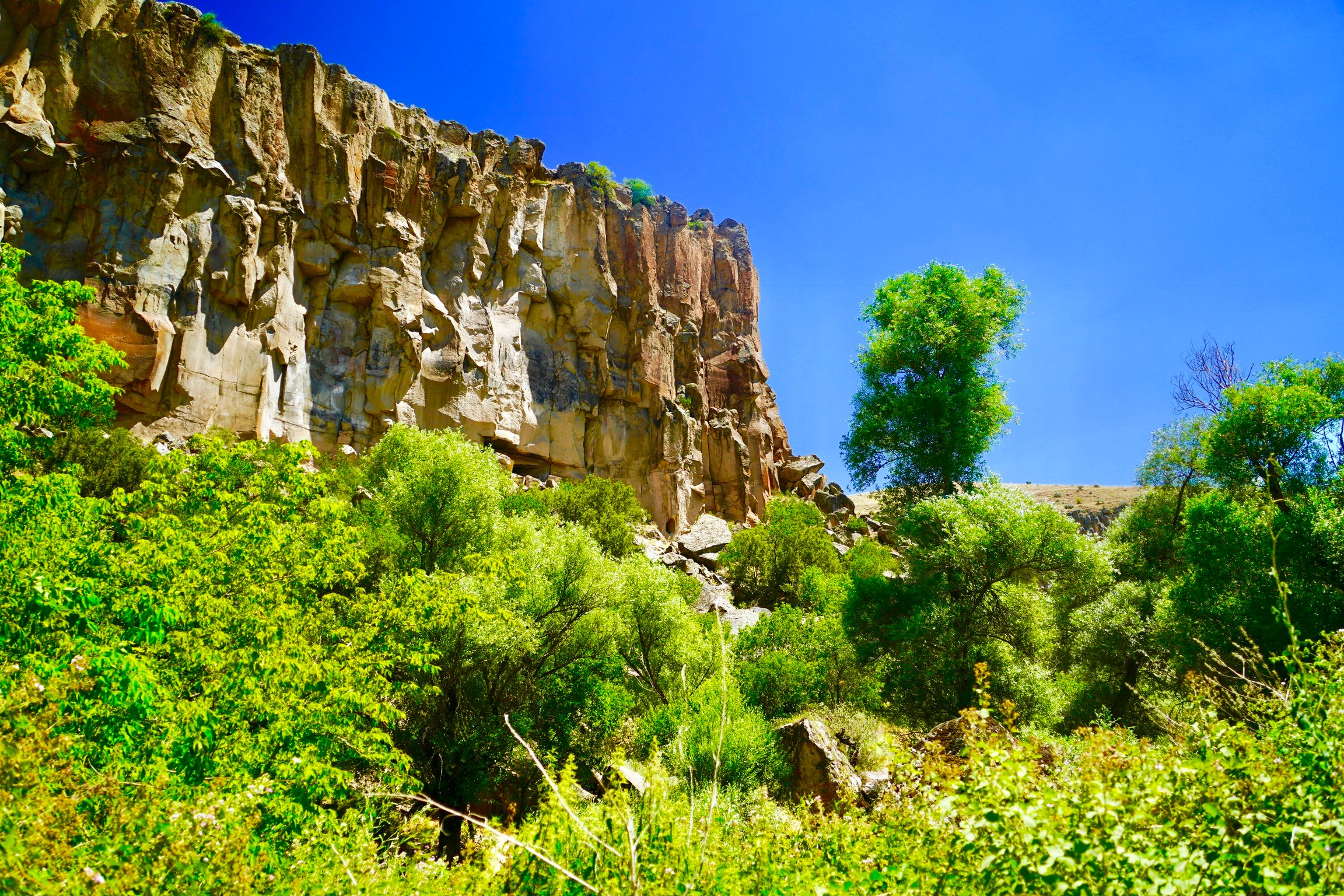 The valley of Ihlara is of special historical significance and of course natural beauty. The cliff walls rise 100m to either side of you in most areas of the valley, which shows just how many thousands of years it must have taken for this river to carve out this gorge. You can see how this would have been a very good place to make a place to live since it is almost impossible to get in to without entering from just a few small access points. That makes perfect sense since many of the first inhabitants would have been Christians fleeing persecution from the romans, thousands of years ago.
As I looked up at the high walls of the gorge, it felt to me that this would be a perfect place to live your life. Beautiful, quiet, secluded, with every natural resource you could need to thrive. Of course, the circumstances under which many of the ancient peoples would have lived here were not quite so idillic but I was really wishing there was a hotel here in the modern day, to experience a night sleeping within the safety of these canyon walls.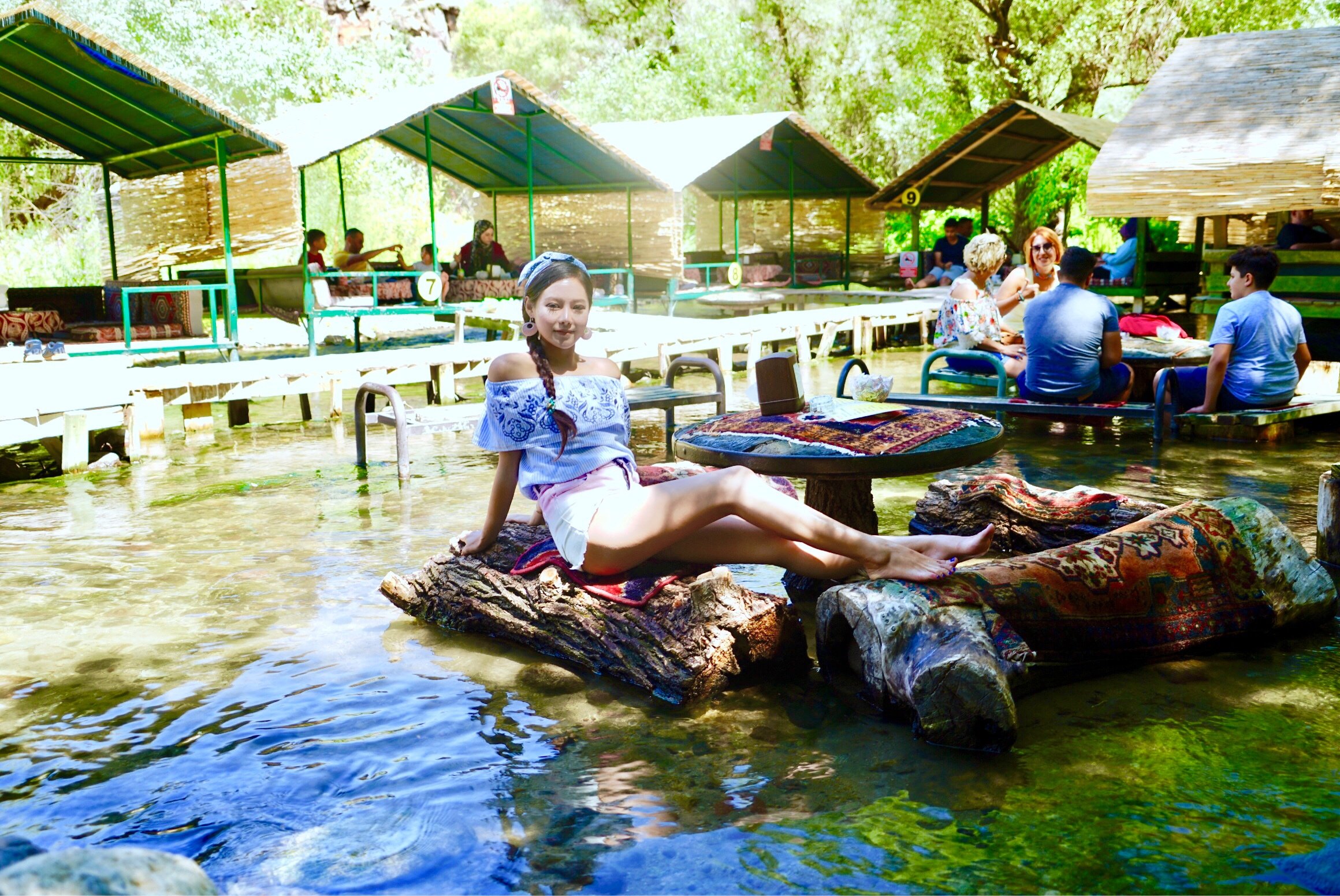 As well as the little river huts, there were these benches made of logs and wood planks for visitors to sit on inside the river. You could sit and have your food and drink while sat at one of these table and benches and paddle your feet in the water. I was very hot from my walk down so I soon went and sat on one of these little benches and dunked my feet in the beautifully cool water.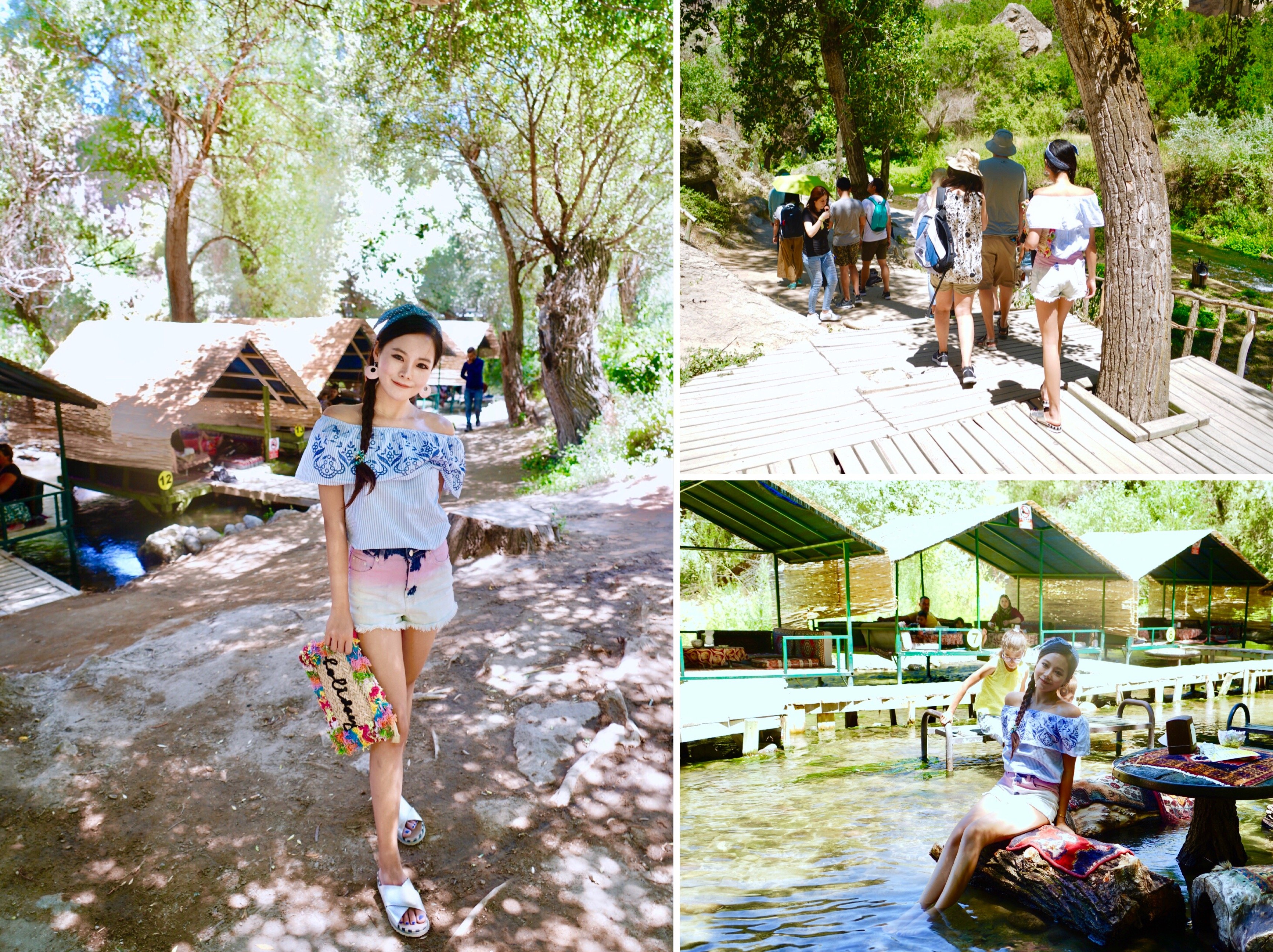 Still in the shade of the trees, I could have sat here all day and just enjoyed the sounds and smells of this garden of Eden. But, there was walking to be done! Soon my little tour was getting ready to depart to see more of the natural wonders of the valley, as well as some of the man-made wonders. There are sixteen churches open to visitors out of the original 100 that are located next to the river. Today I would only get to see a couple but as you will see, these had some of the best preserved fresco paintings inside them.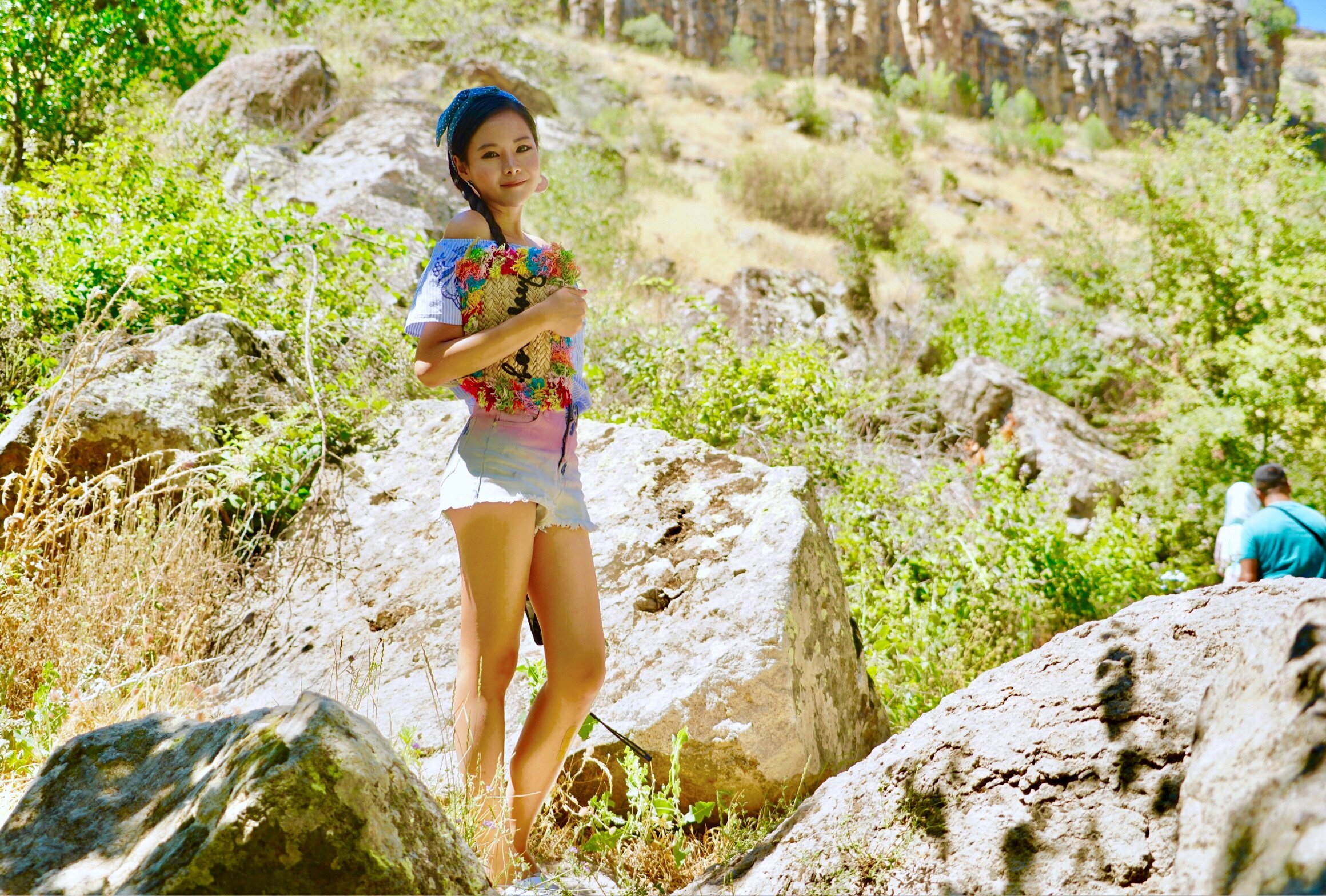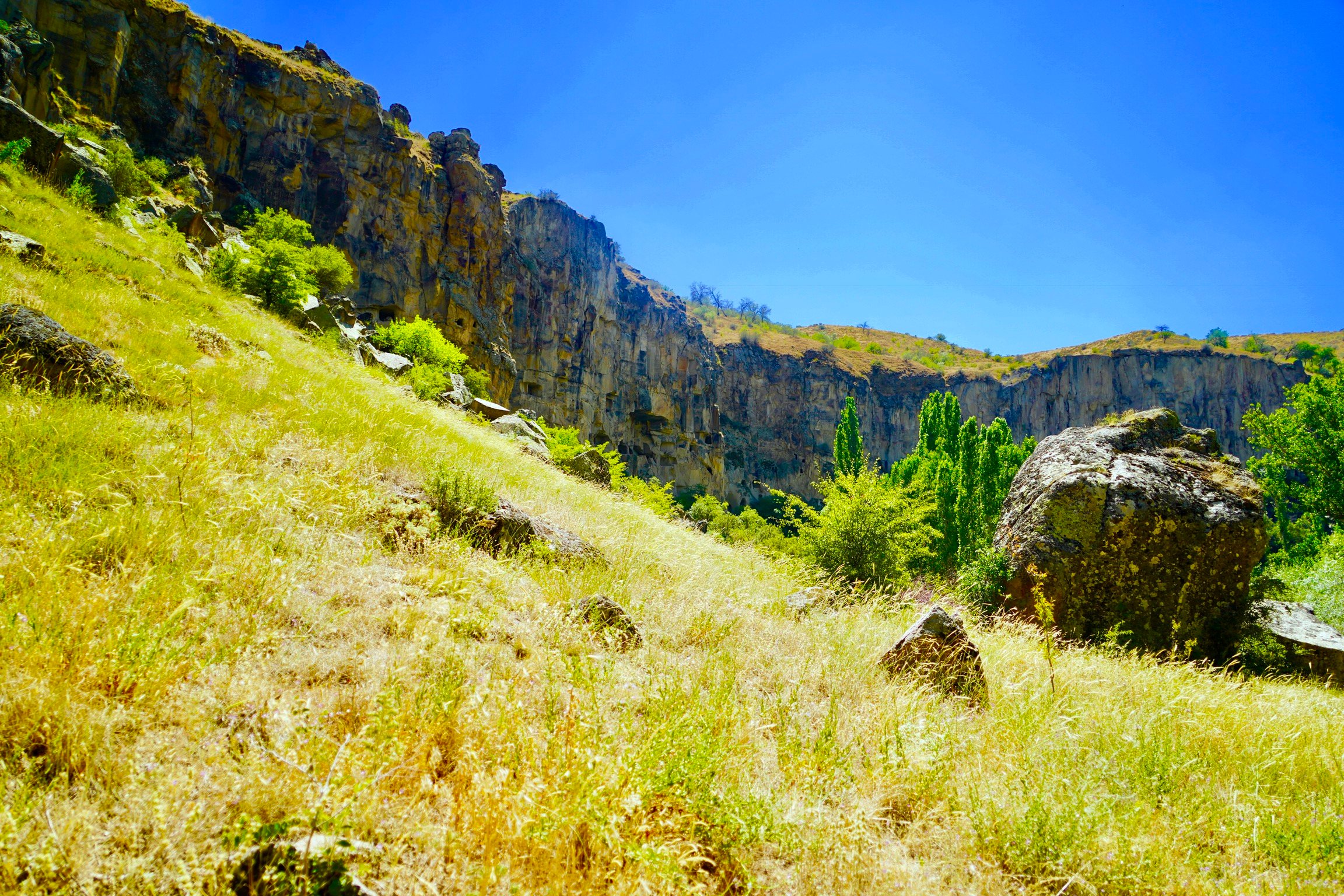 So much greenery, more than I had seen anywhere else in Cappadocia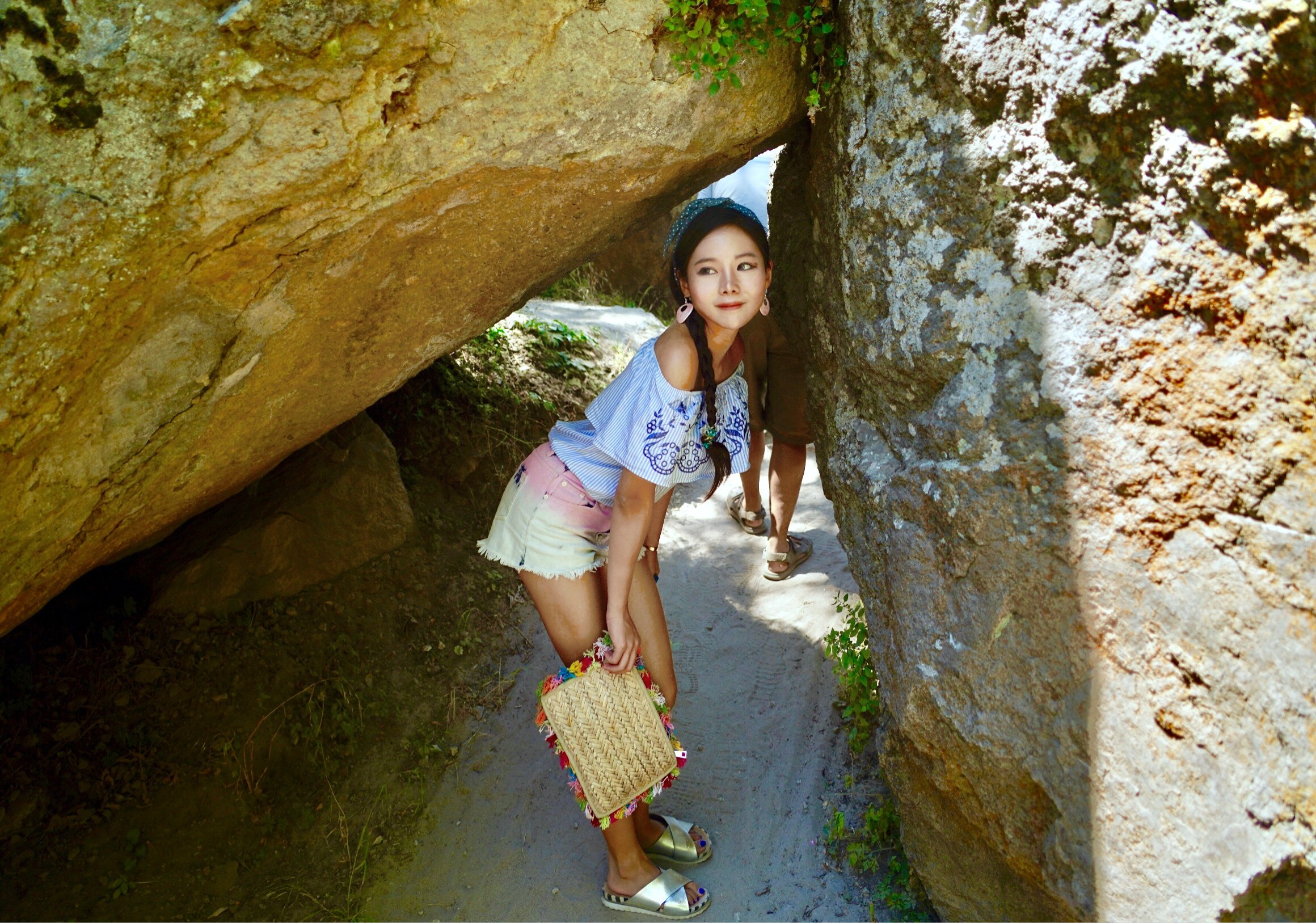 The path to the churches wound its way a long the cliffs, and through gaps in rocks!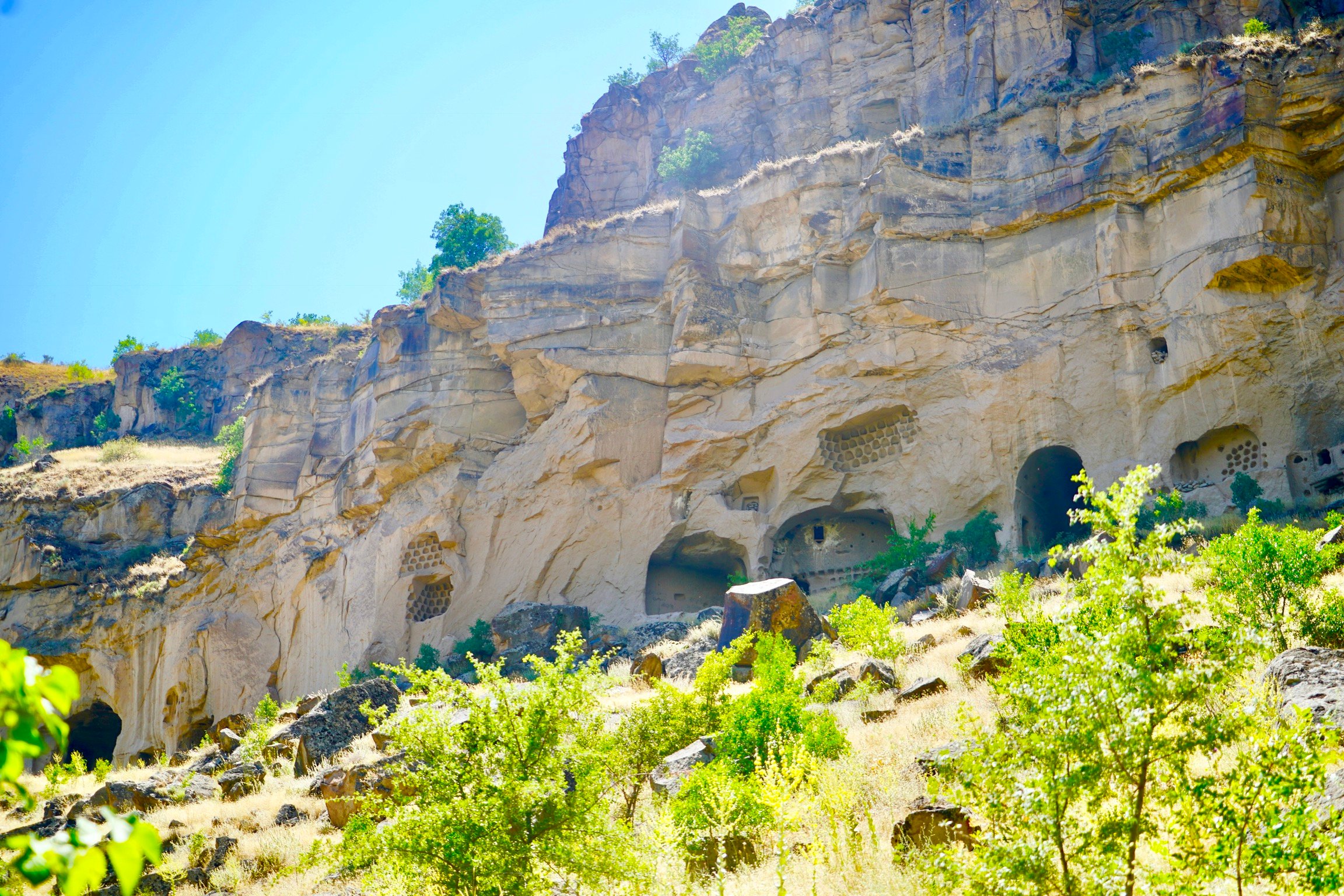 After working my way a long the path that followed the river and then up next to the walls of the gorge, underneath some fallen boulders and then slightly up the side of the valley, I got my first glimpse at some of the ancient cave dwellings that I had heard were down here. These were some of the most well preserved examples of cave dwellings that I had yet seen. You see all of the pretty little 'holes' in the archways? Like little alcoves dotted around in a pattern? Those are holes for pigeons to nest in.
Pigeons were very important to the ancient peoples of Cappadocia, serving as the fastest and main means of communication. You could tie a note to a homing pigeon and it would return to where it came from, allowing you to send messages to each other quite quickly and effectively. In addition, the egg shells could be ground down to make paint for the frescos that you'll see in the churches coming up, and the egg whites were used as a kind of varnish to seal the frescos on to the walls and ceilings of the cave churches.
I expect these particular dwellings were so well preserved because the cliffs of the Ihlara Valley protect them from the elements. What a lovely view those homes must have! I wonder if I would be allowed to live in one for a short time?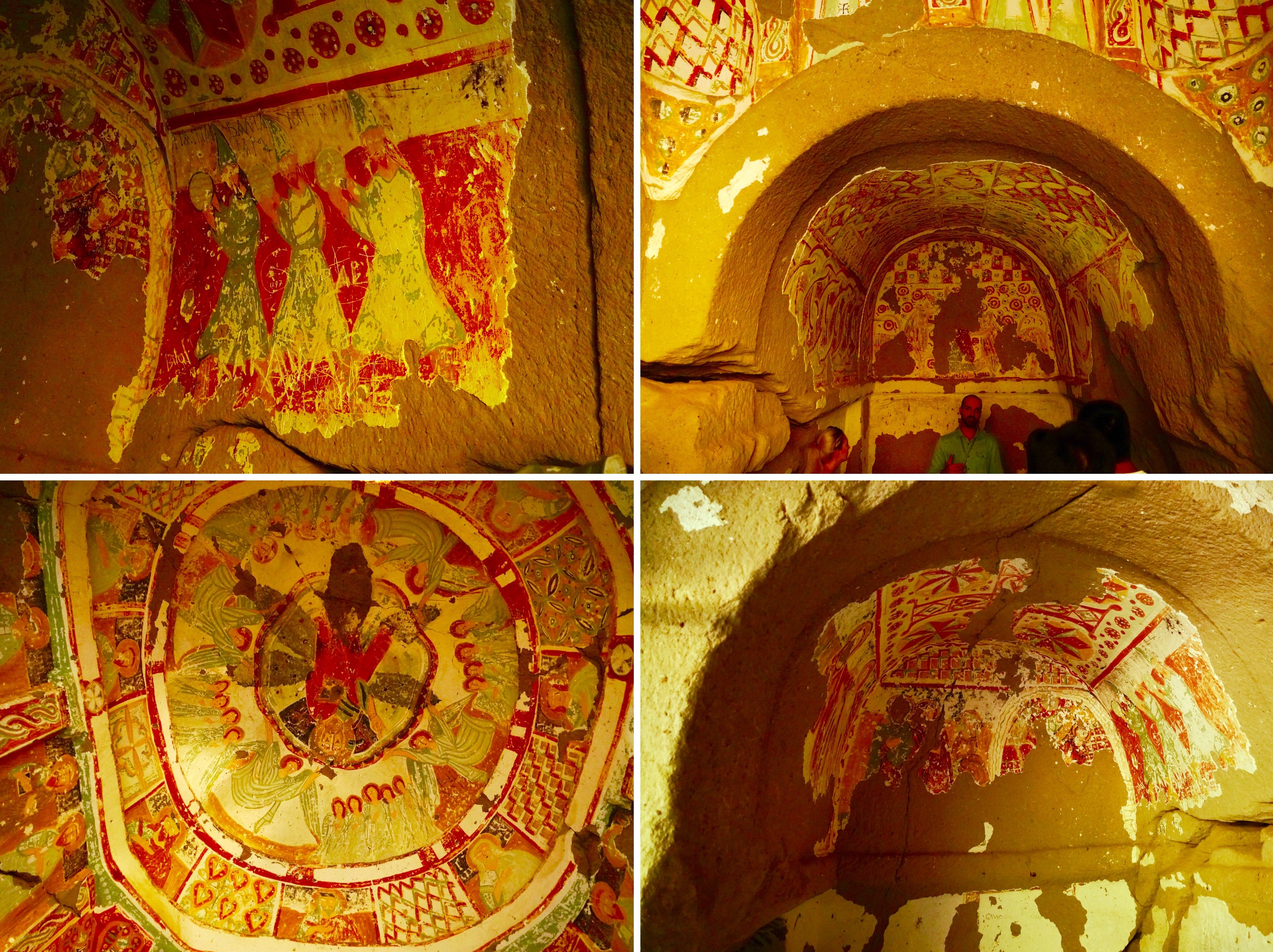 At the end of my walk I got to visit Agacalti Church which has some of the most beautiful and well preserved cave painting of all of the churches here. Originally a Byzantine church from the 10th century, you can see the different style of artwork, with an eastern influence. The church, also known as the Church of Daniel, is laid out in a cross shape as with many churches. The fresco painting on the ceiling and the walls are most interesting with bright reds, greens and yellows. As you can see, the colours have been very well preserved!
Lunch in the open air
---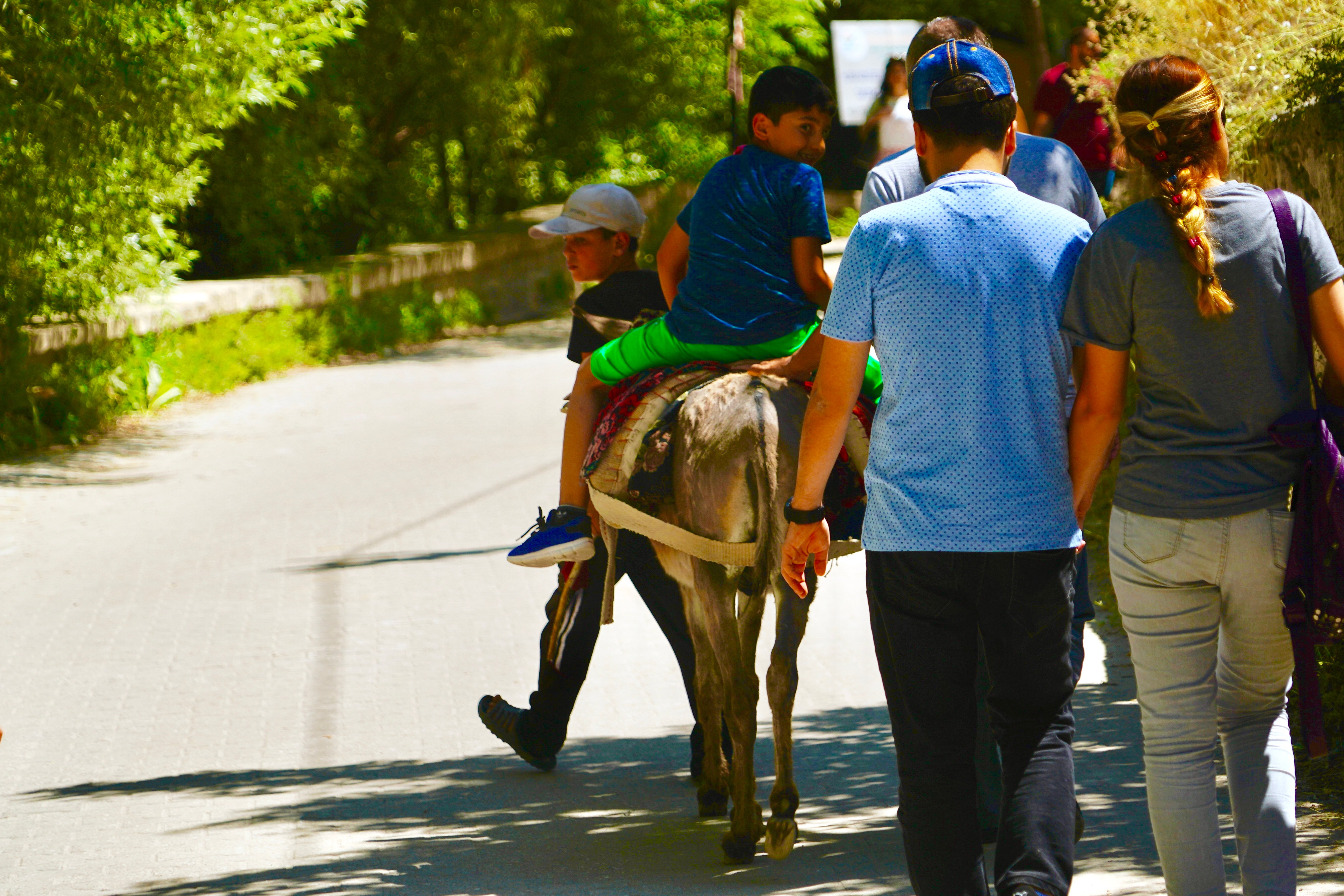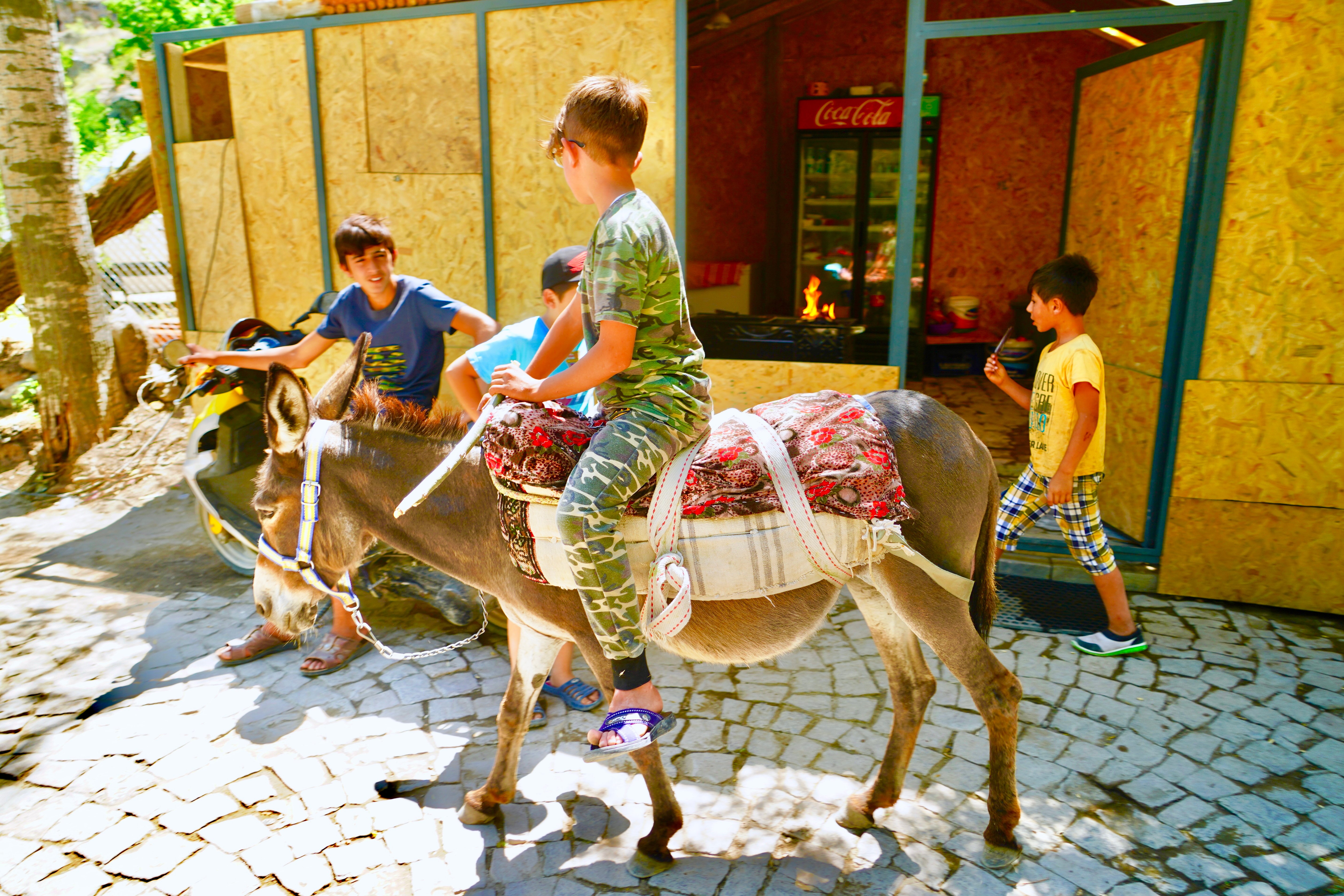 On the way back to get lunch, I saw these local boys on their donkey. As you know, I always love to take pictures of the local animals and wildlife when I can! These donkeys were very cute and the boys were very good with them. Donkeys and horses have been an important part of life here, since humans first settled. The rugged landscape requires the use of such animals, motorised transport was available, to traverse the long distances between the different cave settlements.
Now these donkeys were somewhat of a tourist attraction. They certainly got a lot of attention from me and my camera! They boys who seemed to own the donkeys were trying to get some of the kids in the tour group to take rides - probably quite a good way to make a little money!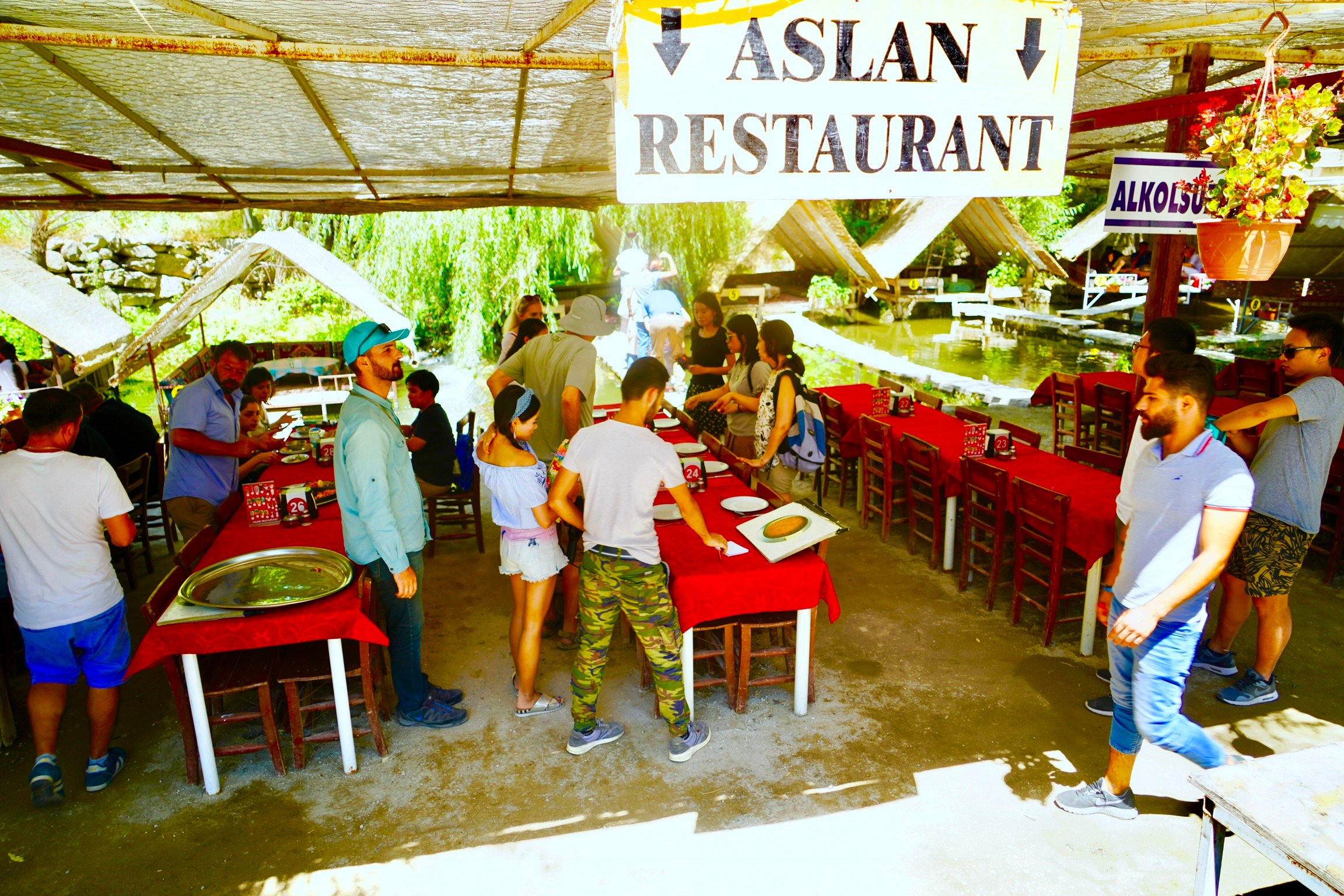 My tour took me up the canyon and back again to my original point of entry, at the 300 step staircase and to the cute little river huts. Turns out, these were not just a place to rest and recover from your descent into the valley, but they were also the restaurant! I was delighted that I would get to spend more time in this idilic spot, while eating some tasty treats too.
Lunch would be served in the main area of the restaurant, called Aslan Restaurant, right beside the river, though many people took their lunches to the river huts to eat. I wondered if Aslan meant something in Turkish, or if the restaurant owner just liked the name of Aslan from The Lion the Witch and the Wardrobe! Either way, the food smelled delicious, I could smell it half way up the valley as our route took us back to lunch.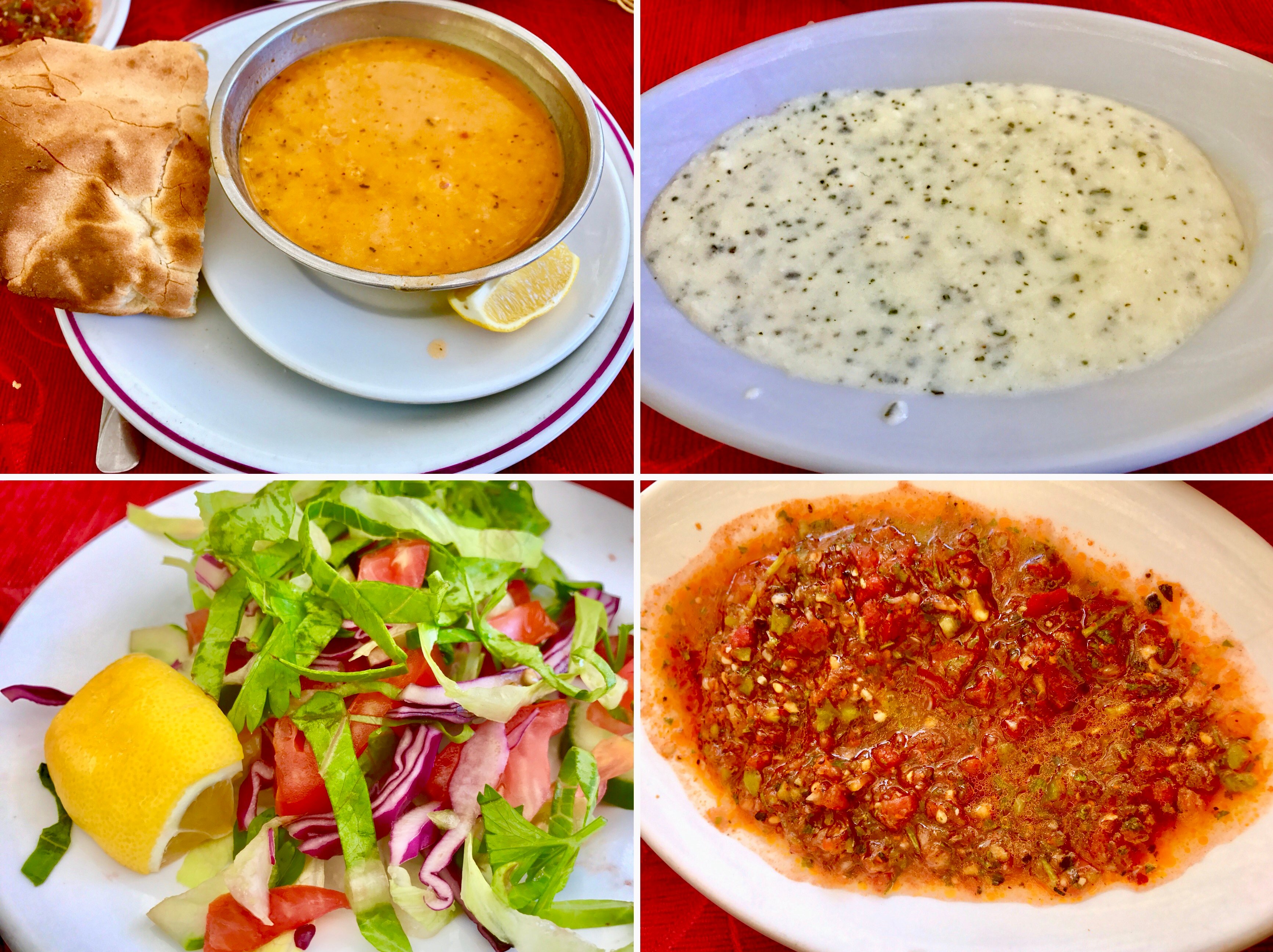 First was served traditional flat breads with different dips. One was a kind of curry sauce which tasted absolutely delicious, though it was very spicy! Next a classic of this kind of cuisine, yogurt and mint sauce which is a real favourite of mine for its cool taste and cooling effect on the tongue, just what I needed after that curry! Finally, I had a beautiful salsa and fresh garden salad. A really nice start to the meal that just got my taste buds ready for the mains!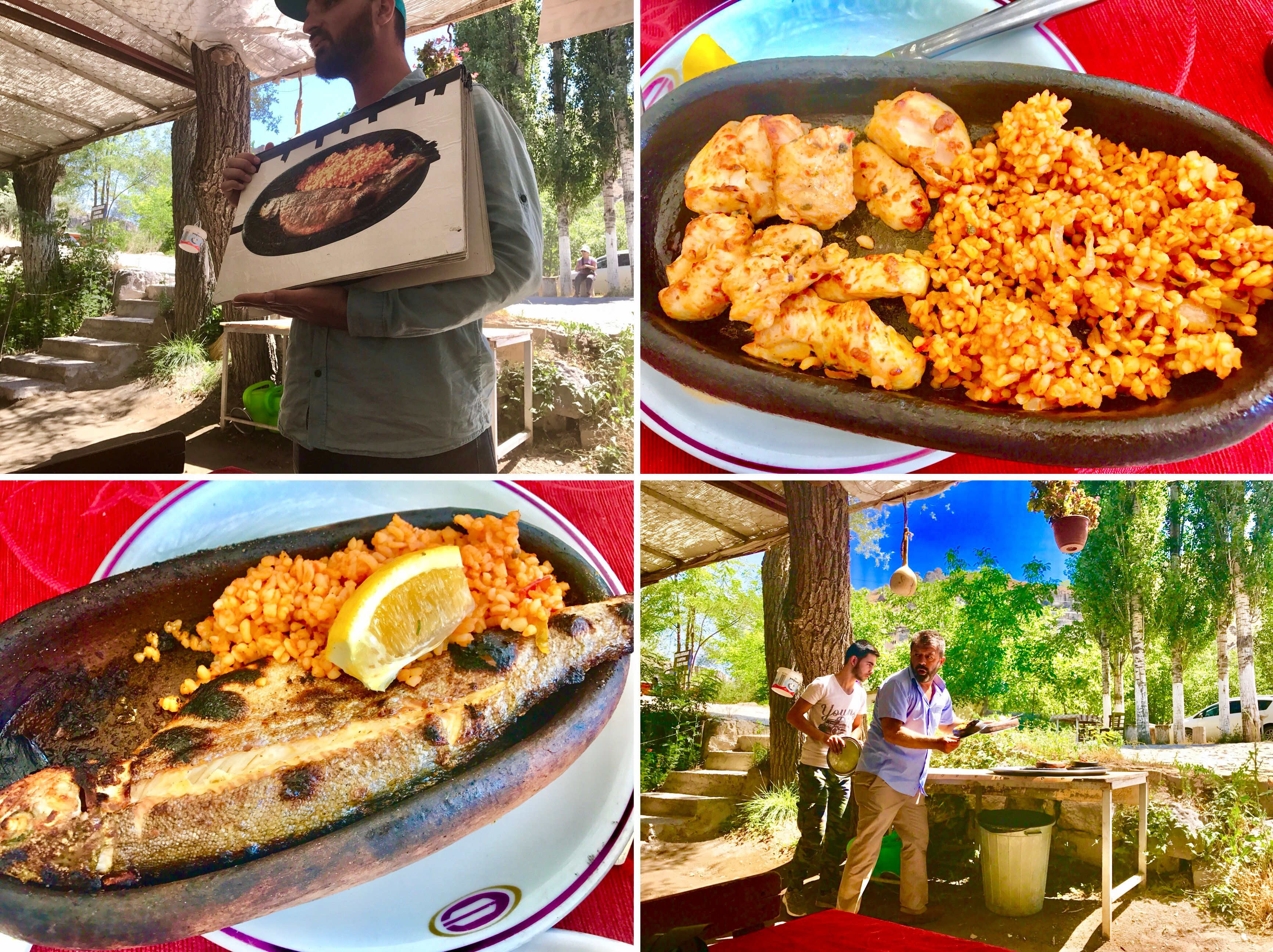 The main was a traditionally cooked grilled fish. The smokey flavour and the beautiful cooking meant it was absolutely lovely. The fish flaked apart as you dug in and wasn't dry at all. I loved the char-grilled kind of flavour and I felt like I now had all of the energy I needed for the next big adventure on my trip.
Derinkuyu Underground City
---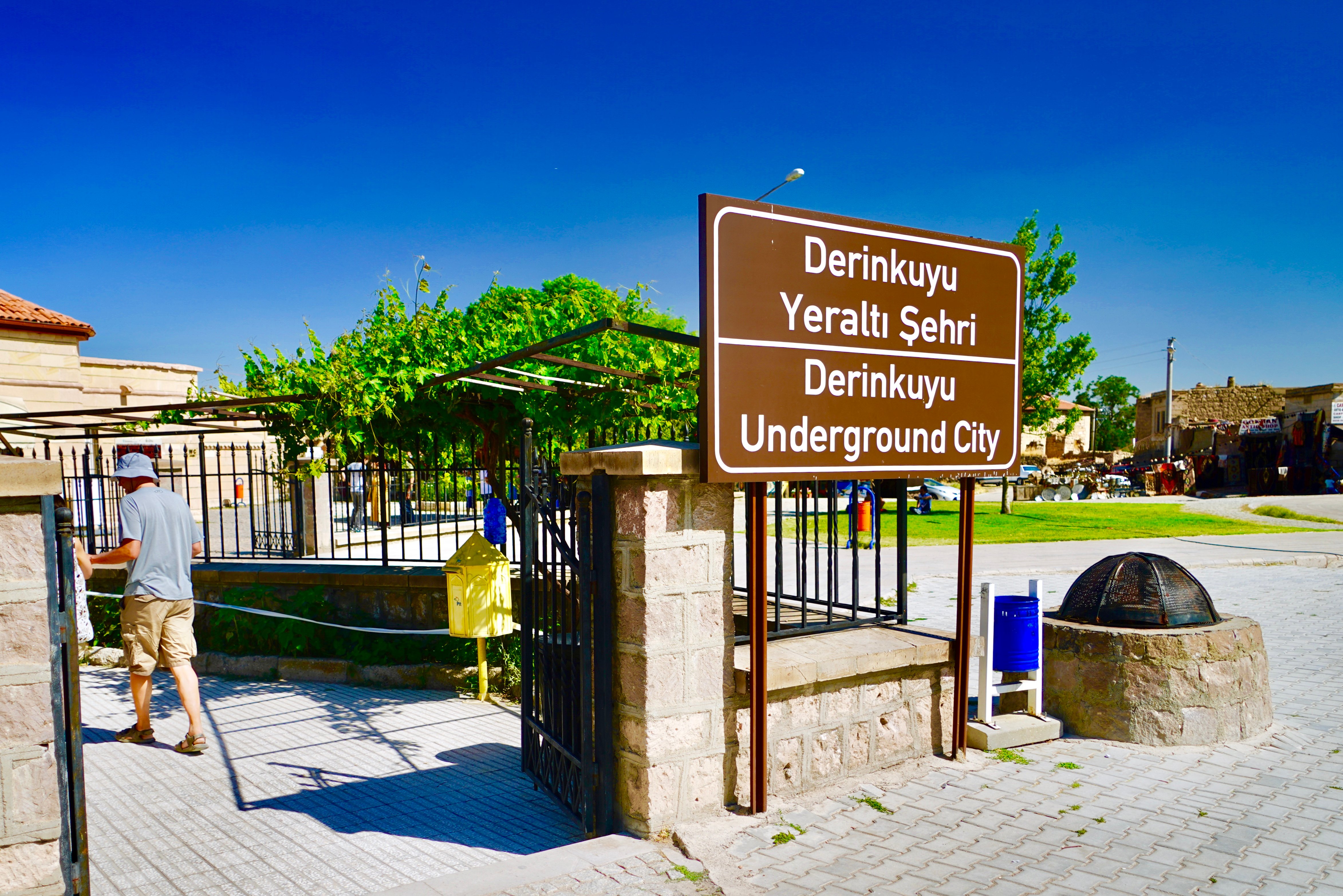 My friends, how often can you say you are about to go and explore an underground city? Not very often, is the answer to that! After a morning of exploring the beautiful outdoors, now it was time to go under the earth to the deep tunnel city of Derinkuyu. At 85m deep under the ground, this was going to be an experience I would never forget!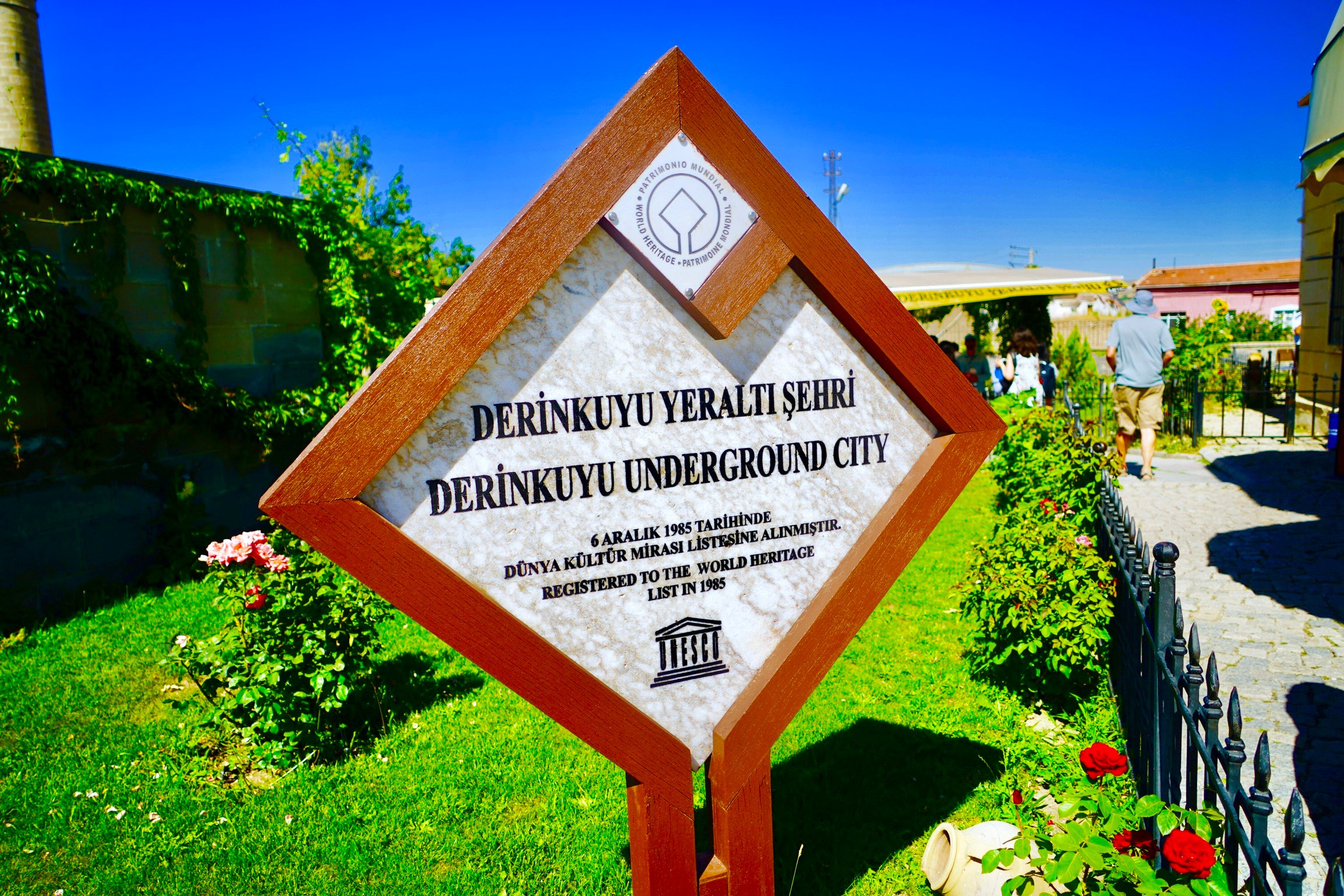 Underground city? I was starting to get a bit nervous!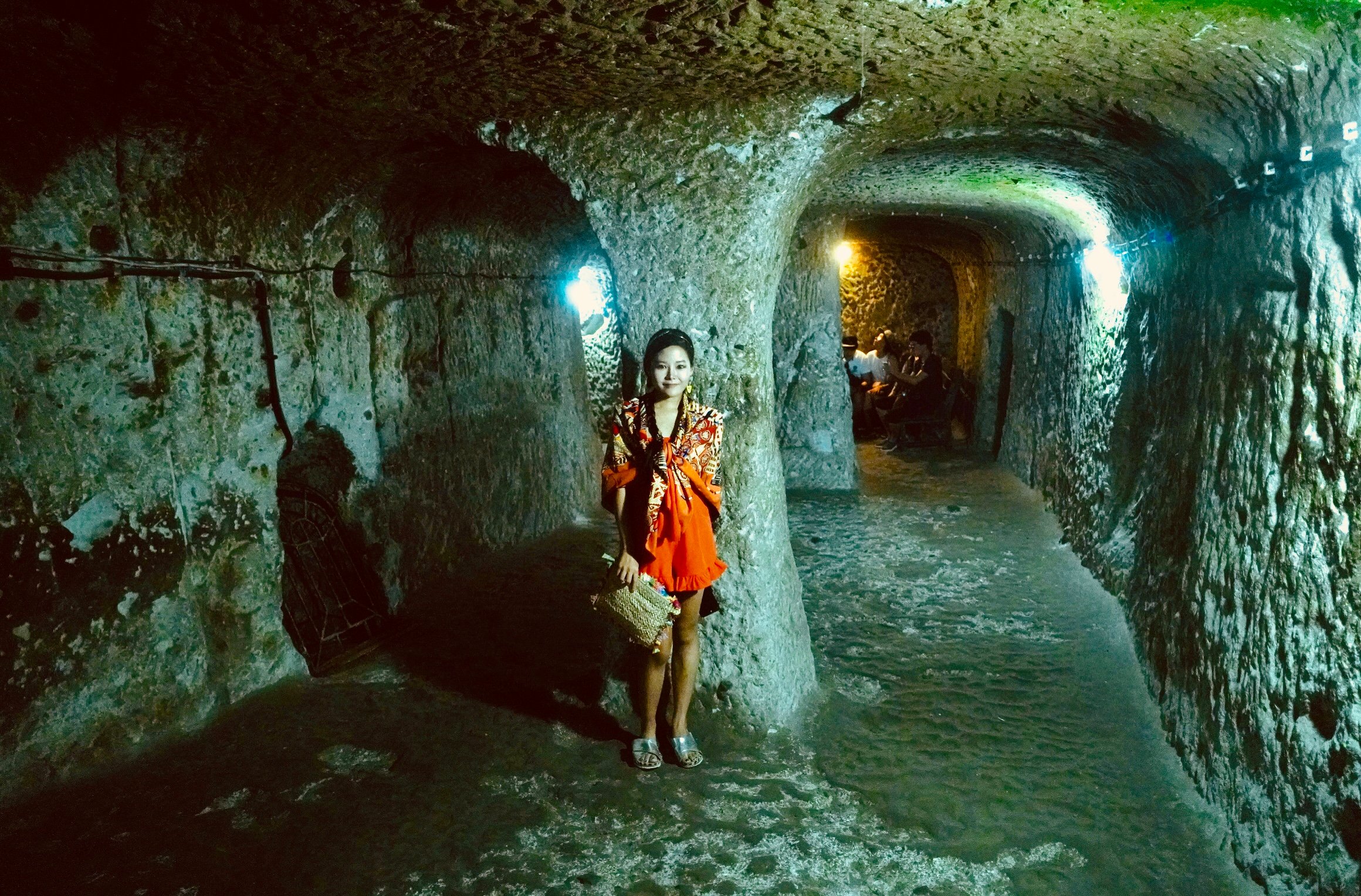 Derinkuyu Underground City is just one of 36 underground cities in Cappadocia which were built out of necessity by the peoples who were fleeing persecution and invading armies. There are over 600 ways down in to the city, through hidden entrances in normal looking buildings on the surface.
Here is the entrance hall to Derinkuyu Underground City where you gather before descending down the many stairs in to the labyrinth of passages. Derinkuyu Underground City is just one of 36 underground cities in Cappadocia which were built out of necessity by the peoples who were fleeing persecution and invading armies. There are over 600 ways down in to the city, through hidden entrances in normal looking buildings on the surface.
Located approximately 30 minutes drive from Goreme town, it contains everything you could want in a city - stables, storage rooms, eating halls, churches, cellars, living areas, schools and more. As you can imagine, being 85 meters deep under the earth means that you need ways to get fresh air down in to the tunnels. There are reportedly 15,000 ventilation ducts around the city. There are also wells, places for water storage, places for lamps to be attached and everything else a population could need to live down under the earth.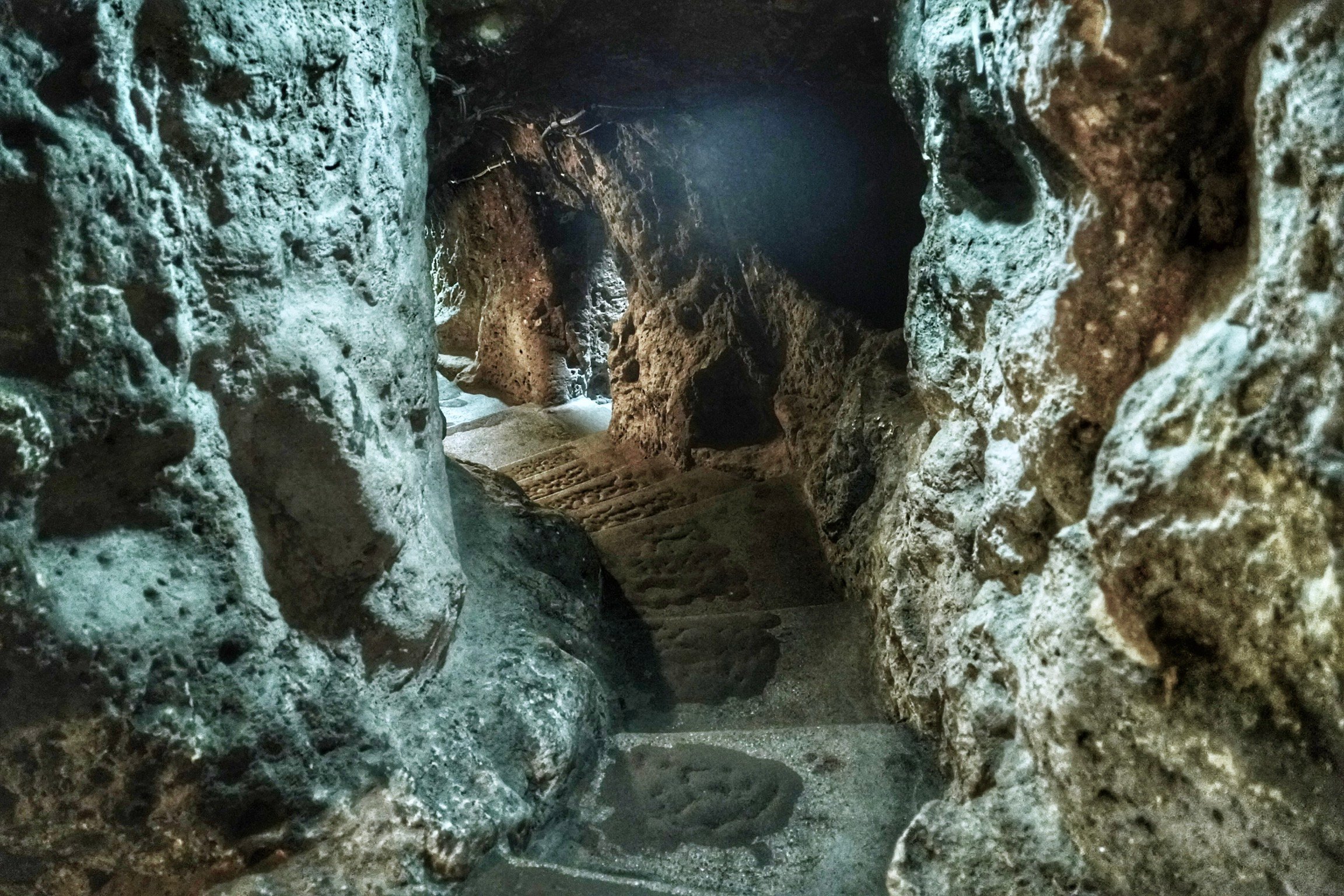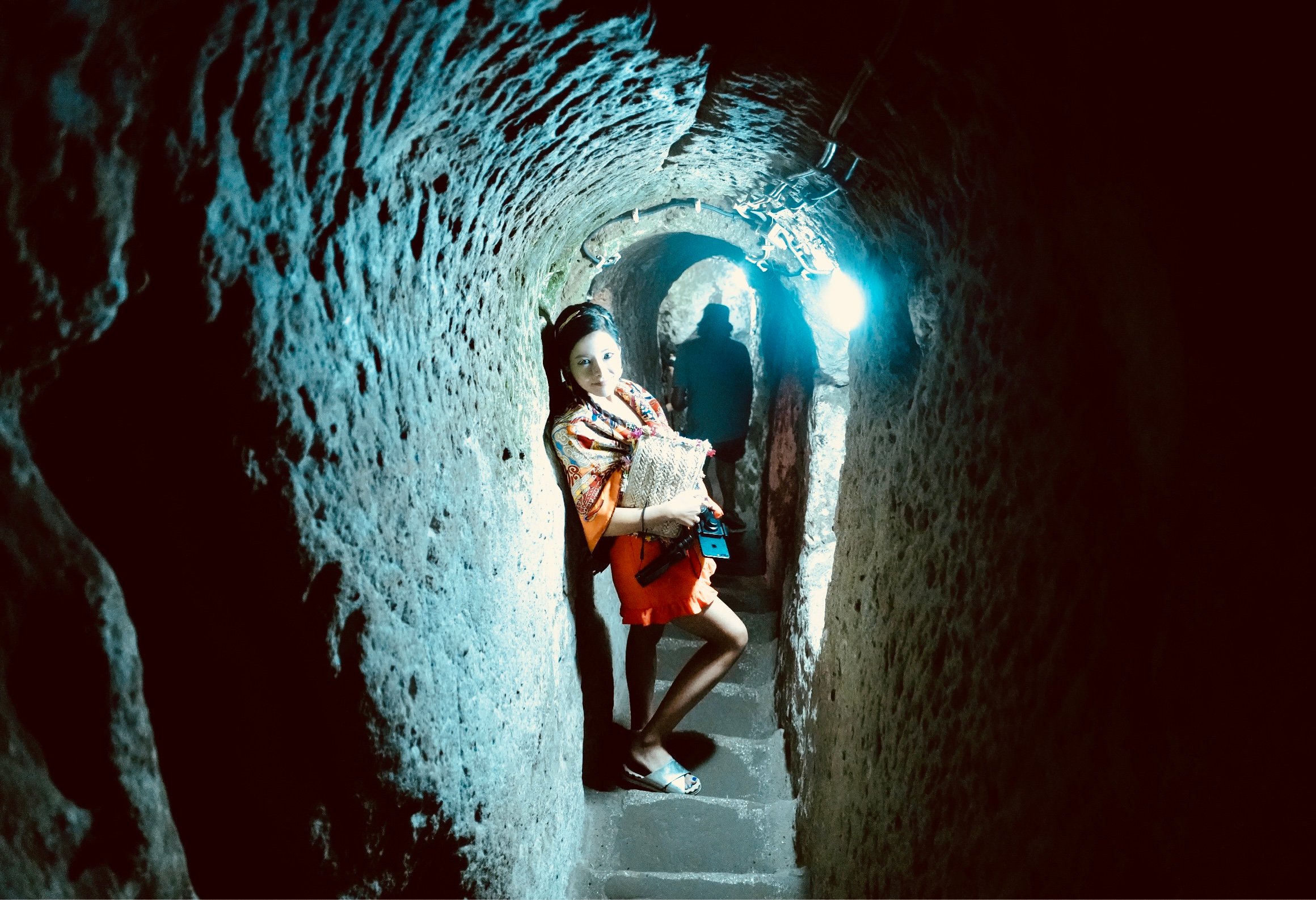 The current theory is that these cities, with Derinkuyu Underground City being the deepest, were not designed for permanent living. They were instead intended to be a place for the population to flee to should they be attacked. As I looked down the stairs and narrow corridors, I could imagine that this would be a great place to hide if you needed to!
Long since abandoned as a place to live, the underground city has the capacity to shelter up to 20,000 people and all of their livestock and food. It was first open to visitors in 1969 and has long been a favourite of tourists visiting Turkey. About half of the city is currently accessible to tourists - I hope that one day I can come back to explore all of it!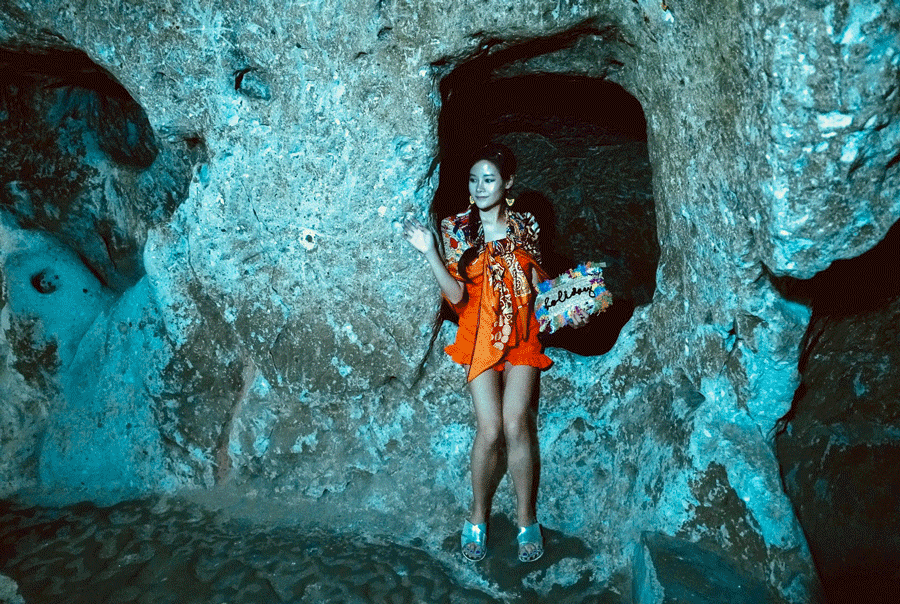 The history of the city is very interesting. It was built in the Byzantine era and was used as protection during the Arab-Byzantine wars of 780 - 1180. This city would have been connected with other underground cities in the area with tunnels and shafts which would have made them excellent places to hide. If you got stuck in one city, you could make your way to another that wasn't being attacked. There is evidence of inhabitation until 1923 when there was a population exchange between Greece and Turkey and the Greek Christians were forced to leave and the city abandoned. In fact, the story goes that this beautiful city was lost, with all its entrances blocked up, until a local found a mysterious tunnel in his home!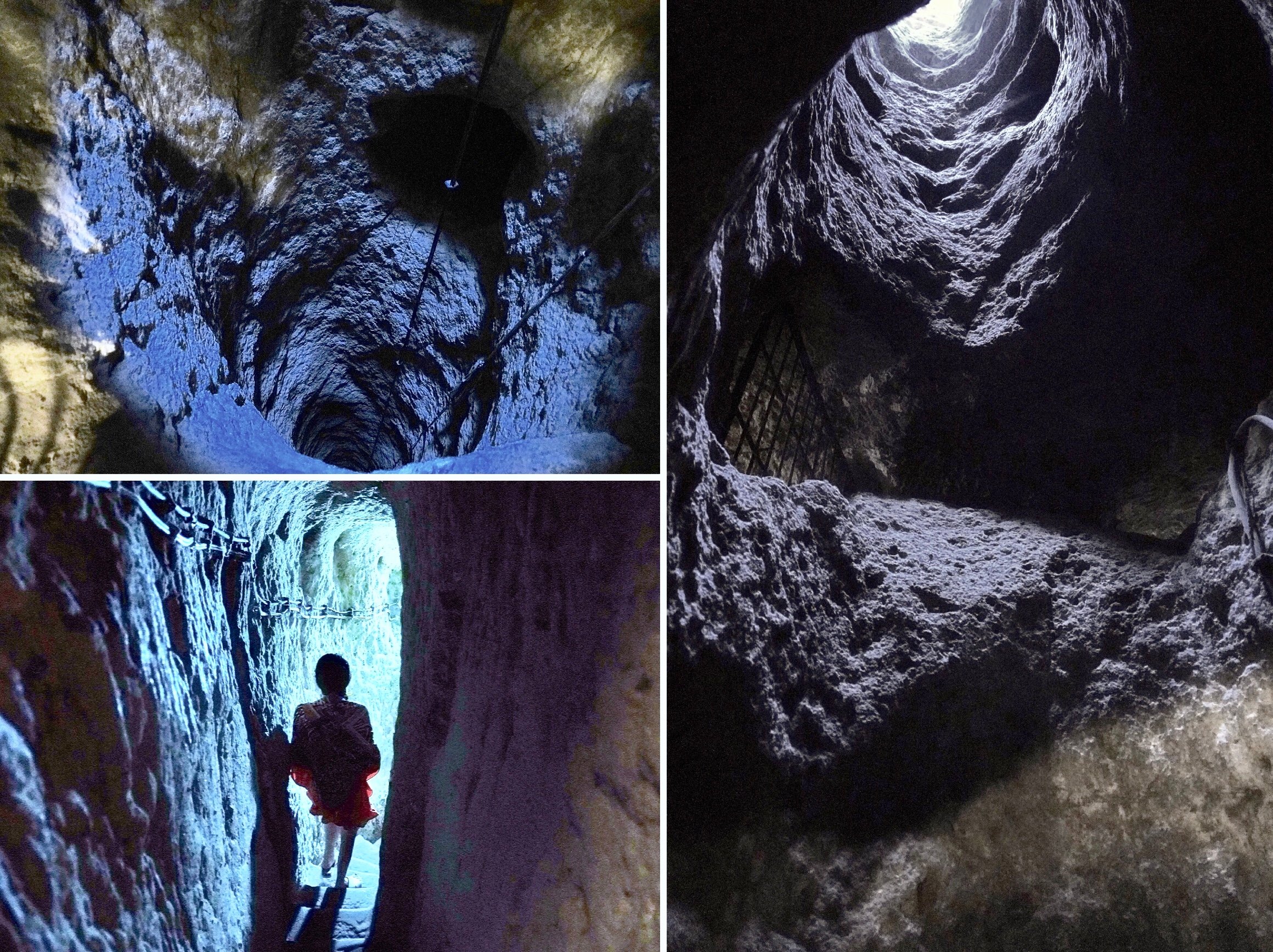 The 55m tall central ventilation shaft for fresh air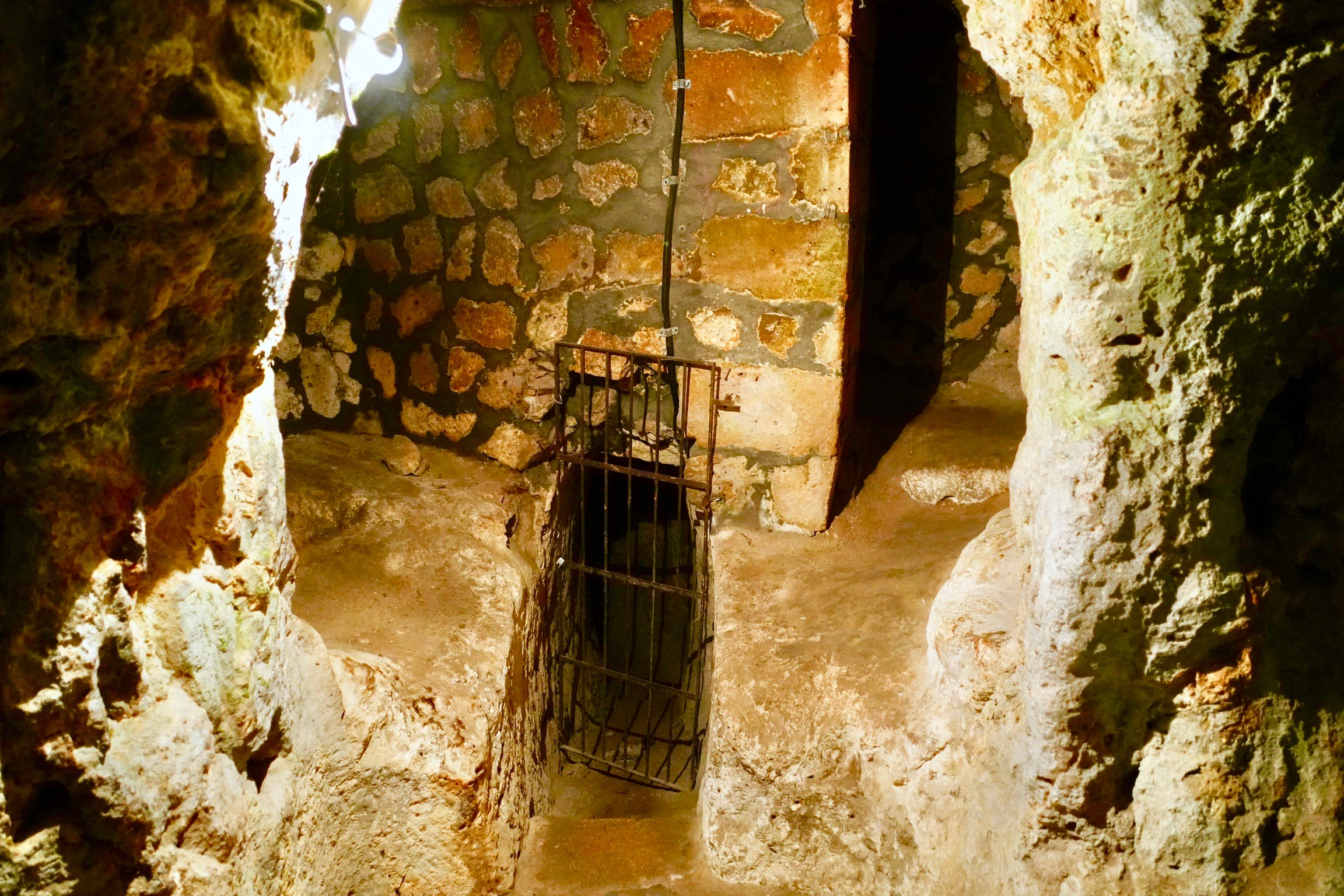 Stairs leading to another level of the city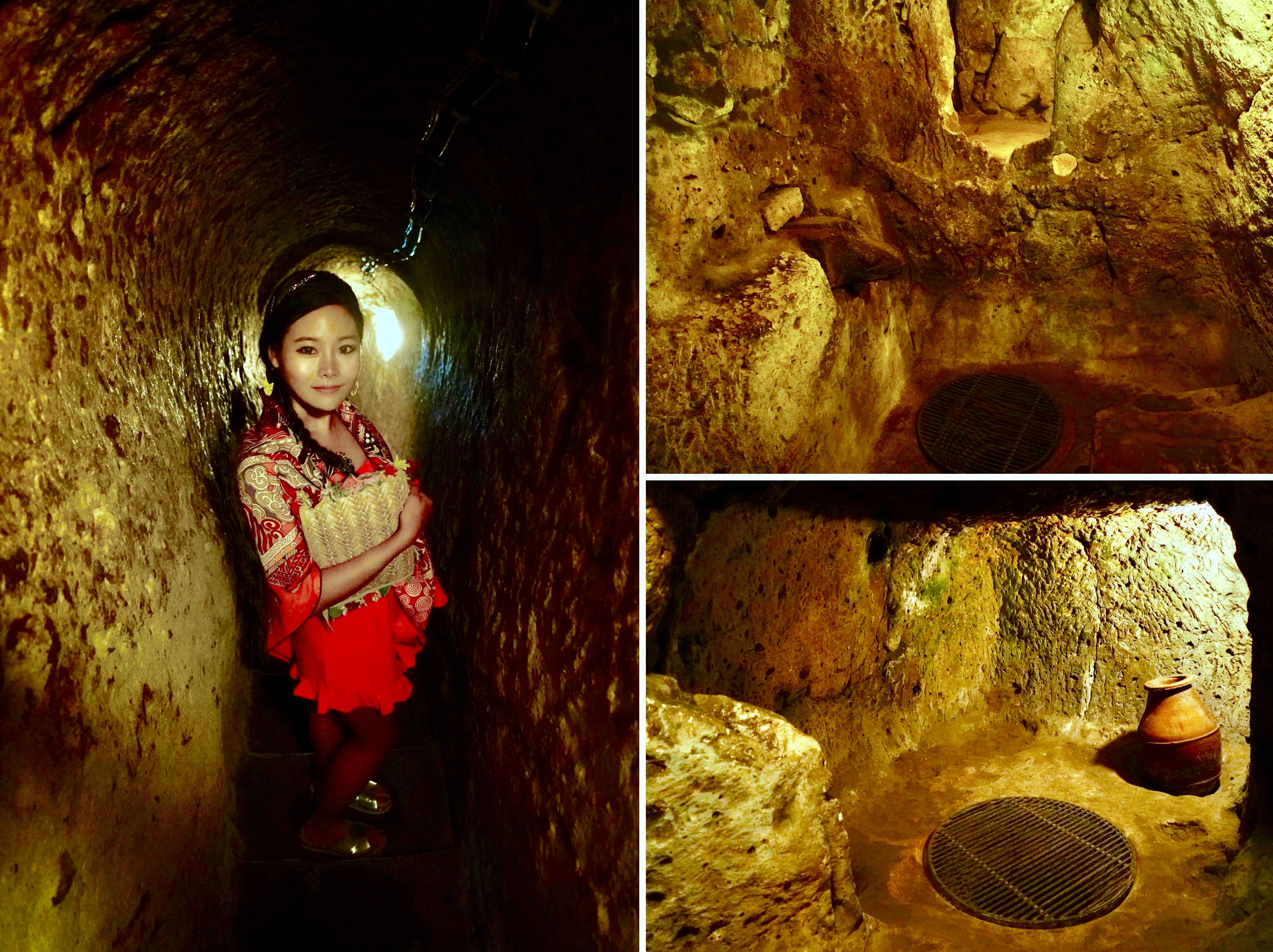 With eighteen levels, the city of Derinkuyu is really large, though only eight levels are accessible to visitors. It was very well appointed to be self sufficient if it was attacked and sieged. They had their own water supply, could store animals and plenty of food, and had escape tunnels too! Within the tunnels, there is evidence of this scary past. There are round doors which would have once stood 'balanced' and ready to be rolled across doorways.
Archaeologists claim that each level of the city could be separated off from the next, meaning that if invaders managed to get through to one level, they couldn't get to the next. They also had separate water sources so that an army couldn't poison their entire water source in one quick go! The city also benefited from being underground because the temperature is always a constant 13 degrees centigrade - this means that even if it was snowing outside or 40 degrees and sunny, the people and their animals would always be comfortable.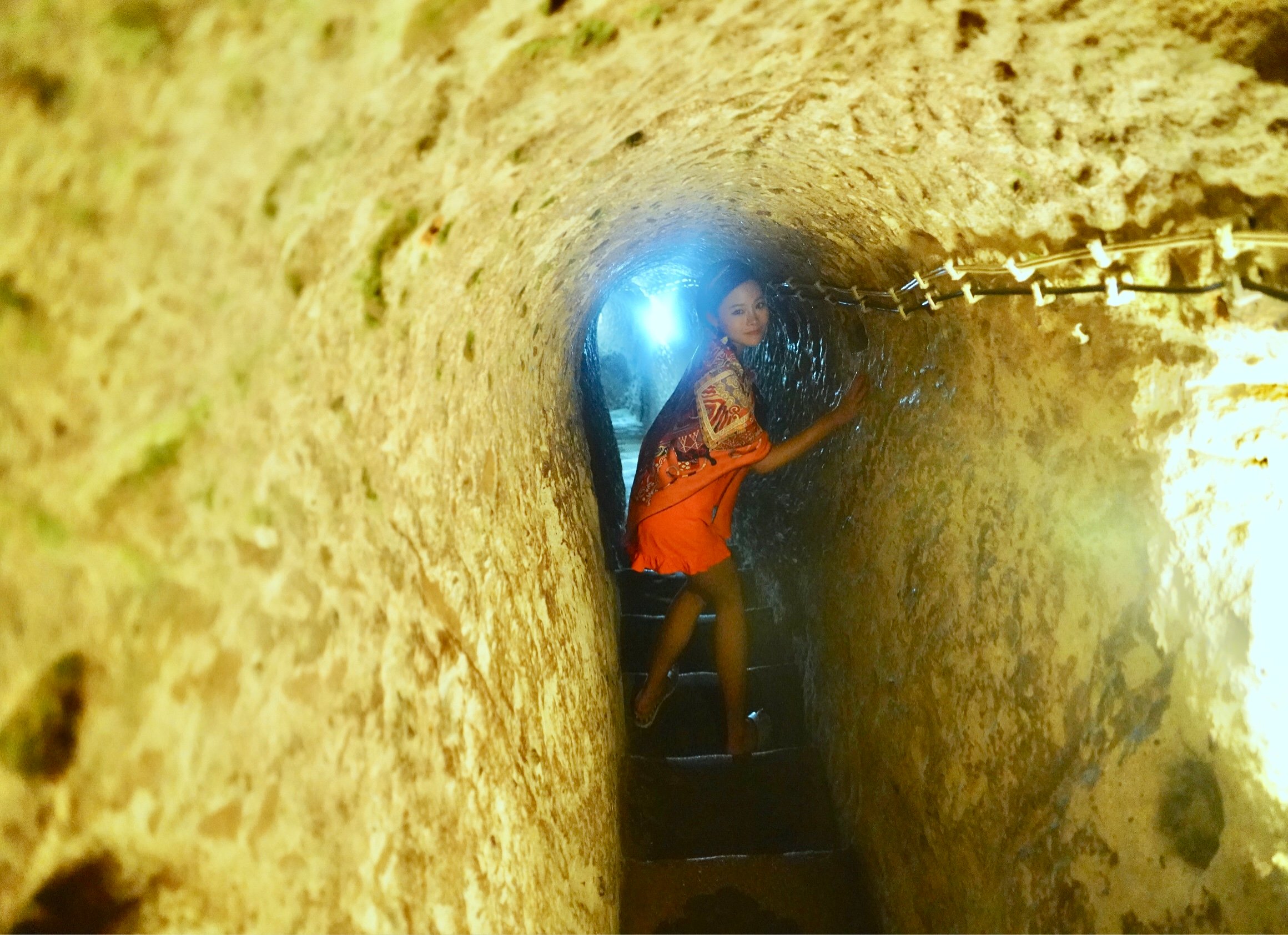 I'm quite small, so look how small some of these passages are!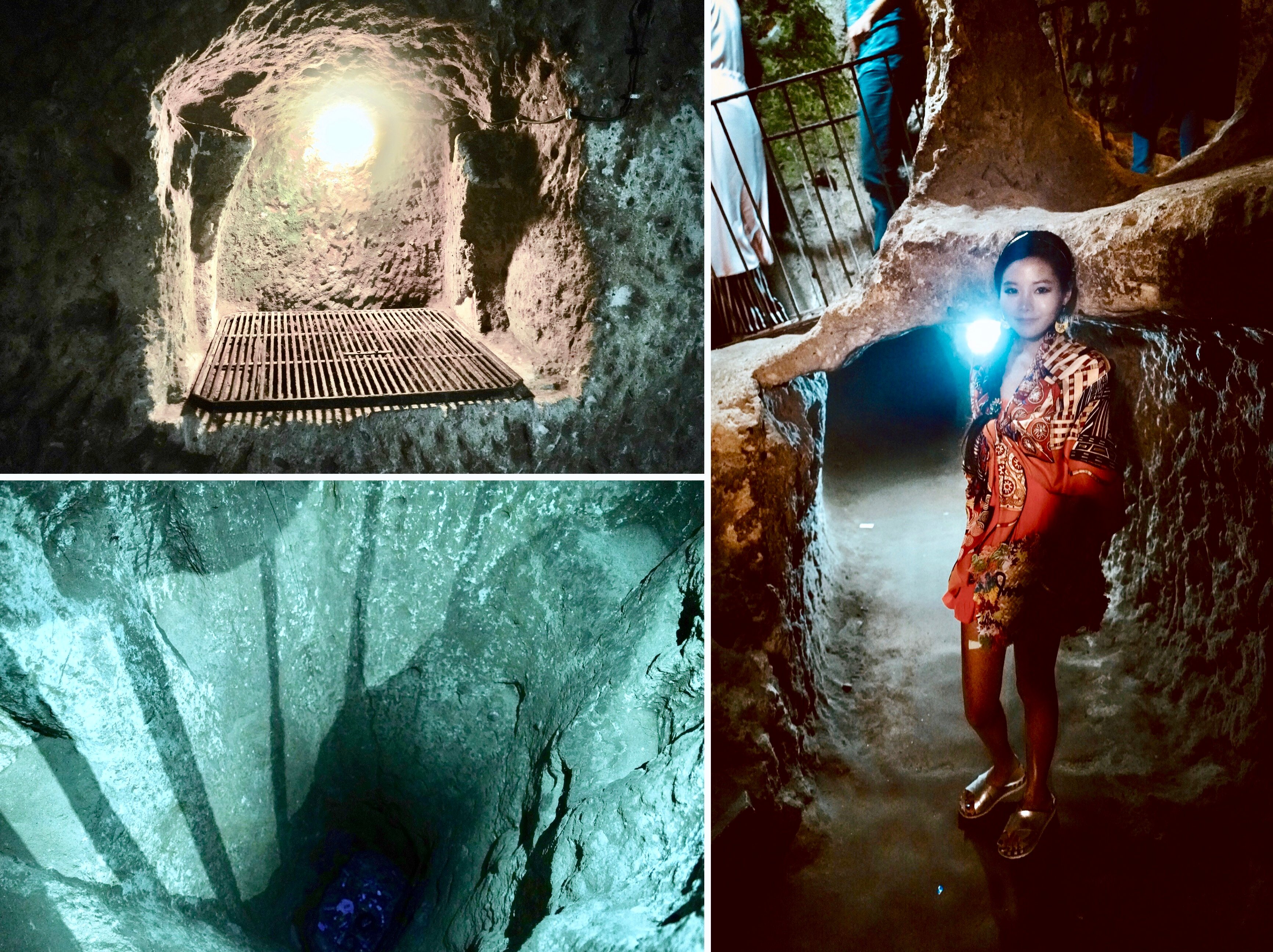 There are so many hidden tunnels and entrances and wells and ventilation shafts that I am sure if I did not have a guide I would be lost in minutes. I suppose as long as you know which way is up you could find your way out but it was still a scary thought! I absolutely loved Derinkuyu Underground City because it was mystical and steeped in history. You felt when you stood still that you could imagine the thousands of people that could have once called this place their home. I think you'd need to get out and see the sun sometimes though! As you can tell I was fascinated by the history and the building of this place and even with all of the facts, could not get my head around the fact that people built these tunnels with their bare hands and simple tools.
Esentepe Panoramic View Point
---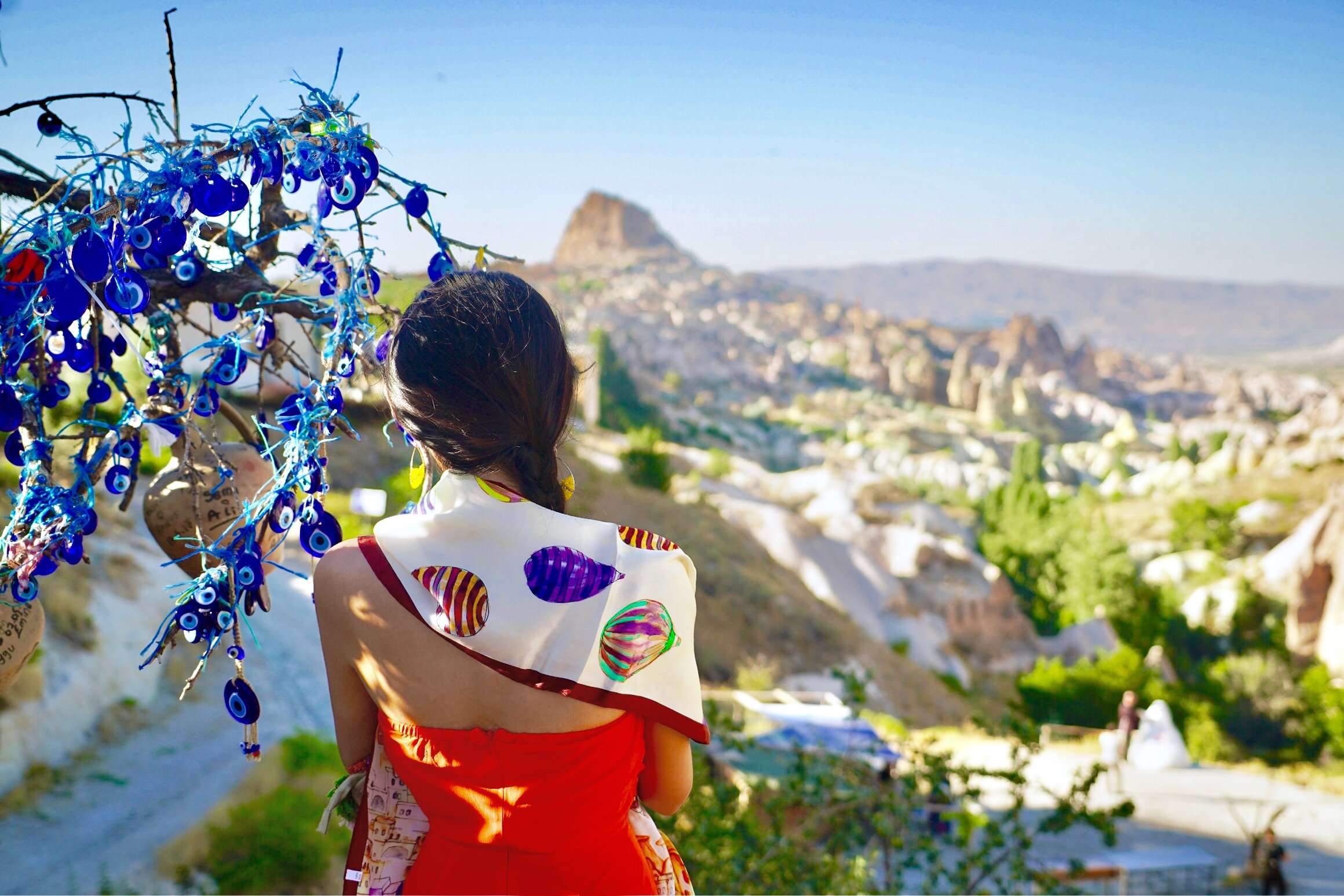 Esentepe Panoramic View Point was my last stop for the day, just as the sun was starting to set. With views that take your breath away, this is a popular spot for many tours to finish on. You can take in the view over Goreme and Pigeon Valley (well named) and do your best to take in everything that you can with your eyes. Every different direction that you look you'll see something new, different. Focus your eyes close or far, there is always something magical to see from this view spot - I was entranced. I feel my words fail me here to describe the beauty so I will leave you with my photos and hope they can come even half way to showing the majesty of this place.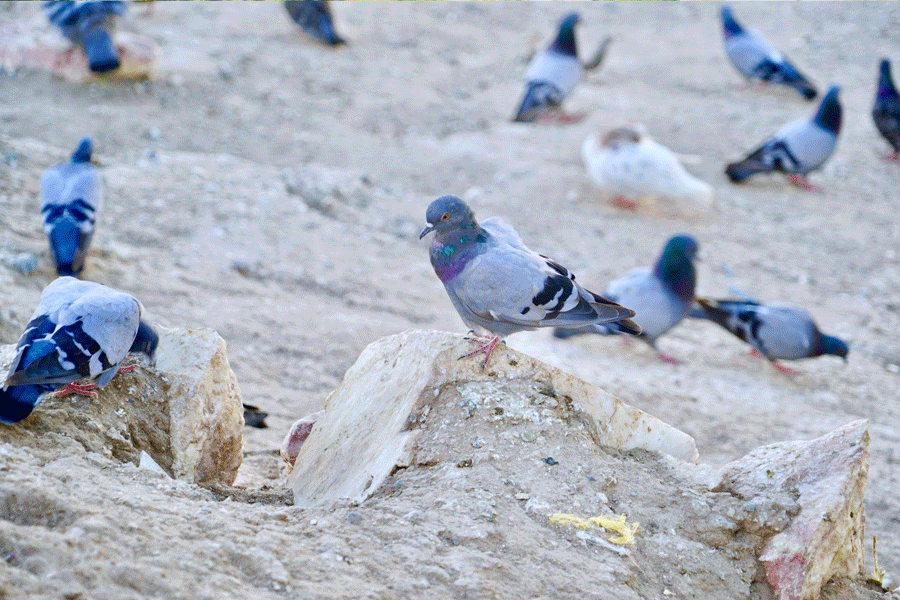 Pigeons have been important to the area and the people for thousands of years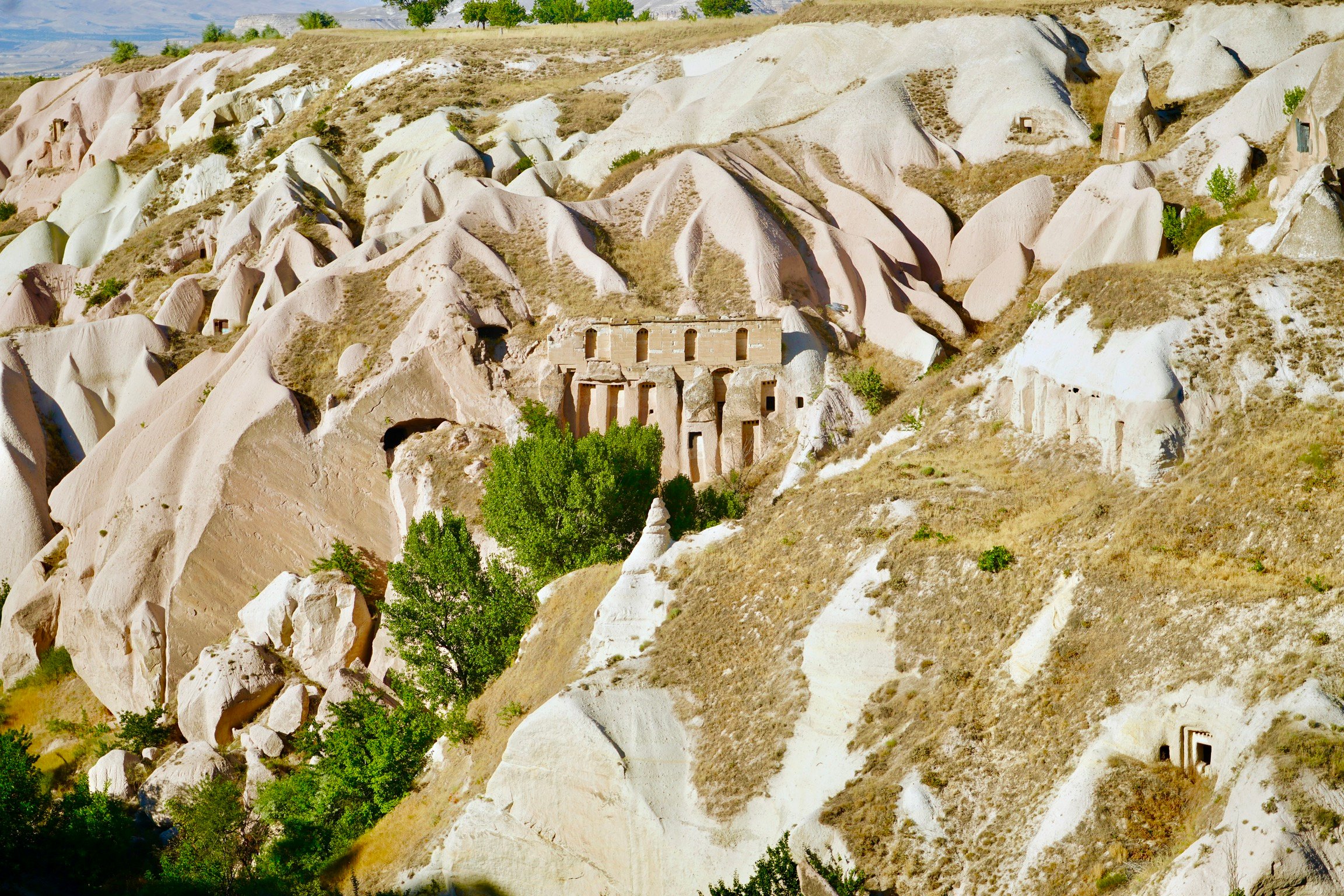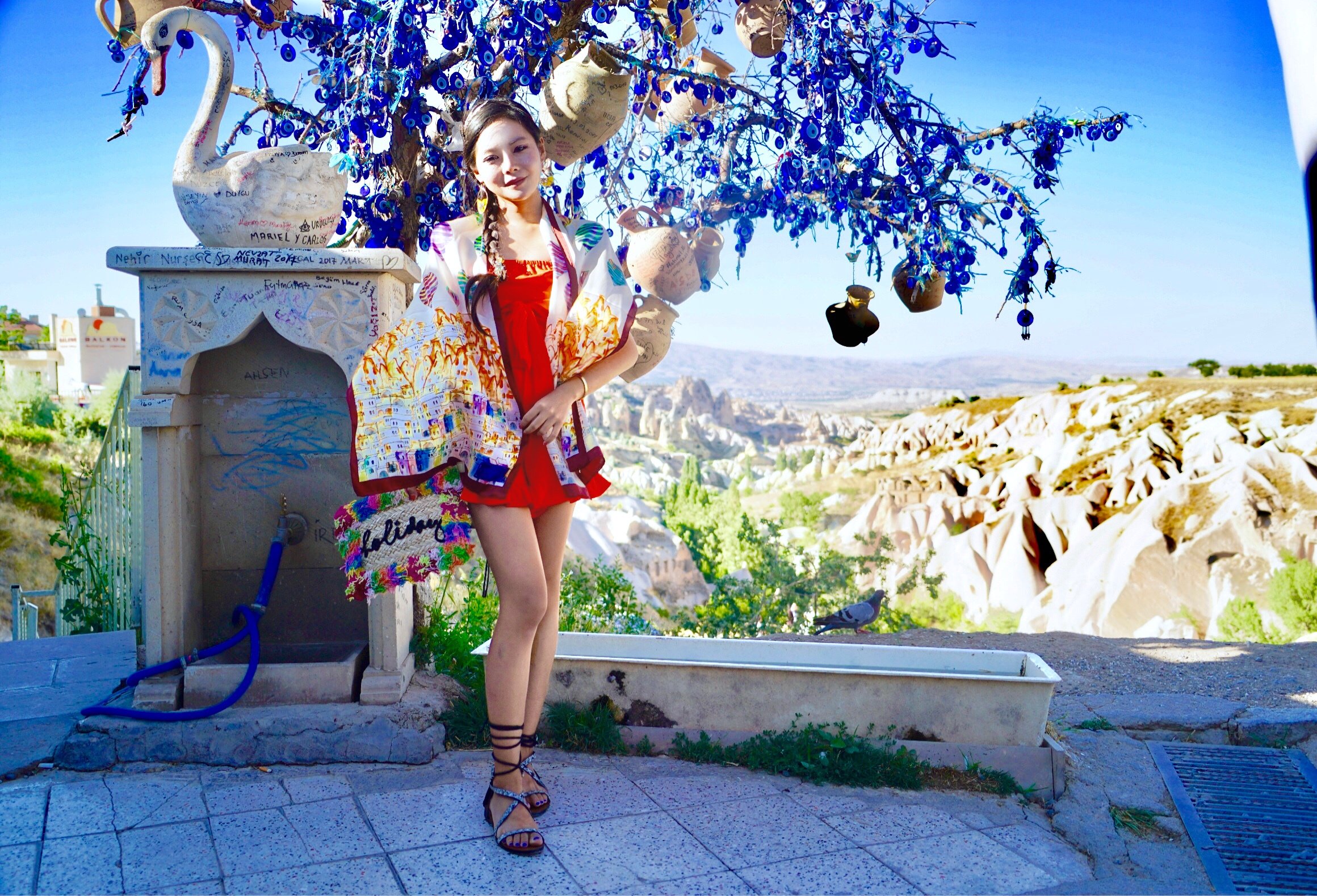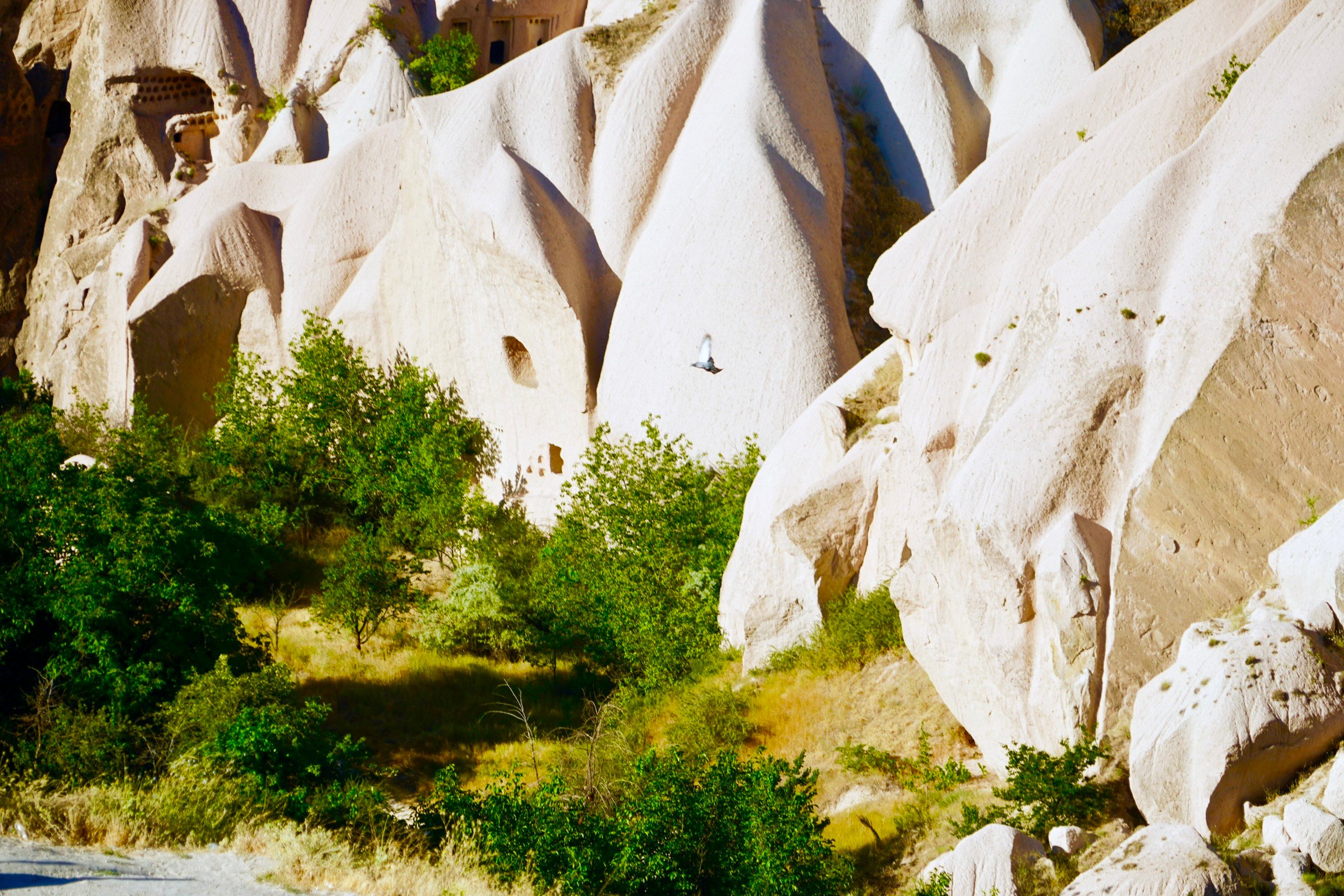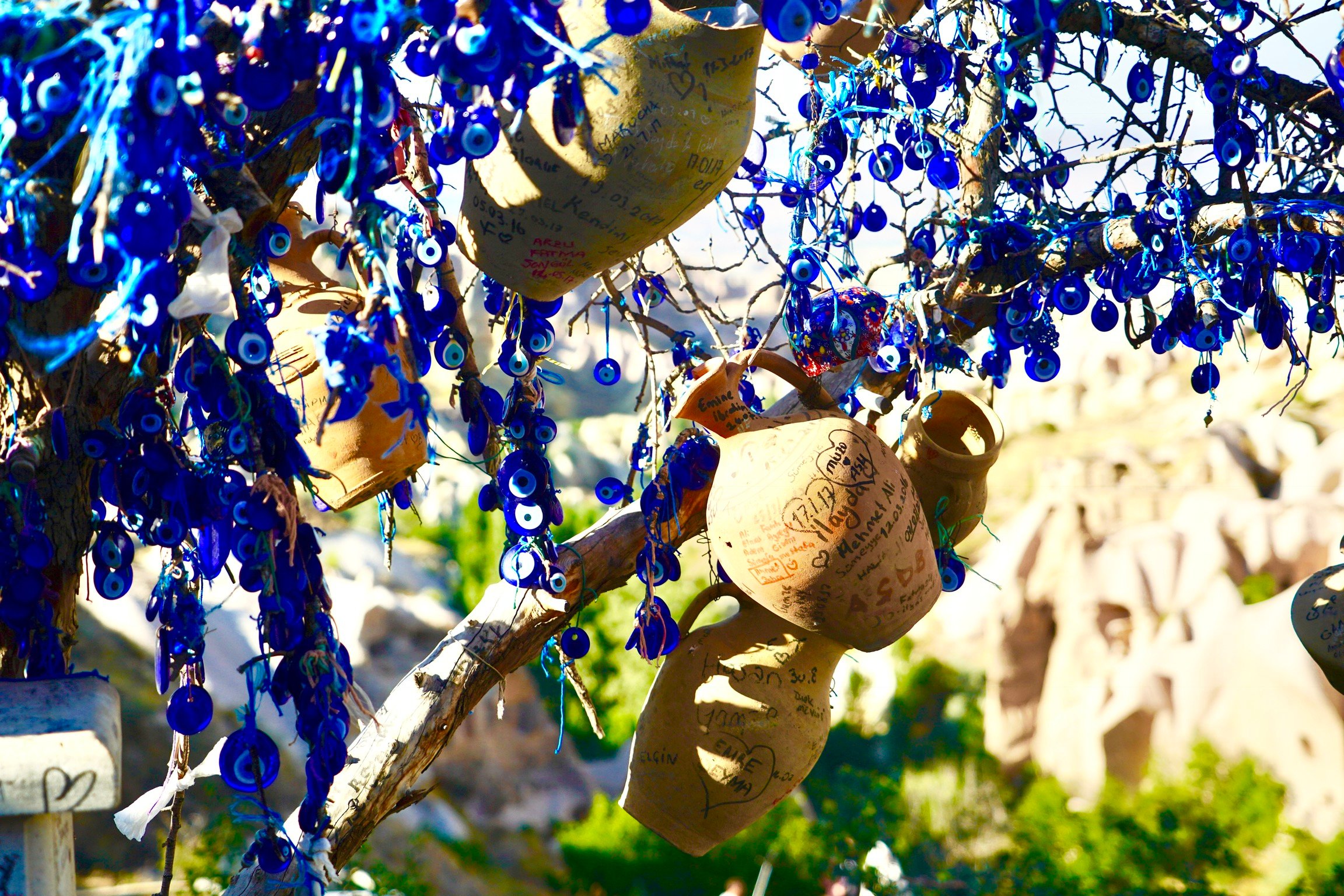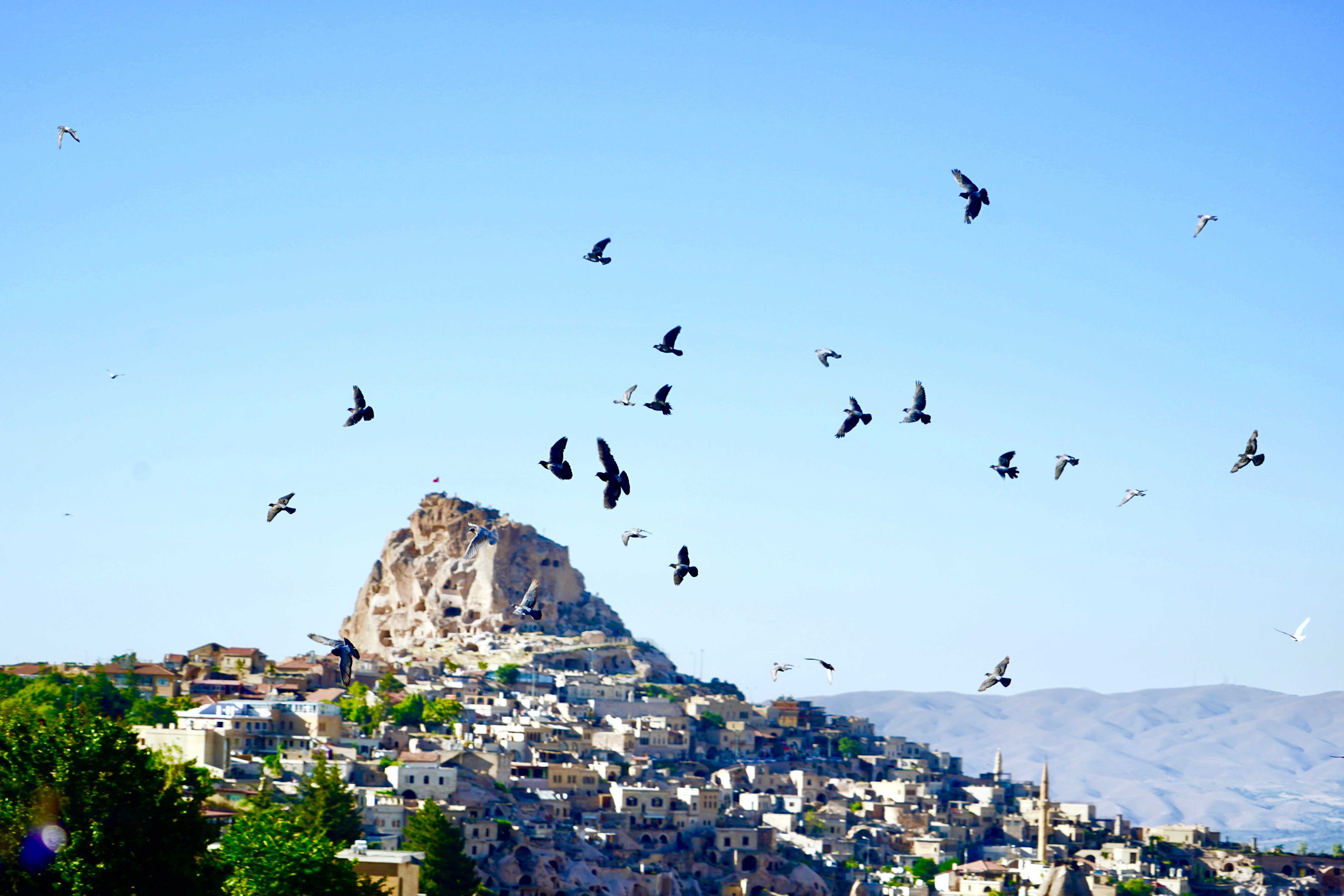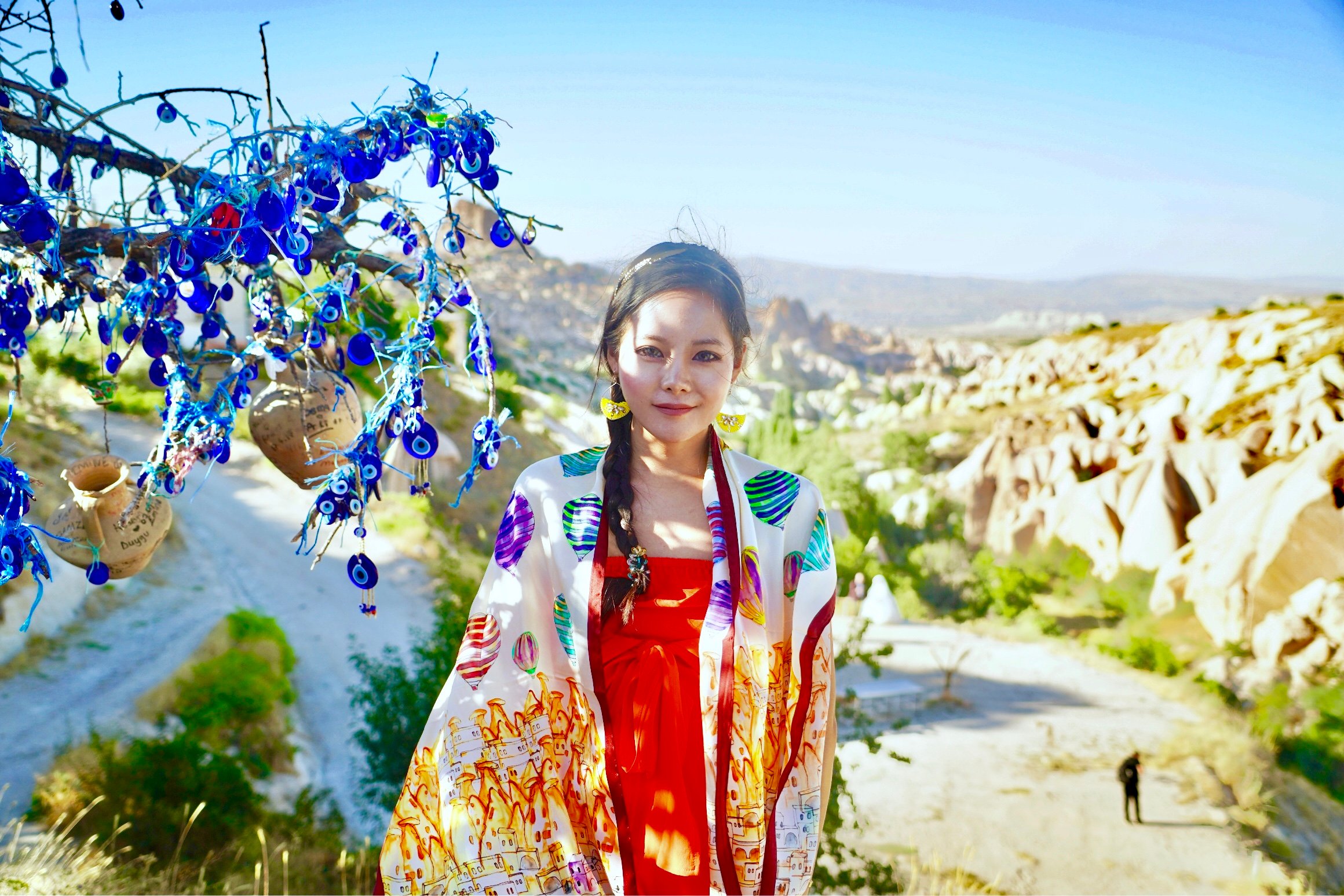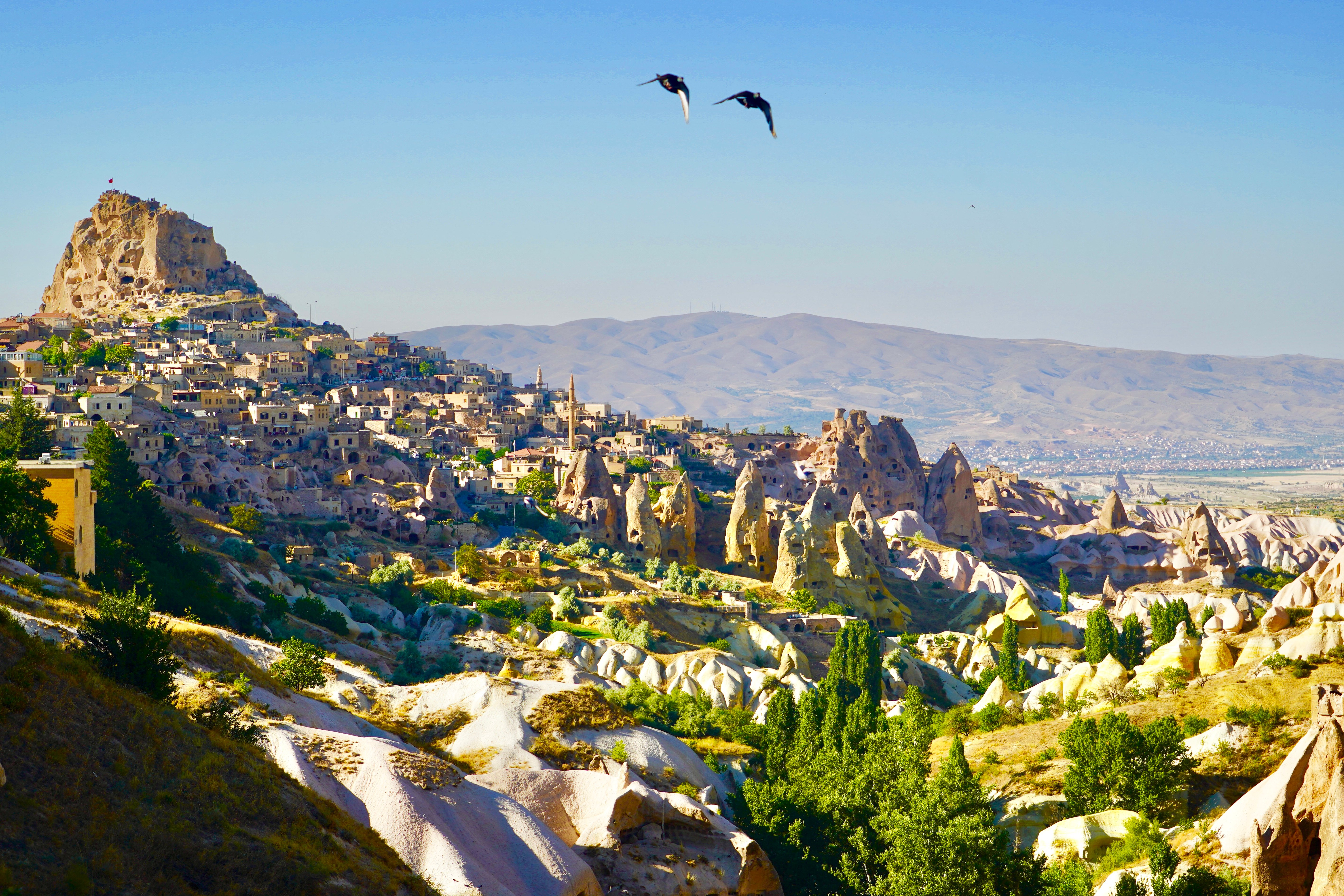 I hope you have enjoyed this trip to visit three of the most impressive attractions in the Cappadocia Region of Turkey. Normally I'd try to pick a favourite part of my day here, but alas I think today I will fail at this task. I loved the Ihlara Valley for its greenery, peace and crystal clear river where I relaxed and ate beautiful food. I was fascinated by the history of Derinkuyu Underground City and could imagine those halls once filled with life and interesting goings on. Almost opposite ends of the scale, one open air and crafted by nature, and one underground and crafted by man. They were both my favourites today.
If you have enjoyed my post today, please leave comment below, I love reading them all and reply to all of my friends here on Steemit when I can! Please also leave a quick vote and give me a follow if you'd like to see more posts like this!
---
在旅行中,我总是喜欢去寻找那一片与自己熟悉的城市迥然不同的风景,卡帕多西亚的风景就这样静悄悄的住进了我心里,对我来说这里的视角是那么特别,仿佛穿越宇宙来到了另一个动人魂魄的星球上。
通往伊甸园Ihlara峡谷
关注我的朋友会对格雷梅2条著名的旅游线路有印象,在之前的文章我有介绍过,畅游格雷梅最经典的红线和绿线,在无法取舍之间我最后决定两条线路都不能放过,于是在绿线当中,就经历了这一段让人难忘的峡谷里的远足。夏季的土耳其总是毫不吝啬的展现出自己最"阳光"的一面,火辣辣到刺痛皮肤的阳光打在身上,时间长了,就有些迫不及待想要找一片绿荫好乘凉。Ihlara峡谷就不早不晚刚刚好在这个时刻出现了,它是卡帕多西亚地区一处非常著名的自然景观,在这里我观赏到了土耳其最壮丽的峡谷风貌,在峡谷之下,布满了在这片土地上,历史文化最悠久的民居,据说这里也是基督徒的第一个定居点,我不禁感慨前人真的太会选地方了,这里简直就是光秃秃石林洞穴之间的世外桃源,放眼望去,那连绵不断随着峡谷形状悠长延伸的绿荫,估计是整个卡帕多西亚在夏季最凉爽的风水宝地了吧。Ihlara峡谷长14公里,深大约是100米,从Ihlara村庄一直通向了Selime修道院。
Ihlara峡谷仿佛是上帝留给卡帕多西亚的礼物,又仿佛是荒漠之中的绿洲,而它形成的过程就像是自然界带给人间的惊喜,原本平坦的地表,裂开一道大缝,下面看到的不是卡帕多西亚特产那光秃秃的石林,而是充满了绿色植物和生命力的新世界,绿树葱葱,小河潺潺,我感慨这里应该是卡帕多西亚唯一一个地球上常见地貌的存在了。徒步在充满生机的绿色峡谷之中,阵阵清风拂面而来,凉爽极了。我一直觉得逃离火辣阳光的最好方式,就是一头扎进郁郁葱葱的Ihlara峡谷。通往谷底其实有4种不同的方式,最方便的两种分别为坐车向谷底前行,或者沿着300级台阶以最快的方式,投入自然的怀抱。当然渴望吹大自然冷空调的我选择了第二种,缓缓走入峡谷之中,沿路的景色十分震撼,峡谷里布满茂密的树木灌木,还有定居在此的小动物们和鸟儿欢迎我的到来,让我想起了《爱丽丝梦游奇境》里面的仙境。建造台阶的工人巧用当地的灌木来助建扶手,让整体的环境很好的融合在了一起。Ihlara峡谷曾经是8万当地居民的家,在这里我探寻到许多生活气息和人们日常活动的痕迹,这里干净的饮用水最完美的证明了,Ihlara峡谷曾是多少人心中的自然天堂。
听着山谷的声音,慢慢前行,沿着河边有5000余处石洞遗迹,还有105个洞窟教堂,在岩壁上开凿而出的教堂让人惊艳,当地人称其为 "天空之谷",这里也是拜占庭时期僧侣们最喜欢隐修的圣地之一,因此也留下了许多彩绘的石窟壁画。可惜大部分石窟历经岁月侵蚀以及地质原因而坍塌,走进幸存下来的教堂,还可以欣赏到耶稣的壁画。梅尔轮兹河中惊喜的发现一座座小茅草屋建在河床中央,简直就是峡谷里的水上度假村,人们兴奋的脱掉鞋踩进清凉的河水当中嬉戏玩耍,黄色褐色的小鸭子是人们在河水里最友好的玩伴,多么美好的休闲乐园。我也慢慢坐下来在河中的小青石上,用脚轻轻拨开一层层清澈透亮的河水,身体伴着微风晃来晃去,闭上眼体验与自然的零距离接触,一股清凉涌上心头,让我瞬间忘掉疲惫,心旷神怡准备继续上路。
峡谷河边享受户外野餐
在这段漫长却十分享受的徒步行走时光之后,终于要前往吃午餐的路上了,路途中经过几个男孩和他们的驴,你们知道,每次旅行当中,我最喜欢拍摄小动物了,多么和谐的画面,多么有爱的玩伴。河边的餐厅里,老板热情的手捧着像画册一样的菜单,用心讲解着每一道菜的用料,来为客人点餐。食物的味道很美味,也完整的补充了我一上午徒步消耗掉的能量。
代林库尤地下城市
结束了舒心凉爽峡谷户外探险之旅,让我们开启下一段不可思议的奇妙旅程—代林库尤地下城市。你可会想到,曾几何时,有那么一个城市的居民,正在你的脚下日复一日的生活,在地下85米深的地方,打猎,烹饪,自给自足,过着在地面上一样的生活,深入地下城一层层黑洞的探险,是我永远难忘的经历。代林库尤地下城市是一个古老的多层地下城,是卡帕多西亚36个地下城之一。这个地下城空间大到足以容纳多达20000人及牲畜,地下城里面有一切完备的生活起居设施,包括了水井、马厩、储藏室、餐厅、酒窖、生活区域、学校甚至是人们祷告的教堂,同时也有着发达的地下交通,直接连接通向另一个地下城凯马克利地下城市。这座神秘的地下城市直到1965年被人发现,随后向游客开放。考古学家曾经估测,这座地下城兴建于约公元8世纪,由当地的基督徒修建而成,目的则是逃避抢劫和入侵,在一座城市遭到袭击之后,这里将是人们最好的藏身之处,同时也通过地下城隧道,人们可以到达没有被袭击的安宁城市,找到生命的希望,开始新的生活。
通过陆地上建筑的隐蔽入口,我沿着黑暗狭窄的通道缓缓走入地下城,这里一共有18层地下城市,对于游客只开放到第8层。让我非常震惊的是这座地下城竟然有着600条不同的通道,通向人们正常生活所需要的一切,当然让我绝对想象不到的是,古人如何做到把新鲜的空气带到地下85米的隧道当中,这让我从心底里佩服建造工人们超群的智慧和超前的认知。生活最重要的日常用水同样被很好的解决,在地下城里不仅有水井,还有储水池,甚至是巧妙的链接灯,以及投射阳光的地方。当这些古人智慧的结晶出现在眼前的时候,让我吃惊震撼到哑口无言。我就这样全程带着一脸超级惊讶的表情走完了又长又深的地下城隧道,而地下85米处的寒冷体感温度也是让我记忆犹新的。
Esentepe观景台纵观全景
在夕阳西下的时刻,怎么能放过饱览卡帕多西亚山峦风光的好时刻。Esentepe观景台就给我们提供了最完美的位置,眼下格雷梅还有鸽子谷的美景,是绝对值得让我最努力睁大眼睛,来看尽所有美景的地方,那一刻时间仿佛静止,所有人安静下来,想要尽可能的欣赏眼前如同梦境般的画面。每一个方向和角度都带给你全新的视野体验。
我想你一定被鸽子谷这个名字吸引了,多么俏皮可爱的名字,顾名思义,当然是因为镶嵌在山谷中的彩色鸽舍而得名。其实鸽子在卡帕多西亚地区人们的生活中有着重要的意义,而这深远的影响一下子就是几千年的历史,所以这里的鸽子应该算是居住在卡帕多西亚最久的老村民了,哈哈。幸运的我们看见了夕阳西下成群的鸽子一齐飞向远方的壮观场景,全景视野下下大自然巧夺天工的神奇景观展露无遗。
今天在卡帕多西亚的奇妙之旅就要告一段落了,每一个景点都充满了自己独有的丰富个性,让人难忘,希望你们喜欢这里的绿色、和平还有朴实纯净的自然风光,接下来还有更多充满魅力的旅程在等着我们。
My video is at DLive