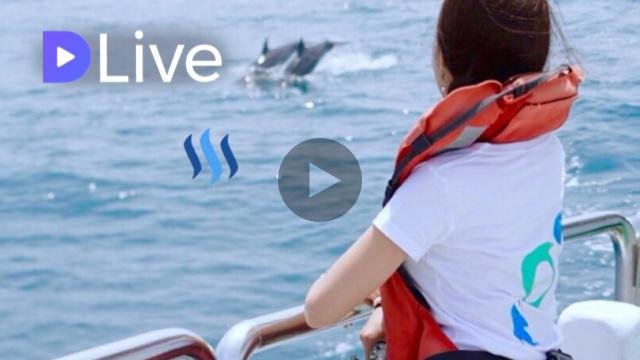 Dear Steemit Friends:
Today we're going to be exploring some of the coastal area of Hualien County, in Taiwan.
Thank you for joining me once again for another adventure! Today we're going to be exploring some of the coastal area of Hualien County, in Taiwan. Hualien County is the largest by land area of all of the counties of Taiwan and has a lot of mountains and coastline. It is located on the east side of the country and is famous for its beautiful mountains, many of which rise straight up from the blue ocean and beaches.
The region is very sparsely populated, with perhaps less than 350,000 people living here, probably because of the geography of the area with 87% of the county being mountains. Taiwan is renowned for experiencing frequent earthquakes, because it sits on a boundary between a number of different tectonic plates and the country is considered very geologically active because of this.
When I arrived in Hualien City there had been a massive earthquake just some weeks prior which I had heard quite a lot about. I expected to arrive and see a lot of earthquake damage to different buildings but I was amazed to find nearly no damage. The city experiences very frequent earthquakes, so they are very good at fixing the damage quickly and keeping buildings strengthened against the shocks. There was just one bridge that I saw that I was not able to go across because the supports had been weakened by the earthquake. I was very saddened to hear that during the large earthquake a hotel had collapsed and some visitors from the mainland had been killed. The people of Hualien City do a lot to keep the buildings strong against earthquakes but this was a particularly big one that made the news all of the world.
I didn't have much time to explore the city because I had arranged to go to my first visit in the area, Qixingtan Beach which is located near the township of Xincheng. I try and keep to my plans!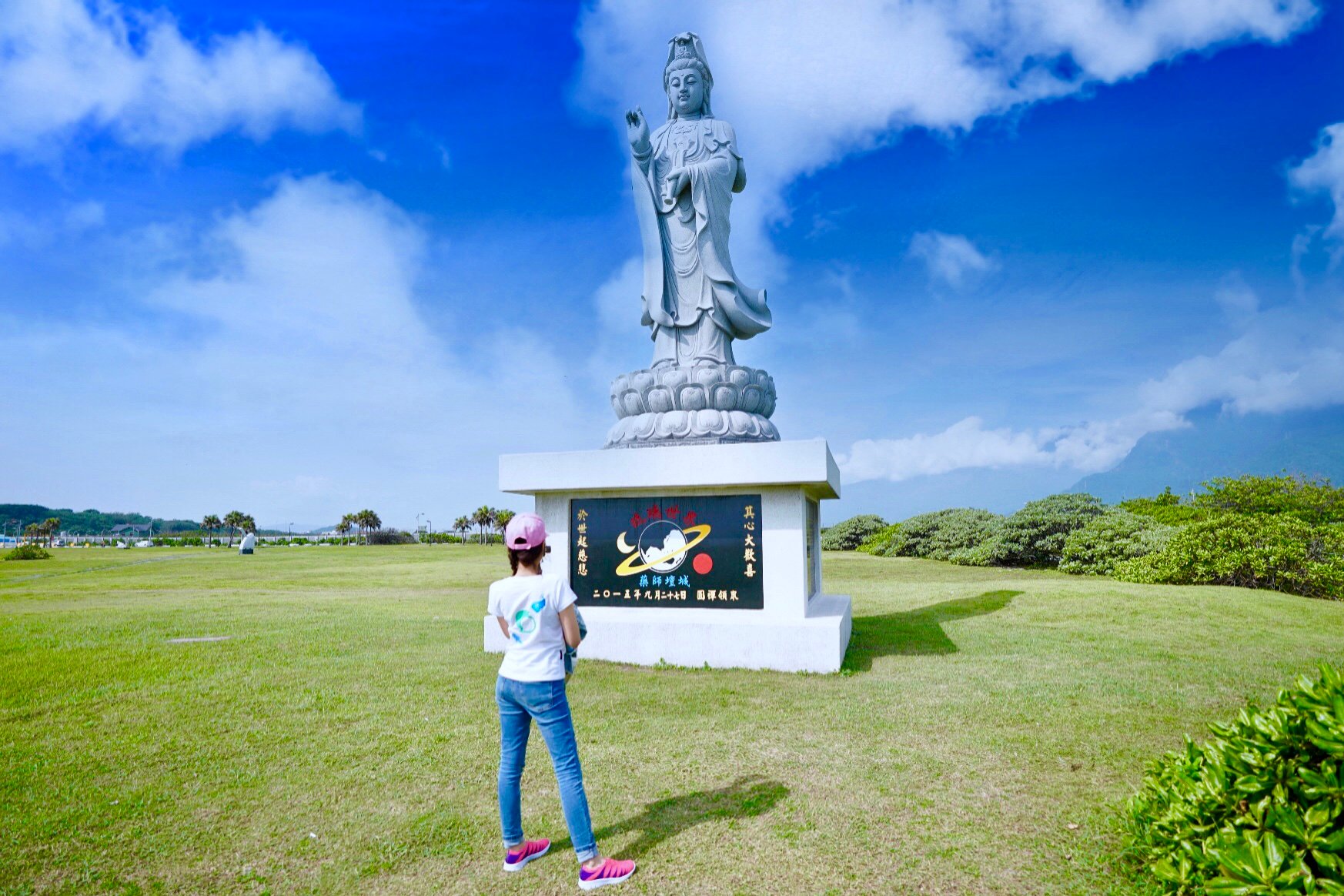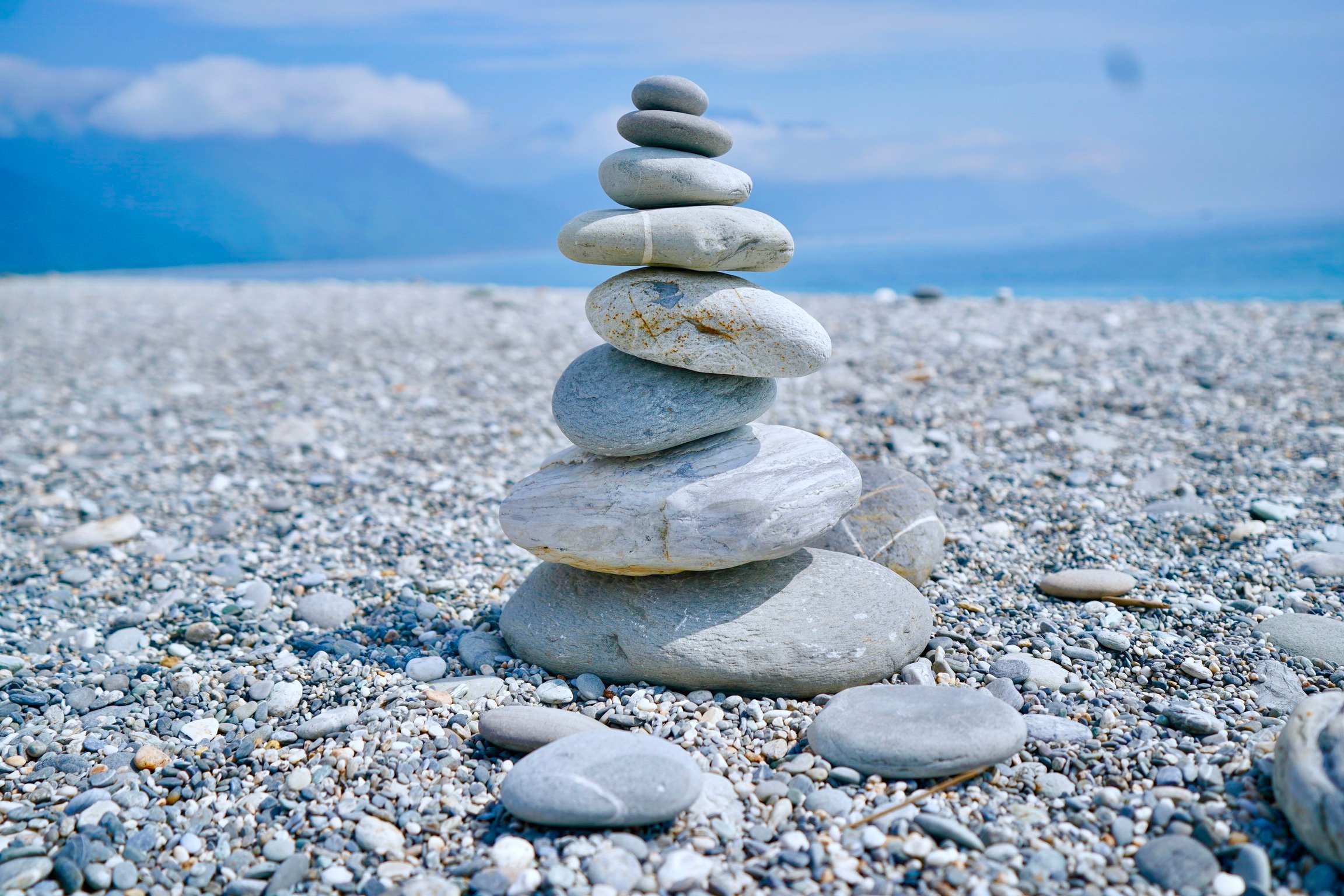 Qixingtan Beach is on the Pacific Ocean side of Taiwan, and the water as you can see was beautifully blue. This was not a sandy beach, but rather a pebble or rocky beach. With the large mountains of the Taiwan's coastline in this region, many rocks are eroded from the land which are then smoothed by the crashing of the ocean waves into these beautifully smooth stones. Though I wouldn't want to walk around on the beach in my bare feet, because it would be quite painful on the rocks and stones, I loved the aesthetic of these stones on the beach. They felt so smooth and I wondered how many thousands of years it would have taken to make each of these stones like they are now!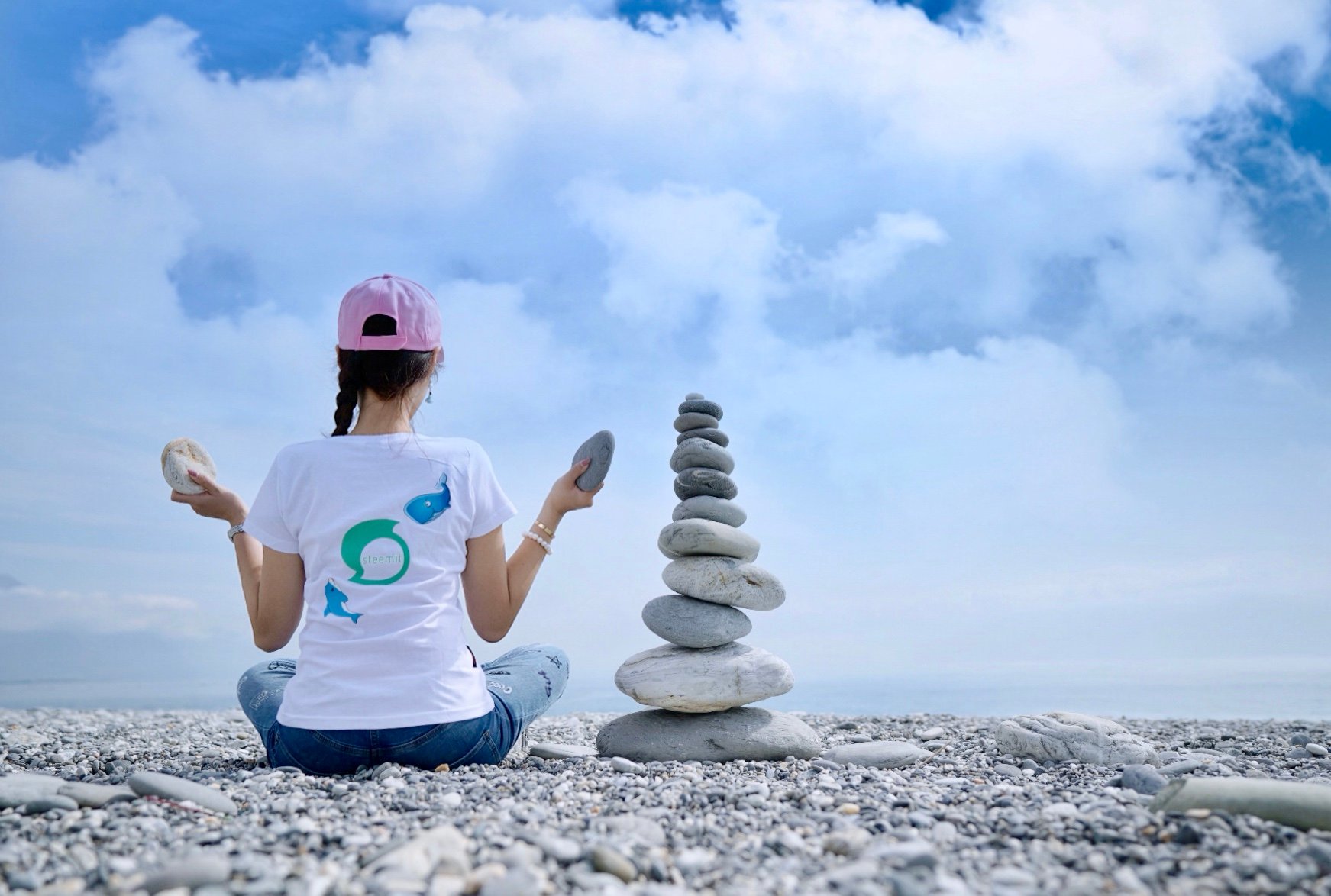 My best stone tower with my Steemit t-shirt!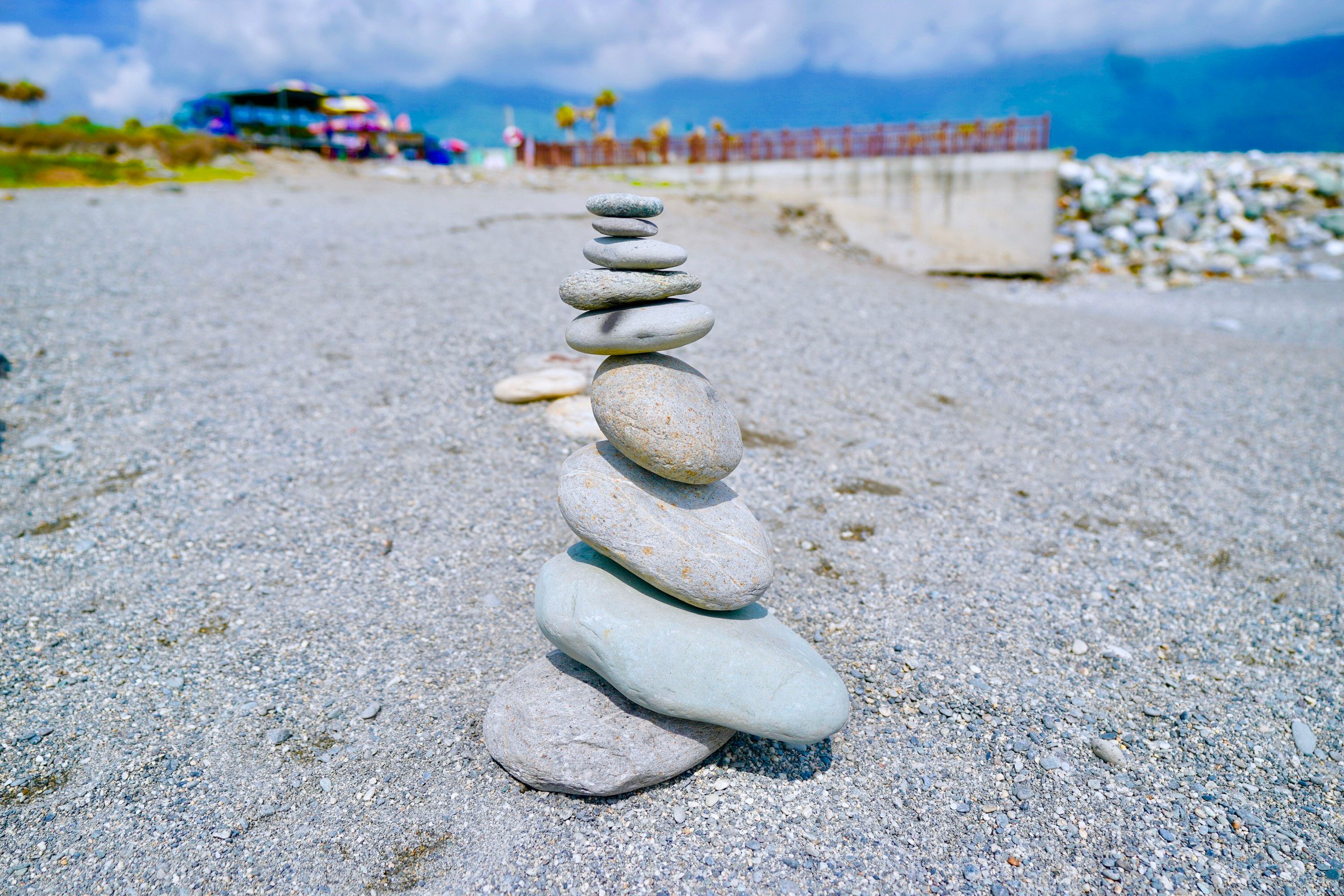 A sneak preview of the colourful coconut stand you'll join me at later (in the background)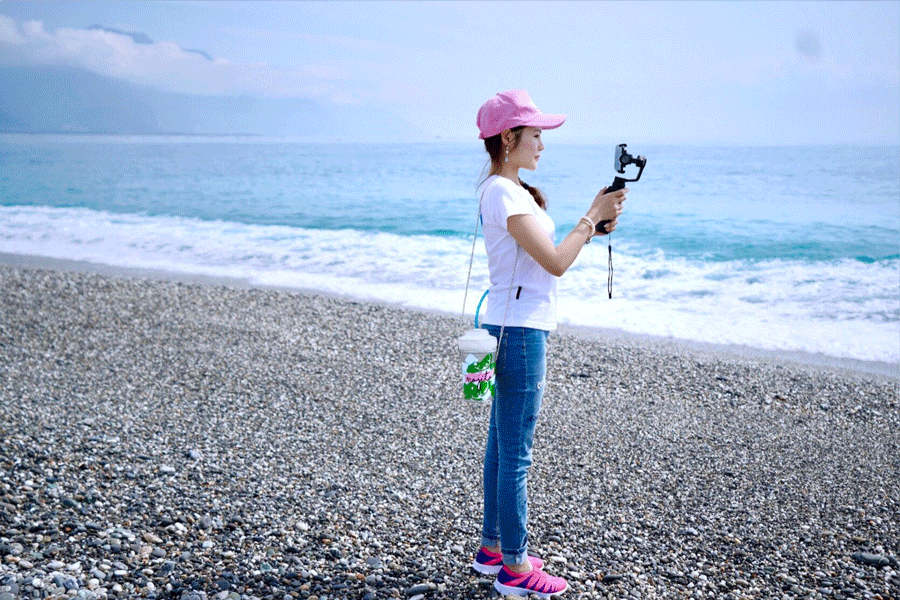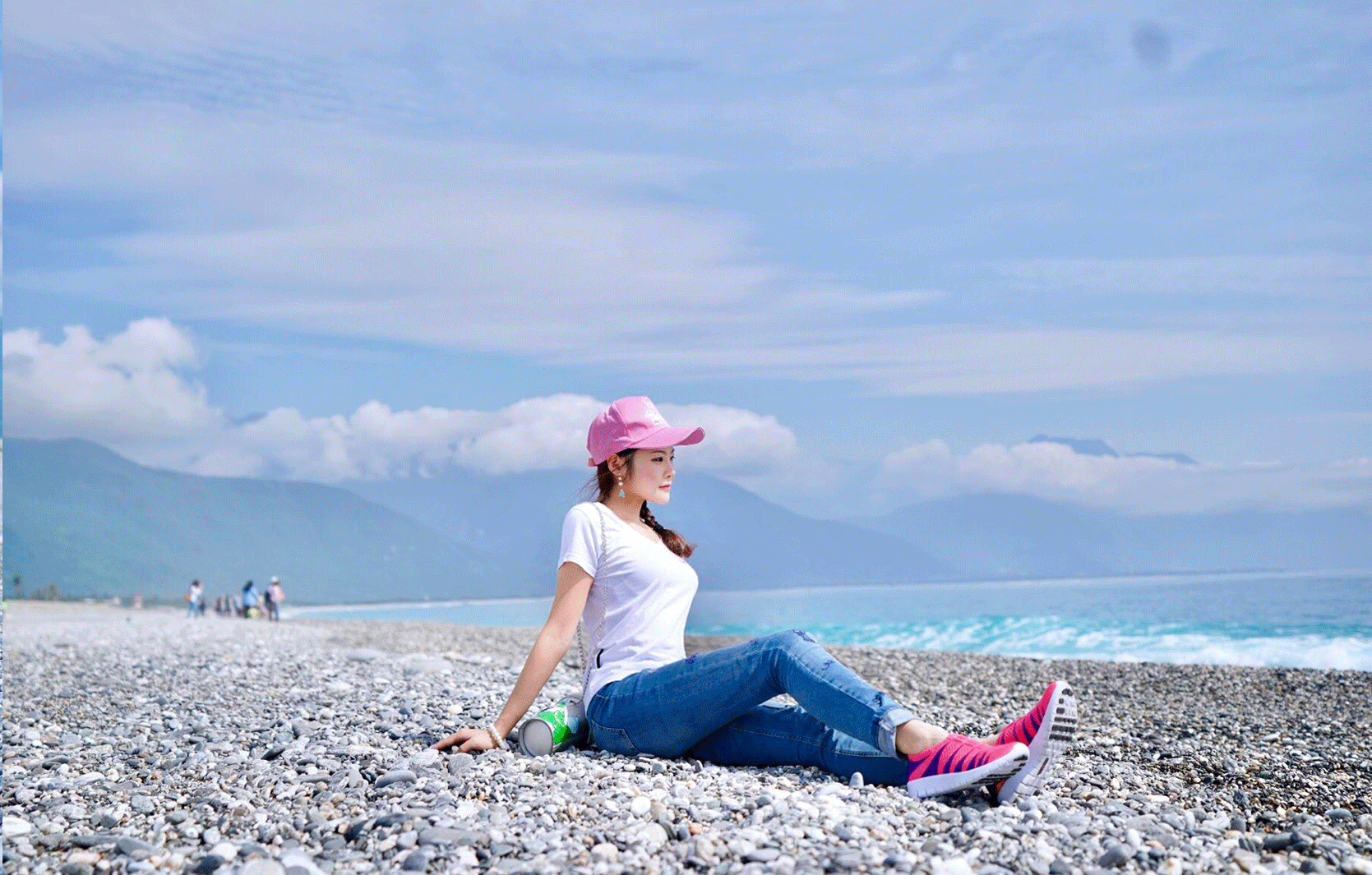 As you can see, the ocean is a beautiful blue, but the water was also quite rough. Because of the geology of the area, the seabed drops very deeply, very quickly. The same as the mountains that rise up quickly behind me, the bottom of the sea continues to drop down deeply too. Because of this the sea here can be quite rough. From this coast line the Pacific Ocean stretches for thousands of miles until you hit the Americas. Because of this, there is no big land mass to slow the weather or the waves so the coast line of Hualien gets weathered quite strongly by the elements.
I hope the water always stays as clear and beautiful as it is. In 2009 the officials of Hualien County abolished the Qixingtan Environmental Impact Statement which was protecting the area around the beach from large developments so now there are many big development projects around the beach. I'm glad that many more people are able to come and see its beauty but I hope that does not spoil the environment's beauty at the same time. Every year more and more visitors come to the beach and I hope thousands more to come can still visit to enjoy the nature.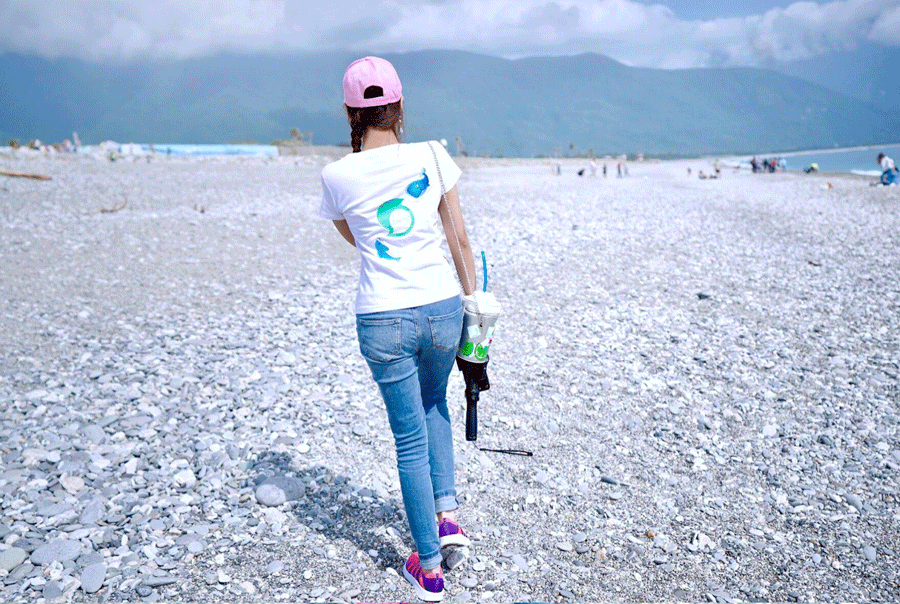 Getting some refreshing coconut juice!
---
I don't think there's much better to quench your thirst than fresh coconut, especially by the sea on a hot day
By this time I had worked up quite a thirst for myself and wanted to get a quick drink. I'd been quite fascinated by the beautiful surroundings so hadn't really looked much as what there was to offer around the beach to get refreshments. Almost as soon as I turned from the stunning Pacific Ocean, I was delighted to see this colourful van selling fresh coconuts! I don't think there's much better to quench your thirst than fresh coconut, especially by the sea on a hot day.
The vendor had so many coconuts, and I knew he probably would need them because this was a lovely idea to have coconut juice by the beach. I'm sure that many people would soon come and take all of his stock so I quickly purchased myself the biggest one I could see ready for a refreshing drink. Apparently, coconuts are not actually nuts they are in fact from a group of fruits called drupes. Examples of other drupes include olives, plums, cherries, apricots and mangoes! Unlike these other foods, the coconut is hollow and full of beautiful, healthy, fresh juice. This hollow space is the main way that coconuts spread their seeds - the coconut can float on the ocean because of it and travel thousands of miles to other islands and continents.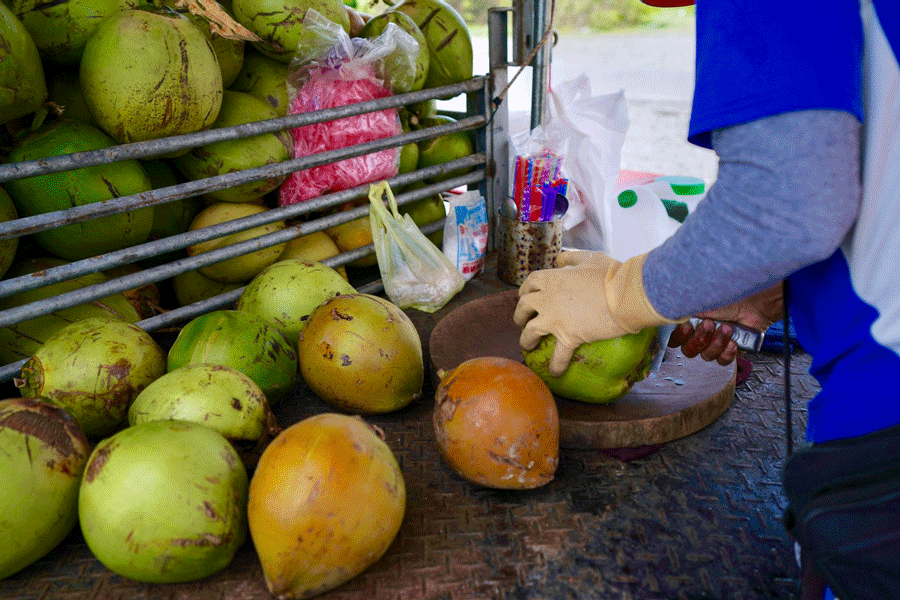 If you've never drunk coconut fresh, it's hard to explain how good it is. You can now buy many different coconut water drinks in packages, but it doesn't taste the same as when it's out of the coconut itself. First the flesh is cut off around the outside of the inner nut and then the very top of the nut is pierced so that you can get a straw in to reach the juice - or some people just lift the whole coconut to their mouth! They are portable little hydration carriers for anyone that needs to refresh themselves, as I really needed to!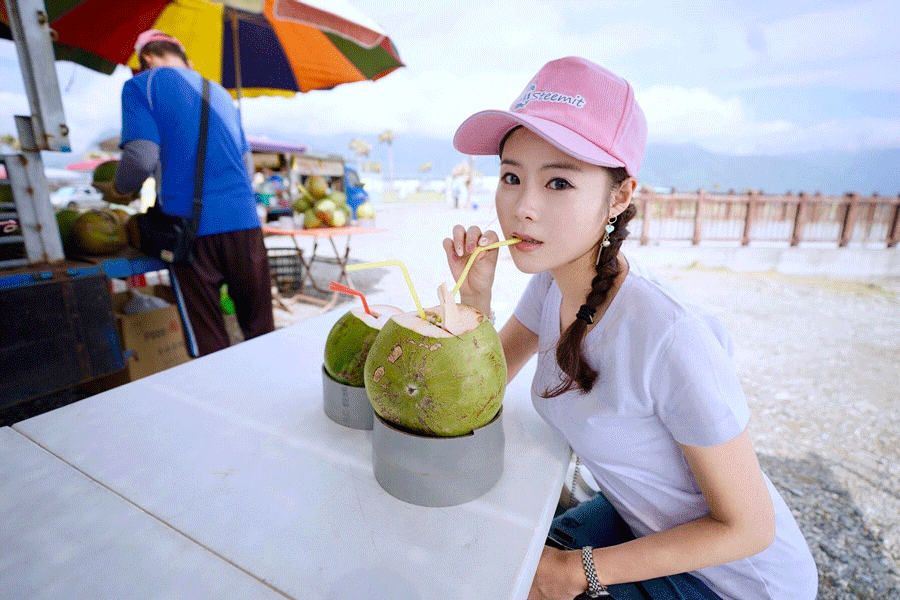 Refreshing!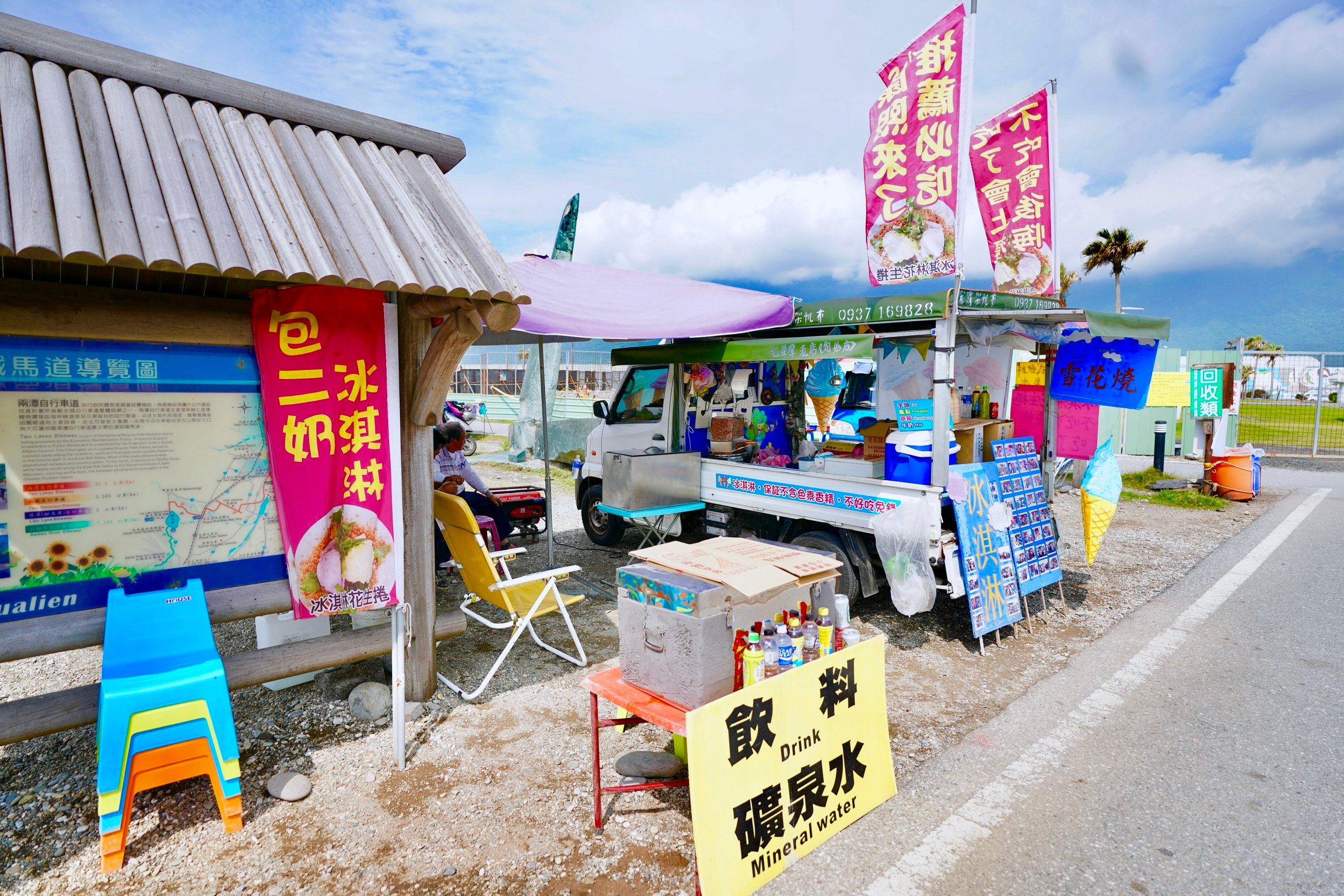 There were many other vans selling different foods and drinks to help you cool down on the hot day. Icecreams and different drinks were most popular but I was much happier with my fresh drink straight from nature.
Dolphin spotting near Hualien
---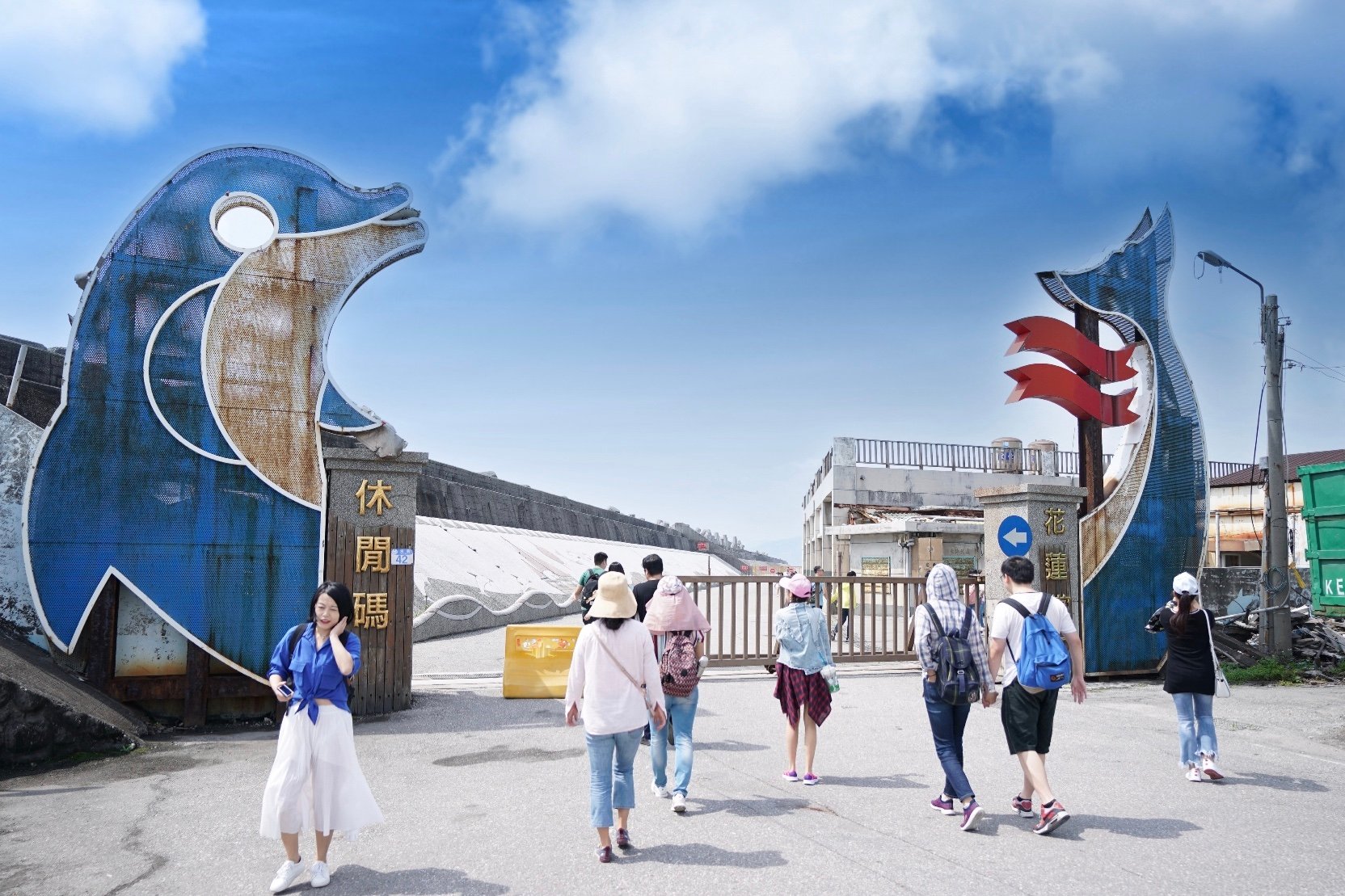 The Kuroshio Gulf Stream is a very large current of warm sea that brings millions of migratory fish with it. And where there are lots of fish there are lots of dolphins looking for tasty fish to eat!
After the beach I headed back to Hualien City for my next activity, dolphin spotting! Just off the east coast of Taiwan runs the Kuroshio Gulf Stream which is a very large current of warm sea that brings millions of migratory fish with it. And where there are lots of fish there are lots of dolphins looking for tasty fish to eat!
The dolphin watching tours here are very popular. There are many different companies offering this experience so it pays to look around a little bit to find one that looks nice and professional. You aren't guaranteed to see dolphins because obviously they are wild animals, but this is one of the most likely places in the world that you will see them. Most of the tour operators are in contact with each other so that if one finds dolphins, they can all come and help their tour experience the beauty of these animals. Because there's a lot of dolphin watching boats, that means you're very likely to see some!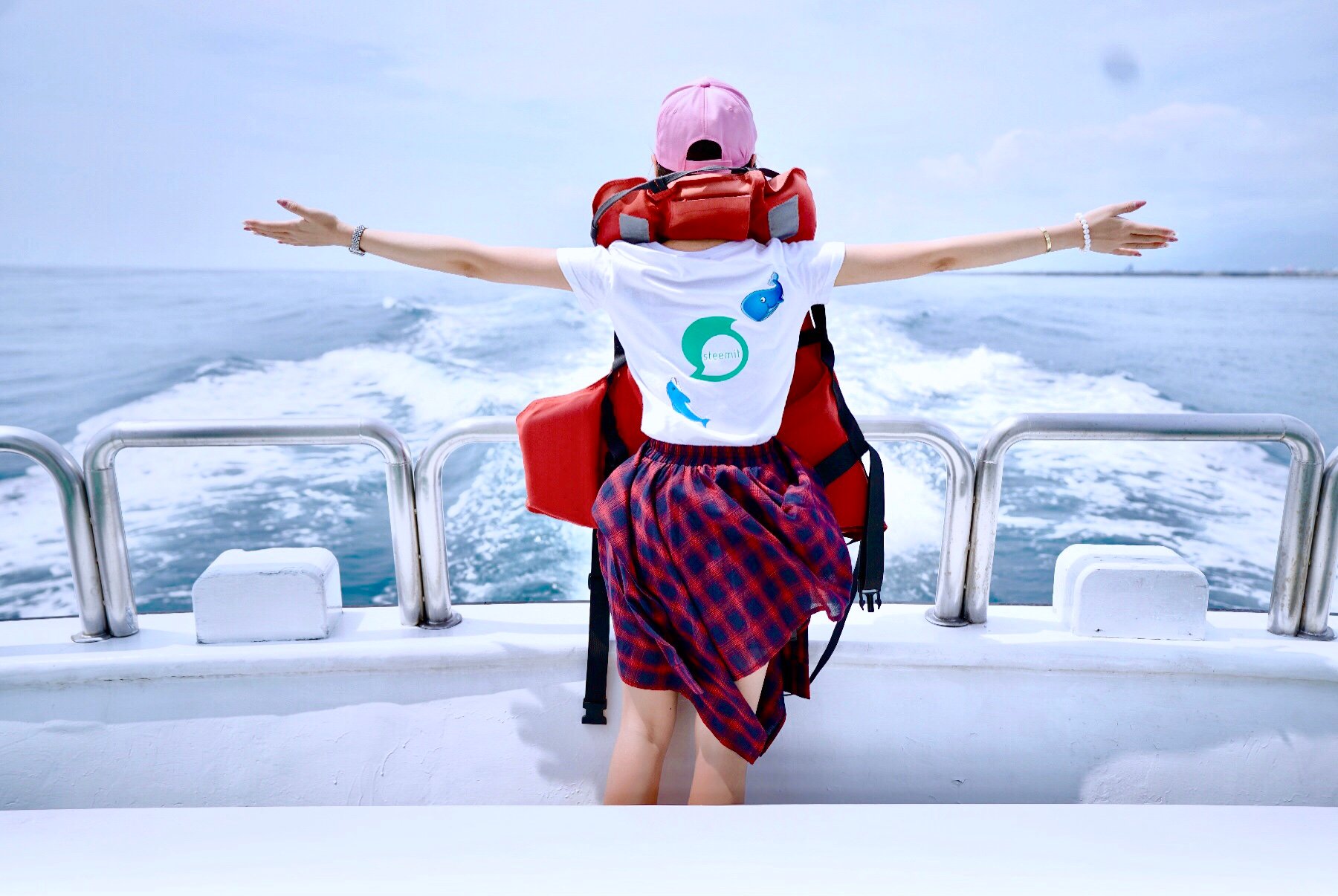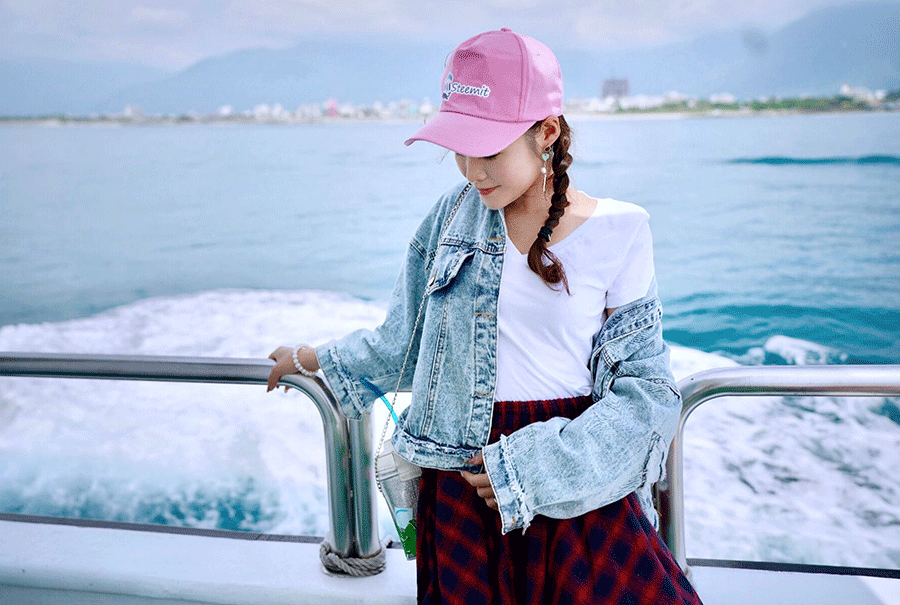 First, you must leave the harbour to get out into the ocean to where the dolphins feed. This takes around thirty minutes and it's also a lovely boat ride too. I enjoyed looking back out at the coast line of Hualien and also seeing the many different buildings of the city and harbour getting smaller and smaller behind me. Remember, even if it's a hot day the boat goes quite fast so it becomes very windy while you're standing on the outside of the boat. I almost lost my hat a couple of times, but I was glad I had it because the wind would have sent my hair flying all over my face!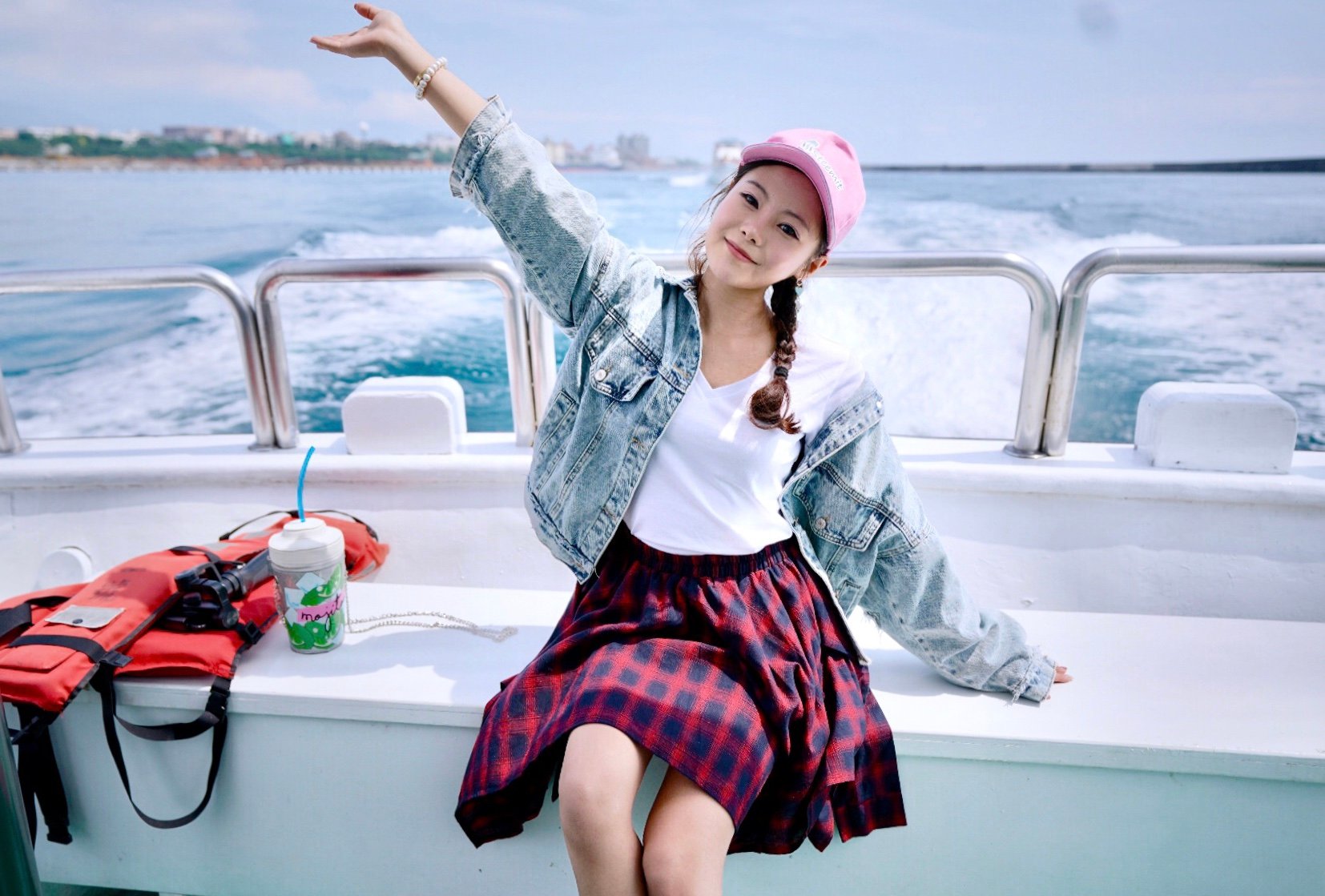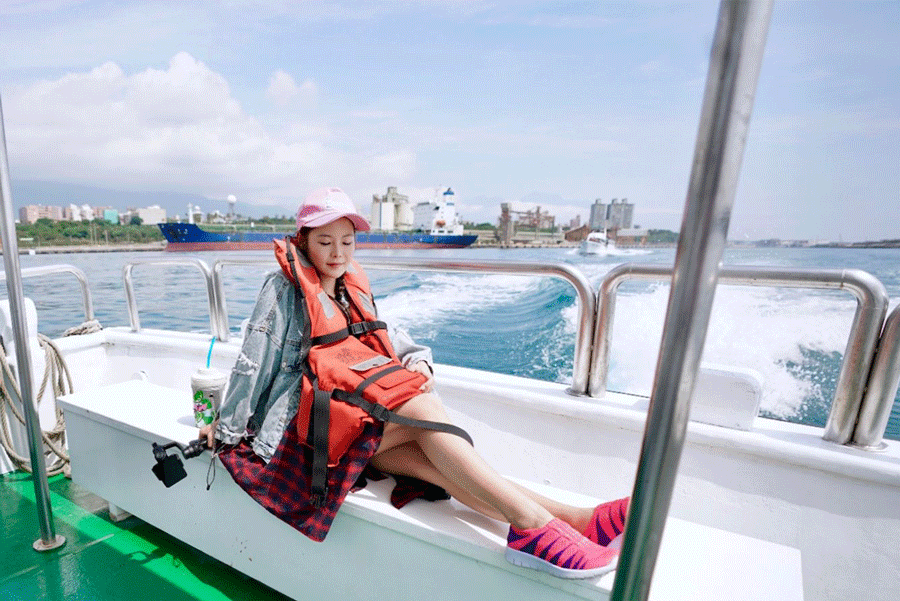 As we left the city behind you could see many other large ships docked and also out at sea. With its location on the coast Hualien City still makes a lot of its trade by sea. Though there are good road networks in land, the mountains of the region can make transportation a little slower. Because of that I noticed that the docks were busy with different big ships, all bringing in goods for the city and for the surrounding townships. Being the only city in the region, Hualien City is the centre for most of the shipping.
Because of the Kuroshio Gulf Stream fishing is also very important to the city and other townships with many people making a living from fishing around this coast of the country. When you looked out you could see many fishing boats as well as many dolphin and whale spotting boats. The Pacific Ocean here is much the centre of attention for many different livelihoods.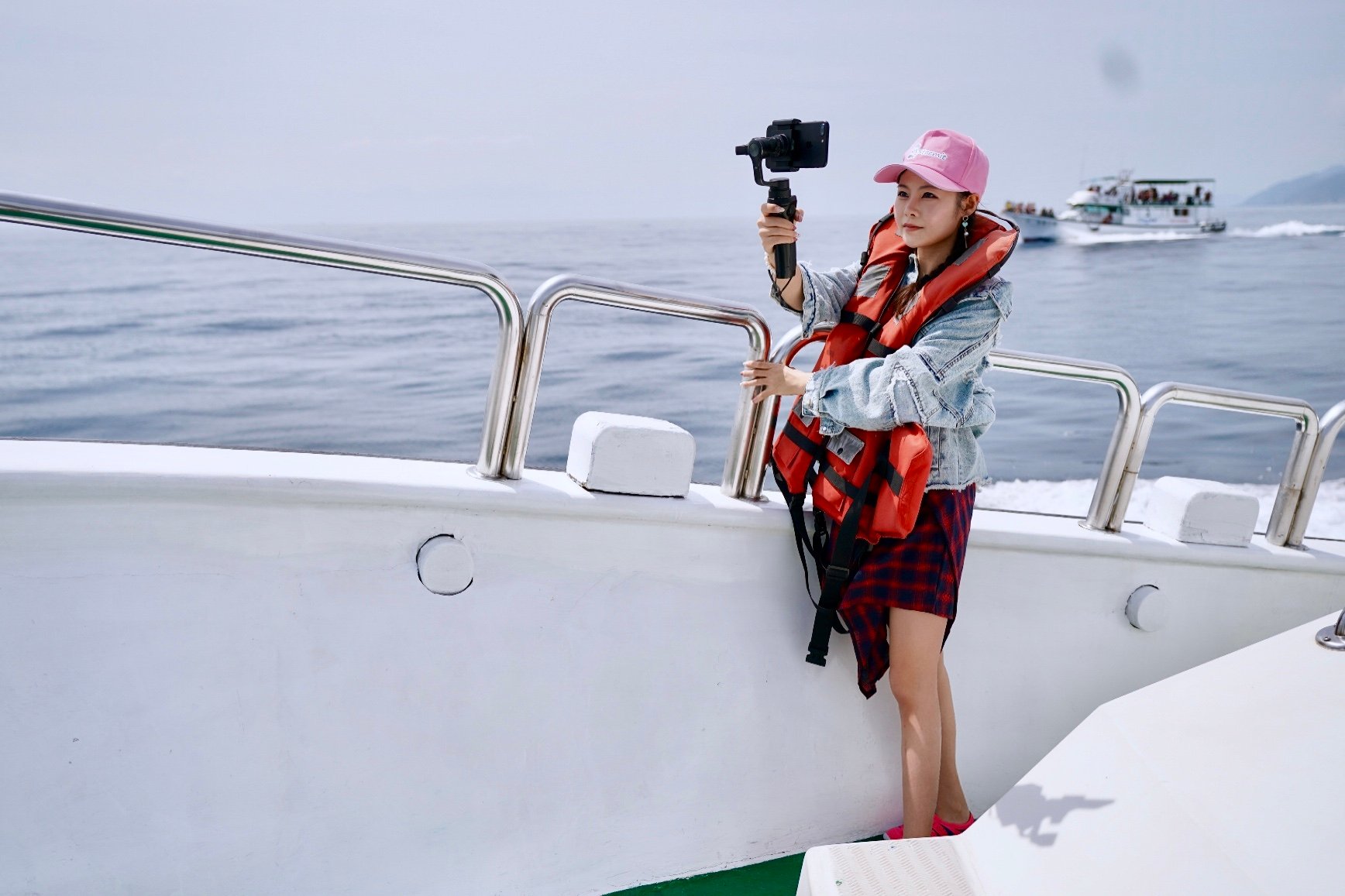 Trying to get a steady shot with the other dolphin watching boat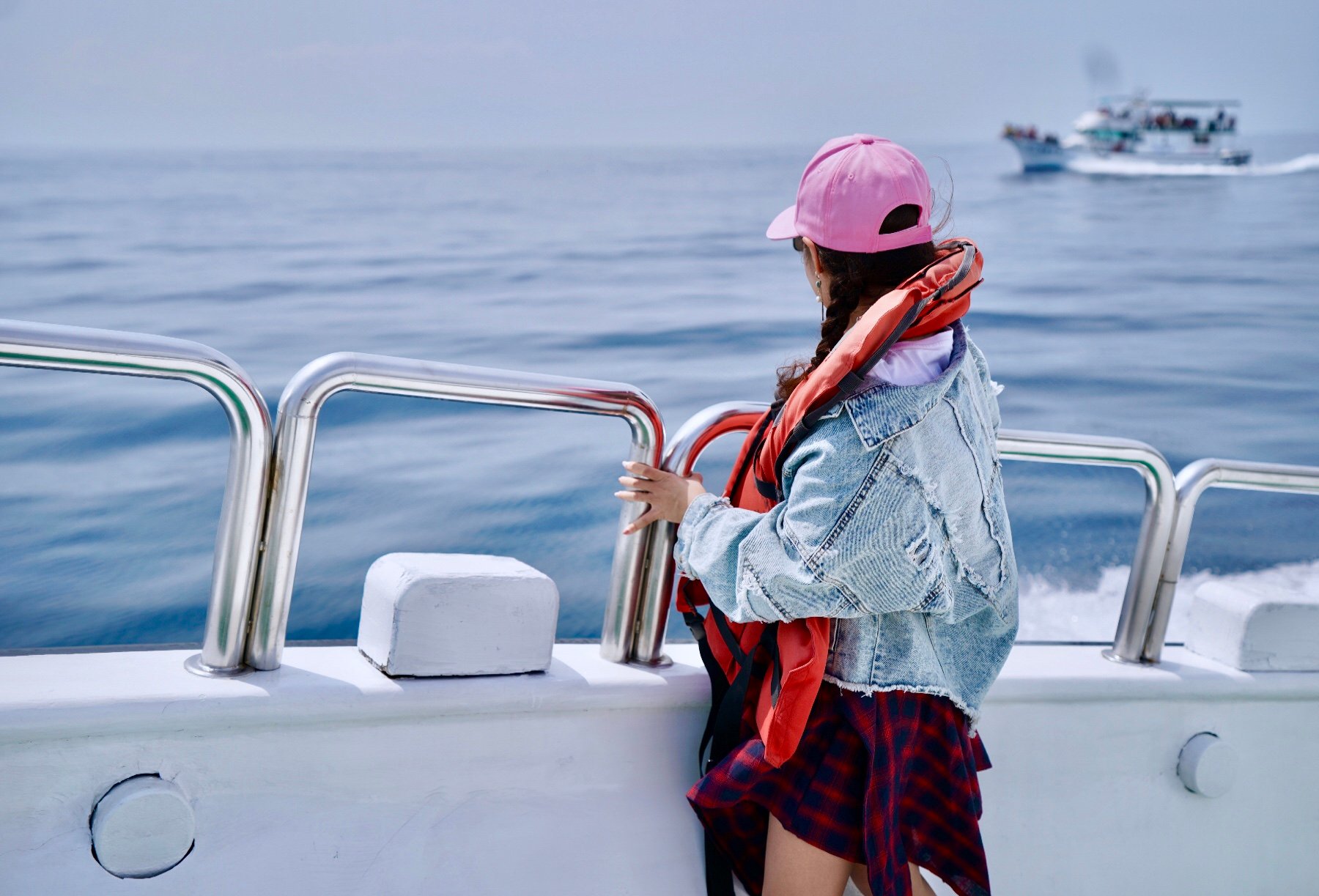 Looking out for dolphins!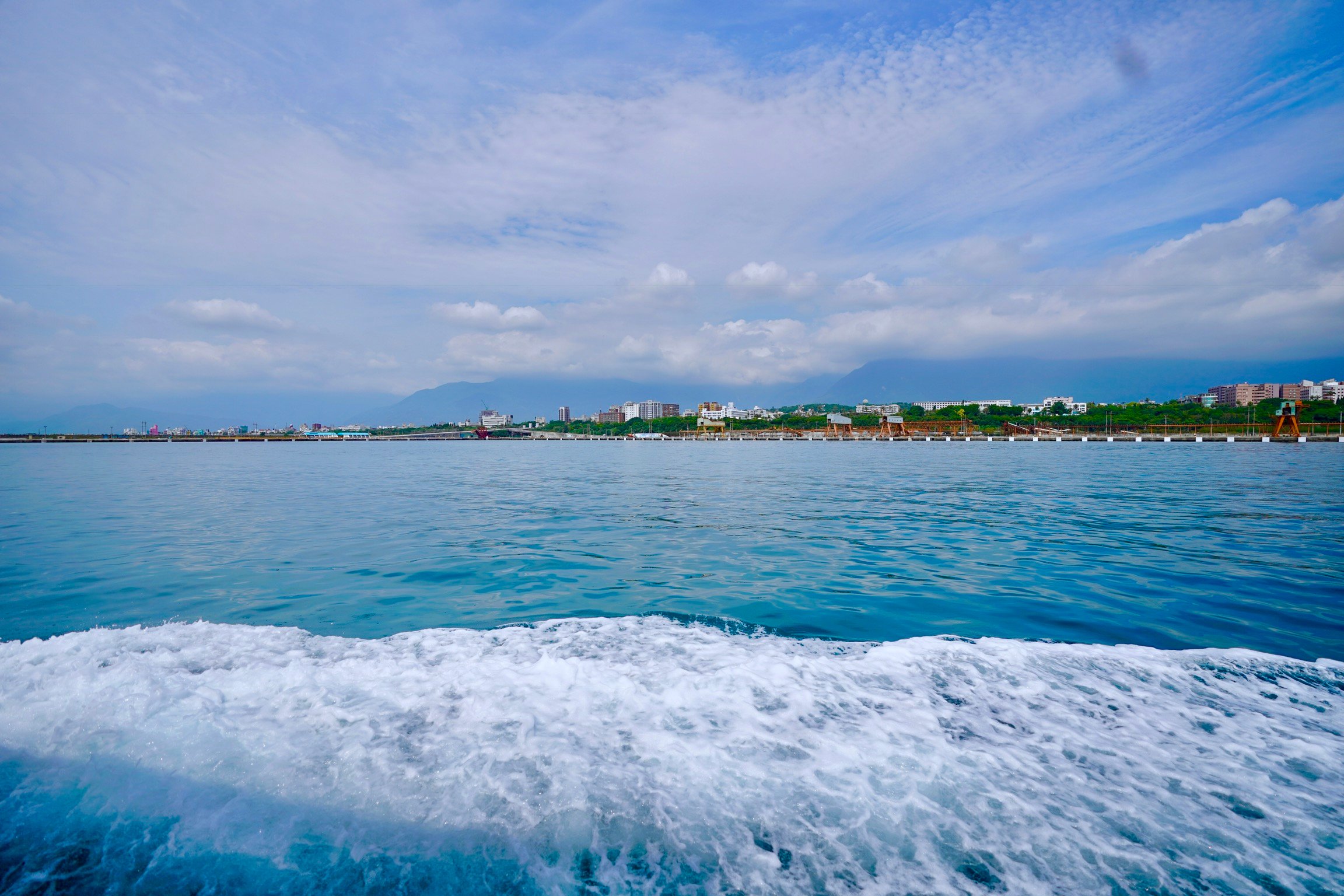 Green trees and plants mixed with the industry of the harbour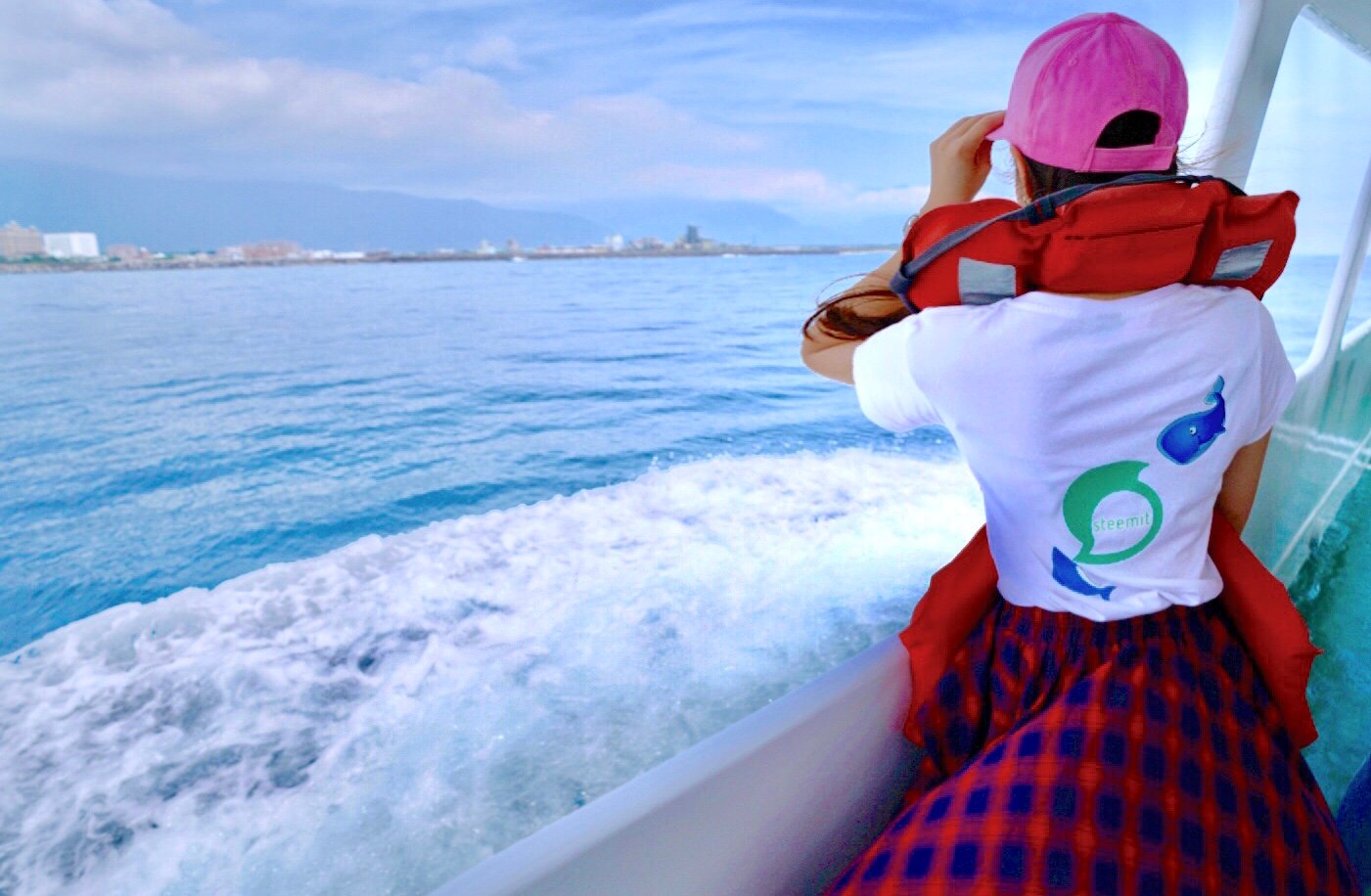 Goodbye Hualien City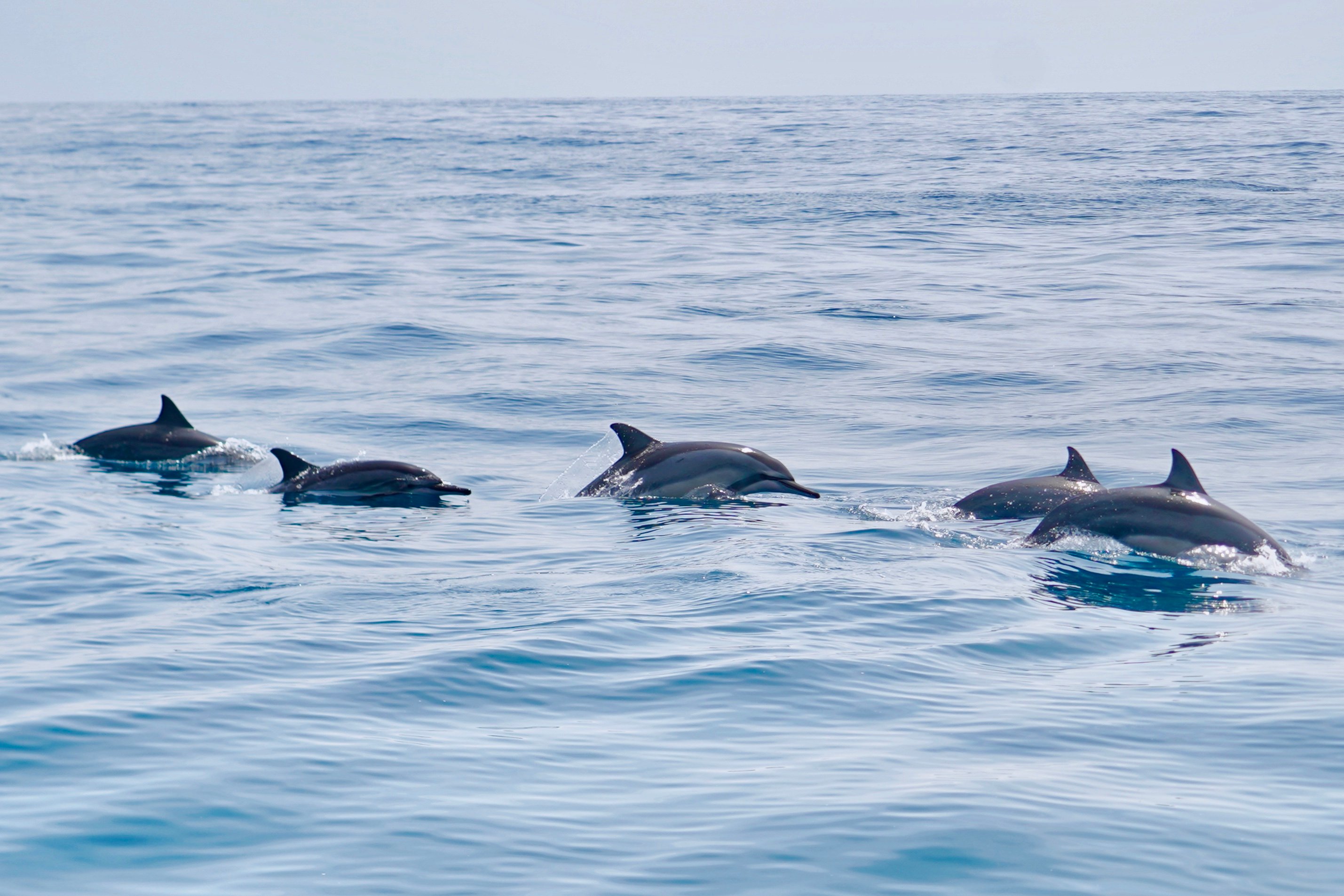 And then we found them! After around half an hour heading out into the ocean, our captain called for us all to look over to the front right of the boat. Of course I rushed to the side of the boat and after a few seconds I saw splashes on the horizon. Soon we had caught up with a huge pod of dolphins. There were probably around twenty or thirty of them all on the surface of the water just jumping and swimming together in their family.
There are over 40 different types of dolphin, but these were the famous Bottlenose dolphin. They are actually quite large, larger than I expected. Our captain told us that they are usually around three to four meters long on average and weight around 600 pounds or 270 kilos. They often live for more than 40 years and are very social animals, spending all of their time in a group known as a pod. They love the warm oceans and hunt together to catch mostly small fish. Many scientists believe that the dolphin is one of the most intelligent animals in the world and have the second largest ration between body size and brain size, after humans!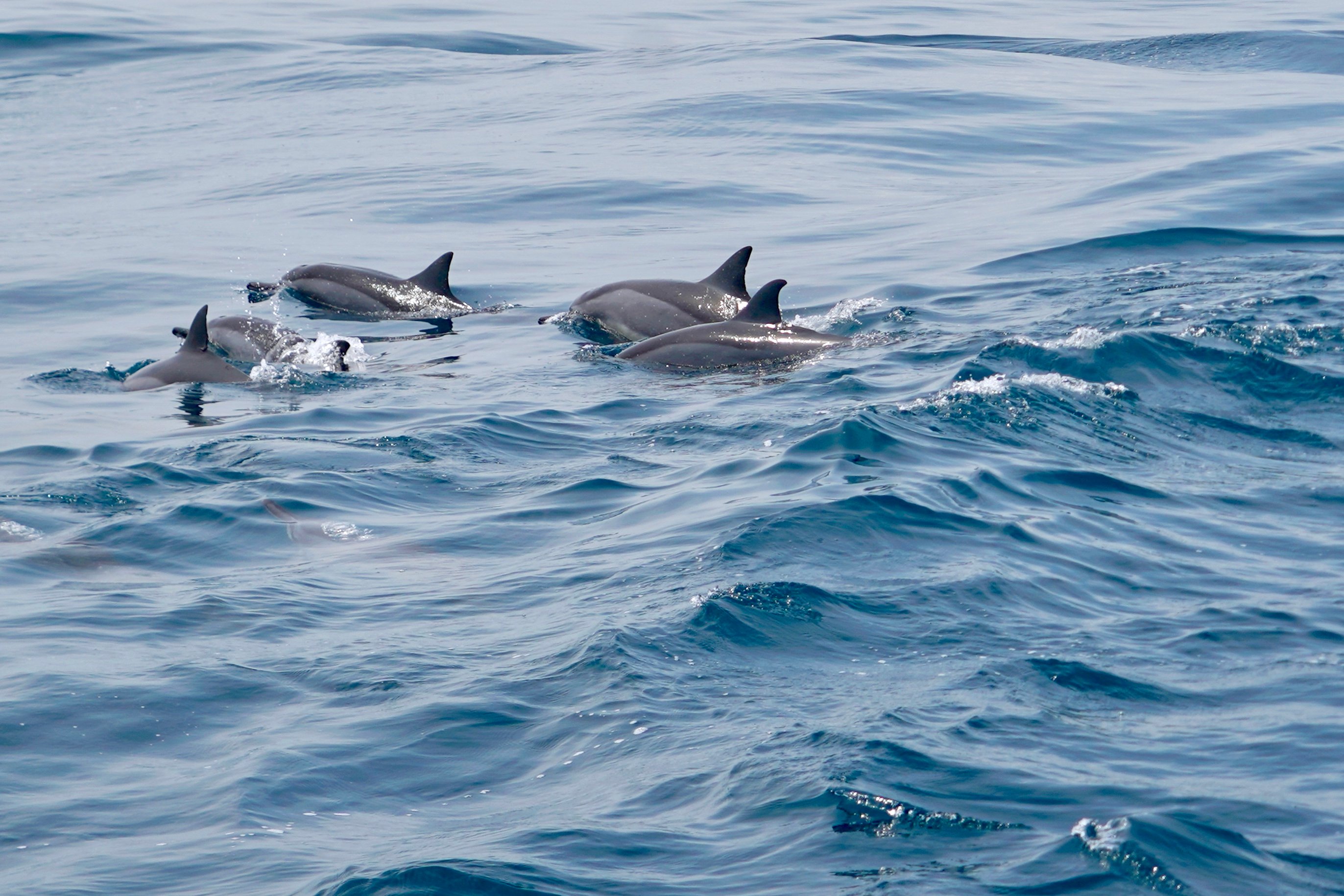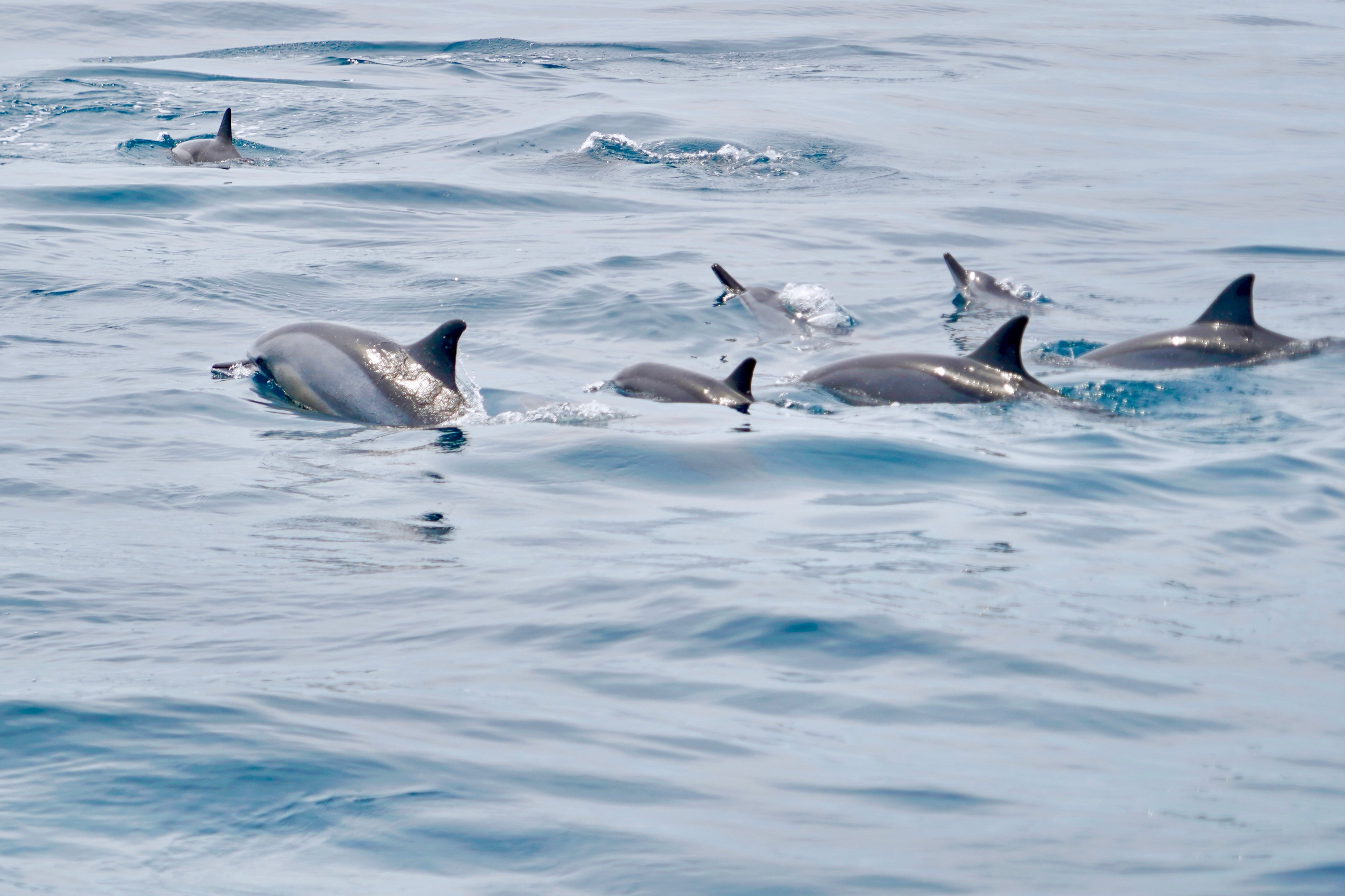 Dolphins are a mammal, which means they can't breathe underwater like fish but they can hold their breath for a very long time when they are diving for food. When they aren't swimming underwater trying to catch fish they'll swim on the top of the water so they can breathe out of their blowhole on the top of their head.
I was amazed at how fast they could move. Our captain told us that some dolphins can swim at 55 kilo meters per hour and jump up to six meters in the air. They are very communal and communicate with their own language under the water but apparently their jumping also serves as communication. Different jumps and flips mean different things so they can tell each other what they are feeling! I was just completely in love right from the very first sight of them.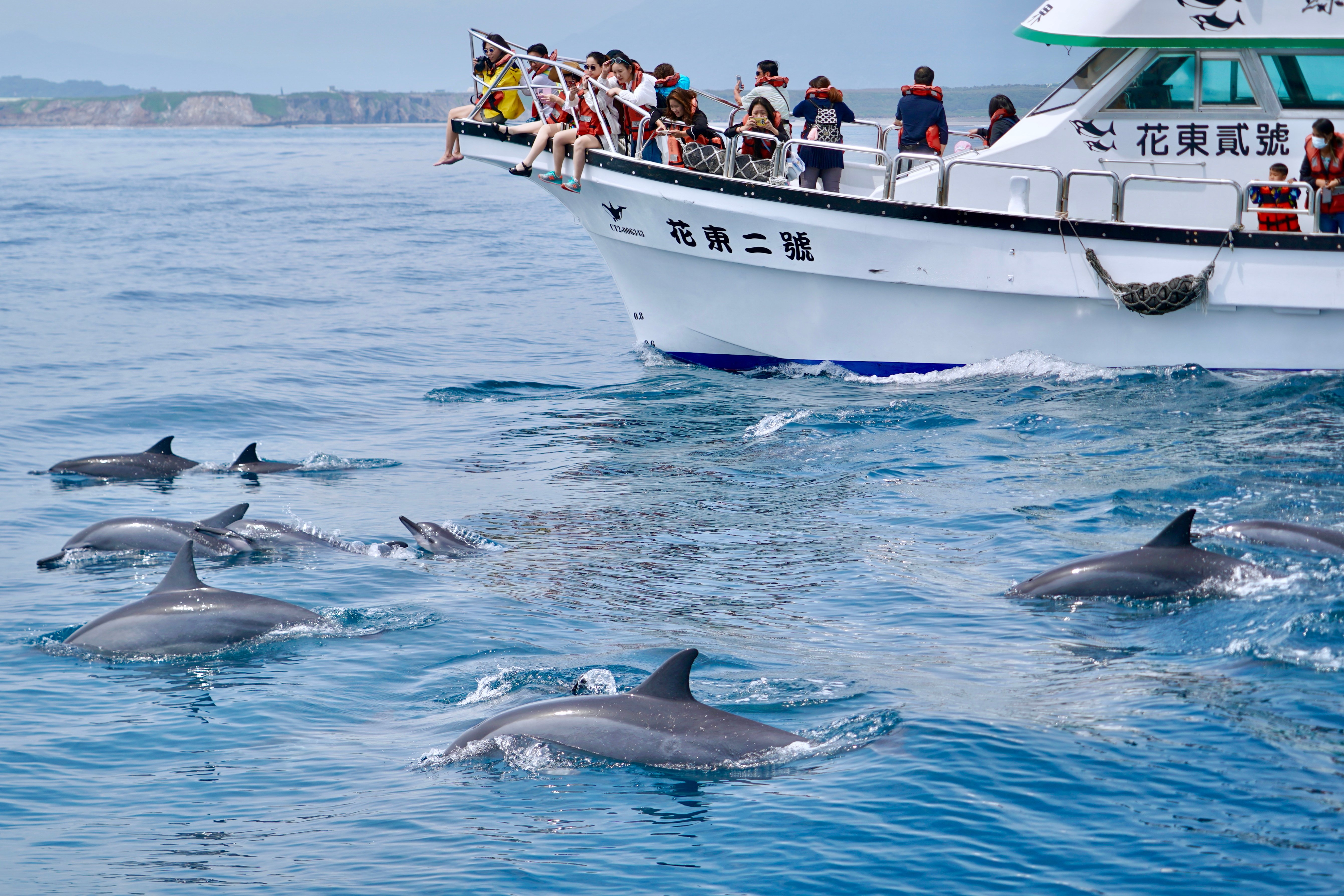 Once our boat had caught up with the pod of dolphins, they realised we were there and they slowed down so that we could drive alongside them. It felt like they were playing with us and wanted to show off! You can see how close I got. I thought that I could almost touch them.
With the boat now moving slowly and the dolphins just wanting to swim with us and play, I felt this was a very special moment. These beautiful dolphins knew we were here and it's like they wanted to spend time with me so I could admire them and take photos. Perhaps they were showing off a little bit for the cameras? I like to imagine they wait around for the boats to come each day so they can play with us humans and show off how beautiful they are in the water.
Even looking back at these photos I feel a little overwhelmed by how lovely these animals are. I think I will let the rest of my photos and videos do the talking because I can't match their beauty.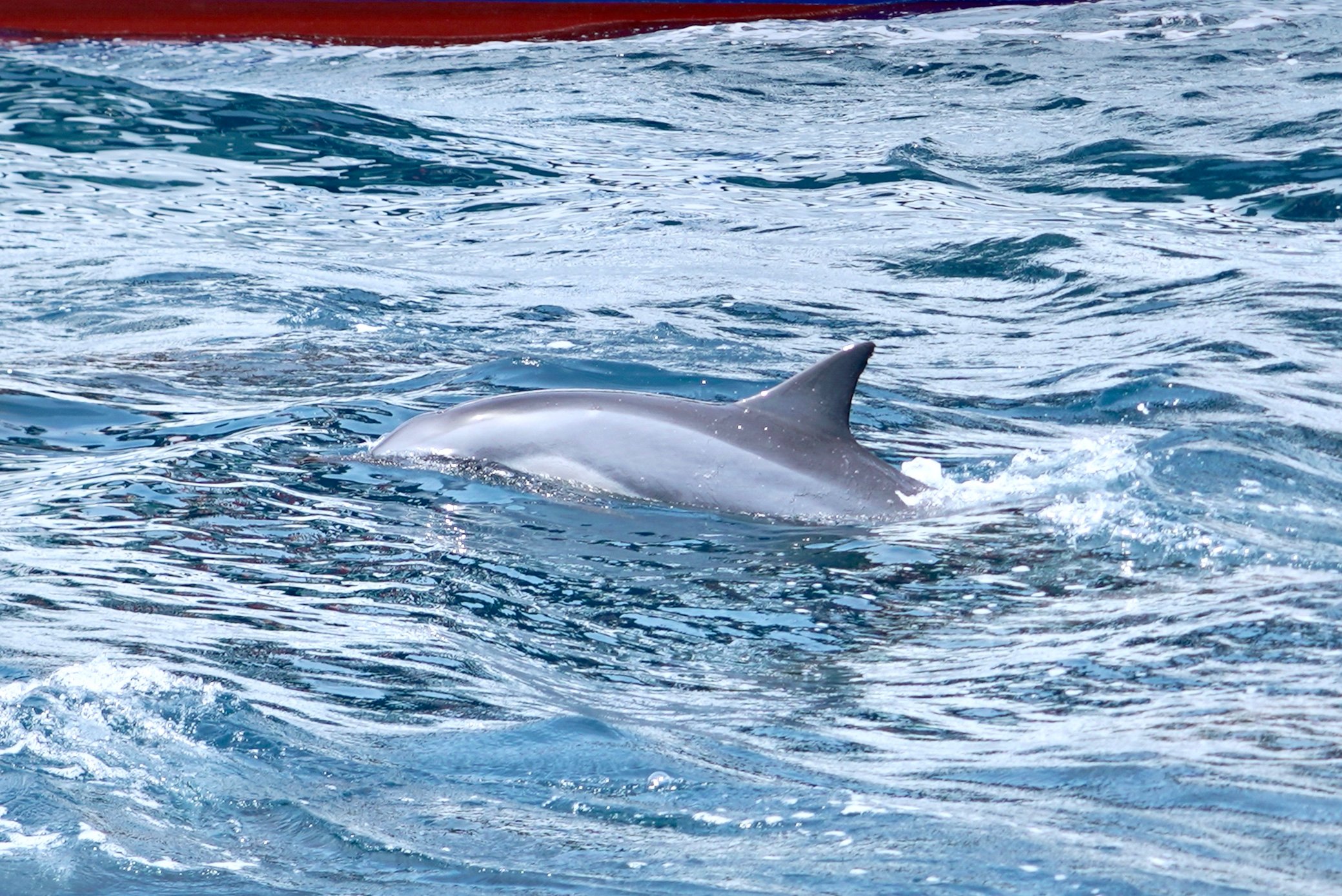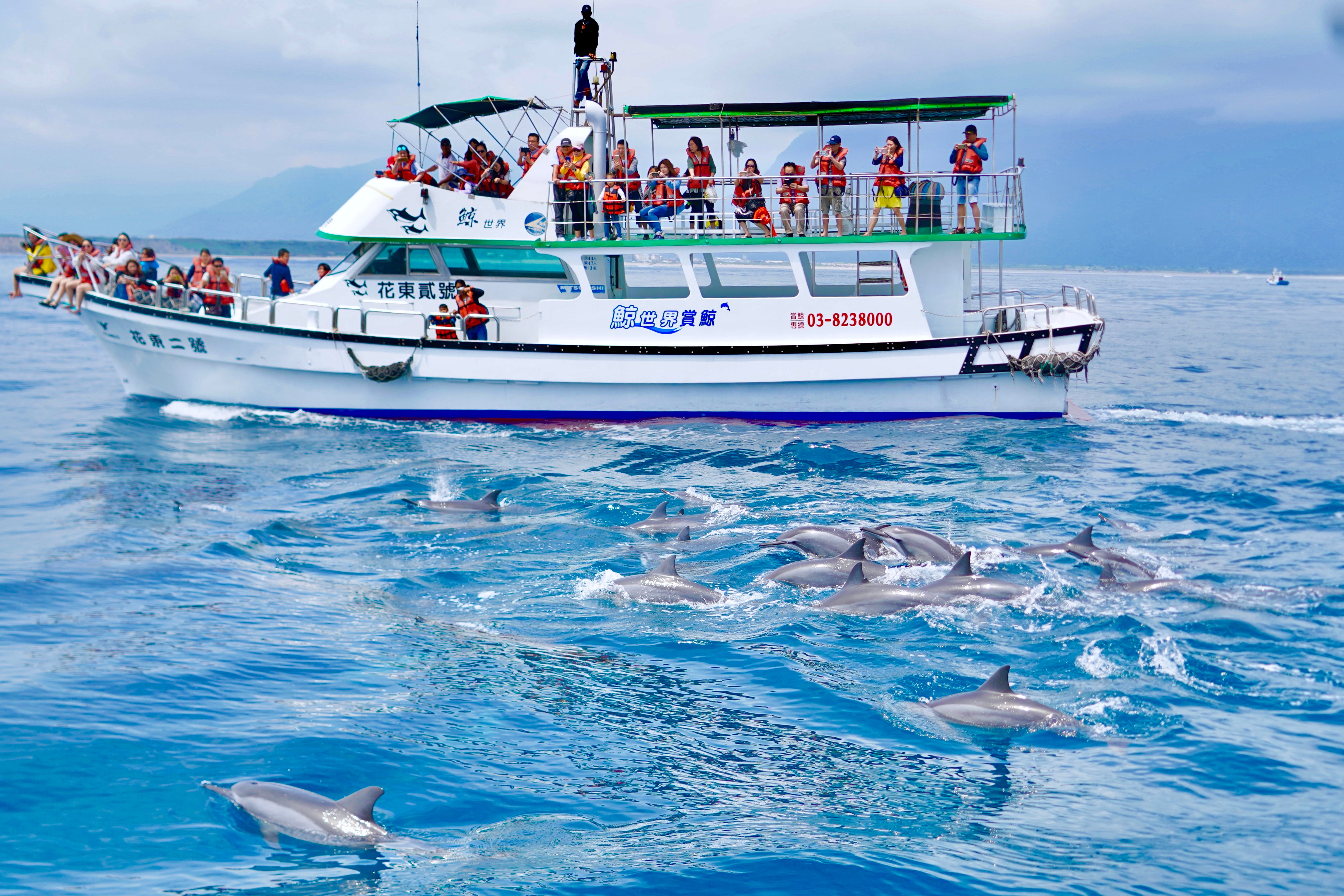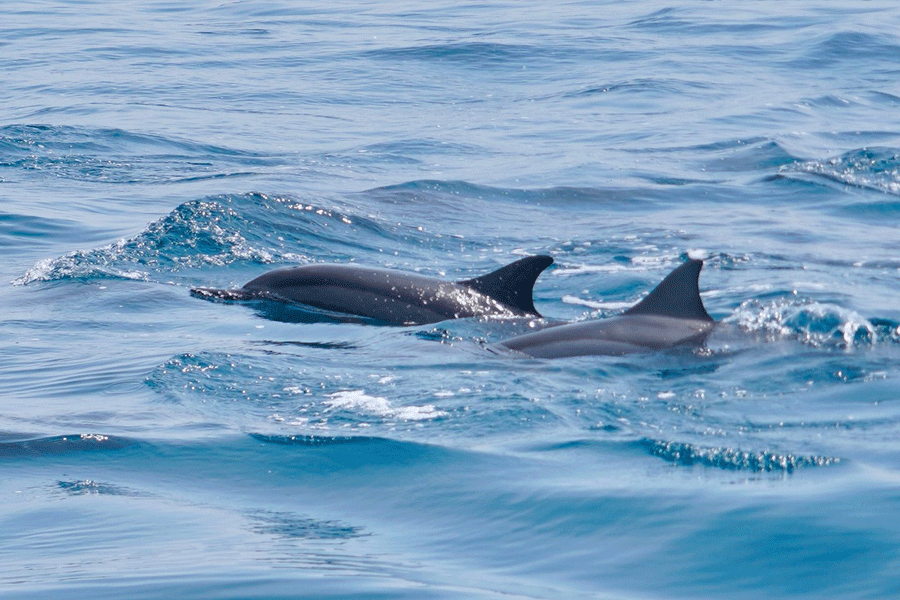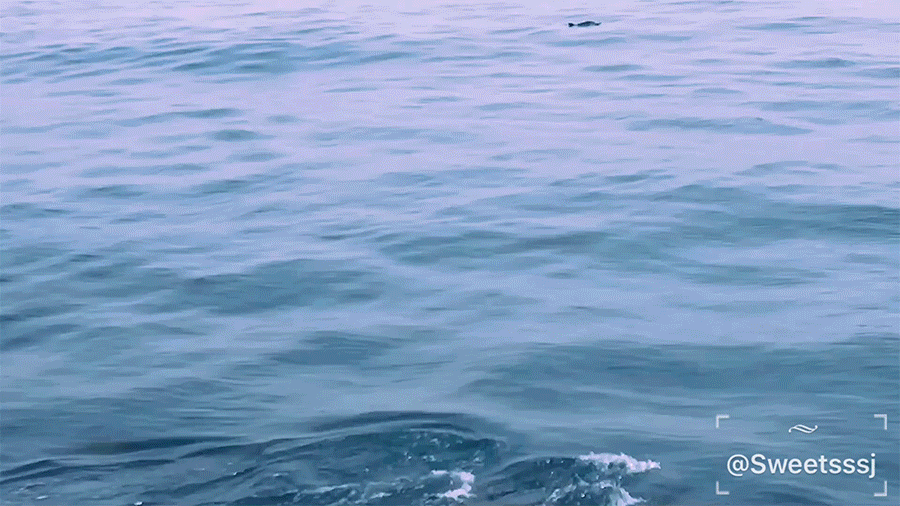 Traditional Beef Noodles
---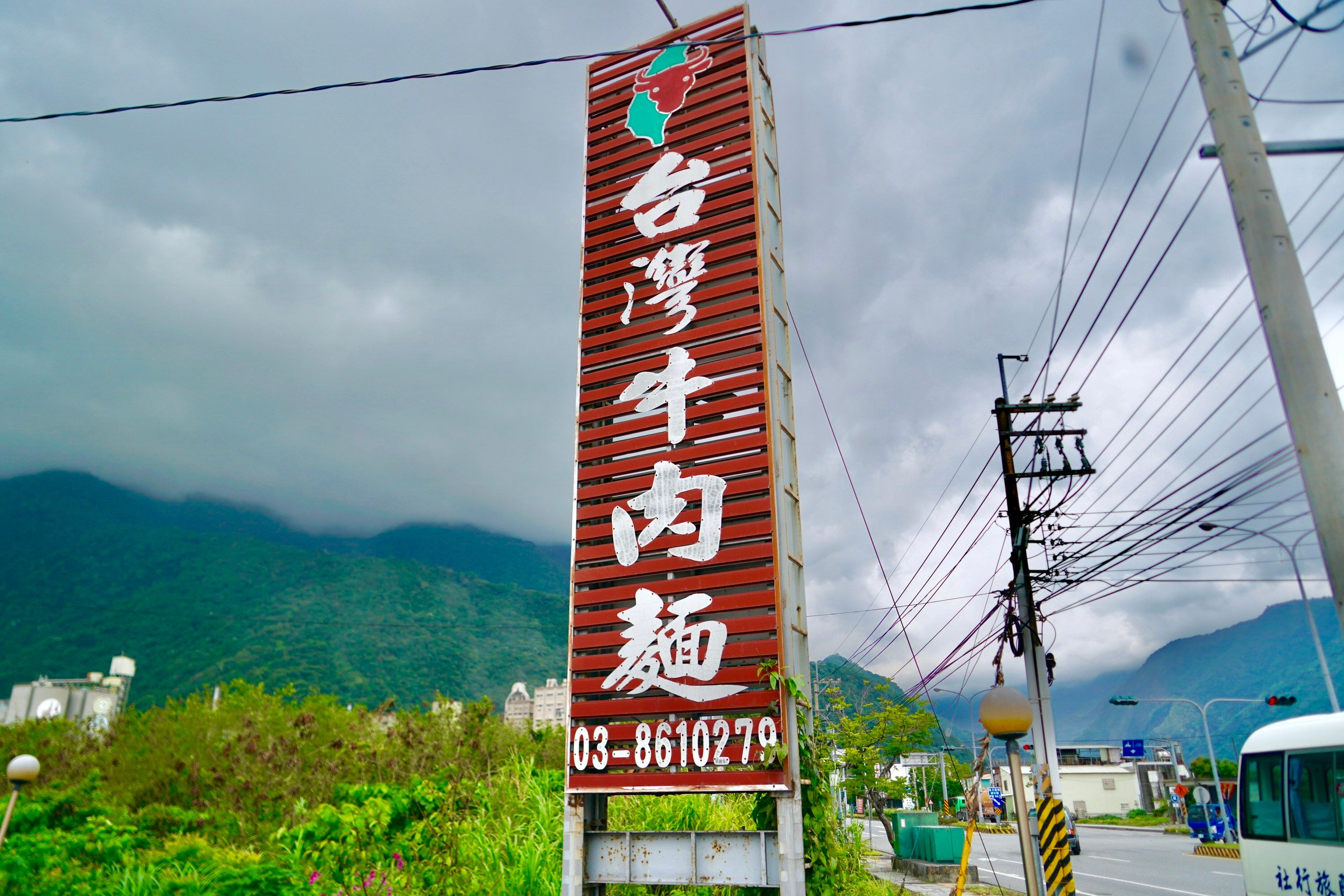 By the end of my day I'd worked up a serious appetite. I couldn't wait to eat and didn't want to waste too much time finding a restaurant so I headed for the first place I saw. And what a gem it was. A really traditional little family run Taiwanese restaurant. Not far from where I'd just been whale watching, the restaurant was nestled just next to the road in the foothills of the mountains.
I was seriously hungry and ready to try as many different local dishes as I could! Let's go inside together.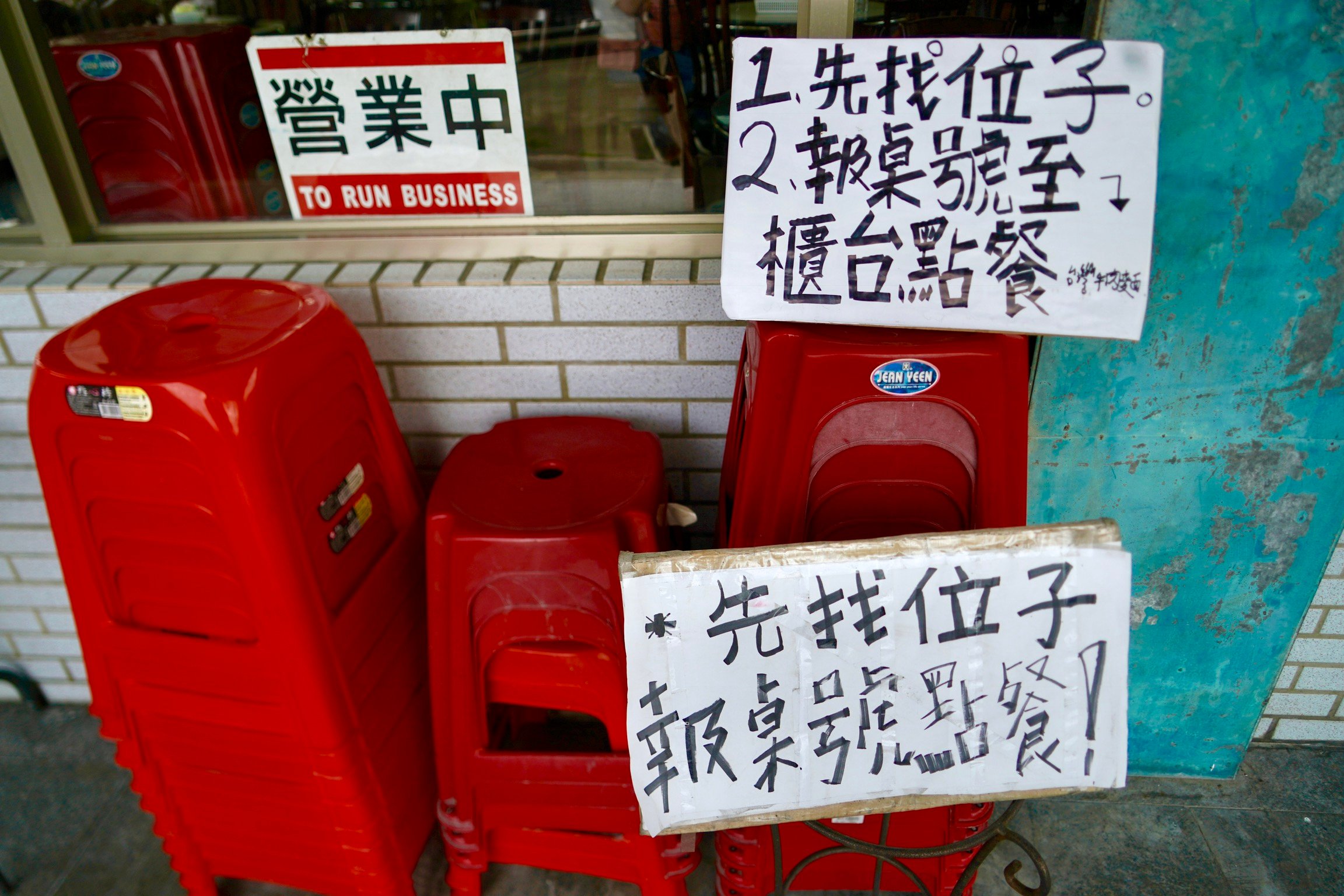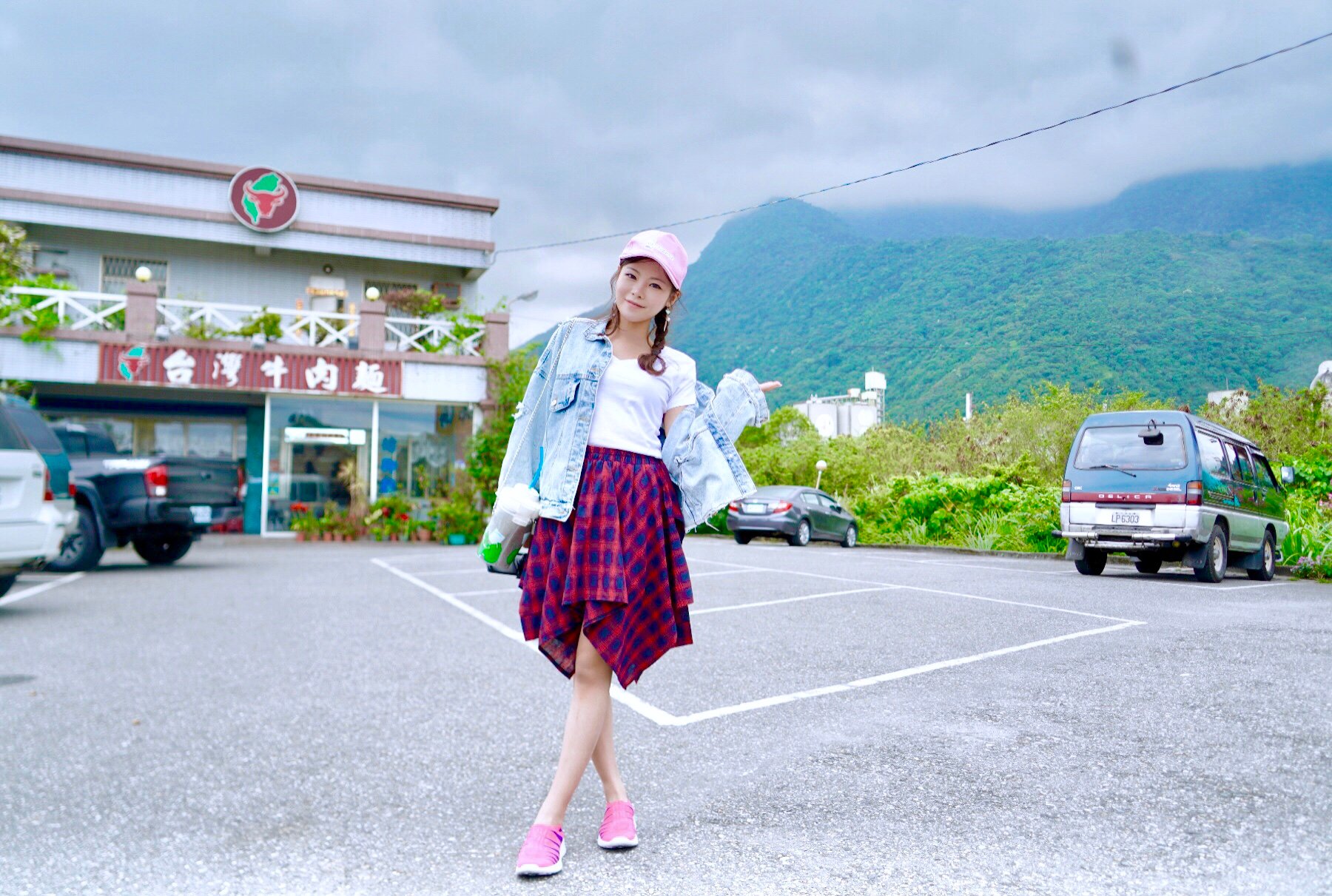 The clouds had come down and made the mountains look really mysterious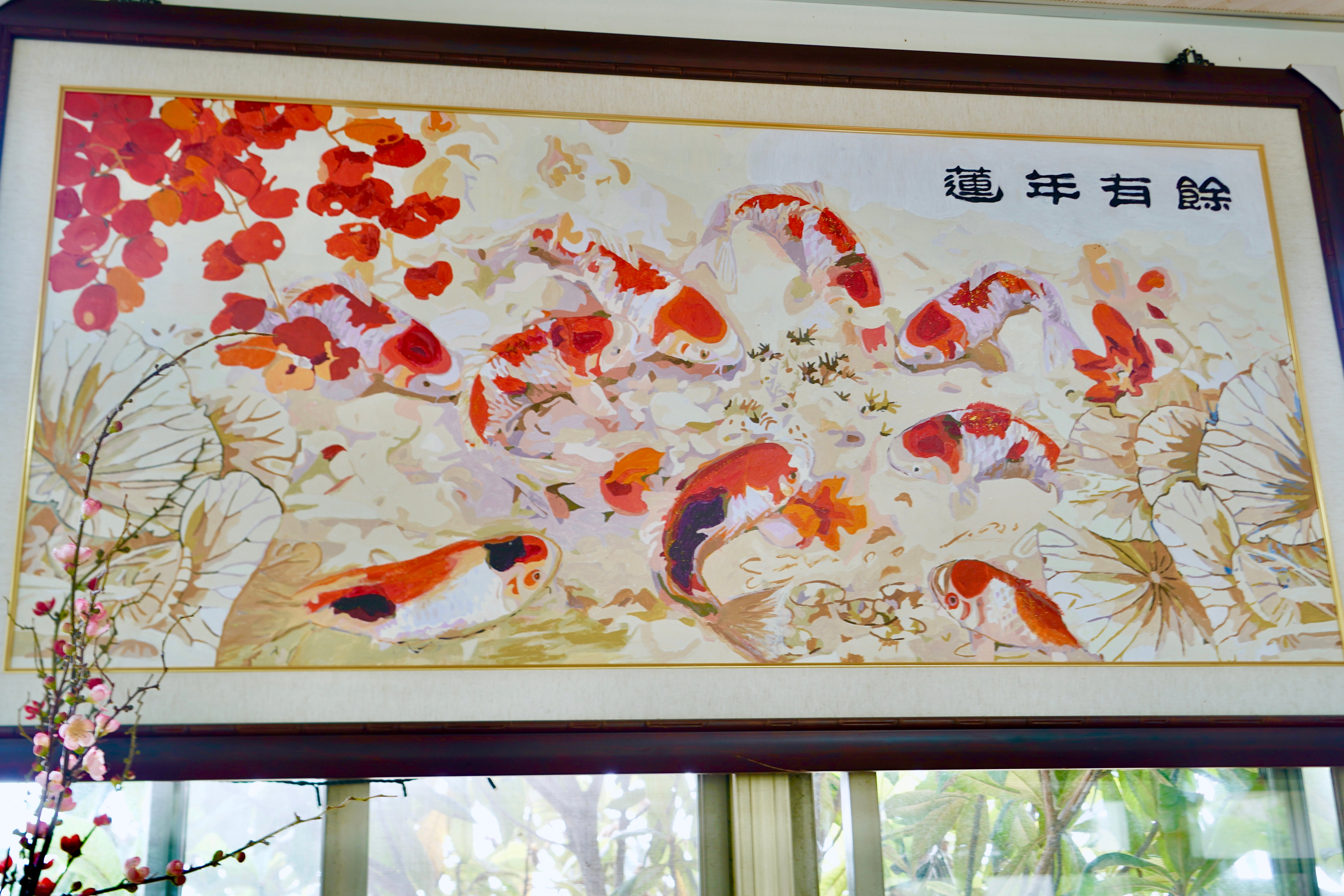 Lovely painting of Koi Carp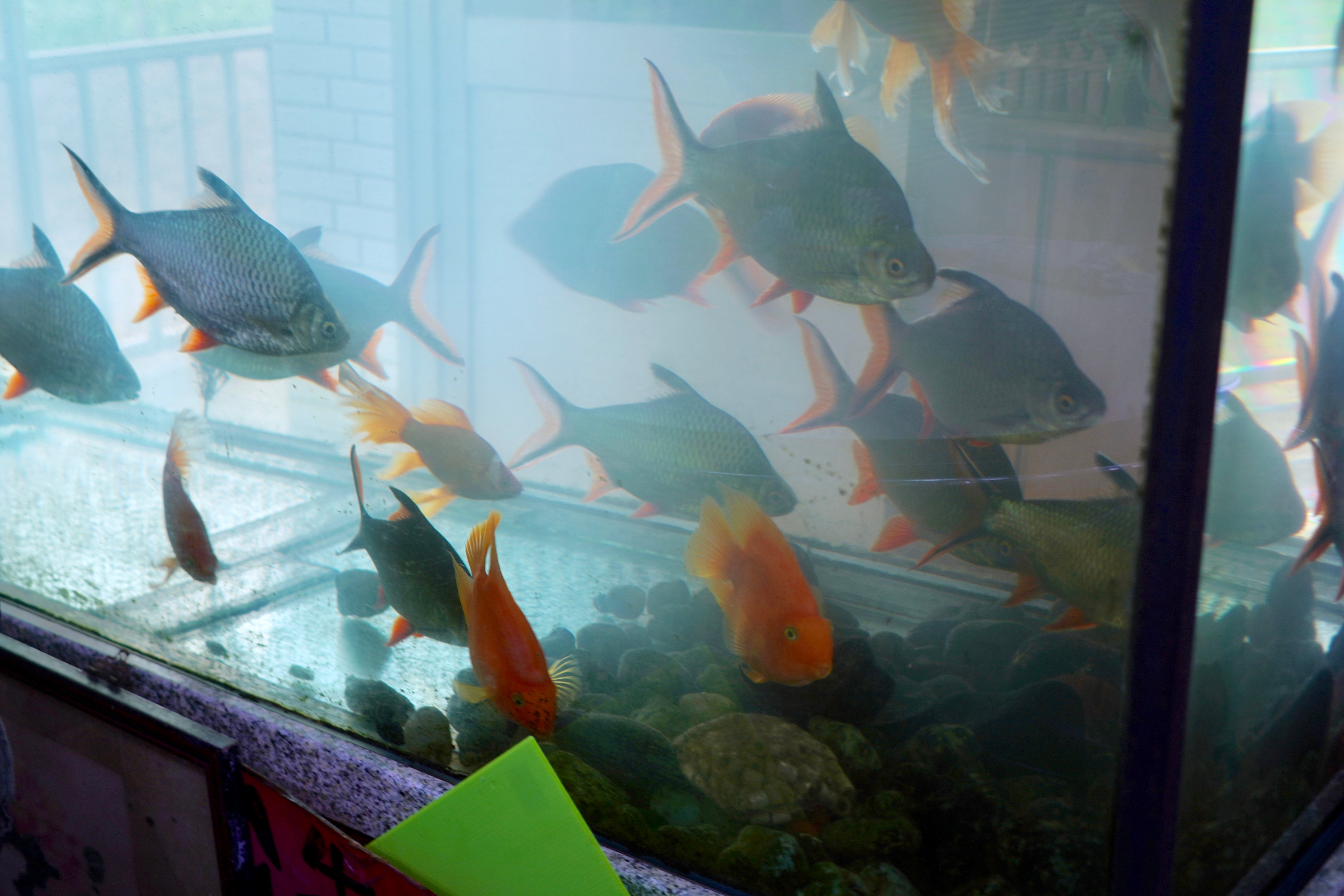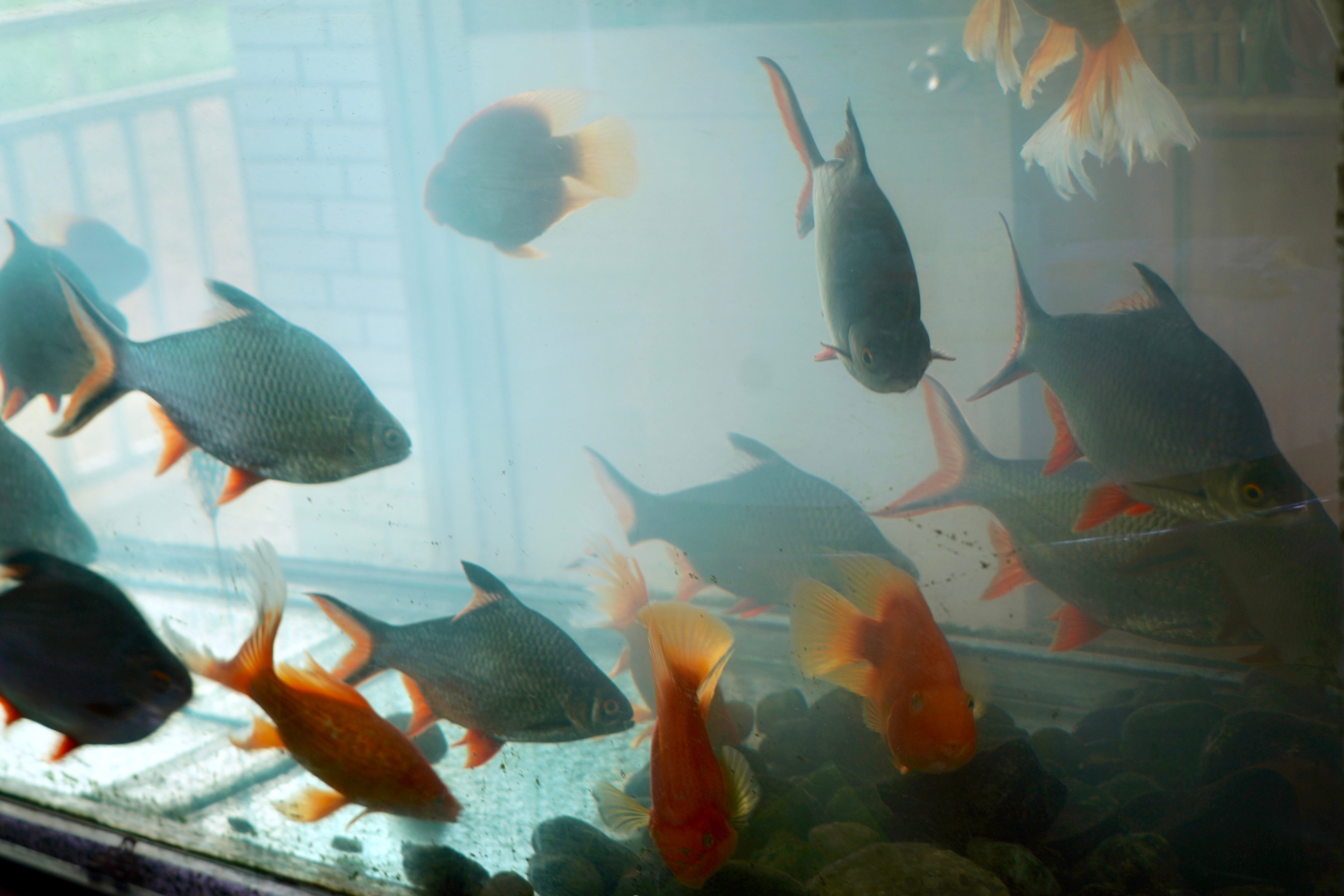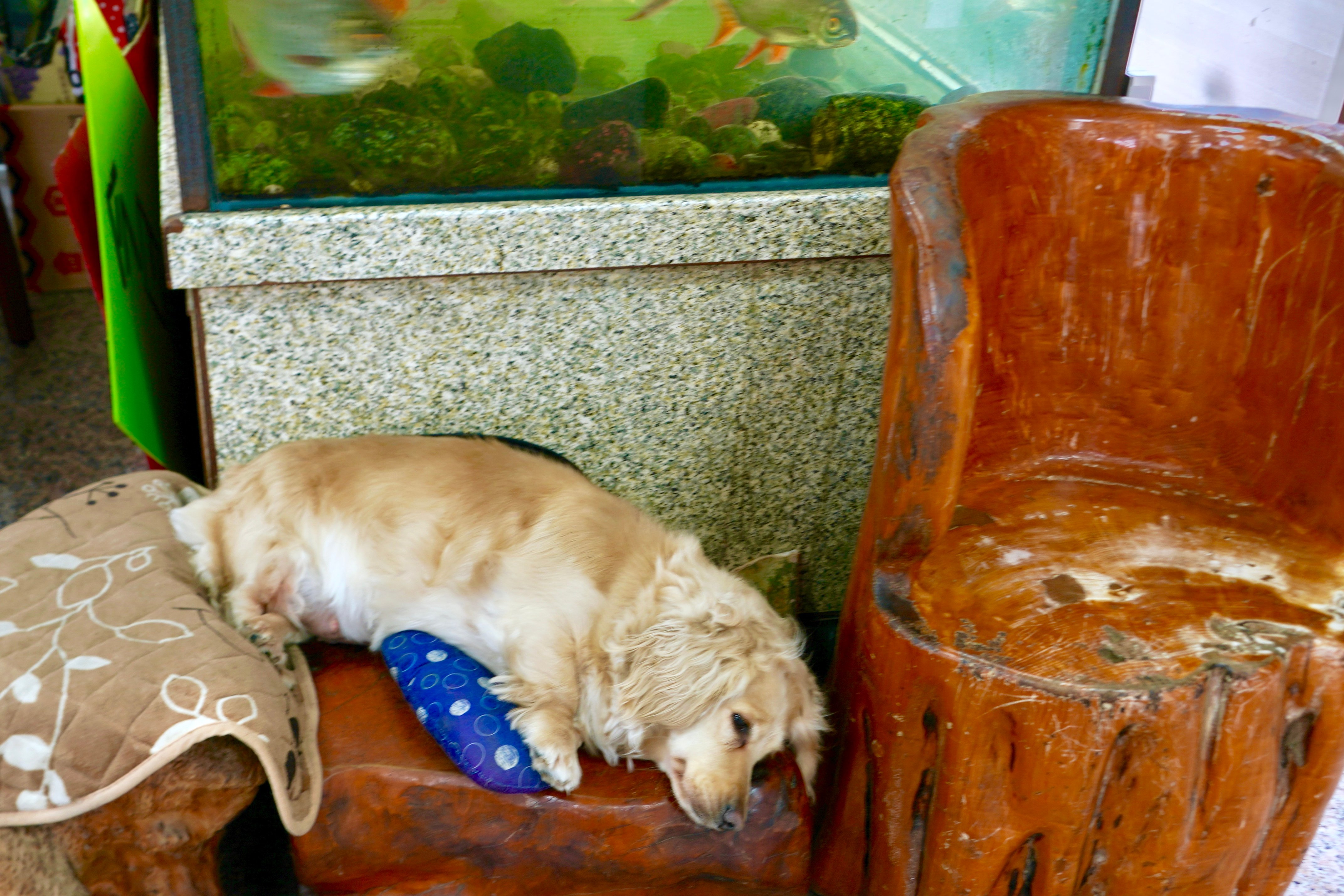 The restaurant had a pet dog! I think he was keeping his fish friends company. Maybe he though that people would try and eat them for dinner and he was protecting them! He looked like he'd had just as long a day as me and just spent his time half asleep and watching the world go by.
I suppose he probably gets so many visitors every single day that it's boring now. I wonder what his name is? I called him Goldy. I think he might be a cross between a golden retriever and a corgi, what do you guys think?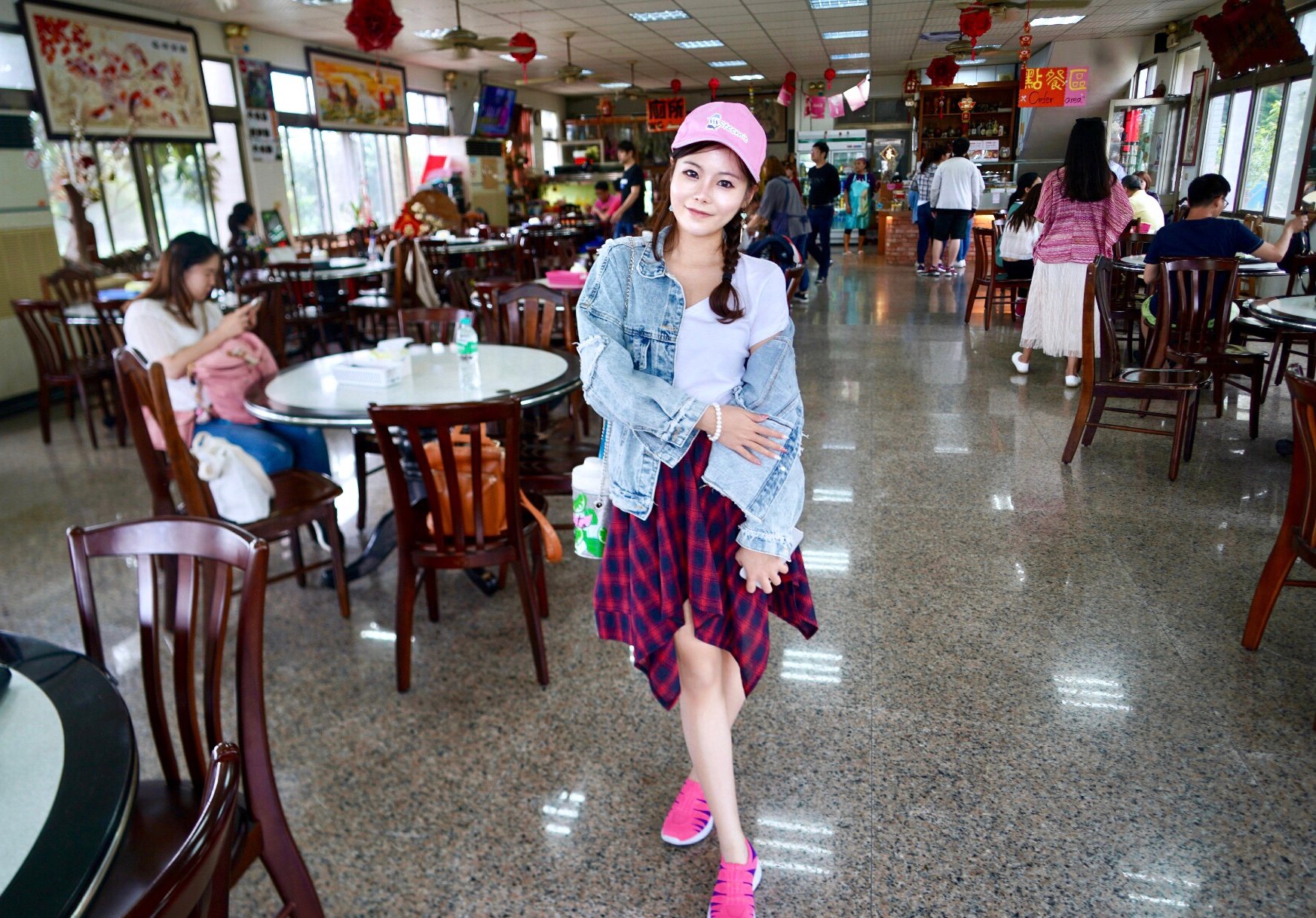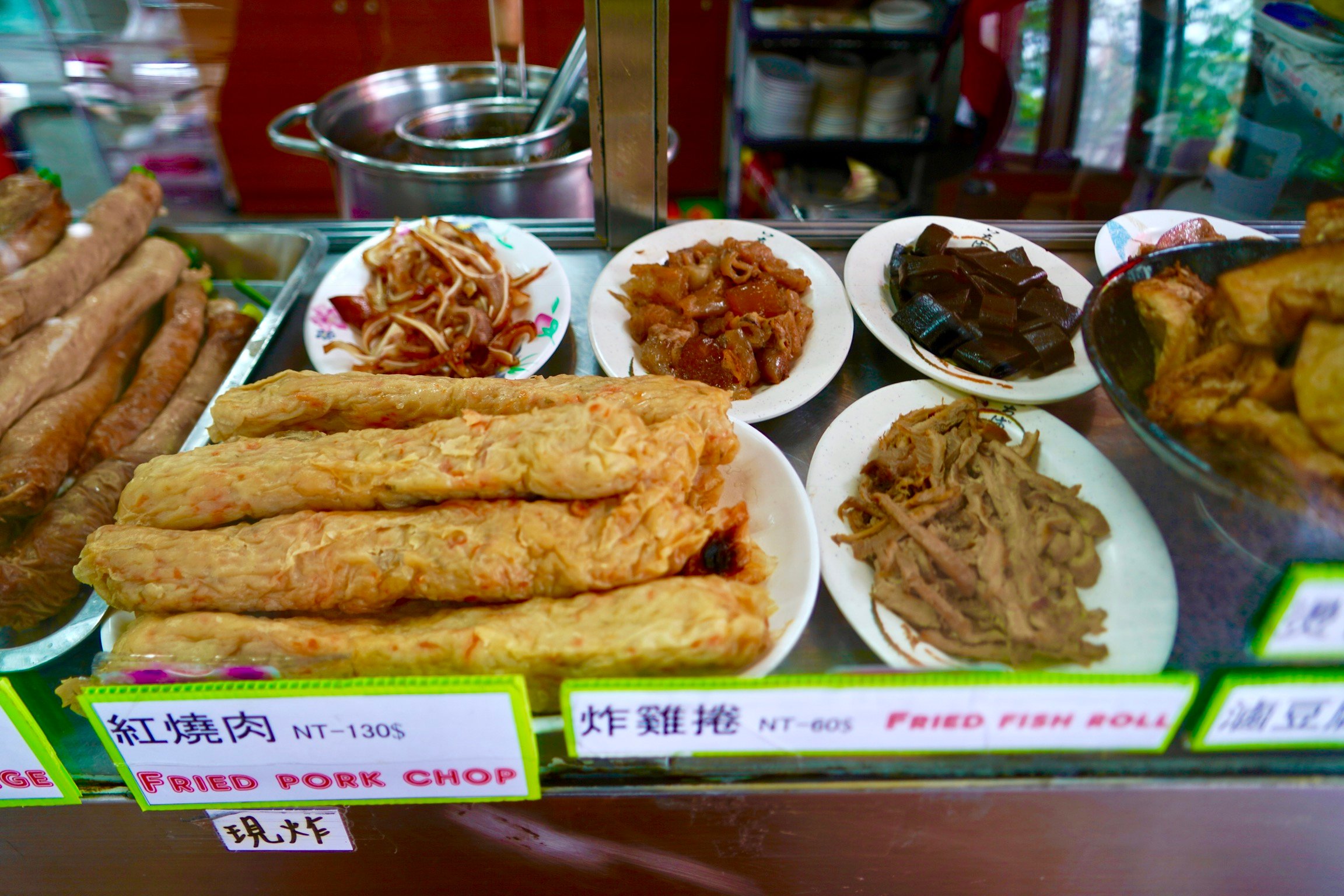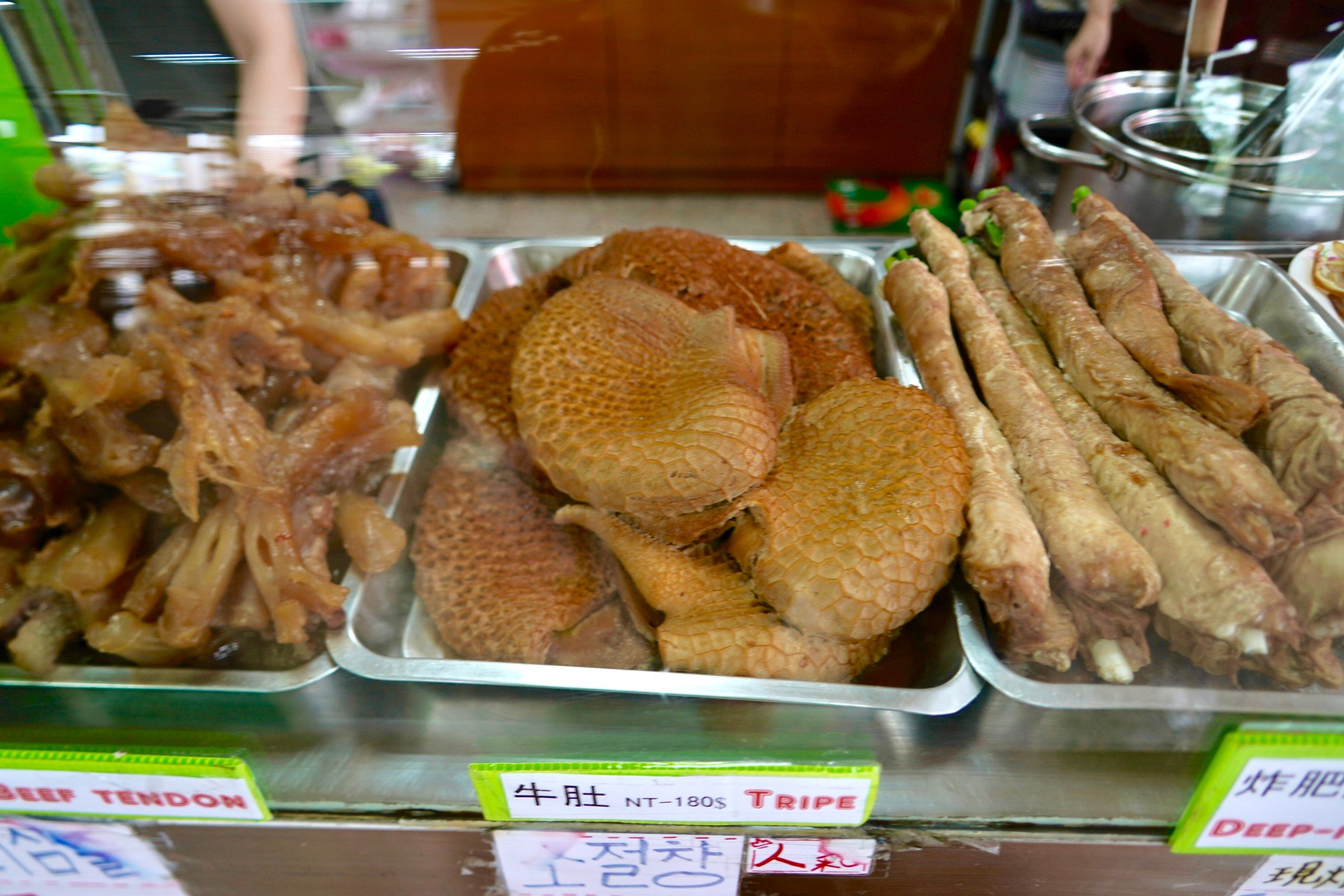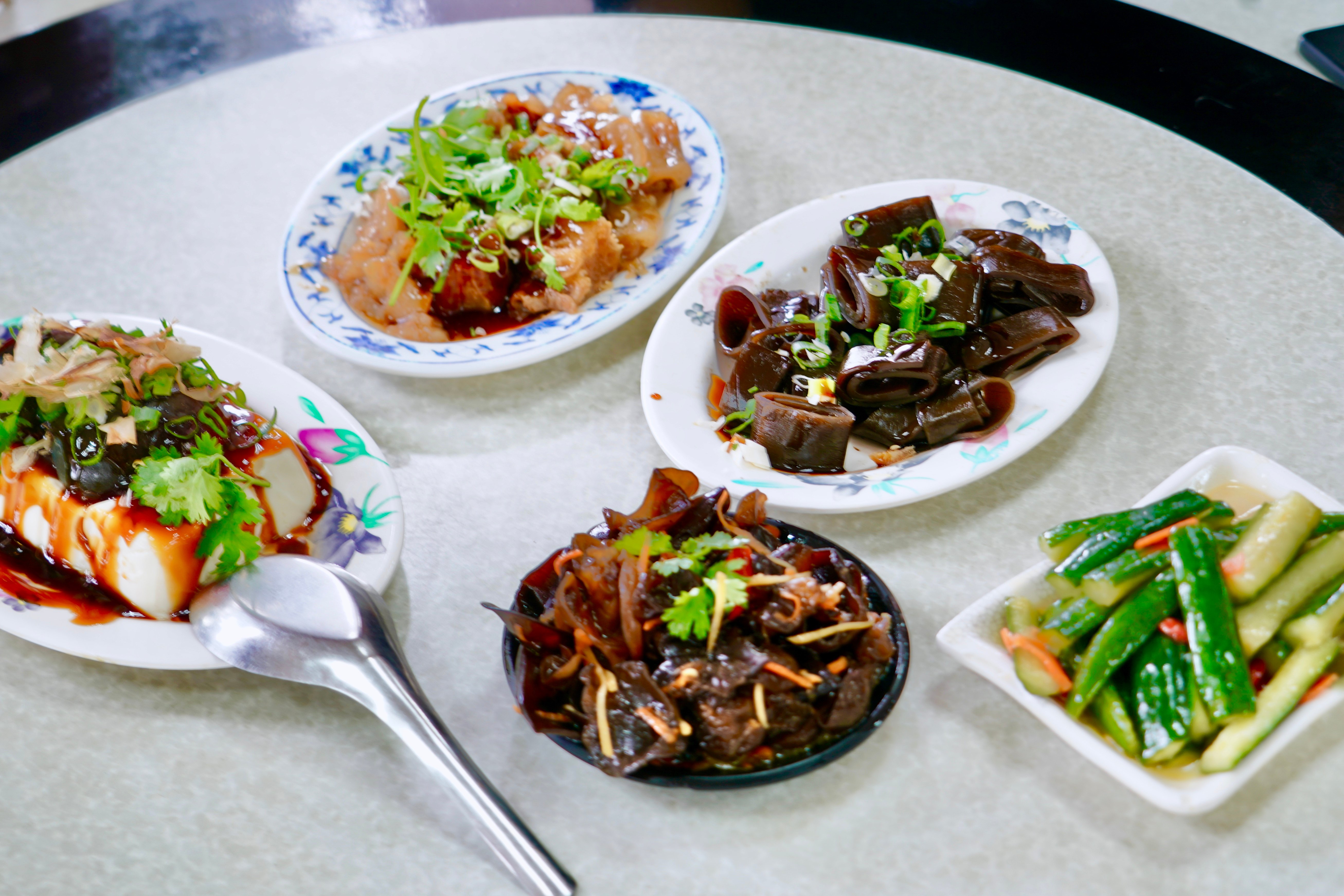 There were so many dishes to choose from so I got a little selection for myself. The preserved egg tofu looked particularly amazing. I also got some courgette, some stir fried beef and a couple of other bits. I couldn't wait to get started. Everything looked really lovely.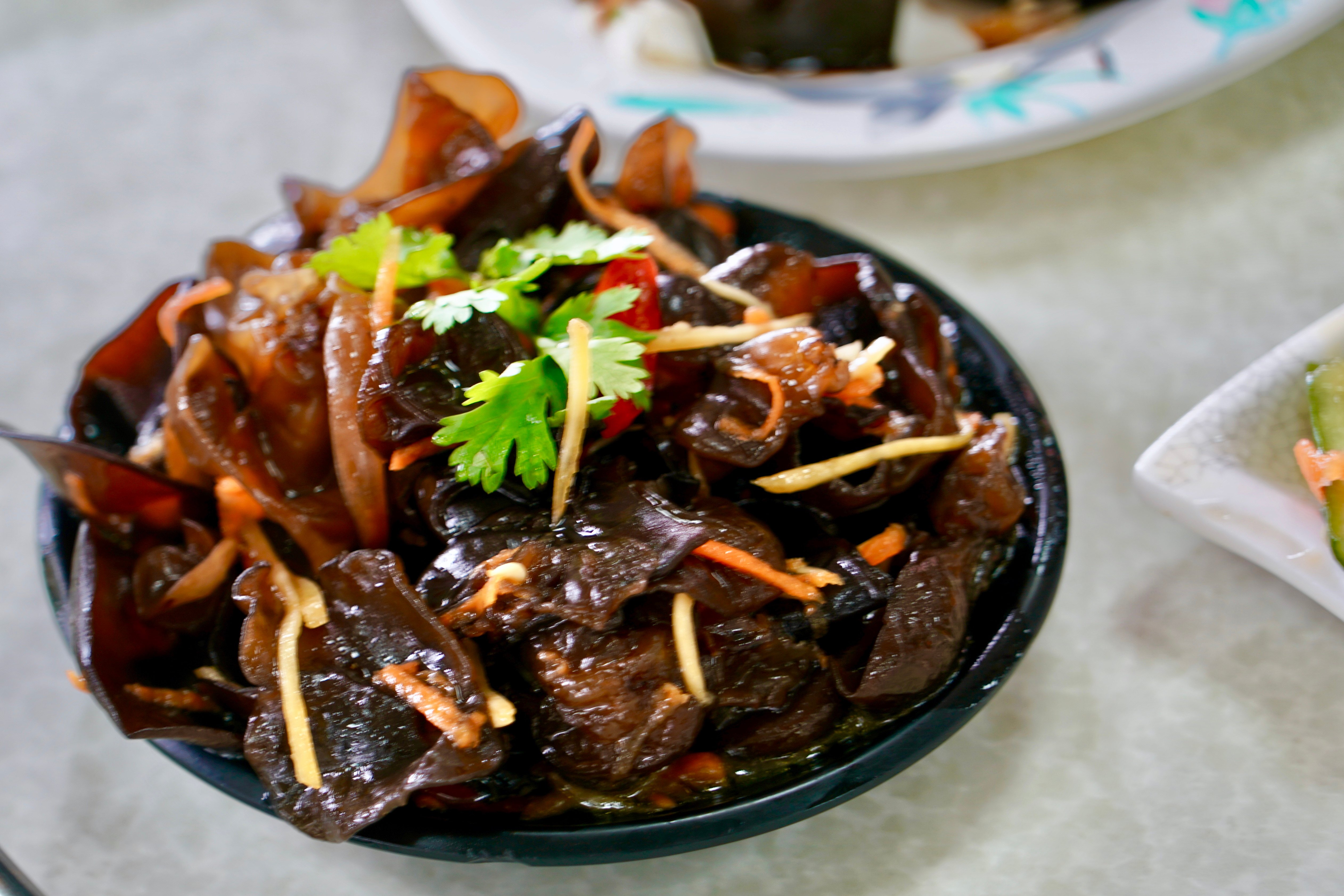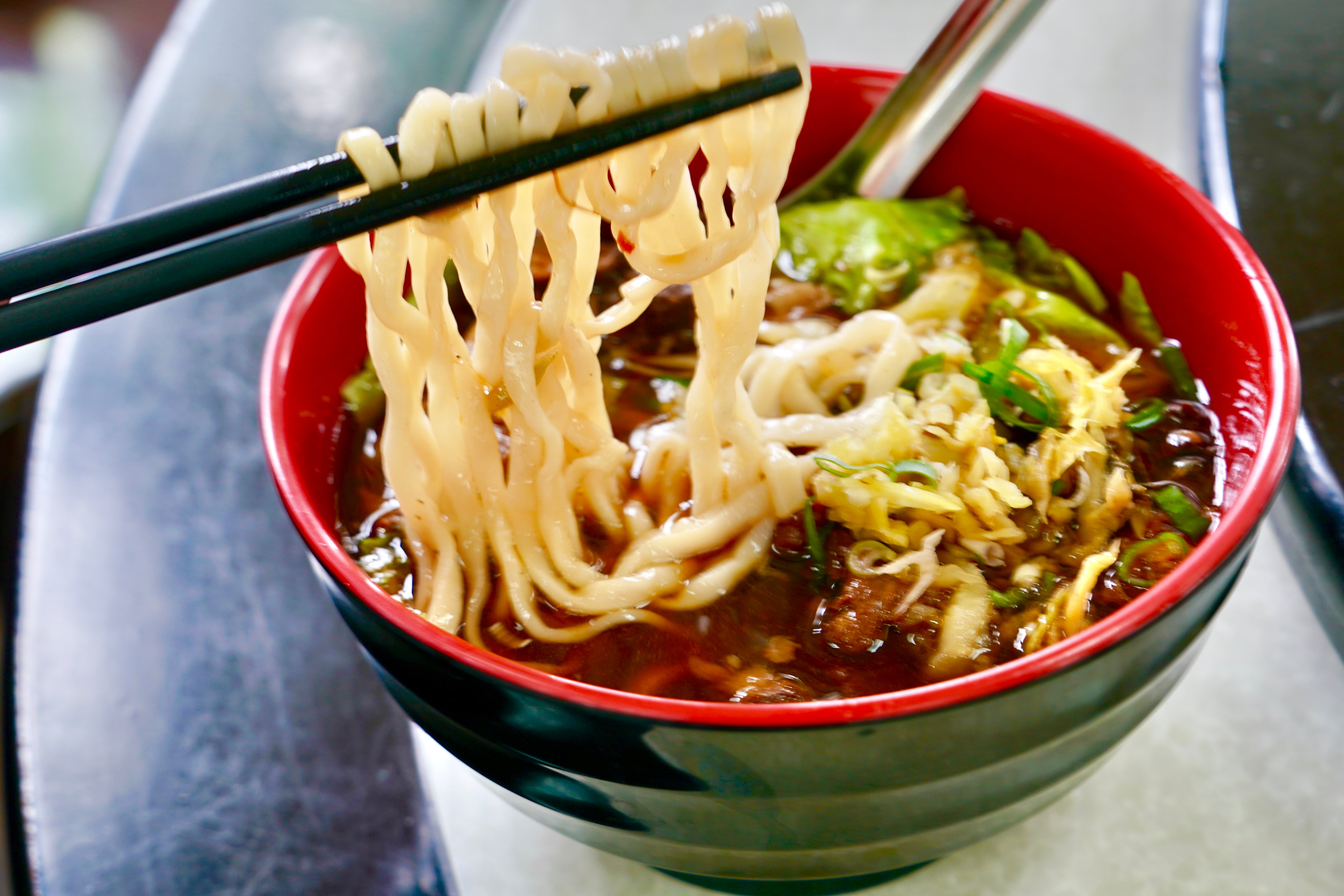 These beef noodles were amazing!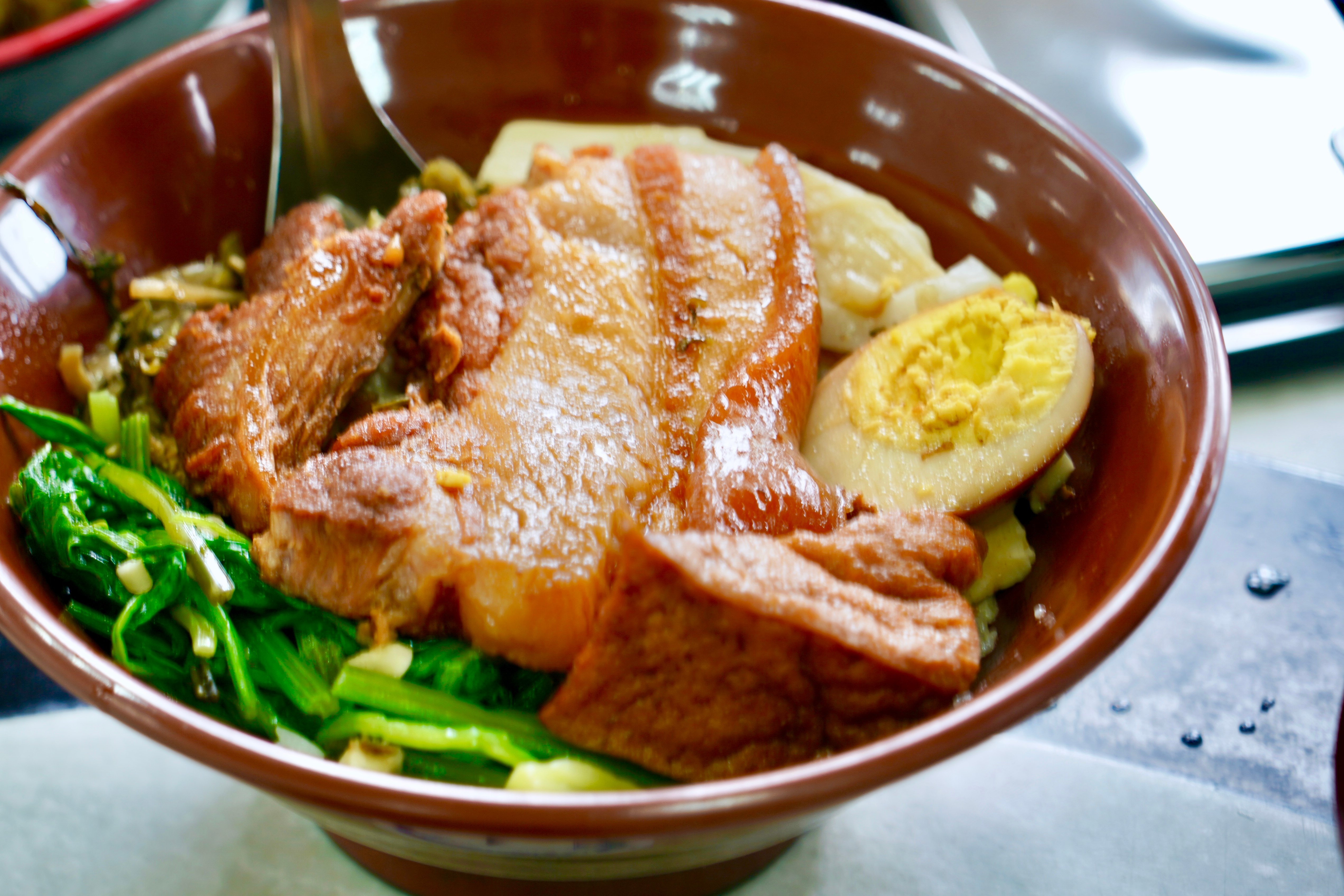 Fried pork on rice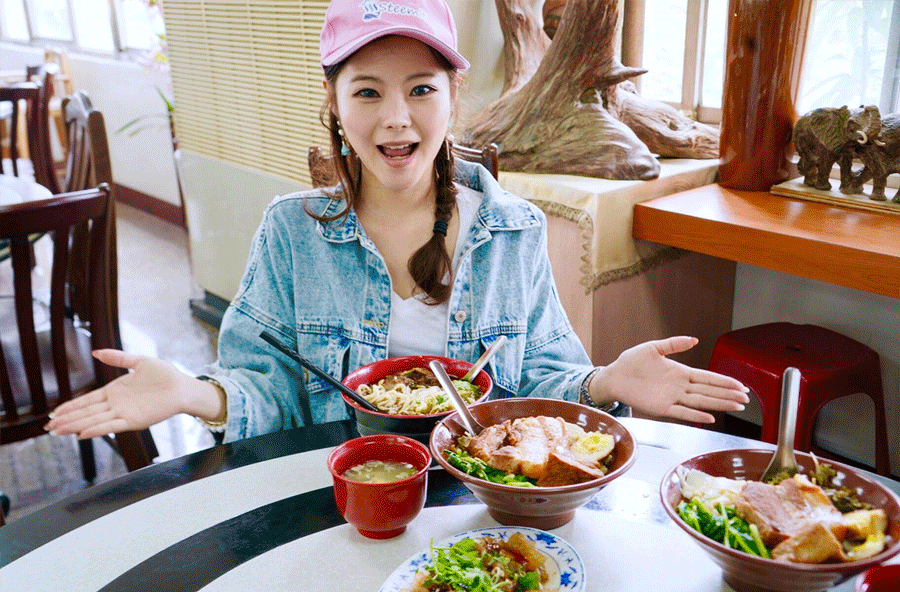 Care to join me?
Thank you so much once again Steemit friends for joining me on my adventures. You can already guess my favourite part of the day - the Bottlenose dolphins. Those animals are completely magical and I cannot believe that I was able to see them so close. To see them swimming, jumping and playing with each other and the boat really was amazing. You can see how fast they can swim through the water. I wish I felt that natural in the water, I would feel just like a mermaid.
If you could go and see dolphins, would you do it? I'd love to go back there and spend many more hours just watching them. The time I had just wasn't enough. If you've enjoyed my post, please give me a vote and a follow but most importantly, please comment below so that I can get to know you better and enjoy speaking with you!

旅行,是为了遇见不曾见过的绝美风景,体验不曾经历的人生轨迹,如果旅行里害怕尝试和冒险,就不会意外的发现更多的惊喜。以前对台湾的印象总是停留在台北高楼林立,时尚现代的繁忙都市,如果不离开台北,选择去别处看看,又怎么可能亲眼见证这个宝岛上更多令人震撼的旅游资源?于是,弹指间灵感来了,下一站,花莲。来花莲之前,就听过朋友们对花莲自然风光的大加赞赏,来了之后,确实立刻嗅到了新鲜的气息,与台北的车水马龙,热闹喧嚣相比,花莲充满了清新自然的淳朴气息,像是个素面朝天的邻家女孩,身后拖着优雅飘逸的白色裙摆。
这次我就决定,给花莲留下足够的时间,细细品味这里宁静妖娆不染尘埃的风景。花莲位于台湾本岛的东部,有着西临中央山脉,东临太平洋的绝佳地理位置。不得不说台湾东部的海,美的很有特点,因为周围地貌原因,海边全是石头,估计喜欢石头的人会在海边放松消磨一整天,舍不得离开吧。因为自己从小在海边长大,所以对于海水的波澜有着特殊的情感,一到花莲我就迫不及待的想去看海,而说起花莲看海,当然不能错过七星潭。第一次听"七星潭"这个名字就觉得特别诗意,其实这里被称为"潭",但却不是一个潭,也并非湖泊,而是由无数大大小小的砾石和鹅卵石所铺设成的弧形海湾,想想大自然的鬼斧神工,堆出一个这么美和绵长的新月型海湾,一定是因为偏爱这里的海水吧。
七星潭是花莲县唯一的县级风景区,它的历史可追溯到清朝,据说在清朝的"台湾舆图并说台湾后山总图"里,也曾标示着花莲这几处低漥的湿地,其实,这些大小不等的湿地湖泊正是七星潭。来之前,就对这壮丽无比的海湾期待已久,当车子停在离海边最近的地方,我下车向海的方向飞奔,第一眼就看到了海天相接,混然一体的美景,我被这抹清新可人的淡蓝色深深的打动,感叹花莲的海是这么小清新,不带一丝污浊的纯净与澄澈。
低头看看鹅卵石的沙滩,形态各异的美丽卵石,就像在参观大自然的收藏品展览馆,近距离细看这些石头,真像是经过精雕细琢的艺术品,有着精美的纹路,白石晶莹剔透,闪闪动人,乌石冰清玉莹,滑润通透,花石色彩斑斓,动感盎然。越往海滩去,石头越小,非常有层次的变换。把漂亮的鹅卵石捧在手心,光滑舒服的手感,不过这里的石头再喜欢,也不可以带走的,因为如果有一天,这里的石头被捡光,七星潭就缺少了它原有的鲜明特色与个性。所以留下脚印,带走记忆,让美丽的风光永存。面对眼前澎湃的美景,你是否也同我一样,愿做岸边的一颗石,天天吹着海风也不会觉得腻。
突然我被前方堆起来的鹅卵石尖塔所吸引,原来堆砌石头已经成为了这片海湾的传统,我拿起大小颜色各异的鹅卵石,面朝大海,像雪地里堆雪人那样,把石块垒成高高的金字塔。有趣的是,视觉上看起来要倾倒的鹅卵石尖塔,无论海风如何吹打,却屹立不倒,好像被施了魔法一样。接着走近岸边,意外的发现,在这么小清新的地方,海浪翻滚的澎湃激昂,朵朵浪花拍打着鹅卵石滩,演奏着交响乐。白色泡沫般的浪花特别梦幻,让人陶醉,看着这萌萌的白色泡沫,我突然想起了啤酒上漂浮的泡沫,一股夏天清凉舒爽的气息噢。
这浓情蜜意,深邃迷人,又一望无际,让人无比眷恋的海洋,却也暗藏着危机,因为这边的海浪时常会凶猛地袭击你,从当地人口中得知,著名的白色泡沫疯狗浪,每年都有人被卷走。因为这里属于崖壁式海岸,落差极大,前面的海滩很浅,继续往下走会非常深,前后相差可达3000公尺以上的深度,所以戏水的时候,大家都格外小心。虽然是春季,这里的太阳却已经非常火辣,原来总以为代表青春的颜色,非阳光的金黄色莫属,这样看来,青春的色彩应该是古铜色了吧,一圈海滩走完,自己已经晒黑了好几度。
接下来,就到了每次旅行我最爱的部分,没错,当然是和动物有关啦。一直以来,花莲都是赏鲸鱼和看海豚的最佳区域,可以见到鲸豚的机率非常的高,这次来到花莲,人品爆棚,之前一直细雨纷纷,直到赏鲸豚的早晨,突然间风和日丽,碧海蓝天,晴空万里,美的不像话。我也是超级兴奋,立刻跳上了赏鲸豚的小船,这就要出海,和太平洋里的美丽生物打招呼去。随着船速加快,溅起浪花一朵朵,大家都把期待的目光投向大海中央,寻找那群海洋精灵。
开船20分钟左右,人们开始尖叫,成群结队的尖吻海豚在浪花里舞蹈,在船头跳跃翻腾,不仅有带着宝宝的海豚妈妈,还有上下叠在一起游走的海豚情侣,它们仿佛变着队形欢迎我们的到来,几百只的数量多的有些让人难以置信,你无法想象它们一起窜出水面,向上一跃,那优美的弧度和庞大的气场,就像孔雀开屏一般,那一刻浪花中的绽放,绝对的震撼。我从来没有一次见到过这么多只野生的活泼可爱的海豚,在深邃的海洋中自由舞蹈,欢快的追逐我们的船只。
不敢相信,美丽的海洋精灵就这样真实的存在在眼前,海豚在海面上激情跃动,乘风破浪的快感和那种近距离视觉接触的震撼感,是无法用言语形容的。大海就是它们自由畅游的天堂,海豚们在水中翱翔的那种活力和自信,让人非常羡慕,我也深深被感动到,它们自由的旋转,翻滚和跳跃,无论船上,船下,我们,它们,都嗨了。可惜闪亮的高潮是十分短暂的,在把手机相机统统拍到电量告急的时候,船长告诉我们要和这群自由的精灵宝宝们告别了。这一次赏海豚的经历注定成了这次花莲之行最难忘的瞬间,我感恩这样的幸运,也希望下次再来的时候,可以逮到鲸鱼的身影噢。今天的花莲之旅就要告于段落了,之后还有更多精彩的花莲故事想要和大家分享噢。
My video is at DLive