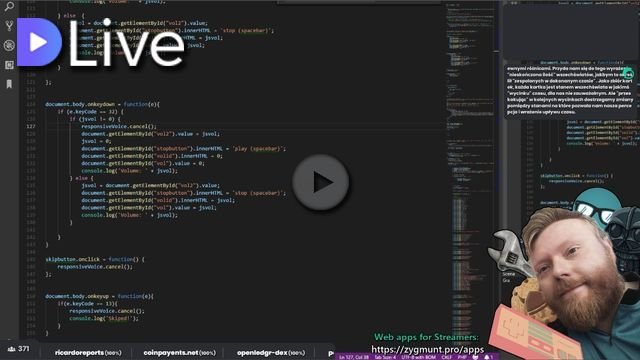 Mp3 emots to use on chat / Nowe emotki dźwiękowe do używania na czacie:
GOWKratos, MarioCoin, CartoonPow, DuckKwa, CatMeow, DukeNukenRip, TerminatorBack, SoulsDie, SadMusic, SadTromb, badJoke.
---
[EN] Today we do a possibility of adding additional CSS, so that everyone can change the font colors and their appearance in DCR Tools.
Stream mainly in Polish, but if you have a question in English then go ahead.
---
[PL] Dziś programujemy możliwość dodania dodatkowego CSS, aby każdy mógł zmienić sobie kolory czcionek i ich wygląd w DCR Tools.
---
Zygi equipment:
Mainboard: Asus P6T Deluxe V2
Procesor: i7 920 Octa Core
Graphic: Radeon R9 290X
14 GB RAM DDR3
SSD 480 GB ADATA Ultimate SU650
LG Ultrawide Monitor
Apple Airpods Headphones
Cam & Mic: Logitech C920
---
Donations (dotacje i wsparcie): https://zygmunt.pro/apps/donate.php ---
My notifications app: (Mój program do powiadomień): https://zygmunt.pro/apps
My live stream is at DLive