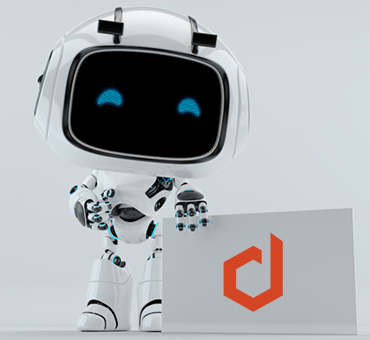 Recently I noticed some interesting things on dMania. People were replying to the automated comments of the dMania bot. The dMania bot creates a comment every time he upvotes a post. I doesn't make much sense to reply to automated bot messages. Some users still didn't care or didn't know that the bot wouldn't reply. They thanked the bot or even asked the bot some questions.

I wasn't the only one who noticed this behavior. @direwolf created even a post about this:
https://dmania.lol/post/direwolf/minnows-never-get-this-one-thing-about-bots-zg1hbmlh-o11e7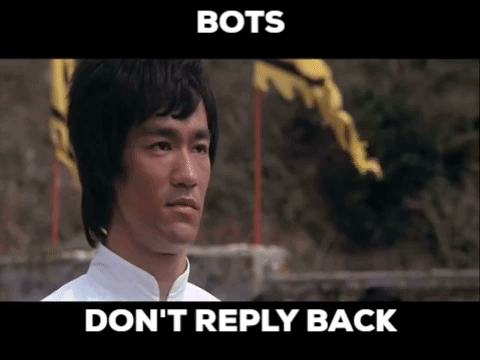 That was when I had an idea. What if the bot would reply? And not just an automated message but a real human like response to your question or statement?
I present to you dMania Bot v2
dMania Bot v2
 
The new version will reply to every comment with a human like response. How is this possible? dMania bot uses Cleverbot, one of the most sophisticated human like chat bots ever created. Cleverbot has held millions of conversations with humans and uses them as a reference for every new conversation. There are no automated responses. Every conversation you have with Cleverbot will be different.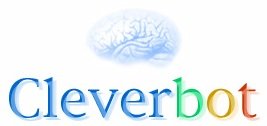 dMania bot doesn't know anything about dMania, Steem, Bitcoin or Blockchains. For every thing else the replies are very good and accurate. Sometimes some replies are pretty random if the bot doesn't know what you are talking about. I don't control or have any influence what the bot will reply. You shouldn't feel offended by any comments of the bot. Always remember it is just a bot.
dMana bot will create some interesting and funny situations. Some users will reply to the bot and won't expect an answer. Suddenly they get one and they aren't sure anymore if they are talking to a human or a bot. I think it is hilarious 😁. Here is an example: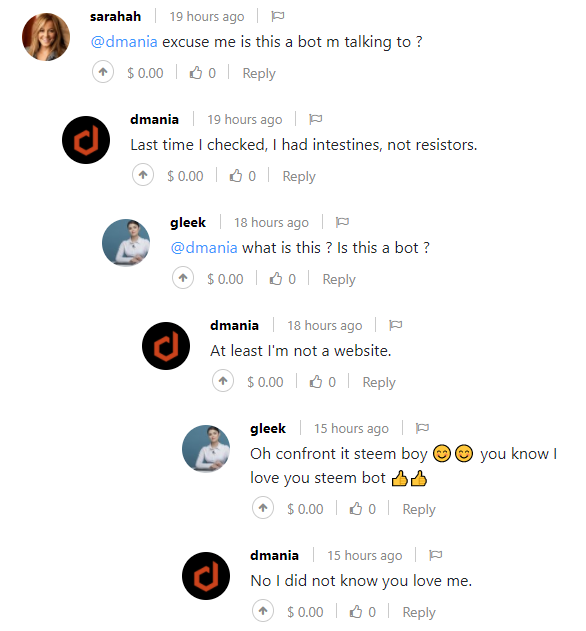 Improved post selection
The dMania bot selects random posts from the Trending page on dMania and upvotes them. Unlike other bots on Steem, you don't have to send any money to the bot to get an upvote. Just create a post on dMania, make it to the Trending page by getting upvotes from other users and it is very likely that you will get and upvote from the bot.

I improved the selection process for the bot. The bot will now select only posts with above average upvotes and payout from the last 50 posts on the Trending page. The bot won't upvote posts with any flags/downvotes.
This should improve the quality of the upvoted posts.

Some users suggested that the bot should upvote all posts on dMania. That would be really bad for the quality of the posts on dMania. People would only spam to get an upvote. The dMania bot doesn't know if the quality of a post is good or bad. The users are responsible for curation. The bot only rewards posts that were upvoted by other users. The more users are on dMania, the better the curation and quality of the posts will be.

There is an ongoing Christmas special for the dMania bot at the moment. Five times more upvotes than usual. It is really easy to get an upvote from the bot at the moment.
Support dMania
The bot gets his Steem Power from all dMania supporters. If you like dMania and the dMania bot, then you should become a dMania supporter. dMania supporters receive 15% of the rewards on dMania.
To become a dMania supporter, you have to delegate some Steem Power to dMania. The minimum is only 5 Steem Power. By delegating Steem Power, you are lending your Steem Power to dMania. The Steem Power still belongs to you.

Supporters
There are already over 50 dMania supporters.
@freedom
@lafona-miner
@xeldal
@zombee
@imacryptorick
@okean123
@ippua
@raggaemuffin
@rocketsteem
@thepholosopher
@free999enigma
@scandinavianlife
@steemfreak
@celestal
@cervisia
@libertyranger
@theb0red1
and many more...
If you have any questions join our new Discord server

Please upvote, post and comment on dMania to support this project. Every single upvote counts. You can contact me on steemit.chat or discord if you find any bugs or if you have ideas for new features. Please resteem and upvote this post and tell everyone you know who likes memes about dMania. Together we can make Steem and dMania great. Follow @dmania and @zombee to get the latest updates about this project.