While the 4th of July is a time of celebration for Americans, it can be a day or even week of stress for your furry friends that may be terrified of fireworks! My corgi Gabby is scared of them and it is a very high stress time for her. When I am at home she can at least lay by me and get some comfort, but when I am not home she is certainly scared and stressed out. If your pet has separation anxiety this can be exacerbated by the increased traffic, large crowds, parties, and fireworks.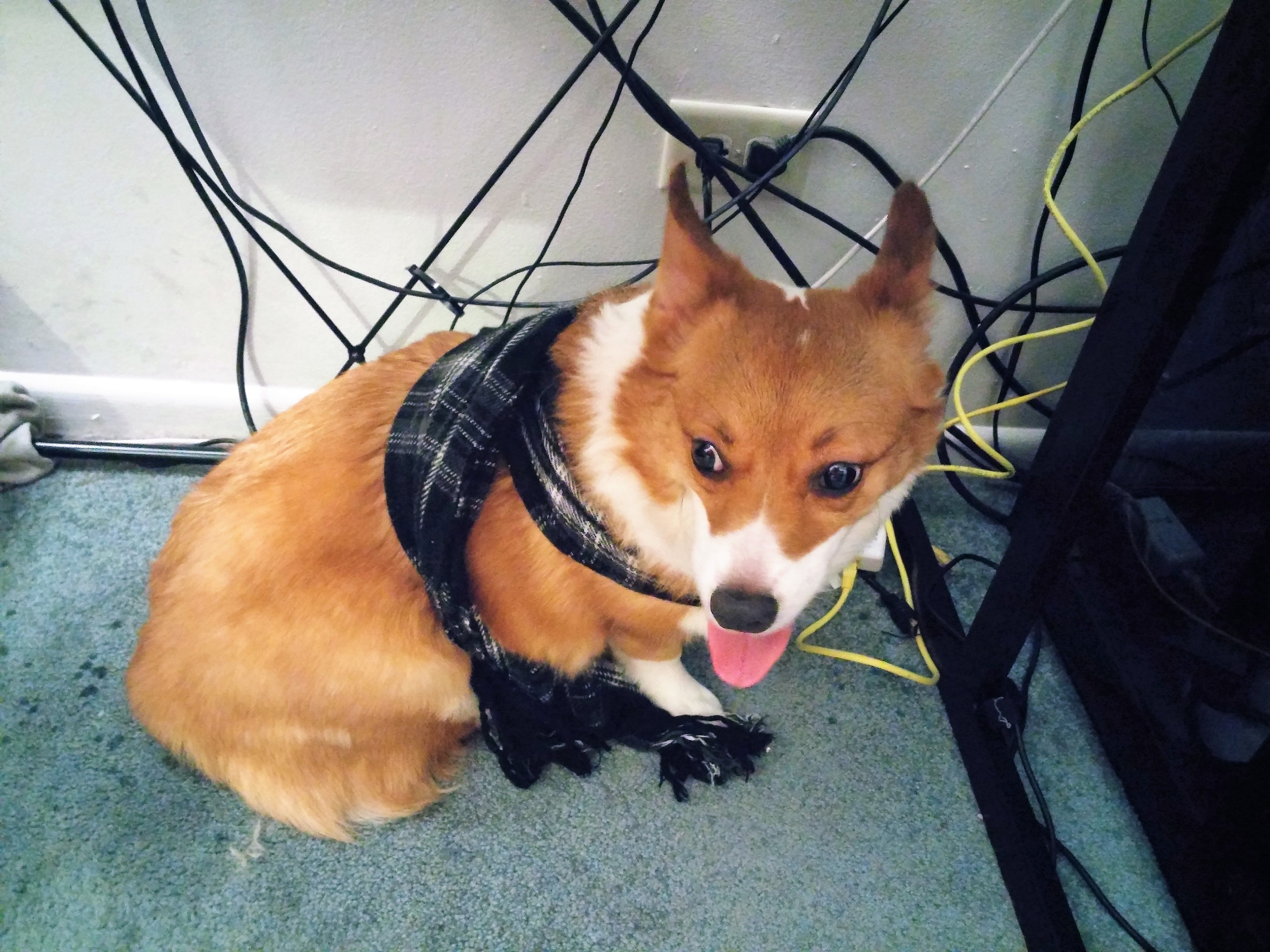 Gabby likes to lay under my desk despite the lack of cable management hah. Poor pup was panting and shaking without her new stylish wrap!
Gabby will curl around my legs and her whole body will shake the entire night. I've tried ignoring her and fireworks (not to be mean, but to try to show her there is nothing to be worried about), and I've also tried holding her different years but nothing seems to help much. This year, I am also trying my own DIY Thundershirt-like wrap, especially since I am not going to be home on the 4th.
The gentle pressure of a wrap can help your pet feel comforted and content, and if the material you are using for your DIY wrap smells like you all the better! In my case, I am using a scarf that I wore often over the winter and while it has gone through the wash hopefully it still has a bit of my smell heh. I took the scarf and folded it in half (but if you have a bit dog you can likely leave it at full width). Then I held the scarf in front of her chest with and brought the sides back so that I crossed it behind her shoulders and then wrapped it under her belly. If your scarf is long enough you can then bring it back up and tie it further down on their back. My scarf was not long enough for that though so I tied it to the side (so that I didn't put unnecessary pressure on her back). You want the scarf to be snug but not tight or constricting any movement, like swaddling an infant.
From my research online, it can take a couple days for your pet to get used to it, so it may be a good idea to start now so that they can get used to wearing it and it will be more helpful once the fireworks begin! Blog K9ofMine also suggests using an old T-Shirt (preferably one that will fit snugly and smells like you) as an alternative to a scarf, Ace bandage, or DIY sewn Thundershirt wrap.
So far, Gabby seems to like it and looks darn cute too! Now that she has been wearing it a couple hours she is not shaking as much so hopefully it will help her this week!
How are you planning to take care of your pets this week, or do they like fireworks? :-)
Happy 4th of July Everyone!