You can't imagine what we went through
It all started with a whatsapp message received by @psionic-tremors on 31.03.2019.
The now 81 years old human who is walking my good 4-legged friend Robby on the dike every day wrote that she made herself a birthday present by breaking her hip. She had surgery and was in the hospital.
This, of course, is terrible for her - especially one day before her birthday which was on 01.04.2019.
But our first thought was: "What about Robby?". We knew she was in good hands ... but what about him?
We did not get any response ...
We were really worried about Robby
So we kept sending messages to her asking if somebody takes care of Robby. After two days she wrote that all is fine and there are people looking after him.
We did not believe her 100% because we know none of her sisters or neighbors can handle Robby and take him for a walk.
Also, we knew that Robby would be 90% of the day alone.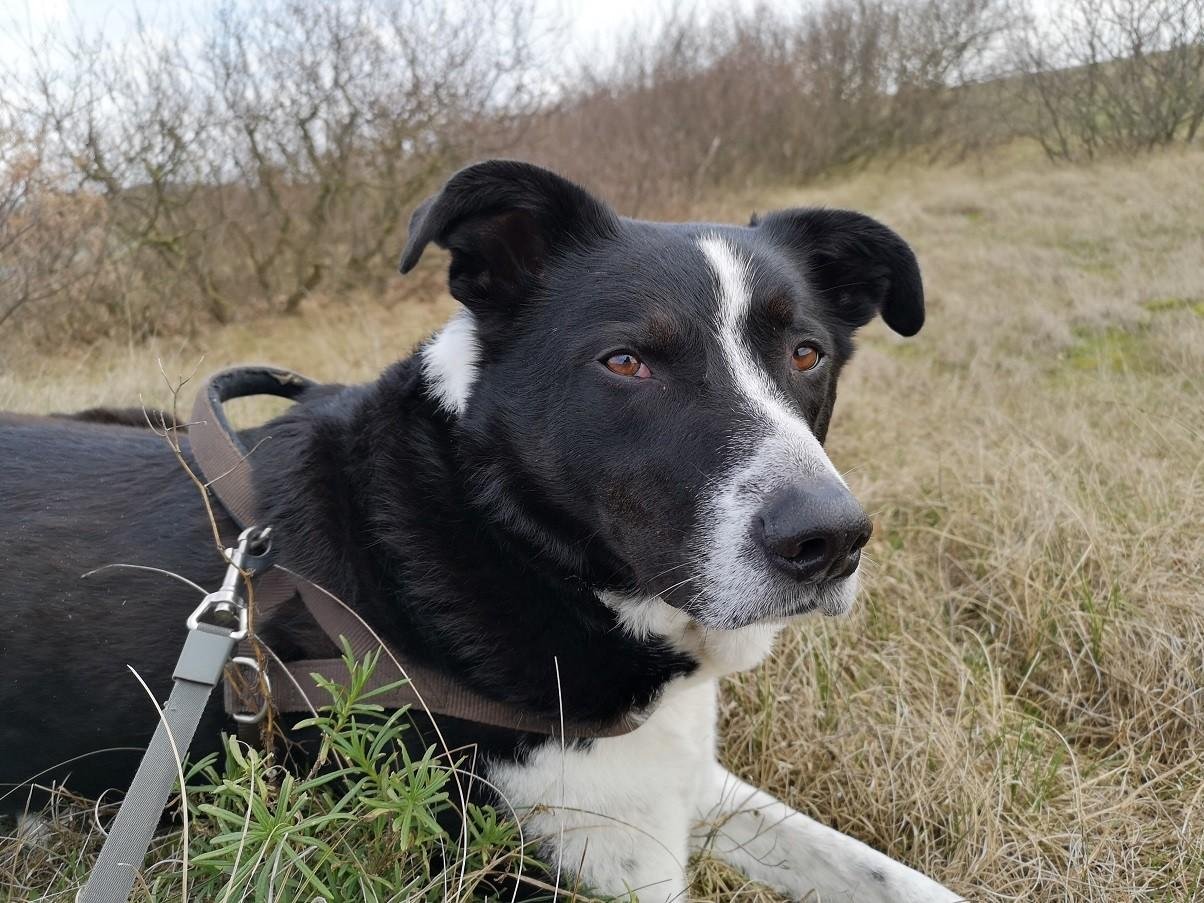 Picking Robby up
After some minutes thinking @pundito took the rest of the day off and we drove to Robby's place to pick him up. His human told us her sister would be there to let us in.
@psionic-tremors went inside and even there was a woman cleaning at that moment she could smell the urine - Robby had to do what he would never do under normal circumstances: urinate inside the house.
We now were 100% sure nobody had taken care of Robby for the last two days.
Driving home
Robby was barking all the way home which is about 30 minutes. The last two days must have been hell for him.
He was really traumatized. He saw his human falling on the ground and crying for help. After his human was picked up by the ambulance a neighbor put him into his house and he was left alone not knowing what's going on or will happen in the near future.
Almost at home @psionic-tremors walked directly with Robby and he 💩 three times!!!
At home
When we arrived at our place Robby found a quiet place and slept about 15 hours.
Every time we walked with Robby he was looking for his human.
This was the third time already we had Robby at our place. Many people tried to explain to his human that she should look for a good home for him because she can't handle him anymore having cancer and a broken hip.
She simply doesn't want to listen.
Then times got even worse
After one day with Robby, I had one claw almost ripped of standing upright. This had to be removed and looked after by a vet asap. The next morning @pundito went to the vet with me. I hate vets!
I'm a really good patient but the vet decided to give me an injection to make me sleep.
After I woke up I had this: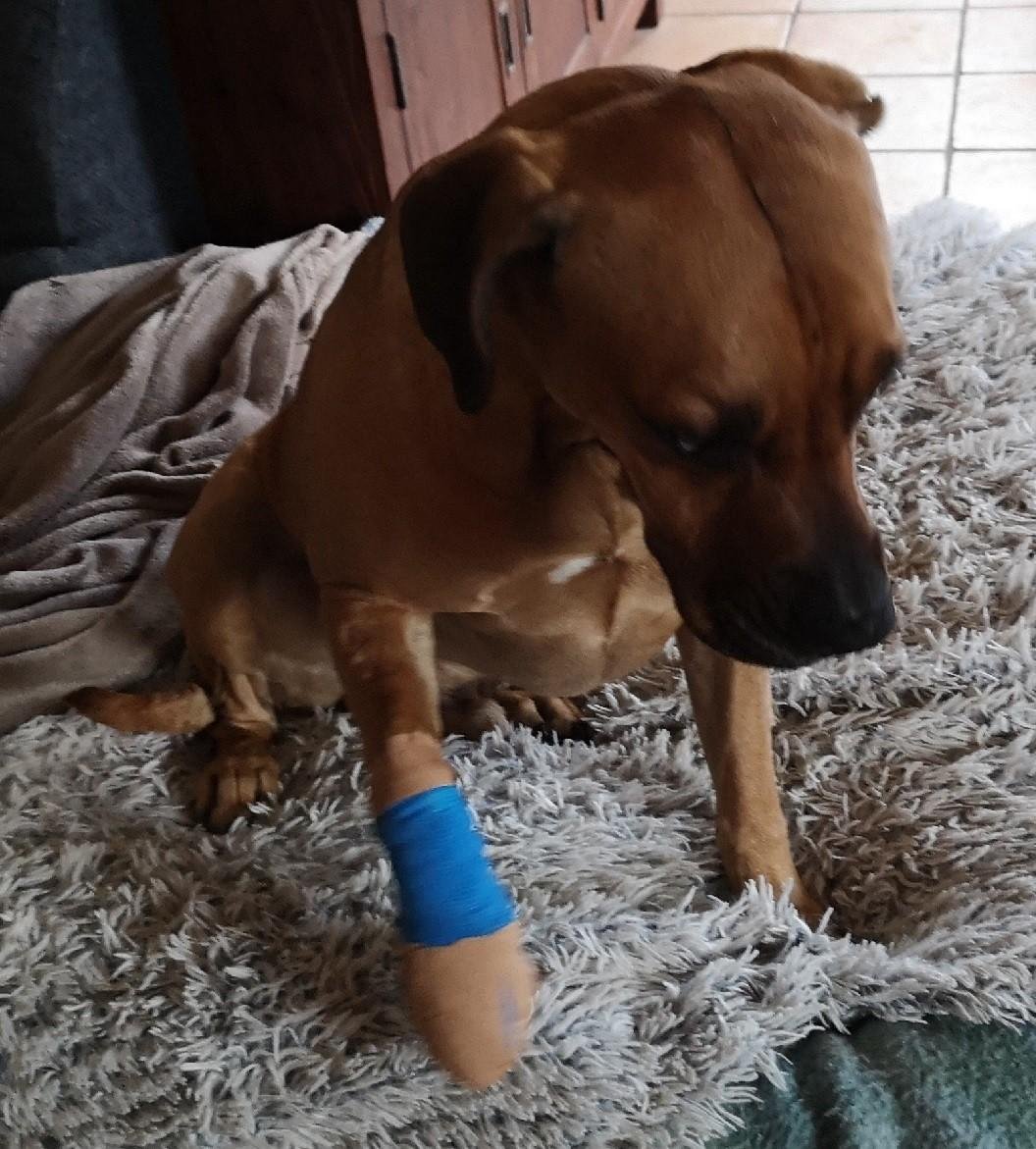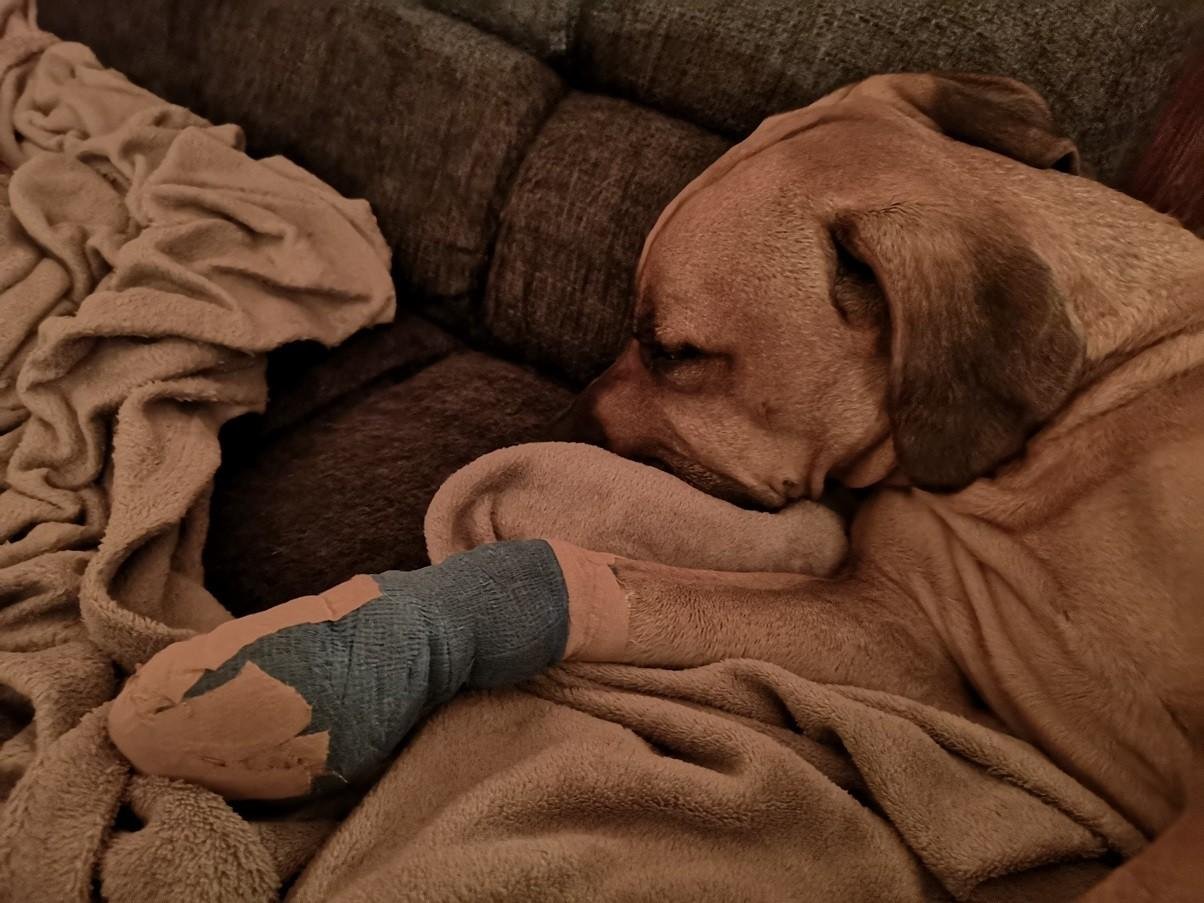 This simply does not work
So now we had Robby pulling on the leash like crazy and me totally handicapped. How should we walk together?
The next day Robby's human came home from the hospital again and said we could bring Robby back.
To be honest: we only did that because of my handicap. Otherwise, we had told her to fully recover first before we bring Robby back again.
All in all we had a nice time together
But the circumstances were not the best.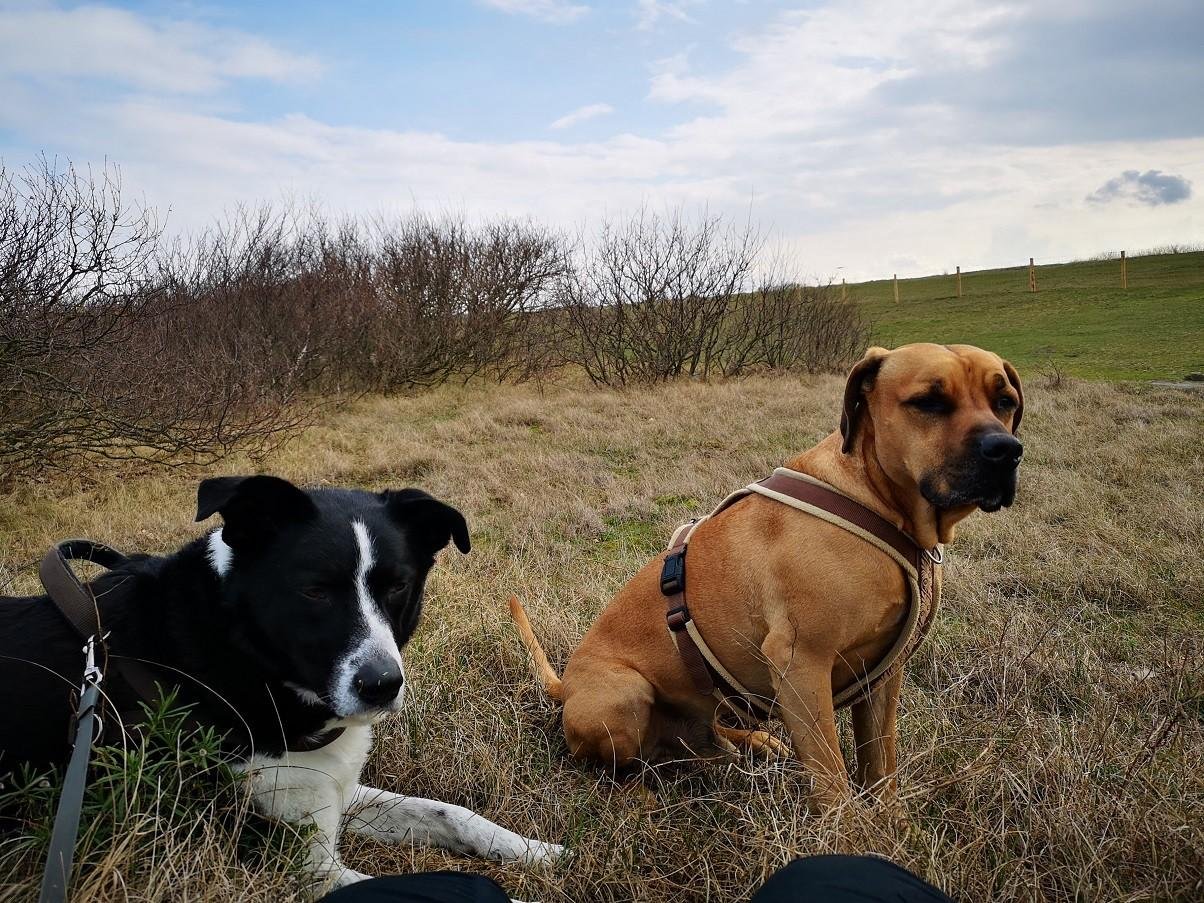 We all hope Robby is ok.
I can walk without the bandage again now which makes me really happy because it simply feels strange to walk with it. I got used to it after a day but life is much easier without the bandage.
Take care!
Your Marley 🐕