dPoll Report: Weekend Edition
Table of contents
About dPoll
Competition No. 7
Announcement of last weeks winners
dPollXmas2018
What happened on dPoll last week?
Our growing group of Sponsors
Some stats on dPoll
About dPoll
dPoll is a place on the Steem blockchain where you can answer questions by your fellow Steemians and create polls yourself. You can find it at dPoll.xyz.
If you want to learn more about the project, you can read the introductory post.
Our team member @tolgahanuzun did some [bug fixing] last week (https://steemit.com/utopian-io/@tolgahanuzun/dpoll-bug-fixes-edit-content-and-table-showing) and added support for tables.
We have implemented a new view which lists polls by vote count on specific date ranges. This view is hidden at the moment, but it's accessible via /polls_by_vote. polls by vote ranks the dPolls of the last 7 days by votes cast. If you want to know how to set specific date ranges: check this.
The immediate tasks on our development roadmap are:
Front End design
Achievements and Badges
Fixing the mobile issues on markdown editor
Adding/Updating post tags
Multiple choice selection (Not %100 decided, yet.)
DPP (dPoll Points) system based on user activity
If you have any feedback, go to our issues page at Github or drop by at our Discord server.

See it online at dpoll.xyz, and the source code at github repository.
dPoll Competition No. 7
Starting this Sunday, every poll created until next Saturday will be eligible to enter the competition.
There are two ways to win:
Price pool for most votes cast:
1st Place wins 3 Steem
2nd and 3rd Place each win 1 Steem
One random voter for the winning dPoll will receive 1 Steem
Entry: you will have to create a dPoll on dPoll.xyz and try to accumulate as many votes for your question as you can. Deadline is Saturday the 5th of January 2019 12 PM UTC*.
Team members of dPoll are excluded from participating in the prize pool.
---
dPollXmas2018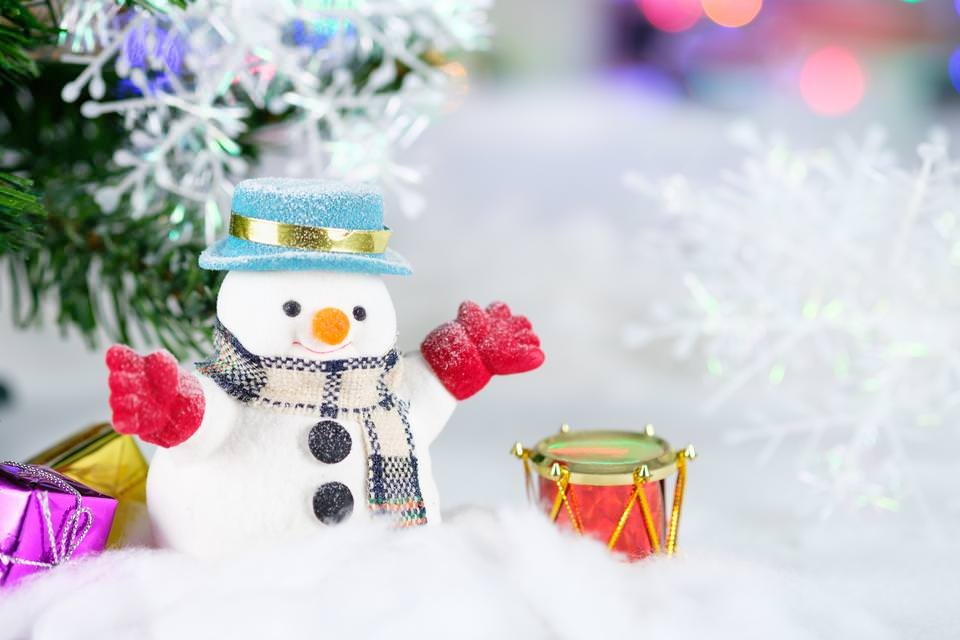 Our team member @isnochys started a Christmas Special.
If you participate in every dPoll with the tag #dpollxmas2018 you can earn the first dPoll badge.
Here is the first one: dPollXmas2018 #1.
And here is the second one: dPollXmas2018 #2.
St. Nicholas edition: dPollXmas2018 #3.
Christmas Tree Decorating edition: dPollXmax2018 #4.
Christmas Market edition: dPollXmas2018 #5.
Christmas party guests edition: dPollXmas2018 #6.
Munchies edition: dPollXmas2018 #7.
The 8th and final Christmas dPoll: dPollXmas2018 #8. Since it is the festive season, he threw in a Steem giveaway for the last dPoll.
---
Winners of Competition No. 6
Congratulations to the winners!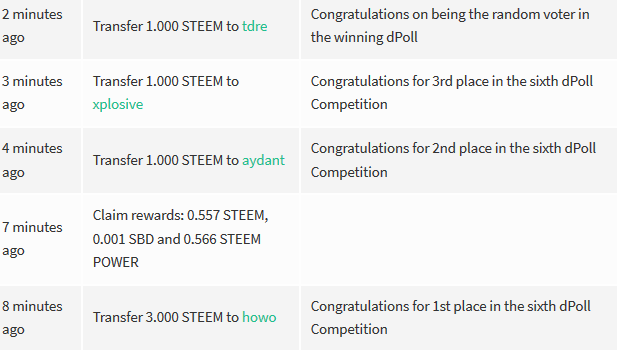 What happened on dPoll last week?
Our winning dPoller @howo from last weeks competition was still pondering the proper rewards split between creators and curators:
What is your opinion on a 50/50 curation split?

Most thought we should move forward faster.
Check out the arguments in the comment section.
---
@stemq was polling for some feedback on the StemQ platform:
Do you like StemQ's way of contributing questions and answers?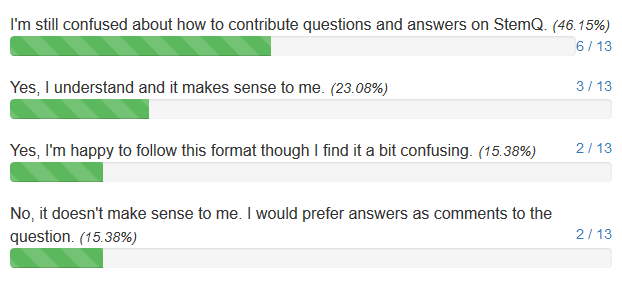 ---
@pyemoney wanted to know how Steemians are using flags:
For what reason have you used the flag or downvote option the most on the Steem platform?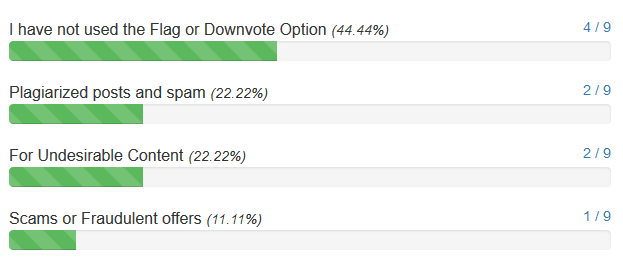 ---
@runicar wanted to know:
How many alt accounts do you have and what do you use them for?
38% claimed to have only one, whereas 31% had more than 5 accounts.
@stayoutoftherz had the same question for his followers:
How many Steem accounts do you have?
55% out of his sample only have one account.
---
@vimukthi wanted to know how Steemians invest:
What Do You Look For Most In An Investment?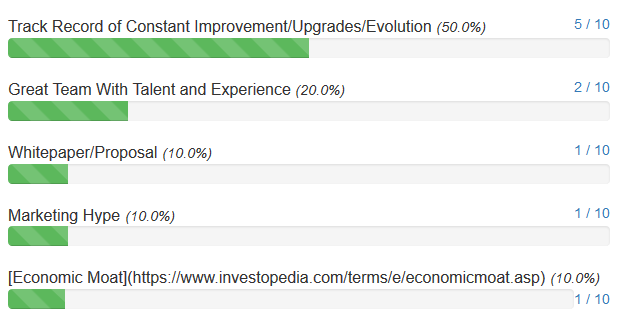 We have a very modern bunch here: constant improvement of ideas and good teams are important. Marketing hype or blue sky projections just don't cut it. The good old Warren Buffett moat-style investing is also out the door.
He also asked it differently:
What Is The Most Important Thing For You In An Investment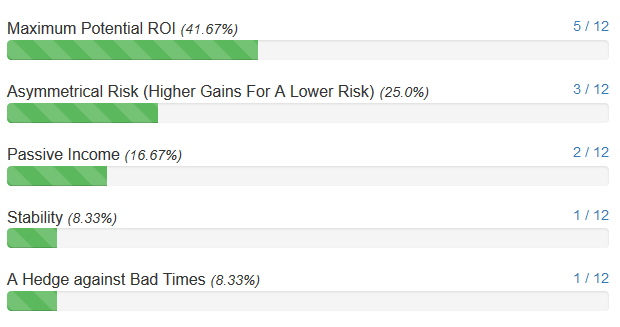 @runicar was also interested in the market this week. His was a question about market psychology:
At which point of the Wall Street Cheat Sheet are you now?
This chart is a great template to think about market participants. 55% wer feeling optimistic themselves or thought that the market was around the optimistic stage.
---
@onze was confusing everybody with his mind games - again:
Not everybody. Only 83% were confused.
---
@devann was feeling a little philosophical:
What do you believe in: Destiny, Free Will or a Mix of Both?

---
Our growing group of sponsors
33 Sponsors are supporting dPoll at the moment with a total of 23533 SP in delegations.
A special shout out to our sponsor @bobbylee who increased his delegation to 10'000 SP. This single handedly almost doubled our SP.
@chitty doubled his delegation to 4'000 SP.
We want to thank our wonderful sponsors for their support of dPoll:
| Spnsor | Delegation level [SP] |
| --- | --- |
| @bobbylee | 10'000 |
| @chitty | 4'000 |
| @emrebeyler | 2'500 |
| @fabien, @pharesim, @utopian.pay, @shaka | 1'000 |
| @ryanlj | 500 |
| @voronoi, @techslut, @favcau, @boontjie, @sereze @kabir88 | 250 |
| @espoem, @crokkon, @pjau, @hafizullah | 100 |
| @fbslo, @ihtiht, @simplymike, @whatsup, @mahsumakbas, @aydant, @amico, @devann, @nerdtopiade, @mamun123456 | 50 |
| @isnochys, @feronio, @murattatar, @bluerobo | 25 |
| @mobi72 | 10 |
Sponsors will receive a weekly reward for supporting the project. If you want to support the development and engagement on dPoll, you can delegate some Steem Power and instantly become a sponso
Some stats on dPoll:
dPoll is currently in 45th place on stateofthedapps.com across all listed dApps - including apps on Etherium/POA and EOS.
We are in 21st position on https://steemapps.com. This project has been created recently by @therealwolf to increase visibility of the Steem ecosystem.
---
At the moment there are 889 users on the dPoll platform. This is an increase by 44 in the last week.
They have created 1002 dPolls. Votes cast add up to 8241 in total.
| Calendar Week | No. dPoll created |
| --- | --- |
| 43 | 6 |
| 44 | 18 |
| 45 | 55 |
| 46 | 87 |
| 47 | 111 |
| 48 | 74 |
| 49 | 67 |
| 50 | 106 |
| 51 | 136 |
| 52 | 142 (for now) |
Join dPoll on Discord: https://discordapp.com/invite/ZcV8SGr
---
*Standard rules of decency apply. The dPoll team will reserve the right to exclude certain entries from the competition, if necessary.
---
If you want to support dPoll.curation, you can also delegate some Steem Power. Quick Steem connect links to delegate: