dPoll Report: Weekend Edition
Table of contents
About dPoll
Competition No. 8
Announcement of last weeks winners
dPollXmas2018
What happened on dPoll last week?
Our growing group of Sponsors
Some stats on dPoll
About dPoll
dPoll is a place on the Steem blockchain where you can answer questions by your fellow Steemians and create polls yourself. You can find it at dPoll.xyz.
If you want to learn more about the project, you can read the introductory post.
We have implemented a new view which lists polls by vote count on specific date ranges. This view is hidden at the moment, but it's accessible via /polls_by_vote. polls by vote ranks the dPolls of the last 7 days by votes cast. If you want to know how to set specific date ranges: check this.
The immediate tasks on our development roadmap are:
Front End design
Achievements and Badges
Fixing the mobile issues on markdown editor
Adding/Updating post tags
Multiple choice selection (Not %100 decided, yet.)
DPP (dPoll Points) system based on user activity
If you have any feedback, go to our issues page at Github or drop by at our Discord server.

See it online at dpoll.xyz, and the source code at github repository.
dPoll Competition No. 8
Starting this Sunday, every poll created until next Saturday will be eligible to enter the competition.
There are two ways to win:
Price pool for most votes cast:
1st Place wins 3 Steem
2nd and 3rd Place each win 1 Steem
One random voter for the winning dPoll will receive 1 Steem
Entry: you will have to create a dPoll on dPoll.xyz and try to accumulate as many votes for your question as you can. Deadline is Saturday the 12th of January 2019 12 PM UTC*.
Team members of dPoll are excluded from participating in the prize pool.
---
dPollXmas2018
Our team member @isnochys started a Christmas Special.
#dpollxmas2018 has now concluded and the first dPoll badges will be awarded shortly.
---
Winners of Competition No. 7
Congratulations to the winners!
What happened on dPoll last week?
@sumatranate was wondering how he could offer English Courses on Steem:
Which course format would you prefer?
Do You Know Someone In The Steem Community Who Wants to Improve Their English?
This is a very interesting use of Steem. He has created the separate account @SteemEnglish for that purpose. If you want to improve your English, or know somebody who wants to learn more, you know where to go.
---
@auminda used dPoll to find the best time to host a Steemmonsters Tournament:
STEEMMONSTERS Turnier Terminwahl
The favorite date as of now is 15.01.2019 at 21:00 UTC +1.
There is at least 25 SBD and 30 Steem as prizes to be had.
If you like Steemmonsters and winning but you don't like the date, go to dPoll and vote. There is still some time left.
---
@trincowski has had enough of the bear market in crypto:
What is your Crypto Investment Plan for 2019?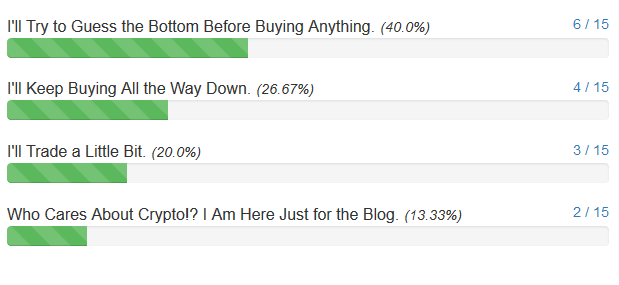 ---
@onze would like to tease your brain a little:
How many squares there are on the image?
---
@funtraveller was wondering about the immediate future of Steemit:
What do you think should be the focus of Steemit community for 2019?
64% of voters see a fast deployment of SMTs as crucial.
---
@vimukthi was inspired by Steemmonsters:
What Is The Biggest Obstacle To Blockchain Based Gaming In 2019?
56% said that the potential is underestimated.
---
@aftabkhan10 wanted to find out what the best time to be on Steem is:
What is the best time for you to be on Steemit?

Steem is clearly a late evening indulgence.
---
@deathcross was of the opinion that fireworks were fine and all but we also could learn a little bit more about New Years:
Stupid question or not? In which year are we now?
Here is his answer:
Solution: All of the above: (The 1st of January):
2018 (The 19th of December 2018 in the Julian calendar)
2019 (The 1st of January, Gregorian calendar)
5779 (Tevet 24, Judaism)
1440 (Rabi' ath-Tani 24, Islam)
1397 (Dey 12, Persia)
1940 (Pausa 12, India)
Source 1, Source 2
(and Wikipedia)
---
@nerdtopiade is hosting a dPoll for his biweekly game key giveaway:
He will play the most voted key on vimm.tv/@nerdtopiade and will give the remaining four keys to two lucky dPollers.
@vimukthi won the keys in the last giveaway.
---
@xplosive was interested in the rate of technological progress:
When was the last time you used a public telephone?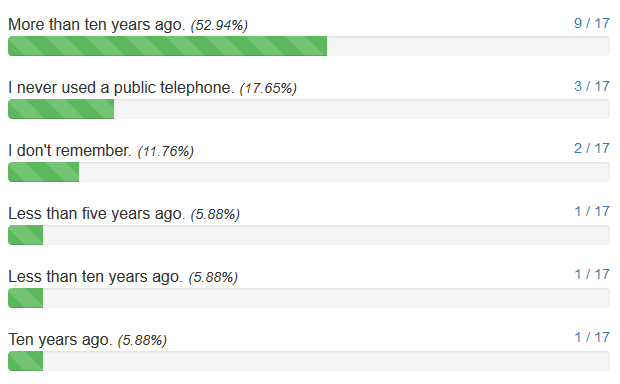 And so was @akomoajong:
Do you face electricity problems?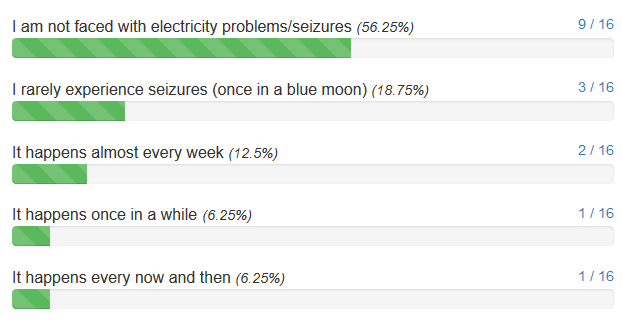 Screw electrical power we are running on Steem Power!
---
Our growing group of sponsors
32 Sponsors are supporting dPoll at the moment with a total of 23615 SP in delegations.
We want to thank our wonderful sponsors for their support of dPoll:
| Spnsor | Delegation level [SP] |
| --- | --- |
| @bobbylee | 10'000 |
| @chitty | 4'000 |
| @emrebeyler | 2'500 |
| @fabien, @pharesim, @utopian.pay, @shaka | 1'000 |
| @ryanlj | 500 |
| @voronoi, @techslut, @favcau, @boontjie, @sereze @kabir88 | 250 |
| @pjau | 200 |
| @espoem, @crokkon, @hafizullah | 100 |
| @fbslo, @ihtiht, @simplymike, @whatsup, @mahsumakbas, @aydant, @amico, @devann, @nerdtopiade, @mamun123456 | 50 |
| @isnochys, @murattatar, @bluerobo | 25 |
| @mobi72 | 10 |
Sponsors will receive a weekly reward for supporting the project. If you want to support the development and engagement on dPoll, you can delegate some Steem Power and instantly become a sponsor.
Some stats on dPoll:
dPoll is currently in 52nd place on stateofthedapps.com across all listed dApps - including apps on Etherium/POA and EOS. That is 7 places down from last week.
We are in 21st position on steemapps.com (same as last week). This project has been created recently by @therealwolf to increase visibility of the Steem ecosystem.
dPoll is at number 18 on dapp.com in the category Steem and has a Dapp.com Ranking of 47, which is a proprietary number that indicates health, growth and potential of dApps.
---
At the moment there are 944 users on the dPoll platform. This is an increase by 55 in the last week.
They have created 1148 dPolls. Votes cast add up to 9878 in total.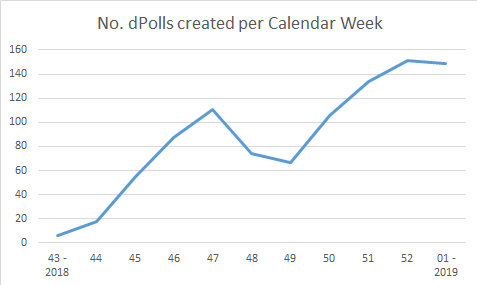 Join dPoll on Discord: https://discordapp.com/invite/ZcV8SGr
---
*Standard rules of decency apply. The dPoll team will reserve the right to exclude certain entries from the competition, if necessary.
---
If you want to support dPoll.curation, you can also delegate some Steem Power. Quick Steem connect links to delegate: