VOTE FOR YOUR FAVORITE VIDEO INTRO CREATOR
---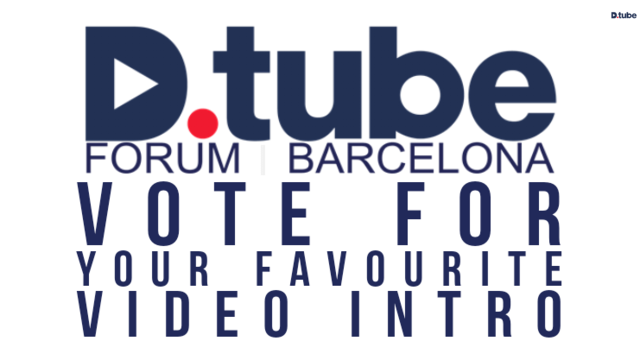 Hey @dtube community!
Over the last week we've received some really cool and creative video intros!
Big thank you to @behelen, @freecrypto, @buttcoins, @prettynicevideo and @hafizullah for your entries and help!
Now it is YOUR TURN to show us which video intro is the BEST and who should win the
1000SP for 90 days!
https://d.tube/#!/v/dtube.forum/jxprane8



---
The venue: http://www.espacio88.com/
THANK YOU for your help and all your support!
DTube FORUM 2019 - "YOUR STORY BROUGHT TO LIFE"
The WHO is WHO at the DTube FORUM: (23)
@roger.remix
@laubsauger
@misselectric
@greencross
@prc
@tixinhacapitinha
@pescador
@floripondia
@sergiomendes
@nathanmars
@artakush +1
@jesapelcroot
@corsicana
@lecharles
@french.fyde
@yann0975
@kaerpediem
@surfermarly
@joythewanderer
@cryptospa
@tibfox
@hauptmann
(everyone will appear here who bought the symbolic entry fee)
We hope many more will show their commitment to attend the DTube Forum!
Current members of the organization team:
@roger.remix
@tibfox
@artakush
@greencross
@ivansnz
@nathanmars
@sergiomendes
@hauptmann
This project is just possible with the great support of our community. So we want to thank you all for every upvote, resteem, and comment.
If you want to support us even more, please check out the @fundition campaign: https://fundition.io/#!/@dtube.forum/nki4yaz5z

A very BIG THANK YOU! goes out to our sponsors:
@mariusfebruary


@dsound


@cleanplanet


@actifit


@roelandp


@prc


@tixinhacapitinha

@pescador


@floripondia


@freecrypto


@surfermarly


@phoenixwinter


@snook


If you want to appear here as a sponsor as well, check out our rewards on @fundition.
From Hamburg with LOVE
@tibfox
---
---
---
---
---
---
Answer the question at dpoll.xyz.