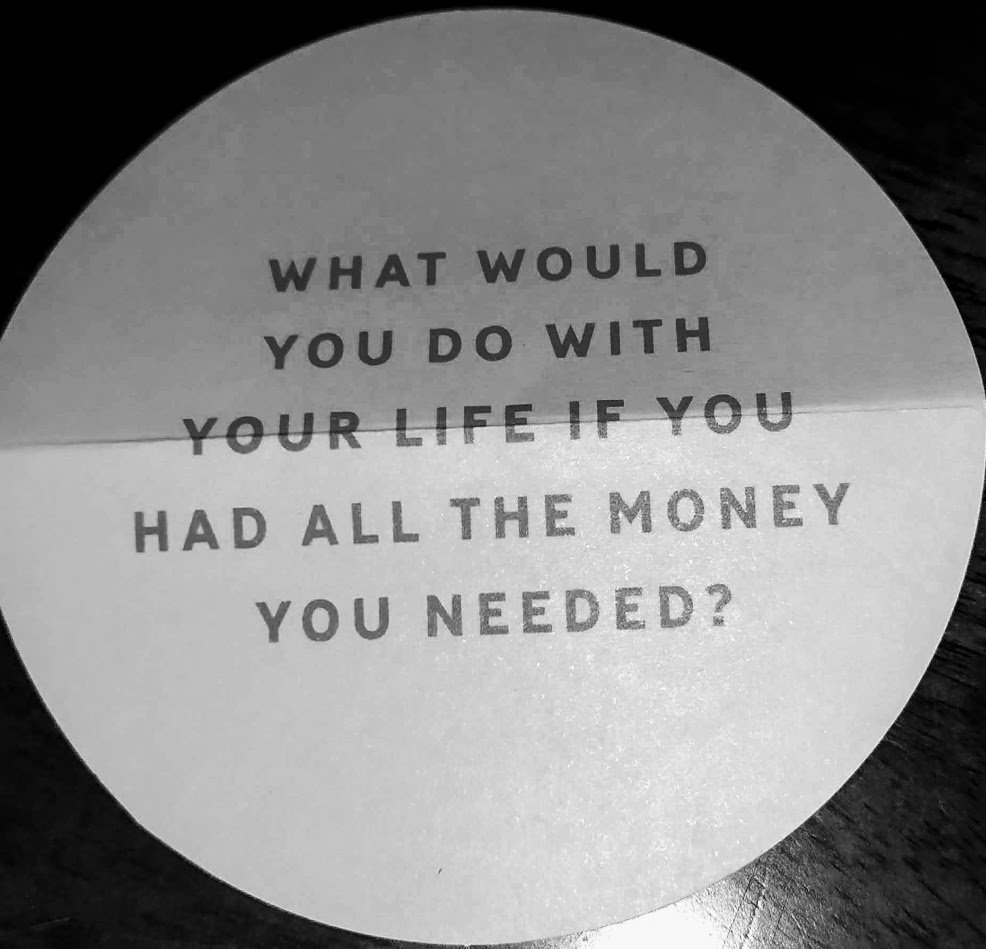 A parting gift from my work colleagues was a "Dream Without Limits Jar".
It states:
Something magical happens when you dream, and something even more powerful happens when you write your dreams down on paper.
Give yourself permission to dream without limits using this beautiful set - and create a wonderful keepsake to look back on for years to come.
WHAT WOULD YOU DO WITH YOUR LIFE IF YOU HAD ALL THE MONEY YOU NEEDED?
One of the painful experiences for me, currently, is that I do have options with my time. Having options is not an easy experience for me.
My ball and chain has always been my work. It has been my yoke of existence.
A comfort, of a sort, that pointed my direction, the backbone of who I am.
Or so I thought.
But what would I do if I had all the money I needed?
Easy for some people. For me, a centrist being, finding a conviction in a direction has always been difficult.
To focus too intently on something has alway been a fear of mine.
A fear that, if I immersed myself into something so deeply, that one day, I would awake, and realise, that I have wasted my time.
Travel? Not really, there are aspects of travel that I like. I do enjoy some specific things, but my travel would be mostly by car, exploring my Australia in greater detail.
Taiwan. I would love to spend time in Taiwan. To see the fireflies every year (which is around end of April & beginning of May), to work with groups that appreciate wildlife.
I'd enjoy looking for gold - do some prospecting.
On my sustainability quest, I'd like to focus on improving my local area.
When I have been jogging recently, there is alot of rubbish along a couple of road stretches that are bothering me - enough almost to action something.
I'd like to spend more time with my children, to foster in them, more enjoyment in items that are not "consumerism".
It would be fun to start a business venture, produce something, employing some local people, do some actions, empower others and get into the rhythm of creativity & motivation.
As I write this, it is obvious that many of these things I can do right now.
There is not alot holding me back apart from putting together a plan of action.
Time, is more important, than Money.
Having conviction & joy to utilise that Time effectively.
What would you do?
Take care.