ATTENTION! ATTENTION! Are you ready to take your chance of winning the biggest amount of Future tokens yet? Do you think you are capable enough to do all that we ask and earn 10000 tokens? TEN THOUSAND!!! It will not be easy. Since we are giving away so much, we will make it as complicated as we can but do not worry, it will also be a lot of fun.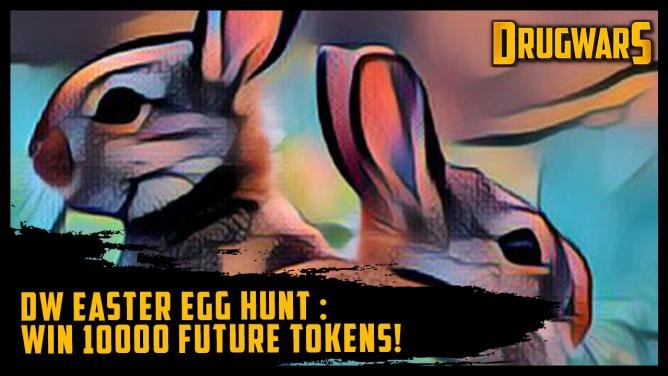 Read this post carefully. It contains all the important details and rules of this game. All you have to do is follow the instructions and win the game. One winner takes it all and the first one to get it wins. There will be more opportunities and games like this one in which you can win some prizes from Drugwars.


This game is inspired by an old game adults often prepare for children around Easter. Eggs are hidden all around the house and yard. Children need to find the eggs and there is often a prize for the child who finds the most eggs. We adjusted the rules a bit. There will be only one winner, the one who finds all 10 eggs and writes a post about it with explanations where the eggs were and the secret message that they had. Eggs can be hidden anywhere online but we did keep it blockchain related. No, you will not even get clues where they are and we will not tell you how they look like. Hey, we never said it was going to be easy :)


INSTRUCTIONS:
find 10 eggs
write a post that contains locations of the eggs and the secret message you got from the words on the eggs
the post needs to include explanation which egg (number) was where and have the correct link leading to that page
you need to have ten eggs and ten correct links
use drugwars and futuretoken as two of your tags, the rest are up to you
put the link to your entry in the comments of this post
RULES:
the game will last from Sunday 21st of April to Sunday 28th of April OR SHORTER IF SOMEONE WINS BEFORE THE END DATE
there is only one winner, a person who finds all the eggs and publishes the post about it before anyone else (speed is crucial here)
if post entries are edited, we will disqualify them so be careful, YOU ARE NOT ALLOWED TO EDIT YOUR POST once you publish it
people who are helping with the game by having the eggs hidden in their posts/comments are not allowed to participate in the game
if no one finds the eggs in seven days, there will be no winner
Drugwars team reserves the right to refuse to pay out the reward to the winner if we find the behavior of that person rude or disrespectful to other players
only one entry per person is allowed
If there will be more than one valid entry, the fastest player wins. The post that has been published first is the winning one


There are 10 eggs hidden somewhere online. Each egg is in a different location. Those locations are known only by two people, the CEO and Editorial director of Drugwars. Not even the people who will have them hidden in their place know the other locations. Each egg is unique and there is no option of creating your own egg and telling us you found it somewhere.
Every egg has a number on it and a word. When you read the words, you will get the secret message that you need to include in your post. If there are similar egg hunt games on the blockchain, you will recognize Drugwars eggs by the colors and the images on them. They have our official font and colors that we use in all our images that you have already seen in our posts.
Eggs can be anywhere related to blockchain but not necessarily on the blockchain itself. They can be in new or old posts, comments, Dapps, etc. Your entry needs to include correct links to places where you found an egg and you need to write which egg (number) was on which page.
The game can last 7 days. When someone finds all the eggs, follows the rules and instructions and is the winner, the game ends. The end date is 28th April 2019. If there will be no valid entries by then, there will be no winner. We will make an announcement in our discord when the game has ended. If you have written an entry and there is no such announcement in a day or two after your post, consider that you are not the winner and have done something wrong. We will not accept multiple entries from the same account. You only have one chance.


"I think this is too hard, boss. Can you give some clues at least?" Marty almost gave up before he even started.
"Think Futureshock, think Drugwars, and think steem." the boss smiled

POST EDIT:
If a winner prefers to get his reward in steem in stead of Future, he will receive 100 steem as the prize of this contest.