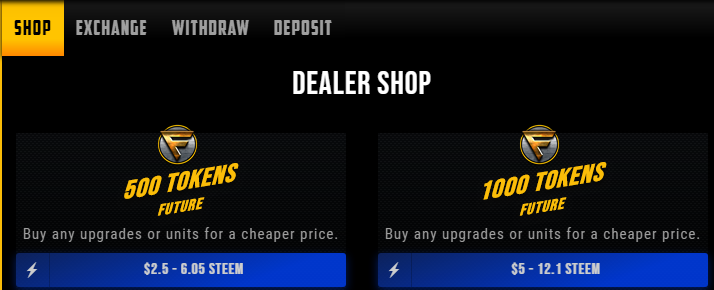 Dear steem-bountiers
After all my test, i find out how to use this byteball wallet and buy some futures, so now i have 50,000 in my wallet.
But i did it in a very hard way, as you saw from my past posts, because this byteball wallet is really complicated.
So i would like to give some help to who want to buy futures in drugwars and do not want spent so much money as they ask in market but cannot operate with this crazy byteball bot wallet.
As you can see from the post image, 500 futures cost 6.05 steem, but this price is totally out from real market price.
So i would like to give a service of exchange only for steemit users with much more honest price, 500 futures for 2.5 steem.
How you can get this service?
It is very easy, first you need to go to deposit page in drugwars:

If you already have the deposit address, take it, if not push the blue button to generate it.
Take a copy of the address, than send to @intellihandling using your steem wallet, the amount of steems (2.5 every 500 futures) and in memo please add your generated address.
This is manual service, so it will be done once a day, in the CET evening time.
Every transfer made with no right info, the amount will be sent back.
Please make upvote and comment after you did the transfer, in order to get the bounty set, so the price finally will be much more less.
The bounty is reserved to who will use the exchange service, so other comments will not get any upvote.
The bounty will increase if there will be a big demand, in order to get a minimum bounty of 0,5 steem to everyone will join and made right procedure.
I always support my beloved community of @steem-bounty.
Join the Club!
We have built a new service that will help you get upvotes using your own SteemPower.
Check out how it works and sign up here: https://steem-bounty.com/services/vote-club
Put a bounty on it
Make money and win bounties or Increase engagement using bounties:
www.steem-bounty.com
Please vote for our Witness
Thank you very much for your attention and we hope you will vote for steem-bounty as witness!
In order to do so you can go to:
https://steemit.com/~witnesses
And enter the "steem-bounty" account into the text field and click vote.
Or use steem-connect to vote directly for @steem-bounty as Steem witness!