Hey everyone
Today as I continue to read through my first 2 posts that points out an unbalanced ecosystem and understanding a lot more of the struggles of content creators and analyzing ways and awaiting more discussions on how to maybe spurt the use of STEEM in a wider direction, I have noticed this interesting token that was rewarded at my main account.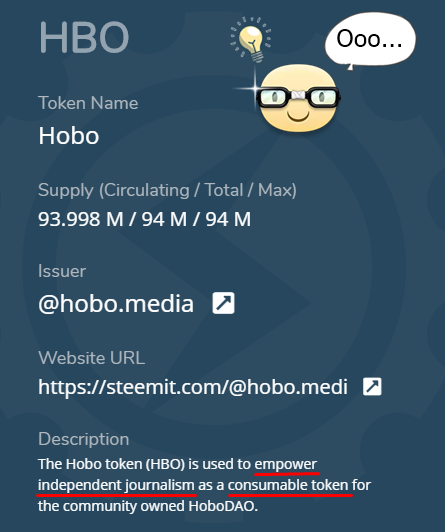 So this token apparently rewards independent journalists; and I think those who are writing for a certain state like Venezuela's situation or even the well-being of this social media community would benefit.
However, if I read it correctly from @hobo.media 's write-up, there is a double validation in order to be rewarded.
This reminded me of my recent read of the HF21 plan where "proposal and approval projects" was mentioned. Maybe this is kind of what it is.
Less automation, more manual / human / AI validation. It takes longer for rewards to be obtained, but I think that this could actually get the humans to work a little harder.
That is, I am hoping very hard that it will not be perverted so soon...
And that there are still humans who can work valiantly under the pressure of fame and power later when this beast becomes powerful.
This is probably something that founder(s) of HBO token will keep themselves accountable.
Will it be a good investment? What do you think?
I personally do not know, but any of these tokens including this new one can be the next coin that could have a stable ecosystem.
Journalists still have a daily life. So let's see if that could help take the token further to include a practical approach with this thought in mind.
And in the meantime, this account will just delegate some SP over to support and monitor how it goes.
---
Meanwhile...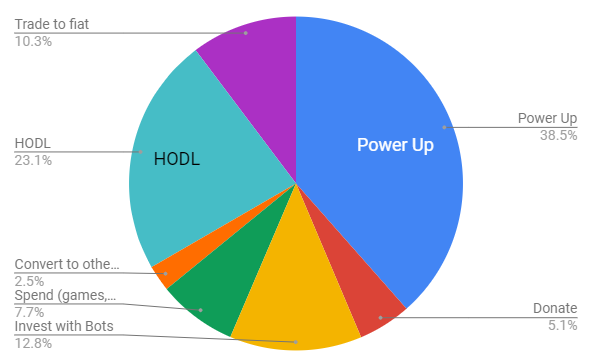 The demographics from active #teammalaysia members is still a little too small to tell; but right now the most obvious replies for those who are still staying still have faith in the value of STEEM and also to build other accounts up as they continue to be curators.
And those who HODL eventually will need an outlet to survive like a rainy day savings should there be a need of it, because the 3rd largest percentage where members are still converting it to fiat.

And so far, with a small pool of volunteers, their 2 out of 3 major expenses still link to the commercial sector.
As I cannot conclude my observation with such a small pool of survey, I will continue to wait... hopefully all the members that are still active in Steemit would be able to answer these pressing questions to proof that however good the human connection is important to sustain a blockchain backed social media platform, when it comes to reality, STEEM and all its SCOTs ecosystem will need to evolve to the next level.
Let's see which founder can see a bigger picture.
Community influenceres, would you like to have a demographics for your own community? I would love to collaborate with you so that we can see the needs in a larger scale - worldwide
Please DM @littlenewthings at discord for collaboration if needed.
Until then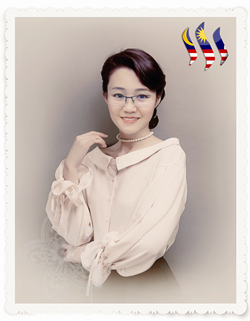 #dses
initiative member.
A technology can come and go; but when a lifestyle is applied to it, it becomes a new revolution.