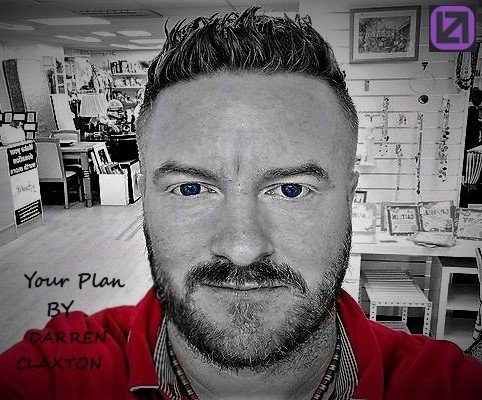 ---
---
Your Plan is my only piano based song. All instruments, lyrics and production are courtesy of me - Darren Claxton. Copyright © 2017
The cover art was also drawn by me, I think it depicts me hiding inside the paper, where the lyrics live! a safe place for us songwriters I guess.
'Your Plan' was written right towards the end of a pretty harsh relationship.
My partner was 10 years my junior (I was 30, she 20) The weird thing is that, she was attracted to me as a musician and songwriter/performer but
unequivocally and absolutely hated me performing, writing music and generally interacting with the world as a musician and creative after we started dating. As some of you that I've spoken to recently may have gathered by now, I'm a real people person, well read, empathetic and just like to talk about music and life!
I'm no saint, and don't profess to be, nor am I the devil, but she, she treated me like the great red horned one himself/herself!
Shortly after writing this song, our relationship ended, which was a huge relief for me, as I could then find myself again after 5 years of being controlled etc. And so the story continues.
I moved from the home we shared and moved 120 miles north to live at my sisters house, where she really took care of me and nursed me back to being DARREN again.
So that's the back story for 'Your Plan' Because I hadn't got back to this and many other songs until recently, when I was looking through reems of lyrics and music ideas I had created some years ago, I stumbled upon a load of really good song material to which 'Your Plan' was one of them. What's special for me is that, It's my only song that I've written for piano...I taught myself how to play drums, guitars, banjo, bass and percussion, but never really bothered with the piano too much, only the odd synth sound here and there. I really should record more songs on piano as I think I've got the hang of playing it now.
During this time in my life, I wrote some very deep lyrics but never really got round to record them, until now.
Over the next few weeks I'll be posting some of these songs as and when I get a chance to get them down...offspring permitting of course!
---
Lyrics
---
Close now, If only
You shared, the life
look down, disown me
wait then, go now
Take back, the harsh words
rethink, your plans
headstrong, but restless
fake smile, a clown
Into the fires, that burned my lies
fake dreams and conscience
all, justified
You were a bad little habit
right from, the very start
lunged forward and stained my heart
did you think to stop, and change
Into the fires, that burned my lies
fake dreams and conscience
all, justified
maybe your eyes, they show pain.
I hope you enjoyed this track!
Thanks for listening, voting and commenting!
Your support means so much to me!
---
Kindest
Darren
---
---
► Listen on DSound
► Listen from source (IPFS)
---
Choon is a music streaming service and digital payments ecosystem—designed to solve the music industry's most fundamental problems.
Check out my music on CHOON