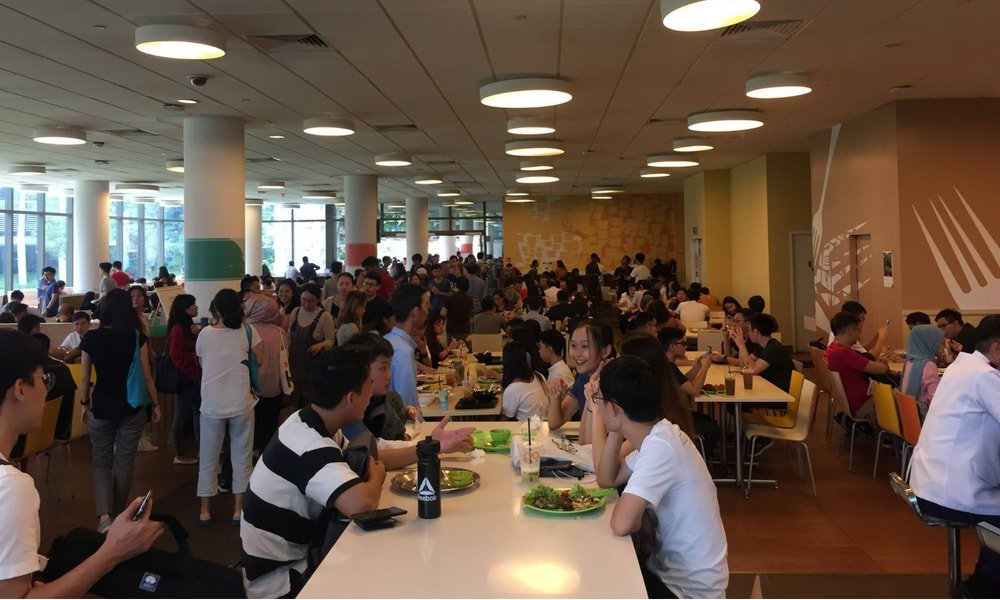 ---
Hi Guys! This ambiance recording is a very special one! Cheng and I went to the NUS, Singapore's largest University and we came to the right time. It was the first day with all the new students. Another great timing point was lunch time. We went into the Cafeteria and it was already packed with hundreds of students! What can you expect?
What to expect in these University Sound Effects?
We were sitting with the glass wall behind us and all the students are sitting in front of us. I placed the Zoom F4 and the DPA 4060 between two tables filled with students and everybody knows we were recording. So no stealth or anything.
You can listen to the people chatting in several different languages but its hard to pick up because it's just so much talking (Walla).
You listen to plates moving, the students standing up and moving the chairs around, listen to the shoes squeaking on the floor.
Behind the recorder are the trash bins and the area to collect and staple the dishes. The natural reverb of the room is great.
At 0:35 min. A young female student spotted the microphones and sang "We wish you a Merry Christmas" and I think something in Chinese a few seconds later. Very funny and a beautiful voice by the way.
Recording 3 has more laughing students so from all three this is my favorite one.
---
► Listen on DSound
► Listen from source (IPFS)