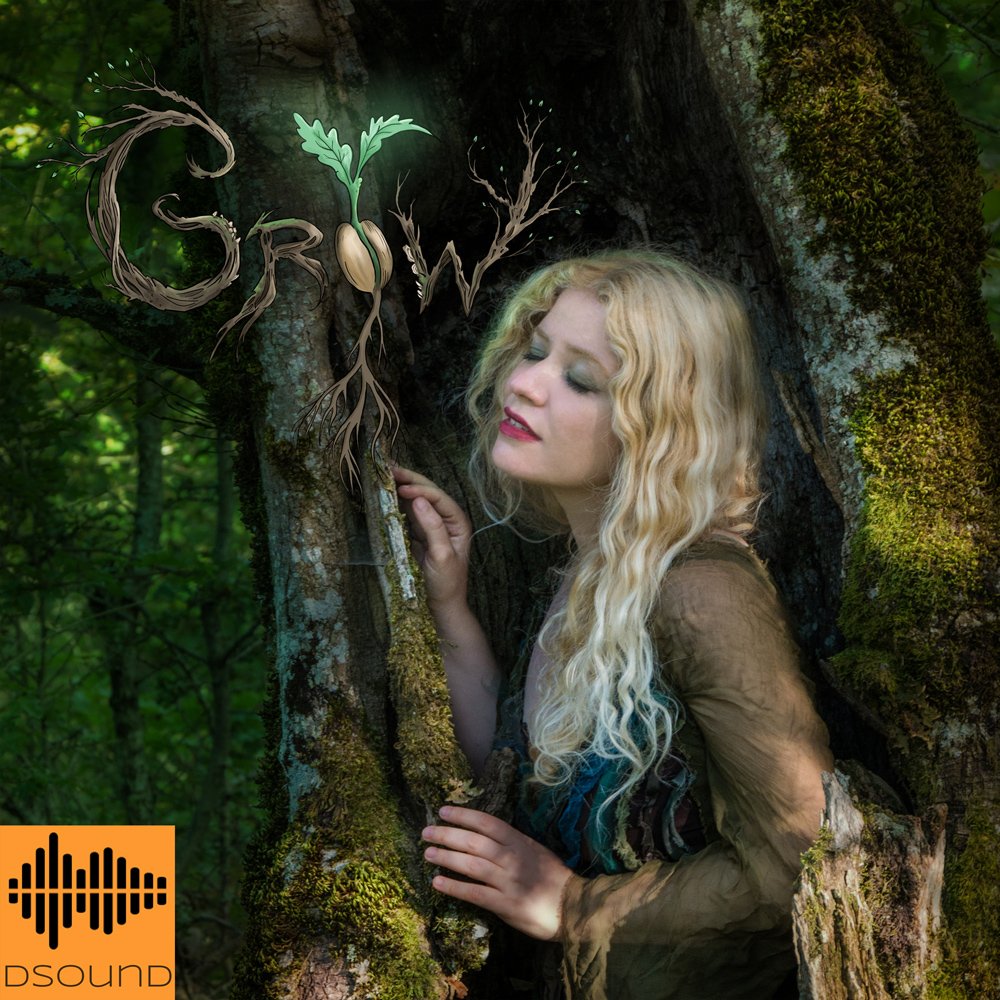 Even the tallest tree started as a seed. Save Green in your heart. This song is a rendition to the Light and the Green that Spring and Summer brings. It's a song about Growth in Nature and of our Spirits... of our dreams... It's about waiting for the right time to unfold our leaves. It's a song about life constantly unfurling.
It's an ode to life but also to change and transformation. A way to become better, stronger, to endure

LISTEN ON D-SOUND or scroll down to WATCH MUSIC VIDEO
You cannot feel small once you start to wonder, all those trees so tall were once tiny seeds that stood against the strongest wind and kept thriving shade or sheen.
---
► Listen on DSound
► Listen from source (IPFS)
---
I-TALENT Entry
This blog post is also an entry to the multidisciplinary music/art challenge I-TALENT ROUND 7 hosted by @ivan.atman and sponsored by @gtg
Thank you very much for hosting the contest and hope you like my entry for this round.
Growth is a shift within
---
GROW: The music video
Click above to watch the music video filmed by me and my partner @hedac while we hiked all throughout different forests of Navarra (North of Spain), mostly beech woods during late Spring and Summer last Year. Single was released officially early fall 2017. I love nature and forestbathing for me it is such a healing ritual. We both love to hike and this is also a collaboration in which we both show our love for Nature as he helped me behind the camera to film this video and take these photos I'm sharing with you.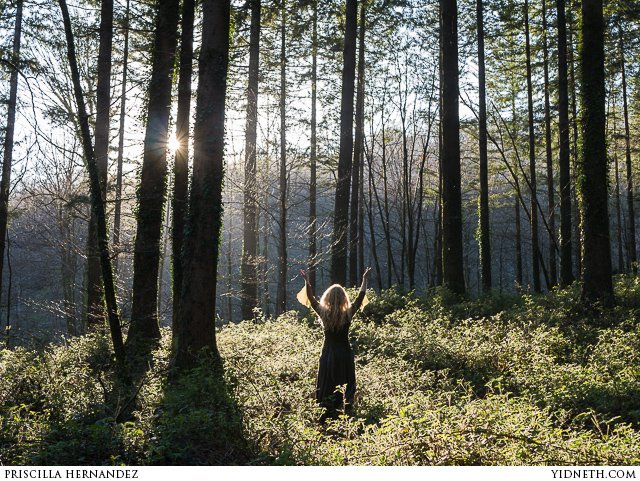 Above: One with Nature... photography taking while filming the videoclip
I played all the instruments, piano, Synths , harp, winds, lead and backing vocals. Héctor helped me adding some subtle percussion, mixing and mastering.
This single was published as a stand-alone and doesn't not belong to any of my published albums. It will be included in my forthcoming project Fear no More (that will be an illustrated soundtrack) but until then it's available as digital release from Bandcamp. So please consider to purchase the download to support.
Fear no More will be an illustrated music book featuring my art and music, same way my two previous album have featured also my artworks as illustrator.
Lyrics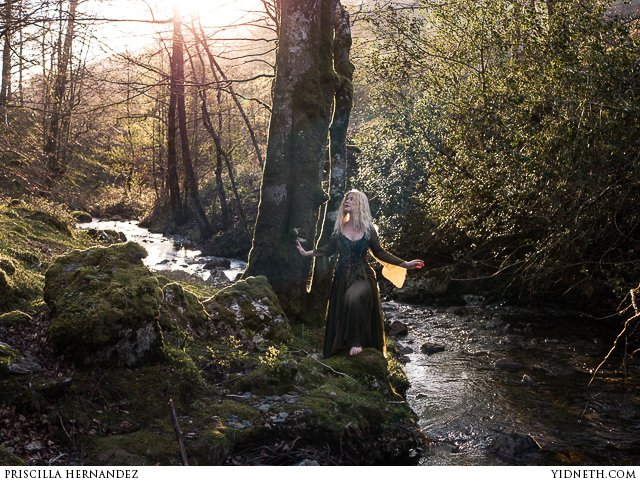 I spread my arms
to hail the sun
I feel its call
to reach out to the light
Then timeless songs
shape in my mouth
and spiral on...
as days turn long and bright
All in endless flow
waking from slumber
It´s a subtle glow
It´s a shift within
A rustling voice that seems to speak
it´s like magic sinking in
it drinks from rain unwinding leaves
Now it´s time to grow all green
The road less walked
will be my own
now that I´m sure
it leads me back to you
A door unlocked
into the unknown
and I became yours
I'm moss, I'm bark, I'm roots
But you can´t feel small
once you come to wonder
all those trees so tall
were once tiny seeds
that stood against the strongest winds
kept thriving shade or sheen
to grow all green
to grow all green
so just wait and let it grow
so just give it time to heal
As season flows
once more it all
turns bare and cold
but green
beats
in your heart
A custom dryad dress made by one of my listeners
It was such an honour when Zoe from the Clothing brand Zollection offered herself to make me a custom gown in my favourite colours... she let me pick my favourite colours and I like to draw wispy rags. The dress was stretchy and so comfortable to wear that it became my "hiking" uniform last Spring and Summer when this videoclip was filmed. I roamed through different forests and locations all over Navarra on different days and different locations.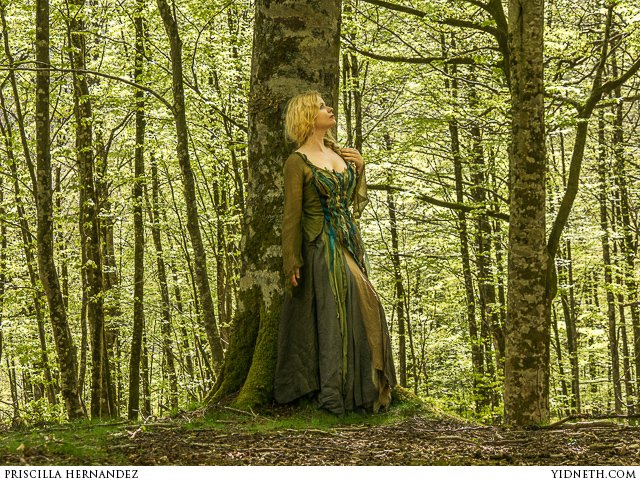 Here another behind the scenes wearing the gown... It was made to mimic the forest colours... moss greens, bark browns.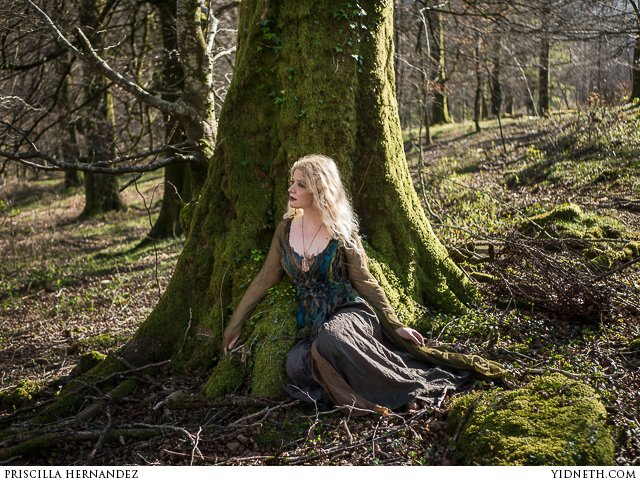 Suuri Tammi the Oak, Kokeneli the isopod and Hirvi the Deer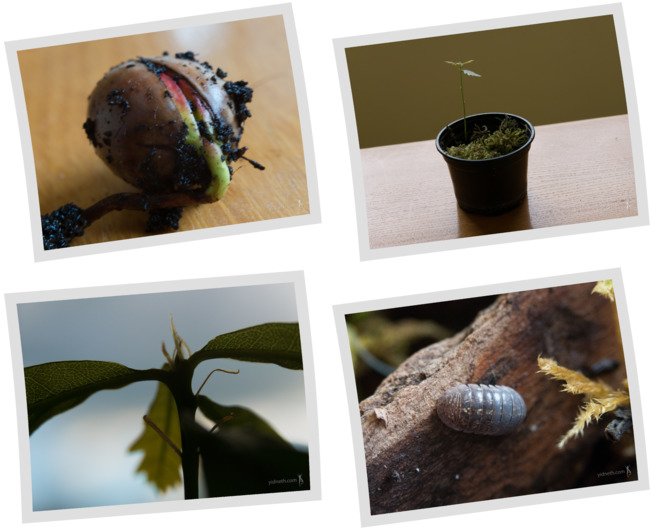 Above: My little baby oak tree "Suuri Tammi" (It means big Oak) born from an acorn from a famous dying oak named"Kisulabe" by locals
There is a giant old dying oak in my region. It is a famous and singular tree the local people call Kisulabe though it's slowly dying it's lair to small animals... Some years ago I picked an acorn and I planted it. Soon there was a seedling and I got a big pot for it... The little oak tree was called Suuri Tammmi (which means big Oak in Finn, yes, I tend to name my pets with Finnish names). Then there it was... the cutest roly poly ever... She grew with the oak tree for over three years, and I'll cover both of them with pictures in another post... but Kokeneli (name of the cute terrestrial crustacean) and she was featured in this videoclip and enlarged digitally to be the size of a small dog. :). She lived for three years and died barely days after releasing the video. I'm glad that something so "small" was loved as it had a prominent part in the song. Woodlice are isopods, terrestrial crustaceans, and they do have a role in decomposing organic matter and helping the soil. Do you remember Miyazaki's Nausicaa? In that movie, some creatures called "Ohm" that look like isopods are in fact cleaning the Earth from toxic poison.
So here is my little "guardian of the forest"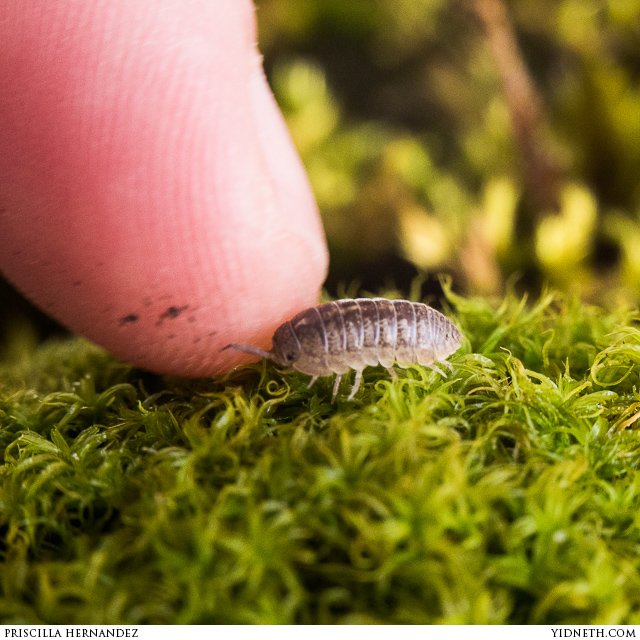 I always say small and tiny things are not devoid of meaning something really big. So this one in your memory.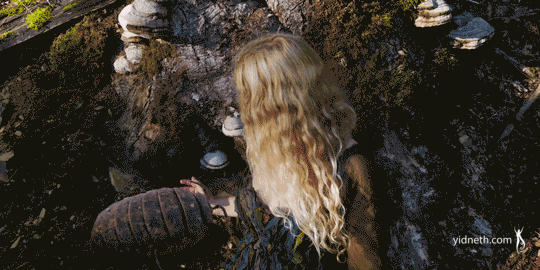 But there is another magical moment in this video featuring another guardian of the forest my friend Hirvi a stag @hedac and I usually visit and feed. So there is a point in the video where there is a stag... It's just brief but he's there... did you find it? It's kind of an Easter egg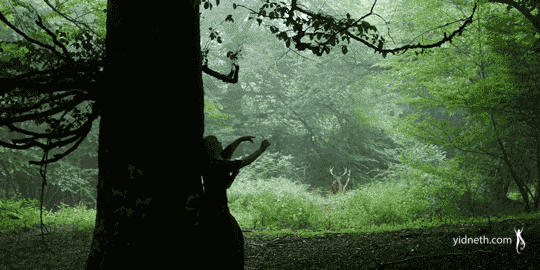 Here a close up of Hirvi, in a picture taken by @hedac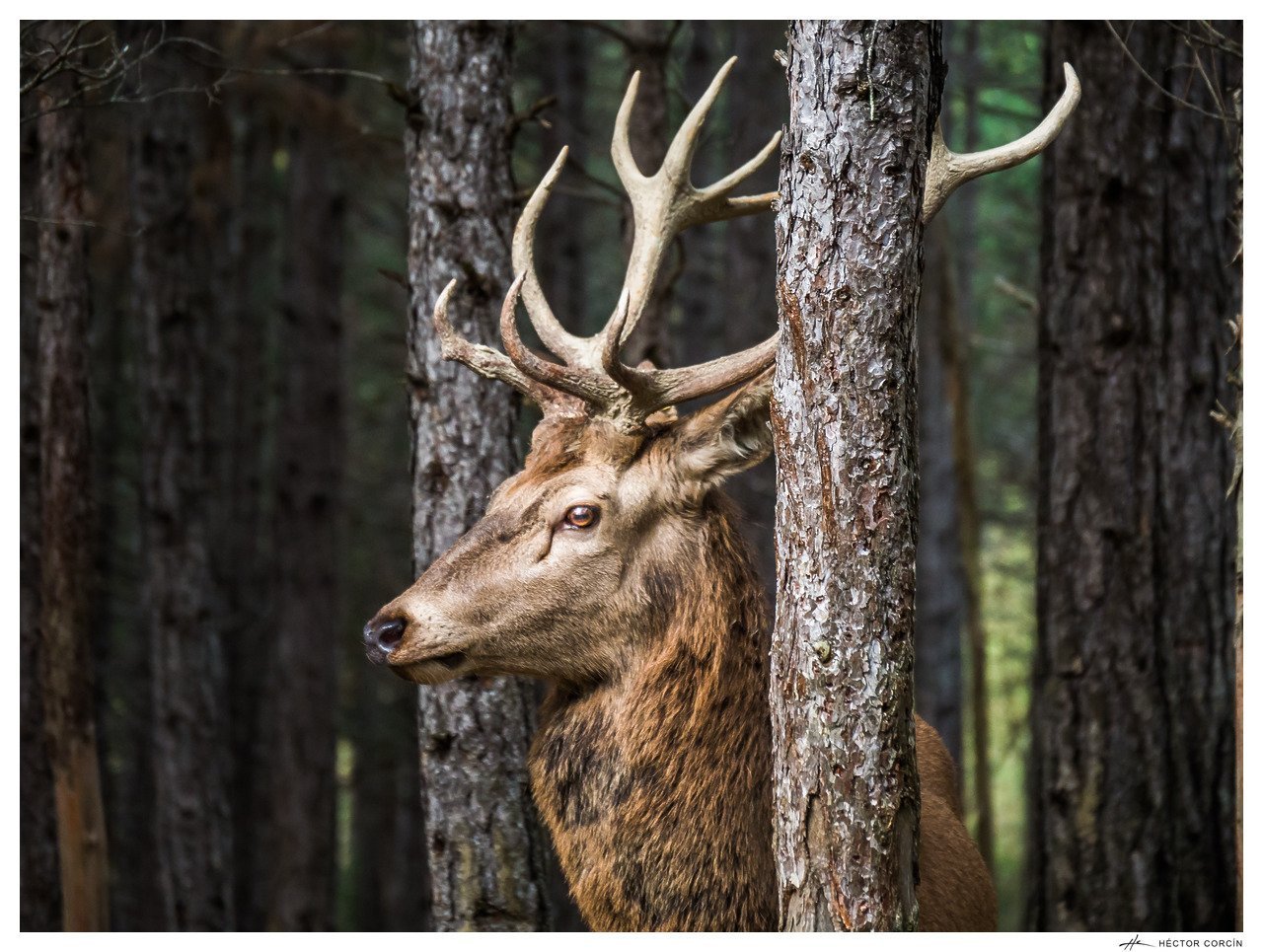 Isn't he majestic? He will be featured in a forthcoming video too more prominently. It will be a song about a wild and innocent spirit.
By the way, thanks @pechichemena for naming the bots in @helpie after them. So Kokeneli gives cookies and Hirvi plays the music in the group :). That is sweet :)
Drawing GROW logo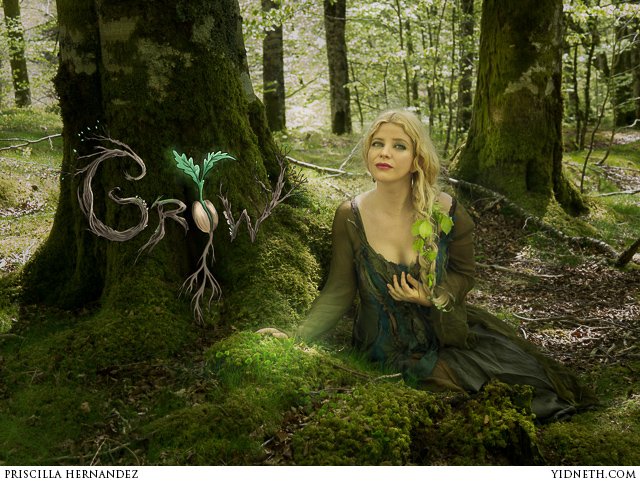 My partner @hedac gifted me a monitor tablet and this was one of the first things I made with it. I made the basic sketch on paper, scan it and the rest was painting it on the computer. Of vourse the basic idea was the seed growing, thriving, becoming taller and stranger and it was based on that acorn and my little Oak Suuri Tammi. So I drew the O like a seedling emerging.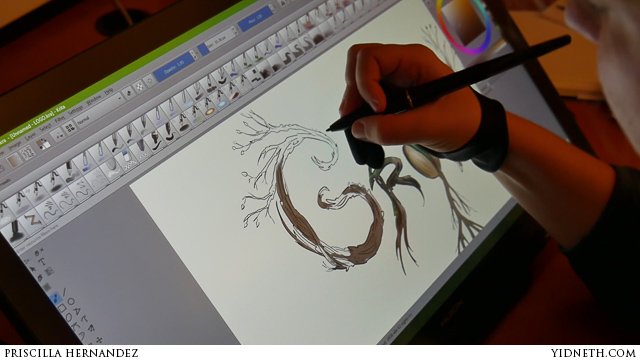 The final result was this.... I want to do some apparel like mugs and t-shirts with it because I think the meaning is beautiful... and it trascends my own song... at least for me.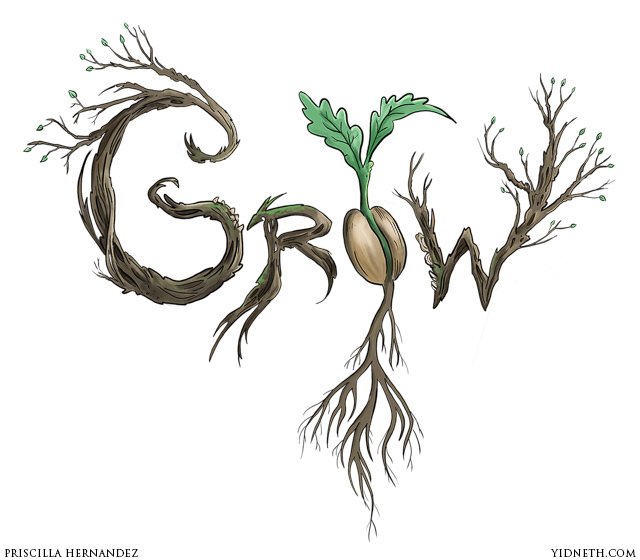 So when the time is right...
Remember there will be hard times, cold winters... but if you wait for the right time to grow... if you thrive, if you face the strongest winds... live and reach for the light... Save green in your heart and when the time is right... GROW
Growth is endurance
Some other pictures that were taken during the filming of the song. Some of the scenes were not included in the final edit, so here also some behind the scenes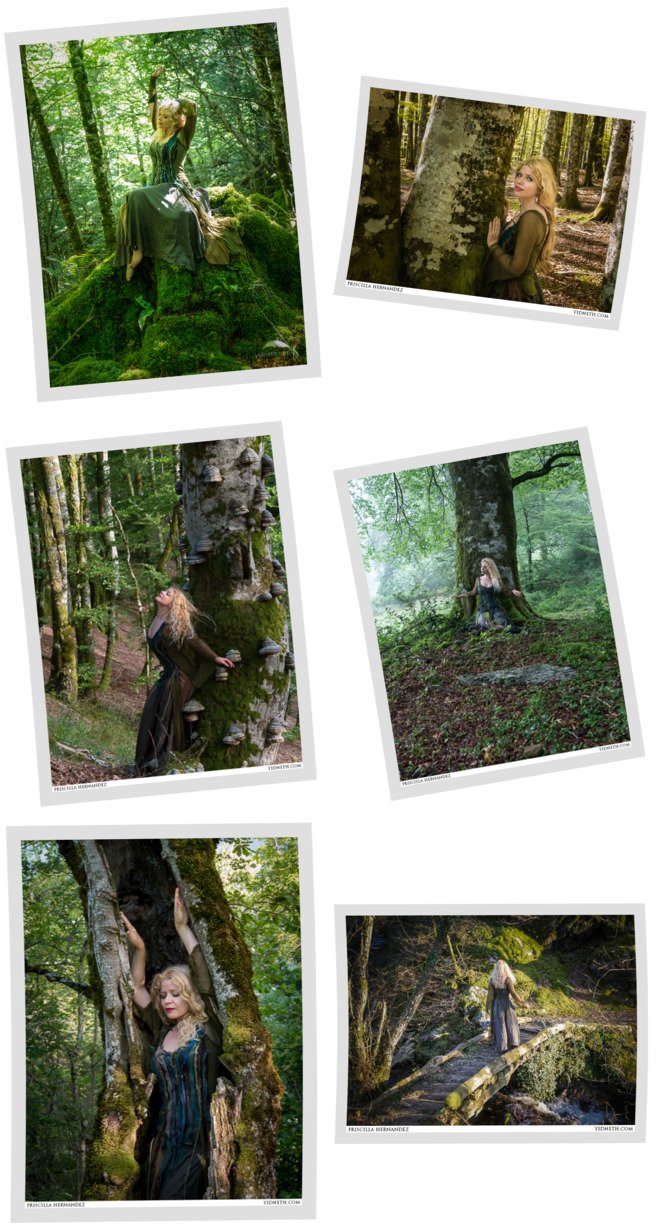 The Seasons Project
Grow is part of a "Seasons" project. My most popular song is "I steal the leaves" (Autumn) and I made also "The waking of Spring"(Spring) and "Northern Lights" (Winter), so this is "Grow" inspired by the green hues of the Summer Forest.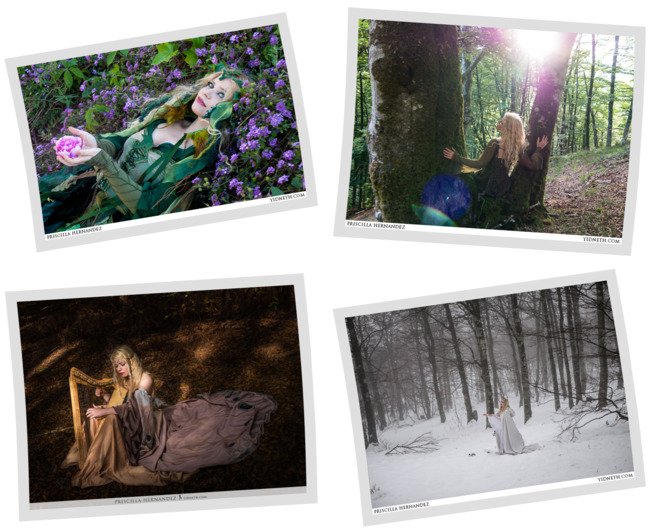 Listen to other songs in "Seasons"
If you like this post please share your feedback
Feedback is for me the most important gift you can provide me... but of course grateful if you it worth to follow, upvote or resteem.
If you want to support me you can buy this digital single from my store.
https://priscillahernandez.com/song/grow

Priscilla Hernandez
singer-songwriter & illustrator
http://yidneth.com

More about me:
yidneth.com
steemit.com/@yidneth
---
► Listen on DSound
► Listen from source (IPFS)