Overview
From is name it is blockchain based platform for handling steaming industry products , read the article to know how it works and how DeStream will impact the streaming industry and leveraging its performance.
DeStream brings a new unique idea through decentralization of the streaming industry , by this way it will overcome the all problems encountered by the traditional streaming platforms especially the high commission fees , it will allow streamers to go beyond the usual streaming activity leveraging their productivity and increasing their activities, the best thing introduced by DeStream to the streamers is the freedom and focusing  on production of high quality content rather than worrying about costs and spendable money, this will make them gain the fair amount of the money which they deserve leading  to big revolution in the streaming industry.
Ideology of DeStream
The unique idea of DeStream in using blockchain in streaming  industry comes through two goals , the first goal is decreasing the commission fees of the traditional platforms fro %20 t0 %0.77 allowing the streamers to get more than %99 of their project earnings , this fair for the streamer when he put the greatest effort to make a high quality streaming project , the second goal is securing the transactions between the customers and the project creators  , making such things secure will grow the industry to the sky and bring the best things , also allow the creators which have the cost restriction to send their great ideas and bring it to the public.
How does DeStream Work?
the uniqueness of the blockchain based platform offer different types of streaming offers and improving the interactivity between the authors and viewers, there are the financial tool for donations and payments, the platform also has an advertising channel with great analytical tools to help advertisers choose any streamers for their advertising campaign, using the smart contracts technology make  the viewers be in high trust that the donations goes to the dedicated addresses of the project owners  achieving the complete transparency of the donation and payment process.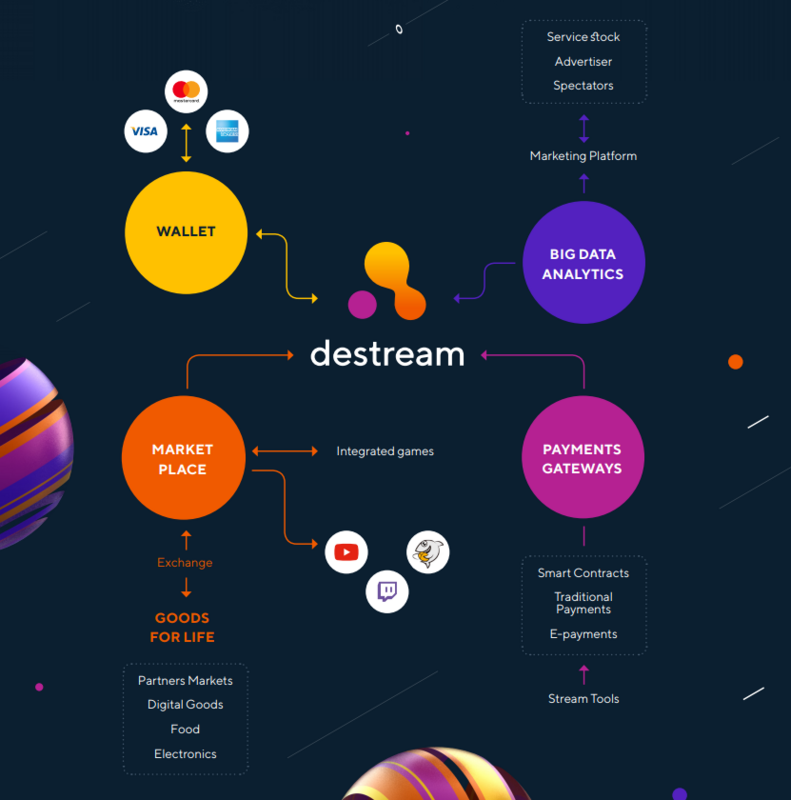 DeStream Unique Features
1-Extremely low transactions fees
The platform will assign %0.77 transaction fees which is approximately 30 times Lower  than the traditional streaming platforms fees  which is %20
2-Highest Security Performance
the platform achieve high security transactions through implementing the smart contract technology and peer to peer payment system, it secure the relationship between the viewers, streamers, advertisers eliminating the problems of the traditional payment system.
3-Unleashing the marketplace power
The previously described Feature 1 and 2 will unleashing the power of the streaming marketplace to the sky
Roadmap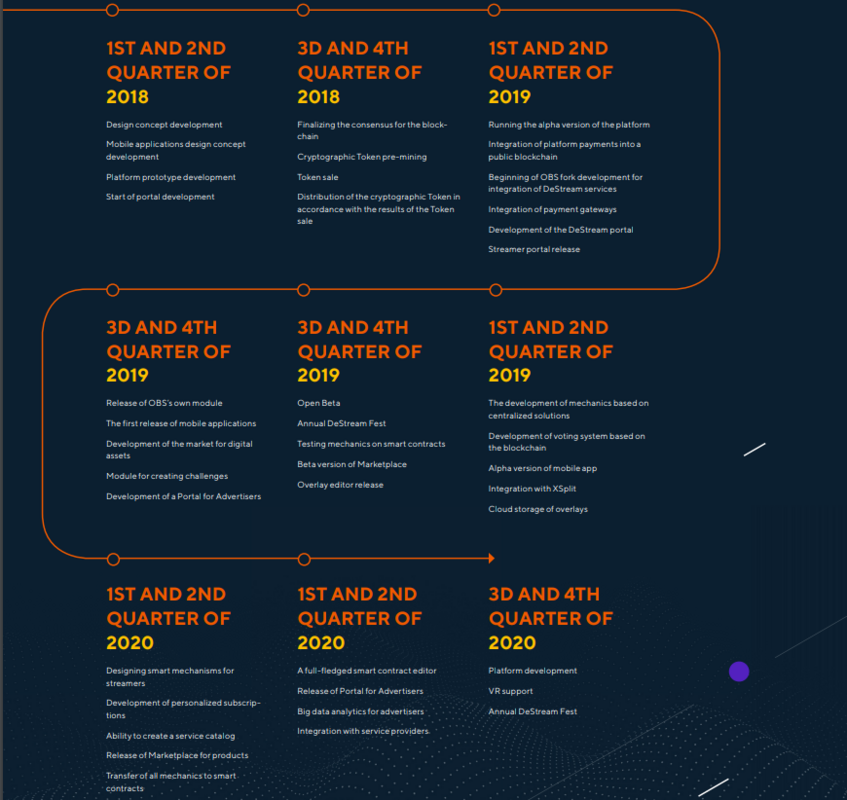 Token Sales Detail
Public ICO start date: 2018-05-09
Public ICO end date: 2018-06-30
Tokens available (Pre-Sale + Public ICO):6,000,000,000
Name: DeStream
Ticker: DST
Token Type: Stratis
Token Price: 1 DST = 0.006 USD
Available for Token Sale 3,600,000,000 DST (60%)
Soft cap: $5.5mn
Target cap: $9.0mn
Hard cap: $12.0mn
For more information
Website: https://destream.io/?referralId=adf52557d7994818a3bf8131262f2179#action=bountyreg
Whitepaper: https://destream.io/media/1101/whitepaper_en.pdf
Telegram: https://t.me/DeStreamEN
Twitter: https://twitter.com/destreamproject
Facebook: https://www.facebook.com/destream
Author:Ameer
BTC Username:ameer75
Bitcointalk Profile . https://bitcointalk.org/index.php?action=profile;u=2224980
Ethereum address :  0x2Da1b5Cc751Bf78a97DC8965Fe47648A7f3f2a95