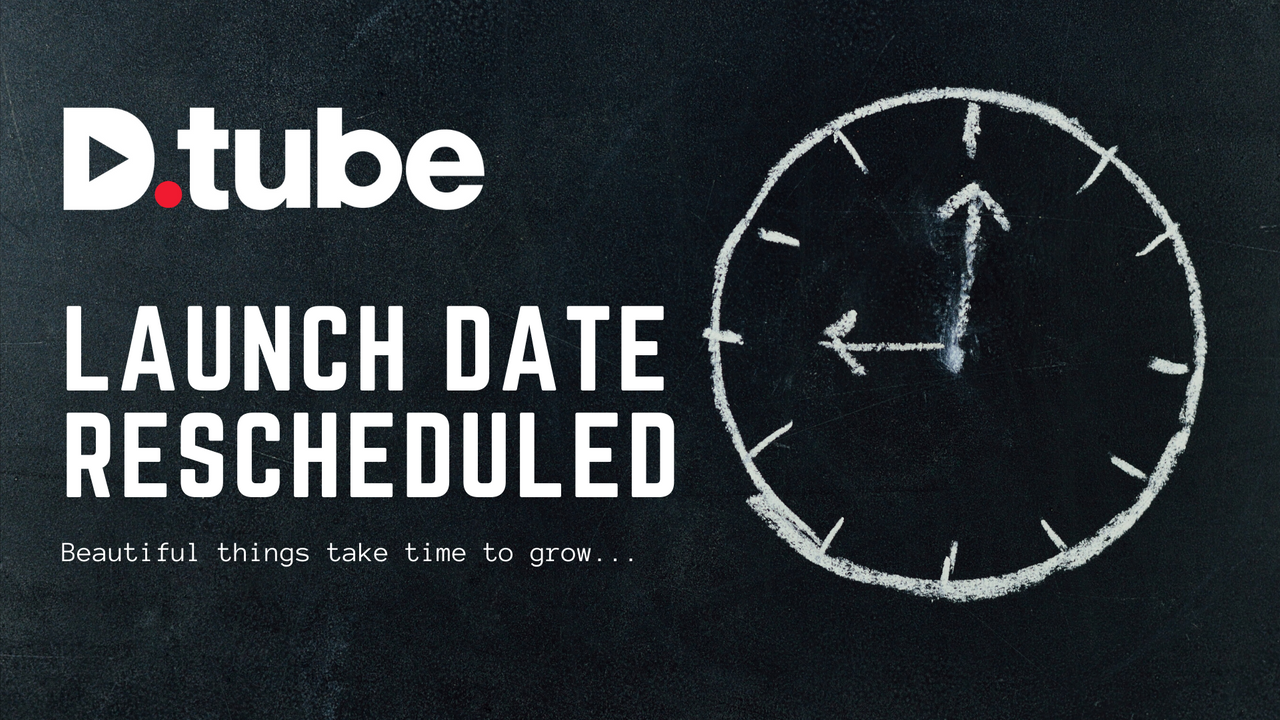 Mainnet Rescheduled
This announcement is going to be a little downer, but we decided to postpone DTC's Mainnet launch to make more tests and improvements, but don't worry, it won't be such a long shift in the date. New Launch Date will be on 1st of July which is 7 more weeks compared to original date.
We feel a bit short on time to achieve our goals for the launch. DTubers, please accept our sincere apologies for missing a deadline. We know we announced and promised for 10th of May but we would like to provide the best experience to our users on launch date and we would like to be fully transparent about what we will be working on and improving during this delay.
What we will work on during the extra 7 weeks ?
More blockchain and economics testing with another testnet fork
We will be working on getting more press coverage for the launch and filling the fundraising
Improving UI (new homepage)
A blockchain explorer with statistics
Bringing back phone verification on the signup page
Talking with more centralized exchanges, in order to secure good starting listings for DTC at moderate prices
Preparing documentation for new users to make DTube more friendly, and to incentivize more people to contribute to the code
We will use this delay in the best way we can and we are sure that our community will be pleased by the results.
But... what is ready ?
We moved the centralized file upload to newer servers. We can hold videos your videos for a minimum of 6 months now, while our total infrastructure costs were lowered
Added support for BTFS and SIA Skynet. Both are functional on a equal foot to IPFS
The player goes slightly faster to start playing videos
Signup bugs got fixed
Server-side rendering (for robots like Google or Bing) has been fixed and greatly improved. The whole website is now crawlable.
Airdrop is calculated and launch scripts are ready.
Decentralized exchanges setup process is ready (tell us in the comments which DEX you'd want to see DTC on)
Search engine and tags navigation is fully operational again
Improved Channel -> Keys page. You can now conveniently create custom keys with lower-permissions or change your master key
Added a new page to create account in a decentralized way
Added Hive blockchain support
Player is now embeddable on Twitter, Reddit, and many other popular social websites (use the d.tube/#!/v/... link)
It seems the corona lockdown combined with all these polishing improvements are already paying off. Thousands of new users have recently registered on the testnet. We are currently averaging about 300 new users everyday, against less than 100 in March. This trend confirms when looking at the number of daily published videos, as well as the total daily data transfered from our servers: slightly less than 4TB/day.
Previous Articles on Dtube Blog
Dtube Airdrop is Coming
Dtube's Upload gets Upgraded
Need support?
For support from the team and the community, please comment this post or go to our:
If you have lost your private keys, please read this article.
The DTube team
https://d.tube