Hello Steemians and DTubers,
I hope you're having a great day!
Welcome to my another
@DTube
Video. Went to Barisal (Our Native Village) suddenly along with an uncle. I was thinking of making a good and big vlog of this journey as we were gonna stay there for a day. But suddenly we left the place so the vlog is a short one right now.
In this episode... You'll be able to see our journey towards Barisal, beautiful scenery of morning of a village.
Tried to make it interesting with the intro sound (marvel fans will remember it at the second they start hearing it).
Another episode of this tour is coming.
Background Music: Bensound.com
and

Do not forget to subscribe my youtube channel.
I'll soon share tutorial videos of graphic design and of steemit.
So you should subscribe my channel fast if you don't wanna miss those tutorials.
Thanks for watching the video.
Hope... Steemians and DTubers will like this video.
And I'm hoping to find the support of the community.
That's all for now. I'll come with an interesting post again.
Hit the upvote button if you like this post and leave a comment if you wanna say anything about this post or my any other posts.
Please support me to keep having more of my works and you can follow me, so that you can see my future posts and you're always welcome to my blog.
"About Me""
Generally...
I'm a Writer (I write poems+short stories), Traveler (I travel whenever I get free times and resources as it's a part of my life actually), Photographer (I love it too much) and Designer (Currently I'm the lead designer of a private company).
As a steemian...
I'm a curator of @onelovedtube, @Helpie, @tipu, @bdcommunity, moderator of @actifit and support member of @steemitbd.
Yeah I 'm trying to be a successful steemian.
I am available at discord...
My Discord ID: ashikstd#5058
Find me on..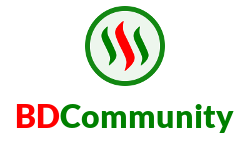 ---
"Be Good, Think Good and Do Good"
---
▶️ DTube
▶️ YouTube