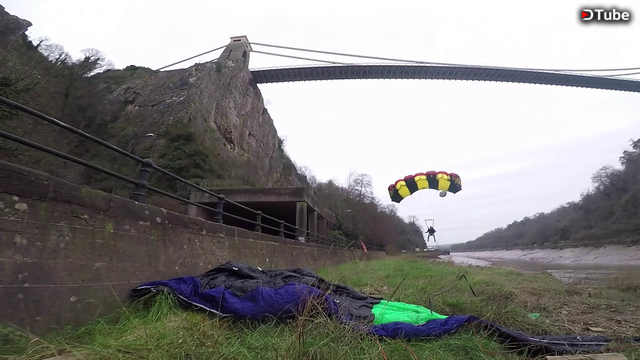 ---
The Clifton Suspension Bridge is one of the most famous bridges in the UK for tourists, but it is also an object that every BASE jumper wants to jump.
It can be challenging to make a BASE jump from this bridge as security have their heads on a swivel looking out for BASE jumpers. They patrol the bridge all day by walking up and down it and they also sit in the toll huts looking at CCTV.
Proper timing is essential to make this jump, unfortunately I cannot detail why on this post as it is public, and I don't want to potentially give the bridge masters an idea of the conditions we like. One thing is certain, we like the challenge!
I get the impression that BASE jumps are 'tolerated' here as once the security saw us we were already along the bridge and they didn't seem to do much other than radio it in, but they will try and grab you if they can.
What can make this jump more dangerous is if someone tries to grab you while you are climbing the fence, or if someone touches your equipment, or even worse, someone pushes you when you are not quite ready.
We jumped on a day that wasn't very busy, and we waited until their maintenance started for the bridge, so that one of the footpaths was closed to the public. This was good as we didn't have to worry about any stag do hero's trying to touch or grab us as we get into position. Any idiot that tries to grab a basejumper as they are about to jump could end up with a manslaughter charge if the jumper were to die or even an attempted murder charge if the jumper didn't die, but could have…so we had to take potential idiots into consideration when deciding to do this jump or not.
I would love to go into detail about how we pulled the jump off, but again, this is a public blockchain so this video is all you get :p
If there is a fine to pay for wasting the security guard's time, then fair play, I will consider paying for their time. But public endangerment? Definitely not, we had 3 or 4 pedestrians on the other side of the bridge say Hi and film us, they certainly did not appear to be in any danger. In fact, it would appear that we provided them with a brief moment of entertainment. I only write this as you do get the odd 'sit-at-home' keyboard warrior that thinks because BASE jumping is dangerous, that somehow the public are in danger also…yawn.
For the Internet Trolls - Darwinism?
Don't be silly, this is a high risk sport, much like that of using a motorbike on the same roads as drivers that don't check their blind spots.
As basejumpers we know the risks and we accept them, we also try to minimise these risks as much as we can when able to do so. We don't want to die. I'm sure people involved in serious road traffic accidents don't want to die either, but they still risk it every time they get in a car. Don't be so narrow minded.
** I AM NOT A BASE JUMPING INSTRUCTOR. IT IS FOR ENTERTAINMENT PURPOSES ONLY. DO NOT GO AND ATTEMPT TO JUMP OFF A SUSPENSION BRIDGE BECAUSE YOU SAW MY POST.**
@curie @steemit @rebeccabe
#freefall #terminalvelocity #skydiving #basejumper #skydiver #frothing #fullfroth #frother #adventure #life #adrenaline #extremesports #adrenalinesports #gopro #travel #rockon #summereveryday #summer #sliderdown #subterminal #base #basejumping #basejump #europe #gonthrow #321cya #seeya #mcconkey #rollover #sunsetbasejump #fullsend #basehouse #thebasehouse
---
▶️ DTube
▶️ IPFS