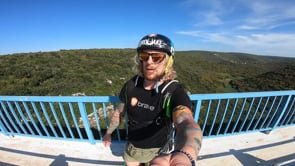 ---
BRAVE sent me a loot pack to take with me to do some base jumping in Europe over Halloween, so the least I could do is show them how much fun I had!
I also made a video for CINDICATOR, which I will upload later this week. I had so much content I made a personal edit of the trip haha, so lots of editing!
I AM NOT A BASE JUMPING INSTRUCTOR. IT IS FOR ENTERTAINMENT PURPOSES ONLY. DO NOT GO AND ATTEMPT TO CLIMB A BRIDGE, LET ALONE JUMP OFF ONE BECAUSE YOU SAW MY POST.
@curie @steemit @brave @bravesoftware
#freefall #terminalvelocity #skydiving #basejumper #skydiver #frothing #fullfroth #frother #adventure #life #adrenaline #extremesports #adrenalinesports #gopro #travel #rockon #summereveryday #summer #sliderdown #subterminal #base #basejumping #basejump #europe #gonthrow #321cya #seeya #nightbase #nightbasejump #fullsend #basehouse #thebasehouse #rcanebasejump #atair #adrenalinbase #osp #lifeisforliving #vanlife #lifesforliving #span #bridge #reversepca
---
▶️ DTube