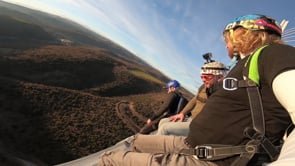 ---
Frothing in Southern France. 2 days, 4 objects.
We stayed in a small town called Verrières, which is close to Millau in the South of France.
There is more to just prancing around the French Riviera haha!
We found 4 different objects to base jump from. There were more, but we didn't have much time and we had some strong winds on one of the days.
This little edit I put together shows my favourite jumps of the trip.
The base jumps include:
. Bungee jumping platform
. Cliff
. 463ft bridge
. 1125ft bridge
We did multiple jumps from the 400ft bridge as a warm up each morning ready for the other more technical objects.
The bungee jump platform we did has a fast flowing river below, which you have to wade across to get out. At this time of year (January) it is extremely fast, so the current is very strong and the water temperature is around 1 degree Celsius.
There is no other way out other than to cross it.
There is the danger of landing in the river, which I'm sure will almost certainly result in a drowning due to the height of the water and the speed of the current. With this in mind, we chose to static line base jump the bungee platform as oppose to freefalling it. This gives us a better chance of an on-heading opening.
This jump is better suited to the Summer months as the current is much less and the water level is lower. This is why the 3rd basejumper chose not to jump on this occasion.
The cliff, for the same reason we chose to static line, as an off heading opening would have us half way up the cliff in trees at a steep angle. This time of year the area is like a ghost town, so getting help would have been difficult, and no mobile phone reception.
This is a different river below, but still with a current, and deeper than the other river, so definitely wanting to avoid landing here also. There is a small verge to land on, but you need to be accurate as if you come in to short, you could hit the bridge, and too long, you will end up in the river.
You'll see my mate the 2nd basejumper chooses to land in the trees as he came in too high and if he didn't make the decision, he would have ended up in the river.
We finish the france base jumping trip off with the monster of a bridge, MILLAU. It is a beast.
My mate tried a gainer for the first time and nailed it. This bridge requires a driver as you cannot just walk on to it. We managed to convince our AirBNB host to do it!! Haha and he picked us up at the bottom after we did the base jump. So cool.
Hope you enjoy the edit, peace!
I AM NOT A BASE JUMPING INSTRUCTOR. IT IS FOR ENTERTAINMENT PURPOSES ONLY. DO NOT GO AND ATTEMPT TO JUMP OFF OBJECTS BECAUSE YOU SAW MY POST. AND CERTAINLY DO NOT TRY TO USE SKY DIVING EQUIPMENT IF YOU ARE DUMB ENOUGH TO ATTEMPT IT.
@curie @steemit
#freefall #terminalvelocity #skydiving #basejumper #skydiver #frothing #fullfroth #frother #adventure #life #adrenaline #extremesports #adrenalinesports #gopro #travel #rockon #summereveryday #summer #sliderdown #subterminal #base #basejumping #basejump #europe #321cya #seeya #fullsend #atair #adrenalinbase #osp #lifeisforliving #vanlife #lifesforliving #antenna #earth #steemit #bungeebase #life #travel #nature #outdoors #bungeejump #france #millau
---
▶️ DTube