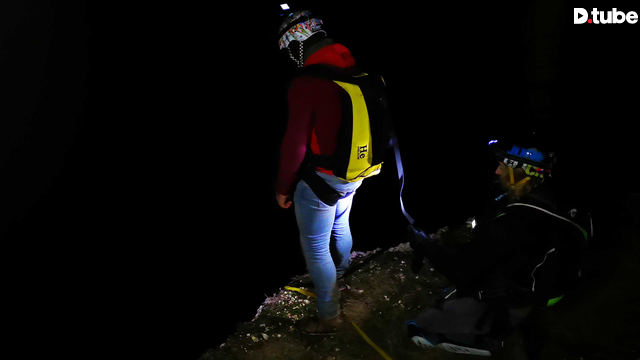 ---
We base jumped this low cliff along the Seven Sisters, East Sussex to complete NIGHT BASE. It's approx 150ft and not too far from the famous Beachy Head.
Beachy Head is around 340ft, but this is Beachy's little sister, we like to call her 'Peachy'.
Why?
Once you have base jumped off all four objects and earned your World BASE number;
B – Building
A – Antenna
S – Span
E – Earth
It's common to jump them all again but at night to earn your World NIGHT BASE number.
As it turns out, me n Gary has already jumped B, A and S at night anyway, so all we needed to do is find a nice cliff to get our Night 'E' in the bag.
I would say most buildings are jumped at night anyway, and a fair amount of antennas also, so you are kind half way there anyway if you have jumped either of those objects.
We were planning to save it for a special little cliff a few hours' drive from us, but the weather has been so dreadful recently we took this opportunity to do this local cliff. It got down to -4C with a breeze from the North, it was pretty horrible to be fair. I think all of us just wanted to be at home in front of the fire tucked up with a glass of red wine.
This little cliff had great conditions, and only requires a 10 minute walk back once you have landed, as oppose to the 1 hour walk back from Beachy Head. At midnight in freezing temperatures, we were thankful for the 10 min walk, so we could actually get home and get some sleep.
I know I put my little disclaimer at the bottom of my posts, but anyone reading this who isn't a basejumper and is local to this cliff, please be aware that the rock fall is serious here. We see it all the time, parts of the cliff just start falling off, and if any of the chalky rocks hit you, its lights out. Just bear that in mind if you do go for walks along the beach in this area.
I AM NOT A BASE JUMPING INSTRUCTOR. IT IS FOR ENTERTAINMENT PURPOSES ONLY. DO NOT GO AND ATTEMPT TO JUMP OFF A CLIFF LET ALONE AT NIGHT BECAUSE YOU SAW MY POST.
@curie @steemit
#freefall #terminalvelocity #skydiving #basejumper #skydiver #frothing #fullfroth #frother #adventure #life #adrenaline #extremesports #adrenalinesports #gopro #travel #rockon #summereveryday #summer #sliderdown #subterminal #base #basejumping #basejump #europe #gonthrow #321cya #seeya #nightbase #nightbasejump #fullsend #basehouse #thebasehouse #rcanebasejump #atair #adrenalinbase #osp #lifeisforliving #vanlife #lifesforliving #antenna #earth #beachyhead #sevensisters #birlinggap #steemit #nightbase #life #travel #nature #outdoors
---
▶️ DTube
▶️ IPFS