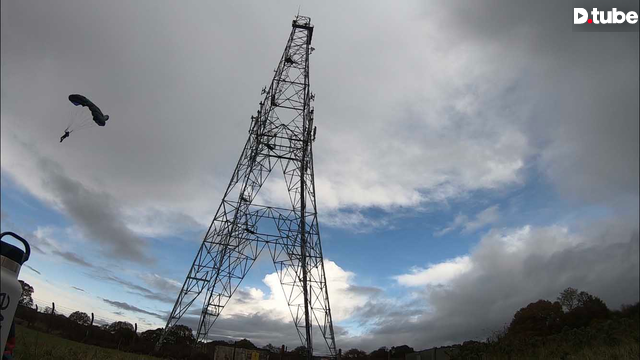 ---
We are all friends of Steve aka Stevie-5-Spins, and so we all wanted to be there to make a BASE jump with Steve for his first Antenna.
He has around 20 BASE jumps but has not yet got his 'A', so today he got that in the bag.
We climbed the Antenna in record time as some really bad weather was just minutes away, we got the jumps in a very small weather window. The 6th guy climbing wasn't jumping, but he was booked on to a course to learn how to base jump in the coming weeks, so he was invited to come and see what its like...
Its not very often we get to jump in large groups like this, particularly on the urban base jumps, as you'll get yourself pinged a lot easier. This Antenna is one we are familiar with, and its in the middle of nowhere, away from preying eyes. The farmer knows we do it and doesn't have a problem with it.
Well done Stevie!! Just 'B' to go!!
I AM NOT A BASE JUMPING INSTRUCTOR. IT IS FOR ENTERTAINMENT PURPOSES ONLY. DO NOT GO AND ATTEMPT TO CLIMB A MAST OR PYLON, LET ALONE JUMP OFF ONE BECAUSE YOU SAW MY POST.
@curie @steemit
#freefall #terminalvelocity #skydiving #basejumper #skydiver #frothing #fullfroth #frother #adventure #life #adrenaline #extremesports #adrenalinesports #gopro #travel #rockon #summereveryday #summer #sliderdown #subterminal #base #basejumping #basejump #europe #gonthrow #321cya #seeya #nightbase #nightbasejump #fullsend #basehouse #thebasehouse #rcanebasejump #atair #adrenalinbase #osp #lifeisforliving #vanlife #lifesforliving #antenna #earth #beachyhead #sevensisters #birlinggap #mavicair #dji #mavicdrone #steemit
---
▶️ DTube
▶️ IPFS