@Nathanmars just updated the situation of his LINKSEVEN77 on his latest post which is also his last update for 2018.
Some major changes to the his LINKSEVEN77 have been brought up. Namely;
dtubensap, dtubenapplus, dtubesnapQ, dtubesnapX are now being replaced.
snapcomment, snappluscomment, snapfeedback are now being replaced.
with what?
ZAPP, ZAP and ZNAP, ZNAPP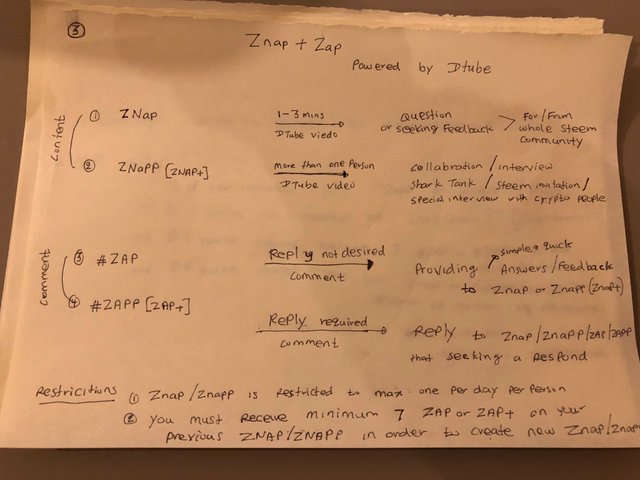 Picture taken from original post by Nathanmars
It was announced on this very post in the form of handdrawn memos(one of many is shown above). All of his ideas are very vividly explained in the drawings and you can watch his videos, too.
Click here to be redirected to original post by Nathanboi
Click here to watch video explanation by Nathanboiii
ZNAP &ZNAPP
1.a.
ZNAP
- for videos 1-3 minutes long.
Anything from previously known dtubesnap to QnA
1.b.
ZNAPP
- for videos with more than 1 person in the video; that are collabs, interviews etc.
2.a.
#zap-
a replacement for snapcomment. a reply where you do not desire a reply or further discussion/questions/answers
2.b.
#zapp-
a reply where you
desire
a reply or further discussion/questions/answers
#zap
and
#znap
can be only used as a reply to znap or znapp
IMPORTANT NOTE
To make a znap or znapp you must acquire 7 zaps or zapps on your previous znap or znapp.
Only one znap or znapp can be uploaded per person per day.
The whole idea of acquiring 7 zap or zapps is related to his previous announcement where he urged to use snapcomment or snapcomment plus and so on, only with people you know or have created a connection/network with. This is to create a strong sense of community and create a circle of friends as well as resolve the issue of spamming on the excuse of linkseven77
Nevertheless, if there arent 7 zaps or zapps on your previous znap or znapps you can still upload a video on dtube but won't be able to tag it or name it as a znap or znapp.
For example, I have jsut uploaded my first vid today and have yet received just 1 zapp, if i get 6 more i can upload my 2nd vid with a znap or znapp tag/title. if i dont receive 6 more my 2nd will just be a dtube video but not a znap. but if i eventually get 7 zapp or zap on my 2nd video, my 3rd video qualifies to become a znap/znapp


@shahzadeh is absolutely right that the extra P stands for PLUS.
Thank you kind human :D
I hope I could explain it very simply @fitinfun
These are exclusively my own opinions are and a brainchild of my understanding of the situation.
That's one more blind spot from Blind's pot.
Thanks to @bdcommunity for their unrivalled support. Show them love!
Thanks to @welcomewagon for taking the time to help newbies. Stop by and say hello!
@cranium has one of my most favorite blogs and discord community. Do Join and Support!