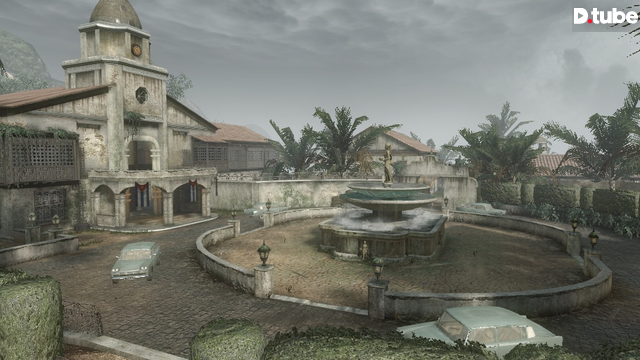 ---
It takes a camper to flush out a camper, fact. The reason why most campers get away with camping and building up massive scorestreaks is because your standard rusher or run n gun hip firer are simply not patient enough. They get all mad once killed by a camper and then march straight back to where they died looking for revenge...the trouble with this is the camper has moved and knows that you are coming back, remember YOU are the predictable one, not the camper. So when you return you need to be a bit tactical and not go blazing in making it obvious you are there.
How do I know this? Because I am one! I have been camping on Call of Duty games since the first Modern Warfare came out on PC.
Weapon of choice in this clip is the Commando. I pretty much just stick with this and the Galil in Black Ops 1, but I will pick up an Aug if I see one every now and again.
The Villa map is huge, there are so many places having their own little battles. It doesn't usually get that busy around the side by the swimming pool, you can end up waiting here a while. Most of the action on this map happens at the front of the map as there are two rooms facing each other across the courtyard and I guess it means the courtyard acts as a battleground.
Just after my Counter Spy Plane killstreak the clip ends and thats because again it was made for my Instagram.
INSTAGRAM: Camping_Bastard
PC Steam: CHICKEN MADRAS
PC Blizzard: CHICKEN BALTI
Xbox360: HAPPY CAMPERZZ
Let me know if you fancy a challenge!
I have challenged the worm (blackxworm) from YouTube but he doesn't seem to fancy it so...
#gaming #camping #camper #campingbastard #chickenmadras #chickencamper #cod #bestcodcamp #codcamp #theworm #blackxworm #blackops4 #callofdutycamp #codcamping #yemen #bo4 #bo4camp #camphard #tryhard #callofduty #commando #titan #titanlmg #lmg #callofdutyblackops #fortnite #apexlegends #bouncingbetty #treyarch #activision #infinityward #guardian #trophysystem #yemencamp #killstreak #scorestreak #codclips #codclip #callofdutyclips #blackops2 #blackops #blackops2camp #blackops1 #blackops #bestcamp #bestcampspots #villa #villacamp #sony #ps4 #xbox #xboxone
---
▶️ DTube
▶️ IPFS