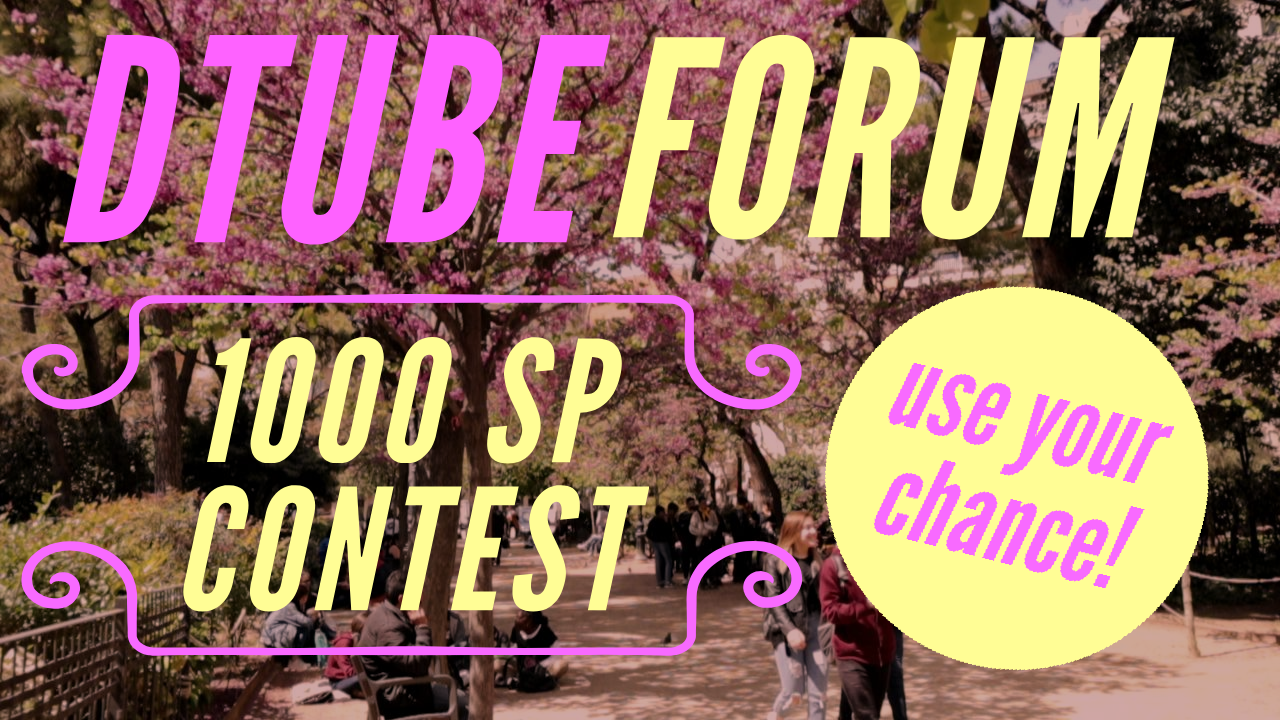 ---
Hi DTube community.
Now we finally managed everything: We are starting our video intro contest where you can win:
1000SP for 90 days!
@Hauptmann recorded really beautiful footage in Barcelona and we are asking you to create a nice, creative and promotive video intro out of these shots!
We will use the video intro for every upcoming video and will mention you and your channel as the creator of the intro!
The requirements are simple:
create a 10-20 seconds intro video
use the beautiful footage you can find HERE
integrate our catchphrase: "YOUR STORY BROUGHT TO LIFE"
if you want to use external files:
please just use royalty free and commercially usable resources (music, pics, fonts, etc.)
upload your finished artpiece and send @tibfox the download URL on following channels:
Write me in the official DTube Forum Discord
Write me a dm on discord: tibfox_Norman#5331
Write me a dm on instagram: https://instagram.com/tibbifox/
Write me a dm on twitter: https://twitter.com/tibfox
You have 7 days remaining to create the video so hurry up and get creative! After the deadline, we will create a dpoll and let the steem community decide who will win the 1000 SP Delegation!
We are super excited for your entries and wish you much fun & luck with this contest :)
---
The venue: http://www.espacio88.com/
THANK YOU for your help and all your support!
DTube FORUM 2019 - "YOUR STORY BROUGHT TO LIFE"
The WHO is WHO at the DTube FORUM: (19)
@prc
@tixinhacapitinha
@pescador
@floripondia
@sergiomendes
@nathanmars
@artakush +1
@jesapelcroot
@corsicana
@lecharles
@french.fyde
@yann0975
@kaerpediem
@surfermarly
@joythewanderer
@cryptospa
@tibfox
@hauptmann
(everyone will appear here who bought the symbolic entry fee)
We hope many more will show their commitment to attend the DTube Forum!
Current members of the organization team:
@tibfox
@artakush
@greencross
@ivansnz
@nathanmars
@sergiomendes
@hauptmann
This project is just possible with the great support of our community. So we want to thank you all for every upvote, resteem, and comment.
If you want to support us even more, please check out the @fundition campaign: https://fundition.io/#!/@dtube.forum/nki4yaz5z

A very BIG THANK YOU! goes out to our sponsors:
@mariusfebruary


@dsound


@cleanplanet


@actifit


@roelandp


@prc


@tixinhacapitinha

@pescador


@floripondia


@freecrypto


@surfermarly


@phoenixwinter


@snook


If you want to appear here as a sponsor as well, check out our rewards on @fundition.
From Hamburg with LOVE
@tibfox
---
▶️ DTube
▶️ IPFS