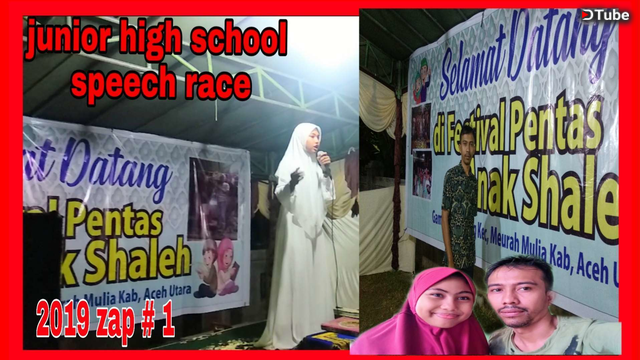 ---
Hallo @dtube, salam hormat dan selamat tahun baru 2019. Pada sebuah acara yang kami selenggarakan beberapa hari lalu dalam rangka festival anak shaleh bertempat di Gampong Tanjong, kecamatan Meurah Mulia, Kabupaten Aceh Utara.
Hello @dtube, greetings and happy new year 2019. At an event that we held a few days ago for the sake of the pious children's festival at Tanjong Village, Meurah Mulia sub-district, North Aceh Regency.
Ini perlombaan pidato tingkat sekolah menengah kebawah, yang dalam video ini bernama Azurra yang judul pidato nya adalah "Malikat tak Bersayap " dan anak ini sangat lincah dalam menguasai panggung,
This is the middle to lower level speech competition, which in this video named Azurra whose title is "Malikat tidak Bersayap" and this child is very agile in mastering the stage,
Masih sangat banyak jenis perlombaan yang kami perlombakan, tunggu video selanjutnya dari saya, terimakasih bagi teman-teman yang mendukung saya di dtube, dan salam hormat.
There are still so many types of competitions that we race, wait for the next video from me, thank you to friends who support me on dtube, and greetings.
Also visit at :
My youtube:
Diskors : https://discord.gg/kM9ApF
---