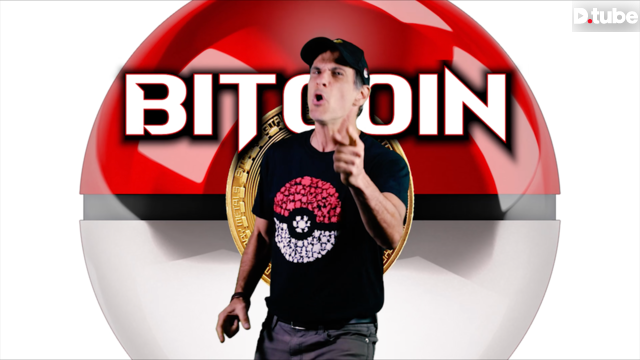 ---
We both get $10 of free Bitcoin when you use this Coinbase link to start your journey.
https://www.coinbase.com/join/52b0b3e...
Subscribe to my newsletter at http://jasonpaige.com and get my Pokemon Parody ringtone free!
It's true. The Original Pokemon Theme Singer Jason Paige uses Bitcoin "TO UNDERSTAND THE POWER THATS INSIDE" !
LEARN! Understanding the Blockchain in 2 minutes

Your support for this channel is greatly appreciated!
Bitcoin: 1EaaVAvymG2voamuitjKT83A7qZ3iHQgtw
Paypal: http://bit.ly/2Cnhsu8
SUBSCRIBE TO MY CHANNELS:
https://www.minds.com/Jasonpaige
https://steemit.com/@jasonpaige
https://d.tube/#!/c/jasonpaige
http://youtube.com/jasonpaige
https://www.facebook.com/jasonpaigeshow
Defy Gravity w My Flying Tie http://bit.ly/2CKhTKK
More great direction and camera work by Adam Gotsens. youtube.com/gotsens
I wanna pay with the very best
Like no one ever has
To mine them is our real test
To use them is our cause
Bit will travel across the land
And all decentralized
Just use Bitcoin to understand
The power that's inside
Bitcoin Gotta cash em all
It's more than currency
I know it's our destiny
Bitcoin
Oh the banks are scared
Cause it's spreading everywhere
Bitcoin Gotta cash em all
A network to trust so true
The block-chain will pull us through
You teach me and I'll teach you about Bitcoin
Gotta cash em all
Gotta cash em all yeah
A million dApps are on the way to change the cyberspace
It's more than just that dollar that crypto will replace
Governments will try to stop what cannot be undone
Crypto coins are here to stay
The future has begun
Bitcoin Gotta cash em all
From you to me
It's global and P to P
Bitcoin
Oh It's so much more
Just wait for what's in store
Bitcoin Gotta cash em all
Consensus rules
Central banks are all for fools
You teach me and I'll teach you about Bitcoin
Gotta cash em all
Gotta cash em all
Been a long time comin, yeah
Gotta cash em all
We been through the crypto winter, it's time for the summer
Gotta cash em all It's blowin up up
Come on get in
Gotta cash em all It's blowin up Bitcoin
Yeah, you know you want it
Freedom Independence Anonymity Security
Changing the world come on here we go
Bitcoin Gotta cash em all
From Satoshi, the newest technology
Bitcoin
Oh the Fed's annoyed cause it cannot be destroyed
Bitcoin Gotta cash em all
The block chain can replace every middle man
You teach me and I'll teach you about Bitcoin
Gotta cash em all
Gotta cash em all
BITCOIN
RIGHTS: Some footage retrieved from:
The Copyright Laws of the United States recognizes a "fair use" of copyrighted content. Section 107 of the U.S. Copyright Act states:
"Notwithstanding the provisions of sections 106 and 106A, the fair use of a copyrighted work, including such use by reproduction in copies or phono records or by any other means specified by that section, for purposes such as criticism, comment, news reporting, teaching (including multiple copies for classroom use), scholarship, or research, is not an infringement of copyright."
This video and our youtube channel in general may contain certain copyrighted works that were not specifically authorized to be used by the copyright holder(s), but which we believe in good faith are protected by federal law and the fair use doctrine for one or more of the reasons noted above. For concerns please contact us at jasonpaige@gmail.com
Thank you
---
▶️ DTube
▶️ IPFS