Buenos días queridos amigos, muchas gracias por la compañía que nos brindan a diario. El vídeo de hoy es para compartir como hacemos un preparado casero que nos ayudara a combatir y prevenir las plagas en nuestras plantas.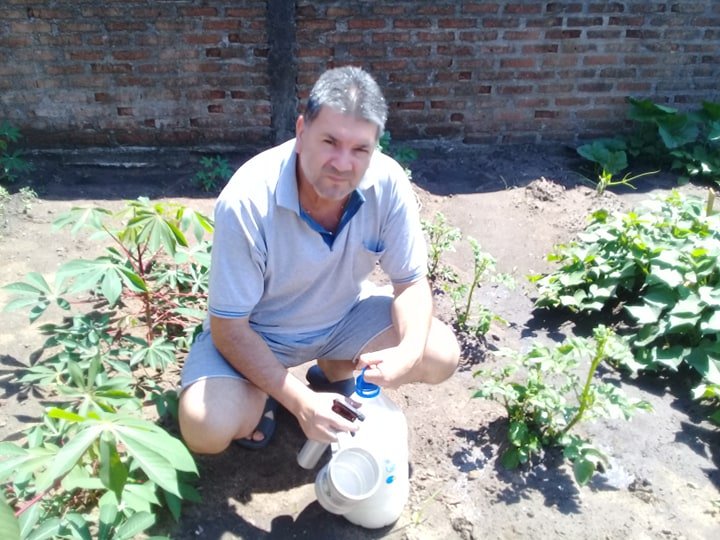 Gastar mucho en ¨productos¨ ¨químicos¨ no siempre es la mejor opción o la más efectiva, para el preparado que hicimos hoy, gastamos muy poco y tenemos productos para más de cinco meses, lo que significa que el gasto que hemos hecho es insignificante.
Fuente: Álbum Familiar
El modo de preparación de este producto lo aprendí mientras trabajaba en la huerta con mi madre, ella hacia un preparado algo diferente a otras personas. La diferencia radica en la disolución integral del jabón, lo que hace que el producto fuera más fuerte y efectivo.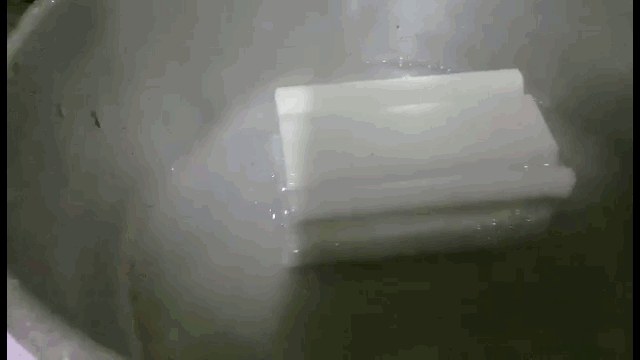 La elaboración de nuestro producto es muy simple, solo se necesita agua, y un jabón común. Iniciamos hirviendo un litro y medio de agua, tomamos el jabón y colocamos dentro de un recipiente resistente al calor, una vez que el agua haya hervido, vertemos sobre el jabón para diluirlo.
Fuente: Álbum Familiar
Dejamos reposar el preparado hasta que se enfrié, luego vamos a colar para retener sedimentos, luego vertimos nuestro liquido en un recipiente para medir, En nuestro caso vamos a utilizar 500 centímetros cúbicos.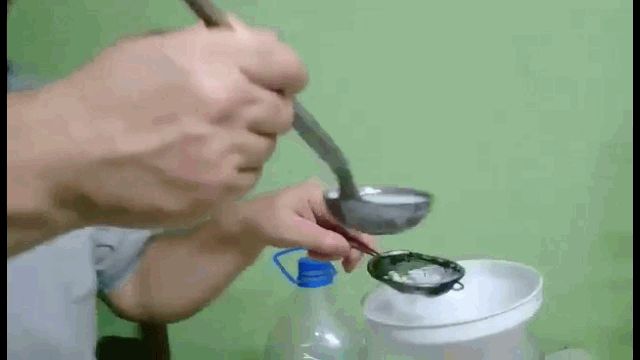 Tomamos lo que hemos medido, e incorporamos dentro de un recipiente de seis litros, sobre ello agregamos cinco litros de agua. El preparado diluido posee una durabilidad de unos quince días, mientras que el puro, de cinco a seis meses, por lo que recomiendo, diluir solo lo que van utiliza en el momento.
Fuente: Álbum Familiar
Una vez que hayamos diluido nuestro producto estamos en condiciones de aplicar, lo hacemos desde la base, pasamos por sus ramas, y finalizamos rociando generosamente las hojas.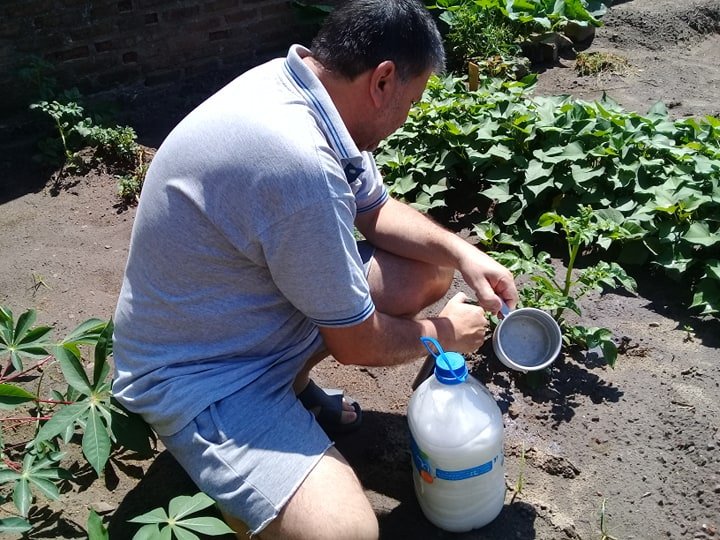 Si la planta está llena de plagas, aplicamos una vez al día, durante siete días, si la condensación de pulgones no es tanto, lo hacemos una vez al día, cada tres días, si lo que se quiere es prevención, aplicamos cada quince días, en este último caso les recomiendo utilicen el repelente a base de ajo.
Fuente: Álbum Familiar
Como pueden leer, hacer el preparado es muy sencillo, la aplicación es práctica, conveniente, económica y muy efectiva. Los invito a hacer su propio preparado casero, verán la satisfacción que se siente al contribuir con el medio ambiente al no utilizar ¨productos químicos¨.
Good morning dear friends, thank you very much for the company you give us daily. Today's video is to share how we make a homemade preparation that will help us fight and prevent pests in our plants.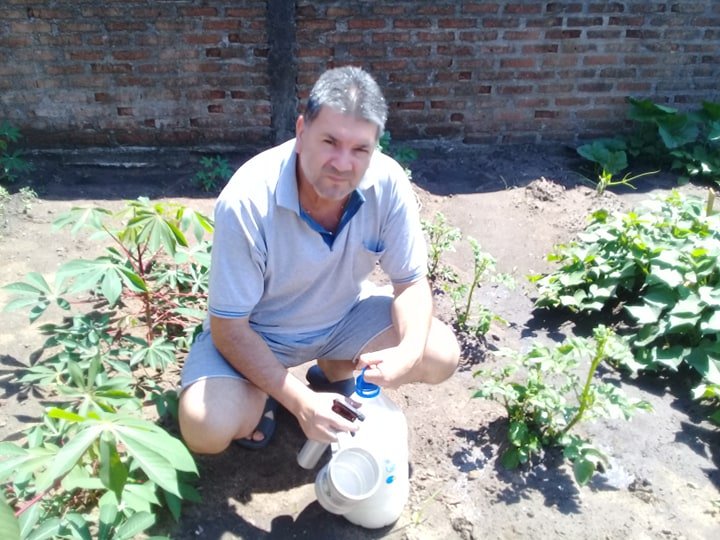 Spending a lot on "chemicals" is not always the best or most effective option, for the preparation we made today, we spend very little and have products for more than five months, which means that the expense we have made is negligible .
Source: Family Album
I learned how to prepare this product while working in the garden with my mother, she made a preparation somewhat different from other people. The difference lies in the integral dissolution of the soap, which makes the product stronger and more effective.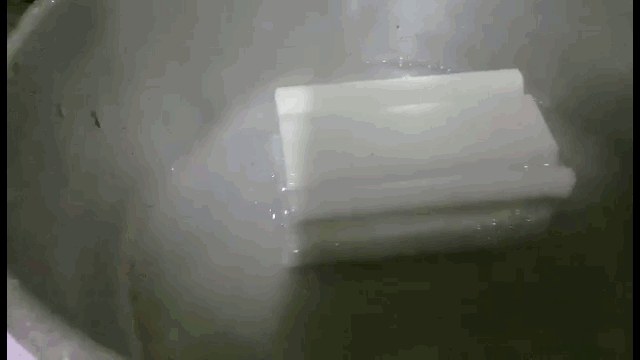 The elaboration of our product is very simple, only water is needed, and a common soap. We start boiling a liter and a half of water, take the soap and place in a heat-resistant container, once the water has boiled, pour over the soap to dilute it.
Source: Family Album
We let the preparation stand until it cooled, then we will strain to retain sediments, then we pour our liquid into a measuring container, In our case we will use 500 cubic centimeters.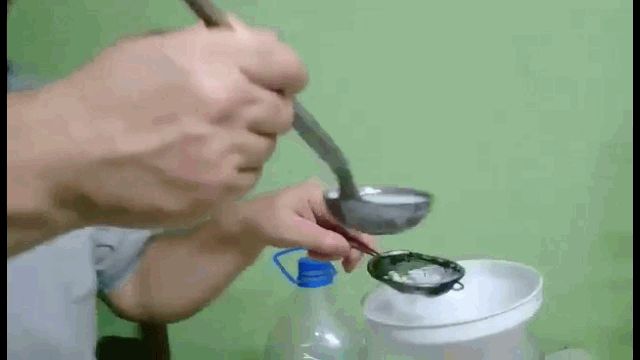 We take what we have measured, and incorporate into a six-liter container, on it we add five liters of water. The diluted preparation has a durability of about fifteen days, while the pure one, from five to six months, so I recommend, dilute only what they use at the moment.
Source: Family Album
Once we have diluted our product we are able to apply, we do it from the base, we pass through its branches, and we finish by generously spraying the leaves.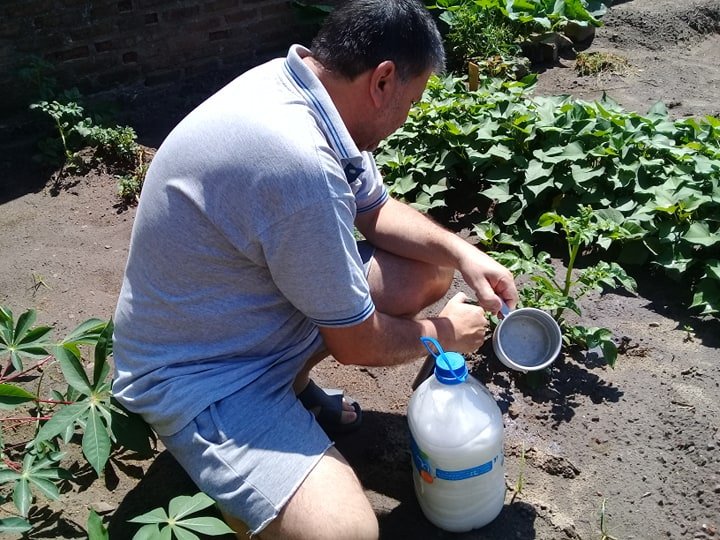 If the plant is full of pests, we apply once a day, for seven days, if the condensation of aphids is not so much, we do it once a day, every three days, if what is wanted is prevention, we apply every fifteen days, in the latter case I recommend you use garlic-based repellent.
Source: Family Album
As you can read, making the preparation is very simple, the application is practical, convenient, economical and very effective. I invite you to make your own homemade preparation, you will see the satisfaction you feel in contributing to the environment by not using "chemical products".



---
▶️ DTube
▶️ YouTube