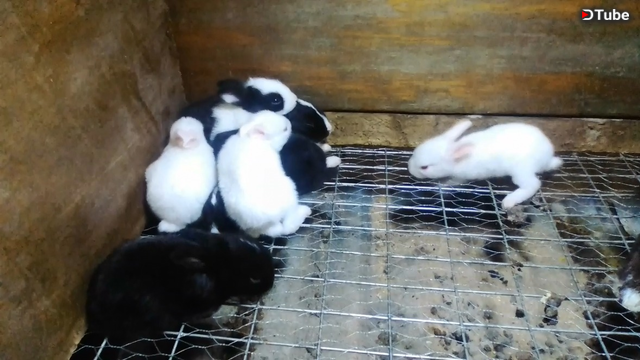 ---
Hello Guys,
Mercy's kits are out of the nest box, once one or two of them are able to come out of the nest box to get milk from their mother, then you should remove the nest box. This is important because if some of them are outside and are well fed the ones inside won't be well fed so to create equilibrium you remove the nest box.
Once they are out of the nest box they also start sampling some of the food the mother is eating, they still rely heavily on her for milk but with time she'll be resisting their attempt to suck and instead focus on eating other foods instead. This she has to do because soon she will be taken away from them so that they can mature and grow stronger on their own.
That is all for now, hope to bring you more dtube videos as they progress and start a family of their own for the doe among them some day.
Thanks for reading my post, like I always say, upvote it if you liked it I'll truly appreciate that. Keep your comments coming and follow me if you have not already done that. Again, thanks a lot for your support to me always.
Join @Upvotebuilders Before The Early Bird Gift Slot Is All Taken Up
If you post regularly or daily and would like to earn more rewards via the upvotes you receive then you should join @upvotebuilders! You can join any membership level you want based on your delegation to the community pool. You can check out the introductory post by clicking on the link below:
There is a gift for the early birds who join the community at this early stage, hurry now and join before the early bird slots are all taken up. Thank you.
You Need To Join Qurator
Are you a good high quality and original content writer? Then you really need to join Qurator, they have a lot of benefits that will help build your account, improve your writing skills, increase your understanding of the project and they have a lot of weekly competition going on. There are also many opportunities to earn more once you become a member of the community. You can check out my post about how to be a member and other ways of taking advantage of what the project has to offer here.
Magic Dice Dividend
Did you know that Magic Dice have started paying dividend to token holders this February? You can join Magic Dice using my referral link https://magic-dice.com/?ref=ketcom I'll really appreciate it if you do my friends. Don't miss out on this rear opportunity.
Join Actifit
Actifit: An innovative dapp that rewards your everyday activity! Why not click here (my affiliate link) and join today so that you start earning (AFIT) tokens and STEEM rewards via upvotes on your Steem posts.
---
▶️ DTube
▶️ IPFS