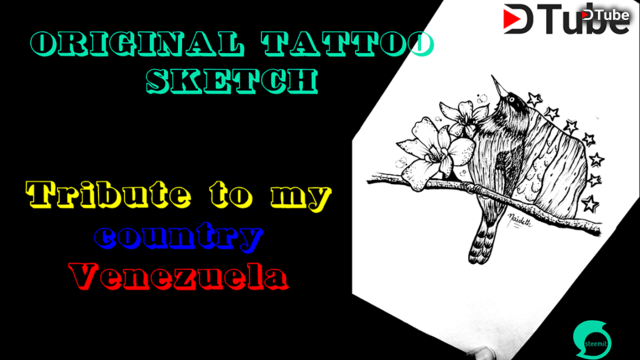 ---
Greetings dear friends art lover!!
It has been a very complicated week for me but I have finally managed to finish the video, almost a full week I take the editing, I was very close to giving up since the Premiere program that I used for editing made many mistakes during the process, but I managed to finish it.
The sketch that I present below is a tribute to my country Venezuela, motivated by the sadness of seeing my two brothers emigrate from my country, a few days later my friend whom I want as a sister left the country in search of a better quality of life, as is the case with thousands of Venezuelans who feel the need to leave their families to fight for their dreams.
Venezuela is going through crucial moments and a lot of attention, I love my country and it hurts what is happening to me, that is why despite the immense sadness that I feel today this totally original sketch is born, and in tribute to our beautiful country that I am sure that he will soon be free from so much evil.
Symbols in the Sketch
I wanted the main element to be the National Bird of Venezuela, better known as Turpial, it is a small bird with black and yellow feathers.
On one side is the Angel Falls, the highest waterfall in the world, an imposing natural monument.
I could not miss the Beautiful Orchid, it is the typical flower of my country, there are many species and colors, it is a very elegant and sophisticated flower.
Many will wonder what the stars mean, because these stars are those that are in our flag, 7 stars as originally had them.
I am very happy to show you the whole process of creating this significant sketch, thank you very much to all for the support I hope you like:
This video is also available on YouTube