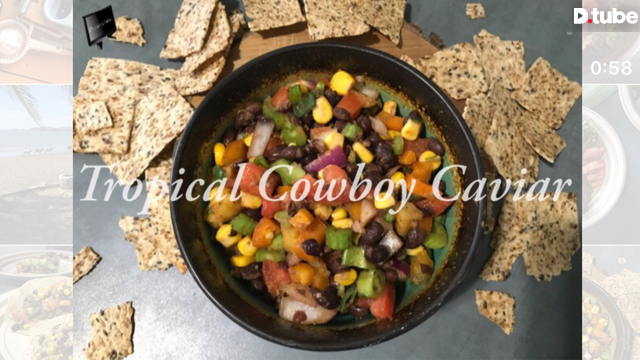 ---
Hola! Happy Food Fight Friday Everyone.
This week @dandays and I have been at it again, trying to improve our video editing skills. He's gotten so good in just a small amount of time- really quite impressive.
I decided to make something that's not only easy but also super versatile. I wanted the dish to be inviting, both on and off camera, and delicious. It only took me 3 times to get the recipe just right. Shhhhhh 🤫… it always takes us stoners a little longer :)
You know what the funnest part of making this weeks triple F contender was… gone now, guess… it was finding the music to lay over the video. I do that by searching "no copy right" or "Creative Commons" music on YouTube. I sift through tons of songs some, eliminating within seconds of hitting the play button, and others having to listen to a few times before deciding to find another. I've been exposed to some real cool tunes this way.
::wink:: ::wink:: ::nudge:: ::nudge:: where you at @edprivat? You know we could get a dope little collab going and I'd much prefer using your musical notes over a random… no pressure or anything.
Ed this shout out could be you next week…
"A big thank you to this weeks MVP, (aside from my husband, @dandays, who is the King of my production), for supplying me with the perfect tunage, (sound it out) to lay over our 2nd @dtube debut… all musical credits go to Ehlrling-Heart. This track is seriously dope. We've been listening to it for a week and have yet to get sick of it. Thanks again!"
Without boring you with more text I'll go ahead and post this 58 second video (it's only 58 seconds, just watch it) but first let me write you out the recipe 😉
Ingredients
3 Cup Black Beans
1 Cup Corn
1 Cup Red Onion (chopped)
1 Cup Bell Pepper (chopped)
1 Cup Tomato (chopped)
1 Cup Pineapple (chopped)
1 Cup Celery (chopped)
1 Tbsp Jalapeño (minced)
1/4 Cup Green Onion
1/4 Cup Cilantro (minced)
1 Tsp Pink Salt
1 Tbsp Chili Powder
1 Tbsp Garlic Powder
1/2 Tbsp Cumin
1/2 Tsp Cayenne
1 Lime Juice
1/4 Cup Pineapple Juice
1 Tbsp Apple Cider Vinegar
1 Tbsp Olive Oil
Mix well in one big bowl and use for taco toppings, to stuff a potato, add avocado or enjoy with your favorite sturdy chip.
Thanks for watching Y'all!
---
▶️ DTube
▶️ IPFS