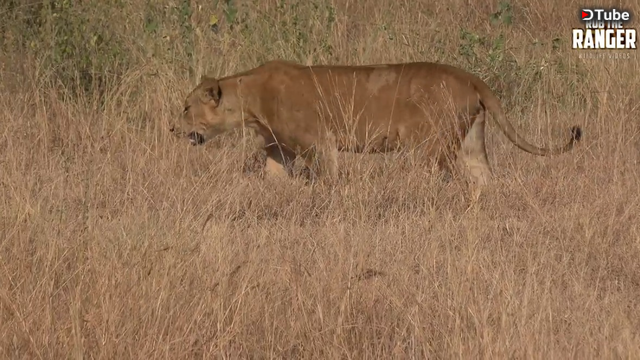 ---
The Queen Elizabeth National Park in Uganda is famed for it's tree climbing lions, one pride in the Ishaha region is very well documented but this pride, in the park's North, is less well known and use euphorbia trees as their resting points.
The Queen Elizabeth National Park (QENP) is Uganda's most visited national park.
QENP is in the Western Region of Uganda, spanning the districts of Kasese, Kamwenge, Rubirizi, and Rukungiri. The park is approximately 400 kilometres (250 mi) by road south-west of Kampala, Uganda's capital and largest city. The town of Kasese is just outside the northeastern edge of the park, while the town of Rubirizi is just outside the park's southeastern boundaries.[3] The park includes the Maramagambo Forest and borders the Kigezi Game Reserve, the Kyambura Game Reserve, and the Kibale National Park in Uganda, and the Virunga National Park in the Democratic Republic of the Congo.

source
Queen Elizabeth National Park together with the adjacent Virunga National Park is a Lion Conservation Unit. The area is considered a potential lion stronghold in Central Africa, if poaching is curbed and prey species recover.
~ https://en.wikipedia.org/wiki/Queen_Elizabeth_National_Park
East African Jungle Safaris provide tours to Queen Elizabeth National Park catering to a variety of budgets, contact them here:
https://eastafricanjunglesafaris.com/
Tel: +256-414-694893
Mobile: +256-752-820818/774-511487
E-mail: info@eastafricanjunglesafaris.com
Originally filmed in 4K UHD resolution using the Sony AX100 video camera. Downgraded to 1080p and 720p for YouTube & DTube respectively.

---
▶️ DTube
▶️ IPFS