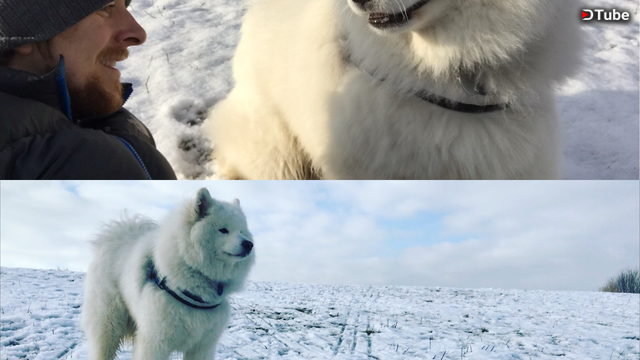 ---
This is only the 3rd time Solomon has seen the snow! He is right in his element!
It started to snow heavily at around 10:30pm on the 31st Jan 2019 here in Southern England so we got out of our pyjamas and put our cold weather clothes on and took Solomon out in the snow for a little play.
We couldn't be sure the snow would settle and be there in the morning so it wasn't worth the risk waiting until the morning.
As it turns out, it did settle and so he had a field full of snow for his morning walkies! Yay!
He met some of his friends out and they had a blast.
Here is a little 2 minute video of our Samoyed in the snow :-)
#dogsofsteemit #dailypetphotography @curie @steemit
#Samoyed #Samoyedfans #Solomonthesamoyed #Solomonsamoyed #Puppy #Cutepuppy #Life #Travel #Adventure #Solomon #Samoyeds #Dog #Dogs #Puppies #makingfriends #bestfriend #puppyvideo #love #friends #puppies #bestfriendsforever #art #photography #animalphotography #family #pets #watson #funny #cute #samoyedlovers #samoyedclub #samoyedoftheday #sammie #smilingsammie #cloud #clouds #fluff #fluffy
---
▶️ DTube
▶️ IPFS