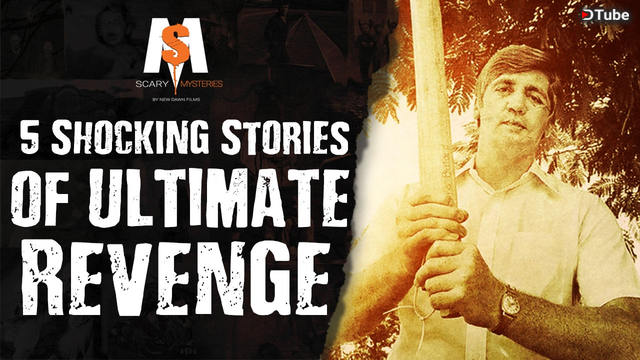 ---
Please support Scary Mysteries! Check out our Patreon at https://www.patreon.com/scarymysteries?alert=2 - There's a lot of cool access, giveaways and even a custom episode!
Buy awesome original shirts made by Scary Mysteries https://newdawnfilm.com/scary-mysteries-store/
Subscribe for Weekly Videos here: https://www.youtube.com/channel/UCiE86yS_VM7qjiICqRPmwLQ?sub_confirmation=1
---
5 Shocking Stories of Ultimate Revenge
When someone feels that justice hasn't been served it can cause them to seek revenge. Overwhelmed by anger and frustration an otherwise normal person can be driven to commit violent acts against those who caused them pain and grief. From a kidnapped son to mob justice, these are the 5 most shocking stories of ultimate revenge.
Reza Gul
A parent losing their son is always heartbreaking but one mother channeled her grief into the ultimate revenge. Reza Gul feared for her son's life when she suddenly heard gunshots being fired. On November 17, 2014 approximately 400- Taliban soldiers set an attack on the Balabolok District of the Farah province in Western Afghanistan.
Buford Pusser
Buford Pusser was the one man criminals didn't want to cross. Born December 12, 1937, he waged a war against prostitution, moonshining, gambling and various other illegal activities around the Tennessee – Mississippi line while he served as Sheriff for McNairy County between 1964 to 1970. He became so well known for his vengeful acts against criminals that several movies and books were written about him. A former wrestler during his younger days, Buford had an imposing stature and stood 6 and a half feet tall and weighed 250 pounds.
Ken McElroy
To the people of Skidmore, Missouri, Ken McElroy was a nuisance. He was violent, a possible child molester, a criminal and a thug. They didn't want anything to do with him but they also couldn't get rid of him. Ever since he was a kid, McElroy had established himself as a small time thief and womanizer. Even though he was accused and suspected of stealing antiques, alcohol, gasoline and even livestock, McElroy was never charged – successfully avoiding charges on 21 accusations. Those who witnessed his criminal activities, often refused to testify because he would threaten and intimidate them by stalking their homes.
Alam Khan
How long and how far would you go for revenge? Alam Khan was only a 12-year old boy in 2003 when he witnessed his father's murder by a family friend named Mohammad Rais. Ever since then, he knew he wanted to take revenge for what happened. It wasn't until he turned 24 when he invited Mohammad Rais to his house to execute the deed. Once inside, Alam Khan played music at top volume then stabbed Rais with a knife without warning. Afterwards, he and an accomplice cut Rais' body up into 12 pieces – each piece representing each year he had to wait to exact his revenge. After chopping him up, they stuffed the parts into trash bags and threw it into the nearby River.
Gary Plauche
Every loving father only wants the best for his son. Gary Plauche was considered by those who knew him to be a funny, kind and loving man. He coached the local baseball team and made sure his friends and family got a good laugh whenever he was around. So when his child was threatened, he did what he had to do – and took revenge on the man who kidnapped and systematically molested his son.
Jeffery Doucette was a 25-year old karate instructor who taught, Gary's son, Jody. Doucette and Jody's relationship as instructor and teacher didn't register any alarms until one day in February of 1984. Doucette had picked up Jody that morning and promised to drop off the boy before evening just like he had done many times before. However that night, Jody never made it back home.
So there were 5 Shocking Stories of Ultimate Revenge
Revenge is sweet, they say, and for these people, it may seem so. There's no doubt, they lived to see the day when they could finally exact what they likely felt to be righteous revenge over those that wronged them.
---
▶️ DTube
▶️ IPFS