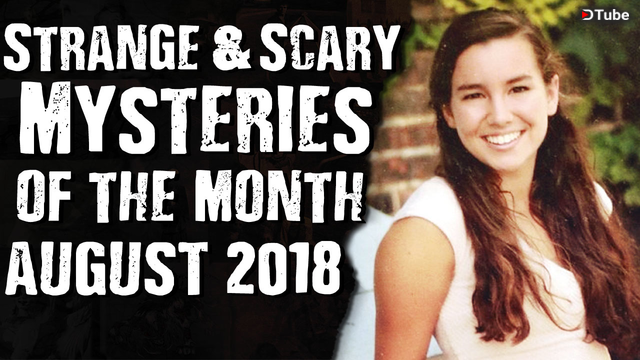 ---
Strange & Scary Mysteries of the Month is a compilation of the weird, disturbing and downright baffling stories currently happening in our world. From UFOs to serial killers, ancient sites, mysterious creatures and even ghosts – these are the strange and Scary Mysteries of the month for August 2018.
Please support Scary Mysteries! Check out our Patreon at https://www.patreon.com/scarymysteries... - There's a lot of cool access, giveaways and even a custom episode!
Buy awesome original shirts made by Scary Mysteries https://newdawnfilm.com/scary-mysteri...
Subscribe for Weekly Videos here: https://www.youtube.com/channel/UCiE8...
---
Strange & Scary Mysteries of the Month August 2018
Drought Reveasl Massive Hidden Henge
Not for 160 years has Ireland experienced a massive drought and heat wave like the one it's going through right now. But this latest one brought with it a surprise when it revealed the location of a previously unknown 4,000- 5,000-year-old henge in the historic Boyne Valley.
It was a fine day when author and photographer Anthony Murphy decided to fly his drone over the famous prehistoric passage tomb, Newgrange. Murphy is a specialist of megalithic monuments and runs the website, Mythical Ireland. He's interested in ancient structures, especially those in the Boyne Valley area.
Lucy Letby
For more than a year, police had been investigating the deaths of 17 babies and possible harm inflicted on 15 others at Countess of Chester Hospital in Chester, England.
The investigation was called on by the hospital in May of 2017, after they noticed a higher than expected mortality rate of premature babies and infants between March 2015 and July 2016. The hospital asked police to rule out cases of "unnatural deaths" and soon they narrowed it down to 8 cases before officially discovering a total of 17 babies dying suspiciously in the hospital while 15 others suffered "non-fatal collapses" which is when a baby's health suddenly declines but manages to survive.
Liquid Lake On Mars
There's liquid water hiding on Mars after all. That's the good news brought by scientists this past month when they announced they found a body of water lying less then a mile underneath Mars' south pole.
For decades, scientists have been wondering whether liquid water was actualy present on the Martian landscape, since having water could mean the possibility of extraterrestrial life.
The Search for Mollie Tibbetts
On the night of July 18, 2018, at 10 PM, 20-year old Mollie Tibbetts sent her boyfriend a message saying "goodnight" on Snapchat. Tibbetts was staying at her boyfriend's brothers's house in Brooklyn, Iowa. Her boyfriend was two hours away in Dubuque, Iowa for work so Mollie was alone. After this goodnight message, the following day, she was nowhere to be found.
Mollie is described by her family as a "fighter." She is kind, sweet and often has a ready smile. On the day she was last seen, Mollie went out to go jogging. Initial reports said she disappeared during her run but that timeline was off since she still spoke to her mother at around 7:30 PM on the night of the 18th and sent the Snapchat message to her boyfriend later that night.
Egidius Schiffer
Known as the "Aachen Strangler," Egidius Schiffer was a serial killer who murdered five women between 1983 and 1990 in the northwestern part of Germany. Schiffer targeted females who frequented nightclubs and nabbed them while they were on their way home or waiting for a bus or cab.
His first known victim was 18-year old, Marion G. and he attacked her while she was standing at a bus stop after a night of clubbing. The girl fought back and even trampled his windshield but Schiffer still managed to strangle and kill her before throwing her body into a small fish pond. The following year in February of 1984, he attacked 15-year old, Andrea W. The student was also strangled and her body was left close to a deserted dirt road.
---
▶️ DTube
▶️ IPFS