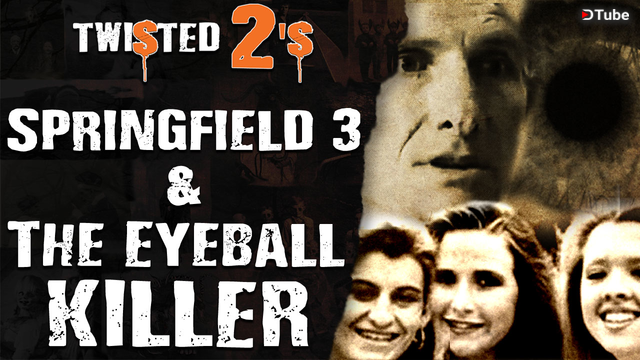 ---
SCARY MYSTERIES - TWISTED TWO's:
The Springfield 3 & The Eyeball Killer
Tales of hauntings, murder and scary mysteries, Every week Twisted Two's dives into a pair of uniquely terrifying true stories that are worthy of a more in depth look.
Please support Scary Mysteries! Check out our Patreon at https://www.patreon.com/scarymysteries... - There's a lot of cool access, giveaways and even a custom episode!
Buy awesome original shirts made by Scary Mysteries https://newdawnfilm.com/scary-mysteri...
Subscribe for Weekly Videos here: https://www.youtube.com/channel/UCiE8...
---
For this week our stories focus on the mysterious disappearance of three Young women and the murderous acts of a serial killer with a fascination for eyeballs. Get ready for Scary Mysteries, Twisted Two's
#1 The Springfield 3
Graduation day festivities were underway on June, 6th 1992. two Missouri friends, 18 yr old Stacy McCall, and 19 year old Suzanne Streeter, 19, were fresh graduates from Kickapoo High School and That night, the two bounced from one graduation party to another - having fun and enjoying themselves.
When it was time to go home, they were supposed to stay at a friend's house but decided against it after realizing "it was too crowded." So Instead, they chose to drive back to Suzanne's house.
Sherrill Levitt, 49, was a single mother who was close to her daughter Suzanne. She had been working as a cosmetologist for a salon. Between the hours of 2:00 AM to 8:00 AM on June 7th, all three women disappeared from Levitt's home. It's assumed that both Stacy & Suzanne made it there because their cars were found in the driveway.
On the morning of June 7th, their friends came looking for them because the two didn't show up to go to the waterpark.
When they arrived they saw that the front door of the house was open and one of the globes of the front porch light was smashed, but the bulb was still intact. All of the women's purses were inside including their cigarettes and The beds looked like they were slept in.
#2 Charles Albright "The Eyeball Killer"
Also known as the "Dallas Ripper" or the "The Dallas Slasher," "The Eyeball Killer" is the one nickname that has stuck with Charles Albright.
Born in Texas in 1933 he was the adopted son of Delle and Fred Albright. From a young age, Charles would kill animals and bring them home where his mother would help him in stuffing it, thinking he may be interested in taxadermy. By just 15 he was able to graduate high school and expressed interest in medicine so he started pre-med training but was unable to complete it. At 16, he was caught for petty theft and sentenced to one year in jail. Once he got out, he went to college for pre-med studies but was again caught stealing and this caused him to get expelled.
Albright didn't go to jail because he wasn;t prosecuted. But he began falsifying documents and forged signatures stating he had graduated with a bachelor's and master's degree in medicine. He got married and Using the forged certifications secured a teaching job. He was caught forging checks however and placed on probabtion. His marriage soon fell apart and he then started stealing merchandise from various businesses. One he frequented was a local hardware store and he was again caught and served two years in jail for the crime.
So there were a two of the most mysterious & scary stories around. The world can be a crazy place and Twisted Two's is sure to show you why.
---
▶️ DTube
▶️ IPFS