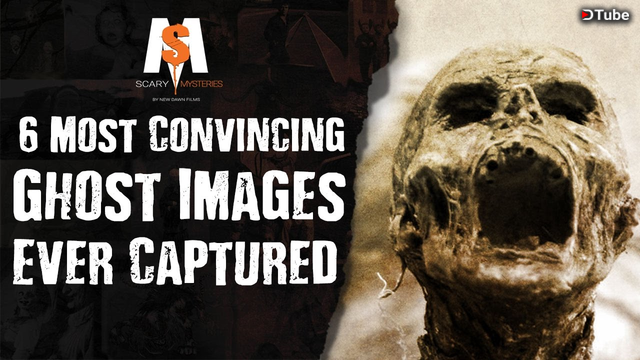 ---
Please support Scary Mysteries! Check out our Patreon at https://www.patreon.com/scarymysteries?alert=2 - There's a lot of cool access, giveaways and even a custom episode!
Buy awesome original shirts made by Scary Mysteries https://newdawnfilm.com/scary-mysteries-store/
Subscribe for Weekly Videos here: https://www.youtube.com/channel/UCiE86yS_VM7qjiICqRPmwLQ?sub_confirmation=1
---
6 Most Convincing Ghost Images Ever Captured
Ghost stories have become part of our lives and yet we still don't have solid proof of whether they really exist or not. The following set of images might change just that, and stay tuned for number 1 as it's from my personal collection and has never been shared until now. These are the 6 most convincing ghost images ever captured.
Brown Lady Of Raynham Hall
Considered for a time as one of the most famous hauntings in Great Britain, the Brown Lady of Raynham Hall remains familiar to most people. Owned by the Townshend Family, Raynham Hall became the home of Charles Townshend in 1713. He was the 2nd Viscount Townshend and known for having a fiery temper. Charles ended up marrying Dorothy Walpole, who was the sister of Britain's first Prime Minister, Robert Walpole. It was to be the second marriage for Townshend and Dorothy's first.
Spirit After An Accident
The human soul is an abstract concept for many, but what if it's real? And what if what we see as ghosts is simply a remnant of this? These questions and more gained huge traction after a man captured, what seems to be the soul escaping from body. Saul Vasquez is a truck driver who came across an accident scene on a tuesday evening while he was on Highway 15 near Stanton, Kentucky.
The Pink Lady of Green Castle
Today, the O-Hare Mansion no longer exists. This luxurious mansion in Greenfield, Indiana has been demolished to make way for a cornfield. Even though the physical structure is no longer there, it still remains the scene to one of the most convincing captured ghost images ever.
Guy Winters along with a few friends thought it would be interesting to visit the abandoned mansion and hunt down ghosts. The mansion was built during the 1800's and has been called home by the O'Hare family and their descendants for centuries. Eventually, they left the building abandoned and the home is only accessible through a single driveway.
The Wedding Day Ghost
If the paranormal experts are to be believed, ghosts often visit their family members particularly during special occasions, but capturing one on your wedding day is a whole new level.
A reader named Liz sent this photo to Stephen Wagner, who runs a popular paranormal page on about.com, asking what he thought of the picture. She shares that the image has been passed on for generations in her family and that it was taken on her aunt's wedding day in 1942 using a box camera.
Lord Combermere's Ghost
It was 1891, Lord Combermere had just died and his funeral was taking place several miles from home. Amateur photographer, Sybell Corbet, thought it was a great time to take a photo of the interior of the Abbey without being disturbed by a lot of activity. The members, including most of the servants, were after all, attending the funeral.
Waverly Hills Ghost
This next one is 100% real meaning it wasn't doctored and very scary for that exact reason. Last Spring I went on a ghost tour down in Savanah at The Old Sorell Weed House. It was a slow night there and so the only people on the tour were my wife and I and a middle aged couple named Mark and Liz. The tour lasted several hours where we got to explore the place and so we got a chance to get to know them.
So there were the 6 most convincing ghost images ever captured.
---
▶️ DTube
▶️ IPFS