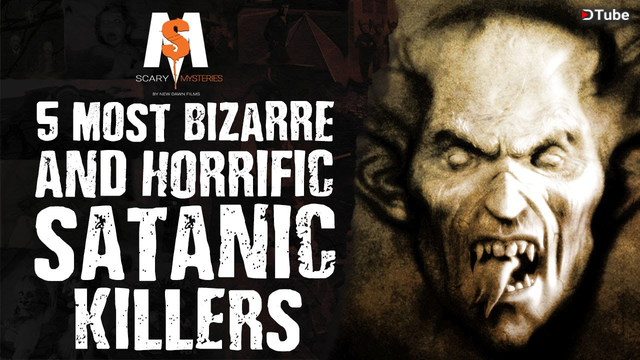 ---
Please support Scary Mysteries! Check out our Patreon at https://www.patreon.com/scarymysteries?alert=2 - There's a lot of cool access, giveaways and even a custom episode!
Buy awesome original shirts made by Scary Mysteries https://newdawnfilm.com/scary-mysteries-store/
Subscribe for Weekly Videos here: https://www.youtube.com/channel/UCiE86yS_VM7qjiICqRPmwLQ?sub_confirmation=1
---
5 MOST BIZAREE & HORRIFIC SATANIC KILLERS
There are killers and murderers and then there are these five. Their motives are utterly sinister and their crimes so sickening and diabolical that it's hard to believe they actually happened. These are the five most Bizarre & Horrific satanic killers.
Ricky Kasso
Known as the Acid King, Ricky Kasso was no ordinary metal head. The teen was already problematic when he was thrown out his house and forced to live in the streets and on friend's couches in suburban New York. He was addicted to drugs and often took LSD, On the side he dabbled in the occult and Satanism. Kasso also told friends he was interested in The Satanic Bible by Anton LaVey. He became known around town for shouting "Hail Satan!" from his car window to anyone passing by. His circle of his friends that consisted of drug addicts and occultists proudly called themselves The Knights of the Black Circle. On June 16th, 1984, Kasso claimed he heard Satan's voice commanding him to kill. So together with Albert Quinones and Jimmy Troiano - they lured Gary Lauwers, a fellow junkie and dealer into the woods explaining that he wanted to patch things up after Gary had stolen some PCP from Kasso a few days earlier.
Miranda Barbour
Known as the "Craigslist Killer," Miranda Barbour who was 19 years old, Together with her husband of three weeks, Elyette who was 22 lured and killed Troy LaFerrara. Miranda had suffered a troubling childhood. At 4, she was molested by her uncle who her mother confirms was sent to jail for 14 years for the crime. Nine years later, at 13, she joined a Satanic cult and conducted her first murder where she shot someone who owed the cult leader money. She spent the next 3 years in the cult where she participated in several murders.
She married a fellow occultist, became pregnant again and in an attempt to change her lifestyle, moved to North Carolina under the custody of her mother's brother. She tried to turn her life around, gave birth to a daughter and got a regular job. But it wouldn't last.
Moises Meraz Espinoza
It was 2011, then 18-year old Moises Meraz Espinoza walked into a police station, spoke to the detectives and told them he had killed his own mother, 42-year old, Amelia Espinoza. He told them they would find her at their apartment. The cops rushed to the place where sure enough they found a trail of blood leading to the bathroom. They followed it to find the walls and floor of the room covered in plastic. On the floor was a circular saw with bones, blood and pieces of flesh stuck to the blade. In the kitchen they looked inside the freezer and that's where they found Amelia's head. All her teeth had been plucked out, her eyes had been removed and on her head were two upside down crosses carved in.
Beasts of Satan
In the 1990s up until the early 2000s, Italy was rocked by a group of horrific ritualistic crimes. The culprit – members of a heavy metal band who called themselves The Beasts of Satan. Lead singer Andrea Volpe, together with his band mates, Nicola Sapone, Paolo Leoni, Eros Monterosso, Marco Zampollo and Elisabetta Ballarin were all found guilty for committing various heinous and ritualistic crimes on mostly their friends and former band members.
Their first two victims were 16-year old Fabio Tollis, their former lead singer, and his girlfriend, 19-year old, Chiara Marino. Tollis and Marino were out drinking with friends when they were ambushed. Under a full moon during winter, Marino was stabbed in the heart because the group thought they reminded her of the Virgin Mary.
The Ripper Crew
For many, the name Robin Gecht might not sound familiar, but from 1981 to 1982, he was the ringleader in what would be known as one of Chicago's most notorious Satanic cults, the Ripper Crew.
Robin, together with Edward Speitzer and Andrew and Thomas Kokoraleis would abduct, torture, rape and ritualistically kill women.
The group's first victim was 28-year old Linda Sutton. She was walking home from Wrigley Field when she was taken and her body would be found ten days later in Villa Park, naked and with her left breast completely cut off.
so there were 5 of the MOST BIZAREE & HORRIFIC SATANIC KILLERS
These ritualistic killings are extreme. The inividuals who commited them derive pleasure from them and also believe it is part of their Satanic religious right to do so, making their acts all the more terrifying and horrific.
---
▶️ DTube
▶️ IPFS