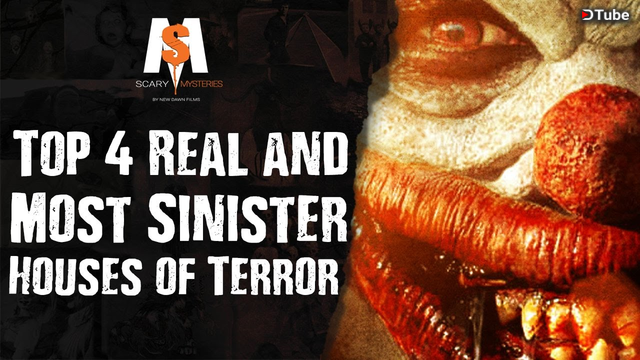 ---
Top 4 Real & Most Sinister Houses of Terror
Horror houses can be found at carnivals or during Halloween time. While they are made to scare those who enter, they are nonetheless simply meant to entertain. But there are real life horror houses all around the world, built by crime, abuse and even murder by some of the most heinous criminals that have ever lived. These are the top 4 real & most sinister houses of terror.
Darren Deon Vann
In 2014, 19-year old Affrika Hardy was found strangled and left inside a bathtub in a Motel 6. she left clues on her phone as to the identity of the killer and They tracked down her perpetrator using her phone records and this led them straight to Darren Deon Vann.
Born in Indiana in 1971, Darren Deon Vann was once married to a woman 16 years his senior. They eventually divorced in 2009 after Vann's multiple brush-ins with the law. He'd been in and out of jail including serving five years for sexual assault in Texas and was "other than honorably" discharged from the United States Marine Corps.

The Sultans Palace, Gardette-Laprete House
Sitting prominently in the French Quarter of New Orleans, a beautifully aged building with pale pink walls and iron details sits quietly. Formerly owned by plantation owner, Jean Baptiste LaPrete in 1836, the huge mansion was sold off after he and his business fell on hard times. Because it was so expensive, the owner had trouble finding a buyer until one day a mysterious Arab offered to purchase it. After the finances were sorted, the new owner started to move in.
Little was known about this man as he kept mostly to himself. In turn plenty of rumors began circulating including one that said he was a Turkish Sultan. The first things the neighbors noticed were the preparations prior to the owner moving in. A fence and gate were added and the windows were installed with heavy draperies and locks. The balconies were permanently closed and large trunks as well as young women, boys and servants started coming in. The noise, music and parties would last all day and all night. There was rarely a time when the neighborhood couldn't hear sounds from the home which came to be known as the "The Sultan's Palace."

John Wayne Gacey's Crawlspace
Dubbed as the Killer Clown, there's hardly any person in America that hasn't heard of Gacy's notorious crimes.
John Wayne Gacy was known to his neighbors, friends and family as a charming, hardworking and responsible man, but he was hiding a deep and very dark secret
Gacy suffered from a troubled childhood, growing up with an abusive alcoholic father. In August of 1967 when he was 25 years old, Gacy lured 15-year-old Donald Voorhees to his home, gave him alcohol and convinced the youth to perform sexual acts on him. He went on to lure other young teenage boys this way, sometimes even paying them up to $50 each.
Voorhees reported the incident to his father who subsequently told the police. Even though he fought the allegations, Gacy eventually pled guilty to one count of sodomy, and was sentenced to 10 years in prison. The same day he was indicted, his wife filed for divorce with alimony and full custody of their children. He would never see them again.
H.H. Holmes Murder Castle
Most of you may not know who H.H. Homes is. Over time, his name has been lost in history but his murderous crimes and his infamous "Murder Castle" has lived on in infamy.
H.H. Holmes was a con artist, bigamist and the first modern day serial killer, in every sense of the word. He constructed his famous Murder Castle, a hotel he deliberately created to trap and kill his victims.
When Holmes arrived in Chicago in 1886, he began working as a pharmacist and started building his famous hotel. It was dubbed the World's Fair Hotel because it was close to the site of the World's Fair and designed to house various attendees. The bottom portion was a commercial space where Holmes ran his pharmacy, selling magical water that could cure the sick and even cure alcoholism.
Those were the Top 4 Real & Most Sinister Houses of Terror
Horror houses are reserved for fun scares and making people jump. But many of them pull inspiration from these real life homes where some of the most twisted killers you could ever imagaine lived, places you'd certainly never want to go into yourself.
---
▶️ DTube
▶️ IPFS