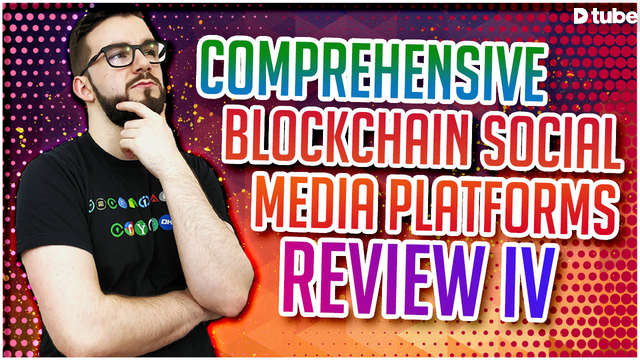 ---
Hey everyone,
This is my fourth comprehensive review of blockchain social media platforms meant to give you the most thorough resource and reference for finding the next best platforms to use!
This will be covering new platforms not covered in the previous as well as re-review any applications or websites that weren't quite to par but weren't awful. I will very briefly double-check the awful ones and either add them here if they've improved or not include them given, they were in the last one and you don't need to see the same thing twice.
I've made a few changes to the template and re-reviewed most of the platforms I previously looked at, made tons of updates, as well as looking at some new platforms. I reviewed just over 100 platforms in total.
In the video itself, I go through some of the main recommendations I give and the platforms that I am currently using. I only go through some brief examples of ones not recommended for sake of time and to give some insight as to how I came to my decisions.
One last thing before starting is that I'd like to state my bias. I will look unfavorably on websites that require too much verification like requiring you verify your phone to even browse the platform (several platforms failed to verify mine), require you to spend crypto on every interaction, require Facebook or Google to sign up, websites that are overly centralized, websites that claim to use blockchain but don't, and most EOS platforms given the challenge it is to use them and all the extra extensions and programs needed that make it almost unusable for mobile. Note that I have included several EOS platforms in the not recommended as I still did go and try them.
I'd also like to state that in a few cases now, I've been historically correct with what will or won't succeed. I said Hyperspace won't last because they require post-approval, phone verification to earn when they couldn't verify a Canadian number, and they lacked features. They just recently shut down.
Also, visit my sponsor for this blog EarnCryptoInterest.com and find the best interest rates for your crypto!
Full blog links below:
Publish0x: https://www.publish0x.com/at-scottcbusiness/comprehensive-blockchain-social-media-platforms-review-iv-xeoryk
Minds: https://www.minds.com/scottcbusiness/blog/comprehensive-blockchain-social-media-platforms-review-iv-1038934439106088960
Let me know what you think about this in the comments below and don't forget to subscribe!

Feel free to donate to me to help keep me going:
ETH: 0xE0d930a0aa8e57e037D749a868ade5682a34e88e or scottcbusiness.eth (from any eth wallet)
BTC: 3Bh49RK9GM6Q15a6q13MMfvMbrWihJMast
LTC: MRLLJe9Fywxq1f9ehjDDZNT8ar7MKx3ZS1
LBC: bVb9Hm5EjLUmmTdEypgMJAKd71J3QkUhng
NEO: ASttKYZ6moY5Wkvytc1t1YTjqMDrDR2YGT
You can also now send BTC, LTC, and ETH to scottcunningham.zil via Moonlet, Counter, or Coinomi
If you support my work and haven't downloaded Brave browser yet, please use this link
https://brave.com/sco076

---
▶️ DTube
▶️ IPFS