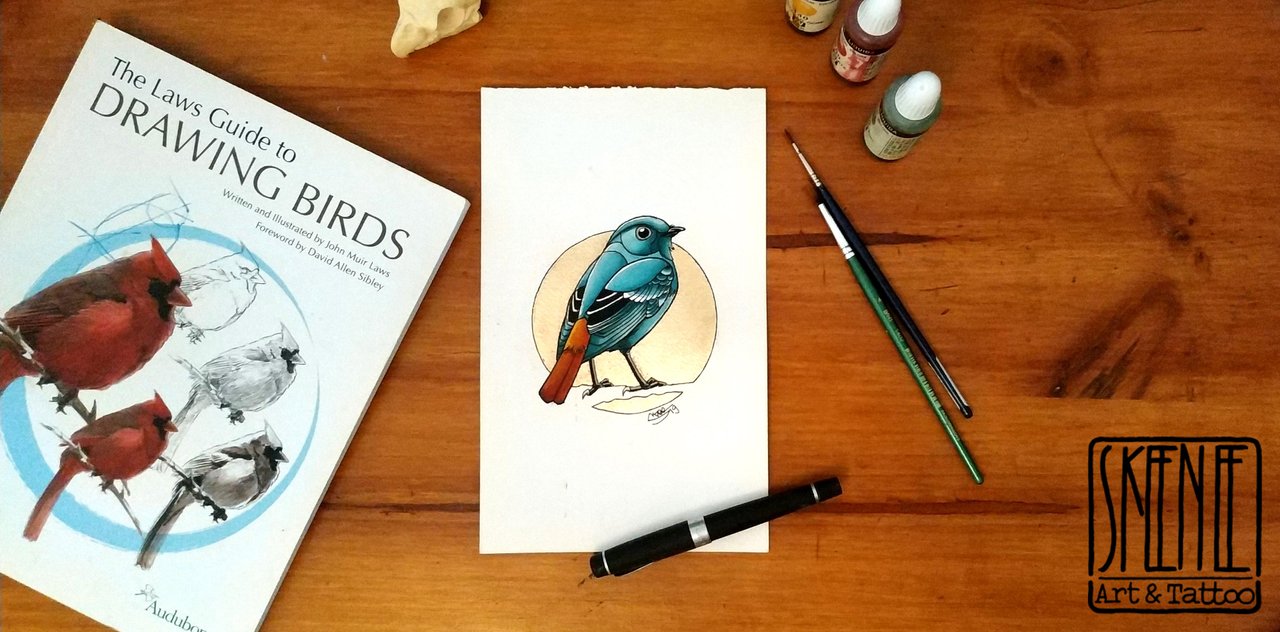 Hi! My daughter loves birds so I started drawing them more often. They are fun, easy to draw, and are a nice break from drawing skulls.
Here is a time-lapse of a little blue bird drawing inspired from a picture I found online. I usually use the picture as reference to draw my rough sketch and then improvise, break it down in attractive shapes, mess around with proportions and colors to make it more attractive. I am not even sure the original bird was blue or that it looked like the one in my drawing.
Copying reality never made it for me. I find that, as an artist, my purpose is to find the traits that are attractive & interesting in the subject I am drawing, and push those to the next level. I do admire hyper realistic drawings, but it´s just not my thing. I think they would drive me insane(r), I just do not have the patience for those.
Here is the time lapse.
D-tube link
Wanna see more of these videos? Subscribe to my YouTube or D-tube channels!
Here is a picture of the final result.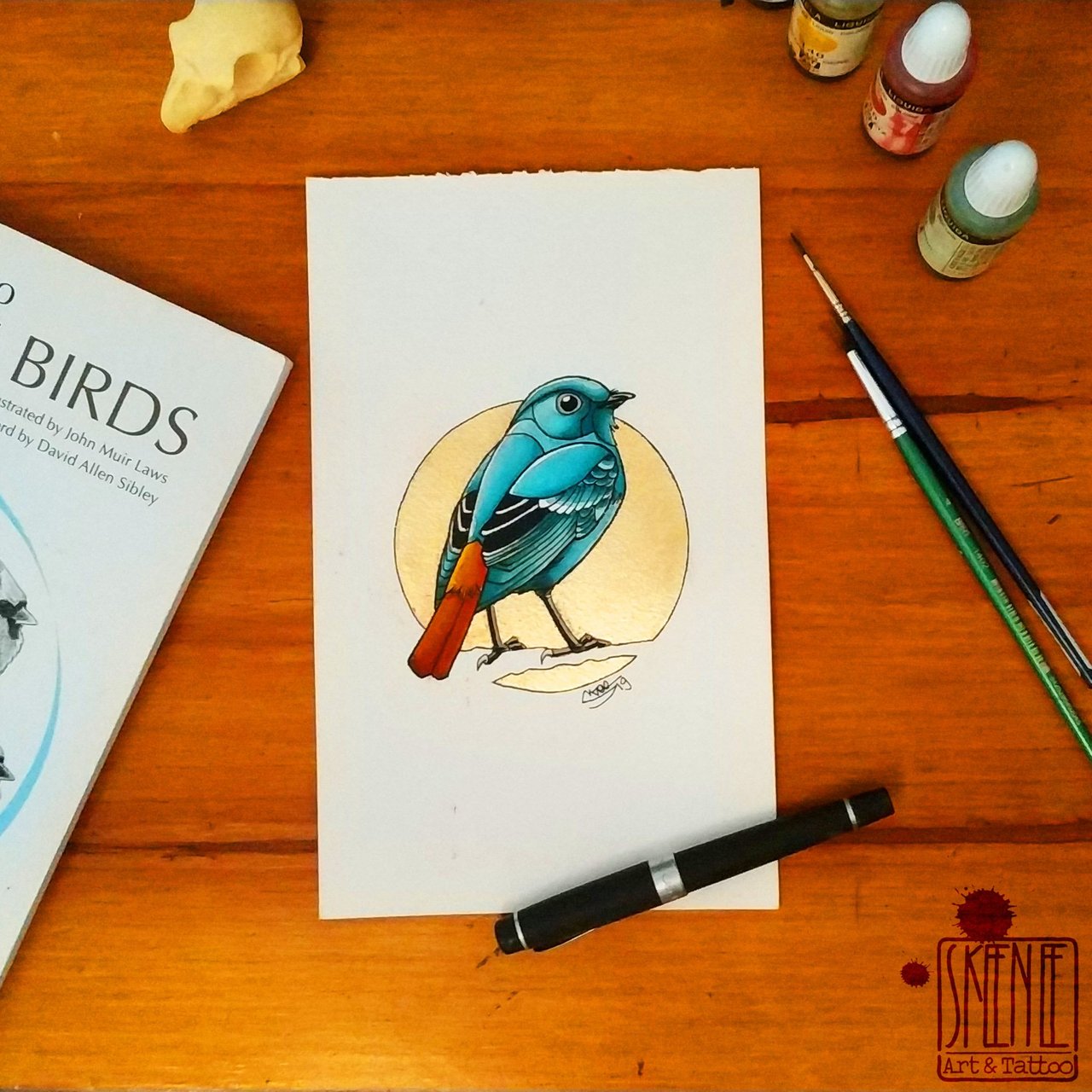 Material used:
Most of the material is the same as in my previous post, apart from the watercolors and gold/gilding sheet I used for the background.
Liquid Watercolors. In this drawing I decided to use liquid watercolors over the pan ones because I had already laid the shading with Sumi ink and was painting a color layer over that. I feel that the liquid ones give a better final result when painting over a black gradient.
Gilding/Gold Sheets, I don´t have a lot of experience with those, it´s a medium I just started experimenting with. The only thing i can recommend is to use gilding sheet over gilding flakes if you are working indoors. I made the mistake of testing the flakes indoors a few months ago and I still find find gold flakes everywhere today. The tutorials I found about gilding say that they are easier to handle, I disagree; or I have not figured it out yet. I dunno...
Gilding Paste, again, I am new to this so take my advise with caution. The only thing i can recommend is to let the glue rest for a good 15 min on the paper before applying the gold sheet, and to let it dry overnight before taking out the excess sheet.
Pen & Ink Fountain Pen
Noodler´s Black Fountain Pen Ink
Water Brush
Kuretake Sumi Ink
Masking Fluid
Arches Paper
Book recommendation:
Birds are easy to draw and you take a lot of creative freedom with them. But I feel there are a few things that need to be respected for them to look believable: the structure of the wings and the face.
A learned most of what I know about bird drawing by watching John Muir Laws tutorials. He is really passionate about birds and very good at breaking down their structure. I highly advise to read his book, "The Laws Guide to Drawing Birds" as well if you wanna learn about bird drawing or bird anatomy. Great read!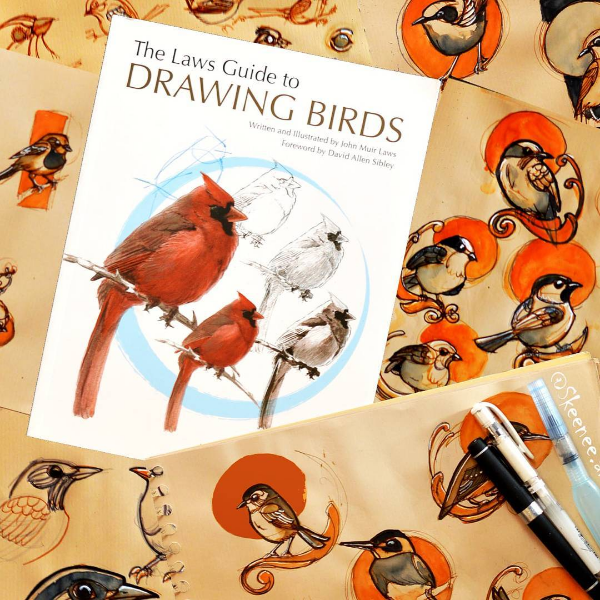 Recent posts
If you liked this post, go give some love to my recent posts:)
Speed Drawing: Parakeet skeleton
Speed Drawing: Ink sketch of a magpie
Speed Drawing: Hornbill Skeleton
Speed Drawing: Muscle Study, Latissimus Dorsi
Speed Drawing: Orca Skeletons + NFT Contest!
Speed Drawing: Human Skull Doodle
That´s it for today, I hope you enjoyed my post. Feel free to ask me any questions about drawing, and leave feedback on my work. I´ll try to answer them the best I can.
Have a nice day,
Skeenee!

my site| instagram | twitter| makersplace| youtube