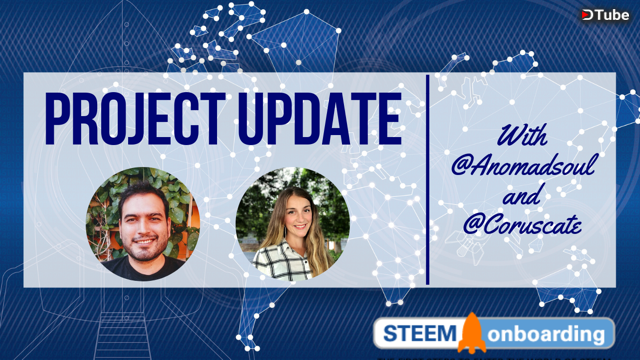 ---
This is first of many video chats we hope to do with you to keep you all updated on our progress, answer your questions, and share our plans for the future.
In this video, we address many of the common questions we have received - including several audience questions that came in directly as well. We hope that this video will help to give you a little more insight into the project and to see how much the team has been doing behind the scenes to bring this project to life.

Got Questions for Steem Onboarding?


If you have any other questions about Steem Onboarding - or would like to hear us elborate in more depth on a particular subject - please let us know. One of the ways we'd like to stay connected with the community as we are in the development phase is through more regular video updates.
As part of our mission to help support all of the communities and dApps that are built on the Steem Blockchain - we are excited to publish this video here on @dtube.

Interested in Getting Involved?


We currently have a team of people working hard behind the scenes to write and review scripts, translate and film them, edit videos, design graphics, build the website and advice us on future planning. That being said - we are looking to expand our advisement team.
There are two ways to get involved on the high level planning of this project. You can either donate a significant amount to our Fundition campaign (Diamond Level) - or you can reach out to @anomadsoul or @coruscate directly if you have a significant amount of business, blockchain or relevant knowledge and experience.

Call to Communities
We want to feature many of the great communities here on the platform by displaying them with 2 minute videos on our site. If you are a community leader or moderator and would like to be featured on the site - please send a 2(ish) minute video telling us about your community to lea@steemonboarding.com.
We want to say a huge thank you to all of the communities that have already sent us videos and look forward to seeing even more come in.

---
Our Fundition Campaign is Live!

If you think the Steem Onboarding project will be valuable to the Steem blockchain - then please consider donating to our Fundition campaign to help fund the initial development of the project. We are offering some pretty great prizes to fundition donors such as 100 alpha booster packs, a ticket to Steemfest 4, tickets to the Steem Creators Conference in Austin, exclusive Steem Onboarding merch and more. For all the details - check out our campaign HERE.
---
Let's reach mass adoption together!

---
▶️ DTube
▶️ IPFS